Best Wilson Golf Balls Reviewed & Rated for Quality
In a
Hurry? Editors choice: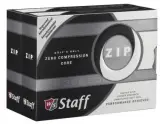 Test Winner: Staff Zip

Standout Picks
Criteria Used for Evaluation
Durability
Durability for golf balls is importent.
It goes without saying that the cheaper an item is the less durable it is. With that, we had to ensure that all of these products were made for durability and long lasting wear and tear.
Therefore, we looked into the many different design points of a golf ball and what the most common materials are. With that in mind, we discovered that many different brands use the same material composition, just to different degrees.
When it comes to this brand, they use a specific cover design to ensure that the product does not break in half on impact. This material is known as Ionomer cover, which is the cheapest grade of a golf ball that can be made from. With that, all of the golf balls we shared are made for durability and performance value to offer the best to the individual.
Features
Features count for a golf ball
As far as the next criteria, we can say that the benefits are another important evaluation when picking out the best amateur golf balls. With that, it is the criteria we used to evaluate the best Wilson golf balls because they are primarily made for amateurs.
With that, different important aspects to consider include the overall quality of the core as well as the exterior design, which we want to dive into.
When it comes to the benefits, they also differ depending on compression of the core. With that, a lower compression yield less ball roll and better softness overall. However, when it comes to this brand most of their products are designed for amateur use and are built with only two layers of construction, unlike premium brands who have up to six layers of construction.
Versatility
Versatility helps in a game of golf
As the last criteria, we focused on, to evaluate the best golf balls from this brand, one aspect that was very important was sharing the most variety. Therefore, it was our dedication to sharing a wide variety of different products when it comes to these golf balls in bulks.
Take the last golf balls on our list, they are a great alternative to professional golf balls and come with a three-layer construction that is incredibly high quality. Therefore, individuals will find a wide variety of different products to consider, ranging from amateur golf balls to professional ones. The most common, however, is novice golf balls.
Now that we have shared the criteria to evaluate the best golf balls from this brand, we want to answer some of the most common questions.
Value
As the second to last criteria that we took into consideration, we found the cost and the value to be one of the most important factors for many reasons. The primary reason is that all of these golf balls are nowhere near the quality of many premium brands, which is okay. These golf balls are marketed for a novice audience that is learning to golf or is practicing. With that, we wanted to ensure that each product was built for quality but priced to value that it is worth.
Subscribe to our Newsletter