Best Waterproof Jackets
In a
Hurry? Editors choice: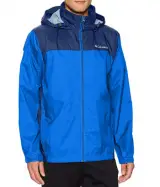 Test Winner: Columbia Glennaker Lake

Playing golf or doing any other sport during unfavorable weather conditions is possible and can provide similar enjoyment in the sport only if you have the right equipment for unobstructed performance. Being appropriately equipped includes having the right clothes in terms of weather protection, comfort, and fit. When it comes to golf, you need to have a
full range of free movement
so that you can perform full swings. As golf is a game that is played even during the winter, it is crucial for the golfers to have the right jacket to protect themselves from the cold weather, rain, snow or the wind. And there are many parts of the country (and the world) that experience changeable weather conditions which include frequent splashes of rain, drizzle, wind, or when being on a higher altitude, even the glaring sun. Below are listed the best in providing such protection.
Standout Picks
Criteria Used for Evaluation
Comfort
Regardless of the model and the type of jacket, if you don't feel comfortable in it, the chances are that you aren't going to wear it. Nobody wants to feel tense and edgy in the outfit he/she is wearing, so the first thing we looked for was the feeling of comfort these jackets provide. Since they are outerwear, it should be expected that whoever buys them, is supposed to have one to three additional layers underneath, so we made sure that the jackets we picked are roomy and don't feel tight when worn. Another very important characteristics that they feature is the breathability of the lining they have and the possibility to allow for airflow so that those who wear them don't feel hot or sweaty. So, the best ones are pleasant to wear, roomy enough for a few more layers and don't make you sweat.
Water Resistance
Since we specifically reviewed jackets that have the ability to prevent water molecules to penetrate the shell into the inner part of the jacket, this criterion was naturally the determining one that allowed us to make the initial selection. Luckily, we were able to select those jackets that provide maximum waterproofing within their categories. As you have noticed, some of them are thick, several layered jackets that are intended for the coldest winter days, others are suitable for all year round. So, all of them show maximum scoring within this category.
Weather Resistance
Even though we are looking into jackets that have the capacity to fully protect the users from rain or snow, many people expect that those selected ones will have the capacity to protect them from other weather elements too. What we considered within this category is their ability to protect from wind, sleet, and the sunrays. Almost all of them have the capacity to provide protection from the weather elements and probably this criterion gave us the winner in this guide since the best one features UPF 50 sun protection.
Fit
It isn't easy to shop for clothes online since that means either you know in advance the actual size of the product, the product has confirmed universal sizing so you know what to expect, or you rely on the information provided by the manufacturer regarding the sizing. And this is where many buyers get disappointed since it often happens to receive one size bigger or smaller product than what they thought they had ordered. This practically means that all the expectations of that particular product have fallen apart and they won't be able to use it or will have to return it. Therefore, it is essential for a product to fit your size. Some of the models on our list run smaller, some slightly bigger, and the best ones fit the actual size.
Features
Within this category, we considered certain product characteristics such as the availability of various color options, if the product is suitable for different seasons, the added details that make it stylish and modern, whether it matches the description and the cost and value of each of them. These are variables that aren't part of the products themselves but add to their attractiveness and the rate at which they are bought. The highest the scoring next to each product regarding this criterion, the more ticks the product has when it comes to these factors.
Top 10 Picks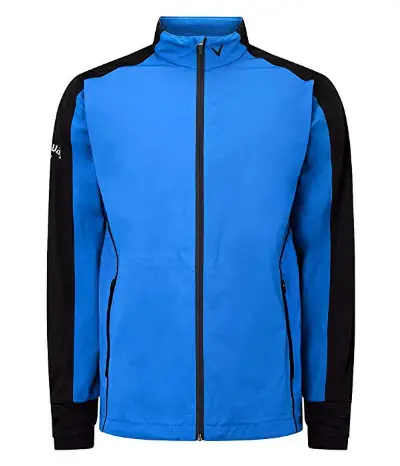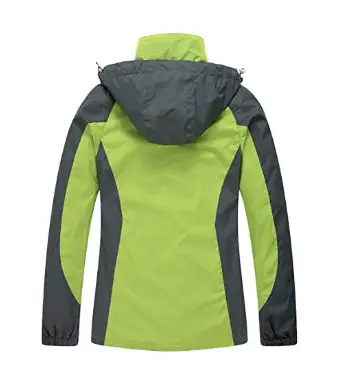 People play golf under various conditions thanks to the high-quality apparel developed and designed to fit the needs of the golfers around the world without preventing them from maximum performance and high achievement. Callaway, being among the leading golf companies in the world, creates different golf equipment among which golf apparel that particularly meets golfers' needs. Such is this sports blazer that is designed for rainy, misty and foggy weather which makes a perfect accessory when the weather conditions are not favorable.
Read more
Design
This blazer is fully seam-sealed with single knit fabrication and designed to fully protect you from the elements. It is made from 100% polyester and the 10000mm rating assures that no water will be able to penetrate inside and make you wet. Plus, the fabric features UV block of UPF 50 which can provide 99% protection of your skin from the harmful sun rays. The material is breathable and light and has the capacity to move freely in all four sides so that you can swing unhindered. It is a very stylish and elegant piece of garment which will make you feel comfortable and fashionable. The logo of Callaway Chevron is printed on the left collar and on the back and the sleeve it is printed the logo of Callaway Tour Logo.
Use
For chilly days when the rain is likely to accompany you while you are golfing, this jacket prevents it from interfering in your performance as it is 100% waterproof. It is also very effective in preventing the wind from penetrating inside and make you cold. The best part of it is the possibility to move in all possible ranges and have the backswing at full force.
Cost and Value
This is a name-brand and premium piece of clothing that will exceed your expectations in any aspect. It is a comfortable, stylishly smart and premium designed piece of garment that every golfer needs to have. Plus, it is suitable for higher altitude courses where sunbeams are stronger and the air chillier. The price, as it can be expected, is on the higher end, but totally in accordance with the quality it provides.

2

. Columbia Glennaker Lake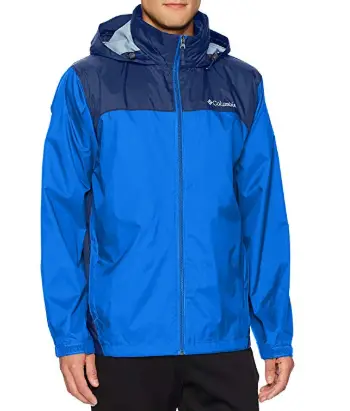 Nothing that comes from Columbia is a joke, so when you need a reliable piece of clothing that offers full protection from various weather elements, the products from this company should not be avoided. The apparel that the company produces is characterized by various innovative technologies that offer a different level of experiencing sport performance. This jacket features Omni- Shell technology that simply invites you to go out and get dirty.
Read more
Features
Not only will it protect you from the rain, but regardless of the level of dirt it comes in touch with, it won't get it stained. The Omni-Tech technology prevents water and dirt molecules to blend with the fabrics by creating an invisible membrane that stops them from getting in touch. It is made from hydro plus 100% nylon with 100% polyester fine mesh lining. It has an adjustable hood that can be stowed away, the cuffs are also adjustable and there's a drawcord hem. The best part is that you don't have to wear it all the time and it won't take up a lot of space in your bag since it can be easily stored into in its own package.
Use
This awesome model will make you want to stay out more, regardless of the weather conditions. It has a versatile purpose, from going out for a walk in the park to mountain climbing and playing golf. It is designed to provide an uninhibited wide range of movement that makes it suitable for any sport. It is extremely lightweight and thin and can be worn over other jackets or other layers. It will protect you from the rain, wind and all other weather elements by keeping you cool and comfortable.
Cost and Value
If you are an avid golfer, or you just want to take long walks, you need to be prepared for any weather condition and never get caught up by surprise. This Columbia model tops high in the convenience rate since it will never make you feel burdened with another piece of garment that you might not even wear because it comes in a meshed pocket which is small and having it inside won't take up much space of your bag. As it is a name-brand manufactured by proven advanced technologies it is priced in accordance with its quality and if you are lucky enough, you can find good deals making it an excellent value for the money.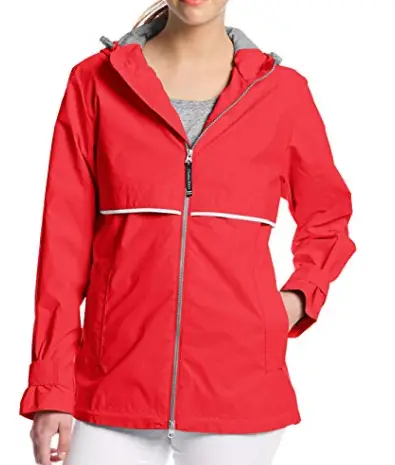 Charles River Apparel has been on the market for more than 30 years making sports and corporate wear and outerwear and has created a world-wide reputation of superior quality and innovative apparel. This is a women's jacket that should be an essential piece of equipment that will provide you with total water and wind protection. It comes in 13 color selections to fit anyone's preference. Read further to find out more about the design features and its use.
Read more
Design
This jacket has thousands of five-star glowing reviews which just confirm how effective and well-functional this jacket is. It protects from the rain and wind regardless of the intensity, due to heat-sealed seams and the polyurethane shell material which is bonded to a woven backing making the fabric stronger and durable. It has meshed lining that allows air-flowing and the sleeves feature taffeta nylon for easy on and off. The hood and the ham are regulated with shock cord down string, while the cuffs can be adjusted to seal out all the weather elements. It is breathable and won't make you hot.
Use
From hiking, walking and 18-holes adventures, this jacket will protect you in the most comfortable way. Even if you are performing the most strenuous activities, it will still keep you dry. When you know that your golfing session will be followed by heavy splashes of rain or constant drizzle, you should also know that your clothes won't get even a single drop of rain, thanks to the exquisite quality this jacket has.
Cost and Value
This is one of the most reliable women's jackets that will make any sports adventure much more exciting and less frustrating. Made of high-quality material by advanced technology, it is no surprise that it has such a high ranking. It is reasonably priced, in accordance with the quality it provides.

4

. Under Armour Storm Sonar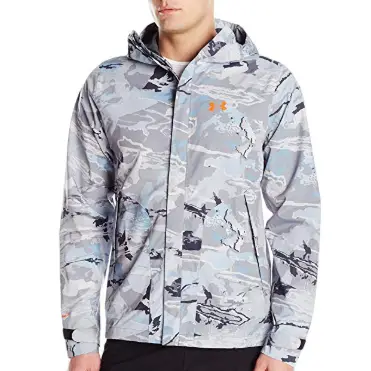 Sometimes what you need to carry on playing golf when it starts raining is a reliable jacket that won't fail to protect you after a few minutes of heavy rain and which has prolonged effect regardless of the rain activity. UA Storm Sonar is an excellent example of such protection featuring a tiered system of layers that prevents water and wind to get inside and make you wet or cold.
Read more
Design
It is a high quality hooded jacket that has been part of the storm collection which provides ultimate 100% protection from weather elements such as water, wind, and sleet. It is made with PrimaLoft insulation which is an advanced technology that guarantees total barrier from the elements which provides the possibility to be compressed without losing warmth since it has been strategically made to provide an ultimate thermo-conductive coating. It absorbs and retains body heat, but it will prevent you from sweating too. It has an adjustable cuff, hood and hem construction.
Use
You can enjoy playing your favorite game without being stopped from the weather, nor from feeling wet regardless of the source of the wetness. It will prevent you from excessive sweating too since it has been made with moisture-wicking technology that makes the perspiration instantly dried out. The material has the ability to stretch and provide you with unhindered performance. Many buyers say that it matches the description to every single detail.
Cost and Value
Under Armour has had the reputation of a company that has dedicated itself to improving sports performance to every single aspect. They have been increasingly innovative and offer impeccable product quality that brings performance to a higher level. This jacket is among those UA products that will allow for maximized achievement in your game. The price varies from color to size, but it is within the range of high-quality name-brand products.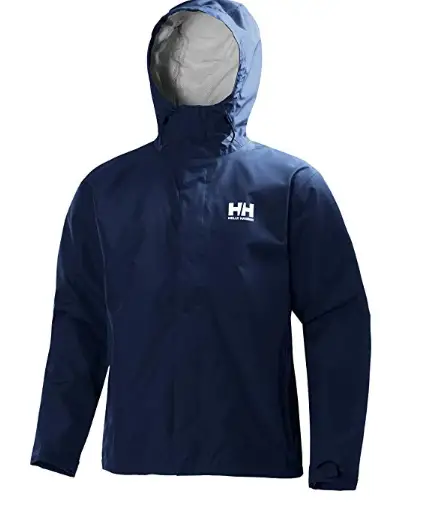 Playing golf during rainy days can be a hassle and many lose the enthusiasm from the summer enjoyment. But, if you have the right clothes, then you can change the way you think about fall/winter golf and you might get even challenged to find enjoyment where you couldn't see before. Helly Hansen jacket is designed to show you the other perspective of playing golf during rainy, misty and foggy day. Read below to find out more about it.
Read more
Design
When it comes to its design, even at first glance you can come to the realization that it has very solid stitching and looks firm and neat. There are more than 30 color varieties you can choose from and the unisex design is what appeals to many buyers. The shell is resistant to water and wind due to its HellyTech membrane that prevents the water molecules to penetrate inside but allows the moisture molecules get out to keep you dry when exposed to rain and comfortable from the outside without feeling sweaty. It is designed with adjustable cuffs and bottom cinch cord so that it can trap the heat inside. The hood is fully adjustable too and it can suit literally any head size.
Use
This jacket, that is made from 100% polyester from the outside and 100% polyurethane in the inside, will provide you with breathable rain and wind protection. Since it has Durable Water Repellency treatment it can help you stay dry even if you are caught in the storm. It can be used for any sports activity that requires staying longer outside. This means it is perfect for golf when the weather is harsh and not favorable for any activities outside.
Cost and Value
This is a good jacket to keep you protected during fall or spring for the areas where sudden splashes aren't a rarity. It is thin and lightweight without any lining besides the mesh that feels comfortable on the skin if you decide to wear it with a T-shirt. So, it is not a jacket to keep you warm by itself, but to protect you from the elements. The price greatly varies regarding the size and the color, but generally speaking, it keeps the higher end.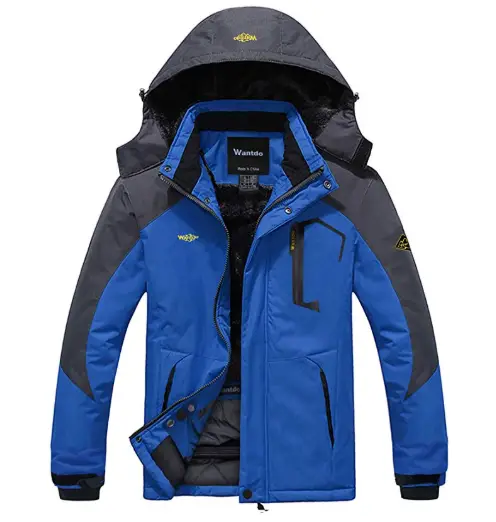 When we say golf, the first images that our mind creates are those of sunny and warm weather, light clothes, polo shirts, cold beer...something like a Miami or Maui situated course, somewhere next to the ocean. Yeah, that's how most of the people who have never tried golf imagine it, however, in case you didn't know, people play golf all year round, even during the snowy winter. The thing is, you just need to be prepared and have a few colored balls. When we talk about preparation, besides the mittens and the hats, a super warm waterproof jacket is a must. Something like Wantdo. Let us tell you about this jacket.
Read more
Design
It is a jacket that is made to protect you during the coldest winter days. It is a thick model, made with waterproof and windproof shell coating and the inside lining is fuzzy and soft with cotton padding, which has the capacity to retain the temperature at body level and keep you warm. It has a very trendy design with adjustable hood and hem, elastic cuffs which have thumb holes that can be stretched and an inside windproof powder skirt that is made to keep the wind out.
Use
This thick hoodie is all you need for cold winter days. From winter golf to mountain climbing, you will never feel cold or unprotected. It has fancy design and many pockets to keep your winter accessories or golf extras, two outside zippered pockets, one chest pocket, and inside pocket. It will fully protect you from the rain since it has a professional coated polyester fabric that doesn't let the rain or the snow penetrate inside. This is a perfect jacket for avid golfers who are never deterred from the weather in their intention to play golf.
Cost and Value
This jacket can be easily compared to many high-end, brand-name jackets that cost hundreds of dollars. It is nicely stitched, it has nice padding and it protects you from the rain and the cold. Plus, you can choose from a wide range of color choices. Some buyers have remarked on the poor quality of the zippers, however, everything else seems to be perfect. It is an awesome value for the money.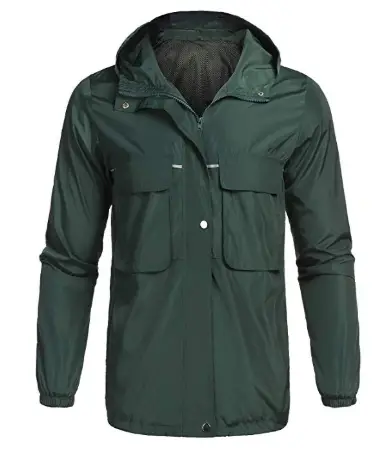 Maybe it isn't a name-brand, but according to the customers' reviews it feels and features as such, offering superior water and wind protection. It can be worn for many different occasions such as extreme sport, mountaineering, causal walks or playing your favorite sport. It comes in three color choices, blue, black and green and it is advertised as a jacket for all weather seasons. Below we talk about its design and when it can be used.
Read more
Design
Even though it looks like a basic raincoat, it will provide you with enhanced sporting performance and endurance under any weather conditions. It is breathable, protects you from the rain or the snow, and doesn't allow the wind to penetrate to your skin. It gives an impression of sporty elegance, being a bit longer and slim fit, with loose large side pockets, elastic cuffs and stretchy packable material. The lining is made of breathable mesh and it has adjustable drawstring hem.
Use
It is advertised as a jacket for all seasons since it isn't thick, merely it is something that can be worn over a t-shirt during the summer, over another jacket during the winter and it can be easily folded when not needed during spring or fall. Golfers can find it particularly beneficial due to its stretch material that will allow them unhindered performance and good swings even when the weather is not favorable.
Cost and Value
Poriff is the new name in the waterproof apparel as having no negative reviews and critics, proving to be true to the description. Users say that besides protecting them from the rain and the wind, it is stylish and good looking, adding one more plus to its overall impression. The price is more than affordable, making it good value for the money.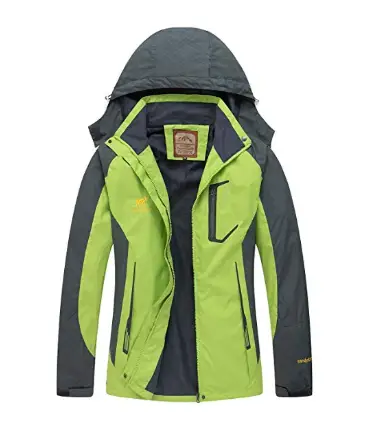 Inexpensive jacket and high-quality waterproofing don't have to mutually exclusive and it is not true that only name-brands deliver superior protection. Diamond Candy stands against all myths regarding affordable garment proving it to be very efficient and reliable in performing its function. It reminds of those jackets that you can buy in stores that cost hundreds of dollars since it mimics the performance of such jackets. It has been designed in accordance with the latest apparel technologies that provide unprecedented protection for every sports enthusiast that won't allow bad weather to stand in the way to enjoy the sport outdoors.
Read more
Design
It is made from high-tech fabric that has a waterproof coating with an added thin layered structure that doesn't allow the water to penetrate the inside. However, it allows the inner moisture to get out, keeping you in both ways protected. The inner fleece lining is very breathable and soft and provides sufficient airflow so that you don't feel hot but at the same time, it maintains the natural body temperature so that you don't feel cold either. It is made with a fully sealed seam, with adjustable and removable hood, adjustable cuffs, zippered pockets, zippered chest pocket, and one safety internal pocket and high collar to protect your neck.
Use
This is a highly convenient and practical jacket that can be worn for different purposes. It is a sporty model that will protect you from the elements regardless of where you are or what you are doing. It is convenient for golfing, hiking, fishing, skiing, running, whatever you are up to. It is extremely lightweight and thin and it won't obstruct any of your movements.
Cost and Value
This jacket is ranging high since it is a good piece of clothing that every golfer needs to have. It is very light, it won't take up much space and it won't prevent you in your swinging. It comes in five colors and the manufacturer is offering a 6-months satisfaction guarantee making it a risk-free purchase for a super affordable price.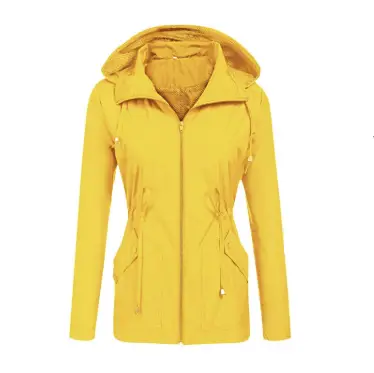 This jacket is actually proof that sporty style can be related to an elegant and beautiful outfit. It is one of those jackets that you fall in love with at first sight and no matter how many other different models you have, you simply always pick that particular one. It is a very versatile model that can be worn everywhere, from hiking and sightseeing tours to swinging on the golf course. It is one of those all-seasons jackets which will protect you from weather elements and allow you to indulge yourself in outdoor activities. Plus, it is a jacket that doesn't have a single negative review which is a great indicator of its wonderful make.
Read more
Design
You will enjoy wearing this jacket since it will compliment your stylish looks and if you happen to live in areas where there are frequent drizzles or splashes of rain it will become part of your regular styling. It is also effective as a windbreaker, so no worries about the incessant wind too. It is made of 95% polyester and 5% spandex, a combination of materials that provide superior protection and comfort. Bear in mind that in case of very heavy rain you will still need additional protection because it is not made for stormy conditions. It is lined with breathable mesh so in case you get involved in strenuous activities you will have sufficient air flow. It has to fancy pockets and drawstring waist that can be adjusted to your size, adding to its look.
Use
This type of waterproof jacket is one of those that have the most versatile purpose and can be taken everywhere without sticking out. It is very lightweight and can be easily packed when not needed, without taking so much space, so it can be excellent for traveling tours, playing golf during spring and fall light rains or it can be even worn as part of your daily outerwear.
Cost and Value
This jacket has no negative review whatsoever which indicates the sophistication of its design and real functionality. The buyers say that it fits the description to every bits and piece and they gladly recommend it. It comes in six color choices for a price which is neither expensive nor cheap, depending on the point of view you consider it.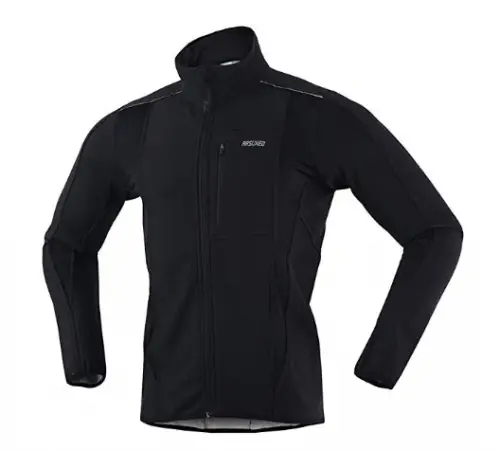 Cold weather should never be an obstacle for enjoying sport outdoors, just you need to have the right equipment with you. Arsuxeo has been advertised as a cycling jacket, however, many users say that it is a convenient piece of garment for any winter sport, so golfers, tennis players, runners, can find it appropriate to wear it too. Besides the black color, you can choose from a yellow, orange and green color option.
Read more
Design
It is a very stylish model, sleek and fit and follows the body contours. It is made with thermal softshell which protects you from getting soaked in you are caught in a sudden splash of rain. This material is breathable and elastic which is especially important for sports which require a lot of moving. The black parts of it are four-way stretch material which provides for unobstructed movement while swinging. It is a snug fit, but sizes run small, so you need to order one-two sizes bigger to match your size.
Use
As it is made of fleece, it is a necessary piece of garment for late fall or early spring outfit. It is perfect for rainy, misty or foggy weather because the logos on the front and the back and the stripes are reflective, so no added risk while sporting out. As it is stretch material and the fact that it allows for four-way movement, makes it particularly convenient for golfers to perform well when swinging. There's one small pocket on the front chest side and one small pocket on the back, perfect for an extra golf ball.
Cost and Vale
This can be considered a basic part of the golf clothing, especially for people living in misty and rainy areas. It is convenient, lightweight, stretch and very comfortable. The only thing you need to be really careful about is the size since it runs smaller than the usual sizes, other than that it has no flaws. The price is within the normal range of products this type, and if you compare it with other name-brands then this one is much less expensive.

Subscribe to our Newsletter