Best Water Bottles
In a
Hurry? Editors choice: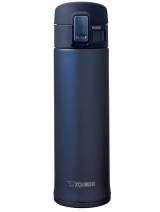 Test Winner: Zojirushi Stainless Steel Mug

In any sport, there is one key rule; stay hydrated. Golfing is no exception. For golfers, spending long hours in the hot
sun
without anything to drink can quickly wear you down. However, a drink is often one of the most important items left behind when players hit the golf course. Many hassles get in the way of players coming equipped with something to drink from, such as dealing with difficult bottles that don't want to unscrew, having your cold drink turn lukewarm, or not being able to tell one's generic plastic bottle from the other. What is needed is a reliable hydration tool that can ensure any golfer can get the most quality playing time possible. Listed here is just that. Ranging in materials, size, and design there will be no excuse not to take a fresh drink on your sport filled day.
Standout Picks
Criteria Used for Evaluation
Ease of Use
Drinking should be a simple task.
There is no need to have an overly complicated drink carrier. It has one simple job and that is to keep a fresh drink on hand whenever it is needed. To make sure that every container on this list is user-friendly, only the best ones with a simple twist off caps, one-handed pop open caps, and similar designs were selected. These products are simple to open and easy to hold. Often times these containers can come with extra pieces that end up just being a nuisance. These very straightforward carriers are no hassle and simple to use.
Size
There are dozens of carrier sizes.
Not everyone wants the same amount of beverage. Some people require a higher intake of drinks while others rarely get thirsty. To make sure there were options for everyone a variety of sizes were looked into. Sizes can range from 16 ounces to 32 ounces so anyone can find their perfect bottle.
Materials
The materials used in any product are one of the most important factors.
Much like size, everyone has their own preference when it comes to the type of drink carrier they use. It is not hard to find a variety of materials such as steel, silicone, and glass. However to ensure a good drinking experience the quality of the product was closely inspected. Sanitary, sturdy, and valuable products were used in all beverage containers regardless of what material it was made from. There are several options for what your container is made from so that no one feels hopeless in finding the right one.
Portability
Any drink carrier should be easily carried and transported.
It is not fun having to tote around a bulky container all day. To make matters worse, you have to set it down while you do your activities and risk losing it or something happening to it. To keep the containers from being stressful we looked for handy features like easy carry strap. One of the things looked into was how well it could fit in common areas like bags or cup holders so that you could have a place to stash your container when it is not in use. So whether you are carrying it or placing it somewhere it won't give you any trouble.
Subscribe to our Newsletter