Best Water Bottles
In a
Hurry? Editors choice: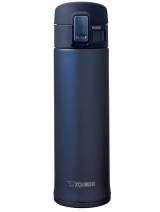 Test Winner: Zojirushi Stainless Steel Mug

In any sport, there is one key rule; stay hydrated. Golfing is no exception. For golfers, spending long hours in the hot
sun
without anything to drink can quickly wear you down. However, a drink is often one of the most important items left behind when players hit the golf course. Many hassles get in the way of players coming equipped with something to drink from, such as dealing with difficult bottles that don't want to unscrew, having your cold drink turn lukewarm, or not being able to tell one's generic plastic bottle from the other. What is needed is a reliable hydration tool that can ensure any golfer can get the most quality playing time possible. Listed here is just that. Ranging in materials, size, and design there will be no excuse not to take a fresh drink on your sport filled day.
Standout Picks
Criteria Used for Evaluation
Ease of Use
Drinking should be a simple task.
There is no need to have an overly complicated drink carrier. It has one simple job and that is to keep a fresh drink on hand whenever it is needed. To make sure that every container on this list is user-friendly, only the best ones with a simple twist off caps, one-handed pop open caps, and similar designs were selected. These products are simple to open and easy to hold. Often times these containers can come with extra pieces that end up just being a nuisance. These very straightforward carriers are no hassle and simple to use.
Size
There are dozens of carrier sizes.
Not everyone wants the same amount of beverage. Some people require a higher intake of drinks while others rarely get thirsty. To make sure there were options for everyone a variety of sizes were looked into. Sizes can range from 16 ounces to 32 ounces so anyone can find their perfect bottle.
Materials
The materials used in any product are one of the most important factors.
Much like size, everyone has their own preference when it comes to the type of drink carrier they use. It is not hard to find a variety of materials such as steel, silicone, and glass. However to ensure a good drinking experience the quality of the product was closely inspected. Sanitary, sturdy, and valuable products were used in all beverage containers regardless of what material it was made from. There are several options for what your container is made from so that no one feels hopeless in finding the right one.
Portability
Any drink carrier should be easily carried and transported.
It is not fun having to tote around a bulky container all day. To make matters worse, you have to set it down while you do your activities and risk losing it or something happening to it. To keep the containers from being stressful we looked for handy features like easy carry strap. One of the things looked into was how well it could fit in common areas like bags or cup holders so that you could have a place to stash your container when it is not in use. So whether you are carrying it or placing it somewhere it won't give you any trouble.
Top 10 Picks
1

. Zojirushi Stainless Steel Mug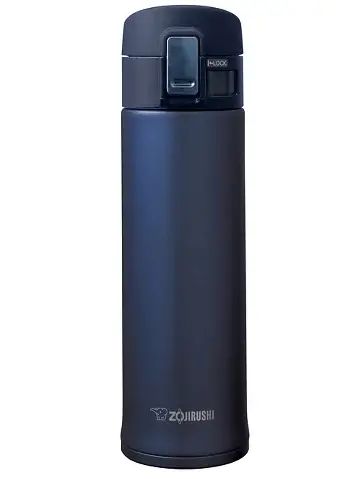 Any good drink carrier should be able to keep beverages at the desired temperature, be durable, and have a spill proof cap. This steel mug does just that. With its many features such as an easy lock cap and SlickSteel finish, it makes keeping a drink with you all day simple and enjoyable.
Read more
Temperature Control
Whether people take hot coffee in the morning or ice cold sweet tea, the last thing anyone would want is their hot drinks to get cold or their cold drinks to get hot. But thanks to the vacuum insulation and tightly fitted lid of this mug, any type of drink put into this product will remain the same temperature for up to 6 hours. This is made possible because the vacuum insulated walls of the container restrict air from getting between the layers of stainless steel. So there is no way for the air to alter the temperature of the drink.
Stainless Steel Interior
Not only does this mug have a quality exterior, but the interior is also made of high-grade stainless steel. Because it was made with quality materials, it has advantages like being very easy to clean and more sanitary than other containers made with lesser value products. Also, because the interior was made with stainless steel it does not retain flavor. So if it were to be filled with an acidic drink such as pineapple juice one day, it could hold plain water the next with no trace of flavor or scent from the juice.
Cost and Value
This mug gives you the most that a mug could offer. It takes up minimal space and is slim enough to fit into a regular cup holder, but still holds 16 ounces of fluid. Also, it was made with the best materials so that it can keep any beverage in perfect condition. The stainless steel also allows for it to be used more and last longer than some other containers would. This mug offers long, high standard use, so it does come at a slightly higher price, but its quality makes it worth it.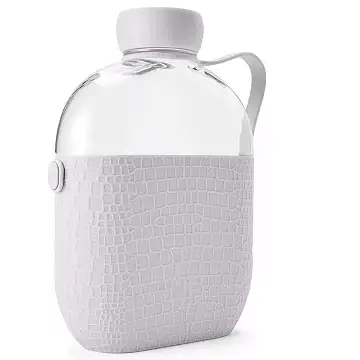 This container comes with a unique design and makes staying hydrated fun and easy. It is more durable than other containers because of its thick Tritan plastic that was made to have the same clear look of glass, without the fragileness. Even though it was made with thicker plastic, it is still very lightweight. This also features an easy carry handle and silicone sleeve, that comes in a variety of colors, which makes it less likely to be dropped.
Read more
Easy To Travel With
The design of this drink carrier is both creative and functional. The flat, short shape makes it fit inside bags, totes, briefcases, laptop cases and more and even fits in areas like a car door pocket. The silicone handle can also be attached to things like belt loops or backpacks for hands-free carrying. When being carried by hand, the distinctive pattern of the silicone acts as a grip to lower the chances of it being dropped. It is decorative and useful.
BPA and BPS Free
BPA and BPS are two chemicals often found in plastic products. Although they have been commonly used within the last few decades, there have been raising concerns for the effect they may have on health. Luckily this container is completely free of both of these chemicals. That makes this the perfect drink carrier for someone who has concerns about consuming unwanted chemicals.
Cost and Values
This flask-like bottle might be able to fit into smaller spaces, but that doesn't take away from its ability to deliver amazing value for the price. Holding 22 ounces of liquid, it allows for more hydration without the need for frequent refilling. Additionally, because it is so heavy duty and protected, it will have a longer life span than more delicate carriers. The design and features of this beverage carrier may make it seem as though it would come with a high price, however it is very cost friendly.

3

. Purifyou Premium Glass Water


When choosing a new drink carrier, there are more options than just metal and plastic. Glass is an excellent alternative to the other materials that have a lot to offer. This drink carrier is made from high-quality, durable glass that has many advantages. The pure taste that comes from drinking from a glass container has many hydration fanatics hooked.
Read more
Strong Shatter Proof Glass
Some consumers are apprehensive when purchasing glass items, especially ones that will be carried around and potentially dropped through the day. That won't be an issue with this product. Made from borosilicate glass, it is far more resistant than other types of glass. Not only is the glass durable, but it also comes complete with a silicone sleeve to add further protection to the bottle. This sleeve also keeps hot drinks hot and cold drinks cold.
Microwave and Dishwasher Safe
One common issue with many containers is melting when put into the dishwasher, and putting it into the microwave is nearly impossible. However, this glass can be used in both. The silicone sleeve and glass are both heat resistant and won't shatter or melt when exposed to higher levels of heat that would be found in both appliances. This makes cleaning it and heating up beverages easier than it would be in less resistant containers.
Cost and Value
All the materials used in the making of this product are very high quality. The 22-ounce glass lets you keep a great amount of your favorite drink around all day at a lower cost than similar containers. Because it is so durable and easily cleaned, extended use can come from this container. With all of those features, there will not be any need to purchase new containers to replace this one because it is so long-lasting.

4

. Hydro Flask Sports Bottle


This drink buddy was made for sport activity. It was made to keep cold drinks chilled for up to 6 hours with its double-walled, TempSheild insulation design. With lots of advantages, it is an easy choice for anyone who wants to stay active all day and keep hydrated.
Read more
Unique Powder Finish
Most beverage carriers either have a slick, slippery outer coating or a bulky silicone sleeve. However, this Stainless Steel container has a unique powder coating on the outside to give extra grip. It also features a TempShield insulation system that prevents condensation from building up on the outside of the container, which makes the powder finish even more easily gripped.
Easy to Drink From
One expectation for anything that will be drunk from is easy drinking. In some drinking devices, the mouth opening is so wide that it could soak the drinkers shirt with one wrong tilt. Alternatively, some feature pop-up tops that require too much suction for adequate drinking. This flask has the perfect size opening so that it can easily drink from without unwanted spillage. An added bonus is that the opening is also wide enough to fit in standard size ice cubes.
Value and Cost
This flask offers 21 ounces of product that can easily last all day long. On top of that, it is made with great quality materials, so it gives the best drinking experience. Although the price falls a little higher than the midpoint, it is understandable when all the amazing factors of this product are considered.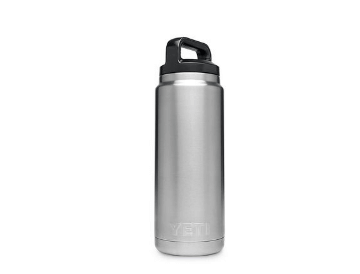 When people think of any type of drink container one of the first brands that comes to mind is YETI. This brand is known for its high-quality products and for good reason. This Rambler mug is no exception. It is built to last and meet all the hydration needs. The mug works so well that it can even keep ice cubes frozen for 6 hours.
Read more
DuraCoat Color
Even the best drinking vessels can be tossed aside due to the outer layer of color chipping or peeling away, leaving behind an unattractive appearance. That won't be an issue with this cup. The vibrant colors on these mugs stay put because of the DuraCoat outer layer. This advanced technique is tough and built to withstand anything you could put it through. Resistant to cracking, fading, and chipping it guarantees to remain the same color for the duration of its use. The DuraCoat also adds extra grip to make it easier to hold without dropping it.
Leak Proof Cap
One of the worst parts of taking a drinking container on the go is the worry of it spilling into your bag or whatever it is carried in. To prevent this from happening, the cap was made to keep drinks in better than competing carriers. The TrippleHaul cap uses a thread design to keep the cap tightly fitted in place, even during activities such as jogging or riding a bike.
Cost and Value
YETI is a trusted and reliable brand. It has a great reputation for always pushing out quality in every one of their products. This Stainless Steel cup lives up to all the expectations set by the brands' loyal customers. The 26-ounce container gives enough liquid to last all day and used the best materials in its production. So although it is a little higher in price than others many believe that the item is worth the cost.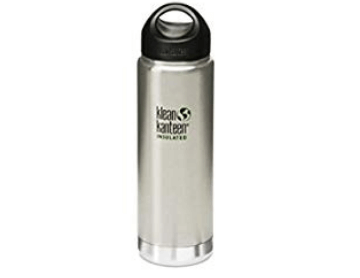 The Klean Kanteen has one goal in mind, and that is less waste. Instead of frequently purchasing disposable drinks, the Klean Kanteen is meant to replace the need for wasteful products. To reach this goal, the canteen has been made to be used frequently and withstand rough handling. Not only is it good for the environment, but the Klean Coat design is also good for the consumer too.
Read more
Klean Coat for Safer Drinking
Unlike other drink holders, this one was made to be safer by using less harmful ingredients. The creators paid meticulous attention to each chemical and only picked the safest ones in production. Because of these more consumer-friendly ingredients, you will still get amazing durability and temperature control without having to worry about harmful chemicals.
Double Insulation Keeps Drinks Cool
This beverage container is incredibly effective in keeping drinks at the desired temperature. Thanks to its double insulated stainless steel interior hot drinks can be kept hot for up to 6 hours and cold drinks can remain cool for up to 24 hours. Even when exposed to the hot sun the drink inside will still be chilled at the end of the day. Because of this, there will be no need to empty out lukewarm drinks and refill the container.
Cost and Value
Holding 20 ounces of liquid not only gives a good amount of drink with each use but it also helps save by cutting back on wasted drinks. It was manufactured with not only quality product, but also safe products. It falls within the midpoint price range of what would be expected when purchasing a quality drink carrier. But with the amount that will be saved by cutting out disposable bottles, many would agree that it is worth the investment. That makes this product good for you, the environment, and your wallet.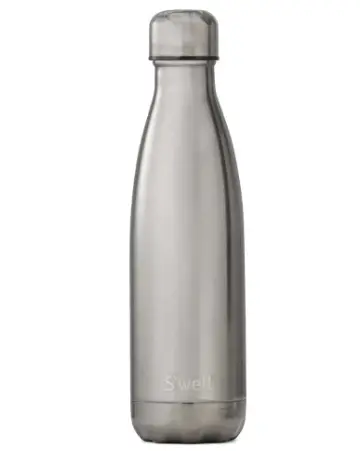 If you're after a drink container that has an even stronger ability to keep drinks either hot or cold then this is the one to reach for. Expertly lined walls and vacuum insulation make this a popular choice for customers. These are being seen more frequently due to their universal design and how well they work.
Read more
Triple Lined Walls
Most products similar to this one only feature double lined walls. While those have proven to work great, this container takes it a step up. Triple lined walls that feature a copper layer and Thermowell technology make sure that the chosen drink stays at the perfect temperature for longer
Larger Bottle For Drinking
The size of this drink holder is just the right size if typical 16-22 ounces are too small but gallons are too big. With 25 ounces it makes sure that anyone doing any type of physical exercise is adequately hydrated. To put it into perspective, the 25-ounce bottles can hold an entire bottle of wine.
Cost And Value
This product can hold more liquid, keep drinks the same temperature, and has many other features that make this an amazing drink carrier. It is easily cleaned, condensation free, and made out of BPA free 18/8 stainless steel. It is not the cheapest product available, but it was not built to be. The price is reflective of the power of this drink carrier.

8

. Nomader Collapsible Water Bottle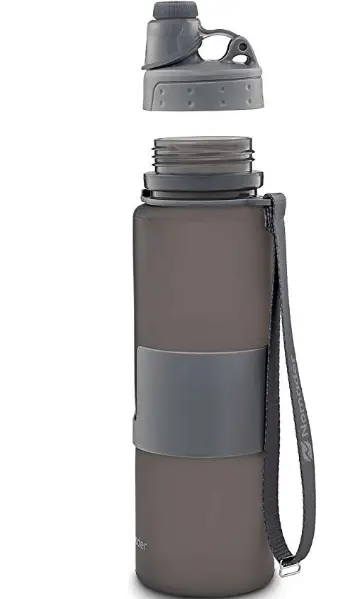 Have you ever wished that your empty water bottle would shrink down so you could easily store it somewhere while you're out? With this distinctive container that is now possible. This has the ability to be rolled up and tucked away neatly when not in use to save on space and be less of an annoyance.
Read more
Advantages of Silicone
To allow the container to be rolled for storage, it is made out of high-grade flexible silicone. Because the part that actually holds the liquid has no plastic, glass, or other damageable material it won't become broken if it were to get dropped. The silicone can also handle more than other products. It can be frozen, washed in a dishwasher, and hold any temperature drink.
Sanitary Cap
Some mouth openings can leave you exposed to germs. Not only do your hands come in contact with the area you drink from, but so do countless other unclean items. However, this container keeps all contact limited to just the mouth. A tightly sealed twist off cap keeps the mouthpiece covered until it is ready to drink from. So there will not be any worries about what could be on the spout.
Cost and Value
This container gives a fresh solution to one of the biggest problems with any type of similar item. The foldable silicone body will ensure an interesting drinking experience and make hydration seem like less of a chore. Plus, with 22 ounces with every use, it will easily keep dehydration at bay. Its costs fall at a comfortable midpoint range. Especially when you consider how long it can be used and how much it can hold with each use.

9

. Bike A Mile Nalgene Tritan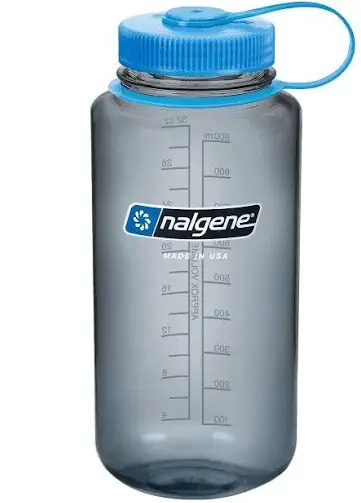 Sometimes heat and activity can be too high to carry around a standard size container. When conditions are likely to cause quicker dehydration a bottle that can keep more liquid is needed. With this carrier, you get 32 ounces of fresh delicious drinks of any kind. This is the perfect container to take a large amount of any drink wherever you go.
Read more
Easy Filling and Drinking
With such a large container it might seem difficult to drink from without getting the beverage everywhere. Luckily, that won't be an issue with this carrier. It features a splash guard with a smaller slot for comfortable drinking. The splash guard is also removable to reveal a large container opening. This opening allows for simple filling and cleaning.
Multi-Use Carrying Handle
Any user of a container with a removable lid dreads the moment they accidentally lose that lid. One of the perks of the useful carry handle is that it is attached to the lid itself. So you can unscrew the top without the worry of misplacing it. The strap is also sturdy and can be attached to things such as carabiners for easy transporting.

Cost and Value
Not only is this carrier big enough to keep even the most active athlete hydrated it is made of great material and offers more for less. The cost of this container is lower than others but is still great to keep around for handy hydration.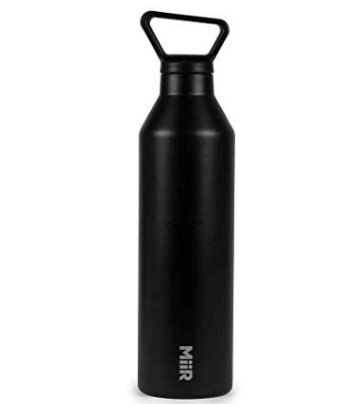 No one can go wrong with a simple and effective container. It has a simple design, it is easy to open, and keeps any drink as hot or cold as desired. It has useful features such as the effortless twist cap that has a built-in handle to keep it close by whenever it is needed. This has a minimalist appeal that is as simple as hydration itself.
Read more
One twist leak-proof cap
The simplistic design of this cap allows it to go on with one little twist and stays locked on tight. Despite the trouble-free application, the top is incredibly effective at keeping the contents from leaking out. It was made to stay in place and keep things around it free from liquids. Even the most intense jostling will not budge this top.
A modest, modern, and sophisticated look
It is not hard to find a flashy bottle full of colors and designs. This container has a very basic, everyday look. Available in a variety of colors, it will not be hard to find a nice neutral or subtle colored bottle to complement the carrier without being too overpowering. The slender and tasteful body design is not too busy and fits easily into cupholders and slim areas.
Cost and Value
With advantages like Thermo 3D wall vacuum insulation and a condensation proof outer portion, this carrier takes care of all the essential basics. The price point marks slightly higher but is very reasonable for the reusable quality container being purchased. The uncomplicated container offers a no-fuss solution for effortless hydration. Coupled with its well-made interior and exterior this will keep thirst away longer.

Subscribe to our Newsletter