Best Wallets Reviewed & Rated for Quality
In a
Hurry? Editors choice: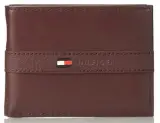 Test Winner: Tommy Hilfiger Ranger

When it comes to the golfing industry – there are more products than you might imagine. From shoes to clothes to even repair tools, there is so much gear, even some golfers are unaware of the true vastness of this market. With that being said, in order to purchase any of this stuff, you must have some cash, right? Well, let me ask you a quick question. Where do you plan on putting all the cash or the credit cards as a golfer? You can't stash them in your golf bag – you need a secure location. Now, guess what? We have the perfect product to share with you today.
Standout Picks
Criteria Used for Evaluation
Top 10 Picks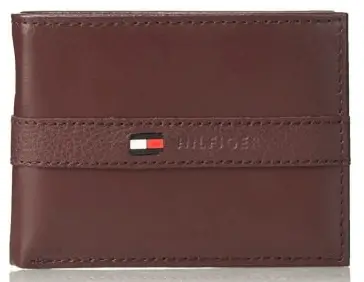 As the first wallet on this list, we want to talk about a brand that has long been known in the men's wear industry as an innovative brand when it comes to designs, styles, and luxury materials. With that, they have produced both premiere products as well as less expensive products with different levels of quality for virtually every audience. From the Tommy Hilfiger brand comes the Men's Range Leather Passcase Wallet, a simple wallet with many features. Here are two aspects to consider if you like the design of this product.
Read more
100% Leather
The material of this wallet is a luxury 100% leather material ensured to last the test of time. With that, the leather is soft, comfortable, and even has a unique design on the front. With a wrap around leather stitched design at the center of the wallet, it boasts the prestigious and common Hilfiger name and logo in the front. With that, this item can only be hand wiped down. Washing it will cause major damage to it.
The Design
The design of this product is a bifold wallet that is luxurious but offers many different simple features that individuals appreciate about their wallets. For instance, the wallet comes with 2 ID windows, 3 card slots, 3 slips, and even a removable ID holder. With that, there is also an extremely large color selection to choose from where individuals can pick between brown, black, burgundy and more.
Cost and Value
When talking about cost and value, it takes a certain amount of quality to produce such a great product. With that, Hilfiger is known for their large selection of quality items and designs. If you plan on gifting this as a gift, we believe that it is one of the best designs in the industry as far as quality and design. With such a large color selection, golfers will love the design of this specific item.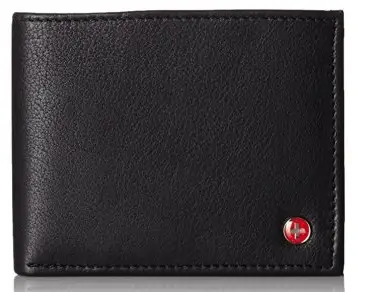 As the next quality wallet on our list, we want to share a design from a brand that knows all about durability and functionality. This wallet is known as the Alpine Swiss Men's Leather Flipout ID Wallet and it is expertly designed for quality durability. Perfect for golfers that want durability with functionality, we highly recommend this wallet for two simple reasons. Here are both features!
Read more
Classic Style
If you are a golfer, then you are a fan of all things traditional and classic. With that, then you will most likely be a fan of this particular wallet. This wallet has a classic style design that ensures maximum quality and benefits when it comes to the design. It is simple to hold and open with one hand and once opened, it even has a flip out ID design. With that, it is a very modern take on a classic wallet design.
The Slots
This item comes with a number of different variety slots for virtually anything you may need. The slots include twelve card slots and three additional card slot pockets. The flip out ID window is also very handy and designed for quality. It also has a fully lined section for single bills. With that in mind, there are many different color choices to choose from and overall, they are designed to be classic but sporty and durable.
Cost and Value
Let's discuss cost and value for this product! Overall, it is priced very well and what this brand is commonly known for when it comes to price. With that, this item comes with a quality gift box. For the value, it is worth it, but it is not the most luxurious design when it comes to a wallet. In fact, this wallet is priced like many other wallets in the industry today.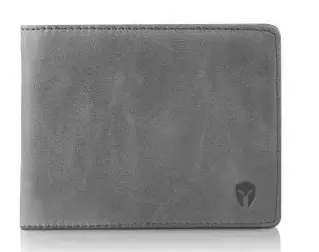 As the next quality wallet to consider, the Bryker Hyde 2 ID Window is a great wallet made for durability and with quality easy access features. As far as a bifold top wallet made for durability and functionality for golfers, this is it. There are many different features to consider of this product if you want to design benefits and functionality. Here are two features to consider!
Read more
Safety Features
This item has one of the most unique and innovative features when it comes to safety. If you are concerned about digital thieves taking any information from your wallet, then you do not need to be considered about this particular product. This item comes with RFID blocking technology that blocks from 10MHz to 3000MHZ. With that said, a blend of military grade materials ensures maximum blocking as well as maximum quality benefits when using the product. Therefore, individuals can expect durability and safety in one item.
Lifetime Warranty
Beyond the many pockets, the durable design, and the quality fine leather construction, this item comes with a lifetime warranty and 100% money back guarantee. With that, the money back guarantee is ensures maximum trust between the consumer and the brand. Now, this should be no concern because this product happens to be made form the finest and most luxurious materials while also blending quality and performance in one package.
Cost and Value
Let's discuss cost and value for this wallet! This happens to be a durable wallet made for performance alongside many other benefits. With that, it is durable, comfortable to use, and has many different pocket space available. However, an individual buys this wallet for safety. If you want maximum safety from your wallet, we recommend the quality of this expert leading product. With a great selection of color choices, this is a great gift for any golfer in the family.

4

. Nautica Milled Leather


This next item is from a brand that knows all about sporty designs mixed with luxury appeal. The Nautica brand has long been known for their pastel colors and quality designs. With that, this wallet is no different. It comes in four beautiful colors and it is made to be highly durable. If you want a simple luxury wallet that stands out, we recommend this expert piece of craftsmanship.
Read more
100% Leather
This item is made of 100% leather, as we would expect from this brand. The durability is also well designed and it is overall, ensured for maximum quality benefits. The bi-fold design has an interior ID flip pocket that comes in handy. With that, the leather may stretch from time to time once an individual starts using the pockets a bit more.
Pockets and Design
This product is 3.5" high and 4.5" wide. With that, it offers space for complete bills and it comes with four different slips. It also has two ID windows and four card slots. However, the ID holder is removable if you want less bulk and weight in your pocket. As far as the design goes, it is highly durable and made for quality.
Cost and Value
To discuss cost and value for this item, we want to share that it is very durable and stylish. As we have come to know from this brand, many of their products are designed for effective use and are very high quality. The 100% leather lining and textile design is durable and individuals will appreciate the overall value of this brand. With maximum durability and five-star reviews, you can trust that this item is built to last. For the price, it actually is not as costly as many other products from this brand.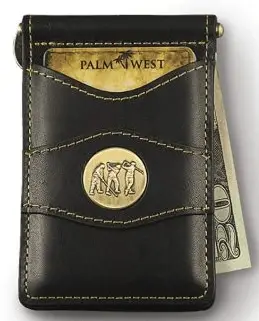 This next wallet is designed for ease of use, comfort, and maximum protection. The Palm West Leather Minimalist Money Clip is durable, comfortable to use, and individuals have touted the design for its simplistic and overall quality benefits. What is even more quality about the brand is that they have different insignias in the middle of the wallet depending on the style an individual want. The golfer one, in particular, has a golfer striking three poses. Let's talk about two features.
Read more
Maximum Protection
This wallet has maximum protection against card thieves. Using state of the art technology, this item can block RFID waves to ensure your protection. With that, the item uses a blend of materials to ensure the best frequency blocking technology. The magnetic shield around the wallet ensures the best security of all of your items. With that, this product is not just an investment as far as durability, it is a safe investment as well.
Genuine Leather
Now, this may be one of the most unique features we will ever share with our audience. This product comes with genuine leather that has been tanned with vegetable oils rather than using hard chemicals. With that, the wallet is designed for more enhanced durability and less potential of it wearing and tearing. Alongside this, the tanned bridle leather only improved with age, making this a long-term investment,
Cost and Value
As far as cost and value, we want to share that overall, this may be one of the best investments that an individual can buy. Made for quality, this item is durable, can withstand the test of time, makes a perfect gift, and is even highly luxurious. With that said, it is made to be reliable and very fashion forward. With a unique and quality design and emblem that says you are true to heart golfer, we highly recommend this product for the price.

6

. Timberland Blix Flip-Clip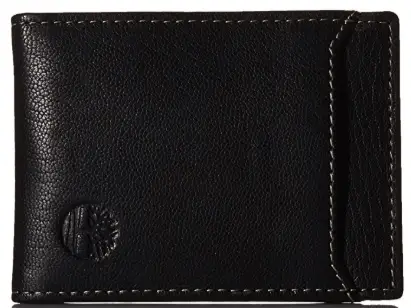 As the next quality wallet on our list, we want to share a wallet specifically made for the outdoor individual that wants durability and a rugged design. Timberland is often known as a brand for the outdoors. With that, we can also say that they are a brand known for quality and durability. We want to share with our audience two quality features from the stylish Men's Blix Flip-Clip. Let's begin!
Read more
The Design
Part of what makes this product highly functional is the overall design. The design is a simple flip-clip design with an exterior pocket clip and a clear id window. With that, the product flips closed for easy compactness and overall quality. With that in mind, the design is very slim and simple. Although it does not have plenty of pocket space, individuals will appreciate that the design is made simple to easily fit into any pocket.
100% Genuine Leather
Part of the design of this product is that it is made 100% from genuine leather. With that, this item overall is a quality product that is made to be worn often without sacrificing the quality. The design is simple, it is stylish, but it has a rugged edge that men will like from their quality wallet.
Cost and Value
To discuss cost and value for this item, it is important to note that the overall design is very high quality and it, in fact, has 4.5 stars. With that in mind, the material is durable, it flips closed for compact use and it is 100% genuine leather and comes in two color choices. With that, for the price, we can see why it is such a high-quality brand. The price is very affordable too!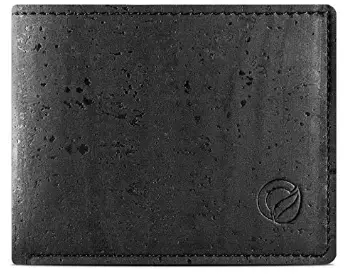 Vegan-friendly wallets are popular, and the brand name will vary from country to country though the none leather material construction does tend to stay the same.
A great choice for those who do not want to use real leather or products which come from animals. There is a nice range of vegan wallets, a very popular option are the cork leather versions which are offered by several good brands.
Vegan leather look wallets are free from any type of animal products. They are very durable, easy to keep clean, just wipe with a slightly damp cloth. Folds up to a comfy pocket-sized fit, you will be able to carry a good range of cards and money safe.
Read more
Made for Durability without using animal leather.
This item is known as durable. The fact alone that it is made by a good brand will suggest that it is made for durability and excellence. Overall, the design is also high quality and the material is 100% free from animal leather. Alongside this, individuals can expect it to be durable and last the test of time.
Interior Benefits
This item is a very thin wallet. However, once packed with cards it can get to be bulky and full. Overall, it allows space for four different cars and an ID slot. It also has an area where individuals can put their single bills.
Cost and Value
To discuss cost and value, we first want to say that there is a lack of product information online for this item. With that, it is a 4.5+ star product and designed very well. As one would expect from this manufacturer, it comes all in black and it is made to look sporty and stealthy. For the price, it can be considered a bit expensive, but it is the name behind it that gives it the cost.

8

. Personalized Mens Wallet


As a quality product, individuals can get two great products in one. With that in mind, we can say that the Personalized Mens Leather Wallet is a quality item that individuals will enjoy, with an extra feature you add your name that is somewhat unexpected. However, this special feature makes it the perfect item for golfers. Here are two features to consider of this very special product.
Read more
A good wallet, well put together and you can have your name embossed on the wallet, to be a nice wallet feature.
Quality Materials
Alongside the extra feature, this product comes with one quality material composition. The material is a blend of suede and leather and made for durability. With that, the material is very durable and very resistant towards wear and tear. The interior has plenty of room and the overall quality is only matched by the performance and quality of this brand.
Cost and Value
To discuss cost and value, we first have to share that the design of this item is very functional and very well made. Overall, this is not a luxurious wallet by any means. It is more of a simple black wallet made to be very functional and has a quality material composition.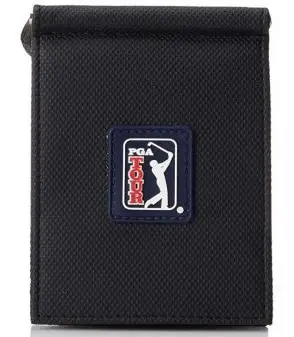 The next wallet on this list is a durable companion to any golfer and it is made from quality materials from a brand that knows the world of golf from the very beginning. From PGA Tour, we want to share their Men's Pocket Wallet and two features individuals can expect from this item.
Read more
The Design
The design of this wallet for golfers is made by golfers and by a brand that knows golfers. Wow, that is a lot to say! With that, this wallet is exactly what a golfer needs while on the course. It has six interior card pockets and a slim and lightweight design that is highly durable. With that, it is made for quality to ensure performance, lightweight benefits, and overall durability.
Trusted Brand
This brand happens to be one of the most trusted in the golf community. Therefore, it makes sense that this item is also one of the best when it comes to quality. With five stars, we believe you want a true golfers wallet, this is it.
Cost and Value
To talk about the cost and value for this product, we believe that this item is worth it for the price if you like the style and the design. Overall, it is very handy and is beneficial if you want a quality design that lasts. With that, the value is in the overall durability and comfort of the product when it is full.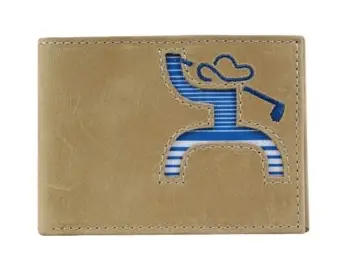 This next wallet is a unique wallet made for quality and a distinctive design. The Hooey Men's Golf Stripe BI-Fold Wallet is a quality wallet with many different features. With that, it is made for endurance and performance alongside a unique and simple design.
Read more
Genuine Leather
This item does not have much information online. However, it is made from genuine leather construction with quality stitching. With that, the leather is so high quality that it is very smooth and may scratch easily if not careful.
The Design
The truth is that if an individual buys this product, they are buying it because of the funny front design. With that said, this item has a funny front logo with a golfer on it, making it the best gift for a golfer today.
Cost and Value
This particular bi-fold wallet is simple, designed for quality, and very stylish. With that, the modern and innovative logo is a distinctive feature to consider. Although it does not have any reviews, the brand is known for having great quality products.

Subscribe to our Newsletter