Best Under Armour Golf Polos Reviewed & Rated for Quality
Experienced golfers know that the types of clothing you wear on the golf course can increase the level of your performance in a way that they can prevent over sweating and keep your clothes dry, regulate body temperature, let your skin breathe and keep the odors away. Every golf player enjoys playing in ideal weather conditions, however ideal rarely happens in reality. This means that when you are out there on the open golf course, you are definitively exposed to various weather conditions such as winds, rain or extremely hot or cold temperatures and these weather conditions might have a negative influence on your performance.
Feature Recommendations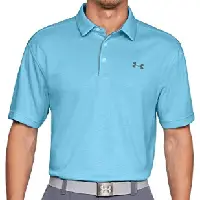 Under Armour Tech Polo

Our rating
Fabric features
Price:

See Here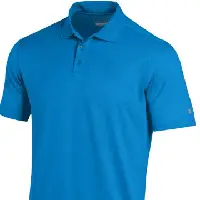 Under Armour Performance Polo

Our rating
Design
Price:

See Here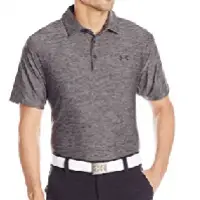 Under Armour Playoff Polo

Our rating
Fabric Features
Price:

See Here


When Under Armour designed sports apparel, they had the above-mentioned conditions and factors in mind, so they gave their best to respond to the needs of sports people in general and thus they have become one of the most innovative performance apparel industry nowadays. They have implemented in their sportswear the innovative Moisture Transport System which directs sweat and moisture from your body through the material and thus makes the moist evaporate easily. In addition to this, it is highly important that weather temperatures do not impact your performance, so comfortable and lightweight clothes have become a must, in order to provide the ultimate advantage of playing well. The all-seasons fabrics created to defy climate and circumstantial conditions and thus increase performance put Under Armour among the leading innovative apparel companies.
Nothing less can be said when it comes to golf apparel. Under Armor clothes are well known and respected among golfers because they can feel their pursuit for creating maximum conditions which lead to improved performance, success and satisfaction. Bearing this in mind, we are going to review and recommend the top ten golf polos which provide comfort and better performance on the golf course and at the same time boost the feeling of confidence and superiority.
10 Best Under Armour Polos
1. Under Armour Tech Polo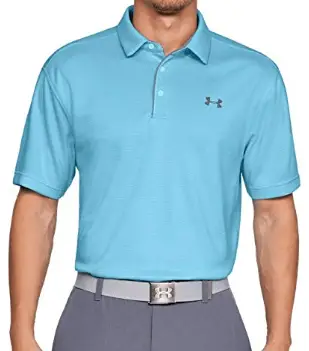 Very light and breathable UA model which you will simply fall in love with. It is designed to wear it in any kind of occasions, not just sports. It is elegant, stylish and made of finest materials with UA superb technology. No wonder that this model is one of the most sold UA polo shirts.
Expand to see more
Design
It is a loose model designed to enable you to move unhindered in all directions and increase the performance. It has the screen printed logo on the right and it is featured with three button placket. There are many different colors you can choose from, which makes the shirt appropriate for many various occasions. Its collar is thicker then expected and for some, this might come as a surprise.

Fabric features
This model is made of 100% Polyester which is textured, airy and provides natural feeling and comfort. It is specially designed to increase the feeling of coolness in
warm or humid climate
by increasing the air flow. The Moisture Transportation System makes the material easy to dry and wicks the moisture away. Due to anti-odor and microbes resistance technology implemented in its design, you can keep your self-confidence high since we know how unpleasant odors and the feeling of being sweaty can be.
Cost and Value
Even though there have been remarks that this shirt is a bit overpriced, the quality it has, the material it is made of, the feeling of comfort and the pleasure it creates when wearing it, they all justify the price tag it has.
Breathable and natural feeling
Comes in many colors
Quick dry and odor free
Performance fit
The collar is thicker than expected
2. Under Armour Performance Polo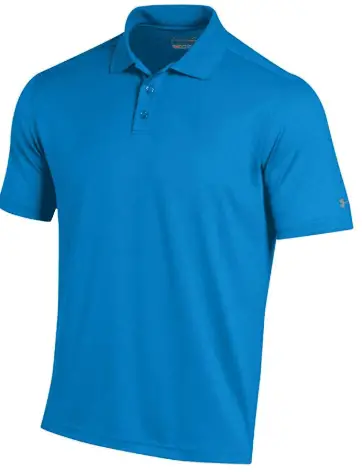 Under Armour are famous for their exquisite performance fit polos and their polos rule the golf course due to their
superb innovative technology
. This shirt model is actually the one that started all the change in their products and no wonder it is one of the best recommended polo shirts.
Expand to see more
Design
Under UA labeling it is marked as a loose model even though many would agree that is more like the loose fit since it is designed in that way that there is no extra piece of clothing that stands out unnecessarily and at the same time to provide unobstructed movement and performance due to its 4-way stretch fabrication. It is fitted with a long-lasting knit-fit collar made of 100% Polyester, three buttons and the logo on the left. The shirt comes in many classic colors.
Fabric features
The material is very durable with UPF 30+ factor that protects your skin from the
harmful sunrays
. As high-quality material it enables ultimate odor and microbial protection and the Moisture System Dry technology relieves you from sweat and moisture. This means you feel fresh and confident since we all know how uncomfortable sweat stains can be. The fabric is bound to last due to its anti-pill and an anti-pick feature that has much cleaner anti-snag finish.
Cost and Value
One of the greatest characteristics of this polo is its durability and high quality. The price seems to be a bit higher compared to other models, however, bearing in mind that you'll get a shirt that can fit all your needs and increase your performance, then the price fits the product type.
Durable and high quality shir
t
Comfortable and smooth
Loose fit design
Prevents bad odor and sweat stains
Quick dry
Sizing needs to be double checked
3. Under Armour Playoff Polo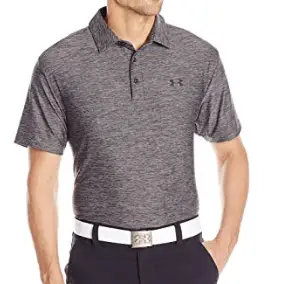 This model seems to be among the most popular ones. It is very lightweight and extra comfortable, standing somewhere between regular and slim fit model which makes this shirt fashionable too. The material is thicker than usual quick-dry but it has a snag-free finish, sun protection, and anti-microbial treatment. No worries about odors too, you can confidently dedicate yourself on the play!
Expand to see more
Design
Under Armour describes this product as loose even though it is far from being baggy. As a matter of fact, it looks more like slim fit which means it is tighter than the regular model with shorter sleeves and it has fuller cut which adds to the comfort. Plus, it has 4-way stretch construction which gives you the confidence of unhindered movement in every direction and thus it provides better performance fit. The self-fabric collar adds to its
stylish and classy design.
Fabric Features
This polo shirt is made of 88% polyester and 12% elastane and this material quickly dry even when you sweat thanks to the Moisture Transport System technology used in its production. The fabric is anti-pick and anti-pill which means it will stay smooth and clean and it won't snug while you wear it or after you wash it. Needless to say that this type of fabric provides grater
durability and confidence
since the odor-free technology fights against microbes and unpleasant smell. The integrated UPF 30+ factor is very effective in protecting your skin from the harmful sun rays. The polo shirt comes in a wide range of colors and sizes.
Cost and Value
If you want a stylish, classic but modern polo shirt which will increase your confidence and performance on the golf course, this is your shirt. It is comfortable, lightweight, and a reliable golf polo shirt which integrates innovative moisture and odor protection technology, so the offered price reflects its featured design and quality, which according to many customers is good value for money.
Comfortable and lightweight
Quick-dry, odor-free and snag-free
UPF 30+ protection from the sun rays
4. Under Armour Release Polo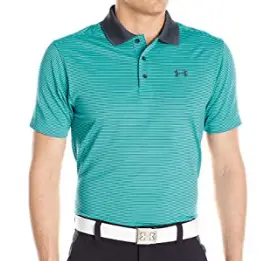 Another great UA polo shirt which can boast about its durability and quality design. The material is soft and smooth, doesn't wrinkle and it is very lightweight and comfortable.
Expand to see more
Design
Yet another stylish golf polo which is smooth and very pleasant to wear. Under UA standards it is a loose model, however many customers consider it to be a loose fit, which means it is a bit shorter and it has filler cut for better performance. The logo is on the left chest side and it is the same color with the self-fabric collar, the tiny stripes and the three buttons, which all differ from the color of the shirt.

Fabric Features
The fabric is made of 95% Polyester and 5% Spandex. It is performance fit material since it wicks the moisture away from the body and dries easily. Anti-odor technology which fights against microbes that create odor gives you the freedom to sweat without staining the shirt and in that way to enjoy the game and stay focused. When it comes to durability we can say that it is undisputed UA quality, not being prone to pilling, picking or snagging.

Cost and Value
It is a shirt which won't disappoint you, nor will you feel any discomfort while enjoying a good game. It gives you unique
elegance and recognizable style
. It is a good value for a high-quality product.
Comfortable and well designed
Anti-odor, quick-dry
Performance fit
High- quality
5. Under Armour Colorblock Polo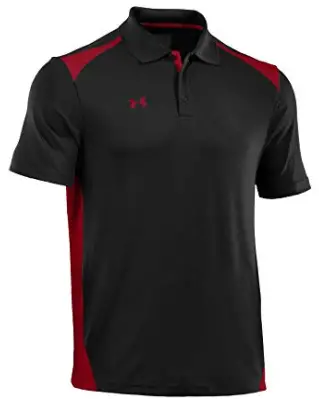 If you want to keep feeling cool and stylish throughout the day no matter what the weather conditions or the circumstances are, then you might consider this model. It offers the ultimate pleasure of comfort and self-confidence on the court. The material is breathable and has a silky, smooth touch.
Expand to see more
Design
It can be best described as a full loose model with fuller cut intended to increase the feeling of comfort which perfectly matches the shape of your body not really emphasizing its curves and yet at the same time it doesn't give a baggy look. It is very stylish and well designed and comes in several color varieties. The logo is interwoven on the left chest side, the front it standard with three-button placket and the collar is rib-knitted. You can choose from several main color varieties as the main color of the shirt, and each has additional color added on the shoulders and vertically on the waist to create an effect of motion- color interplay.
Fabric
This polo model is made of 100% elastane which gives silky touch and comfort. The innovative and advanced UA Moisture Transportation System technology used for its production makes the fabric dry faster giving you a sense of wearing a breathable and airy shirt. The material doesn't stretch, chafe or cling to you so it is the perfect choice for all-day comfort. As with other UA products, the fabric is odor-free, i.e. resistant to microbes that create odors, which is the key to self-confidence. On this you can add the UPF 30+ protection of your skin from the
harmful sun rays
.
Cost and Value
As with the other polo shirts here, this is also a quality product which won't disappoint you. This shirt is bound to keep its shape after washings it multiple times and at the same time is comfortable and airy and keeps your budget. Many satisfied costumers recommend it for activities during the day, but also for a night out.
Comfortable
Dries quickly
Perfect for all day comfort
Anti-odor
UPF 30+
Be careful with the sizes
6. Under Armour Team Armor Polo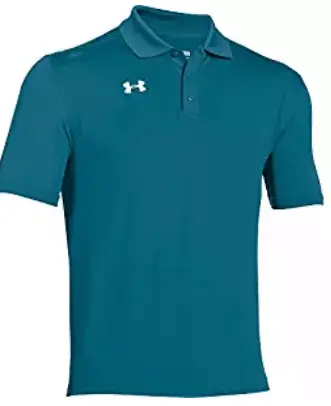 This shirt is also one of the best picks due to its classic elegance and comfort. It has an updated fit design and can be worn both, on the course or as a choice after the game. It is made with the latest Under Armour advanced technology which guarantees enhanced performance and comfort.
Expand to see more
Design
Many satisfied costumers say that they choose this model since it is more fitted and it is a nice choice not only for the court but outside the course, but outside the course as well. The UA logo is on the right chest side and it is fitted with three buttons placket. There is a huge color choice which can satisfy even the pickiest customers.
Fabric
The shirt is made of a very smooth material which is not prone to picking, pilling or snagging. Due to UA innovative Moisture Transport System, what you get is a polo that dries easily and prevents you from sweating and having repulsive sweat stains nor is there any unpleasant odor due to sweating. This feeling of comfort and freshness enhances your
performance and motivation
. The shirt has UPF 30+ protection from the sun rays and it is made to provide you with free movement in all directions.
Cost and Value
It is a polo which is light and comfortable and has integrated into itself all the latest UA technology innovations. The price range can vary but you can get good deals for this model, depending on the actual offer you come across.
High-quality fabric
Enhances performance
Stylish design
Protects you from bad odor, sweating and stains
Quick-dry
Some report sizing issues
7. Under Armour Golf Performance Logo Polo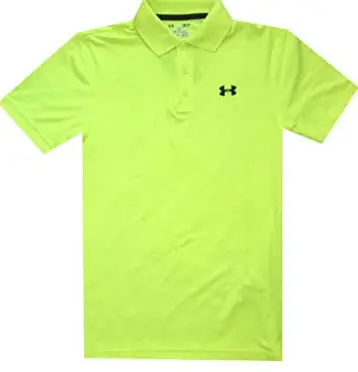 As someone said, this a must-buy due to its stylish, loose-fit design and attractive colors. It is a very comfortable shirt that offers elegance and performance and you simply shine on the golf course. It guarantees good quality, performance, and style.
Expand to see more
Design
As mentioned above, it is one of the most stylish golf polos that Under Armour have designed. Maybe that is due to the collar that almost perfectly blends-in and the three equally unnoticeable buttons accompanied by the standard UA logo on the left chest. The colors are bright, after washing they don't fade or stain. The collar keeps its shape after washing, the shirt doesn't shrink and keeps the comfort mainly because the seams on the shoulders are rolled. Plus it is feather-weight, breathable and soft.
Fabric features
It is a performance fit golf polo made of 100% polyester which is breathable and features 4-way stretch fabrication to increase your ability to move unhindered. The fabric is HeatTouch, designed to imitate natural feel even though it is 100% synthetic material. It makes you stay cool and refreshed due to the moisture wicking technology that helps you get rid of moist and sweat and keeps you dry and odor-free. It has UPF 30+ protection from the harmful sunrays providing utmost pleasure on the golf course.
Cost and Value
It is a
light and breathable
golf polo which is made to increase your performance, strengthen your confidence and make you noticeable on the golf course. So, as satisfied customers have stated: "It is well worth the money".
Stylish design
Good quality, breathable and light
Quick-dry, anti-odor
Performance fit
8. Under Armour CoolSwitch Pivot Polo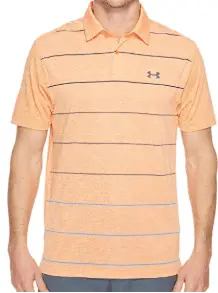 How many times have you had this annoying burning sensation in your body, especially when the weather is hot or when you are too active? Many experienced sportsmen have wished to have kind of a shirt that makes them feel cool when they are under pressure or too active and reduce the inner heat. Well, being driven by the desire to strive towards innovation, UA has actually created such a polo, which makes a need comes true for many sporty, active people out there.
Expand to see more
Design
It is a stylish, loose fit polo with striped design. The logo is imprinted on the left chest side and there are two- button placket which makes the polo look modern and elegant. There are several colors that are available that you can choose from and they give a modern and fresh impression.
Fabric Features
This polo shirt is developed by using CoolSwitch technology which actually places a
thin coating
on the inside of the shirt which has a function to pull the heat away so that instead of feeling hot, you feel cooler, more focused on the game and your overall performance gets improved. As many UA golf polos, this model is also thus designed so that it wicks moisture and sweat away and dries very fast, creating light and comfortable feeling in every occasion. The material used for its production is 95% Polyester and 5% Elastane which is resistant to odor, i.e. to microbes that create an odor. In addition to this, it has UPF 30+ sun protective factor which is an excellent choice when you are out there, exposed to the sun and heat.

Cost and Value
No doubt this is a high-quality product featuring innovative technologies and style. There are many satisfied costumers who say that they would gladly buy more without hesitation. You can even get lower prices on selected options and get a good bargain.
Reduces heat from your body
Stylish and elegant
No odors or sweating and super dry
Increased performance
UPF 30+ sun rays protection
For some, the price may be a bit higher than other similar polos
9. Under Armour Charged Cotton Scramble Polo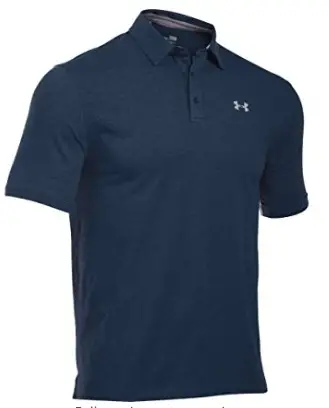 Everyone loves that tender, smooth feeling of cotton on their body as cotton is the most comfortable material which never irritates skin. However, we all know that cotton is one of those materials that are difficult to dry easily and more often than not it can cause frustration or discomfort no matter whether that is the golf course or any other sport. UA have developed
various fabrics depending on the customers needs and preferences and their ultimate goal is improved performance and comfort.
Expand to see more
Design
Classy and elegant
, offered in several color choices and there is a striped variety as well. The logo is woven on the left front chest side and there are three buttons that add up to the classy touch. It is loose fit and very comfortable. Some lighter colors look transparent and the material is rather thinner than you would normally expect, however it is very airy and breathable. The collar fits perfectly with the overall design and looks neat and professional.
Fabrics
Even though it feels and looks like cotton, the fabric is 75% cotton, 21% Polyester, and 4% Elastane which makes the shirt easier to dry, i.e.it dries five times faster than usual cotton products. That is perfect for those who like the cotton touch on their skin and at the same time need the feeling of being moist-free. The fabric provides you with unhindered movement and mobility due to its 4-way stretch construction which is crucial for golfers or tennis players and thus it increases the chances of longer and better performance.
Cost and Value
Some customers say that this is a must-have golf polo and highly recommend it. The natural cotton-like comfort and quick dry technology enable you to enjoy your activities longer and better. It is a high-quality product which will give you satisfaction in your game, so the price reflects what you get.
Cotton-like natural feeling
Dries 5 times faster than other cotton products
4-way stretch construction enhances performance
Looks professional and neat
Black color looks characoal grey
Lighter colors seem to be more transparent
10. Under Armour Team Rival Polo

As with many other UA polo shirts, this one has many advantages. Since we are familiar with the fact that the company produces apparel for various weather conditions, this one belongs to HeatGear Touch fabrics type. This means it is specially created to provide you with extra cool, comfortable and light feeling and keep you dry and protected in a very hot climate.
Expand to see more
Design
This is a loose polo shirt, but it doesn't really look baggy or too loose. It is thus designed so that it fits your body shape without being too tight since the material looks stretchy because it is 95% polyester and 5% elastane. The logo is interwoven on the right chest side and it has three button placket. The fabric is textured but very durable, after washing it doesn't shrink, the colors don't fade and it dries very quickly. The collar is rugged but pleasant to wear. The comfort is maximized by the smooth fabric which is protected of pilling, picking or snagging.
Fabric
The fabric is HeatGear, which means it ensures quick-dry effect due to the Moisture Transport System technology and it provides incredible UPF 50+ protection from the harmful sun rays. This innovative technology also protects you from the odor creating microbes and you have a clean and fresh feeling. In addition to this, the 4- way stretch fabrication allows you to move in every possible direction. Having said this, there is no doubt that it is an excellent choice for
hot and humid climate
or for spending longer time in open areas.
Cost and Value
Compared to other UA polo shirts we could say that when it comes to the prices this one is neither too expensive nor cheap. The price is in direct correlation with the quality it offers.
HeatGear fabric
UPF 50+ protection from the sun rays
Anti-snag, anti-pill and anti-pick fabric
Durable and comfortable
Criteria Used in Choosing the Best Under Armour Polos
Fabric
Under Armour is known to be an innovative company that takes into account many factors when creating their fabrics. They have created fabrics that can be suitable for various climates, conditions, and needs. In their wide range of golf polos, you can select the ones that have been created to resist the harmful sun rays since they have UPF 30+ or 50+, resist various odor creating microbes and thus reduce the sweat stains on your polo. Another important feature is the ability of the fabric to wick moisture away and dry very quickly. Dry and odorless clothes are a highly important factor which greatly contributes to the overall sports performance and success. They managed to tackle the issue with moist and odor very successfully resulting in great apparel and to this to add unhindered motion range that will lead to greater performance.
Durability
When we buy products our initial intention is to spend money on good products which have good quality and durability. Nobody wants to buy clothes that will be ruined after their first washings. The golf polos that we have reviewed here guarantee high quality and comfort. The better a polo is, the longer it will last in many terms. For example, Under Armour implemented a very innovative technology in their apparel production which prevents polos to get prone to picking, pilling or slagging. For a high-quality shirt, you would expect to have the same consistent look and feel, without shrugging or excessive wrinkling. When it comes to colors, fading is not a characteristic of a good shirt and neither is staining. Since we are writing about golf polos, we must mention the collars too. Also, a good polo will have its collar intact after washing it many times..
Comfort
All sportsmen know that clothes are crucial for good performance. How you feel directly influence the way you behave on the course, court or track. When a golfer is on the court he/she needs to move in various ways and directions and as an average golf play lasts for approximately four hours, polos need to be especially comfortable and soft. Under Armour have implemented technology for better performance in the fabrics they produce such as 4-way stretch which allows golfers to move in every possible direction without being hindered. This performance fit feature enhances the feeling of comfort and smoothness, makes the player better focused on the game and boosts their confidence.
Sizing
Under Armour has different labeling to their products in terms of size and fitting. You can opt from compression, fitted, semi-fitted and loose and each of them has special function depending on the sport. Golfers need polos which will allow them to move in many directions freely, so loose and semi-fitted are the most preferred options. Bear in mind, however, that loose under Under Armour labeling does not mean baggy but it is rather an indication which defines the shape of your body by using a fuller cut for better performance. This slight change has caused some confusion at some customers, so please double check the sizing which is provided by Under Armour in order to find your perfect match.
Other important factors to consider when choosing the right golf polo
Type of fabric and labeling
Under Armour are innovative in this matter as well. They have created fabrics that are actually synthetic but feel natural. Take for example the labeling UA Catalyst. That is a material that is made of recycled bottles but it is as soft as silk, very light and pleasant to wear. It is especially recommendable for very hot and humid climates since it has UPF 50+ protection from the harmful sun rays. Charged Cotton refers to the material which behaves like cotton, feels like cotton but dries five times faster than any other ordinary cotton products. That's very important if you prefer to wear cotton but sweat a lot. It can be a nice substitute for your cotton shirts since the feeling of being sweaty will be gone in a short period of time. HeatGear stands for the apparel that is made with the Moist Transport System technology and which wicks the moist from your body and provides faster drying, fights against odor creating microbes and feels light and comfortable. The UN APN is thicker and heavier fabric than the others but it lasts longer. It is a synthetic material and it provides you with all other features previously mentioned for pleasant and comfortable performance.
Price
What is really great about Under Armour is the fact they never overprize their apparel even though they are highly innovative and tend to swiftly respond to sportsmen needs. There is different pricing for different types of products, however, their range is never too high nor too low. They keep the standard of good value for your money.
Maintenance
In order to have your polos for a longer period of time, it is wise to keep to the rules of maintenance. Many of the polos reviewed here can be washed in a washing machine, which is awesome. Even better than this is not having to iron your polo but simply wear it after drying, which is a swift process since they all feature 'quick-dry' technology. Polos that are labeled Charged Cotton can be dried cleaned and ironed, but with the rest of them you are just fine with machine washing. Our recommendation is to always follow the cleaning instructions provided in the labeling if you want to have a long-lasting polo.
FAQ
Frequently Asked Questions
Q: What does HeatGear fabric stand for and what is its purpose?
A: Heat Gear stands for fabric which is intended to keep you cool when you are too hot or too active. It has a special inside layer which transports the moist away from your body. This way you will feel cooler, more comfortable and it enhances your performance on the course.
Q: Why are there some complaints about sizing?
A: Under Armour keeps their standards high and that comes to sizing too. Since their greatest motivation is to pursue innovation and increase performance, they have designed their polos in a manner that you get most of them without being hindered in your moves. Thus, the sizing is provided in details on their official site and all official sellers sites. Make sure you measure your body parts correctly so that you buy the size that fits you. Many customers are guided by standard sizes, and sometimes standard sizes vary from the sizes UA provide for their apparel.
Q: Do I have to iron UA polos?
A: That mainly depends on the model you have. In case you have Charged Cotton then you will have to iron it since it has 75% in it. However, most of the polos reviewed here don't need ironing or extra drying. The best way to make sure you have handled you polo appropriately is to follow the maintenance instructions provided on the labeling.
Q: Where are these polos made and is the quality the same?
A: These polos have been made everywhere in the world, not just one specific place. No matter the origin of their production, the quality standards are applied equally everywhere they are made without a single exception.
Q: Is it true that Under Armour designs apparel made of recycled plastic bottles?
A: Yes, they have created apparel labeled UA Catalyst which is entirely made of recycled bottles. The fabric is exceptionally light, feels smooth and provides UPF 50+ protection from the sun rays. It is also breathable and integrates the Moisture Transportation System technology, which means it is quick-dry and odor-free.
Q: Are the colors on the photos true to the real polo colors?
A: Mainly they are with some exceptions here and there. One definite inconsistency is mentioned in this guide, and as it comes to the other ones, many customers claim that they have received the identical color they have ordered. In case you want to know more about colors, please follow the guideline and the official product description provided by Under Armour.
Sources