Best TaylorMade Putters Reviewed & Rated for Quality
In a
Hurry? Editors choice: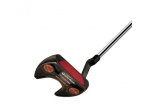 Test Winner: TP Black Copper

We have covered practically some of the top of the line brands here at
HombreGolfClub
. With that, we have also covered a large number of different products and gear to consider. Whether you are looking for
a top of the line club
, iron, or wood, or you want the best-golfing shoes or caps, we appreciate and are eager to share with our audience the best gear, products, and equipment. With that in mind, it is time to talk about one of the best tops of the line brands that excels at creating some of the most quality products in the industry. Today we're reviewing TaylorMade putters. Scroll down to find detailed reviews of out top 10 picks.
Standout Picks
Criteria Used for Evaluation
Value
TaylorMade excels in the golf industry. When we knew we were going to conduct specific research on the best TaylorMade putters we first had to direct our attention towards some very important aspects of a putter. To do this, it was detrimental to understand the purpose of a putter and what the best designs are, so then we can know what to look for. So, this is where is research began!
What is a putter in golf used for? A putter in the game of golf is used for short distance rolls. Essentially, a putter is the last club that an individual uses when they are attempting to get the ball into the hole. With that in mind, we can say that the design of a putter may be the most different than any other club. Not only is a putter specifically designed for a short distance but the head and shaft design are also quite different as well.
Style
Putters, much like clubs have different configurations available. With that in mind, one of the most important aspects that we took into consideration when it came to the many putters we wanted to share is the variety of configurations. Not only did we want to ensure the product was well designed and highly durable, we wanted to make sure that there was a wide variety of configurations for individuals to choose from.
For instance, varieties of configurations include everything from the shaft design to the head style as well as the overall, hand orientation. So, if an individual likes a specific style, we wanted to make sure that there would be different options available for that product.
Durability
The head and the loft may be one of the most important aspects of an overall putter design. With that, we wanted to include a wide variety of putters that had a well designed and unified craftmanship quality. The reason being is that the design and craftsmanship will make headway for the overall quality of the product. It goes without saying that a TaylorMade Putter is one of the most quality clubs an individual can buy, but overall their putters are all tailored differently depending on the design.
However, the most universal quality that we noticed of a TaylorMade putter is the impact zone design. Many of these brand's putter has a certain sweet spot in their putters that ensure an overall better quality impact and roll on the green for the ball. With that in mind, some of these brands designs include a sculpted and high-contrast sightline that ensures a better quality field of vision when hitting the ball, serving as an overall aid in the process.
Materials
A putter tends to be designed differently than most irons or woods. The reason being is that a putter is primarily for short-range impact. Therefore, it needs to be specifically designed for that. Alongside this, a putter may be the most simple club design. The primary design characteristics of a putter include the overall appearance and the low profile head and loft. Alongside this, some shafts are bent for a better sightline and the grip is also different.
Subscribe to our Newsletter