Best Sweatpants
In a
Hurry? Editors choice: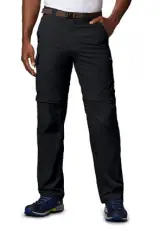 Test Winner: Columbia Silver Ridge

As everything else is advanced, so are the sweatpants. Starting to wonder? Let me explain! Do you remember those days when the use of sweatpants was limited to doing sports or lounging at home? Well, that's not the case anymore!
The new generation of sweatpants has arrived to conquer the street fashion and they have been successful in entering the fashion styles that they didn't have the access until recently. As Rickie Fowler and Rory Mcllroy brought to the prominence the
athletic pants
on the golf stage, getting the stink eye when wearing them is less of a case. And why should you, as many golfers are posing the question?! They are comfortable, soft and designed to boost performance.
The new generation is here to stay, offering style and comfort. This article focuses on the best ones that can be used mainly for golf with a few exceptions.
Standout Picks
Criteria Used for Evaluation
Comfort
When the first sweatpants were originally invented about a hundred years ago, nobody could have thought that their use would be extended to all segments of casual fashion styles (we don't count the rare occurrences of sweatpants being worn by some celebrities on highly formal events). Made to bring comfort to the athletes back then, their use was limited to wearing them only for sporting purposes. As they were designed for better comfort, people soon started to realize that they can be taken out of the sport's settings and attributed them a wider use. So, as comfort was the main reason they were created, we gave this criterion the greatest importance when choosing the best ones. The comfort, together with their purpose was scrutinized in terms of the materials they are made and the reviewers' comments. The first-hand experience always matters, so we took their comments very seriously. The number next to this criterion provides you with info about their comfort level.
Fit
Let's start with a simple fact: You won't wear your clothes if you don't look or feel good in them. Period. Consequently, the type of fit design they feature and if they are matching the description of the fit design was the factor that we considered within this criterion. Most of the models here feature standard fit or a loose one because they are sweatpants after all. However, those selected ones that are designed only for golfing purposes usually feature more standard fit or slim-fit. Almost all of the selected sweatpants fit mostly to the size that the manufacturer provides, with some exceptions and these exceptions are marked in the Cons section. This allows future buyers to make a better estimation of the size they want to buy and the way these sweatpants will fit them.
Materials
The material used in the production of clothes provide comfort and fit, so they make up an important criterion to consider. Depending on the materials, we make a distinction between pants that can be worn during colder days and those that provide a cooling effect and can be worn during hot days. The most used material when it comes to winter pants is the fleece material, usually made from cotton and polyester. These are warm and very comfortable and are made to retain heat. You will also come across sweatpants that are made from 100% cotton and they are used for everyday regular activities. When it comes to materials that are used for hot weather, you will see a wide selection of materials such as polyester, spandex, lycra, cotton, nylon, etc. They are mainly combined to deliver a cooling effect and optimal performance boost.
Style
Everyone has a specific style that distinguishes the preferences, orientation and the characteristics of the person. Styles can't be easily reviewed because they are a matter of personal choice and selection. What we can review then, is the way they keep to the style they tend to feature. So, if they belong to the casual fit golf style, we reviewed if the selected models fit into the category that the manufacturer tends to represent.
Features
There are several factors that comprise this criterion, and these factors usually deliver the products individuality and special uniqueness. What belongs to this criterion is the ability of the materials to keep moisture away and keep the skin dry, the ability of the materials to kill odor creating bacteria and keep the clothes fresh and clean. Among the other features that we reviewed were the drawstrings and closures, color choices, number of pockets and their convenience, hems, and buttons, water-, stain- and mud-resistance and easy maintenance. It is a very broad criterion, however, we were able to carefully consider all of them before attributing the scoring number next to each product within this criterion.
Top 10 Picks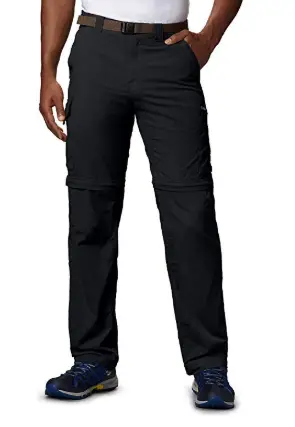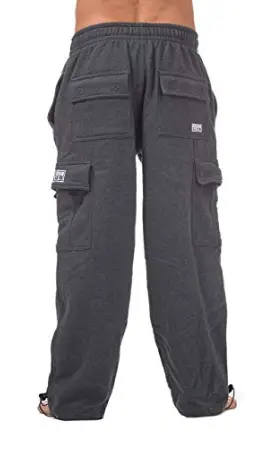 Being comfortable is what matters the most since the slightest distraction can lead to a drop in performance and therefore frustration. You might ask, how can clothes affect the performance? Take for example tight and sweaty pants. If you have ever found yourself being soaking wet in tight pants, you'll know the feeling. When overly sweating during hot days, you need an outfit that dries fast and doesn't retain moisture. As a matter of fact, you'll need something like Columbia Silver Ridge, so read below to find out what exactly you'll need.
Read more
Material
These pants are made with Silver Ridge Ripstop 100% nylon. They are made with the most advanced technology that features Omni-Shade UPF 50 fabric which can completely protect you from the harmful sun rays and Omni-Wick fabric that doesn't retain moisture. This technology has the capacity to draw the moisture away and in that way it keeps you cool and hydrated. They are particularly designed for hot and sunny days because they can be converted into inseam shorts because of the zip-off legs that can be removed. They come in several color varieties to choose from.
Style and Design
These are modern and classic pants that are made for universal fit and they can provide a comfortable range of motion. Even though they feature a classic fit, they have a sporty touch seen on the large zippered pocket, side pocket bag and side pockets with a hook and a loop. Their waist is partially elastic with gusset detail.
Cost and Value
These are excellent pants for the golf course and you'll enjoy. They are comfortable and thin enough to keep you cool and plus you can convert them into shorts just by unzipping the lower legs. But that's not all! When wearing them you can be sure that you are UV protected, you'll stay cool, but you'll never get wet. They are much pricier compared with many other similar ones, but the fact that they were made by Columbia guarantees that you can enjoy utmost comfort and durability.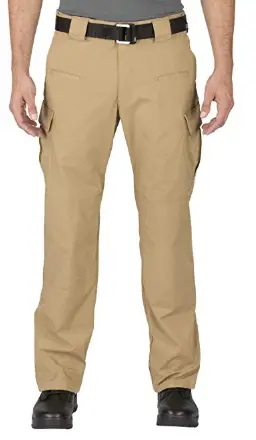 Even though golf is a game that doesn't require extreme strenuous maneuvers, you will still need pants that allow you unobstructed movement and ability to withhold different weather and environmental conditions. Plus, as elegant and airy as it might be, it is still not dirt free game, especially when the weather conditions aren't favorable. These pants are made to last and endure every effort you put them through.
Read more
Material
This model is made to endure everything you put them through thanks to the patented mechanical material that contains 65% polyester and 35% cotton ripstop fabric. This material is a lightweight, stretch and very durable especially in harsh conditions. It also features a Teflon finish which makes them stain and soil resistant. This material provides comfort and since it is stretch, it won't obstruct you to move freely and have full-blown swings. Also, they boast triple-stitch reinforcement on the stress points and enhanced bar tacking at key seams.
Style and Design
These multipurpose pants are made for daily use and they can be worn on the golf course too since they have classical fit but at the same time, they are sporty and can be a suitable piece of clothing for any extensive training sessions. The best part is their self-adjusting tunnel waistband which can deliver the perfect fit for everyone without causing discomfort. There are 12 pockets of different sizes able to accommodate various-sized items, such as your golf balls, tees, smartphone, and so forth. The kneepads are articulated with inside inseam. There are different color varieties you can choose from.
Cost and Value
If you are looking for pants that will last more than your golf gear than your search stops here. Their durability is the key feature and it does match the description provided by the manufacturer. They will keep you cool during the summer and warm during winter, and protect you from elements. They are expensive, but they are a great investment that will actually save additional purchases in the future.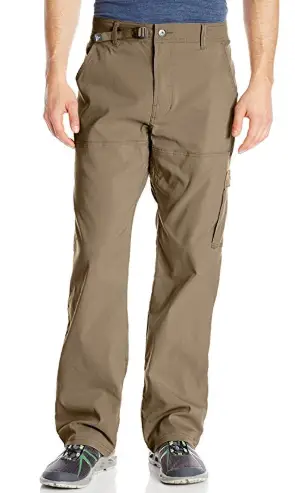 The designers of Praha apparel dedicated themselves to finding the most durable material that will allow endurance and increased sporting performance capable of protecting from external elements. Since they couldn't find it, they created it and it's been more than 25 years that this material, which they called Stretch Zion, has been the greatest support for golfers, hikers, adventurists and everyone who enjoys spending time outdoors no matter what.
Read more
Material
These pants are very lightweight featuring the proprietary Zion fabric which is characterized by extreme durability and treated with durable water repellent finish. Since the fabric is able to provide four-way stretch, it will allow you to maximize your performance by being able to move unobstructed and relaxed. Plus, this material features UPF 50+ which means that it will protect you completely from the harmful UVA and UVB sun rays. And, it is a material that dries very quickly and makes you feel cool during hot weather.
Style and Design
These pants feature standard classical fit with sporty details, designed to provide more room in the thigh and seat area. The waistband is adjustable too, so you are not going to feel tight and uncomfortable. They sit just below the waist for added comfort and better fit and the inside has ventilated inseam gusset for better comfort and breathability. The lower part of the legs feature snaps that allow rolling-up for maximized air circulation and there is a single cargo pocket for keeping things.
Cost and Value
These are perfect pants for hot weather, and cool weather, and windy too, and when it is muddy as well. You get it, right! You can enjoy playing golf without feeling the sweat drops rolling down the legs as you teeing the ball. They will keep you cool and very cozy without looking like wearing the last century's fashion. The price is not inexpensive, but according to many buyers, they are well worth the money.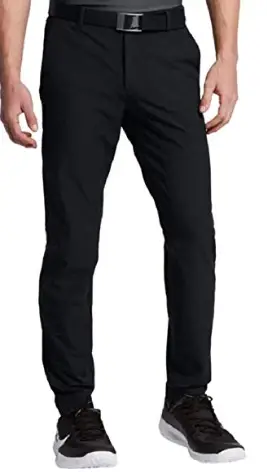 Versatility is the key feature when it comes to sweatpants, and indeed, they offer plenty of possibilities to wear them, from warm up-exercises to pre-race training, from hiking to golf training sessions. Nike has made these trendy and fashionable sweatpants to meet the needs of the golfers who appreciate the trendy style of the golf pants with the comfort that they need.
Read more
Material
Made from 95% polyester and 5% spandex, these feather-light pants will make sure that you are going to move unhampered on the golf course and you'll have all those precise shots without feeling tight or uncomfortable. The Dri-FIT technology will make sure that you stay dry, no matter how hot it is because this technology makes sure that all the moisture is pulled from your skin on the material which easily evaporates afterward. The material is an extra stretch and allows you to move in all ranges without preventing you from full-blown shots.

Style and Design
These pants are designed as standard fit and go straight down the legs and hips in order to all movement without restriction. The lower part of the legs features notched hem that fits comfortably of the shoes you wear. This is a flat-front model with two side front pockets which are wider and two back pockets. They are very modern and stylish and there are many color choices that you can choose from.
Cost and Value
Nike knew what they were doing when they made these pants which integrate style and comfort. Made from a stretch material that won't hamper your performance, you are going to enjoy being on the golf course without feeling any discomfort. You can buy them for a price that is characteristic for Nike, and if you are lucky enough you might get a discount or a special deal on certain color or size.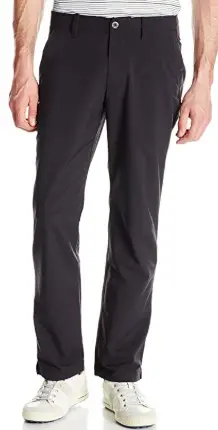 Under Armour has never failed to produce apparel which is characterized with extreme durability, superior material quality and technically advanced fabrics which look and feel classy and comfortable. Some golf courses look like fashion competition shows where you can see the latest and the most fashionable pieces of clothes. Aware of that trend, Under Armour has designed these golf pants to appeal the golfers who appreciate good style with ultimate comfort.
Read more
Material
The material these pants are made of consists of 54% nylon, 43% polyester, and 3% elastane, which when they are joined together into one piece, make a very light and breathable material that you hardly feel on your body. The superior Under Armour technology wicks the sweat away from the skin onto the surface of the material which easily evaporates delivering a cool and dry feeling. The material doesn't retain any moist, so you can wear them under the hottest sun knowing that you won't be obstructed to perform well.
Style and Design
The mission of Under Armour is to provide the players with the best outfit so that they feel comfortable enough not to think about the clothes they are wearing but to fully focus on the game they are playing and their performance. In addition to this, the UA has been working hard to fit in the world of fashion and sports style, but at the same time to accentuate their own trendsetting goals too. In these pants, we have seen that eagerness to appeal to the fashion sensitive golfers by making them loose fit with a fuller cut for complete comfort and flat front. The waistband is stretch which allows golfers a wide range of movement in all directions without being prevented to have their perfect swing.
Cost and Value
The top-notch material which has the ability to keep you dry and comfortable during your golfing session is highly appreciated by many golfers who have found their comfort while wearing these pants. The distraction caused by uncomfortable clothes will be history with them since the stretchy fabric and moisture wicking properties will keep you satisfied. The price isn't as high as some other similar pants on our list, so we can say that they are affordable, but not cheap.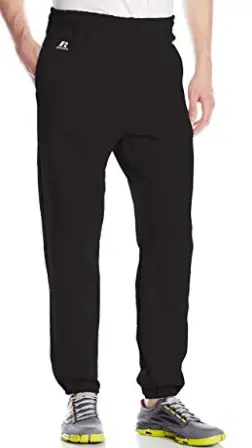 Since the company is known and advertised to be the inventor of the versatility when it comes to sports versatile looks and the inventor of the sweatshirt, one expects premium quality and that much versatility from the products they offer. When it comes to these sweatpants, we can say that they did a great job. They are as versatile as they look and can be worn for multiple occasions, from the comfort of your home to the golf course for the training sessions.
Read more
Material
We mentioned that they can be the sweatpants that you'd like to wear in your home as much as you'd like to go to golf classes wearing them since they are soft, comfortable and feel as if you didn't have them on. The material is made of 50% cotton and 50% polyester, i.e. they are medium weight fleece suitable for cooler weather. The Dri-Power technology they are manufactured with is moisture-wicking technology that pulls the moisture away and keeps you dry.
Style and Design
Versatile as they are, they can fit in many styles. They feature a loose standard and relaxed fit and since they are thicker and medium weight, they can be perfect for colder weather. The waistband is elastic and on the inside, you can find a quick cord so that you adjust them to your fit. The bottom is secured with elastic hems so that they stay on without being dropped down or accidentally pulled on the ground. There are a few color choices that you can choose from.
Cost and Value
These sweatpants might not be the perfect golfing outfit if you have a match, but for training purposes they are perfect, They can be worn for lounging around your home or a quick walk to the park. They are thicker and mid-weight, appropriate for colder weather training. Since the material is moisture wicking, don't worry if you sweat too much since soon you'll be dry again. The price is reasonable and it won't greatly affect your budget.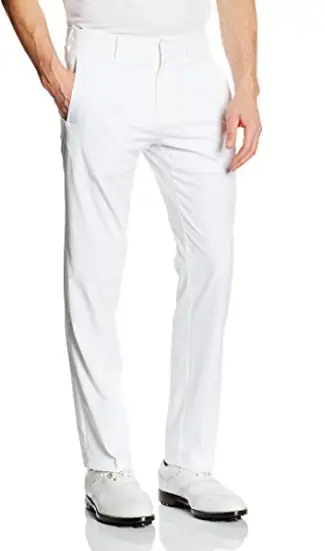 Among the sports style companies that have been increasingly investing in sports style and urban street fashion is Adidas, a company that is often outperforming itself by finding out new and innovative ways of providing athletes better footwear and better apparel. Adidas has developed a full line for golfers and there's some truly nice staff, such as these golfer's pants.
Read more
Material
These pants integrate style, comfort, and performance delivered by the material that was made with the Climalite technology. The 100% polyester is a breathable piece of clothing that has an increased ability to wick moisture away by pulling it from the skin through the material and makes it easy to evaporate. The material is also odor-proof because it kills odor-creating bacteria, leaving it fresh and clean. Engineered with Puremotion technology, it is flexible and stretches, especially at the waist area in order to provide better movement while swinging.
Style and Design
These pants are stylish and elegant and enhance the feeling of confidence and winning spirit. Some golfers commented that they are made to appeal to younger golfers because of the slim fit design, but we would say that they are for anyone who feels young in their spirit. They look simple, but yet elegant with the flat-front design and the 2 back welt pockets and the two front pockets on the seam side. The Adidas three stripes logo is very stylishly placed on the back, above the pocket, making them very attractive.
Cost and Value
There's no doubt that Adidas hit the jackpot with these weather pants. Made to make golfers much more game-focused instead on their own sensitivity to the heat, inspiring and fashionable, they have been claimed to be the best golf pants on the court. For a price that reflects the real value of your purchase, you buy yourself not only pants but style and comfort, so they are worth the money.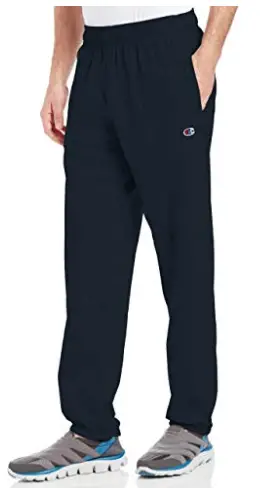 There are different styles and different designs not only to address to different people but to provide versatility on various occasions. For the comfort of your home, when you need a quick run or a golf practice session, these comfortable Champion sweatpants are here to provide the coziness and enjoyment.
Read more
Material
There are five different colors that feature different material composition. So if you order Granite Heather, you'll get pants that are made from 60% cotton and 40% polyester. If you order Oxford Grey you'll get pants made from 90% cotton and 10% polyester and the Black, Navy, and Maroon are made from 100% cotton jersey fabric. They are very lightweight and comfortable to wear regardless of the color that you are going to choose.
Style and Design
Featuring athletic fit, you will enjoy spending the whole day wearing them, if you could, of course. Champion Sweatpants can find their use in every sport and every leisure activity that you plan on spending outdoors or indoors. They are made with an elastic waistband that isn't covered with a piece of garment from the inside with added quick cord that is sewn on the waistband for greater adjustability. The bottom part of the legs features an elastic bottom band. There are two deep side pockets for keeping your stuff.
Cost and Value
Apart from being lightweight and comfortable, these sweatpants are also very affordable. They are made to be part of your daily must-have outfit that will always find its purpose. With the elastic waistband and comfy ankle band that isn't too tight or too loose, you'll enjoy doing things that you love with them.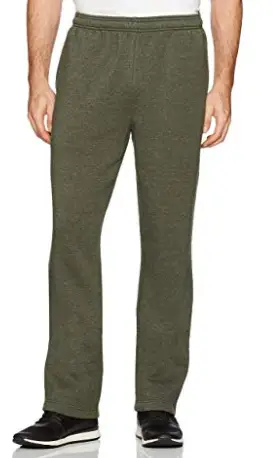 These pants are made with the consumers' needs in mind. The company fine-tunes the design based on the suggestions given by wear-testers who are arranged to test the clothes before they are launched on the market. The quality and the design remain consistent throughout the years offering reliability and trust to its customers.
Read more
Materials
The material these super comfy pants are made of consist of 52% cotton and 48% polyester, made to dry easily but at the same time allow unhindered movement and comfort. They are suitable to be worn for colder weather since they keep you warm and don't let the body temperature get away from you.
Style and Design
In a few words, we can describe these as sweatpants with a resemblance to classic casual pant giving them sporty elegance. The leg is straight but relaxed, not tight, with an open bottom and they have an elastic waistband. There are two pockets on-seam side, which is deep enough for keeping smaller items. There are nine different colors you can choose from.

Cost and Value
How do you decide what is the best value for the price? That's simple, in fact. When you get a high-quality product for a very affordable price and when that product passes the test of time and proves that your investment was right, then you know that it was the best value for the money. The same applies for these pants, they are made in accordance with the highest standards and please even the pickiest, but sold for a very affordable price, so what you get is an excellent value for the money.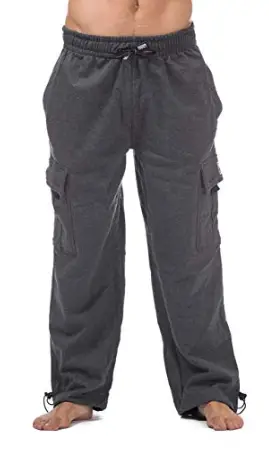 We are all aware of the dress code when on the golf course, however, many golf courses allow a deviation of this rule when you are not part of a competition or a large sporting event. So, officially cargo pants are forbidden on many golf courses, but you will have a pass, in case you want to practice or hit a few balls. Cargos are especially comfortable when traveling, so if you have set up a round of golf somewhere else from the place you live, these are a perfect choice to store the basic necessities in their large pockets and still feel comfortable.
Read more
Material
These fleece pants are made from 60% cotton and 40% polyester, they are heavyweight and are intended to be worn during cold autumn or winter days. Regardless of the purpose of why you are wearing them, they are going to keep you warm and comfortable because they are very soft.
Style and Design
Cargo pants tend to be baggy and very loose. These are loose but not baggy, comfortable and feature multiple pockets for storing everything you think must be at hand's reach. Actually, there are two pockets behind, two side pockets and two large pockets with ample storage which keep your valuables protected with Velcro flaps. The waist is elastic with a drawstring which can be adjusted for greater fit. The bottom of the legs features drawstring closure for keeping you warm but at the same time to allow air flow. They come in seven different colors.
Cost and Value
These cargo pants are the excellent choice for cold, winter days when you feel like sporting out, traveling or just have a walk. They are super convenient for storing the most important things you need (and some more), so you don't have to take an extra bag. They might be a bit pricier, but they are well-made and very durable, so according to many buyers, they do pay off.

Subscribe to our Newsletter