Best Sun Sleeves For Golf – 2021 Buyers Guide
In a
Hurry? Editors choice: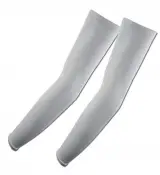 Test Winner: Elixir Golf

Sun protection these days is as crucial as eating the right food. Of course, a bit of vitamin D is good for you and the sun happens to be the largest supplier of this necessary vitamin. However, it also is the supplier of sweaty days, sun spots, and many other discomforts. On top of this, being out in nature all day long, running, or being on the golf course and not wearing the proper sun protection items is not good for you either. Whether you want moisture wicking hats with sun protection or moisture wicking shirts that protect your skin against the sun, we have shared a wide variety of sun protection gear.
Standout Picks
Criteria Used for Evaluation
UV Protection
Sun Protection – Of course, we had to include this as design aspect number three! Actually, this happens to be the key purpose of buying a sun sleeve. An individual buys a sun sleeve if they want complete protection from the sun on their arm. With that, we noticed all sun sleeves are designed with UPF protection of 50+, which blocks as much as 98% of the sun's rays.
Breathability
As the second key aspect of the design, it was our primary goal to ensure that the product was breathable. The reason being is that if it is not breathable it will be uncomfortable to wear all day long, especially if you want to focus on the task at hand. Therefore, breathability was a major factor when picking out the top ten best products.
Materials
The material quality of the sun sleeve happens to be one of the most important factors to consider. The reason being is that the material quality becomes a pillar for the overall quality of the product, ensuring maximum comfort and durability. With that, we discovered three primary materials when it comes to the construction of a sun sleeve.
Polyester – To start, no sun sleeve is only made of one material, they normally are a blend of two or three. With that, polyester is the first material that is the primary material of a sun sleeve. The reason being is that polyester is very comfortable and highly durable, allowing for the product to be washed easily and last the test of time.
Spandex / Elastane – There is actually no synthetic difference, they are just named differently. This material happens to be the second most common material in the industry. It is comfortable and gives the product the breathable and moisture-wicking properties that it has.
Nylon – This material is not as common but happens to be the blend of many sun sleeves. Nylon is known to be more durable than polyester. However, it also is thicker and less breathable.
Color
A sun sleeve does not have to be an odd black or white garment to cover your arms. In fact, there is a wide variety of different sun sleeve designs in the industry that make wearing a sun sleeve fun. For instance, there are many different color choices and patterns to consider. Therefore, this became criteria number two when talking about sun sleeves. With that, we focused on sharing different brands with different material blends and different color choices. We did find that black, white and grey were the most common color choices. However, overall, there is a large selection of different colors that can match any golfing outfit.
Subscribe to our Newsletter