Best Sun Creams
In a
Hurry? Editors choice:
Test Winner: Thinkbaby

Are you about to hit the golf course? Have you taken everything you need? I'm sure your bag is packed and all the
necessary equipment
and extras are there. But, have you done anything to protect yourself from the UV rays? Ok, I know, your shades and the hat are already with you, but what about your skin? It is spring, the weather is cool, you think you don't need it, right? Well, no! It doesn't have to be a scorching and sunny day to wear sunscreen. The UVA rays have the same intensity all year round and these are considered responsible for the nasty wrinkles on your forehead. Those UVB rays burn the skin, and they do that even in winter! So, it is obvious that you need protection and we have selected the best ten that will deliver maximum protection regardless of the weather conditions.
Standout Picks
Criteria Used for Evaluation
UV Protection
When we started looking for the best blockers, we had the best and the most effective UV protection in mind. However, in order to provide ultimate protection, blockers need to cover several factors. First of all, it must provide a broad spectrum of protection. This means that it should protect from the UVA and UVB harmful rays and have SPF30+. Secondly, since golfers spend hours on the golf course, they are exposed to a direct impact on these rays and during hot summer days, they tend to sweat a lot. So, in order to maintain the consistency of the protection, the blocker needs to be water-resistant and not to get compromised by the perspiration.
Features
When it comes to features that characterize blockers, the first thing that we considered was the type of that blocker, i.e., if it is a chemical or a physical one. Chemical blockers are the traditional ones and they are formulated with chemicals and synthetic substances that provide maximum protection. What they do is to transform the rays into energy when they get into the skin without causing harm to the epidermis. The other type of blockers are the physical ones, they are mainly made from natural minerals such as zinc oxide and titanium dioxide and they form a protective layer on the surface of the skin, preventing the rays to penetrate into the skin by reflecting them. Then, we took into account additional ingredients such as antioxidants or the use of soothing and calming ingredients such as Aloe Vera or Shea butter that make the skin protected from irritation and defend it from free radicals. We also considered whether these creams are easily applied and absorbed and if it is a lightweight and non-comedogenic formula. All in all, the best ones are fast-absorbing, provide superior protection, don't irritate the skin and are not felt heavy on the skin and leave no greasy or visibly white residue.
Product Purity
There are two types of blockers, chemical and physical, as we mentioned before. When it comes to product purity, we definitely see the greatest purity in organic products. Organic products are the ones that are subject of the most stringent control from the planting process to the production process. Then, of course, natural products exhibit a great level of purity and here we include physical blockers that mainly feature minerals (zinc or titanium) and those that have organic or natural ingredients. We can see chemical sunscreens that, within their formulas, include natural ingredients or infused antioxidants. The lowest rate of purity have chemical blockers, however, these products are subject of many clinical trials and laboratory tests before they are sold on the market, guarantying skin safety.
Effectiveness
Which characteristics should a blocker have, in order to be officially declared effective? The utmost purpose of these creams is to provide effective UV protection without causing any adverse effect on the skin. Adverse effect means that the skin won't get irritated or burned and it won't suffer any damage when the cream is applied. That means that before the product is released on the market it is dermatologist tested and recommended, and most preferably, it is hypoallergenic. The effective protection is seen in the ability of the cream to stay longer on the skin without being greasy or sticky and in a certain period of time (usually two hours) it delivers total protection from the sun making the skin protected. In addition to this, we selected creams that moisturize the skin, keep it soothed and contain ingredients that protect it from any possible irritations.
Top 10 Picks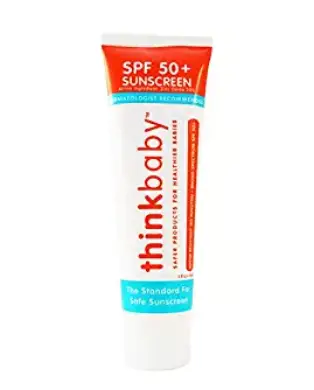 If you want to go all natural with a cream that has been awarded more than any other on the market, mineral-based and free from all chemicals, then Thinkbaby is the product that you need to seriously consider. The company is a member of Safe Cosmetics compact and Sun Safety Coalition and their products, Thinksport and Thinkbaby, have been rated 'number 1' by EWG since 2010. Plus, this sunscreen is the first one to pass the requirements of Whole Foods Premium Care. Thinkbaby is milder and gentler and it is made for any sensitive skin, including baby's skin too.
Read more
Features
This company has decided to make a difference when it comes to skin care products and offers a positive variety amidst the highly unregulated cosmetic industry. This means that the ingredients they use in the production of their products
are natural and labeled safe so they pose no risk whatsoever to the skin. Thinkbaby provides SPF50 broad-spectrum protection which delivers maximum 99% of coverage. The formula is based on non-nano zinc oxide and provides water resistance to up to 80 minutes.

Effect
This is a non-oily formula which is easy to apply and it also absorbs fairly quickly. It is compact and made gentle for the most sensitive skin type. What should be taken seriously about this product is the fact that it is chemicals free and you are not going to have your skin exposed to some potentially harmful ingredients. it will provide the optimal protection if you apply it every two hours as it is recommended or immediately after towel drying. It can leave a whitish residue immediately after application but it is quickly absorbed into the skin. Since this is a physical blocker, it means that it reflects the rays and doesn't allow them to penetrate into the skin, making your skin adequately protected.

Cost and Value
As the creators of the Thinkbaby say, you should keep yourself protected from the solar radiation, but also from the chemicals that are used in many traditional blockers and which can cause even greater damage to the skin. If you think that natural is the best, this zinc oxide based sun blocker is claimed to provide ultimate protection from the rays and from the chemicals too. The price it has is reasonable when you consider the high-quality you get.

2

. La Roche-Posay Anthelios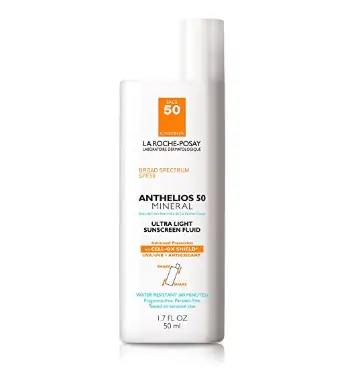 One of the most dermatologists recommended companies has made a revolutionary product which has been proven to be among the most effective ones when it comes to UV rays protection. It is based on minerals, featuring as fewer synthetic substances as possible, and it will give you the confidence to stand against the hottest sun and not have your skin burned. Read below to find out more about this incredible lotion.
Read more
Features
The people in La Roche-Posay are very serious about making people aware of the hidden danger of the sun rays and the need for protection. Before they launched their campaign for skin protection awareness, they had previously launched their products that provide superior defense against the radiation. This lotion features the maximum SPF50 which is the highest form of protection according to the FDA and formulated with the exclusive Cell-Ox Shield technology that is a combination of physical blockers that feature different particle sizes that have improved texture and protection. The active sun blocking ingredients in its formula are zinc oxide and titanium dioxide in combination with powerful antioxidants.
Effect
This sun blocker is your weapon against the rays regardless of where you are and how long you spend outdoors affected by the harmful UV rays. It is water resistant for 80 minutes, which means that sweating won't affect your protection. It is made to meet the needs of the sensitive skin type and therefore it doesn't contain any fragrances, parabens, oils and it doesn't leave any greasy or whitish residue, nor does it clog the pores. It is dermatologist tested on sensitive skin and recommended by more than 90 000 dermatologists worldwide.
Cost and Value
If you care about the background of the company whose products you use and the experience it has, La-Roche Posay is one of the most reputed skin care companies which have made their products based on clinical research and trials. Recommended by both, users and experts, this cream is going to provide you with the premium protection for a price which is within the reasonable range.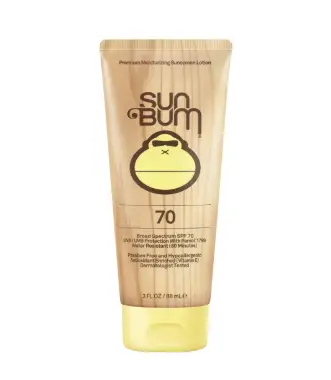 This Florida based company delivers the smell of the summer in the bottle of the sunscreen which is made to protect you from the UV rays. The cream shouldn't be just a product that you will apply because you have to, but it should be the product that will provide maximum indulgence and pleasure when you wear it. Plus, it should by no means be tough to apply and annoy you. Sun Bun is the lotion that promises that you will enjoy every moment out there with it.
Read more
Features
The effectiveness of Sun Bun can be seen in the especially skin-friendly formula that will soothe your skin, moisturize it and most importantly shield it from the harmful UV rays. It is formulated by following the recommendations set by the American Cancer Society and the Skin Cancer Foundation and it has been examined, approved and recommended by the SCF. The formula is infused by vitamin E and Parsol 1789, which is an antioxidant that prevents premature skin aging and has the capacity to moisturize the skin. The ingredients are free from all those toxic chemicals that are stated to potentially toxic.
Effect
Sun Bum has been on the market for nearly ten years and within this period of time, it has been number one UV protection product for millions of people who recognized and experienced the effect that this lotion provides. It will moisturize your skin as it protects it and it can be used by any skin types due to its hypoallergenic formula. Plus, it doesn't contain any ingredients that clog pores, allergens and it won't make your skin oily shiny. The ultimate effect that you will have is a protected, silky smooth skin that doesn't get burned.
Cost and Effect
Besides being effective and soothing to the skin, this product is also very affordable and appropriate for everyone. In addition to this, the company gives a share of their income to promote safe kids environment and protect the children from burns. This is a reason plus why this product is an excellent value for the money.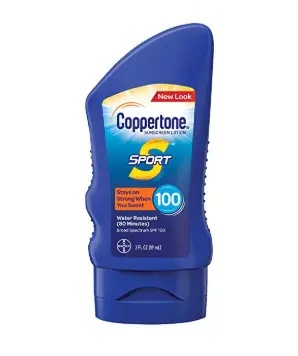 Coppertone made this sports version of their lotion to appeal directly to all sports people out there who need special protection from the UV rays. You might wonder what the difference might be between sportspeople and all the other individuals. Well, doing sport under the sun needs maximum protection because that is what you do regularly. And not just for a limited period of time, but for all year round! And we know that UVA has the same intensity regardless of the season and UVB can cause nasty burns. Plus, sportspersons sweat a lot!!! So, if the sunscreen doesn't provide appropriate water resistance, then it will be easily diluted. So, shortly that's the difference. Let's see now how different is it Coppertone Sport from the others?
Read more
Features
It is formulated to stay on strong even when you sweat profoundly or when you are in the water. It has the highest water resistance rate for a cream to up to 80 minutes and it features an amazing SPF 100 protection, which means that you will have the highest, 99% protection from the UV rays when you have it on. You don't have to feel worried if your golf game is set during the hottest weather, this cream will have you protected. Plus, it doesn't run into your eyes which is an issue for many similar products. The formula is infused with the powerful vitamin E that has antioxidant features which act as a defense from the free radicals.
Effect
This product is easy to apply and goes on smoothly on the skin without leaving a greasy feeling. It won't cause any inconvenience like running into your eyes while you are sweating and you can freely enjoy spending time outdoors. In case you sweat intensively or you swim, you need to reapply after every two hours to have yourself fully protected. According to many users, this product has excelled its expectations.
Cost and Value
Coppertone has long been among the leaders in sunscreen protection and the company knows what it's doing. It offers high-quality and reliable UV protection products that surely meet expectations. Nothing less can be said about this product, so for a very reasonable price, you will have invaluable protection.

5

. Neutrogena Ultra Sheer Dry-Touch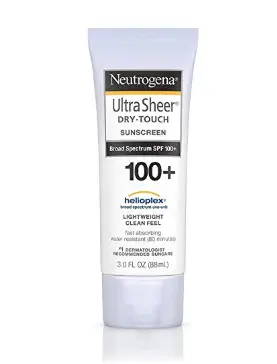 Neutrogena has been a leading brand in the skincare industry and it is among the most dermatologically recommended ones. Their line of products is wide and include different types of products to meet the needs of various skin types. When it comes to effective UV protection line of product, their outstanding Ultra Sheer Dry-Touch has been the most sold and recommended among the users since it offers flawless protection and impeccable face look.
Read more
Features
It is a well-known fact that acne-prone, oily and combination skin is hard to please when it comes to effective UV protection product. This is a lightweight cream which gets fast absorbed in the skin and it gives a matte finish, something that can be seen in just a few products of this type. It is made with the Ultra Sheer Dry-Touch technology that delivers better skin protection and makes the surface of the skin oil-free for a long period of time. It is formulated with Helioplex which is powerful blocker that doesn't allow the UVA and the UVB rays to penetrate deep into the skin. In addition to the extreme SPF100 protection, it is water resistant for 80 minutes.
Effect
This lightweight cream can be used for daily protection from the UV rays. It delivers matte finish to the skin and it won't make you feel it heavy on your face. The water-resistant formula will provide you with an amazing feeling of being protected even if you sweat and that is particularly important for sportspersons who are spending most of the time in the open. When applied, expect to have a white cast for several minutes before it is fully absorbed into your skin. It can be used under the makeup as a primer.
Cost and Value
This product has many positive reviews and for many users, it is 'the one' that they had been looking for before they found this one. It is dermatologist recommended and clinically proven to deliver the expected results. Even though it is a fairly expensive product, a little goes a long way, so you'll enjoy it for a longer period of time.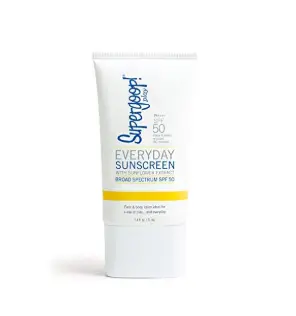 Wearing sunscreen is not met with enthusiasm by many people because many such products are usually greasy, smelly, tacky and sticky and leave an unsightly layer on the skin that looks repulsive when you start sweating. However, Supergoop is none of the descriptions above since it looks and feels like a daily lotion, it is super lightweight and it won't cause the frustration that other lower quality lotions cause. You won't have to feel unpleasant when applying it too. Supergoop has a double effect of a skin moisturizer and UV protection product.
Read more
Features
Ingredients matter and that is what makes this product effective in the role it has. Supergoop has been formulated to provide very powerful chemical UV protection blended with natural ingredients. It contains sunflower extract that abounds with beta carotene which is effective in protecting the skin from external aggressors. Plus, it contains rice bran extract that has soothing properties and protects the skin from the UV damage. The rosemary leaf extract calms the skin down and it is rich in antioxidants that are very powerful in fighting against free radicals which are the main cause for skin aging. The cream is absorbed very fast and provides 80 minutes of water-resistant SPF50 protection.
Effect
When you need to stand against the sun, stand equipped and protected so that you can boldly challenge it. All those little imperfections that you see such as uneven skin tone, brown spots, fine lines and wrinkles, they appear due to premature skin aging and the main culprit is the solar radiation. This sunscreen will provide total protection and at the same time will make the skin soft and healthy-looking.
Cost and Value
If you want to have a full face and body protection from the solar radiation with moisturizing effect and super smooth feeling, then you've found your UV protection product. It will provide an optimal feeling of freshness and lightness, which is so unlike many ordinary products of that purpose. When it comes to price, it is more expensive than most of the products we have on this list, however, many users say it is totally worth it.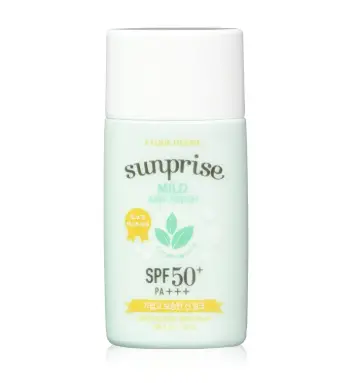 There are many people out there that still think that wearing sunscreen is something that should be done only when going to the beach and pay little to no attention to take precaution measures and protect their skin. Surprisingly, there are still many golfers who also take the risk from the solar damage lightly and tend to ignore the instructions that strictly point to the necessity of having the skin protected. This cream feels airy light and appeals to those skeptics who despise the heavy and greasy feeling of the ordinary products used for that purpose.
Read more
Features
This physical blocker delivers exceptional results in oily skin type and provides a long-lasting matte finish. It is a physical blocker which means it has no chemicals and synthetic substances so it is safe to be used if your skin has sensitivity issues. It is based on titanium dioxide and zinc oxide and in addition to these blockers it has added silicone and mineral oils for a super silky and smooth touch and pleasant natural fragrance. Since the zinc and the titanium are minerals which leave a white cast, you can expect it after you apply it on your skin, but it will last for a very short time and it can be used as a foundation under makeup.
Effect
So, if you have been reluctant whether to apply any blocker if you are not going to the beach, then this one will change the way you think about these creams. It won't create any of those gross effects that ordinary ones are known to cause, especially to oily or combination skin. Your face is not going to turn into a greasy pit and it is not going to compromise your makeup either. Many satisfied buyers say that it works well even for super pale skin complexion and that the effect it provides is more than pleasing. It feels very light on the skin and the white cast becomes invisible after several minutes of the application.
Cost and Value
This product is among the most affordable and reasonable priced ones on the market that provides the effect which is seen from those five times more expensive ones. You'll have SPF50 protection with an airy matte finish from a cream that won't considerably affect your budget. It is an excellent value for the money.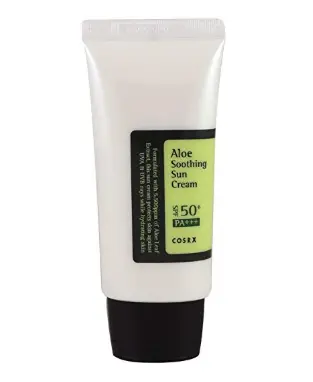 More and more creams nowadays are produced to deliver several results. Take for example this cream. It has the ability to moisturize the skin, it has the ability to soothe the skin and it is a broad spectrum blocker that effectively protects the skin with SPF50. Due to the fact that it is slightly and naturally fragranced, the cream is appropriate for men and women equally.
Read more
Features
This multifunctional cream will yield everything your skin has ever wished for. It can replace your moisturizer since it hydrates the skin and maintains the water-molecule reserves making the skin fresh and healthy looking. It smooths out dry and rough patches on the skin and it provides a silky matte finish. Plus, the infused Aloe Vera is known to feature soothing and calming properties and is capable of fighting free radicals. The SPF 50+++ provides protection from harmful solar radiation.
Effect
If you don't have time and energy to dedicate yourself on detailed and varied skin care, this multifunctional cream could be the most convenient solution which will provide everything that your skin needs with one simple application. It will hydrate, soothe and shield your skin from the UV rays. It won't leave any white film or greasy residue and it is appropriate to be used on any skin complexion. This cream is a game changer, especially for those who have an aversion from using products of this kind.
Cost and Value
We often hear that if a product is expensive, then it has to be a good one. That's not far from the truth, however, there's another side of the coin. There are many good but inexpensive products that deliver the same and sometimes even better results than those that are priced for several hundreds of dollars. This sunscreen is definitely one of them because it is multifunctional, effective and most importantly, it is among the cheapest products on this list.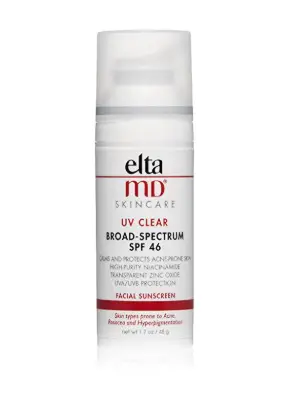 No golfer should ever think of going to the course unprotected from the harmful UV rays and from head to toes and special care should be paid to the skin. The effect of these rays isn't the same anymore and the UVA and UVB rays make long and short term damage to our skin. So, if you are a golfer who spends four or more hours a day on the course, think about getting yourself superior protection. And, if your skin happens to be acne prone, sensitive or oily, then you need Elta MD, the most five-star rated cream that provides premium protection and skin care.
Read more
Features
It is complicated, frustrating and nerve-wracking to find proper cosmetic products for sensitive and acne-prone skin. Those who struggle with such skin types have spent thousands of dollars in their search to find the right one. It is even worse to find a blocker that will be efficient enough to moisturize the skin, calm it down, and protect it from the harmful rays. EltaMD does exactly that and thousands of reviewers confirm its effectiveness. It contains 9.0%. transparent zinc oxide which is not only known to provide UV blocking effect, but it is also very effective in calming irritations and inflammation. It is also formulated with hyaluronic acid, lactic acid and niacinamide, ingredients that unclog pores, boost hydration and control the skin self-reparatory mechanism. Appropriate for men and women, it doesn't contain any fragrance, parabens or oil.
Effect
Made by the company that is specialized in wound healing, EltaMD delivers premium results and promotes healthy looking skin. The formula boosts skin cells turnover, making it cleaner and much more hydrated. The SPF 46 broad protection from the solar radiation provides 99% blocking effect which will allow free-of-worries game knowing that your skin is protected. The antioxidant complex doesn't allow the free radicals to penetrate the skin and deprive it of the balanced vitamin and mineral structure, so it will stay hydrated and firm. When applied, it won't leave any residue as it is the case with many other similar products.
Cost and Value
How much money are we willing to pay if there is a guarantee that the product will provide the desired effect? When it comes to pricing, common price listing is usually the reference list declaring the products cheap or expensive, however, rarely do people focus on the true value in terms of achieved benefit. So for some people, this sun blocker isn't inexpensive at all, however for those who have found their solution of frustration-free skin care, it is the best value for the money.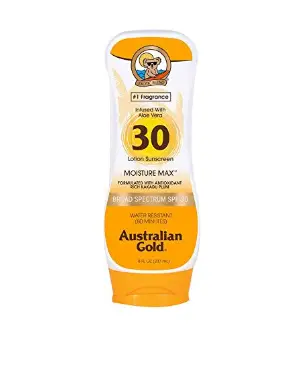 Being protected from the sun means that your skin won't be exposed to any harmful impacts and effects that UVA and UVB cause such as premature skin aging, skin irritation and imperfections, and in most severe cases, skin cancer. That means as you brush your teeth to prevent cavities, thus you should apply UV protection cream to prevent skin-related diseases. Plus, when you play golf during the summer, you can easily expose yourself to maximum sun damage without being properly covered with the most suitable for you, blocker. Australian Gold is another product that offers such protection without compromising the look and the feel of your skin.
Read more
Features
This is a broad spectrum lotion, meaning you will get UVA and UVB protection and it has SPF 30 protective factor which means 97% coverage as the FDA states that the difference between SPF 30 and SPF 50 lies in only 3% coverage and shorter duration. This lotion doesn't contain any mineral oils which are considered to be comedogenic, so no more clogged pores! It contains Aloe Vera which is known to provide soothing and anti-irritant features, making the skin calm and soothed. Plus, it is a strong antioxidant protecting the skin from the free radicals. It is also water resistant, perfect for swimming or for those who tend to sweat a lot.
Effect
As the lotion doesn't contain any unnecessary chemicals and synthetic substances, it will gently create a protective shield on your skin, making it stand against the UV rays without being damaged. Plus, it is a powerful moisturizer too that will restore lost hydration of your skin. It was made under the most stringent conditions which guarantee safe long-term use. It was tested under the most severe weather conditions of the Australian climate so that it can guarantee maximum protection.
Cost and Value
Everyone should wear sunscreen and we suppose that it is the company's vision too, since the price that this lotion feature is affordable for everyone. We can even say that this lotion is underprized since with it you get a moisturizing lotion that is super protective against the UV rays.

Subscribe to our Newsletter