Best Sun Blockers Reviewed
In a
Hurry? Editors choice: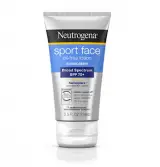 Test Winner: Neutrogena Sport Face

It wasn't long ago when my
golf
partner paid the price of not paying attention to being adequately protected from the harmful sun rays. And that was a lesson well learned which reminded all of us how dangerous can sun be if you decide to ignore it. It was late spring, and the temperature wasn't even that high to cause great concern for not going out protected. Short after the 10th hole, he started feeling strangely tired and sick. He said that he thought that the sun was too strong, and it was indeed, but nobody else was affected by it since we all wore hats and had already applied sunscreen. Once we got into the car, we headed to the nearest hospital and turned out that his skin was severely burned, and he got a bad heatstroke. Never ever will he go out unprotected again!
Standout Picks
Criteria Used for Evaluation
UV Protection
What everyone needs to be aware of, is the necessity of applying sunscreen to their skin to provide protection from the harmful UVA and UVB sun rays. The need becomes evident when we know the way they affect our skin and the intensity of the radiation. For example, UVA rays are the ones that penetrate in the deeper layers of the skin and modify it permanently. They are responsible for premature skin aging, wrinkling, pigmentation and eventually skin cancer. The other negative fact about these rays is the notion that they can penetrate through windows and clothes and their intensity is the same regardless of the season. This means that you'll be exposed to the same intensity UVA in December and June without any difference. The other type of harmful rays is the UVB rays that are held responsible for skin burning. They do not penetrate the skin deeply but make the surface layer burn, itch and prone to many skin conditions. They are equally dangerous when it comes to cancer-related diseases. Knowing this, everyone should pay special care to their protection. When choosing a sun blocker it is very important to observe the type of protection the sunscreen features, i.e. if it is a broad-spectrum UVA and UVB sunscreen or a limited one. Our list features only the broad-spectrum ones and the level of protection they provide is very high.
Features
There are many features that we talked about in this guide. The most important feature is the range of SPF that each sunscreen provides. All skin-related institutions and federations recommend that an individual needs to apply minimum SPF 30 and higher to get proper protection from the sun rays. Another feature that is worth paying attention to, is the water resistant capability of the sunscreen. Another important feature is the type of the sunscreen, i.e., meaning if it is a chemical or physical blocker. Chemical blockers transform the sunrays into energy once they reach the skin, whereas the physical ones make a thin layer on the skin, reflecting the rays away and stopping them to penetrate the skin. These blockers usually have mineral-based active ingredients and are much more natural when compared to the chemical ones. The only drawback when we talk about physical blockers is the whitish residue that they might leave due to the zinc oxide which is often among the main active ingredients. Another thing we looked at was the use of chemically potentially toxic substances, parabens, and fragrances and what we chose are sunscreens that do not contain these elements in their structure. Also, we wanted to make sure that the top ten sunscreens are hypo allergens, dermatologically tested and approved.
Effectiveness
The effectiveness of each sunscreen can be perceived through the actual experience one has while wearing the sunscreen in the sun. Nothing less than a personal experience can be a relevant indicator of how the sunscreen works when applied. When we measured the effectiveness of a certain product, we wanted to make sure that we took reviewers comments into account to provide objective insight into the actual workability of the product. So, the products on our list have the highest ratings and are said to match the description given by the manufacturer. In addition to this, we observed the occurrences of rashes, hives, and allergies to make sure that the sunscreen is not notorious of causing any of the conditions, and the ones that are selected on this list, have the lowest number of reported unwanted side effects.
Water Resistance
Water resistant feature is a very important factor when selecting the best sun blockers because of several reasons. Firstly, when the sunscreen is water resistant it allows you to freely enjoy being in the water and not worry if you are going to get sunburns. Otherwise, going to the beach or the pool would make no sense since every time you go there you will risk getting skin damage. Secondly, water-resistant sunscreens are actually sweat resistant too and we know that sweating mostly occurs during hot and sunny days, so once again, it would be pointless to apply a sunscreen which wouldn't be effective if you sweat. Finally, water-resistant sunscreen will provide deeper protection if you happen to live in a very humid place since the ones that are not water resistance lose their effectivity when getting in contact with water. Having said this, we selected those sunscreens that provide up to a maximum of 80 minutes of water resistance, which is the highest currently possible water resistance set by the FDA.
Bottom Line
Our bottom line scoring refers to the overall effect that each product has, including the separate factors that we talked about, in addition to their ingredients and the price they have. Ingredients are very important since they are the ones that provide the protection first place. Consequently, we chose products that do not include in their composition potentially harmful and toxic chemicals, parabens and phthalates and focused more on those that contain more naturally based ingredients. But, it is not only skin safety that we took into account, the environmental protection and the care of eco-systems was also considered, especially reef protection and marine life. And even though we have included a few chemical blockers, the ones that are on our list are made under the strictest regulations and have been subject of rigorous safety measures and testing. Plus, all of them have been dermatologically tested and approved by doctors or pediatricians.
Top 10 Picks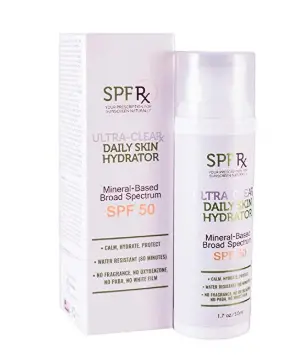 Our skin is exposed to various types of radiation, starting from UVA and UVB sunrays radiations, to infrared radiation and high-energy lightning (HEV), the one that comes from monitors, screens, and phones. So far, it was a matter of question if there was something efficient to protect our skin from the direct influence of these emissions and radiation. However, the new Ultra-Clear cream-lotion offers a new, advanced level of protection that makes all those negative impacts minimal on the skin, keeping it safe and protected. It is very lightweight, easy to apply and suitable for all skin types, for all skin tans and for both, man and women.
Read more
Ingredients
We have a lot to talk about here. This lotion provides physical, broad-spectrum protection with maximal SPF 50 range. It is called daily skin hydration due to the moisturizing ingredients that can be found in its composition. Besides being broad-spectrum sunscreen, it is the only of its kind to feature Lipo-Shield Technology that is able to block the radiation that comes from the tablets, smartphones and the computer screens. The ability to moisture and nourish the skin comes from the Hyaluric Acid which has the ability to draw and retain a high amount of moisture in the skin. This acid is produced naturally in the skin and it has the function to keep the skin lubricated and moisturized. In addition to this acid, the formula contains ceramides which keep the moisture balance in the skin. The lotion contains vitamin E, eucalyptus, ginger and many other nutritive elements that prevent the skin from aging, wrinkling or damaging. The SPF 50 protection is achieved by the active ingredient zinc oxide, known to be able to block the UVA and UVB rays, working together with octinoxate to reach full potential.
Features
The best part about this lotion is the fact that it can be applied on any type of skin, even on darker skin without causing the skin to look 'ghostly, unnatural' or as if you have covered with a white film on it. It is easy to rub it in and it so lightweight that you will never have that awkward feeling of greasiness or cast that some other sunscreens create. It is water resistant to the maximum level of 80 minutes and it won't wear off when you get in contact with water, sweat or in high humidity environments. The lotion doesn't contain any parabens, oxybenzone chemicals or artificial fragrances or colors.
Cost and Value
This lotion definitely redefines the standard of a professional and premium type of daily sunscreen and much more than that. It has been made in cooperation with dermatologists, medical aestheticians, and pharmacists. There is no doubt that it is a high-quality and premium made a lotion that can be used by anyone. It is a sunscreen that will provide ultimate protection for a relatively high price.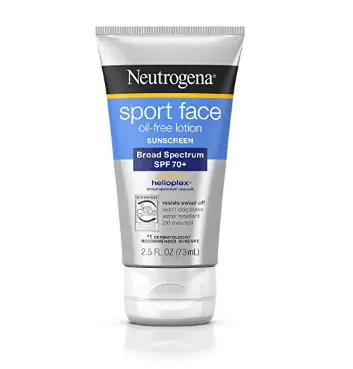 Sunscreen should be our daily companion all year round without any exceptions. The aging and cancer-related UVA rays have the same intensity regardless of the seasons and they can penetrate through glass and clothes. UVB light makes our skin burn and it is especially dangerous when the weather is hot, but it can be also dangerous when reflected through the glare, even during snowy winter days. Therefore, it is crucial to be protected with creams that will provide optimal protection throughout the year in every circumstances and condition. Neutrogena Sport Face is a sunscreen which offers broad-spectrum SPF 70 protection in all conditions.
Read more
Ingredients
As we mentioned in the introduction, there are two types of sunscreens, physical and chemical. Neutrogena is a chemical sunscreen which uses chemical substances that transform the UVA and the UVB sunrays into the energy once they reach the skin. So, the active ingredients include avobenzone, homosalate, octisalate, octocrylene, and oxybenzone. Chemical blockers need to be applied at least 15 minutes before exposure to sun, so make sure you pay attention to the time you apply it on your skin. It also contains an electrolyte complex which nourishes and moisturize the skin. The product is PABA free and oil free so it is not going to clog your pores or cause breakouts.
Features
Neutrogena Sport Face is made to answer the needs of active individuals who spend most of their time outdoors or sports people who are determined to defy the weather. The cream has a non-greasy formula which means it won't clog your pores and it is very easy to apply. Regardless of the intensity of your activity or the amount you sweat, it is not going to wear off even if you rub it or wipe it. It is water and sweat resistant to up to 80 minutes. It is made with the unique Helioplex technology that is known to provide ultimate UVA and UVB protection.
Cost and Value
Neutrogena is a world-known company that successfully offers a wide range of skin care products and it has developed unique technologies that meet the needs of various skin types and provide protection from different weather conditions. This product is just one pick from the varieties of sunscreens that Neutrogena offers, but we have decided to choose it because it is the most permanent sunscreen. Another reason this product was chosen is the reasonable price it has, so it can be available for many people.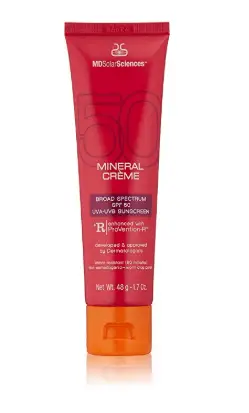 Among the highly-recommended and much-loved sunscreens, we have selected the MD Solar Sciences sun blocker that has been made by a group of medical scientists who examined all the ingredients that are used for making sunscreens and were able to select and combine only those that pose no risk to human health, nor to the environment. The special formula offers maximum SPF 50 protection that is lightweight, doesn't clog the pores and it is appropriate for all skin types.
Read more
Ingredients
This mineral-based cream provides broad-spectrum protection of UVA and UVB harmful rays by utilizing in its formula naturally derived ecozert zinc oxide which reduces the risk of photo aging, skin damage, and skin cancer. It contains antioxidants such as Vitamin C, cranberry fruit, green tea, and pomegranate extracts. The sunscreen doesn't contain any parabens, gluten, oils or chemicals that are known to be harmful to skin and the environment. It is fragrance-free as well, so there aren't any phthalates or other artificial aromas. This sunscreen has been recommended by the Skin Cancer Foundation.
Features
The companies are trying really hard to produce sunscreens that are less felt on the skin but felt much stronger in their power to protect the skin from the dangerous sun rays. This product boasts to give the impression of being 'barely there', claiming it is very lightweight, invisible, without leaving any residue or white film and featuring non-greasy substances that give a matte finish. It leaves the skin extra smooth, nurtured and soft. The product is hypoallergenic, and due to its non-comedogenic properties, it doesn't clog the pores making it suitable for oily skin types too. It is water resistant too, so you can use it freely in water, in extra humid places or when sweating you won't be facing a risk of having your skin unprotected.
Cost and Value
This is a carefully made sunscreen by a group of skin dermatologists and skin cancer doctors, claimed to be soothing to the skin and very efficient in providing extra UVA and UVB protection. It is lightweight and will even make you forget that you are wearing sunscreen. Bearing in mind that it is rich in many high-quality components, the price is above the average reflecting the real value of the sunscreen.



This company produces two types of products, Thinksport and Thinkbaby, and I'm sure that you've seen them on the beaches out there. Yet, sunscreen is not supposed to be applied only when going to the beach, but it should be a part of your daily routine, such as brushing your teeth or combing your hair. Thinkbaby is a specially designed formula for protecting the young baby and kids' skin from sunburns. This product conforms with the strictest FDA regulations, it is the first sunscreen that has passed the requirements set by Whole Foods Premium Care and has been rated 'number 1' by EWG since 2010. This sunscreen belongs to physical protectors, containing no biologically and chemically harmful substances, artificial fragrances and toxic UV chemicals.
Read more
Ingredients
Since it is mineral-based physical sunscreen, it is free from parabens, phthalates, any biologically harmful substances such as avobenzone, oxybenzone and it doesn't contain any UV chemicals. Led by the notion that those chemicals bear the potential risk of causing skin cancer, and ironically, they are made to prevent skin cancer, this company excludes all the substances that have the slightest potential to cause hormone disruptors or cancer. Even the active ingredient contains non-nano zinc oxide, in addition to aloe leaf juice, jojoba oil, magnesium sulfate, vitamins C and E and so on.
Features
The sunscreen offers broad-spectrum protection against UVA and UVB harmful sunrays featuring high SPF 50 factor. According to the FDA regulations from 2012, anyone boasting higher SPF is false marketing since SPF 50 provides 99% protection. The texture of the cream is non-oily and can be easily applied to the skin. It features the highest water resistance to up to 80 hours, so you can enjoy water splashes and swim without being worried that you or your kids might get burned.
Cost and Value
If you want to get natural and safe protection for you and your children, this product could be the perfect choice for you. Since it doesn't contain any potentially harmful substances that might have a toxic and negative effect on the skin, it can be applied daily and for a longer period of time. Another positive feature is the momentous effect that this product has, so you don't have to apply it in advance as it is the case with the chemical blockers. And all these perks come in addition to the affordable price that can be enjoyed by anyone.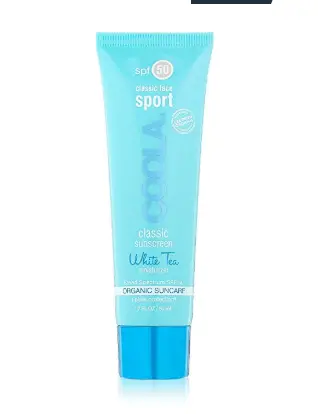 Enjoy the sunny days to their fullest without being worried if the sun is going to make your skin age faster, or cause the appearance of wrinkles or pigmentation with this broad-spectrum SPF 50 cream. But this is not just any kind of cream, but 70% of the formula contains organic products that are blended into this product to provide maximized nourishing and moisturizing effect besides the sun protective features. Your skin defense mechanism will be boosted by this sunscreen which has infused antioxidants in its formula.
Read more
Ingredients
We know that organic is the best since organic products bring nature within a perfect blend. And this product features many organic ingredients that provide not only skin protection but they moisturizing and nourishing properties. Acai Berry Extract is oil which is rich in flavonoids, phytosterols and essential fatty acid which are powerful antioxidants that enable the skin to fight against free radicals or during inflammatory processes. The Evening Primrose Oil is very beneficial to all skin layers and it is rich in essential fatty acids making it perfect in healing inflammation, dry skin, wrinkles, and eczema. The cream features plankton extract which is derived from different types of algae, seaweed, and marine skeletons. The plankton extract is a photo-protector which helps to restore moisture and rejuvenate the skin. However, this product is not 100% organic product since as active ingredients it contains avobenzone and octinoxate to provide effective sunscreen effect.
Features
This semi-organic product is made to deliver optimal protection against UVA and UVB sun rays with SPF 50 factor. It features antioxidant infused formula which helps you fight free radicals. It is very lightweight and ultra-sheer, non-greasy and easy to apply. It doesn't contain any parabens or nanoparticles. It provides maximum protection even if you are in the water for up to 80 minutes. You need to reapply after being in water or after excessive sweating and immediately after towel drying.
Cost and Value
We all know that organic products are much valued and praised and that they are a guarantee in case you have safety concerns. This product contains over 70% organic ingredients with moisturizing and nourishing features. However, organic products are expensive, and nothing less can be said about this product. It's up to you to decide what are you going to value more, the natural and safe product versus saving your bucks. We think it is a great value for the money.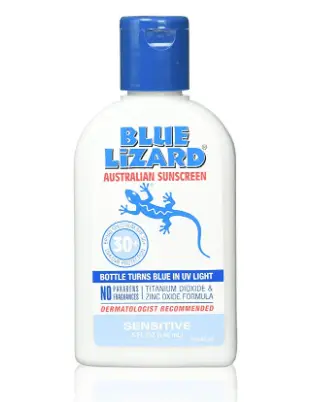 Generally speaking, there are two types of popular sunscreens that provide effective UV protection, chemical, and physical ones, each of them claiming greater protection over the other. They differ in several aspects, the greatest being the way they provide the protection. Chemicals utilize the rays after they enter the skin and turn them into energy, whereas the physical ones provide a coating on the skin and like mirror reflect the sun rays. Blue Lizard is a physical sunscreen that comes from an Australian lab, made under the strictest Australian regulations imposed by the Australian government due to the extreme weather conditions that occur in the country. It is highly effective, mineral-based and dermatologically tested and recommended by many satisfied users.
Read more
Ingredients
Physical sunscreens are the ones that provide a physical barrier between the sun rays and the skin, reflecting them back and safely keeping the skin protected. Besides the different way of functioning, they have more natural ingredients and their formulas do not include parabens, phthalates, toxic chemicals and additives which might have a toxic effect on the skin and the environment. So, the active ingredients that provide the sun blocking effect are zinc oxide and titanium oxide in beeswax and their effect is more than well-known.
Features
Blue Lizard was made with dermatologists who took care that the product will have the greatest beneficial effect on any skin type and that it will be appropriate and soothing for the extra sensitive skin types. It is a mineral-based sunscreen that features SPF 30+ protection on the skin. It is a broad-spectrum product too, meaning you will get active defense against UVA and UVB sun rays. You can enjoy sunbathing with it freely because it is water resistant and offers active 40 minutes of water protection. After that, you must reapply to keep your skin safe from the sun. Due to the fact that it contains zinc oxide, you will rub harder and a bit longer to get it absorbed into the skin.
Cost and Value
This sunscreen is among the most recommended sunscreens by dermatologists and satisfied user which prove its high level of protection and effectiveness. It provides a healthy way to get protected and it doesn't contain any harmful and toxic chemicals that are considered dangerous for the skin and the environment. The price is affordable and it is a great value for the money.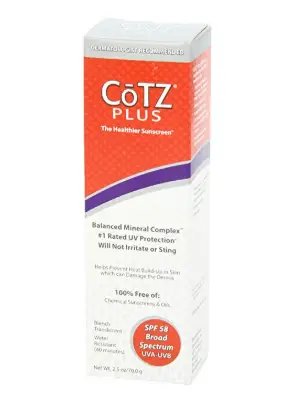 This physical sun blocker contains mineral and natural protection from the damaging UVA and UVB sunrays as well as the infrared light that is equally damaging to the skin. It is specifically designed for sensitive, light skin and can be used for protection of the kids' skin too. It is a sunscreen whose formula combines multiple particle sizes of zinc oxide, titanium dioxide, and iron oxide, all known to provide powerful full-spectrum protection. It can be used as a daily cream because it is very light to the skin and will provide your skin with exactly what it requires.
Read more
Ingredients
Our skin is our first protection from the outer influences absorbing everything it is exposed to and shielding us from much more dangerous weather elements. However, as the environment changes, and the industry is developing, the environment is becoming more and more polluted, the weather conditions are becoming harsher and the sun is getting stronger. Our skin needs help to perform its function and it is our duty to provide decent help. Fallene Cotz is the cream that offers maximized, broad-spectrum protection, excluding potentially harmful substances such as PABA, parabens, phthalates and chemical blockers. The active ingredients used in this formula zinc oxide, titanium dioxide, and iron oxide. This combination will reduce solar radiation by reflecting the light and preventing it to get absorbed in the skin. That will lead to minimized skin-damage, photo-aging, and wrinkling.
Features
This full-spectrum sun protection formula features combined particles sizes of zinc oxide, iron oxide, and titanium dioxide which offer optimized physical protection by especially for those who are struggling with skin sensitivity. It is mild to the skin since it doesn't contain any harsh and chemical substances. It is water resistant to up to 80 hours providing a complete barrier from all the dangerous sun rays.
Cost and Value
This water-resistant and fragrance-free formula will provide with maximum protection of all light-spectrum. It is specifically designed for sensitive skin it has a mild effect which is not going to cause irritation to the skin. Besides all the beneficial components it features, the price is acceptable compared to many other similar products.

8

. La Roche Posay Anthelios Kids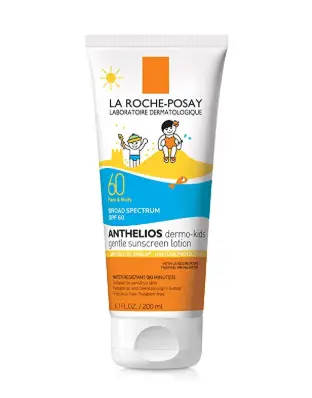 Children's skin is much more sensitive and prone to damage compared to adults' skin and therefore it requires greater care and gentler formula. La Roche-Posay is designed to provide total protection to kids' skin without causing any irritations and it contains a very gentle and soothing formula which excludes all chemicals that are considered potentially risky and unsuitable for fragile kids' skin. The product is tested and recommended by dermatologists and pediatricians.
Read more
Ingredients
This mild and children's appropriate formula is designed to provide broad-spectrum UVA and UVB SPF60 protection. It is formulated with the exclusive Cell-OX Shield technology which is known to provide maximized effect and protection. The filters that are used in this special formula work in combination with antioxidants that help to combat free radicals. The active ingredients include avobenzone, homosalate, octisalate, and octocrylene, thermal spring water, moisturizing glycerin and added vitamin E. What the formula excludes are parabens, oxybenzone, oils, and artificial fragrance.
Features
The cream has been tested on sensitive skin and is approved by dermatologists and pediatricians. It can be used on the face and body on all skin types. Since it doesn't contain any oils, it isn't greasy, doesn't clog the pores and it has been allergy tested to prevent rashes and hives. The application is very easy and it gets absorbed fairly quickly. It is water resistant to a maximum of 80 minutes, so your kids can enjoy swimming freely and you will be confident that they are adequately protected. Since this is a chemical sunscreen, it should be applied at least 15 minutes before exposure to the sun.
Cost and Value
La Roche-Posey develops its products by using a strict formulation charter and the testing they provide is carried out under stringent and strictest measures for efficacy and safety. It has been proven to work as advertised and many parents confirm that their kid's skin didn't get burned even though exposed to the sun for a longer period of time. The packaging may vary and so does the price which is in accordance with the quality of the product.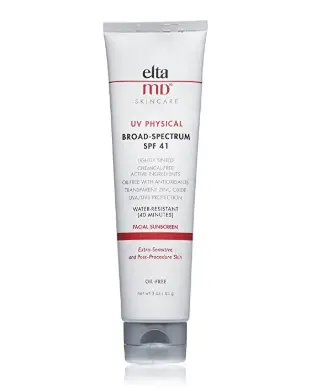 You should never leave your home without a super effective sunscreen that is going to provide you with the ultimate broad-spectrum UVA and UVB protection. Daily facial creams are the initial stage of the protection since the face is the one that absorbs the greatest amount of these rays, regardless of the season and the weather conditions, EltaMD is the cream that offers maximum broad-spectrum SPF 41 protection, intended for normal and combination skin types which can be worn alone or under makeup. There are a variety of tinted and untinted formulas to fit your preferences and skin type.
Read more
Ingredients
EltaMD provides broad-spectrum physical SPF 41 protection, excluding all potentially harmful chemical substances that are notoriously reputed of their negative effects on the skin. This formula is based on zinc oxide which is a photostable mineral that degrades very slowly and titanium oxide, which makes it a perfect choice for daily use all year round. It contains a group of antioxidants that are very effective in combating free radicals which are associated with ultraviolet and infrared radiation. ElmaMD doesn't contain the badly reputed avobenzone and oxybenzone, parabens, and phthalates. This formula will keep your skin protected from any skin damage caused by the sun, wrinkling, pigmentation, and loss of elasticity if applied in accordance with the instructions.
Features
It is slightly tinted creamy structure which can be used by both, men and women of any skin type and any tan complexion. It is very lightweight and can be applied flawlessly on the skin without giving the impression of having cast on your face. It is odorless and non-greasy, so it can be used alone or under the makeup. It is water resistant for 40 minutes, so don't worry if you are in contact with water during the day, if you perspire a lot or if the weather is humid. It is recommended by the Skin Cancer Foundation as an effective broad-spectrum sunscreen.
Cost and Value
Face represents you, so the proper care of your face should be a must for everyone. Since we are aware of the negative sun rays and the dangers to our skin they can cause we should find the most appropriate sunscreen that can provide total UV protection. EltaMD is proven an effective defense against UV radiation and infrared radiation, rich in minerals and antioxidants. It is a high-end cream, which you won't feel sorry buying even though the price is more expensive compared to some other products on our list.

10

. Hawaiian Tropic Sheer Touch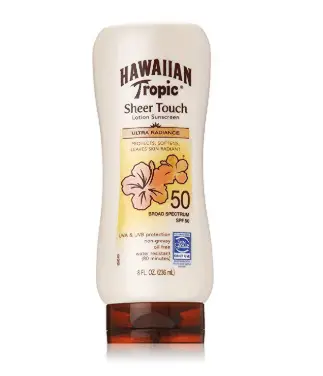 This tropical broad-spectrum sunscreen has been with us for a long time proving to be among the leaders when it comes to skin care and protection. Sheer Touch offers different ranges of SPF, starting from SPF 15 to SPF 50 to meet the needs of different skin types. The mango extract it has in its formula is going to set your senses on fire because it reminds you of nature, beautiful beaches, and hot and blazing sun. The sunscreen is not only sunlight blocker, but it will moisturize and soothe your skin at the same time.
Read more
Ingredients
The luxurious formula that this sunscreen has will make your skin rejuvenated and radiant and at the same time, it is going to provide a broad-spectrum UVA and UVB protection. It has mango fruit extract, antioxidants C and E and shea butter complex in addition to the tropical fragrances from mango, guava, passion flower, plumeria and coconut which are going to revive your senses of the island magic. However, to provide superb sun radiation protection, it contains avobenzone, octocrylene, homosalate, and octisalate as the active sunscreen ingredients, making this lotion a chemical blocker.
Features
It comes as a reminiscence from the past, the smell and the feel, it is all there to remind you of your childhood summer days. It is very easy to apply and since it doesn't contain any oils, it is non-greasy and non-sticky, nor will it clog your pores. It is water resistant, so indulge yourself in the water or sports activities without being worried about the level of your protection. The product is recommended by the Skin Cancer Foundation and dermatologically tested.

Cost and Value
This is a sunscreen that will provide you with the most superb UVA and UVB protection without the mess and the greasy feeling that some sunscreens provide. It's easy to apply formula creates a soft touch to your skin, moisturizing it and protecting it at the same time. When it comes to the price it has we can say that it reflects the value of the product, being within the average of the price tags usually attributed to products of this quality range.

Subscribe to our Newsletter