Best Socks for Sweaty Feet
last updated:
Apr 10, 2019
What's the first thing you do when you get home after a good game of golf which lasted more than four hours? Tossing your socks in the laundry would be my guess since we all know what it means to spend more than five hours walking on the heat. Plus, if your footwear isn't performance type and if your shoes don't have extraordinary breathability, then your feet are the perfect base for bacteria and microorganism. We have all been there and know the feeling (and the smell, phew!) and despite the fact that this topic might cause discomfort for some, we feel that we have to be open about it since we might have a solution for the problem. You see, many people think that the problem is with the shoes while it is the socks that can solve the problem. These are the best!
In a Hurry? The test winner after 35 hrs of research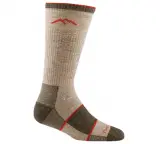 Darn Tough
Why is it better?
Made of merino wool, lycra spandex, and nylon
Seamless and high density knit
Enhanced cushioning and comfort
Breathable and moisture-wicking
Micro crew performance design
In a
Hurry? Editors choice: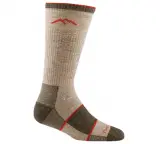 Test Winner: Darn Tough

45
Researched Sources
354
Reviews Considered
35
Hours Researching
28
Products Evaluated
Comfort
Breathability
Support
Features
Materials
By Default
Top 10 Picks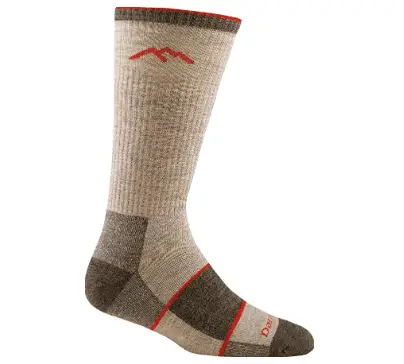 Made of merino wool, lycra spandex, and nylon
Seamless and high density knit
Enhanced cushioning and comfort
Breathable and moisture-wicking
Micro crew performance design
Would you believe if someone told you that you can wear your socks over and over again without having them worn out or torn them at the weakest point? That's a hard bite to swallow, but the designers of Darn Tough are claiming exactly this and even offer a new pair in case you're able to outwear them. Pretty much tempting offer, isn't it, especially if you are an avid golfer who spends days and hours on the course. By the way, the claim isn't just another marketing trick, it is a real deal, so read below to find out more about Darn Tough.
Read more
Material
When you combine merino wool, nylon and lycra spandex with the finest knitting machines and technology, and add sophisticated knowledge on footwear in terms of quality and design, you get Darn Tough, the most durable pairs of socks that you'll ever find on the market. Darn Tough feature fine gauge knitting which not only does it increase the knit density but it provides reinforcing to the most common wear zones. Plus, there's mid-level cushion density which stretches along the foot that increases their comfort and delivers a feeling as if you were walking on clouds. The material is anti-microbial and has the capacity to pull the moisture away from the skin so that they don't get soggy and uncomfortable. By repelling the bacteria and enhancing the feeling of being dry, the odor will be increasingly reduced. The merino wool material is characterized with increased breathability and comfort and it is one of the most durable materials that guarantee durability.
Design
These performance crew style socks are designed to fit all sports shoes and any style since there is a wide range of color combinations and designs, from patterned to check, you are sure to find your perfect match. Since they are performance fit, they are made to stay firm on your feet without slipping or bunching delivering an invisible feel. An, it is not only the feeling that is invisible, but it is also the seam too. These are seamless in the real sense of the word which means less friction, less irritation, and fewer blisters.
Cost and Value
You'll never find less negative rating in pairs of socks than these have, and the buyers that own these claim that they truly match the description and they live up the claim of being impossible to outwear them. They are truly expensive, however, if you consider the fact that they come with a lifetime guarantee and that when you wear them you feel as if you were walking on clouds, then these are an excellent value for the money.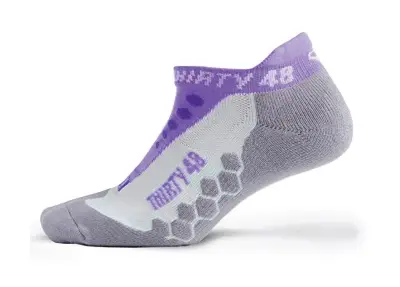 Antibacterial material that protects from odor
Padded support on the heel, arch and toe area
Moisture-wicking patent pending design
Targeted reinforcement and elastic arch support
A few quality control issues
When the weather is hot the most comfortable footwear is the one that provides a cooling effect and whose design is low cut which fits your golf shoes. Walking for minimum four hours is as tiring as any other sport, but in golf, you don't just walk, actually, the most complicated moves are delivered when swinging the ball and there's a greater risk from slipping, especially if the feet are wet. So, Thirty 48 are specially designed to make your sporting performance improved and comfortable by preventing the slipping and pouching.
Read more
Material
The blend of several fabrics constitute the material of these socks and provide the enhanced feel and performance that makes them different than the ordinary ones. There is 27% cotton, 30% nylon, 8% polyester, 33% CoolMax and 2% lycra. They feature innovative padding that maximizes the comfort and their duration even when they are put under a lot of pressure. The CoolMax material is responsible for wicking the moisture away and keeping your feet cool and dry, while the cotton lets your feet enjoy the soft and comfortable feeling. Plus, this blend of materials is anti-bacterial, so they feature anti-odor protection too.
Design
They feature a patent pending design which promises boosted feeling of pleasure while doing the most strenuous activities. The fabrics are sawn to maximize the airflow which ensures higher breathability and dryness. The low cut design provides curled tab on the back which protects your tendons from blisters, there is padded support down the heel, the toe area and the arch which cushions your feet and the targeted reinforcement protects from abrasions while the flexible spandex is tear resistant. Plus, there are different colors and sizes you can choose from available for both sexes.
Cost and Value
When you realize that you are just a few bucks away from having your feet fresh and dry, these socks will seem to be the most valuable thing you have ever bought. They are comfortable and will keep you cool and dry. Their price features from being very inexpensive to be a bit overpriced depending on the actual color and size.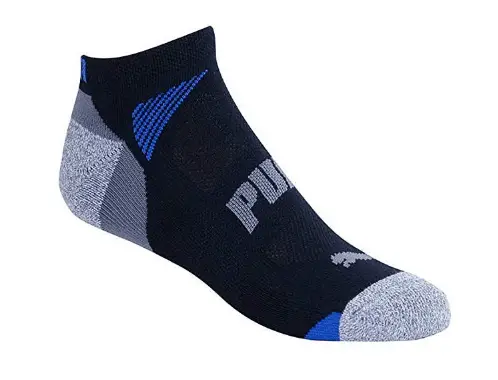 Made from polyester, cotton, rubber, and spandex
Puma Moisture Control technology helps your feet stay dry
Enhanced breathability and no bad odor
Arch support and cushioning
A few buyers reported low quality
We all pay great attention to choosing the right shoes and we tend to note every detail that is significant for that particular shoe type, and especially if you are a golfer, you'll be most interested into the outsole and the cleats, and of course the comfort. But, let me ask you something! Have you ever seriously considered what kind of socks you're wearing? Have you looked at the materials they are made of, the features they have? Very rarely, I know. Well, pay attention this time, since Puma has important info to share about the socks they are making.
Read more
Material
As we have already mentioned, the material every product is made of is a very important feature and nothing less can be said about the socks too. These are made from polyester 74%, cotton 22%, rubber 3%, and spandex. This combination produced with the Cool Cell Moisture Control technology guarantees that as your feet sweat, that moisture will be instantly drawn to the surface of the material and it will quickly evaporate. Plus, the increased air-flow will prevent overheating, so your feet will stay cool and dry.
Design
These no-shows are perfectly designed to fit any shoe type, not to be seen by the others but greatly felt by the wearer. Due to the mesh on the top, they are very breathable while the arch support provides nice landing with each step. The special heal pocket doesn't allow slipping and the cuff has a thicker band which keeps them snug and protects from blisters. They are durable and easy to maintain.
Cost and Value
These socks will give you reliability, comfort, and protection from perspiration and feeling soggy. Made with the professional athlete in mind, you will never have to experience common problems related to footwear such as slipping, bad odor, excessive perspiration, and blisters. They are high-end socks that are very reasonably priced, so they make excellent value for the money.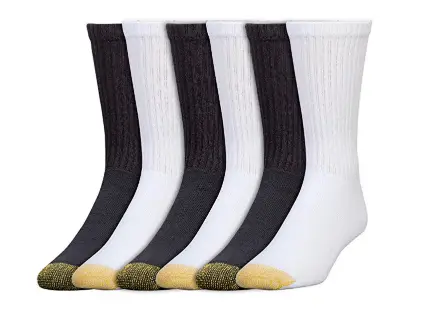 Comfortable and stretch with a snug fit
Aqua FX Moisture control keeps you cool and dry
Cushioned and breathable
Pull on closure
Some buyers reported easy wear and tear
Did you know that sometimes it is the socks that you're wearing that cause the perspiration and not the shoes you are wearing? You might have the best of shoes, but if your socks are of low quality and if they don't provide enough breathability then you can often experience bad odor. The thing is, the bacteria on your feet are the ones that cause the bad smell when you get all sweaty. So, Gold Toe has launched pairs of high-quality socks that are designed so that all that perspiration does not stand a chance when you wear them.
Read more
Material
Made from mostly cotton and enforced with 18% polyester, 9% nylon, and 1% spandex, Gold Toe footwear are made to deliver all the comfort inside your shoes. Besides being very comfortable to wear, they are made to keep all the moisture away with the help of their Aqua FX Moisture Control Technology that draws the perspiration on the surface of the material which easily evaporates once it reaches the surface. They provide an air flow which makes you feel much more comfortable and sure that they won't slip and cause discomfort, especially when the most important shot is ahead.
Design
This model comes in black or white color choice with a reinforced toe area which has a yellow-knitted material which gives them a peculiar look. They are a standard type of footwear and feature pull-on closure. The whole feet is fully cushioned and the toe seam is smooth and very comfortable. The material is slightly stretchy and they adapt easily to the feet. The way they are designed will provide you with long-term use and won't get easily torn as it is the case with ordinary footwear.
Cost and Value
Ever wanted to feel great in your shoes, but it was kind of hard? Maybe it has been the socks all the time! These ones are among the most rated and the most praised. If you still haven't given them a chance, you should consider it. They might not be the cheapest, but they will provide you with a super comfy feeling that you'll never get from the cheap ones.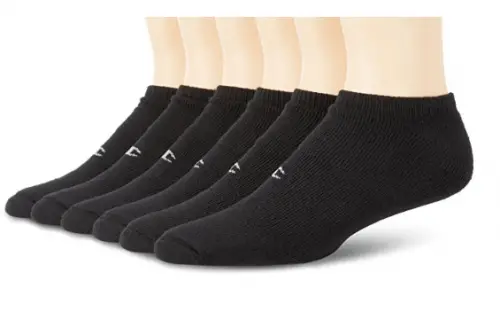 Double dry anti-wicking material
Breathable and easy to maintain
Blend of cotton, polyester, natural latex rubber, nylon
Cushioning and arch support
They run smaller and tighter
Socks aren't just socks anymore and there's a great deal of technology integrated into their manufacture. You might think that socks are just the basic piece of footwear, and there's nothing wrong with the idea, we all do as a matter of fact. Well, from one type to another there's a huge difference in the same way as a Fiat 50 differs from Mercedes Benz. You've got the picture, right? Champion is a well-known brand and from such a brand you can expect superior quality, and yes, the footwear they produce is more than premium, so let's see what makes these socks stand out!
Read more
Material
Generally speaking, the material is the key, but not just any material. What truly matters is the blend of materials and the technology used in their production. The blend in this model is versatile and includes mostly cotton at about 68%, then 26% polyester, 4% natural latex rubber, 1% nylon and 1% other fibers. Made in this combination, they have become the most favorite pair among the golfers. The double dry moisture wicking technology draws the moisture almost immediately away, delivering dry feeling and increased comfort. They provide an excellent fit and you can choose black or white colors option.
Design
If you are into a no-show, minimalistic and plain style then these are right for you. The seamless design with added toe cushioning will provide you with increased stability and balance when you swing the ball and the arch support with the added cushioning will make all that walking on the golf course much more bearable and pleasant. The stretchy material adapts nicely to the contours of your foot in a very snug manner, providing anti-slip effect and comfortable feel.
Cost and Value
Sometimes there's a reason why some name-brands charge much more than the ordinary companies, and the reasons for these socks are their durability, comfort and the effect to stay dry. This means that even though you'll pay much more, you'll have indisputable quality and your feet will be endlessly thankful.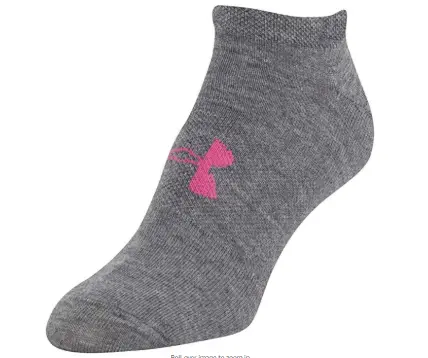 They wick the moisture away and provide a cooling effect
Comfortable to wear and fit without slipping
Minimize the odor and the bacteria
Feature embedded arch support and enhanced stability
A few quality control issues
Under Armour has been confidently marching toward the throne of sports apparel and their development in the field of sports gear and apparel has been evident with every new launch of garment or footwear. The high standards that they have set and the sound strategies that they have implemented resulted into durable, high-quality products that boost the performance to a higher level and which, as they say, bridge that gap between style and functionality. These socks are just a tiny part of what they produce, but much needed when you are set to walk for hours on the course.
Read more
Material
These basic no show style socks combine polyester, nylon, and spandex which create a fabric that is resistant to bacteria that is naturally found on the feet and which has high ability to pull the moisture from your skin to the surface level of the material. This will lead to easy evaporation of the moist which is not the case with the standard cotton-made ones. This proprietary Under Armour material is designed to quickly draw the moist from the skin, but slowly making it evaporate which will result in creating a cooling effect.
Design
Many no shows are notorious for slipping, however, these Under Armour models are made to follow the contour of the foot without slipping or bunching. They feature added stability and embedded arch support with an enforced cuff band and flat knit footbed which is excellent for customization. There are many different colors and designs to match with your outfit or shoes.
Cost and Value
When you hit the golf course, what you really need to make sure is the feeling of comfort and confidence without being disturbed by any distractors such as tight clothes or uncomfortable socks and shoes. These basic no shows are a guarantee that you won't be distracted and that you'll feel pleasant while walking or swinging. You can come across different offers, from one pair to six in a pack, so the price greatly varies, the most budget-friendly being the bundle offer.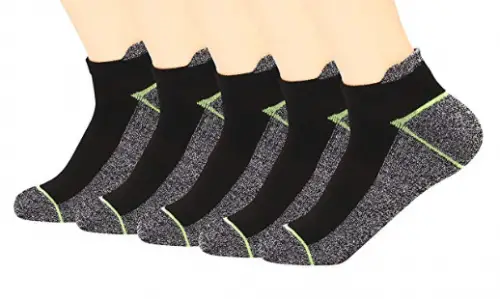 Made from 80% cotton and 20% antimicrobial copper yarn
It kills all known viruses and bacteria within 2 hours
The material is moisture wicking and breathable
Y shaped heel pocket protects from sliding
Some buyers reported tearing at seams
Having the right sports outfit and the right sports shoes is not just an advertisement trick that many companies use to advertise their products, but it is imperative to keep you comfortable and protected from many external impacts. That is especially true when playing golf since the game is merciless when it comes to walking around. If you are up to reaching the 18th hole, then your shoes and your socks must be premium so that you don't develop muscle fatigue, cramps or blisters. Plus, you don't want to be reluctant to take off your shoes when you get home, do you? So, Kodal Copper is the first line of defense from all the microbes that find the inside of your shoes the most suitable place to live.
Read more
Material
Generally speaking, almost all ordinary ones are made from cotton, but cotton is very difficult to dry and it is a perfect base for all the germs inside the shoes. These are made of 80% cotton that provides the comfort and 20% antimicrobial Copper yarn which makes these much better than the rest of the footwear you'll find on the market. This Copper material can kill about 99.9% of the viruses and the bacteria within 2 hours and it prevents new ones from occurring. This means that once the bacteria are eliminated, the embarrassing bad odor will be eliminated too since it is the bacteria, not the sweat that causes the smell.
Design
They are designed to fit the heel perfectly with Y shaped deep heel pocket so that the sock follows the contours of the foot and that prevents them from sliding down. The heel tab is also effective against blisters and the tread design is made to fit the heel. The anti-wicking property that the material features, draws the moisture from the skin to the surface and therefore it makes it easy to evaporate, while the mesh on the top provides increased air-flow and breathability.
Cost and Value
When you buy footwear for protection against bad odor and excessive sweating, then you'd expect results as soon as possible. These socks will provide you with the desired effect within a day or two once you start wearing them, and besides that, they are going to support your feet with the anti-slippery design they have, and protect you from blisters and irritation. And all that for a price which won't considerably affect your budget.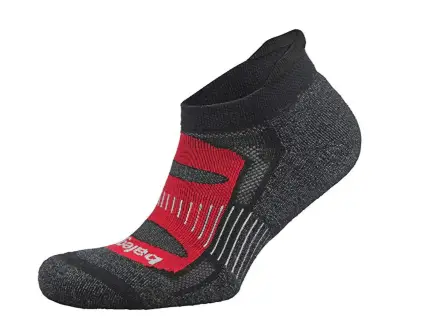 Made from natural fiber, mohair
Feature Drynamix moisture-wicking technology that keeps you dry
Thermoregulating capacity-keeps cool in summer and warm in winter
Extra added cushioning and anti-blister protection
A few reports of short life
Have you ever thought that the reason behind the frequent blisters might be the socks, not the shoes? Hard to believe, isn't it? Yet, that is a fact and a very frequent one. Have you noticed when walking for hours on the golf course that all that friction between the socks and the shoes leads to skin irritation which almost instantly turns into blisters? Well, if your footwear had been made to prevent that friction, you wouldn't have had the blisters when you came back from the last game. Balega, on the other hand, seems to have found the perfect solution for the problem. Read below to find out what it is all about.
Read more
Material
When you combine natural fiber mohair and Drynamix technology, you get outstanding footwear that feels pleasant and comfortable even to the most blister-prone and sensitive skin. The high-quality mohair threads are interknitted into a hollow fiber structure which regulates the temperature in accordance with the external conditions. So, during cold weather, you feel warm and during hot weather, you feel cool. The Drynamix technology that is used in the manufacturing process makes the fabric breathable and capable of wicking the moisture away through the reinforced microfiber panels which allow for greater airflow.
Design
The style is very important, particularly during summer, you tend to choose a no-show design which features enhanced cuff band made with mohair which reduces the risk of friction and blisters, and the hand-linked seamless toe is designed to prevent irritation too. There is an added wide arch band that boosts the arch and increases the comfort. In order to prevent slipping, there's extra deep heel pocket and high heel tab while the cushioning makes sure you feel comfortable even when you endure high-intensity training or pressure.
Cost and Value
The fact that these socks are made from mohair and natural fiber tells us that we are talking about a high-quality product that will provide great comfort and endurance. They regulate the temperature in your shoes, wick the moisture away and cool your feet. Some buyers say they would gladly pay even more since the comfort they get from them is priceless.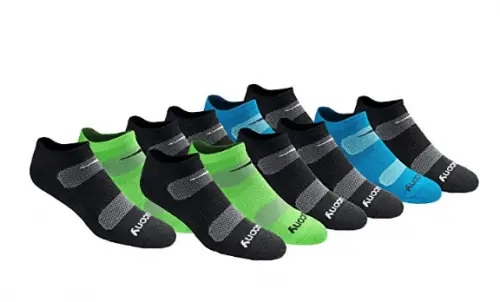 Excellent moisture wicking performance
Keeps you dry, cool and comfortable
Arch support system makes your arch stable and secure
No sleeping or bunching
Light sole cushioning
Some quality control issues
There are so many different styles of socks and the latest trends somehow impose no-show design to be the most preferred during hot and sunny days. But, have you noticed how hard it is to find true no-shows that will fit perfectly fit your sneakers? I bet you have! Well, your search can stop here because this Saucony model is designed to be your next no-show favorite one.
Read more
Material
When choosing the right footwear, don't forget to take a look at the material because it tells a lot if you are able to understand what it says. The fact that these socks are made of 96% polyester, 3% rubber and 1% spandex tells you that they won't retain any moisture and they won't make you feel soggy. It is run dry material made to provide moisture transport from your skin to the surface of the material and evaporate as quickly as possible so that you stay fresh and dry.
Design
The no-shows aren't only hard to find made as they should, they are also hard to make them stay on your foot since many of them tend to slip and instead of providing comfort they produce the opposite effect. However, these are made with targeted arch compression that maintains your arch secure and stable and at the same time, it prevents bunching. The sole is cushioned and gives a feeling that you are walking on super soft feathers.
Cost and Value
You will never feel comfortable in your shoes unless your footwear is pleasant and comfy too. That's especially true for no-shows since they tend to slip and bunch. That's definitely not the case with Saucony. They are affordable and they come in bulk, making them an excellent value for the money.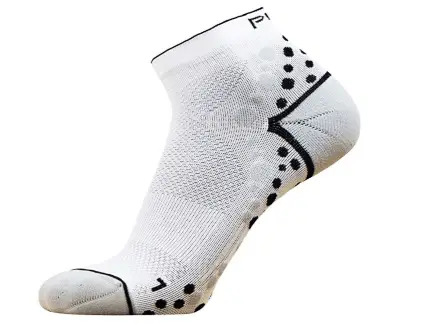 Increased air-flow through the upper mesh
Moisture-wicking technology helps the feet stay dry
Light arch support and no-slip cuff
Anti-blister 3D dot technology
Comfortable and fit
A few buyers reported blister
Socks technology and science (yes, there's some science too!) are at their peak and they aren't just a piece of a garment designed to fit your feet. Many leading companies are developing specific designs to address the common issues that athletes have been facing for years such as excessive sweating, feet overheating, blisters and so on. Pure Athlete is a company which has mastered its technological advancement and created a line of socks that protect from all above mentioned common problems. How are their socks designed? Read below to find out!
Read more
Material
Made of merino wool, spandex and nylon, you will feel the difference after wearing them only once. The breathable mesh which is positioned on the upper part of the sock allows increased air-flow which in turn leads to easy evaporation of the moisture and keeping your feet cool. The combination of the material doesn't retain moisture and is resistant to germs. Since bacteria and germs are the ones that create bad odor, wearing these socks will reduce the bad smell coming from them.
Design
These no-shows have a very specific design and only by looking at them you'll realize that they aren't ordinary in any way. There's upper mesh on the top that increases breathability, while the light arch support and the no-slip cuff allows them to stay in place. The unique feature that makes them easily recognizable is the anti-blister 3D dot technology that prevents from increased friction and skin irritation that leads to blisters.
Cost and Value
Many satisfied buyers claim that Pure Athlete is the type of socks that made them feel better while running, hiking, playing golf or just simply waking. They have noticed that their feet tend to stay dry even though their outfit is not. Plus, the company offers 30-days money back guarantee in case you're not satisfied with the product. The price is slightly higher, but the reviewers claim that they are totally worth it.
Criteria Used for Evaluation


Comfort
Only comfortable socks will be worn over and over again.
The most important factor when buying footwear is the comfort that they are supposed to provide and that practically means that comfort is the key element in deciding whether you are going to wear them or not. Even though we are not able to try them on before buying them, we could generally get the idea about the expected comfort from the materials they are comprised, the consumers' reports and the opinions given by the experts on the field. From the huge number of the reviews that we had read, we were able to draw a conclusion about the amount of comfort that they provide and if they live up to the advertised description. The scoring next to this criterion represents the level of comfort they provide.


Breathability
When your socks breathe, your skin breathes too and it doesn't get overheated!
Closely related to the comfort is the level of breathability, i.e. the air-flow that socks can deliver. Some materials have a higher breathability rate and in other words, that means that your feet are less likely to be overheated. Overheating, in turn, can lead to excessive perspiration, so when the materials are breathable they don't retain moisture within themselves, but it is easily wicked to the surface, so your feet stay dry and cool.


Support
The stability and the support of the footwear are the key to improved golfing performance.
What kind of support is it expected from a nice pair of socks that you plan on wearing on the golf course for hours? First of all, for increased stability, solid arch support is well appreciated. That means that they will stay solid on the feet and they will be less likely to slip. Another support that we can see at the best models is the heel support, i.e., some models have a heel pocket or Y-pocket that provides enhanced support and extensive cushioning. The cushioning itself is of utmost importance because it changes the way we experience the daily burden of walking and it alleviates the impacts. The added cuff bands and the enhancement on the wear parts give additional support against wearing and tearing and plus prevents them from slipping and bunching. So, all in all, we considered support regarding their quality and support regarding the comfort of wearing them.


Features
Each feature gives something 'extra' to the product itself and makes it unique.
The most outstanding feature that was of the greatest significance was the moisture wicking property of the materials. That means the ability of the material to pull the moisture on the surface of the material from the skin and thus to make your feet dry and cool. When the moist reaches the upper part of the material it quickly evaporates so the moist isn't going to linger for long inside your shoes. The cooling effect is better achieved through the technology that provides slow evaporation, but enhanced dryness. The second feature that we took into account was the anti-microbial and antibacterial effect. Some of the socks are made with special threads that have the ability to kill all the microbes and bacteria they get in contact with for a very short time. The third segment within this criterion is the possibility of the socks to be worn during all seasons with a different effect. What we mean by this is their appropriateness to have the effect of cooling during summer, and the effect of keeping the feet warm during winter.


Materials
The right combination of materials leads to increased quality, performance and durability.
We have mentioned several times while we were reviewing the products that materials are important and they are 'the soul' of each product. In accordance with the quality of the materials and their combination, you can expect high performance and durability or disappointment. We have also mentioned that there is a great deal of science and advanced technology when it comes to footwear production, so the technological blend of the materials used to comprise them is a significant aspect for consideration. Take for example cotton. It used to be the most utilized material for footwear production, but it has been replaced by merino wool, polyester, mohair, elastin, spandex as better performing materials. Not that the cotton is bad, on the contrary, it is one of the most comfortable materials to wear, however, its natural ability to retain moisture makes it inappropriate for high-performance types of footwear. The above-mentioned materials do not retain moisture, they dry quickly and are highly durable.
Frequently Asked Questions
q:

My feet sweat excessively to the point that I need to change completely all the footwear to be able to continue playing golf? Can any of these products relieve my situation?

a:

Sweating is a natural process and that is how our body regulates the temperature and normalizes itself in case of extreme heat. However, in the case of excessive sweating, you might suffer from hyperhidrosis, a condition of extreme perspiration due to internal factors. Your current state resembles hyperhidrosis, so it would be a good idea to visit your doctor before trying to find the best footwear that can aid your situation.
q:

Are there any dangers of excessive foot perspiration?

a:

Sweating on its own is never dangerous and it is even recommended. However, when it gets in touch with the bacteria and the microbes that are inhabited on the feet, then it can lead to infection if it isn't treated timely.
q:

What else can I do to prevent the extra sweating?

a:

After choosing the right footwear, you can get yourself a good foot antiperspirant or powder that prevents sweating and apply it before going out on clean and dry skin. The antiperspirant will help you prevent sweating while the powder besides being a good antiperspirant, it can also add some fragrance.
q:

Why 100% cotton socks aren't recommended for playing golf?

a:

There's a very simple reason behind this. The thing is, cotton can absorb a lot of moisture, however, it has a great capacity of retaining it. So, if you spend hours on the golf course and tend to sweat a lot then your feet will feel wet and uncomfortable.
Subscribe to our Newsletter