Best Shoes for Plantar Fasciitis
In a
Hurry? Editors choice: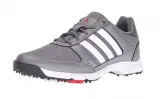 Test Winner: Adidas Tech Response

Even though this condition might not sound familiar for many people, it has been confirmed that around 20% of the people suffer from it. This condition occurs when you suffer from inflammation of the plantar fascia which is the thick band tissue that connects your toes to your heel bone and runs all across your foot. The most common symptom is the morning pain in the foot area, especially the heels. This condition gets worsened when people stand or walk for an extended period of time causing excruciating pain and inability to walk properly at certain times. Besides the regular treatment, the
footwear
designed for this condition can lessen the pain and improve the overall performance. The best shoes are characterized with a contoured and cushioned insole with the bottom sole being flexible and made with shock absorbing technology. These are the best ones for the golf course.
Standout Picks
Criteria Used for Evaluation
Shock Absorption
People who suffer from plantar fasciitis, depending on the severity of their condition, might experience excruciation pain when they walk for a longer period of time or keep standing up for several hours. As golf is a move-around sport, it is of special significance for golfers to wear shoes that will allow them unobstructed movement in terms of comfort and stability. But for golfers who suffer from foot ache, the cushioning is crucial to be able to carry on up to the 18th hole. The shoes they wear must have added arch support and special insole that will absorb the vibrations, impacts, and stress while walking. Therefore, we picked those models that feature shock dampening and make walking bearable.
Comfort
Nobody buys shoes that won't provide him/her with the necessary comfort, and that is especially true when it comes to sports models. When you are on the golf course you need stability, balance, and comfort. When we talk about the comfort that shoes deliver, we all agree that it is the most crucial segment for any sports performance and it is more than obvious that if you don't feel comfortable in your shoes you won't be able to excel in the sport you are playing, especially not in golf since walking around the course is the most necessary activity. Plus, in order to have a good swing, you need balance and stability that only good comfortable pair of shoes can provide, so if your shoes cause blisters, or if they are tight or uncomfortable, the chances to have a good shot significantly decrease. Therefore, this criterion ranged them based on the general comfort they provide which was observed by users comments and their craftsmanship.
Outsole
The outsole is very important for golfers' shoes since they provide stability on the course, they make the grip of the shoes better and help the golfer make swift turns when hitting the ball. Many of the golfer's shoes are made with spikes that anchor the feet within the shoe, provide stability while walking on the turf, prevent sliding and help them walk easily across the course. All golfers need outsoles with superb traction and grip, so we considered those models that provide greatest safety and prevention from sliding on the course. Besides including strictly golf shoes, we took into account several models that can be worn off the golf course and which can be additional support for golfers who suffer plantar fasciitis. Those are sneakers that can be worn for any occasion and can be great aid while treating the conditions. And, even though those sneakers don't have spikes, they were selected based on the grip they have, so if you decide to wear them on the course you aren't going to be in danger of sliding.
Flexibility
Many people who suffer from plantar fasciitis need added support in their insoles. They need models that are designed to effortlessly follow the movement of the feet without causing hindrance while walking. The best way to provide such support is when the model is flexible because in case of a firm surface the stress can be localized only on the heel or the forefoot which can add additional tension to the plantar fascia. All the models that we have selected exhibit a fairly high level of flexibility as you can see from their rating.
Materials
One of the most distinguishing criteria when it comes to footwear is the type of materials they are made and how those materials affect the feet. The choice of the materials determines whether the shoes will be comfortable or not, when and where they can be worn, they determine their durability and availability to be worn for specific purposes. There are different types of materials for each part of the shoe. Therefore, when it comes to the upper, it is usually made from breathable synthetic mesh which allows normal air flow and doesn't make the feet feel sweaty. Some of the best models have added coating which makes them water resistant or waterproof. Some of the models on the list are made of synthetic, waterproof leather too. The insoles are important too, they provide the arch support, the comfort and cushioning, so among the best material that is currently used for insoles is EVA foam which is soft and makes the feet adapt easily to it. The best material for outsoles is TPU or rubber, that together with the midsole provide added shock absorption and cushioning.
Top 10 Picks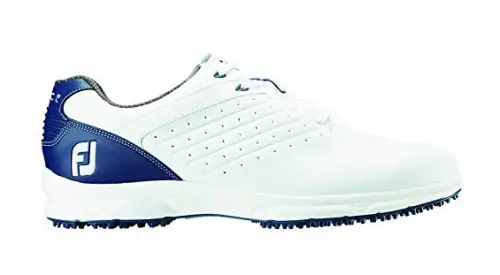 It is not easy to play golf when your feet ache, however, when your passion is there on the court and when your inspiration is found on the fairway, between the clubs and the holes, the only thing you will need is good pair of golf shoes which will let your spirit up and enhance your performance. These shoes will be your ultimate support for your aching feet and your shattered self-confidence since the moment you start wearing them, you will know that you are standing comfortably on the solid ground.
Read more
Features
The reason why these shoes are recommended for golfers who suffer from plantar fasciitis is their comfortable cushioning which allows your feet get a comfortable fit into the foot-bed and thus to ensure that every impact gets dampened while strolling on the course. The midsole is designed in a way so that it creates the baseline for the cushioning and provides added heal support. The upper is made from waterproof synthetic material which is extra durable and easy to clean and maintain. The outsole is spikeless and features DuraTrax TPU material that yields turf gripping performance and extended lifetime.
Performance
This is basically the model that provides specialized pro-cushioning and which is made to meet the needs of the golfers who are struggling with foot pain and discomfort. Basically, they will be part of your treatment by adding extra value to the way you perform on the course. They are lightweight, stylish and versatile and the comfort they provide is unmatched to any ordinary ones.
Cost and Value
Coming from the leaders in golf shoes, FootJoy has been launching advanced shoe models for golfers for almost a century and their products are made to excel golfers expectations, by listening to golfers and their needs. Everything they feature is from and for the golfers in every aspect of their craftsmanship. The price they have fits the overall quality of FootJoy.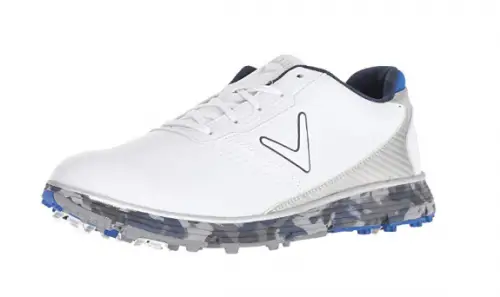 If you are a golfer that frequently suffers from foot pain, often have blisters by the end of the game and your feet and legs feel extremely tired, then you need to do something about the way you treat your feet. Plantar Fasciitis can occur from increased walking, and if you a golfer who strolls rather then uses a cart, then you must pay increased attention to the footwear. As we have already mentioned, there are three ticks on the box that each pair need to have in order to provide comfort to feet that suffer from this condition- arch support, flexibility and cushioning. That is exactly what Balboa TRX offers to golfers.
Read more
Features
These are superb golf shoes made from microfiber water-resistant leather which provides superior protection from the weather elements. The leather goes in combination with Opti-Vent mesh liner which can manage the heat and makes the feet breathe. Plus, they added ventilated impressions on each side that enhance the breathability. The midsole is made with soft EVA material that supports the arch in its most natural state and creates a comfortable walk. The sole is made of the proprietary Dura-Rubber and they feature Slim-Lock seven removable cleats for greater stability when swinging.
Performance
Callaway has been reputed for having unique visions on how shoes need to look and what performance they need to provide. These elegant and modern sneakers are all about maximized performance and increased quality. They will provide pain-relief sensation and your feet will be thankful for providing them luxurious treatment and care. Many buyers say that they have actually seen an increase in their performance rate due to their ability to carry on unobstructed on their mission to reach number 18.
Cost and Value
These are surely good quality shoes that will bring your hope and confidence on the golf course once again. The high-quality they feature is undisputed since they represent an innovational package on their own. Plus, they come with a year warranty for a price that is averagely high for a name brand as Callaway is.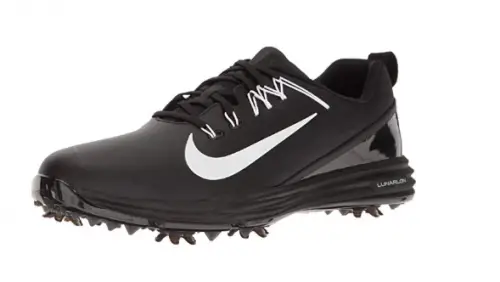 Every sportsperson knows that nothing that comes from Nike is underrated, regardless of the type of the product. These golf shoes integrate the most prominent Nike technologies that comprise a high quality and durable product which is designed to bring relief to achy and tired feet and make the pain more bearable. They look robust and stylish, made to catch everyone's attention on the golf course as if trying to say that they are the ones worth watching.
Read more
Features
As we said, they integrate a few Nike proprietary technologies which make these shoes unique in their design and features. The Flywire technology makes the laces uniquely integrated into the upper, offering a drastic difference in the way they provide foot support and dynamic fit. This is very important for golfers who suffer from foot pain since what they need is footwear that will prevent the feet from increased movement. They also feature Lunarion cushioning which distributes the impact across the foot evenly instead, of hitting in one area and it smoothly absorbed all over the shoe. That means greater stability and less foot engagement. The upper is made of synthetic material which has a waterproof membrane making then appropriate for different weather conditions. The outsole has 7 removable CHAMP PiviX spikes to provide increased traction, grip and balance at different surfaces.
Performance
These sneakers will provide you with a double effect. First of all, they are going to make you regulate the pain you feel from your condition and secondly, they will increase your success rate by making you more engaged into the game and less focused on the pain on your feet. All buyers who have suffered from this condition and have tried these shoes claim that they experienced the immediate effect. Your feet will be much more protected in them and your self-confidence will increase.
Cost and Value
So, they are waterproof, keep excellent foot support and stability, make your pain decrease and increase your performance rate. Ok, they might be a bit more expensive compared to some other models on the list, but these are very good golf shoes that will provide the desired effect.

4

. Under Armour Micro G Assert 7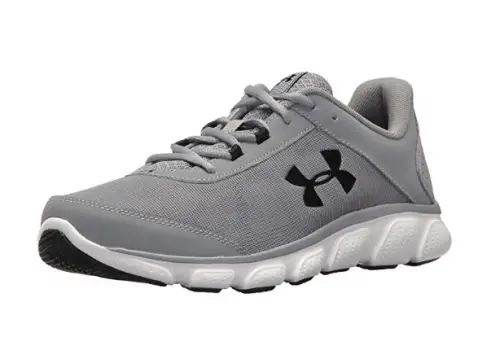 To perform best, you need full golf equipment and gear, including golf apparel and golf shoes. However, when suffering from different feet-related conditions, you need those types of shoes that will provide the greatest comfort and stability. The same refers to the condition we are talking about in this guide. These sneakers have been voted to be among the best running sneakers in the world, however, they are nothing less valuable for the golf court, especially for people suffering from plantar fasciitis.
Read more
Features
Not only do they look trendy and stylish, but they also provide enhanced support of the feet when walking or running in them. The upper is made from 100% synthetic textile which is very breathable and accompanied with long-lasting leather overlays which provide added stability and make your midfoot stay locked inside. For added comfort and arch support, the sock liner is made of soft EVA material while the midsole features one-piece Micro G foam that creates ultimate flexibility, cushioning and balance. The outsole is made of solid rubber that provides good grip and covers the zones that are prone to the greatest impact making them last longer without showing early signs of wear and tear.
Performance
The characteristics of these sneakers speak by themselves. As they keep your feet stable inside them by creating increased support and balance, you'll be able to walk around the course feeling less pain than before, so that you can get fully concentrated on your game. They are very comfortable and are made to provide increased airflow so that your feet aren't going to perspire and feel wet.
Cost and Value
Under Armour is another leading sports brand which is characterized by new innovative and sports enhancing technologies that make every sporting experience a better adventure. Besides, the company is always a step ahead in providing incomparable comfort and balance. In addition, the price these sneakers have is reasonable and in line with the qualities they provide.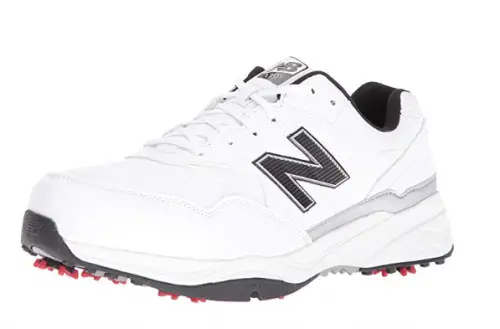 If you are a golfer that walks throughout the course then you need very comfortable shoes, but if you are a golfer that suffers from foot pain then you need supper supporting shoes that won't make you feel as if you walked on nails while playing golf. The best way to make your game enjoyable is to look for feather-light shoes that will provide arch and side support, and if you insist on wearing a pro model golf shoes than NBG 1701 are sneakers that you need to consider.
Read more
Features
These were designed with avid golfers in mind and provide maximum comfort even if you walk up to the 18th hole. They are made from 100% microfiber leather which is water resistant and rubber soles that are very durable. The outsole is also made of rubber and features removable cleats with soft spikes. The insoles provide enhanced cushioning boosted by the EVA midsole, a feature that is very significant for plantar fasciitis sufferers. They are appropriate for people with a high instep and wide feet since they are designed with wider toe and flexible counter.
Performance
Many reviewers say that you will never feel better on the golf course while wearing these shoes. They offer stability, flexible movement and they will keep your foot in the most comfortable position. They provide alleviation for the pain you feel and won't create additional aching after playing golf. Plus, they are water resistant, and even if you play during the rain your feet will stay dry.
Cost and Value
New Balance is a well-known and highly reputed company for producing premium sports goods, however, it has just recently started to produce golf footwear with considerable success. This model has been among the best they have made, with the same well-known quality and excellent design. Plus, in addition to the quality, they come with a price tag that is reasonable, if you bear in mind all the features they provide.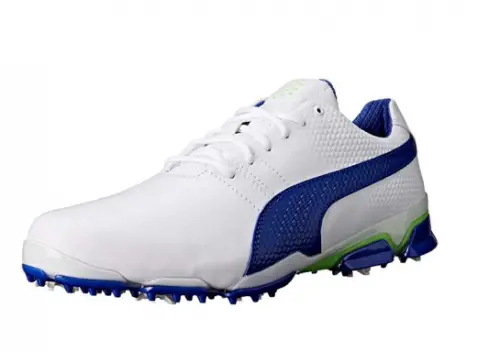 Sometimes you fall in love at first sight with...um, sneakers. Well, this is what most of the buyers share as their first impression when they saw these remarkable sneakers. They feature a super modern, elegant and classy design that gives an impression of enhanced sophistication and modern craftsmanship. This luxurious model will allow you to finally allow your feet to enjoy the comfort they deserve. These look as if made for superior golfers who know exactly where they are headed. The most important characteristic they have is the ability to support the feet and lessen foot pain.
Read more
Features
These sneakers are made to take your painful-feet-golfing-experience to another level. Made of very soft and comfortable full grain leather with Puma Shapelock foam, this combination maximizes the stability while swinging and the comfort while walking. They feature Outlast cooling technology that regulates the temperature in your feet while you play and make your feet cooler even if you feel hot. They are fully waterproof. The thin TPU includes EVA midsole that provides strength and long-lasting performance and increased flexibility. They outsole features stealth cleat which is made with K5 which makes the traction superior and resists abrasion.
Performance
All across the forefoot, they are boosted with PowerVamp, which is a flexible and anatomical supportive piece which increases the stability. This feature is especially important for those golfers that suffer from plantar fasciitis because it provides arch support and allows increased movement without being obstructed by a sudden sharp pain in the feet. Plus, the insole is padded which makes the overall pain-removing effect much more emphasized.
Cost and Value
Puma has been a leading athletic brand, but it is the golf where they excel the most by offering special pro-golf oriented models. Their advanced and innovative technologies have been ahead of the time and as we can see in this model, they excel golfers' expectations. The price is as you might expect, in line with sneakers of this quality.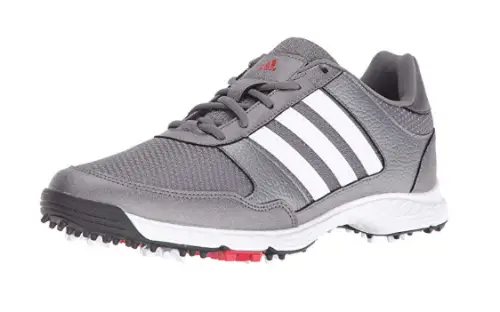 Can you relate with this awkward situation when you feel the urge to take off your shoes after every second hole just because your feet were aching so much that you couldn't stand being in your shoes? It is a familiar situation for sufferers of plantar fasciitis and the pain even gets worse when you fail to choose the right type of footwear. I don't think there is anyone who is able to endure the burden of achy heels and perform well. Therefore, Adidas has made this model to enhance golfers' performance to a new level when the heel pain interferes. Read below what makes them one of the best options for golfers.
Read more
Features
The technology used in the production of these sneakers enhances their capability to minimize the pressure on the feet by providing increased cushioning and boosted feet stability. They are made of 75% microfiber leather and lightweight mesh upper which allows for greater breathability and extend the comfort one feels while wearing them. They feature synthetic sole and soft EVA insole that delivers increased comfort while walking. The ThinTech low-profile technology which integrates 6-spike configuration provides for increased arch stability and improved traction. Plus, these cleat spikes are removable and they can be worn out of the course too.
Performance
What all buyers agree upon this Adidas model is the incomparable comfort that they feel on their feet while strolling with them on the course. Your feet will gently adapt to the liner without feeling any irritations of the heel rubbing against the sole. You will experience much-prolonged game indulgence and less distraction from the pain. Plus the insoles are so effective in providing the much needed cushioning that you will forget that you are wearing shoes. Since they have slight water resistance you can wear them in humid weather or damp grass, but not through ponds.
Cost and Value
When it comes to added comfort and maximized performance, Adidas has been very effective in delivering them in the most advanced form. These shoes are classy, a traditional model that reminds of tennis shoes if it wasn't for the outsole. They are everything that a golfer with foot ache wishes on the golf course in order to enjoy to its fullest. Plus, they are very reasonably priced compared to much more expensive models that are advertised to provide the same function.



When buying new golf shoes, if you have just been confirmed that the pain you feel every morning is caused by plantar fasciitis, then the most important thing to look for is the arch support, the cushioning and the flexibility. Besides, as women are ultra-fashion sensitive, the model and the style will also play a role in deciding what to buy. Golf courses are another place where fashion conscious people get together, so the footwear needs to be stylish and elegant to complete your golfing styling. This Sketchers model is designed to appeal to almost any woman who has this fashion sense.
Read more
Features
Feeling pain in the feet shouldn't be a terminal condition and shouldn't prevent you from hitting the course when you have this Sketchers model on. The sneakers are made from super breathable mesh textile which features the patented Sketchers H2GO shield technology which actually provides seam-sealed waterproof protection from all possible weather conditions. It has synthetic sole the 5Gen technology is the next generation of increased cushioning thanks to the 5Gen technology which uses highly responsive and lightweight foam. The outsole is made of TPU material with durable grip and replaceable cleats which provides traction and stability.
Performance
Putting your feet in these sneakers will result in instant relief and contentment. Shoes alone can't treat plantar fasciitis, but together with the treatment you receive, they can speed up the process and enable you with better-performing abilities and greater endurance on the course without having to make longer breaks and prevent yourself and your golf buddies from full enjoyment.
Cost and Value
If you want a blend of sporting elegance, convenience, and added comfort, these Sketchers is the place you go to. There are more than 20 colors and designs that are made to meet everyone's needs. They are practical, help decrease the level of the pain you feel while playing golf and can be part of your treatment. The price of this model differs from color to color, but all these prices fall within the average range.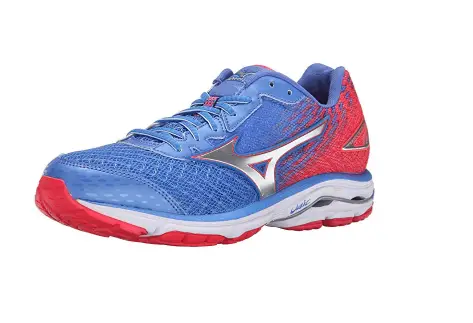 Mizuno has been endowing the world of sport with superior product quality that contributes to making the society a better place for sporting performance. For over a century they have been producing advanced sports gear that makes a difference in every sport and every segment. The designers in Mizuno pay attention to every sportsman's need and integrate it in their succeeding product. These sneakers have been popularly called shock absorbents because they are able to cushion every impact.
Read more
Features
These sneakers are designed with wider and flexible toe counter that provides more nimble movements and an ability for the toes to spread out and relax which actually alleviates the pain from plantar fasciitis. They provide excellent arch support while strengthening and training the feet. The insole is soft and the lining is designed to minimize the movement of the foot within the sneakers. They are made from high quality 100% synthetic material, including the sole.
Performance
Despite being advertised as running shoes, many golfers claim that they actually help them in treating the condition and highly recommend them on and off the golf course. Some buyers even compare them with orthodontic shoes claiming that these are even better in their effectiveness to decrease the pain and provide better performance.
Cost and Value
Doesn't matter whether you will be wearing them on the golf course, for running or for the day, they are made to help you relieve the condition you are struggling with. Made with high-quality materials and features that are characteristic for Mizuno, you can have them for a price that is acceptable for the purpose they have.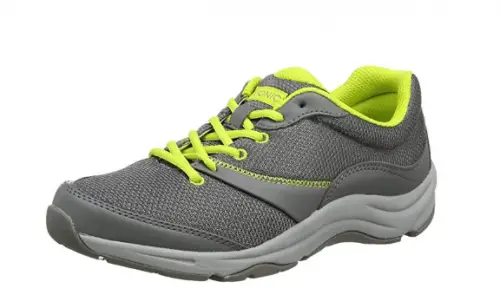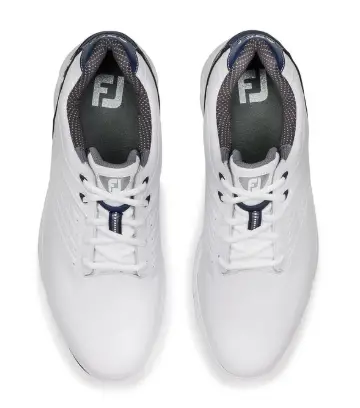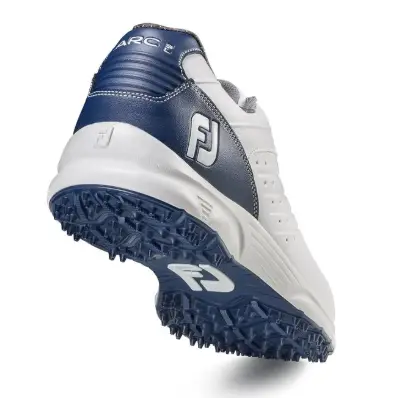 People who suffer from this condition, as we said in the introduction, need added stability, proper cushioning and shock absorption. Since golf requires maximized concentration and focus, any internal and external distraction might cause bad performance. When it comes to pain in the feet, it is a matter of getting to the 18th hole or giving up. So, Vionic Kona are sneakers that are made provide optimized pain relief and make playing golf an enjoyment rather than distress.
Read more
Features
These orthopedic sneakers feature a design that is both, modern and attractive, but at the same type provides medical-level relief from the pain. They are made from firm EVA midsole which enhances stability. They feature rubber treat which adds traction and cushioning that absorbs the impact, making the feet less exposed to external pressure. The upper part is made of high-quality fabric and breathable mesh with laces that provide the closure.
Performance
Many buyers who have been suffering from this condition claim that these sneakers are the best thing that they have experienced while being under treatment or afterward. The way they are cushioning the impact and the pressure that the foot gets while strolling is increasingly alleviated, making the walking process easier and painless. Golfers who suffer from pain in their feet will feel the difference once they hit the golf course.
Cost and Value
These sneakers are not just any sneakers, but they are specially designed to help painful and damaged feet. Made by Vionic, the company that has been reputed as one of the best companies when it comes to orthodontic shoes, they are guaranteed to deliver the desired effect. Plus, they are very stylish, come in many different colors and very affordable functional sneakers, making them an excellent value for the money.

Subscribe to our Newsletter