10 Best Rescue Clubs Reviewed
last updated:
Aug 27, 2019
Many golfers still believe that rescue clubs belong to high handicappers' bag and that their position will be cemented as such. And that is one of the greatest stereotypes that are related to the game of golf. If their initial purpose was to deliver the style and the design of woods with the playability of irons, today they boast a multitude of designs that have been created to specifically meet the needs of all golfers who struggle with the long irons.
Hybrid golf clubs are made to deliver rescue from any tough lie, they are more forgiving and larger than irons to enable golfers to enjoy the game more and boost their confidence. Therefore, if you have decided to enhance your performance when playing with your irons, rescue clubs are the ones that will help you achieve more distance and accuracy and below you'll find the best ten.
In a Hurry? The test winner after 38 hrs of research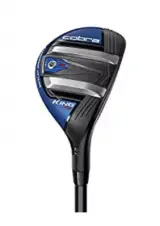 Cobra F9 Speedback
Why is it better?
Re-engineered BAFFLER rails and a low, back tungsten weight
Thin, high-strength stainless steel maximizes face flex for more ball speeds
A 10% larger head increases MOI
A fixed, interchangeable weight located low and back delivers high ball flights and maximum forgiveness
One Length design engineered to match 7-iron length, lie and swing weight specifications
In a
Hurry? Editors choice: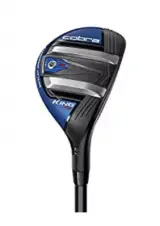 Test Winner: Cobra F9 Speedback

50
Researched Sources
234
Reviews Considered
38
Hours Researching
Features
Ease of Use
Versatility
Value
By Default
Top 10 Picks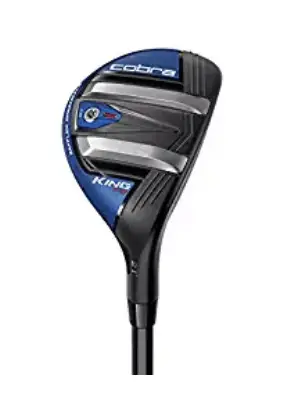 Re-engineered BAFFLER rails and a low, back tungsten weight
Thin, high-strength stainless steel maximizes face flex for more ball speeds
A 10% larger head increases MOI
A fixed, interchangeable weight located low and back delivers high ball flights and maximum forgiveness
One Length design engineered to match 7-iron length, lie and swing weight specifications
If the price is OK, the clubs are great
After Cobra had released their latest release of irons in standard length and One Length variety, they released the corresponding hybrid collection. Packed with impressive technology that makes the F9 Speedback range as superior in many aspects, they have been awarded as the most playable hybrids that integrate the proprietary Speedback technology which is utilized in their woods. Together with the popular Baffler rails, Cobra says that these are the most performing and fastest rescue clubs ever made.
Read more
Features
The popular Speedback technology features a low, back weighting positioned in between the two Baffler rails. This combination lowers the CG and influences the turf interaction to enhance the ball and club speed for improved stikes from different lies. This hybrid features larger clubhead and higher MOI with a straighter leading edge to help golfers to line up to the target in as they would do while using an iron. There is 15-gram tungsten weight which is interchangeable and which is fixed low and back on the head. This construction lowers the CG and delivers more speed with maximized ball flight.
Performance
The progressive face design distinguishes the face grooves and delivers different performance. The CNC milled V-grooves in the 4-7 irons maximize the distance so that they have the capacity to reduce the spin for a stronger and straighter ball flight, compared to the U-grooves found in the 8-PW which have the capacity to increase the spin for more control and accuracy. The grooves in the GW and SW are denser compared to the other irons for maximum spin, soft ball landing, and control around the greens. The progressive hosel lengths create different centers of gravity to customize the performance and optimize the ball flight from the short to long irons. One more peculiar feature that characterizes the latest releases coming from Cobra is the Cobra Connect Technology which is powered by Arccos. This allows golfers to monitor and keep track of their performance via the electronic grips and smart devices.
Cost and Value
Cobra F9 Speedback Hybrids are one of the most advanced rescue clubs ever made and they are impressive in several aspects. The revolutionary design, the Cobra Connect technology and the choice of one length, comprise their quality. Due to their technology and performance, thy are some of the most expensive rescue clubs currently on the market.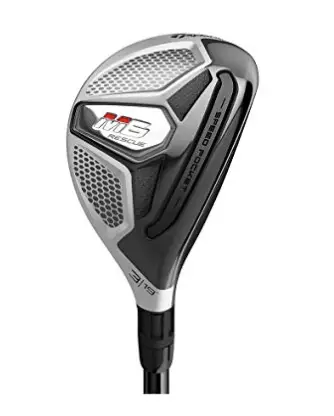 Twist Face technology used for the first time in a hybrid for longer and straighter ball flights
Steel body construction and low CG for higher launches
Stepped crown for lower CG and easy alignment
Advanced Speed Pocket with a new TPU insert
A considerably high price point
The TaylorMade M6 Rescue rounds up the range of clubs that have been released this January, following the peculiar TaylorMade fashion of continuous improvement in terms of speed and distance. Made in the same manner as the rest of the M6 clubs, the company claims that it is their longest and one of the most versatile hybrids that they have made so far. To mark the innovation and the characteristics of the M6 woods and irons, the M6 Rescue features the proprietary Twist Face technology, which is seen in the M5 and M6 drivers and woods. Twist Face technology optimizes different areas of the clubface to deliver more powerful and straighter ball flights.
Read more
Features
The characteristic curvature of the face is considerably more pronounced if you compare it with the drivers from the same range because of the smaller size of the face, emphasizing the speed effect. This has been achieved with the use of the two-toned crown, which stands as a symbol of TaylorMade woods, and has marked their design within the last few years, constructed slightly differently to make sure that the curvature doesn't interfere with the playability of the club. The steel body of the M6 rescue and the low Centre of Gravity deliver the easy launch of the ball adding more forgiveness, and making it much more playable than the corresponding iron. The Speed Flex technology makes the face thinner and faster compared to its predecessor, which increases its overall distance.
Performance
What you can also notice in the design of the M6 rescue as an inheritance from the woods is the Speed Pocket, which has been part of several previous generations and which has been proven to raise ball speeds on strikes lower on the face. In this model, it has been redesigned to add more flexibility and make it more effective. Unlike the driver, the face is not injected with resin for more speed, however, thermoplastic polyurethane (TPU) is used to fill the slot which sits flush on the sole to deliver smoother turf interaction.
Cost and Value
With the M6 rescue, TaylorMade has reestablished the position of the rescue clubs on a higher level within its range, as the company has somehow overlooked them in the past. The full technology and its design, mirror the driver and fairway models, making the M6 Rescue one of the most sophisticated and playable hybrid clubs. And when it comes to the price, it does cost more compared to their previous models, but this one is somehow revolution on its own.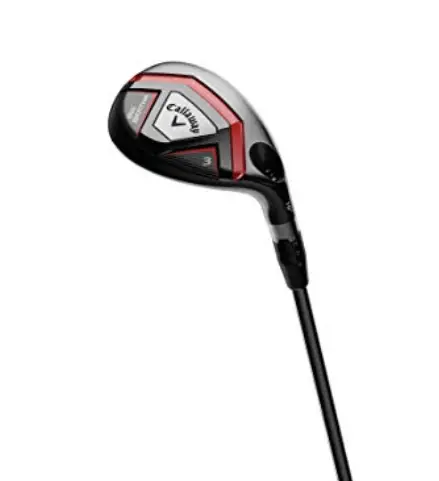 Speed frame face for faster ball speeds
Large sweet spot and thin, light and robust face so that it's fast all across the face
Low and forgiving center of gravity
OptiFit Adjustability delivers an adjustable hosel to choose from 8 different loft and lie angles
No other cons except the high price point
The Big Bertha is an epic model and it is one of the most popular Callaway hybrids thanks to its performance and versatility. It is designed a bit longer than standard hybrids, and many golfers say that you'll need to give it some time to get used to it, but this length does not sacrifice its playability. On the contrary, it boosts its performance and in combination with the multiple technologies such as low CG, OptiFit Adjustability, and a Speed Frame Face the final outcome is a very playable and forgiving rescue club. Callaway offers it with a graphite shaft with three available flexes.
Read more
Features
Big Bertha is a very popular club and it is its forgiveness that made it a favorite among golfers. The low center of gravity and high MOI ensure this forgiveness which in turn results into maximum ball speeds. The speed frame design of the face is what makes the Big Bertha incredibly fast. Encompassing the face, it makes it thin and robust with incredible flex so that the trampoline effect is created and much faster speed is created throughout the face. All these features in combination with the UST Recoil Graphite shaft improve the performance, make it faster and more durable.
Performance
This rescue club has always had an extremely high rating thanks to its playability and high-end performance. The OptiFit Adjustability is a specific feature that brings an adjustable hosel within its design so that golfers can choose from 8 lie angles and various loft combinations. The greatest performance feature it delivers is the long ball trajectories that are very straight and with low spin. This kind of hybrid performance is rarely seen among hybrids and this is what makes it the most demanded club.
Cost and Value
Callaway dominates the industry of hybrids but the Big Bertha is a real pearl. This forgiving club features a low CG with speed frame face which means you get maximum ball speeds regardless of where you hit the ball. If you are looking for versatility and forgiveness then the Big Bertha can never be a mistake and it is always a recommendation. The price point it has is still high, however, it is definitely worth the money.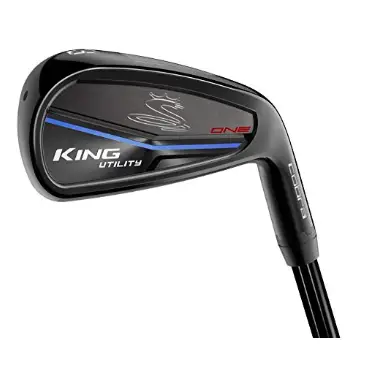 One length set that matches 7-iron length and weighting for maximum consistency through the set
Power Shell Face technology deliver L-cup shaped face
Thin face design and extremely large sweet zone for explosive distance
Hollow body construction delivers optimal sound and feel
Low CG for improved launch and distance from multiple lies
100% CNC milled faces and grooves
High-density tungsten weights strategically positioned on the toe
It doesn't come with an adjustment tool
If you now at least something about golf, you will know that Cobra is one of the most innovative companies and it is the first that has introduced adjustability in utility irons. The Cobra King Utility is stainless steel, long iron that comes with an adjustable hosel that has the capacity to transform an 18° 2-iron into a 21° 3-iron or up to 3 points within. The hollow head is oversized and it is a feature that most of the better players are likely to prefer. This construction delivers all the benefits found in wood design but with playability and feel of an iron.
Read more
Features
The L-shaped 455 stainless steel cup face is wrapped around the front of the club and makes it much faster than every other iron that the company has made. This design, with the face being welded on the front, makes it flex more, and deliver faster ball speeds. The Cobra engineers utilized 67 grams tungsten on the sole of the clubhead to locate the CG deep and low for higher launch angles compared with the traditional irons. The sole of this rescue club features a generous width with an optimum amount of camber for sliding through the turf without any digging. The one-length design matches the length, weight, and lie of the 7-irons and allows better and faster set up with the same body posture and playability.
Performance
If you are looking for optimal forgiveness and playability, these rescue clubs will deliver plenty, however, the sound might be a bit hollow. Yet, long irons are mostly needed for distance, so that is certainly what you will get. The adjustable hosel does the job very well and the customization and the optimum design will bring custom-fit performance. The lightweight Aldila Rogue Black 85 graphite shaft performs quite well, and it is definitely a speed enhancer. Since the feel is the key for better performance, it does deliver good feel with much more control. MyFly8 adjustable hosel offers five settings from 18° to 21°, and three draw settings at 18.5°, 19.5°, and 20.5°.
Cost and Value
This model offers playability to those golfers who are not into hybrids which means most of the better players and the players with high swing speed. If this description matches your performance then you will find them incredibly playable, not clumsy or senselessly forgiving, but controllable and accurate. The look at address is also very inspiring, it reminds of a classic iron, with a thicker top line.
Overall, the flexibility of King Utility with the high-end performance and its outstanding adjustability make it one of the best rescue clubs. Regarding its price, it is expectedly high, as Cobra King highly values its clubs which often come with a high price tag.
5

. Tour Edge Hot Launch 3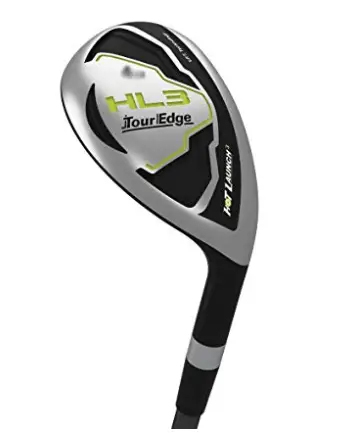 Forged 450 maraging steel face delivers exceptional power and feel
Variable Face Thickness technology makes the face faster and flexes more
Shallow face design expands the sweet spot for more consistent shot-making
Lightweight shafts by UST Mamiya for Tour Edge help launch the ball with ease
Low handicappers would find them not very challenging
It is amazing how Tour Edge has been managing to go through all the impediments in the golf industry and always come up as a winner. It is also impressive technological progress that we see in the Tour Edge designs and the constant rise in terms of quality and progression. The tech story in some aspects resembles the established competitors and in some aspects, it has its individuality which gives the Tour Edge the validity to be called one of the best ten. What has always been part of Tour Edge is the leading-edge performance with price points that won't break the bank. The third generation of Hot Launch is the most technologically advanced hybrid that finally integrates everything you could find in the most name brands.
Read more
Features
The Hot Launch HL3 hybrid is made from 450 stainless Carpenter steel which has some improvements if you compare it with the previous model, especially in the face thickness, which is thinner and creates the spring-like effect that we can see in TaylorMade or Cobra models.
This low-profile design incorporates Variable Face Thickness technology that delivers more contact face points which yield better distance, and all those miss-hits will resemble on-center strikes! Hybrids are all about forgiveness so this model features expanded sweet spot which makes it very easy to hit from any lie. There is also a Power Channel on the sole located behind the face that adds more power, and the back sole weighting relocates the center of gravity further back to make the launch easier and longer.
Performance
Reading the features of this hybrid immediately creates the idea that these rescue clubs are supreme in quality and performance aspects, and you are not far from the truth. What golfers can truly expect from these clubs are more consistency, extra forgiveness, and more playability. With the help of the lightweight UST Mamiya shaft, you'll see the ball flying high and longer, with enhanced stopping power.
Cost and Value
It is impressive to go through all that technology that Hot Launch features and the performance it delivers. Even more amazing is the relatively inexpensive price that these hybrids have. Sometimes, it might be even discouraging for buyers to see so many tech-packed products sold for a lower price, but those who are familiar with Tour Edge already know that it is the company's policy to deliver value for the money.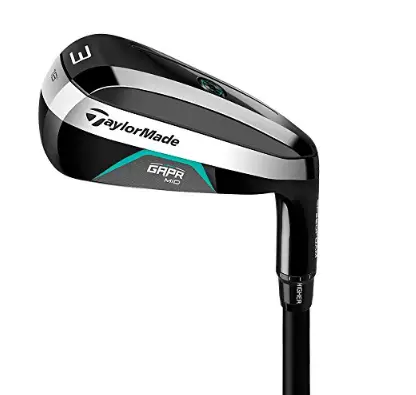 SpeedFoam technology, injected into each clubhead to enhance ball speed and feel
Adjustable Loft Sleeve allows golfers to tweak the loft, lie, and trajectory
Speed Pocket technology produces hotter launch conditions
Enhanced distance, forgiveness, and playability on low-face strikes.
Intended for mid to low handicappers
Back in the 90ties, it was TaylorMade that invented the Rescue clubs, they are now focused on filling in another gap which has been detected in the better players range between the longest irons and the shortest woods. nd hence TaylorMade say that gap you may or may not realize you had is between what they call your 'longest playable iron' and your shortest wood. This created the need to design the GAPR lineup which fills in the gap. These iron style hybrids are intended to appeal to different players categories in order to make them more playable.
Read more
Features
All GAPR models feature the same compact 455 Stainless steel, hollow head that is filled with SpeedFoam to dampen vibrations, modify the sound and increase the ball speed. The Centre of Gravity is positioned low in each of the existing three clubs, differentiating in the position of the weight. The face uses C300 maraging steel which is tougher than the standard, so this feature allowed TaylorMade designers to make it thinner, a characteristic that leads to more flex, and together with the SpeedFoam maximize the ball speed. The GAPR MID is the model that is designed for single figure players due to iron-like design and better feel. The weight screw is positioned in the sole behind the speed pocket, making the CG a bit deeper, which helps to get the ball airborne easily.
Performance
GAPR MID delivers higher trajectories that land steeply enough on the green. It also goes much further compared with the standard iron thanks to the larger head and sweet spot and the better speed angle achieved from the deep CG. When it comes to its sole, it is wider as you would expect from a rescue club, and it has the same Speed Pocket slot that the standard iron has to elevate the ball speed along with the faster face.
Cost and Value
The GAPR offers more offset and all together with the forgiving head, but at the same time faster face and enhanced feel, it is the iron replacement that many low and mid handicappers would go for. Mostly it is intended to fill the gap for the single figure players and even though it is on the pricey side, it is a valuable piece of equipment that you'd like to have in your bag.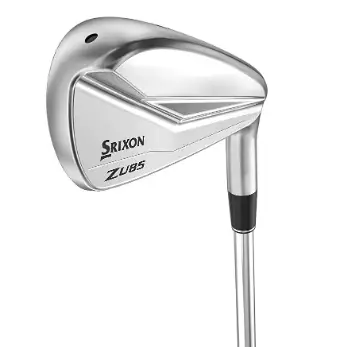 Designed with hollow body construction and forged face
Adjustable weight for more customized performance
SUP10 face insert for more face flex
It delivers high launches, more control, spin, and further distances
Comes with a high-quality stock graphite shaft
Technological advancement has brought about multiple innovations, and most golf manufacturers have been focused on developing performance-oriented products and designs which will make the game easier, more fulfilling and enjoyable. We can say that the whole category of rescue clubs has been reshaped and reengineered to be more playable and appealing to players. As hybrids gained popularity, many better players felt the need of having easier, more forgiving clubs as a way out of difficult situations, so manufacturers developed utility irons which have the purpose of replacing the long irons in the sets intended for better players.
Read more
Features
This is a more forgiving iron than the original, so let's take a look at its features to see what makes it such. First of all, the forged 1020 carbon steel body that is combined with very tough SUP10 face insert delivers the soft feel that many of you are looking for, and at the same time makes the face flex more so that the ball flies further. However, it is its hollow construction with a low center of gravity that makes it very stable and considerably forgiving. When you combine these features with the possibility to adjust the weight following your preferences, and the lightweight stock graphite shaft, you get a very playable rescue club that will help you beat par.
Performance
On the difficulty scale, utility clubs are somewhere in the middle of hybrids and long irons. And if you are a better player, you know how important it is to have a playable substitute for the long irons but at the same time to have a feel, control, and more accuracy. If you compare this utility with the loft of the same iron, you can expect higher launches, further ball flights, and softer landing. Also, if you are looking for instant feedback, this utility club will provide you with plenty. And, of course, you won't be playing with a utility club if there wasn't more forgiveness compared to the corresponding irons, will you?
Cost and Value
With every new release, Srixon is improving more and more, and that can be seen in this utility iron which is obviously tech-packed compared to the company's previous releases. So, if you are looking for a distance-enhancing rescue club that will deliver enough spin and control, this Srixon model is highly recommended. The overall design and the high number of five-star ratings justify the high price point it has.
8

. Wilson Staff Deep Red Max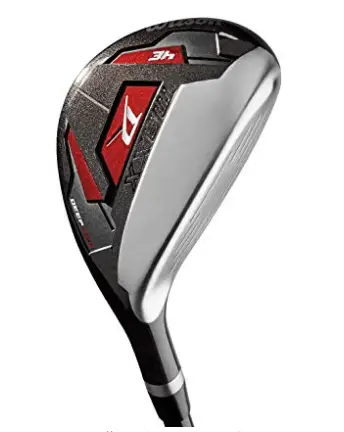 Aerodynamic head design that increases the clubhead speed and delivers less drag
Forged titanium matrix head
Optimal weight distribution and higher MOI that leads to more forgiveness
TIP control technology that increases control and consistency.
Impressive deep candy apple red finish
Not appropriate for low handicappers
Wilson Staff has long been present in the world of golf, and, if they lack just that one piece of the puzzle to get completely established among the best five, they do hold the prime position when it comes to game improvement designs. Deep Red Hybrid comes in a completely redesigned construction, putting together experience and the company's latest technology. This is a true game improvement revolution which brings out forgiveness and playability.
Read more
Features
The stainless steel has often been a standard material that most of the better companies use, even though if you have read the reviews of the other products, you must have noticed that there are even stronger materials. The lower center of gravity combines with the sizeable sweet spot making the Deep Red hybrid absolutely more playable than traditional long irons. The stainless steel head features contoured sole plate to enhance its versatility when it comes to its use from any lie. The center of gravity is located low and back, which contributes to a higher MOI that leads to higher launches and more stability on miss-hits which results in more accuracy.
Performance
Playing with a rescue clubs as this Wilson Staff club means more satisfaction on the course and ability to perform much better. low center of gravity makes it incomparably easier to get the ball in the air compared with the corresponding long-iron, delivering consistently higher, longer shots. This hybrid comes with low torque and high-quality Wilson Deep Red graphite shaft that delivers maximum distance. Designed to align easily to the target they can perform well in a variety of lies and turf conditions. It comes in two available lofts of 18 and 21 degrees .in regular flex.
Cost and Value
Wilson Deep Red is the hybrid that belong to the Deep Red range and which integrates most of the technology found in the woods. It features a superb budget price and it offers much more, so it is one of the most valued rescue clubs that you will find on the market.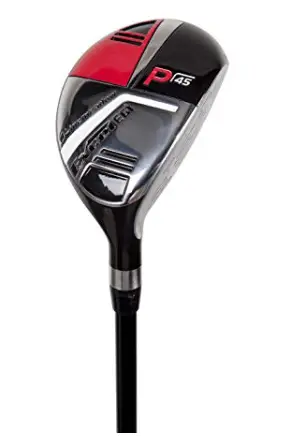 They feature perimeter weighting and a larger sweet spot for more forgiveness
A larger stainless steel clubhead and wider sole design for better turf interaction
It delivers optimal playability from various lies and turf conditions
A versatile offer of eight loft degrees and graphite shaft
Some golfers reported color chipping off
Taken from a traditional point of view, irons are half of the clubs in a standard golfer's bag, but as hybrids are gaining in popularity, their dominance is slowly diminishing as more and more golfers prefer them over the irons since rescue clubs are easier to hit. Pinemeadow Excel EGI is a well build hybrid, which has been designed to maximize distance and deliver more forgiveness. With a larger sweet spot, lightweight graphite shaft, and a larger clubhead, available in 8 different loft options, you can expect improved performance in your long game.
Read more
Features
Designed to cater to different situations, Excel EGI features an impressive construction for such an inexpensive club. When it comes to the utilized technology, you are not going to find any face twisting, speed back technology, flash face or speed pockets that the hybrids boast, but the one it does is more than enough to produce long-distance ball flights and plenty of forgiveness. Featuring perimeter weighting with a balanced weight that goes throughout the stainless steel head, these hybrids offer enlarged sweet spot and more forgiving ball flights. The 8 available lofts and the sole design make the clubhead more aerodynamic with improved turf interaction, higher launches and increased stopping power.
Performance
The design that Pinemeadow Excel EGI features belongs to the performance-booster category and it is suitable for high to mid handicappers. Having said this, it means that Excel EGI will help reluctant golfers to overcome their issues related to long irons since their larger sweet spot and higher lofts make up the base for GI clubs. Excel EGI hybrids boast versatility since they come in eight loft choices starting from the 3-hybrid with 19 degrees loft up to the pitching wedge with 45 degrees loft. These hybrids come with Pinemeadow graphite shaft which are formula playability, maximum performance, and forgiveness for piercing shots from various lies.
Cost and Value
Many high to mid handicappers struggle with the long irons, and rescue clubs are real rescue from difficult situations which make their performance much better. Pinemeadow is a company that is familiar among golfers with high handicap and what makes these hybrids even better is their inexpensive price which is a fraction of some of the rescue clubs on this list.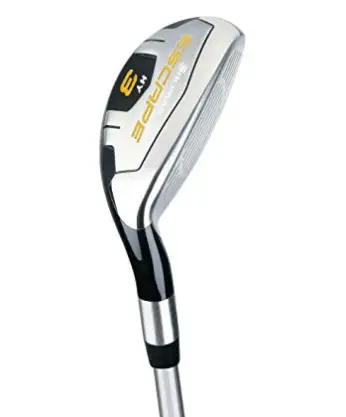 Super lightweight graphite shafts increase swing speeds for golfers with slower swing speeds.
Low and deep CG delivers optimal launch angles
High MOI for forgiveness and speed
Stainless steel construction for power and durability.
Some golfers say they are thinner
The Orlimar Escape is another budget company that has been highly appreciated by anyone who looks for decent quality for a low price, so Escape is one of the most highly rated rescue clubs that you can find on the market. The Escape hybrids replace the complete set of irons from 3-iron through pitching wedge making one of the most irresistible offers for high to mid handicappers. They come with super lightweight shafts which are ideal for golfers who have slow to moderate speeds and who need speed enhancement.
Read more
Features
Featuring a shallow stainless steel face design and low center of gravity, you will find these rescue clubs easy to launch with a soft landing on the green. The optimal loft variety and the sole design deliver smooth turf interaction from different lie angles and ground conditions. Since the CG is very low and deep, the forgiveness and the MOI are increased which translates into more speed and distance with the long irons.
Performance
When things are not going well with your long irons, when they frustrate you and impede the progress, it is high time you found a substitute so that the game of golf makes sense. These hybrids represent direct replacements for conventional 3 irons to pitching wedge with higher lofts and more playability. According to golfers who have been using Orlimar Escape hybrids, they are the easiest clubs to hit. There is no hosel to worry about, their clubhead is larger and they also feel heavier and more solid than the corresponding irons. Also, golf experts claim that even though they are more forgiving, they don't sacrifice the yardages, so you can expect the same playability as when playing with regular irons.
Cost and Value
Even in the introduction, we mentioned that Orlimar is a budget company that offers golfers high-quality clubs for much lower price points. These rescue clubs feature equally affordable price points and they are more than a good value for the money.
Criteria Used for Evaluation

Features
Rescue clubs, or often called hybrid clubs have seen an increase in their popularity once golf manufacturers decided to seriously reconsider their design and started making them with the same technologies that can be seen in the woods and irons. Now, they do possess the credit of very playable golf clubs and are being used by golfers of different levels. From utility clubs that resemble more to the classic irons to oversized hybrids that resemble fairway woods, these clubs do represent the mix of woods and irons so that they make them more playable and deliver a 'rescue' from difficult situations.
Many rescue clubs replace long irons, usually irons 2, 3 and 4 since these irons are the most difficult for the golfers to master. Yet, there are manufacturers that offer a complete iron set replacement from iron-3 through pitching wedge, an option that is more accepted by high handicappers. Among the most notable features that we took into account were the technologies that have been utilized in their performance. Many of the companies decided to make bold moves and integrate the same technology that can be seen in their drivers which makes them outstanding. The inclusion of a graphite shaft and the overall playability was also considered, in order to deliver more playability and improved performance.

Ease of Use
The overall purpose of hybrids and why they have become so popular is seen is making the game easier, especially playing with the long irons which can be a hassle even for more experienced golfers. Starting from high handicappers and recreational golfers who are barely capable of using the long irons to better players who often need a bit more forgiveness and playability in tough situations, rescue clubs have found their purpose everywhere.
Mastering the long game performance requires lots of training and a lot of dedication, which for high handicappers is often the factor that is hard to achieve and if it wasn't for the hybrid clubs, it would be pointless to play golf. Golf manufacturers realized that we can't all be Rory McIlroy or Tiger Woods and took the task of manufacturing hybrids very seriously. So, the latest releases are not only easy to play with, but they integrate serious technology too, to prove that these clubs will be taking over golfers' clubs.

Versatility
What is amazing about hybrid golf clubs is their versatility which is seen in their ability to be adjusted and customized in order to meet different golfers' needs.
Those of you who have read this buying guide carefully have already noticed that many of the manufacturers offer a wide range of loft options and lie settings. This is carried out with the help of the adjustable hosels and that's what many better players prefer. Some have been designed even with adjustable weight which moves the center of gravity.
Also, the versatility in a rescue club is seen in the ability to use that club in various turf conditions and lies. Therefore, we ranked highly the rescue clubs that can be custom-fit and which integrate the most advanced technologies that allow golfers to maximize their performance.

Value
Money matters and the price of the products matter too. Irrelevant of your budget, nobody wants to waste their money on low-quality clubs or to pay an excessive amount for clubs that fail to provide the expected performance.
So, what we looked for was value for the money, or whether the performance that these clubs deliver matches to their price tags. And, you already know that the price tags from the cheapest to the most expensive one are huge. If you have asked what causes these price discrepancies, the answer lies in their technologies. Name brands usually invest a lot of resources in the development of new technologies, so those expensive ones that are featured on this list are groundbreaking at some point. This means their value is indisputable. Also, there are some very inexpensive products that even though lack most of these technologies, so deliver optimal performance and playability.
Frequently Asked Questions
q:

What is a rescue club?

a:

Rescue clubs are those clubs that substitute the long clubs and deliver more forgiveness and playability. They resemble the playability of the irons and the design of the woods.
q:

Is a 'utility' club the same as rescue club?

a:

Yes, they are the same and feature the same role, i.e. they are iron-style hybrid clubs that deliver more forgiveness and playability compared with the corresponding irons.
q:

Are hybrids intended only for high handicappers?

a:

That is a complete misconception that comes from a few decades ago when the first rescue clubs were created. The truth is that even Tour players have a few rescue clubs in their bags and they can provide tremendous help when you have to deal with difficult course conditions.
Subscribe to our Newsletter