10 Best Putting Aids Reviewed and Rated
In a
Hurry? Editors choice: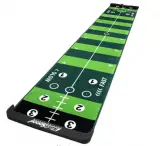 Test Winner: VariSpeed Putting System

Practice makes perfect, and irrelevant of your handicap and the putting skills you possess, the benefit of having a convenient
putting aid
will always help you advance more. The possibilities to improve your strokes are many, and range from
advanced simulators
to basic putting mats, all of them designed to provide decent training when you are prevented to practice on the course or when you need some extra drills.
Good putting aid is a foundation for improving your putting capabilities, and these strokes are the easiest to practice in the comfort of your home without imposing any limits whatsoever. It is particularly important to get appropriate feedback on your performance since this will result in greater effect.
In order to help golfers master this aspect of the game, we did market research and selected the
best putting aids
that are proven to deliver palpable results.
Standout Picks
Criteria Used for Evaluation
Features
Since our topic of discussion today is the best putting aids, we needed to define which features would be the most important so that we can narrow the huge market offer down and select the best ten.
So, which features are considered crucial among golfers? According to the majority, they are interested in having the opportunity to have the real, on-course feel which will allow them to practice from as many lies as possible. Another crucial feature is the feedback they provide as it yields important insight into their performance. Compact design and ability to use it on every location was a factor we considered too. And finally, the value of the products was also considered, so we made sure that buying a putting aid won't cost you an arm and a leg.
Portability
We live in a hectic time which imposes a constant hassle of having to do something and the free time activities are often left behind. The technological advancement, globalization, and mobility create more equipment and gear but less time to make use of them. So, having a putting aid helps golfers to be more productive even when they can't or are prevented to hit the course. These tools allow them to get more involved in the game of golf wherever they go without interrupting the process of regular practice.
Portability is one of the key features that allows golfers to take the mat or the device and bring it in the office or while traveling. Many of the golfers said that they frequently take putting mat to their office and use it as frequently as possible. Being prepared to practice anytime and practicing your skills increases the interest in the game and helps you to achieve lower scores which results in higher self-esteem and better performance.
Ease of Use
It is the rule of thumb that anything that is difficult to handle creates the rejection effect. This is particularly valid when it comes to training aid and gear because it requires from us to add some extra effort. This is the main reason why many golf companies pay so much attention in a manufacturing training aid that will not only help golfers score better and more effectively in the easiest possible way. So, if you took a better look at the selected products, you'll notice that you are not required to do anything aside from playing, and this is why they are so popular among golfers.
Durability
Durability is a prime factor that can be decisive when selecting the most appropriate putting aid, especially when there is a selection of similar products. What guarantees durability is the type of materials and technologies used in their production, so sometimes you'll come across some seemingly identical products, but if you read what they are made from, you'll notice that they greatly differ. Plus, we took into account the buyers' comments and their experience with these products, and the warranty they have. For a better overview of their durability, you can refer to the score next to each product.
Effectiveness
This criterion is very hard to predetermine and plus it includes many subjective and often biased overview of how effective a certain putting aid is. If you read the reviews you will notice many discrepancies about the functionality and the performance of these products, however, in order to declare a product effective you will need to pay close attention to what the majority says. So, we selected only those products that have a very high-rating and which are engineered to deliver reliable performance.
Top 10 Picks
1

. VariSpeed Putting System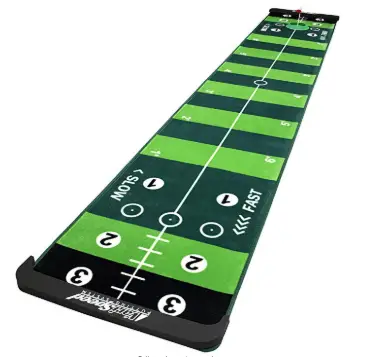 VariSpeed is a putting aid that is made to approach the putting practice from another perspective. The way it is made offers not only fun and entertainment while you are training, but it comes with plenty of instructional tips on how to improve your putting. This carpet-like mat is so versatile so that it gives the impression as if you had several putting mats with four different green speeds. It is far from being an ordinary putting green mat since there is some technology integrated within its design to deliver all those possibilities it does, such as speed selection, printed guidelines, break wedge for custom slopes and visible ball traces.
Read more
Features
This mat deviates from the standardized scheme of putting mats and it integrates a new putting concept which allows you to track the ball as it rolls to get immediate feedback. This is made possible with the visible trails that the ball leaves as it moves. The mat features a speed technology that enables golfers to choose their own speed with the help of the mat roller which is included with the purchase. The direction of the brushed surface determines the desired speed. With the stroke guide feature, golfers can improve alignment and acceleration. The surface is made from very delicate synthetic polyester while the backing is made from an anti-slid rubber. The purchase includes two break wedges for creating custom slopes and simulating real-life conditions.
Effect
The outstanding design of the mat and all the accompanying features described above allow golfers to use it individually or to organize competitions with a maximum of four golfers who can play simultaneously. In addition to the movable slope creators, you get distance bands, a moveable silicone cup, and a booklet for game instructions on how to create your own games. By placing the moveable cups on any positions you can set up challenges and various competitions.
Cost and Value
This is a high-quality mat that is designed for indoor use only. It is soft, made of the finest materials and offers a fun way to practice your skills and have some fun at the same time. It is durable and one of a kind, so the relatively high price comes expected considering all the features it has.

2

. PuttOut Pressure Putt Trainer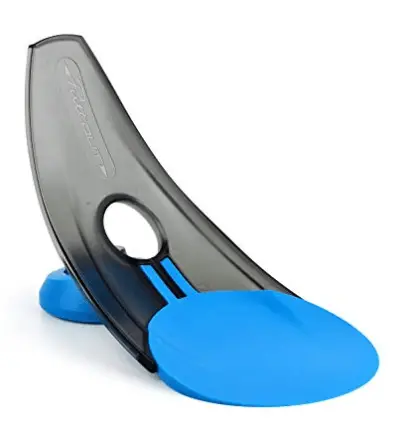 Whatever you practice is an invaluable way of getting better and developing your skills, and this refers to practicing your golf shots too. However, if you don't have any kind of feedback and input about your performance, you won't have any clear ideas about what needs to be corrected in your performance. But this attitude has been recently accepted and it has resulted in multiple feedback inventions that are made to provide golfers with enough information about what is wrong and what is right in their performance. Such an invention is the PuttOut, a revolutionary putting aid that has been primarily designed to deliver sufficient drill for Tour golfers to confidently putt and now it is available for anyone.
Read more
Features
This is a relatively small plastic target which has a semi-circular shape. It features a collapsible structure, and it is made from elastomer polycarbonate which has an ergonomic design and it can be taken everywhere as it fits any golf bag. The parabolic curve of its design with a hole in the middle delivers feedback on your shots by delivering back the good shots and rejecting the bad ones. There are multiple color choices and it has been one of the most putting aids on the market.
Effect
If you are looking for a training aid that will provide you a feedback on how you putt, and at the same time is entertaining and relaxing, PuttOut has been the one that ticks all the boxes. The simple but brilliant principle it works upon, allows golfers to get a clear idea of how they can improve their putting and what causes their bad putts. When you hit a perfect putt, the ball stays in the hole, or if it was averagely OK it will get the ball back to you notifying that it was a good shot, but if there's a flaw in the strike, then it rejects the ball. According to many users, PuttOut has helped them perfect their put and considerably lower their score.
Cost and Value
This is a British product which, when appeared on the American market, made a real creaze. Of all the putting aids, it has the highest five-star ratings which are an indicator that the product is truly functional. The price it has is moderate which makes it a good value for the money.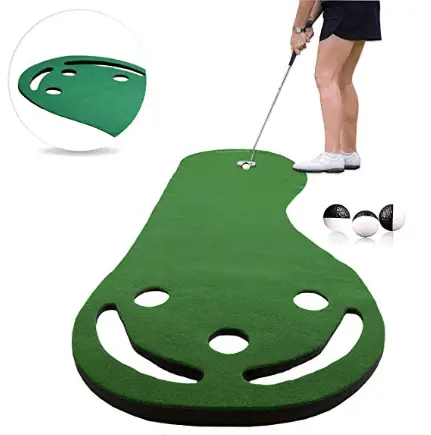 Putting is one of the skills that help you lower the scores, and even though it appears to be the easiest of all strokes, it can cause adverse effect to your performance if you are not able to putt less then three. Putting is all about focus and control, a good putter, and intensive practice which will help you putt the ball in the most flawless, stress-free manner. So, Rukket Putting Green has been designed to assist you in acquiring the most necessary skills to drain more putts for birdie and par. It is a feet-shaped mat that can be used both outside and inside, and it will make your practice sessions convenient and fun.
Read more
Features
This unique feet-shaped mat is made from PET resin and a rubber, non-skid base which helps the mat to stay firm on the ground. You can use it inside and outside thanks to the materials it is made from and its durable construction. Plus, after you have finished playing you can roll it and store it conveniently or move it easily around. The mat has been designed with three deep holes and back openings that replicate hazards and it is where missed shots go. Plus, included with the mat, you get three two-color alignment balls to help you master those shots.
Effect
Lowering your score depends on the number of times you'll try to get the ball in the hole, so practice is crucial to help you eliminate the 'yips', and this is where this mat steps in. The way the mat is shaped, with the inclination it has, lets you practice shots from multiple angles to master not only straight shots but shots from various approaching angles. The alignment balls will provide you with the input of how you hit the ball, i.e., if the line of the ball rolls end over end, you'll now that it was a pure shot.
Cost and Value
The practice is the most effective when the conditions replicate the-life real ones. Being aware of this fact, the engineers of this mat have designed it to mimic the closest feel when putting and provide the golfers with the optimum playability. Plus, the alignment balls will additionally help you master control. Regarding its price, it is reasonable and affordable, if you bear in mind that it comes with a year's warranty and that it is made by one of the most manufacturers within this area.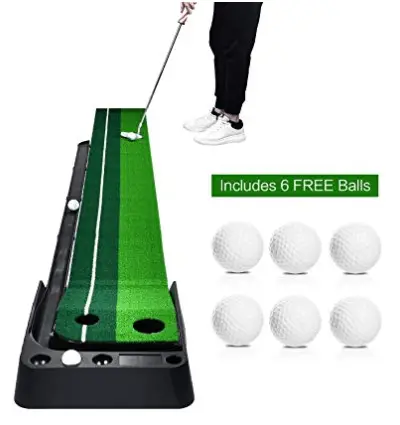 Practice shouldn't be limited only to the practice you do when you hit the driving range, especially when it comes to developing your putting strokes because there are so many putting aids. The more versatile and appropriate for multiple shot-types thegolf mat is, the wider practicing scopes of possibilities you'll acquire. We'd like to present a putting aid which is a system that allows you to practice not only your putts, but it opens up the possibility to give your wedges a try.
Read more
Features
As you can see from the image, this is more than an ordinary mat. It integrates a system that features an automatic ball return system that can return the ball down the length of mat and this helps golfers focus all their energy on developing their putting skills rather than searching for the ball all the time. After finishing the practice, it can be folded and stored conveniently without taking up much space. The mat is made from artificial grass which is made from long-lasting plastic and rubber material with a plastic base construction with two differently sized holes on the elevation and storage for the clubs and the balls.
Effect
Despite being advertised as putting aid, it has been proven to work great for practicing wedge shots too so it delivers an additional opportunity to practice your short game. The holes are of 3 and 2 inches and they are intended to develop your dexterity with the clubs and fine putting skills. This aid can be used indoors and outdoors, but due to the fact that it isn't weather-resistant, it is advisable to use it during dry and sunny days.
Cost and Value
Advertised as a continuous ball return system for developing putting skills, but used to practice the use of your wedges, it is putting aid that should find its place in the homes of golfers who are eager to dedicate more time to practicing golfing skills. Regarding its price, it is affordable and it includes a 100% risk-free money-back guarantee.

5

. GoSports Putting Alignment Mirror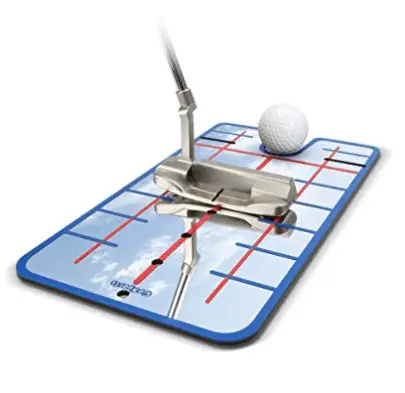 In an 18-hole golf game, you'll be using the mallet putter around 40% of all the clubs that you use it, which makes it one of the most used clubs on the course. This fact implies that if you are not precise and if you frequently mis-hit, then your handicap will be high. Among the main culprits that prevent golfers from putting well are the inappropriate setup and faulty stance. GoSports Putting Alignment Mirror represents a clever way to self correct your overall body posture with the help of the corrective surface and help you putt better.
Read more
Features
GoSports is a putting mirror that comes in two sizes, the standard of 12" and the XL which is 16". It represents a reflective, mirror-like surface with alignment lines that indicate not only the position of the ball but the position of the club as well. These alignment lines will help you square the ball at impact, while the mirror will help you set the body in a proper position, with your eyes over the ball, The circular openings on the mirror are intended for the tees insertion to practice 'gate drills' or to practice backswing control if you position them towards the back. The mirror comes with a carrying tote which can be carried int he golf bag.
Effect
According to many golfers using this product, it is one of the most helpful devices that tackle the problem with the incorrect alignment. The triple function of the ball and club alignment and the proper setup with your eyes over the ball and the shoulders aligned at the target is the perfect formula for improved putting skills. It can also help you get better control over your backswing.
Cost and Value
Users are a very valuable source for determining whether a product performs as advertised which in this case, considering all the high-rated reviews, it does. So, if your bad putt comes as a result of incorrect setup and bad alignment, then it will help you cure it if you practice properly. The price is more than affordable if you bear in mind that it comes with a 100% lifetime warranty.

6

. Abco Tech Putting Green Mat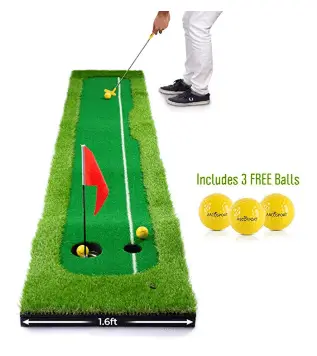 If you are like most of the golfers out there, then probably during the coldest winter months you are either having breaks from playing or you are trying to defy the inclement weather conditions and give your best to continue playing. Many golfers would agree though that during winter months they need an additional boost to practice their shots. This is the reason why Abco Putting Mat was made, it mimics the real-life circumstances in which you play golf, and delivers them in the comfort of your home.
Read more
Features
This putting mat is made to be used only indoors and it indeed looks beautiful and realistic. The design simulates a real turf which is made by synthetic material, and it features two grass lengths, longer on the surrounding area and shorter in the hole area. Inside the lower grass area, you can see an auxiliary line that helps you align the ball, and one regular and one double-size hole. Underneath the synthetic grass, there is a rubberized base that prevents the mat from skidding. It can be easily transported and stored thanks to its flexible design that allows you to roll it up. Plus, with the purchase, you get three golf balls to make the practice easier.
Effect
This is a high-quality mat that can be placed on any flat surface indoors. It is 1.6 x 10 ft long which is enough to allow you to practice multiple putting angles and positions. It will provide you with similar real-life conditions during those days when you are prevented from visiting the course. The end is a bit elevated but you can add more elevations everywhere you want to create multiple putting conditions.
Cost and Value
The mat looks exceptionally realistic and there is no doubt that it has been made by high-quality materials. It is convenient and durable and it stays firm on the ground. However, the price it has is a bit on the high end, so if that is not a deal-breaker, you'll enjoy playing on it over and over again.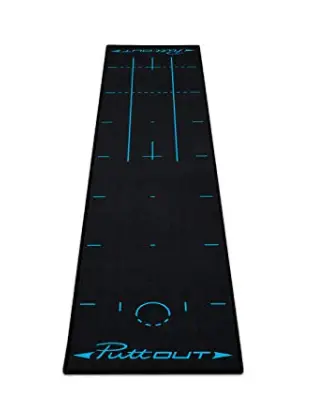 When you want you to practice your putting skills, PuttOut Pro Golf offers an interesting and versatile type of a mat to enhance the productivity of your putting sessions and make them more entertaining and fun. This model is not an ordinary putting green aid, because it is designed with a technological approach which integrates speed meter reading of 10 and alignment guidelines. It is made from a high-quality material with a smooth surface and allows simulation of the game.
Read more
Features
This unusually designed mat comes in three color choices, green, black and gray, made with new putting concepts that allow you to measure your target points thanks to the printed alignment guides, and distance markings so that you get instant feedback of your performance. The surface of the mat is made from a synthetic material that replicates medium-to-fast green, and it delivers the real feel of playing on the greens. The backing of the mat is constructed from a heavy rubber that allows it to lie flat on any surface, but at the same time it is very flexible and it can be rolled up, and stored in its bag that it comes with, or transported anywhere. The mat has a stroke guide feature that allows you to improve your alignment and get a better perspective of your performance.
Effect
This is a unique and outstanding mat that is designed to organize your putting skills to a higher level. With the printed markings up to 6-feet, pace targets, and the alignment lines you can easily practice every aspect of the putting game. It comes with five instructional drills to develop your game and boost your confidence.
Cost and Value
This is a unique putting aid that is designed for indoor use. The soft and high-quality materials invite you to use it daily in the comfort of your home. It is fun, practical and very convenient. When it comes to its price, it is a mid-priced but good value for the money when you consider its durability and the opportunity it delivers to develop your long and short putts.

8

. FORB Professional Putting Mats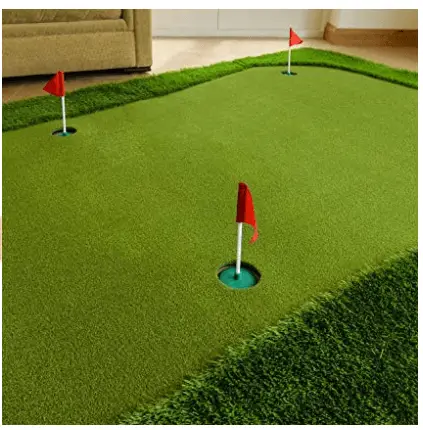 These putting mats are some of the most highly-rated ones and there are two sizes that you can choose from, a standard with two holes and the XL which comes with four strategically positioned holes, including a pack of five golf balls for beginners. They are made with high-quality materials and guarantee optimized performance and sharpening of your putting skills. These mats replicate real turf conditions for more authentic performance.
Read more
Features
These mats are made from synthetic, artificial turf to replicate actual golf turf. There are two different types of turf, the peripheral is longer with a length of 40mm and resembles the rough while the shorter one is 12mm, it is smoother and replicates the putting green. This material is very long-lasting, it resists wear and tear, with permanent color, it doesn't shred from the layer and it stays flat.
Effect
Buyers always deliver the most valuable piece of information regarding the quality of a particular product and these mats have almost no negative products. The fact that they can withstand high-intensity strokes without showing any signs of tearing is a reason that speaks for itself. You can use them over and over again to practice different putting styles under different conditions.
Cost and Value
If you are searching for a putting mat, then these are one of the best options to consider. The two size options will allow you to practice all your putting styles. When it comes to price though, it is on the higher end but if it performs as the manufacturer claims it will, then it is a good value for the money.

9

. Yosoo Automatic Putting Cup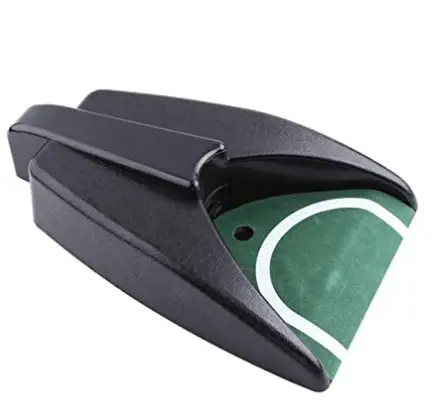 Even in the introduction, we mentioned that putting strokes are the easiest to practice thanks to the varieties of putting aids that exist on the market. As this part of the short game doesn't require any special pre-requirements, and it can be easily be replicated at any indoors and outdoors circumstances. Plus, the convenient practice tools that have been invented allow you to easily transport them anywhere you go. This putting cup is one of the smallest and the most convenient putting aids that offer to practice even in the tiniest areas.
Read more
Features
This is a lightweight and compact putting cup that features a mechanism that returns the ball once it gets inside. The cup is made from lightweight and high-quality plastic which is very durable and resistant to impacts. Thanks to its small and practical design it can be easily transported wherever you'd like to take it. The plastic base has a very small putting turf, and it has a mechanism that gets activated once the ball gets into the sensor and it is returned back to you. This mechanism is battery operated but the batteries are not included.
Effect
The effect is pretty much self-explanatory as it is clear that the more you get the ball inside the cup, the better your performance will get. The key feature is the automatic ball return which allows you to focus more on the ball instead of on looking for the ball and taking it back. You can place it literally on every flat surface and enjoy practicing.
Cost and Value
Even if you don't have much time to practice or if you live in limited space, this putting cup will provide you with enough putting drills to help you stay in track with your performance and acquire new skills. And, it isn't only convenient and practical, it is also one of the most inexpensive putting aids that you will find on the market.

10

. JEF World of Golf Putting Mat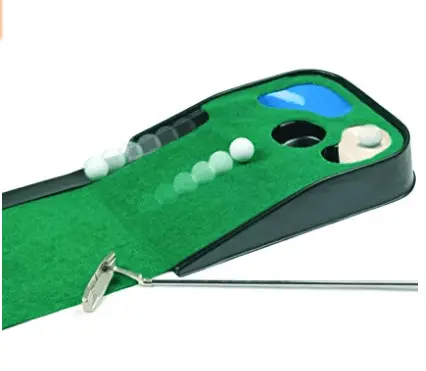 If you ever thought how nice it would be if you had the putting green with all the hazards around, in the comfort of your home, your fantasy can become a reality. On ten feet long mat, you'll have everything there so that you can practice putting precision, accuracy and different putting styles. The JRF World of Golf offers all of it in an automatic ball return system. This product resembles in many aspects another similar product on our list but it does have some differences, so read below to find out.
Read more
Features
This is putting mat which comes with an inclined ramp so that golfers can develop firmness with every stroke. It features a gravity ball return system that connects the opening of the water hazards and the bunker into one channel that brings the ball back to you. The inclusion of these hazards is what distinguishes it from the other similar model from the list. The size of the cup is a bit larger than the usual ones, while the non-directional turf is made to deliver the utmost accuracy and playability.
Performance
This mat with the hazards represents a nice putting aid that you can use anytime you want. Even though the mat is thin, it is sturdy and playable and the turf does resemble the putting green. What you can seriously enhance in your performance is the firmness of your stroke and accuracy. Since the ball automatically returns to you, you can putt multiple times with a single ball which will increase your precision rate.
Cost and Value
Besides being of designed to stand out and differ from the others, this putting aid is a very inexpensive practice tool that you'll enjoy using it wherever you are. Even though there have been some remarks that the mat is too thin, it is playable and for the price, it is a value for the money.

Subscribe to our Newsletter