10 Best Putters for Beginners
In a
Hurry? Editors choice: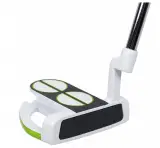 Test Winner: Pinemeadow PGX SL

When you are a beginner golfer, everything seems to be difficult and it looks drastically different from what you see on the TV. This particularly refers to putting, as watching Rory McIlroy sending the ball in the hole seems a piece of cake. But, once you get the putter, you realize that you'll have to develop certain putting skills and to select some of the most appropriate putters for beginners so that you have fewer attempts before the ball gets into the hole.

By the way, have you noticed a large number of putters for beginners sold on the market? It is confusing, and once you start analyzing them deeper and reading all the features those putters have, everything becomes more and more complicated.

But, you don't need to feel hopeless as we have done all the work for you and selected the best ten putters for beginners.
Standout Picks
Criteria Used for Evaluation
Accuracy
Regardless of your performance and the number of clubs golfers have, you'll always get to the flag and then it is the putter which is always played. It is the club that is most frequently used and which makes a difference regarding your scores. And, even though it might look extremely easy to stroke the ball to the hole, it is in fact, incredibly difficult. That's the reason why there are so many putter designs which have an incredible number of different specific features.
However, regardless of their design, there is only one purpose why they exist, and that's to get the ball into the hole in as few as possible attempts. So, the design itself directly influences the accuracy which can be enhanced if the model is made to do it so. Since we are reviewing putters for beginners, we selected those putters that can deliver maximum accuracy. It's advisable that you try out your putter on a putting green indoor mat before the course to get the feel for its accuracy.
Features
Several features characterize putters for beginners as a group of golfers who need extra help in every segment of the game, including putting. Among the most important feature that every putter has on this list is the forgiveness of the putter and the sizeable sweet spot that stretches from heel to toe. The types of the grooves matter too, so most of the putters for beginners tend to feature denser and deeper grooves on the center which become slightly reduced towards the heel and the face. The offset design is another feature that is often seen in putters for beginners as this helps golfers to better square the ball. The better ones feature an insert that is usually made from polyurethane and that is usually positioned behind the face to deliver better feel and sound. Also, the alignment aid is one of the most appreciated features that helps golfers improve their putting skills.
Stability
There is one general rule when it comes to the stability of putters. If they aren't stable enough to withstand the stroke, i.e., if the hand or the clubhead doesn't twist at the impact it will be able to send the ball exactly where it was aimed to go. This is a crucial factor not only for amateur golfers but for everyone.
So, the design of the club head is the first building block to achieve stability. Heavier club heads made with multiple materials seem to be very popular nowadays as it is a guarantee that it won't break in at impact. Next, are the shafts and the grip, including the offset of the shaft. This adds weight to the clubhead depending on its position which can be central, toe or heel positioned. Together, if they are properly made, they can increase the balance and stability and deliver optimal, straightforward strokes. Luckily, our list includes those putters that have been proven to deliver maximum stability that you might expect from a putter.
Value
This criterion is probably the most observed and important for beginners than for anyone else. The reason is quite simple. If you are an avid golfer, then you probably are willing to spend quite some bucks on high-end clubs because you know that you'll be playing eagerly for quite some time. However, beginners at their initial stage of the game, still don't feel as confident and decide to spend initially a lower amount on beginners clubs and decide later on if they would like to continue playing golf. This means that budget-friendly clubs are much more welcome than name-brand ones. Yet, when a golfer that golf is going to be the game of their future, they do tend to invest in more expensive clubs which will deliver optimal performance and durability.
Type
There are many different types of putters. From mallet style, mid-mallet, blades, face-centered and so on, it is very important to know how you strike the ball before you get yourself a new putter. When it comes to beginners, the most popular are mallet and mid-mallet, face-centered putters that offer maximum forgiveness and ease of use.
Subscribe to our Newsletter