Best Ping Irons Reviewed
last updated:
Aug 26, 2019
Starting as a workshop experiment and followed by never-ending success, Ping has been a company that has been present in the world of golf for more than five decades now. It has made an enormous impact over the way the game is played and can boast about many innovative designs and technologies. If you are a golfer or have been at least slightly involved with the aspects of the game, I'm sure that you must have heard about the legendary Eye irons which set new standards in the golf universe. Even though they were first launched about forty years ago, their design and the innovation within has been unsurpassed so far. Ping can proudly claim many PGA tournaments and many top-rated players produce winning shots with clubs having the brand-name of Ping on them. Let's go over the best ping irons that are still popular today.
This is the best product on our list that is currently in stock: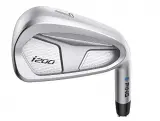 i200
Why is it better?
They are forgiving cavity-backs which act and feel like blades
Inspired by the tradition, features an elegant, new design
Hydro Pearl Finish improves the glide, the looks, and has repelling properties
In a
Hurry? Editors choice: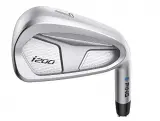 Test Winner: i200

32
Researched Sources
134
Reviews Considered
38
Hours Researching
18
Products Evaluated
Advanced Features
Effectiveness
Materials
Release Date
Bottom Line
By Default
Ping Irons Reviews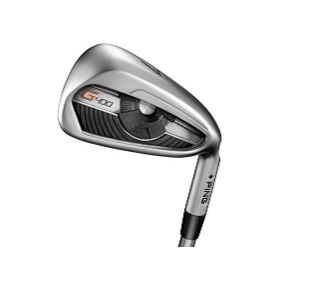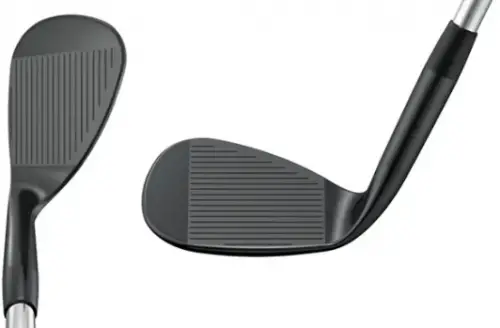 Large sweet zone and very forgiving
Tour-range performance of a game improvement club
Improved distance, spin, and launch
Looks and feels sharp and powerful
Beginners might have a hard time with the clubs
Ping has announced these as game improvement irons, but the way they perform and the way they feel provide tour-performance experience. As a matter of fact, that was the revolution in the design and the intention that the company wanted to make. Indeed, a year since they have been introduced on the golf stage, they have already become one of the most favorite sets among golfers of various skills and preferences. These ping irons are more forgiving, provide improved launch height and more distance compared to their predecessors. Let's take a look into the details of these clubs.
Read more
Performance
The company made a big deal with G400 and introduced some improvements from the predecessor the series G clubs and made them a much better version. So what they did to these clubs is that they changed the design to provide better performance. So, this model features a genuine top rail design which is combined with COR-Eye Technology. This means that the flexing will be increased and thus the speed of the ball. The center of the gravity is positioned low and the tungsten weight is placed in the Custom Tuning Point that enables players to adjust their swing weight and this leads to mishits flying better and square the club face. These clubs are much appreciated for approach shots and the greens since they improve distance and higher ball flights.
Design
The clubs are made of stainless steel or graphite and feature Hydro Pearl Chrome finish which is moisture repellent and reduces friction to amazing 40% which makes the launch glide effortlessly. The clubs are easily recognizable because of the black circular shape over the COR-Eye since it does look like an eye. But the purpose of this design is to dampen the vibrations, make them feel better and give a solid sound. They come in many shafts and grips varieties to choose from.

Cost and Value
This iron set is proof that game improvement clubs can be perceived differently because Ping pushed the limits with them and provided players with tour-like feeling. They feature excellent forgiveness, amazing distance, and many players claim that their performance has significantly increased. Even though they are not cheap at all, we agree that it is an investment that is worth making if you are truly into the game.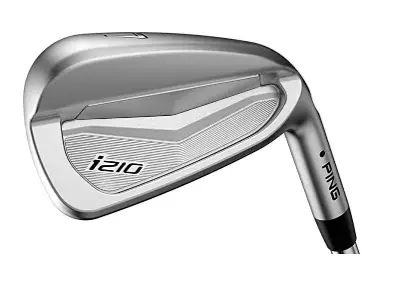 Optimized backspin, distance and ball speed
Superb feel and sound
Greater control and adjustability
Nice ball launch with high spin and power to stop when on the green
Not truly recommended for beginners
The i200 is the upgraded version of the i200, however, despite some similarities, the two models differ in many aspects greatly. One striking characteristic would be their design, however, when it comes to performance we can say that these irons feature more updates rather than revolutionary changes. But, many of the top-ranked players made a switch from i200 to i210, an indicator enough to consider them a much-improved version and this fact motivated many golfers to follow their steps. Further below we'll take a look at what improvements made this model so preferred.
Read more
Performance
One of the most distinctive characteristics that this updated version has, can be found in the improved precision, better feel and softer sound. The Custom Tuning Port is still there, however, the inserted elastomer has a bigger volume and it is double softer, allowing for about 25% increased face contact. This elastomer functions as a vibration damper and it is responsible for the soft and pleasing feel. The reason why they feel for better golfers is some of the required priorities lies in the fact that it provides greater control over the ball flights and improved consistency. The perimeter weighting is increased by the additional volume of the CTP that leads to fine adjustment of the swing weight.
Design
When it comes to the design, it is obvious that the designers took great care to make it more appealing to any golfer's taste. The i210 features a pristine profile which has a sharper radius on the edges and much straighter lines making the long ones more forgiving and precise and much more controlled mid and short ones. What makes this model unusual is the fact that besides the CNC precision milling and grooving of the face, the cavity is also milled and grooved which gives them a high-end appearance. The finish is updated too and the set features a new 2.0 Hydro Pear finish that makes the glide better and repels moisture and flyers.
Cost and Value
Obviously, this ping iron is and will be a favorite among tour players, and that's expected when we know that this is an upgraded model of i200, which is also a premium line. As we have revealed the very specifics of this model and its peculiarities, it shouldn't come as a surprise that the price tag is high, however, the investment in these clubs means better success and increased achievement.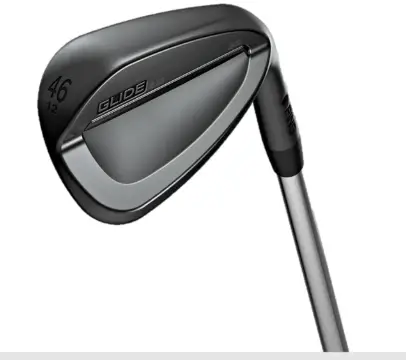 Four sole grind options to choose from
Dark QPQ finish that is more durable and reduces the glare
Greater spin control and improved performance from difficult places
Attractive design
Beginners might find it hard to use
Has it ever happened to be blinded by the glare reflected on your clubs? Of course, it has, and that is the reason why Ping has switched from the Hydro Pearl finish in the previous Glide 2.0 to Stealth finish which gives it a very elegant and stylish look. This dark ping golf iron makes the head appear smaller and the overall design is top-notch. Another plus feature for this wedge is the exceptional spin and control it provides and there are four sole grinds that can be chosen in order to make sure that the wedge matches your game. Let's go into details about this exceptional wedge.
Read more
Performance
These wedges have been a big deal from the moment they were launched about a few months ago. It is not only the design that has attracted the attention to many golfers, but it is the performance itself of higher spins, four sole grinds with different lofts and the multi-purpose role it features. It has a small cavity and a weighting port that is positioned just behind the face which increases the forgiveness and the MOI regardless of the sole type. As we mentioned, there are four grind options to help you find the one that matches your game. SS grind is an all-purpose sole which is designed to yield versatility on shots around the green and it is a perfect choice for temperate angles and divots. WS grind is excellent for players that have a steep angle of attack since it has reduced camber added and that will hinder digging. TS grind allows golfers to make very precise shots from the most difficult lies. It has a heel relief that provides open-faced shots without being concerned that the lead edge is placed too high. The ES grind was inspired by the Eye 2 sole design and it is said to provide golfers with optimal bunker performance due to the tapered hosel and classic dish profile.
Design
Very attractive and modern design, that has been the first impression of almost anyone who saw it for the first time. Made of 8620 carbon steel and combined with CNC precision milled grooves enables golfers to deliver higher shots and much softer feel. The QPQ finish looks increasingly elegant, makes the head look smaller and due to its dark metallic color reduces the glare. Very near the lead edge of SS Grind, there is a precision wheel-cut half groove which significantly improves the spin and provides control regardless of the conditions.
Cost and Value
Sometimes when one considers the price of the product comes up with the resolution that it is all relative and it is often difficult to just declare that the product is cheap or expensive since there are many subtle details that blur the line. Such is the case with this wedge because if you just take the price as a single point of view you might say it is expensive, but if you consider all the features, design, performance, then you'll probably say it is a good value for the money.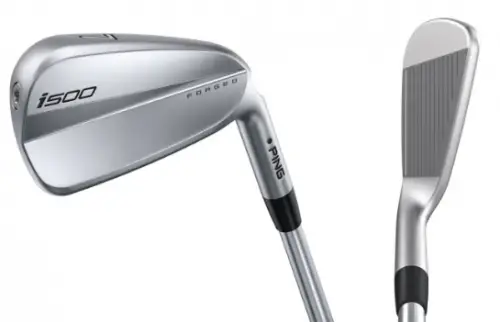 Maximized distance and increased performance
C300 margin steel face makes the trajectories higher with enhanced stopping power
Hydropearl Chrome Finish
If you expect large forgiving area, you should search somewhere else
This is one of their latest models that features similar cavity design and forged face as the G700, but the target of players is different. As the G700 is more game improvement set for mostly mid and high handicappers, this one is more oriented towards better players. The clubs feature a very compact, traditional design which claims power and distance.
Read more
Performance
When we are looking at the performance that i500 provides and compare it to the similar designed G700, the first impression would be less forgiveness, which means that you will have to try a bit harder to have a good shot. However, when it comes to speed, i500 is a real rocket making the ball straight and much further then one would expect. Another interesting feature that these clubs have is their ability to adjust lofts up and down, so in case you need height than you can select Retro Spec, or if you need a lower flight of the ball than you can opt for Power Specs.
Design
The blend of traditional elegance and the amazing slick design make a point even before you make your swing. The body is hollow, but surprisingly it looks like a blade. That can be noticed when you take a look at the size of the head that resembles i200 and the hosel offset which is almost the same as iBlade, but much increased face flex like in G700 made of forged maraging steel which is much stronger compared to stainless steel. The grooves are made with precision milling enhancing the consistency of the shot. The mix of black and chrome color enhances this super elegant flair. Regarding their looks, they look almost identical to i200 and at first glance, it is hard to say which is which. For increased looks and decreased inertia, they feature a Hydro Pearl chrome finish.
Cost and Value
It is a rare case for Ping to produce forged irons, and it's been long since they have actually used any kind of forging, however, the forged face on this set is astonishing. They are superpower sets that yield the greatest distance ever. They are premium clubs that feature premium price and that's more or less expected when you consider all the advancement these irons have and the super performance that they provide.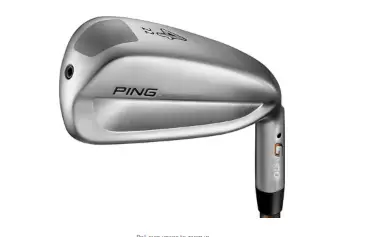 Exceptionally higher shots
Excellent combination of hybrids and irons
Improved consistency leading to straighter and higher trajectories
The sound it gives might be displeasing or some tuned ears
A not truly preferable option for high handicappers
We had second thoughts at first, contemplating whether to include this model at all since it is neither an iron nor is it a hybrid. It is simply a crossover which blurs the strict line between the two. It provides the control and the feel of a long iron but the forgiveness resembles that of a hybrid. Anyway, the design itself is totally unique, as the performance is. The head is smaller and prettier and the build quality is also improved when compared with the older model. This is Ping's second generation of crossovers and it blends the control that the irons can provide and with the speed that can be achieved by a hybrid.
Read more
Performance
Compared with the original model, this one is smaller but provides higher shots, especially since the bounce of the sole was reduced and the added flex on the face enables the ball to fly higher. The testing that was made showed that the shot bend has decreased by 45% due to the forwardly placed center of gravity. Also, the spin consistency has been improved too and provides straighter and more stable trajectories. Since the sole is thinner, there has been achieved increasingly consistent turf interaction and that means greater forgiveness. The sound also feels softer compared to the previous model and is not as harsh as it used to be.
Design
Compared to the original model there is a huge difference in the design, especially in the finish. This model features Hydro Pearl finish which we have said that is excellent water and flyers repellent and provides easier glide at the turf. The face is made of maraging C300 steel which increases the launch and adds for more stopping power at the greens. The weighting is positioned at the toe by adding 20-gram tungsten which means greater forgiveness and tighter dispersion.
Cost and Value
This is a very specific and interesting model that will surprise you with its multifunctionality and variety. It has more consistent gapping, better forgiveness and launch. Maybe isn't really appropriate for high handicappers, since they might prefer their hybrids, but for the others, it is an experience that is worth trying. This model is fairly new and expensively priced.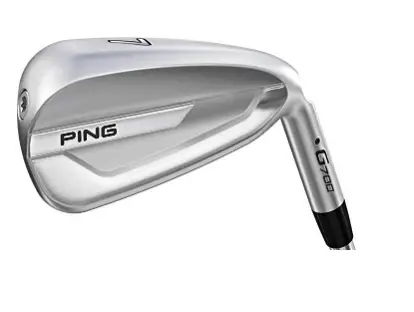 Larger head and face for super forgiveness
Longer distance, higher and straighter shots
Hydropearl finish that reduces the inertia and gives polished looks
These superpower irons may not be what a better player wants.
The designers of the max-game improvement clubs have literally outdone themselves by making the most powerful oversized model in this category of clubs. What they offered to golfers who are struggling with slices and long shots is premium designed clubs which feel and sound just like the forged ones, extreme forgiveness and maximized distance. The whole set includes 4 through SW and it is bound to make mid and high handicappers better golfers.
Read more
Performance
This model exhibits extreme sophistication which can be seen in the hollow-body design that has been thus made so that players feel that they are using high-end clubs. The body is made of stainless steel, but the face features maraging steel with a different thickness which allows the ball to fly with explosive speed. The weighting has been placed low on the toe and heel perimeter which provides a counterbalance, more consistent launch at the impact that leads to less dispersion and higher inertia. The width of the sole and the offset are similar to G400, however, this model has a clean cavity which is not filled with foam which makes a ping sound when you hit the ball.
Design
Even though G700 is larger and bulkier compared to G400, its design is unrivaled in this category of irons. It looks beautiful at address, similar to G400, slightly bigger but not obtrusive, with a pleasing shape. It is the longest among Ping irons, which is created with geometrical precision designed to put the weight away from the face. If features Hydro Pearl finish which is responsible for up to 40% less inertia at impact and better turf interaction, making the ball have an arcing trajectory and straight shot. The Hydro Pearl is water repellent and keeps the moisture away from the club.
Cost and Value
If you are serious about playing golf and you need a booster for your shots this is a perfect choice for you. Many golfers who couldn't just get their shots right have significantly got better after trying this set of clubs. There is no doubt that the consistency will be improved and the balls will have higher and straighter trajectories. In addition to this, you can opt for different shafts and grips models that will match your style. Regarding the price, yes, this is a much more expensive set of clubs, however, these ones are claimed to bring super game improvement in your game.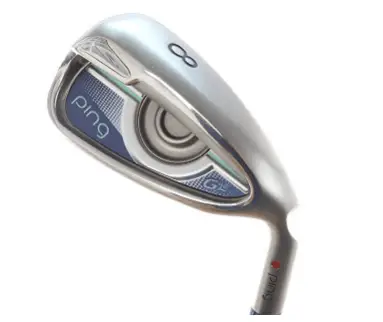 Greater forgiveness and optimized launch and distance
Designed to meet women's needs
Improved face flex and perimeter weighting
Might not be suitable for beginners due to some premium features and the higher price
Women are much more different than men, and when it comes to sports performance women need different gear and stimulus so that they excel in what they do. This range of ping irons has designed appeals specifically to women who need extra forgiveness, distance and lighter weight. The set includes 5 through SW and as you know, you can customize the shafts and the grips that are specifically designed for this range.
Read more
Performance
As these clubs are designed for women's swings, they combine the most successful G range technologies that were used for men's clubs with the subtle navy/green design and the Cor-Eye technology features. This technology makes the clubs' face about 11% thinner and provides greater flex which results in higher launches and optimized distance. The clubs feature perimeter weighting that helps tighten dispersion by 19%.
Design
The fact that they were designed to appeal to women makes them look softer, with a unique combination of navy and mint. You can notice the striking resemblance with the men's version, especially 'the eye' in the middle, a design achieved by the COR-Eye technology designed to increase the flex of the face and increase the speed with every launch. Speaking about the face it is a CarTech 455 model that as elevated forgiveness to allow for increased accuracy.
Cost and Value
Even though the company has designated this set as the most suitable for women with a mid or a low handicap, it can truly be used by every golfer that is serious about the game and wants to level-up in their performance and the quality of clubs they own. Since we are talking about a premium combo set which offers maximized performance, distance, and forgiveness, one can't expect a cheap price for sure. However, what you get is a good value for your money.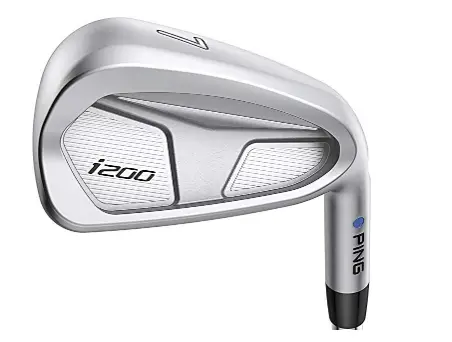 They are forgiving cavity-backs which act and feel like blades
Inspired by the tradition, features an elegant, new design
Hydro Pearl Finish improves the glide, the looks, and has repelling properties
Beginners might find them too hard to play with
When these irons were launched somewhere at the beginning of 2017 it was clear that the company was serious about breaking the limits between cavity-back irons and blades. They look and feel very similar to blades but offer much greater forgiveness, as the cavity-backs do. One of the things that have definitely marked this range of clubs is the excellent workability that they offer and that is, in fact, something that one might expect from compact clubs. These defied the notion that if the club was built for forgiveness then it can't be workable and proved the opposite. So let's now take a look and see how they made it.
Read more
Performance
These clubs are made in line with Ping's tradition to position the weight too high and low of the toe area which grants greater forgiving for golfers. Thinner face in long irons means further distance, while short irons feature thicker faces in order to reduce the ball speed. These clubs also provide the Power Spec feature which allows adjusting of the lofts, a feature that is well-appreciated by golfers with higher speed swing who need to flatten their trajectory. The face features precision milling and the finish of the club is carried out with Hydro Pearl Chrome, the well-known material that makes them look better and repel moisture and flyers.
Design
The looks of i200 aren't something that we haven't seen so far, it definitely reminds us of the legendary S55, with enhanced features. The material these irons are made of is 431 stainless steel that feels soft and light. The face is of variable thickness, i.e., there's thicker part on the face top and thinner lower part which provides for dropping the center of gravity lower to provide higher launch and higher ball speed. The distinguished Custom Tuning Points are longer, made of elastomer and they are moved closer to the face so that the feel is much more powerful. The leading edges are straighter in the long clubs whereas short clubs feature thinner top rails. The shape of the head is rounder and the smoother transition from the club face to the hosel means less offset.
Cost and Value
This is a powerful set of irons made the blend of distance and forgiveness possible and boasts with its design and workability. Even though it isn't the latest model that Ping has to offer it is still very popular among better players. Having said this, you will find their price range higher than the average, but that's the cost you pay for premium quality.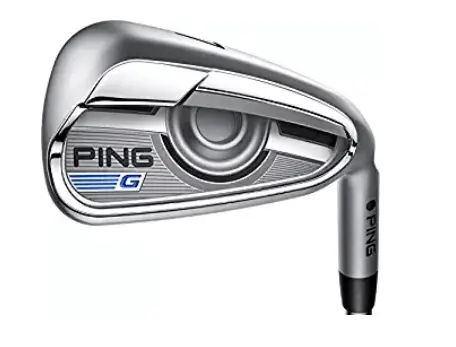 Increased consistency and better feel
Four times increased face flexing that results in increased speed
Improved design
There are newer models than this one
These clubs were among the first Ping ranges that feature the well-known Ping's COR-Eye Technology which was initially introduced in the G-max Irons that were introduced as super-game-improvement clubs. As we have already introduced this technology, we know that it provides a higher launch angle, increased ball speeds, and maximized face flex which makes the face bend more. And, besides the distance, this technology also adds to forgiveness too, making the shots more efficient. Even from today's perspective these irons represent decent golf equipment.
Read more
Performance
The technology that these clubs feature is aimed to help mid-handicappers achieve increased distance and develop their consistency with each shot. The incredible COR-Eye technology is responsible for the increase in face flexing four times. This flexing makes the golf ball go faster and higher and at the same, the distance is increased and the landing angle gets steeper. In addition to this, and in order to make the club feel and sound better, they used a multi-material badge in the cavity. This model also features the Custom Tuning Port to the sole to make the center of gravity deeper and that allows for elevated launch angle.
Design
Game improvement irons are usually larger and bulkier and often were considered repulsive at address, however, that's not the case with this model. Their top line appears to be much thinner at address due to the added level. The shape of the toe is a bit longer in length compared to their predecessors and they feature a higher peak. All in all, much nicer looking clubs that feel and sound much better.
Cost and Value
It is true that there are newer more advanced models, such as G500 or G700 if we talk about GI clubs, however, if you are looking for clubs that are going to provide you with much better performance, distance and feel without having all the bells and whistles for a price double cheaper than the newest ones, then these are the right ones.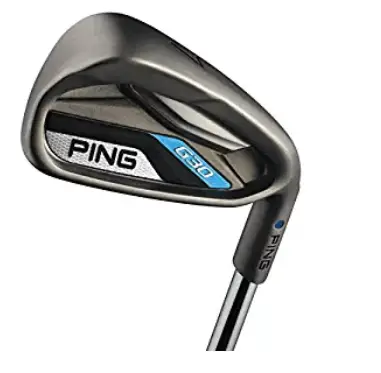 Game improvement irons that provide great forgiveness
Better distance control achieved through Custom Tuning Port
Very good sound and feel
Better players might not find them suitable
Being one of the most sold clubs and among the most awarded ones, the solid structure of G30 is still popular among golfers who look for affordable and high-quality irons. They provide shots that land softly with increased power to stop where aimed. When you miss the center of the club you will definitely know it, so they give a proper time to improve the performance, but even if you have off-center shots, due to the larger sweet spot, they are likely to closely reach the intended target. Their launching angle is higher, they increase the distance and that's what game improvement irons are aimed at, right?
Read more
Performance
These clubs feature the patented Custom Tuning Point positioned lower and as we know, it is responsible for the sound and feel, which will be associated with some of the top cavity backs. As for the cavity, it is bigger and provides increased MOI which results in greater forgiveness. The forgiveness is also achieved by the thinner face, i.e. the repositioning of the weight at the edges. The blade length is a bit longer adding extra stability to your swing and greater accuracy.
Design
Their design fairly resembles some of the models that we have previously discussed. The material they are made of is 1704 stainless steel, which at that time was considered the best material that could be used for these types of clubs, even though today there are some better materials such as maraging steel. The sole has an extra trail edge next to the toe which has been extended to the back the club. The sole looks tweaked in order to go easily through the turf. The heads are larger and have a little more offset but as you go through the clubs, the shorter ones have added compactness by having the heads more shorter too. It has a darker unique finish, compact design, and a nice look.
Cost and Value
These clubs were mainly designed for mid and low handicappers who struggle with slow swing speed. The performance has been confirmed throughout the years as being highly effective. In addition to this, the price has been significantly reduced compared to their initial price, so these irons are great value for the money.
Criteria Used for Evaluation

Advanced Features
It isn't easy to just pick up a few irons from the wide range of selection that Ping provides and title them 'the best ten'. Do you remember at the introduction we said that one of the greatest features that this company has is the innovation? Innovation necessarily leads to the development of new features that are going to mark the product as better than another. The clubs that we have selected feature increased sophistication and upgrade due to these advanced features. Among the most striking features that we can single out would be the ability of the clubs to provide distance and forgiveness, something that until recently was only wishful thinking, the ability to develop consistency in swings and shots, enhanced feel and sound for better control, adjustability, loft customization, etc. In order to provide advanced features, the company invented several technologies that help golfers to maximize their performance. Among the most popular would be the COR-Eye technology that increases the flex of the face, Custom Tuning Port that features weight adjustability, a multi-material badge for improved sound, matching shafts, and so on.

Effectiveness
The main difference about the clubs is whether they are effective or not, i.e., if they perform the aimed function of their design. There are different types of clubs that feature different designs which add certain attributes to the performance of the clubs. For example, if the head club is blade type and forged it is expected that it has been designed to meet better players needs and to provide maximized premium performance related to this skill level. If the head is more of the cavity-back design it is intended to meet the needs of high handicappers which in return will provide increased swing speed, better forgiveness and higher trajectory of the ball. There are combinations of the two models which put distance and forgiveness together, especially in the latest models where we can see a forged face and cavity-back design aimed to maximize the overall performance of the players. The more effective the clubs are the better is their effectiveness score.

Materials
Good materials mean good performance and endurance under various conditions and impacts. As we track the progress of every consecutive launch of a new line of golf irons, we can clearly notice that there is a gradual improvement in the choice of the materials used in their design. From the oldest model to the latest ones there is an evident progression in the choice of the materials, their blend, and purpose. The latest models feature multi-material construction of different materials, tungsten implants for added weight and change from stainless steel to carbon steel to maraging steel which is said to be by far more durable and stronger than the stainless steel. Hydro Pearl finish is a feature that can be found among the best ones due to the moisture and flyers repellent properties and easier glide. Besides this finish, there another darker finish technique called Quench Polish Quench (QPQ) which can be found in the latest models too and which makes them more durable improves the ball interaction and gives the wedges dark, elegant look which reduces glare. The choice of the shafts, and especially the wide range of selections from graphite and stainless steel shafts have marked Ping's clubs as customizable which is an additional advantage that contributes to achieving better scores.

Release Date
It doesn't always mean that the newest is the best no matter what, however, it is enough reason to be considered during the evaluation procedure. Our initial investigation into these clubs confirmed that at least when it comes to Ping irons, the latest launched range of clubs means better and improved versions from the previous ones. But it is not a straight line indicating that those manufactured a few years ago are not good enough to be used today. On the contrary, they are well functional and feature similar technologies like the latest, just that those that have been launched within the last two-three years exhibit increased use of modern technology and variety in the materials selected for the production process. Shortly said, you'll find all the bells and whistles can be found in the top products, while older dated clubs do their job very well.

Bottom Line
The reason why we chose this criterion is that more or less, the products do have a certain feature that makes them unique and specific and it is usually what they have been recognized. The well-known feature is what defines them as successful in their category or not. Sometimes, the overall impression that a certain product creates is what makes it so popular among people. In our case, since we are talking about irons, the bottom line would be the overall performance that a golfer achieves with them. Depending on the specific purpose they are designed, i.e., game improvement or for better players, they would be expected to provide more forgiveness, better launching angle, better trajectory, or improved control and feel, respectively. Since money is an important thing, this section includes the price too since it can be an important determining factor which product will be chosen. As with the quality range, here we have included irons with different price tags so that we provide enough opportunities for everyone. In this category, we also include all the reviews made by professionals, as well as buyers who have already experienced them, since we all know that sometimes how people experience the product is in direct opposition to what the company claims it to be. However, the irons on our list match the description and provide the quality of the game that the manufacturer has designed them for.
Frequently Asked Questions
q:

. I have bought G500 irons stainless steel, however I'd like to replace the shafts with graphite shafts. Would that be possible?

a:

Yes, as a matter of fact, Ping offers a wide range of shaft varieties in terms of weighing, length, and weight distribution and you can always customize your preferences in accordance with the specifics of your swing shots.
q:

I have recently started playing golf and I have heard that Ping i210 are among the best. Should I consider buying these irons?

a:

It is true that i210 provide exceptional performance and they are among the best, however, they are aimed to meet the needs low handicappers. What you could consider buying are game improvement irons which provide greater forgiveness and increased distance.
q:

Is there difference between stainless steel and maraging steel?

a:

There is a very big difference between the two seemingly similar materials. For the last models, King has been using maraging steel for the face of the clubs since it is about four times stronger and more powerful than the stainless
Subscribe to our Newsletter