10 Best Nike Golf Shoes Reviewed and Rated
In a
Hurry? Editors choice: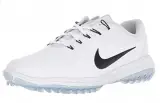 Test Winner: Nike Lunar Control II

No other
sports company
has been as closely associated with golf as Nike is, and there are many reasons for that. Namely, the best golf player Tiger Woods has been sponsored by Nike for more than 20 years, being its greatest asset. However, there are many more tour players that have been endorsed by Nike, whose feedback has helped the company develop some of the most breakthrough designs, including their footwear range.
Nike golf shoes
have been considered superior in many aspects and here we explain why.
As it was incredibly difficult to select just ten, we developed strict criteria and focused on their ability to deliver superior traction, stability, comfort, and maximum performance for optimal swing movements and hours of walking on the golf course. Plus, we have included the most recent releases as they feature the most advanced technologies. These are the
best Nike golf shoes
.
Standout Picks
Criteria Used for Evaluation
Traction
Golf shoes are one of the most specific types of shoes as they need to feature a particular design that is going to provide golfers with maximum support and stability while swinging. Among the features that define this support, of utmost importance, seem to be the outsole design, i.e., the grip and the traction that is more than necessary.
When it comes to traction, there are two possibilities that you can come across in golf shoes, spikeless outsole, and the other ones are those that come with spikes. Usually, the models that come with spikes feature removable spikes and Nike has been using CHAMP spikes that twist and lock into the CHAMP system. Removable golf shoes offer more versatility as once you remove the spikes from them you can use them for any other, off the course occasion.
Style
If Nike has a standard feature, then it would be the style they promote with each new release. Since it is a company that directly sponsors and supports golfers, it is in constant communication with the best Tour players who share their needs and requirements for optimal performance. From the selected models on the list, we can see different styles and designs which allow golfers to match their style with Nike golf shoes. So, from sporty to classy and elegant, the list contains something for anyone, and the rating has been made based on their popularity and rating they have among golfers.
Materials
We have said this several times and will say it once again. It is never only about the materials used in shoe production, but it is the technology utilized to combine and enhance those materials. And talking about technologies, Nike has plenty of them! Among the most popular is the Flywire technology that delivers the sock-like feel and extra lateral stability with exceptional lightweight design. This technology utilizes threads that are comprised of Vectran or nylon that deliver optimal stability and comfort. This technology is utilized in a combination with mesh materials or Flyknit materials. These materials often combine polyester, spandex and nylon fibers which are constructed to produce a one-piece upper.
When it comes to the sole, there are different materials that comprise it. The midsole is usually made from EVA foam because it delivers maximum comfort and cushioning. TPU is also another material that is characterized by extreme durability and impact resistance. Rubber soles are also used too, even though rarely in high-end designs. Among the most distinguished technologies used in this part of the shoes, Nike has promoted Lunarlon and Air Zoom technologies for maximum comfort, cushioning and stability.
Comfort
The purpose of all these models, technologies and designs has basically one goal- to deliver maximum comfort and resolve all the feet related issues that golfers experience during the game. As it is a very long game that lasts for more than four hours, golfers need to make sure that they will have all the comfort for maximum performance. Therefore, all these Nike golf shoes feature plenty of options when choosing them, from wide design to glove-like design, extra cushioning and maximum airflow or better breathability. All these features enhance comfort and make the game kore pleasant and indulging.
Durability
Durability is also one of the factors that are valued by golfers as nobody buys premium golf shoes to wear them for just a round or two. Considering all the materials and the technologies that are integrated within their design, it is more than clear that golfers can expect maximum durability and long-lasting use.
Top 10 Picks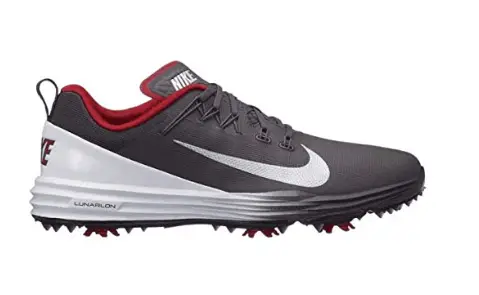 Nike has made such an impressive offer of golf shoes that it has been really hard for us to select just ten, so we had to focus on several features such as versatility, durability, style, comfort, and extra grip. This model seems to have it all, and it is one of the most flamboyant and ultra-modern designs that allow golfers to stand out on the course, not only with their performance but with their shoes too. So, boasting more than 15 different color varieties, these Nike golf shoes are excellent to confidently get you to the 18th hole.
Read more
Features
These Nike golf shoes are designed to provide golfers with confidence, comfort, and security as their design integrates technologies that deliver a design that meets the needs of the modern golfers. The upper is made from leather and synthetic with a waterproof membrane that keeps your feet dry even when the course is wet. Made from a rubber sole and a TPU midsole that deliver maximum cushioning, your feet won't feel any straining or discomfort even when you wear them for the first time. The Flywire technology that ensures a perfect fit blends in with the laces for a supportive and dynamic fit.
Design and Traction
This is a very stylish model, designed with a combination of two colors, i.e., the sole and the heal have a different color from the upper. The Swoosh logo takes up most of the side of the shoe, clearly indicating the brand of Nike. The outsole features 7 removable CHAMP PiviX spikes which are designed to twist and lock into the CHAMP Slim-Lok System for maximum traction, utmost stability, and balance on the course, regardless of the turf conditions.
Cost and Value
How much would you pay for exceptional Nike golf shoes that deliver all-round performance, make you feel super comfortable, look trendy, and guarantee stability and balance? Most of you would agree that for those features even a higher price point is worth the money since your overall performance depends on them. So, if you are lucky enough you might get this model for a very affordable price, but some sizes and colors have a very high price point.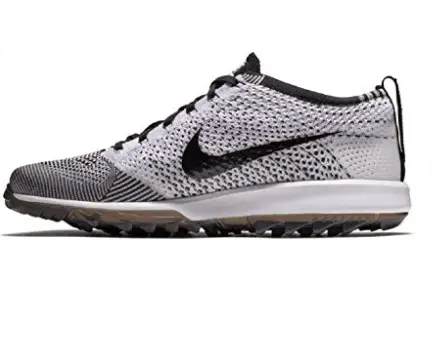 Flyknit design that originates from the Flywire technology, is the dominant technology that has been utilized in the production of this model. This technology has been popular in many Nike models across the board and found its use in multiple sports, so Nike has decided to introduce it in its golf range as it turned out to be very successful. The thing that makes this model very popular among athletes is its extremely lightweight design and breathability, so if you are looking for an absolute sock-like feel, on the course, this is the model that gets all the credits of being the best within its category.
Read more
Features
FlyKnit Racer G features FlyKnit upper designed with Flywire cables that deliver zonal stability, support, maximum breathability, and moisture-wicking properties. The Zoom Air unit that is positioned on the heel delivers cushioning that prevents your feet from getting tired as it easily absorbs the impacts. The upper, the sole and the translucent rand keep your feet dry and at the same time provide lateral support. The collar around your ankle is foam padded which enhances the overall balance and stability. There is a lining that stretches throughout the forefoot to keep the debris out.
Design and Traction
The Flyknit design appeared for the first time on the market in 2012 and athletes were thrilled by the extremely lightweight construction with the sock-like feeling it provides. Since then it has been among the top sellers in any sport, redefining comfort, and stability. This model comes in just a few color choices, however, the color combinations in each of them makes the ultra-modern, and suitable to match any style. The laces combine with the Flywire technology to provide dynamic lockdown. The integrated traction pattern allows for multidirectional grip and stability and at the same time adds versatility as they can be worn even off the course.
Cost and Value
These Nike golf shoes are one of the most popular as everyone appreciates the lightweight construction they offer with the spikeless design which makes them versatile. As this is one of the latest releases coming from Nike, the price is considerably higher compared to some other models, but the design and comfort will make you fall in love with them almost instantly.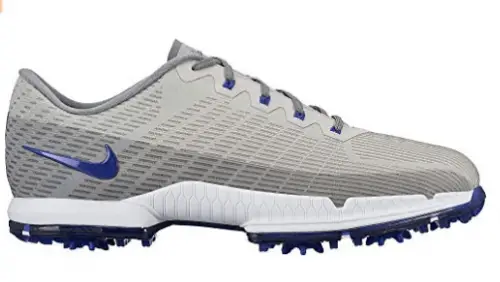 Synthetic materials are far from being just synthetic when you process them with some of the proprietary Nike technologies that reshape and reformulate the complete functionality and performance of the materials. Proof for this is one of the best Nike golf shoe models, Zoom Attack which is made with Flywire technology that delivers optimal stability, comfort and style. If you want to know more about this technology, and the features of this model, read below.
Read more
Features
Inspired by what NASA did with Vectran material, Nike developed their own technology using lightweight, heavy-duty Vectran filaments placed strategically on the shoe to deliver utmost support and stability thanks to its strength and the ability to wrap around the feet and eliminate slipping. Plus, even though synthetic, this technology makes the material waterproof, which additionally enhances their performance. This model delivers lateral and medial support with the use of TPU material which one of the strongest, but at the same time soft and flexible materials so that golfers have stable feel no matter where they are on the course. This is achieved with Nike Power Platform which helps golfers stabilize their feet with the smooth toe to heel transition through the swing.
Design and Traction
At first, look, if you disregard the spikes, it reminds of a running shoe that guarantees maximum comfort and playability. It comes in three dominant, trendy colors, grey, black and yellow, with interesting, subtle details, and of course, the Swoosh sign on the side. The rubber outsole features seven removable CHAMP Zarma Tour spikes which twist and lock into the Tri-Lock system. This system makes them exceptionally stable on the course in different turf conditions, providing feeling stability and balance.
Cost and Value
These Nike golf shoes meet the needs of golfers who look for glove-like fit and material that has the capacity to wrap around the feet to provide utmost lateral and medial support. Air Zoom Attack has been made with Nike's advanced technologies and therefore the price range, which is also changeable following the size and the color selection, is on the higher end.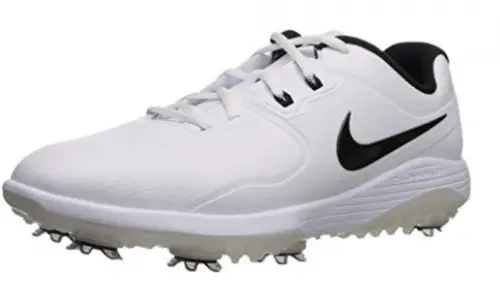 Vapor Pro is upgraded design of the original Vapor model and even though the design reminds of its older brother, the clear lines, the seamless design and the five, instead of the seven cleats distinguish Vapor Pro from the Vapor model. It is one of the latest golf releases coming from Nike and it bosts more color options and more modern and trendy designs made for both, men and women. If you are a golfer who follows the modern trends but at the same time highly appreciates the classical look, then this is the model which is worth to consider.
Read more
Features
If leather golf shoes from the past were bulky and looked huge, the sleek and modern design of this model is a sigh of a great technological advancement of modern technology in the shoe industry. Vapor Pro integrates several Nike technologies such as Flywire technology for an extra supportive fit, and the Lunarlon midsole absorbs all the impacts evenly throughout the sole. The leather, waterproof upper provides maximum comfort and breathability.
Design and Traction
Vapor Pro features a very sleek toe design and with lining wraps that go around the back of the heel so that the entry is easier and more practical. There are several color varieties with interesting subtle details with a peculiar look. The hybrid outsole features traction that is positioned under the balls of wearer's feet with removable spikes that are placed around the lateral sides for maximum gripping power. The 5 removable CHAMP Pivix twist and lock into a CHAMP Slim-Lok system allow golfers to confidently play the game regardless of the weather conditions and the surface types.
Cost and Value
If you are looking for an excellent pair of Nike golf shoes, Vapor Pro integrates all the benefits of Nike's modern technologies to allow optimal performance, stability, and balance in all turf conditions. Unlike the other models, this one has a fixed price point which is more expensive than the average, but thanks to the design and the quality, it is a good value for the money.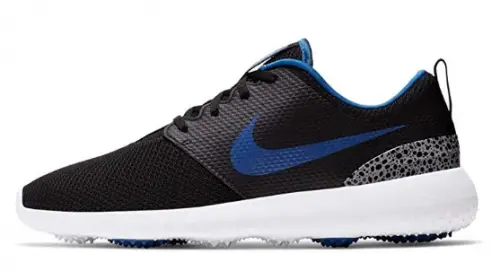 When you decide to walk on the course for over four hours, then wearing comfortable shoes must be the top priority for successful performance. If you have ever worn shoes that made you feel uncomfortable, made you sweat and make you feel unstable inside or caused blisters, that most probably that game ended up as a failure because in such circumstances it is very hard to focus on your performance or to control your swing. Roshe G is one of the latest Nike models that boasts exceptional stability within the most unobtrusive, sock-like design to completely distract golfers from the focus on their shoes.
Read more
Features
One of the greatest features of this shoe is its versatility since it can be worn all year round. It is one of the latest Nike models that integrate some of the latest Nike technologies for maximum golf performance. The mesh upper delivers unmatched breathability as it keeps the moisture away and prevents sweating. The Phylon foam which is used in the midsole ensures maximum cushioning wherever you go. This blend of features ensures that golfers feel relaxed throughout the game without stressing your feet.
Design and Traction
Roshe G reminds of a running shoe with its casual design and modern style. It comes in several color options which mainly include blue, grey, red, white, and black with a peculiar graphite detail on the back of the heel, and Swoosh logo on the side. The minimal upper wraps are extremely lightweight and deliver the sock-like fit which delivers extra comfort. The outsole features a pressure-mapped design that provides optimal traction in the key zones so that golfers reliably swing regardless of the turf conditions.
Cost and Value
Nike is restless in delivering improved and modern designs for golfers who want to look and feel perfect on the course. They look trendy, casual and above everything, they will provide you with optimal comfort. Regarding the price tag this model has is within the average range when it comes to Nike shoes, so we do say you get good quality for the price.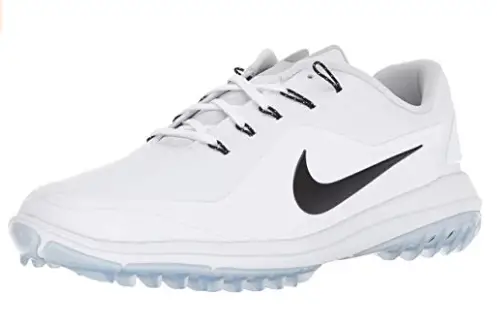 When you see a certain shoe model worn by Tour players such as Rory McIlroy or Jayson Day, to name just a few, you know that it has more than just ordinary features that make it appealing to such prominent golfers. So, what attracts these golfers? Comfort is the number one feature of course, but in addition to it, golfers need plenty of grip, style, waterproofing, and lightweight design. There're some more pluses, so read to below to find out more.
Read more
Features
Nike has perfected the golf shoe design as their almost 20-year contract with Tiger Woods enabled them to explore the best of possibilities to make the design more than perfect so that golfers feel comfortable and secure on the course. So, in this model, they did manage to design not only a comfortable golf shoe but it also features extra grip and flexibility. The Lunarlon cushioning delivers extra comfort for all those hours of walking on the course, while the fact that they are waterproof guarantees confidence that they won't fail you regardless of the weather conditions.
Design and Traction
These are leather Nike shoes that come in multiple color varieties with minimal details but very visible Swoosh logo on the side. They feature unique traction technology called Nike Articulated Integrated Traction which delivers an extra grip as golfers swing without affecting the comfort and flexibility. The extra soft spikes and the wide toe box make them exceptionally comfortable to wear, and the arch delivers plenty of stability and cushioning.
Cost and Value
The recognizable Nike style and design are immediately noticeable in this shoe. It is a model that is designed to bring golfers assurance that the least they can expect on the course is slipping in while swinging. They also ensure foot stability and breathability to make you feel comfortable up to the 18th hole. The price is on the high-end, and depending on the selected color and size it varies from affordable to expensive.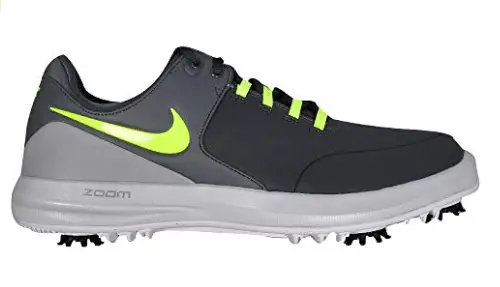 Among many of Nike's models, Air Zoom turned out to be some of the most popular among golfers. Sometimes there isn't a strict line among a few similar models and it is usually the comfort and the fit that distinguish them and make one model better over the other. These Nike golf shoes have been designed to deliver constant comfort, highly enhanced performance and superior traction, and enable golfers to better focus on their game instead of their feet.
Read more
Features
One of the features that golfers seem to be particularly interested in is the waterproof design, as many golfers don't have the privilege to enjoy perfectly dry golf courses. So, this model is made from a synthetic leather upper which is waterproof and very durable. Many golfers say that this model is one of the most comfortable, which is achieved through the cushioned insole made from EVA material, and the responsive unit that is positioned on the heel. The lace-up closure ensures that golfers get the optimal fit for enhanced performance.
Design and Traction
This model might not be the most colorful one on the market, but it does provide a few color choices to match your style. The gusset tongue design yields a sock-like fit and the dual-pull lacing system secures your foot around the midfoot area and delivers supportive fit. This model also features a hybrid outsole which comes with four cleat system that delivers maximum stability, traction and grip. The integrated traction lugs work in conjunction with the cleats to boost golfers' performance on various surfaces.
Cost and Value
Nike quality is indisputable and whichever product you choose, you know that you have an excellent value for the money. This model deserves to get its place among the best as it offers everything that golfers need for unhindered performance. The price varies depending on the color and the model, so some of the selections within this model are very good deals.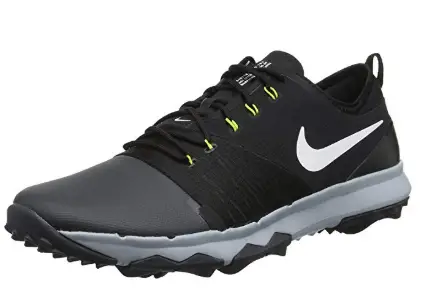 One of the most popular Nike models within a cross-section category has been the Impact model, and the continuation and the upgrade of this model just prove the popularity it has among golfers. FI Impact 3 is one of the most recent designs that have been based on the natural movement of the feet while swinging, and it has been designed with precious feedback of tour players. It delivers more energy return, optimal flexibility, and bendability, while at the same time it delivers optimal stability and balance.
Read more
Features
Even though the upper is made of synthetic ripstop mesh, it is very breathable and waterproof. Actually, it is thanks to the ripstop fabric that enhances the durability and the strength of the mesh material that makes it so resistant to wear and tear. There are added polyurethane overlays on strategic places to support the athletic and dynamic golf swing, making them rigid to deliver maximal lateral support, while at the same time they enhance the flexibility needed for the golf swing. This model also features Flywire technology that makes it lightweight and very playable. The midsole, which is made from Phylon, yields ultimate cushioning and pleasant feel.
Design and Traction
Despite coming in only one color option, this model is among the most favorite Nike golf shoes thanks to its ability to provide golfers with the sock-like feel and unmatched comfort. The combination of black, grey and white looks sporty and classy at the same time, while the unconventional outsole design makes it trendy and modern. The rubber outsole features an integrated traction pattern that delivers extra grip on a variety of surfaces. The flex grooves enhance stability and flexibility while keeping the natural range of motion. In order to make them completely waterproof, the bottom seam that connects the midfoot and the vamp is fully sealed.
Cost and Value
The reason why we have selected this model is more than obvious from the description above, and if the limited color choice is not a deal-breaker then these Nike golf shoes will be one of your favorite choices. When it comes to their price, we can say that it reflects their quality and advanced performance, so it is a good value for the money.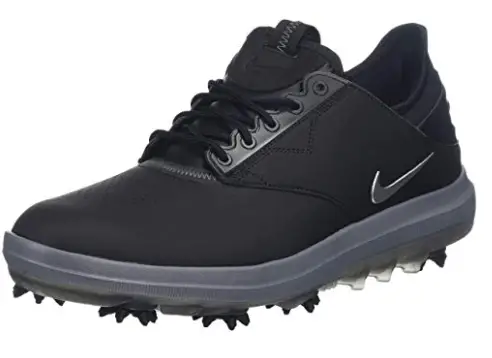 This list includes several Air Zoom models, but it shouldn't come as a surprise since this lineup has proven itself to be the most popular and most effective in delivering optimal playability and performance. Even though they all have many features in common, they all differ in their design and details which greatly distinguish them.
Read more
Features
One of the features that all Air Zoom models have in common is the unit that delivers responsive cushioning and impact dampening from the ground up when pushing off while swinging. The upper is made from synthetic leather which is very durable, breathable, and waterproof. The TPU heel counter is actually the unit that delivers enhanced stability and balance, while the midsole is made from Phylon which delivers extra comfort together with the 8mm Fitsole sock liner for additional cushioning.
Design and Traction
Compared with the other Air Zoom models, this one looks the most elegant and stylish and even reminds of a casual shoe. The hybrid outsole has integrated traction under the ball of the feet with removable spikes. They are the latest CHAMP Zarma Tour spikes that twist and lock into the proprietary Slim-Lock system that delivers maximum stability and traction on various surfaces. This model also comes with BOA closure.
Cost and Value
These bootie-style Nike golf shoes look terrific and with all their performance-enhancement features are one of the best looking Nike shoes that speak attitude and style. This model is also one of the latest releases coming from Nike, meaning it also comes with a considerable price tag.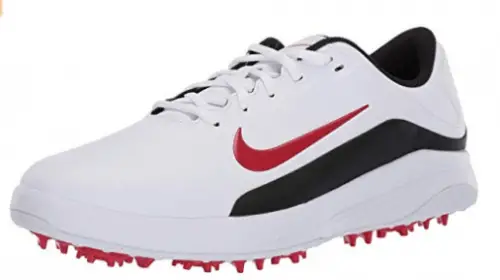 If you are a golfer with more traditional style that looks for classic design and all the comfort found in Nike golf shoes, then Vapor, a model that has been launched on the market a not long time ago, ticks all the boxes on the list. It is a shoe model that combines high performing materials and traction systems developed by Nike so that golfers reach the 18th hole without even slightly being distracted by discomfort in their feet.
Read more
Features
If you have ever played golf during wet conditions and didn't wear proper shoes, then you know what an unpleasant feeling it is to have your feet wet throughout the game. Therefore, Vapor is designed to deliver protection during wet days and maximum comfort. The upper is made from synthetic leather which has a sleek design that follows the contours of your feet without looking bulky, while the midsole is made from EVA foam that delivers comfort with every step you take on the course. The insole is made from extra soft, plush material that allows your feet to feel relaxed while moving around the course.
Design and Traction
There are six color options with dominant black or white colors, used probably to enhance the classical style of these Nike golf shoes. The rubber sole is always white, while the upper is either white or black with an interesting color combination of the Swoosh sign and the spikes on the outsole which come in the same color. To ensure that golfers feel secure on the course, the outsole integrates traction pattern that enhances grip on different kind of surfaces.
Cost and Value
Any golfers who appreciate traditional design and classic style and need all the comfort possible, are advised to consider this model as it has been highly rated by many fellow golfers. The model speaks style and fits any outfit thanks to its unobtrusive design. When it comes to its price, it is changeable depending on the size and the model, ranging from super affordable to considerably expensive.

Subscribe to our Newsletter