10 Best Nike Golf Shoes Reviewed and Rated
In a
Hurry? Editors choice: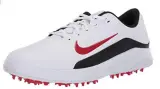 Test Winner: Vapor

No other
sports company
has been as closely associated with golf as Nike is, and there are many reasons for that. Namely, the best golf player Tiger Woods has been sponsored by Nike for more than 20 years, being its greatest asset. However, there are many more tour players that have been endorsed by Nike, whose feedback has helped the company develop some of the most breakthrough designs, including their footwear range.
Nike golf shoes
have been considered superior in many aspects and here we explain why.
As it was incredibly difficult to select just ten, we developed strict criteria and focused on their ability to deliver superior traction, stability, comfort, and maximum performance for optimal swing movements and hours of walking on the golf course. Plus, we have included the most recent releases as they feature the most advanced technologies. These are the
best Nike golf shoes
.
Standout Picks
Criteria Used for Evaluation
Traction
Golf shoes are one of the most specific types of shoes as they need to feature a particular design that is going to provide golfers with maximum support and stability while swinging. Among the features that define this support, of utmost importance, seem to be the outsole design, i.e., the grip and the traction that is more than necessary.
When it comes to traction, there are two possibilities that you can come across in golf shoes, spikeless outsole, and the other ones are those that come with spikes. Usually, the models that come with spikes feature removable spikes and Nike has been using CHAMP spikes that twist and lock into the CHAMP system. Removable golf shoes offer more versatility as once you remove the spikes from them you can use them for any other, off the course occasion.
Style
If Nike has a standard feature, then it would be the style they promote with each new release. Since it is a company that directly sponsors and supports golfers, it is in constant communication with the best Tour players who share their needs and requirements for optimal performance. From the selected models on the list, we can see different styles and designs which allow golfers to match their style with Nike golf shoes. So, from sporty to classy and elegant, the list contains something for anyone, and the rating has been made based on their popularity and rating they have among golfers.
Materials
We have said this several times and will say it once again. It is never only about the materials used in shoe production, but it is the technology utilized to combine and enhance those materials. And talking about technologies, Nike has plenty of them! Among the most popular is the Flywire technology that delivers the sock-like feel and extra lateral stability with exceptional lightweight design. This technology utilizes threads that are comprised of Vectran or nylon that deliver optimal stability and comfort. This technology is utilized in a combination with mesh materials or Flyknit materials. These materials often combine polyester, spandex and nylon fibers which are constructed to produce a one-piece upper.
When it comes to the sole, there are different materials that comprise it. The midsole is usually made from EVA foam because it delivers maximum comfort and cushioning. TPU is also another material that is characterized by extreme durability and impact resistance. Rubber soles are also used too, even though rarely in high-end designs. Among the most distinguished technologies used in this part of the shoes, Nike has promoted Lunarlon and Air Zoom technologies for maximum comfort, cushioning and stability.
Comfort
The purpose of all these models, technologies and designs has basically one goal- to deliver maximum comfort and resolve all the feet related issues that golfers experience during the game. As it is a very long game that lasts for more than four hours, golfers need to make sure that they will have all the comfort for maximum performance. Therefore, all these Nike golf shoes feature plenty of options when choosing them, from wide design to glove-like design, extra cushioning and maximum airflow or better breathability. All these features enhance comfort and make the game kore pleasant and indulging.
Durability
Durability is also one of the factors that are valued by golfers as nobody buys premium golf shoes to wear them for just a round or two. Considering all the materials and the technologies that are integrated within their design, it is more than clear that golfers can expect maximum durability and long-lasting use.
Subscribe to our Newsletter