Best Nike Golf Balls Reviewed & Rated for Quality
In a
Hurry? Editors choice: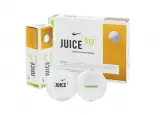 Test Winner: Juice

This brand has long been the go-to brand for sports gear. Not only have they dominated most mainstream sports markets, but they have also taken quite a hold of the golf industry as well. The Swoosh is widely recognizable and has become more and more visible on golf courses around the world. You can see Nike's iconic emblem on apparel, accessories, clubs, and especially Nike golf balls, which is precisely what we are looking at in this particular guide. We have taken some time to look into what this long-lived brand has available out there
for golf balls
, and what sets them aside as a solid choice for real golfers. So let's take a look at what they have to offer!
Standout Picks
Criteria Used for Evaluation
Durability
Durability and design are one of the most important factors to consider when it comes to choosing the best quality golf balls. Now, there are aspects of the design that we will only share and include in the Performance criteria below because it has to do with how the design impacts the overall performance of the product. This criterion is to uncover how durability and design are related. As far as design, there are golf balls that range from practice to amateurs, to intermediate, and professional grade materials and design qualities. Take a five-layer golf ball from Callaway for instance. Each layer is specifically designed for performance, traction, forgiveness, impact, energy return and so much more. While this brand only develops two and three-layer golf balls, they are still great quality. These are factors that also add to the quality and cost and value, which we will talk about a bit later on as well.
Compression
When it comes to the level of compression for a golf ball, the lower the compression the softer the core will be.
Much like the exterior, the different interior layers also add to the level of durability and quality of the golf ball. Now, this brand does design three-layer balls as we said, which are designed for more quality and different levels of performance.
Value
As far as cost and value, we made this an important criterion to consider because we wanted to determine whether or not these golf balls were worth it by this brand. With that, we want to say that most of them are primarily priced at affordable levels while some can be a bit high. Also, many of the golf balls this brand has designed are discontinued. Therefore, they can only be bought by specific sellers, making them somewhat of a rare item to consider. With this in mind, many of the golf balls by this brand we have shared are designed for value and performance. However, individuals should not expect them to be anywhere near as high quality as many other leading brands.
Advanced Features
When selecting the top ten best products from this brand in the industry, performance is the most important factor to consider. The reason being is that the overall design of the product will affect performance. There are certain brands such as Nitro that are geared towards fun and novice performance levels with cool designs and there are brands such as TaylorMade that use the highest quality materials and designs to ensure maximum performance value. When it comes to Nike, their performance is great, but not for professional individuals that want the highest level of quality. With this, we want to share different levels of performance and areas to look out for when it comes to a golf ball design.
The Exterior – The overall exterior material, as well as the dimple pattern, will affect the way the product flies in many different ways. With this, the exterior affects spin, flight performance, as well as greenside spin.
The Interior – The interior of a golf ball affects the distance of the product, as well as the performance, the energy on impact, and the overall forgiveness and flight of the product.
The Layer – When taking a golf ball into consideration, it is important to note how many layers it has. No layer is ever designed by random. Therefore, each layer has a tremendous benefit that allows individuals with different levels of performance.
The Compression – As the last element to consider when it comes to performance, the compression will determine how well the product performance on the course and upon impact. With compression cores being known as softer balls compared to higher compression cores.
Subscribe to our Newsletter