Best Night Golf Balls Reviewed
In a
Hurry? Editors choice: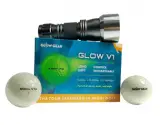 Test Winner: Glowing Golf Ball

We live in a busy world! It seems that the day is short for everything we want to do and the twilight is too dark to make use of it. There are some dedicated golfers out there who often spend some time golfing before going to work or after coming back, but, again, they are faced with low light conditions, especially in early spring or late autumn when it gets dark very early and the sun does not rise until later in the morning.

Keep reading to find the best night golf balls for your night visits to the course!
Standout Picks
Criteria Used for Evaluation
Best Glow in the Dark Golf Balls Reviewed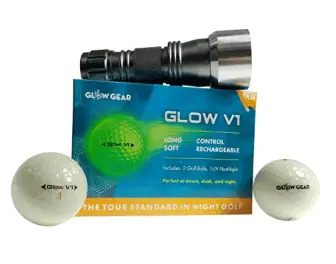 Glow V2, Night Eagle and more choices. These are the most recommended by many golfers who are keen on twilight golfing experience. They mimic the feel, the sound and the effect of the daytime, regular ones and there is almost no difference when you use them on the course. These UV activated balls that start glowing when you expose them to UV light and give you a fair amount of time from one to another hit. They come in a packing of 2, 6 and 12 balls and you can return them in a period of time of 30 days and get a full refund regardless the reasons why you have decided for that option.
Read more
Features
It wouldn't make much sense if you play your round with balls that do not provide the same effect that you might expect when playing during the day. So, one of the reasons we chose these balls lies in the fact that they provide the same effect as any other ordinary ball without limiting you on the choice of clubs or the way you are used to playing. To provide the desired light effect they need to be exposed to 60 seconds on UV light and charged like this will make them visible for about 15 minutes with the light slowly fading away. However, the light will not disappear immediately after 15 minutes, but there will be some amount of light up to six hours.
The Technology Behind
Each package comes with a flashlight which functions as a charger for the balls. What you need to do is to flash them for a minute and they will be charged. The flashlight is small and you can keep it in your pocket in order to refresh them after a while. The way they are made makes it possible because they utilize a core which is fully compressed and the surface is made of a soft skin made of urethane. This way, they are able to mimic the features of those they are used during the day. That refers to the choice of the clubs and the strength of the hits without posing them to the risk of being damaged and they are able to achieve approximately the desired distance without deviating much from the standard.
Cost and Value
Since there are three available types of packaging you get a price range that differs as the number of the balls included in the package increases, i.e. the one with two inside is the cheapest and the one with 12 is the most expensive but most economically justified. The package includes a flashlight with three AAA batteries too. Bearing in mind the fact that they are one of the most durable ones and can sustain powerful shots, their price is reasonable and affordable.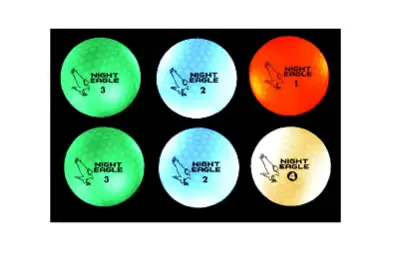 Within all the variety offered on the market when it comes to products of this type, we are presenting you another type of nighttime balls that are known to be among the brightest ones. Besides the extra strong light they have, it won't turn off until you find your night golf ball and deactivate it yourself. This puts you under control of your ball and makes it hard to get lost. Besides, there is a patented new mechanism that activates it and there are five different color choices you can choose from for greater entertainment and fun.
Read more
Features
These boast of being the highest quality LED balls that can undergo hits of immense strength without being damaged. They have extra strong light that can even illuminate the surrounding area and makes things around more visible. Contrary to the other models, they get activated when you get the printed circle on the ball near any strong source of light, such as a flashlight or the light from your phone camera. It can stay lit for approximately 30 hours if it is used continuously and it is deactivated in the same manner as is activated.
The Technology Behind
These balls are of high quality and they are said to be very durable. They are made of three layers that provide for its sturdiness and compactness. They are made by patented technology that features microcomputer inside and which is made to respond to the outer source of strong light. This is a much better option since there won't be any unwanted occurrences with balls that malfunction, as the case might be with some ordinary, LED balls. There is no timer either, so they are deactivated in the same manner as they are activated. The balls are designed to meet the needs of professional golfers, guaranteeing unhindered performance. However, since there is no rubber inside the ball, the distance that they achieve might be shorter than you are used to, but they won't cause any denting to your driver or clubs.
Cost and Value
These balls come in a pack of 6 with five different colors. According to customers who have used them, they are of high quality and match the manufacturer's description even though some have reported quality control issues. They are made with patented technology that makes them more reliable, easier to use and lower the chances of having your balls lost. The price is similar to many other offers on the market which means it won't make any difference in your budget.

3

. Nighthawk Glow in the Dark LED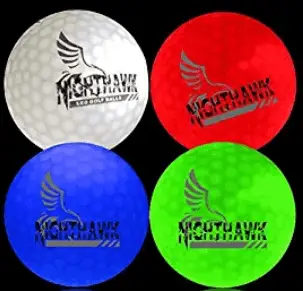 Nighthawk balls are famous for being the brightest balls that make hitting the course possible even when it is the darkest and when normally you would never consider playing the game. They have consistent battery light that is activated as you hit them and which turns itself off after being still for some time. They are fairly durable and resistant to hard hits (not too hard though) and you will surely have lots of fun playing in the darkness.
Read more
Features
For a super fun and entertaining round during nighttime, you can choose variety in colors too, since Nighthawk come in several different colors such as white, red, orange, blue, etc., flashing bright light once they get the stroke. Once they get activated they will keep glowing brightly for about 8 minutes so that you make sure you can find all your balls. When it comes to their weight and comparison with the ones we use during daytime, we can say that they are a bit harder and not as soft. This might in a way affect your swing and the performance. The same refers to your clubs and especially the driver since it might get dented if your swings are especially strong.
The Technology Behind
Since these balls provide you with the brightest light when it comes to golf balls, you might wonder what causes them to glow in that way. The thing is that inside the ball there is a LED light and a battery and that is actually the reason why they are bit harder compared to the daytime ones. The battery has a capacity of approximately 40 hours and it is not replaceable. After the battery runs out you can still use the night golf ball during the day. The battery gets activated when it is struck and it has the capacity to stay on for maximum three hours.
Cost and Value
Depending on the packaging you buy the price changes accordingly, and in addition to this, you might come across good deals from time to time. It isn't easy to claim that these are cheap or expensive since one needs to know which aspects of the ball will be evaluating. If you take them from the brightness point of you, you'd consider them to be good value for your money, but if you evaluate them from the point of view of their overall construction and the ability to mimic the standard ones, then the price might be a bit high. Anyway, all in all, they will retain their initial purpose and provide you with lots of nighttime fun.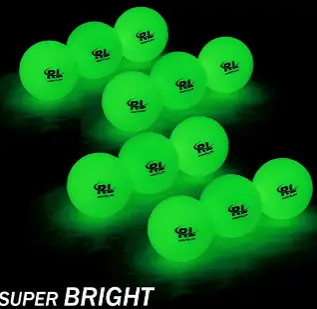 You have many choices, and brand choices will depend on in which country you play golf. These high-performance luminous balls are claimed to give real pleasure of playing golf without lowering your strength or endangering your drive. These are tournament quality ones and can be used during the darkest nights or at dawn or dusk. The glow they provide is fluorescent and won't just turn off but they will slowly fade away which means that you are likely to find your balls even after you wait for more people to tee.
Read more
Features
If you'd like to spend your time on a serious game of golf with true to daytime quality balls, then many golfers claim that these are your best choice. They have the same size and weight compared to standard golf balls size and contrary to LED ones there are no battery and light sealed inside. They are much softer, so you can use any club type that you feel like using. In addition to this, they can achieve the aimed distance in a fairly similar way as the daytime ones. They are charged with a flashlight, i.e. when exposed to direct UV light for a minute. After they are charged they have bright light for about 10 minutes and afterward they get dimmer but the light doesn't completely fade away.
The Technology Behind
These twilight balls have a tournament like the design and look the same as any ordinary ones. Their core is lightly compressed and the skin is made of urethane which means it is rigid but flexible and elastic. In addition to this, they are waterproof and don't get easily damaged. They express the glowing effect through the fluorescent layers which enable them to retain the acquired light and be lit for a longer period of time. They are charged with a UV flashlight that is included with every purchase of the balls.
Cost and Value
The value of these balls is perceived through the glowing perspective and the ability to mimic the daytime ones. There is no doubt that if not completely, at least to a certain level they get closer to the standard ones in terms of the quality of the game. The light that they produce might not be the brightest, however, it is decent and will do the job. In a nutshell, they are good value for the money.

5

. GoBright LED Golf Balls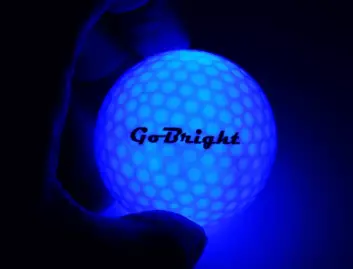 Golfers are presented with many options, these options vary from country to country.
Night balls are an excellent idea and should be part of every golfer's bag because they might come handy when it is getting dark, but your round hasn't finished yet. They might be a nice replacement for your day ones to give you the opportunity for a great finish of your golfing day. Even if you are an avid golfer, but you feel that time is your main obstacle to enjoy the game, then these balls will help you enjoy the game during nighttime. They provide a very bright light which comes from the LED inside the ball.
Read more
Features
Not only will you have a nighttime golfing experience with these balls, but you will also have lots of fun because these come in plenty of color choices for increased entertainment. They get activated upon each struck and in case stay still they will automatically turn off after 8 minutes. That time is considered enough for a golfer to be able to find them. They are a bit harder and heavier than the standard golf balls, so there is a possibility that you won't achieve the desired distance that you usually achieve. In addition to this, your drivers might undergo slight damage in case you hit them extremely hard, or the ball might get broken.
The Technology Behind
The balls that have LED lights within are very bright and it is impossible not to see them even if the ball is in the rough or woods. As we mentioned before, there is a battery and a LED light that is sealed inside. Once you hit the ball, the light turns on and provides you with a very bright light that stays flashed for about 8 minutes. You don't need to turn the battery off since it has a self-deactivating mechanism that will turn it off after a while. The capacity of the battery inside is roughly 40 hours. You can't charge the battery, but you can further use the ball if need be.
Cost and Value
These balls come in various packs starting from 2 in a package to up to six, meaning you get a various price range. The option that will most pay off finances-wise would be the one with the biggest number in a package. As we previously mentioned, what you most value will make these balls a good value or not. In case you look for professional balls, then you'll probably won't find them here, but if you use them for practice and fun then these are just great.

6

. Luminous Golfing Balls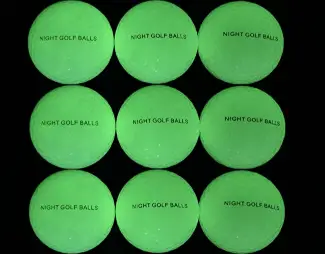 This set of twilight balls is another great variant in case you are into a twilight golf game that will replicate the effect of a day golf game in all its features. This means these balls don't contain LED light or a battery, so they are lighter and softer, being more similar to the ones you are used to. You get two options to make them glow in the dark, the first one being by exposing them to direct sunlight during the day, or the second is to use the UV flashlight that functions as a charger and which is included in the offer.
Read more
Features
These fluorescent twilight balls are excellent for twilight night rounds and will provide you with the enjoyment that you usually have during the day. These balls are rechargeable and can be used as many times as you want to unless they get damaged. They are very durable and you can hit them with your greatest force without fearing that they might get broken. Since they are lightweight and resemble the standard ones, you won't face any risks such as denting your driver or other clubs. In addition to this, you can expect to get similar distancing as you achieve with the standard ones. Putting is also easier due to their weight and you don't need to deviate from your standard hitting practice.
The Technology Behind
These are lightweight and durable golf balls that are made of rubber and colophony having their core low compressed and their surface is made of urethane which provides for their flexibility and strength. They can be charged in two different ways; the first option is to charge them by using the sunlight, i.e. by exposing them to direct sunlight for some time. This way of charging will provide a longer and brighter glowing effect. The other option is to charge them by using the UV flashlight that is included in the package. Once the light gets dimmer you can recharge them again.
Cost and Value
These balls come packed with number count of 3, 6, 12, 18 and 24. The higher the number of balls in packaging, the lower the price of the single ball. The manufacturer also offers a satisfaction guarantee, i.e. in case you are dissatisfied with them you will have a full refund of your money.

7

. Glow in The Dark Golf Balls


Sometimes you play golf under certain unfavorable conditions such as fog or mist, or at dusk when it is neither dark nor light. Instead of interrupting your game or playing under presumption where the night golf ball might be, you can use these balls that provide you with the similar experience as the ordinary, standard ones. And not only are they used for semi-lit conditions but also for complete darkness. They feature the same size and length as the daytime balls including the consistency of the shots and the distance that you'd like to achieve.
Read more
Features
These are similar to the previous model that we have presented on this list, the only difference that they get charged only by using the UV flashlight charger. What you need to do to charge them is to expose them to the UV light for a minute and they will start glowing for about six to eight minutes. Golfers who have used the balls, confirm the manufacturer's claims that there is almost no difference between these and the ones you use during the day. This means that you can get serious with your round without being frustrated that the quality of the play will drop down.
The technology behind
Similar to many different models that feature this type of balls, these ones are made to mimic the standard daylight balls in a way that it won't disturb the quality of your play. They feature compressed core with the skin made of urethane which gives strength and flexibility with each shot. This means that you can use any type of clubs, including cavity drivers too.
Cost and Value
These balls come in a package of 6 pieces with 2 UV flashlights for greater convenience. Compared to the other similar models these might be slightly more expensive, however, they will make your game comfortable and similar to the daytime game. When it comes to the quality of the ball it seems that it is well-spent money.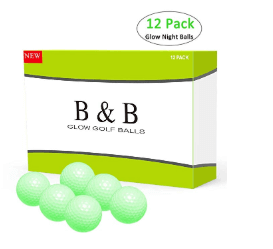 These twilight balls offer bright light during twilight by absorbing the light that comes from the sun or when they are charged with the UV flashlight charger. Even though similar to some of the other products on this list, they differ by being recyclable and eco-friendly. They are almost identical to standard daytime balls, so you can use them not only during the twilight but during the day too. As a matter of fact, they can be used for any possible purpose and weather conditions, such as rain, fog or mist.
Read more
Features
These balls can be charged in two different ways. You can either use the light that comes from the sun and expose them on it for several hours in which case they will last much longer, or you can use the UV flashlight immediately before putting. When charged with the charger they will last about 8 to 10 minutes and the light will not immediately disappear but it will slowly fade away. Since they do not have any batteries or lights inside they are lighter and softer so they won't affect your play whatsoever, meaning they won't cause any damage to your clubs.
The Technology Behind
These balls are recyclable and eco-friendly, made of full compression core which is compact in its structure and urethane skin that attributes to their flexibility and sturdiness. They have the ability to absorb the light during the day and emit it when it gets dark. The size and the weight is identical to the standard daytime balls which means that your performance will be similar to what you do when playing with any standard balls.
Cost and Value
These balls make difference in what they offer from one point of view and in the price tag they have, on the other. They come in a package of 12 and the single price of one night golf ball is much lower than many other balls. In addition to this, the company guarantees high-quality and durability so with each package you receive an 18-month warranty and reliable customer service. This offer makes these balls among the most affordable ones.

9

. LED Light up Golf Balls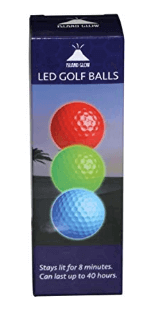 This set of three colored golf balls offers improved LED experience and much higher quality and durability and a lessened impact on your driver since they are made of much softer materials which make them a good choice for a round of golf. These balls feature eco-friendly materials and will provide you with the most desired golfing experience. Produced with the professional golfer in mind, you can rely on their ability to mimic standard daytime balls.
Read more
Features
This set comes with three colored balls (red, blue and green). Each night golf ball is activated when it is hit or bounced off the ground and once it is on, it will stay fully lit for about eight minutes which is enough time for you to find your ball. They can be used for any possible occasion and due to the latest technology used in their production you won't have this annoying experience of balls which do not activate after being struck.
The Technology Behind
These LED balls are not made with the standard technology that is used for casual balls. For their manufacture was used high-performance technology that focused on the aerodynamics of the game balls, the type of materials that imitate the behavior of the standard balls regarding their accuracy, their distance trajectory and the control you have over them. The cover is made of eco-friendly surlyn and the core is made of rubber making them appropriate for distance shots with a great strength without damaging your clubs, and even the driver can be used with these!
Cost and Value
Since these ones offer improved technology and better quality of the balls in terms of used materials and their softer but improved performance, they have a higher price tag than the usual ones.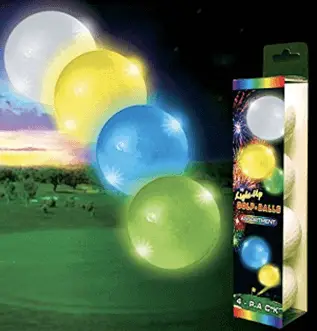 These balls are known as 'retrigger' since they are constantly activated once they sense hit or movement every ten minutes. If you want to add some variety to your golf game these could do the job since they come in a package of four different colors. These feature mechanism that retriggers the lights in the ball every time it senses motion.
Read more
Features
These are LED type balls that feature very bright light when they are activated and will keep the constant shade of light for about 8 to 10 minutes. They can be constantly illuminated if they are triggered every 10 minutes. When it comes to quality of the balls since they are LED balls, they are a bit heavier and do not project the trajectory as the ordinary balls would do, so you might not have the same desired game quality as you might expect.
The Technology Behind
We have already talked about this kind of balls that feature2 LED lights inside. In addition to the light, there is a mechanism that triggers the light to be activated upon a hit. That mechanism is sensitive, so the manufacturer guarantees that these balls won't malfunction as with some other LED balls that have problems being activated.
Cost and Value
These balls are being sold as tournament golf balls and are designed with the professional golfer in mind. Due to their two internal sealed LED lights, they come with a price that is a bit higher than the average price for a night ball. You can find them in several packaging options and in different colors too. There are many satisfied customers who claim that these are very well made, however, there are also claims about malfunctions.

Subscribe to our Newsletter