Best Multisport Watch
In a
Hurry? Editors choice: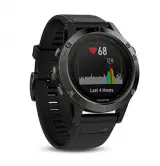 Test Winner: Garmin Fenix Sapphire

Sports watches nowadays can't even be closely compared with the watches from the past in the same way as we can't compare the cellphones from the past with those of today. The technology is rapidly advancing and with it, the devices and gadgets that we use.
From measuring the time,
sports watches
performed a quantum leap to develop into devices that integrate
GPS technology
to measure distance, heart rate, elevations, altitude, swinging speed, inclinations; they are trail and map trackers, they inform you about your overall performance, health status, they are the watchdogs of your body health. There are even special golf watches that provide you with swing speed readings, inclinations, hazards, scorecard, and social sharing.
From those that come preloaded with worldwide golf maps to the ones that integrate music and entertainment, we have selected the best multi-featuring ones.
Standout Picks
Criteria Used for Evaluation
Versatility
The more versatile the watch is the greater sports modes and more detailed tracking it delivers.
Versatility can refer to many things and usually, this criterion needs clarification when it comes to these products. What we included under this criterion is the possibility of the devices to track multiple sports and to distinguish various sports modes. Those products that have the highest scoring within this criterion are able to provide deliver readings for a wide range of sports, including golf. Golf is the most specific sport for tracking and it requires special settings and metrics, such as course maps, hazards notifications, swing speed analysis, rangefinders and so forth. So no wonder, that the best ones are those who provide these features.
Advanced Features
Tech-savvy athletes get the most of these products to enhance their performance.
There are so many features that these devices offer to the buyers to make their daily and sporting life easier and more effective and increase their performance. Besides the standard fitness reading that we considered as a must for a device of this type such as step, distance and calorie count, we also looked for more sophisticated characteristics that these wearable devices make them unique and peculiar. So, here we considered built-in GPS, Bluetooth and Wi-Fi enabled option for synchronization with the smartphones. Heart-rate monitor, ability to download and make use of applications was also considered to be a great plus. That especially counts for those watches that don't have a golf mode and which have the capacity to provide readings after the app is downloaded. Among the other features, we also valued not only the ability to receive notifications but also the ability to answer calls and respond to messages. As music is nowadays an integral part of all workouts, we valued highly those products that offer music download or synchronization with music apps.
Durability
High-quality materials and long-lasting battery life are the key factors that make the product highly functional.
There are two factors that were closely looked at when it comes to durability.
Firstly, it was the overall quality of the product and its resistance to external factors. The materials used in their production are the ones that add to the durability, so those made of stainless steel or strong aluminum casing and Corning Gorilla Glass are thought to be highly durable and shatterproof.
The other factor when it comes to durability is the battery life since it determines the way these wrist wears are worn. The longer the battery life, the greater reliability, and hence better performance. The maximum battery life we can see in a wristwear is around 30 days when GPS and the smart functions are off or max 5 days when all functions are on.
Ease of Use
Some people find these products very difficult to operate and too complicated to go through all their functions. The latest generations of these products see improved navigation so that buyers get maximum from it. Some of them are exclusively touch screen navigation, some feature buttons for larger control. Having both ways to navigate the device is considered the best and therefore, we scored the highest.
Watch Face
As a matter of fact not only did we value the face, but the general design within this criterion. To start with the size of the screen first, larger ones seem to be more preferred by customers because of the greater visibility and more detailed information displayed per selection. Customization and adjustability of personal dials and faces makes the device look more individual and personalized, so the higher the possibility for customization, the better
Top 10 Picks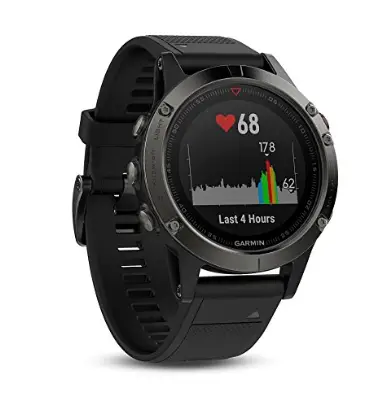 We represent the gem of Garmin, as some people tend to call it, the watch that has received multiple awards and the recognition of being the best in its class. Coming from the company that is a leader in GPS tracking and manufacturing similar devices for the military, vehicles and the army, there's no doubt that this device is of a high-quality. In addition to the quality it has, there are multiple features that you can find there and which you would have never thought that you'd find them in just a watch. Well, in case you still don't know what Fenix 5 Sapphire boasts about, read below to get yourself amazed.
Read more
Features
What can Fenix Sapphire do? Shortly said many things. It can track your progress in almost all sports because it has built-in activity profiles which track your performance and health stats. It keeps track of your heart rate without wearing a chest strap through Elevate wrist heart rate technology. Plus, it can provide information related to calorie loss, it counts your steps and monitors your sleep. The VO2 max estimator calculates the volume of oxygen you can consume per minute. You can synchronize it with your smart devices and automatically send data of your progress through the Garmin app and you can download customization for your phone from Garmin Connect IQ store.
Sports
As you know, the first sports watches featured only the basic functions and displayed measurements for running such as steps counting and distance, however, Garmin goes much beyond that and features performance condition, cadence, aerobic and anaerobic readouts, running speed, beats per minutes and many more. Other sports profiles include swimming, golfing, paddle sports, skiing, rowing. Since we are particularly interested in golf, it allows you to measure yardage, download courses, auto shot detection, auto measure, swing speed and so on.
Design
Fenix series comes in several models and sizes so that the device can fit your wrist. It features a rugged design with stainless steel bezel, five buttons on the sides for better control and a rear case. The display has bright LED Chroma high-resolution and it is easily visible even on the brightest sun. The lens is scratch resistant and it is Wi-Fi enabled for direct sharing of your uploads.
Cost and Value
It is impossible to include all the features and the possibilities it provides, however, that pleasure is left to you if you decide to swallow the hefty price tag. This is one of the most technologically advanced wrist devices, so even though it is awfully expensive, it is worth the money.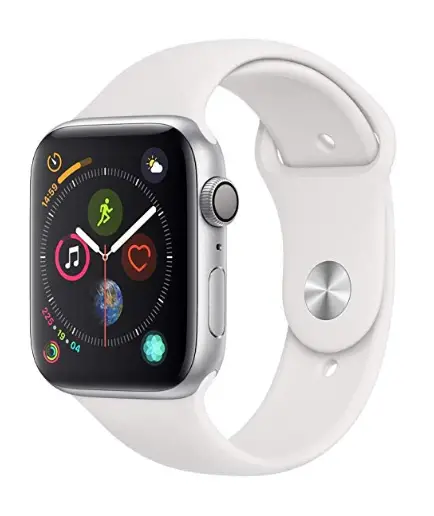 Apple has been impressively innovative within the last few years when it comes to the design of its devices and in this model that belongs to the 4th generation, it can be seen the futuristic perspective they have had. Redesigned and engineered to meet the needs of the contemporary busy and active life, it provides you with your overall health status, connects with your smartphone, takes care of your well-being and much more. Read below to find out more.
Read more
Features
As Apple has realized the importance of having reliable and super precise heart-rate readings, they re-engineered their Digital Crown with haptic feedback that delivers mechanical feel while you operate with it. It has dual heart sensors, optical and Apple-designed electrical one which allows you to take ECG and share it with your doctor by placing your finger on the Digital Crown. Plus, it has tons of health features, fall detection and initiation of an emergency call in case you are immobile, resting and active heart rate, and even irregular or low heart rate.
Sports
It provides readings for a wide range of sports and tracks for an additional number of workouts compared to previous Series 3. It displays five metrics at once and it tracks all your preferred ways to train. Plus it has gyroscope and accelerometer that are able to sample various motion data to incredible eight times faster and fast GPS tracking. So, from cycling to snowboarding and even tracking golf performance, you can have everything at hand's reach. Plus, it delivers personalized coaching and guidance through your workouts.
Design
The greatest changes have been made in the design compared to its predecessor. Even though it retains the original, recognizable design but it is 30% larger and sleeker and looks absolutely sophisticated and futuristic. The display is seamlessly integrated into the case. It shows more detailed and graphic information. There are two sizes you can choose from, three aluminum finishes-space gray, silver and gold and gold stainless steel and interchangeable bands.
Cost and Value
As we have said this for many other products here on the list, it is equally impossible to write about all the features that Series 4 offers. What we can shortly say is that this is one of the most advanced, sophisticated and ultra-modern watches that you'll currently find on the market. It is the watch that will change the concept of living and therefore, despite being very expensive, it is worth the money.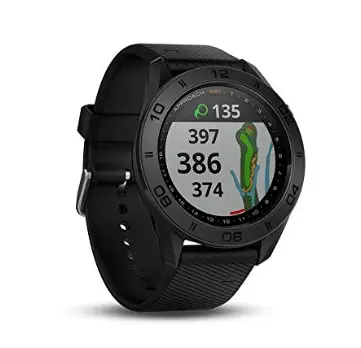 Even though this wearable has been designed especially to appeal to golfers, it is also appropriate for tracking multiple sports activities and workouts. It traditional but elegant design and the ability to interchange the bands makes it fit into every occasion, from the golf course to a highly formal event. It is a wearable that informs you about your fitness level, heart-rate, the level of oxygen, the overall health system, weather alert, smart notifications and much more.
Read more
Features
This wearable device is a real dream come true for golfers. Packed with 40,000 full-color golf course maps that show detailed information regarding yardages, holes, and hazards, all of them updated in real time. The players can analyze their game when it finishes with the help of Auto-shot feature can detect shots and then log them into the system. Plus, you can measure the distance to the holes, practice pin measurement, analyze swing speed and club path angles. In addition to this, you can synchronize it with your smartphone and get instant notifications too.
Sports
Besides golf and the attention it has given to provide ultimate golf tracking, this wearable is able to provide complete readings for other sports too. You will find profiles for running, skiing, snowboarding, stand up paddleboarding, rowing and cycling.
Design
It is a classy and stylish wearable. Special attention has been given to the possibility to exchange bands made of leather, silicone and stainless steel and make it an appropriate wearable for every occasion. It features three main color touch screens which are bright and easy to read even on the brightest sun and there are three buttons on the side that makes navigation easier.
Cost and Value
Despite being pricey, this have-it-all wearable device will take your training and golfing days to a higher level of experience. From complete color golf maps, GPS tracking and success tracking to overall health status and smart notification, you can enjoy keeping a record of everything you have done. So, for what it offers and the quality of its make, this device is a good value for the money.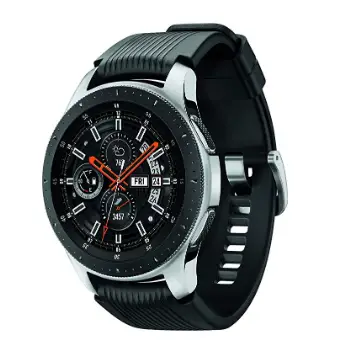 What can one expect from the leader in smart technology? Probably thousand of things popped up in your head right now, and most certainly you are right. This health-tracker smart device will provide you with the data of your body rhythm and heart-rate coming from your wrist 24/7 and will be your daily companion. With a solid battery life and performance and functionality typical for Samsung, you can rely on your performance and well-being on it. Compatible with both iOS and Android, you can synchronize it with your smartphone and get an instant reading for social share. Plus, get all the notifications instantly on it and download apps for a better experience.
Read more
Features
In addition to having all the data through the Bluetooth connection with your smartphone, it has the ability to track your heart-rate, sleep cycle, calories count, it reminds you to keep moving and has an integrated guide for meditation and breathing exercises when your stress level rises. The endurance it has is impressive since it has been made with Corning Gorilla Glass DX+ which prevents it from scratches, impacts and drops, extreme temperatures and dust, low and high pressure and it is also waterproof.
Sports
Because of the advanced sensors and the GPS technology used in this device, it automatically tracks the activities, detects when you switch to different activities and monitors the heart rate. It has the capacity to automatically track up to six workouts and manually up to 40. So, from cycling, inside and outside running, swimming to inside fitness workouts and weight lifting, this watch will have it all for you.
Design
It has a very thoughtful design which comes in two sizes in three different colors so that it fits your size and your style. It offers a bunch of stylish faces and you can choose from the many replaceable bands that Samsung offers. The display is 1.3 inches wide and it has a SAMOLED display which can be easily read even at the brightest sunshine.
Cost and Value
When you buy a Samsung watch, you don't just buy the device itself, but you get much more beyond the product. You get a product with reliable quality, customer service, and maintenance service. You get the possibility to have it connected with all electronic devices, proven quality, much more power, and storage. However, impeccable quality and performance come with a hefty price tag, which means that it claims status and luxury above all.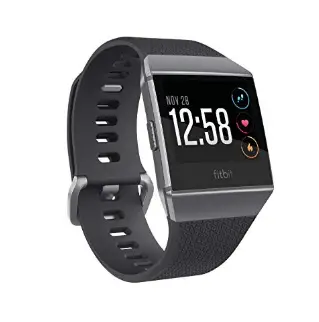 If you are looking for a large wearable that will definitely not go unnoticed, Fitbit is the one that will make the impression. Large but elegant it is a watch that has a lot to say. It tracks multiple sports, it optimizes your training sessions and the personal trainer feature allows you to get most of it while training. You'll be entertained too since music is part of it.
Read more
Features
This smart wearable is made to make your training big and important by displaying on the screen everything you have done so far and instructing you what to do. From the personalized Fitbit Coach with video workouts and tracking, you'll have it all. The built-in GPS provides distance, speed, and location tracking and the SmartTrack feature automatically recognizes the exercises so you don't have to preselect them. You can use the personalized dashboard so that it reminds you about your goals and provides you with an insight on how to do them. In addition to this, you can listen to music by downloading 300+ songs, make a payment, have weather reports displayed, and much more.
Sports
Many athletes rely on their heart rate rhythm to adapt the intensity of the exercise on it, so Pure Pulse provides accurate heart rate tracking for better performance, calorie burn, and health. The are many sport modes which track specific workouts with stats in real time and the function SmartTrack automatically records the exercises for you. Amon the sports you can track are running, tennis, cycling, yoga, swimming and many more. Plus, you can get exclusive workouts right on your screen from Adidas.
Design
The stylish and sizable screen will never go unnoticed with its sleek design and faces that can be customized in accordance with your mood. You can download apps from the Fitbit App Gallery right on your phone. The case and the frame are made from silver gray aluminum with a two-toned silicone band which is very remarkable and unique.
Cost and Value
This an excellent watch supported by Adidas training workouts which will provide a new experience in your training sessions. With its multiple functions and storage, GPS tracking, smart notifications, and the big and sleek design, it stands in the same line with the leaders in wearables. What makes it stand out is half the price it has compared to the top-piers, so it is an excellent value for the money.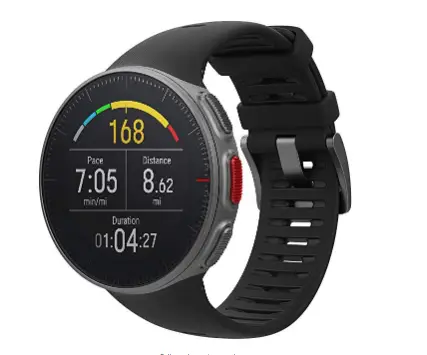 When we talk about devices of this kind, each of them has a specific property that makes them unique and recognizable among the others. This is a high-end watch, it is among those few that can boast featuring all the bells and whistles. But, what makes it different? Well, just a few can boast long battery life when the GPS is on, but this one holds the throne of having the capacity of 40 incredible hours of training time when the GPS is active. What else? There are so many things to talk about, so read below to find out.
Read more
Features
Besides the impressive battery life, this ultimate waterproof companion is made to endure long underwater training. As it is expected from a premium device, it features the most accurate wrist-based heart rate tracking even when the conditions are extreme. Made with the professionalists in mind, it features Recovery Pro mode which provides you with information of how recovered your body is and it also tracks the intensity of your sessions. Plus, you can quantify the intensity of the training strains for different parts of the body.
Sports
Do you know what else is amazing about this device? It supports more than 130 different sports profiles. When you choose your favorite activity you can add it in Polar Flow. This app works with the device and automatically synchronizes your performance, preferences, progress, and data and it works for Android and iOS. Plus it audibly guides you towards the selected training mode. Also, you can share all your progress on the social sites directly from the app.
Design
When it comes to the design, there are three color and models selections to customize with your style. There are three buttons that control the setup and customization and super visible display that can easily be read during the brightest sunlight. The only problem occurs when it is dark since it doesn't have an integrated LED light to enlighten it.
Cost and Value
It can be easily argued that premium products often deliver a premium experience for a premium price. However, the question is still hovering: 'Is it worth it?' The opinion of the buyers is somehow divided. While they all agree that it is a device with superb quality and performance, many argue that it lacks some tiny, but functional details like music storage, notifications or Bluetooth connectivity, to justify the incredibly high price it has.

7

. Fossil Gen 4 Explorist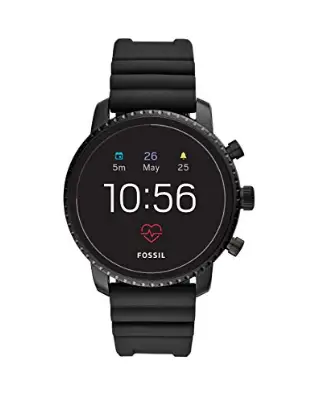 Coming from one of the most prominent watch manufacturers, Gen 4 Explorist comes packed with the latest software improvements and sleek design to conquer those who embrace traditional quality and premium design. As watches are no longer just watches, Fossil very quickly adapted to the current trend to offer multiple sports tracking, smartphone connection and notifications, performance monitoring and heart-rate monitoring. And, there's some more, too! Read below to find out.
Read more
Features
Explorist is the most features-packed wrist device that comes from Fossil, designed to bring convenience to improved performance. It boasts untethered GPS (standalone) tracking via Google Fit, or some third-party fitness apps without bringing your phone in your proximity. It maps and tracks your location and distance. It can download music from the apps, monitor your heart rate, it is waterproof and damage resistant. When synchronized with your phone you get instant notifications and make instant payment via Google Pay.
Sports
The untethered GPS is capable to provide accurate data readings on your walking steps, hikes, bike rides, runs, swimming cycles and so on. It also features altimeter, gyroscope, accelerometer, and the designers of Fossil paid special attention to the precision of the heart-rate metrics. This means you can use it for obtaining many sports tracking data such as cycling, indoors and outdoors running, swimming, hiking, climbing, aerobics, yoga and so forth.
Design
Fossil remained faithful to its design and in Explorist we can see the recognizable classic elegance appropriate for every event. The size of the screen is 1.4 inches, the casing is made from stainless steel and the glass is made from tempered glass. The straps are made of silicone and they are interchangeable. The touchscreen display is bright and crisp, and readable even at the brightest sun. The faces are customizable and you can create your own dial with your favorite Instagram and Facebook photos.
Cost and Value
For those who look for a multifunctional watch with elegance and style, and packed with the latest technological advancements, Fossil did a great job with Gen 4 Explorist. Surprisingly, for what it offers and where it comes from, it isn't heavily overpriced, so you can have it for half the price of many similar watches.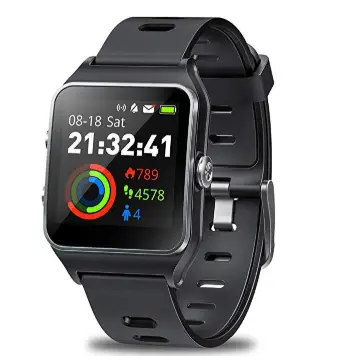 Imagine you had a personal assistant with you all that time that would remind you of your forthcoming tasks, meetings and important events, and that would take care of your well-being and your healthy-lifestyle gently informing you when you need to be active, wake up, work out. Imagine you had a personal doctor with all the equipment that one might need and constantly tracked your health status and heart rate. And above all, what if you had a personal trainer that would tailor the training sessions just for you, in accordance with your body readiness. Too good to be true? Read below to get convinced!
Read more
Features
If you are still imagining things, it is time to face reality. Dr. Viva is more than a personal assistant, a doctor and a trainer. It is a watch that once it lands on your wrist, it gets to know your body better than you have ever known yourself. With the 5 heart rate zones inside, it provides a very accurate reading of your heart status and performance level. There are 7 running modes, from free running to endurance and fat burning. It connects and pairs with other smart devices through Bluetooth so that you get the most important notifications without constantly looking at your mobile. In addition to this, it comes equipped with a timer, a compass, a stopwatch, 27/4 activity/sleep tracking, and fatigue detector. GPS tracking and positioning is fast and reliable and carried out through GLONESS and GPS technology.
Sports
The device comes with 17 built-in professional sports modes which provide you with the correct reading and the metrics of the chosen selection. It reads swimming data and has an IP68 waterproof rating. It has the capacity to recognize the specific type of sport and pre-adjust itself on it. Plus it monitors your heart rate and fatigue level and warns you in case it detects an abnormality. The GPS into the device can synchronize pace, routine, moving time, distance, elevation gain, calories and so forth.
Design
Not only is this watch ultrasmart and functional, but it also looks good. The metal frame features color touch screen display which can have several interfaces. The straps are thus positioned so that you can effortlessly replace them with new ones when you decide to customize it with your style.
Cost and Value
While writing about this watch, we came to the realization that it is almost impossible to pack into this limited-number-of-words article all those features that this device has. The only thing to get to know Dr. Viva in details is to buy and explore it in details. For what it does, the price is more than affordable, and according to some buyers, it is the best value for the money.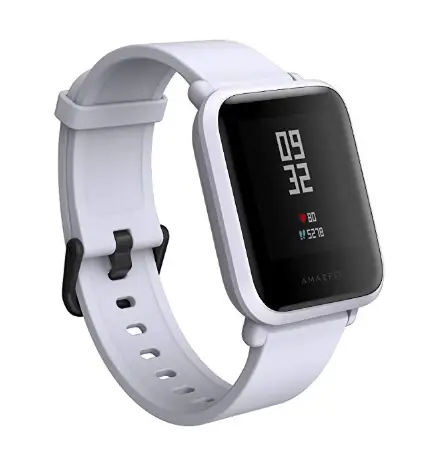 If your budget is tight, but you still need a good sports watch that will track the performance of several sports that you frequently engage into, you can consider Amazfit which costs only a fraction of the price the big name-brands have. It comes with a range of colors and options to fit everyone's style and incredible sports tracking performance, Amazfit has impressed thousands of buyers, so take a close look at its features to find out more.
Read more
Features
Packed with a decent number of features and tracking necessities, the Amazfit Bip is one of those wearable devices that provide you with the crucial readings for better performance. It has an incredible battery life of 30 days, it tracks your progress, routes, and speed via GPS and GLONASS and it is a real-time activity tracker. You can freely wear it all the time since it is water resistant and dustproof. It connects with your phone via Bluetooth to get instant notifications, you get weather report with it and it has integrated sleep quality monitor.
Sports
This device tracks the least number of sports activities and workouts, i.e. there are four sports modes for tracking for cycling, running, weight lifting, treadmill and walking. It features automatic activity tracking which includes steps count, distance and calories. You can also set a daily goal achievement which helps you get it through. The optical heart rate monitor provides you with accurate data regarding your well being and the intensity of the exercises. For more accurate data, it has a barometer, a geomagnetic sensor, and 3-axis accelerometer.
Design
The style and the design are classy and it looks slim, sleek and modern. It is also very lightweight and comes in several colors to choose from. The display is always on, it is bright and you can easily read it on direct sunlight and it offers five levels of brightness adjustability. It is a touch color LCD screen which is very neatly integrated into the whole casing made from scratch resistant Corning Gorilla Glass. The bands are made from silicone and they can be replaced.
Cost and Value
For those that are tight on their budget, those who appreciate good quality for low price, this watch will find its perfect place on their wrists. It is a great watch for a super affordable price and plus it offers 30-days money back guarantee in case it fails your expectations and one-year standard guarantee.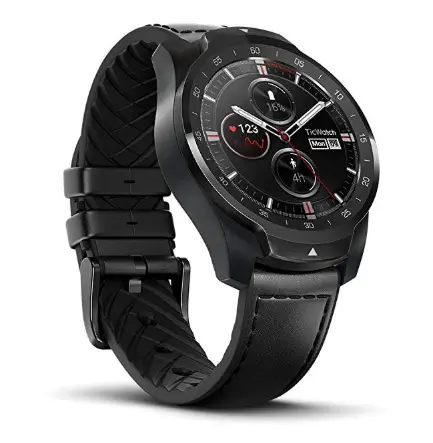 Have you ever wished to have your smartphone in a much smaller version? Yes, we are all impressed by the size of the smartphones, but there are certain occasions that we just need to resize them in a tiny version. Wish no more, since this watch is here to perform the function of your smartphone with all-integrated sports tracking system and heart rate monitor. The GPS will track your position and distance, all that synchronized with Google since Google Assistant is here to guide you. Already impressed? Wait, we haven't got there yet!
Read more
Features
As the battery life is the base for smoothly using any battery supported device, no wonder that the accent is put on its duration. It has two modes, Smart and Essential, which you can switch between, in accordance with your needs. The smart mode drains your battery and staying solely on smart mode provides you with 2 days of use, while essential mode offers 30 days of continuous use. There's a possibility for auto-switching to Essential mode and that provides you with 5 days of continuous use. In Smart Mode, you can use the Google Assistant, download apps from Play Store and make use of all the health and fitness tracking. It provides GPS tracking, speed and cadence monitor, step counter, burned calories count, heart-rate monitor, and so forth. The Essential mode displays basic info, plus heart rate and step counter. What's more, you can use Google Pay to purchase directly from your watch.
Sports
As everything else is modern and advanced in this device, its health and tracking system is sophisticated too. It comes with sensors and innovative AI algorithms that provide a variety of tracking functions to deliver the most accurate metrics for six different sports from swimming and cycling to indoor and outdoor running. All your fitness data can be monitored via the fitness apps such as Strava, Google Fit, Runkeeper and so forth. And, as if that's not enough, there's the possibility to stream music while you are on the run.
Design
One more reason for the popularity of this device is the award-winning design. It is made of stainless steel bezel and then covered with a carbon fiber body. The straps are made from leather breathable straps and via the apps, you can download thousands of different watch faces. There are two screens for the Smart and Essential Modes, the Smart mode features AMOLED screen while the Essential Mode has power saving FSTN LCD screen.
Cost and Value
This is an amazing watch by all means. It is smart, functional and it tracks your performance through GPS and the sensors that are integrated into its design. With its long-lasting performance and reliable function, it is going to be your dependable companion. The price is not cheap, but as some reviewers say, it is a good value for the money especially when you know that you can have your money back within 30 days period and there's 1-year warranty too.

Subscribe to our Newsletter