Best Multisport Watch
In a
Hurry? Editors choice: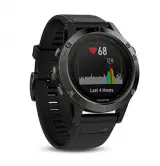 Test Winner: Garmin Fenix Sapphire

Sports watches nowadays can't even be closely compared with the watches from the past in the same way as we can't compare the cellphones from the past with those of today. The technology is rapidly advancing and with it, the devices and gadgets that we use.
From measuring the time,
sports watches
performed a quantum leap to develop into devices that integrate
GPS technology
to measure distance, heart rate, elevations, altitude, swinging speed, inclinations; they are trail and map trackers, they inform you about your overall performance, health status, they are the watchdogs of your body health. There are even special golf watches that provide you with swing speed readings, inclinations, hazards, scorecard, and social sharing.
From those that come preloaded with worldwide golf maps to the ones that integrate music and entertainment, we have selected the best multi-featuring ones.
Standout Picks
Criteria Used for Evaluation
Versatility
The more versatile the watch is the greater sports modes and more detailed tracking it delivers.
Versatility can refer to many things and usually, this criterion needs clarification when it comes to these products. What we included under this criterion is the possibility of the devices to track multiple sports and to distinguish various sports modes. Those products that have the highest scoring within this criterion are able to provide deliver readings for a wide range of sports, including golf. Golf is the most specific sport for tracking and it requires special settings and metrics, such as course maps, hazards notifications, swing speed analysis, rangefinders and so forth. So no wonder, that the best ones are those who provide these features.
Advanced Features
Tech-savvy athletes get the most of these products to enhance their performance.
There are so many features that these devices offer to the buyers to make their daily and sporting life easier and more effective and increase their performance. Besides the standard fitness reading that we considered as a must for a device of this type such as step, distance and calorie count, we also looked for more sophisticated characteristics that these wearable devices make them unique and peculiar. So, here we considered built-in GPS, Bluetooth and Wi-Fi enabled option for synchronization with the smartphones. Heart-rate monitor, ability to download and make use of applications was also considered to be a great plus. That especially counts for those watches that don't have a golf mode and which have the capacity to provide readings after the app is downloaded. Among the other features, we also valued not only the ability to receive notifications but also the ability to answer calls and respond to messages. As music is nowadays an integral part of all workouts, we valued highly those products that offer music download or synchronization with music apps.
Durability
High-quality materials and long-lasting battery life are the key factors that make the product highly functional.
There are two factors that were closely looked at when it comes to durability.
Firstly, it was the overall quality of the product and its resistance to external factors. The materials used in their production are the ones that add to the durability, so those made of stainless steel or strong aluminum casing and Corning Gorilla Glass are thought to be highly durable and shatterproof.
The other factor when it comes to durability is the battery life since it determines the way these wrist wears are worn. The longer the battery life, the greater reliability, and hence better performance. The maximum battery life we can see in a wristwear is around 30 days when GPS and the smart functions are off or max 5 days when all functions are on.
Ease of Use
Some people find these products very difficult to operate and too complicated to go through all their functions. The latest generations of these products see improved navigation so that buyers get maximum from it. Some of them are exclusively touch screen navigation, some feature buttons for larger control. Having both ways to navigate the device is considered the best and therefore, we scored the highest.
Watch Face
As a matter of fact not only did we value the face, but the general design within this criterion. To start with the size of the screen first, larger ones seem to be more preferred by customers because of the greater visibility and more detailed information displayed per selection. Customization and adjustability of personal dials and faces makes the device look more individual and personalized, so the higher the possibility for customization, the better
Subscribe to our Newsletter