10 Best Mizuno Irons Reviewed and Rated
last updated:
Aug 27, 2019
Did you know that Mizuno irons have more than a century-long tradition with the finest ever forging craftsmanship? Did you know that Mizuno irons are the most played brand on US PGA and European Tours boasting hundreds of victories? Most of the golfers are not even aware that most of the iron grooves are hand-made finished by their most renowned craftsman after they have been processed with the Grain Flow Forging Process.
The technologies that the company has developed are both innovative and breakthrough, and even though Mizuno rarely spends money on golfers' endorsements, you can't find a tour player that doesn't have at least one single Mizuno iron. The fact that Mizuno has decided to invest in R&D instead of paying sponsorships has resulted in offering the best irons in the world of golf.
Among the wide array of irons, we have selected the best ten.
This is the best product on our list that is currently in stock: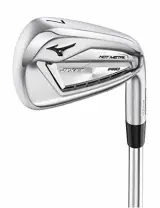 JPX919 Hot Metal Pro
Why is it better?
Stability Frame for enhanced launch and tour-level vibration/sound
Re-engineered sound ribs hit specific vibration patterns for a satisfying sound at impact
High strength Chromoly 4140M and seamless cup face construction
Pearl Brush Finish for extra durability and reduced glare
Beveled Trailing Edge for reduced turf drag
In a
Hurry? Editors choice: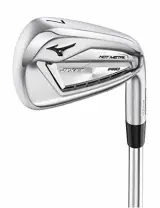 Test Winner: JPX919 Hot Metal Pro

24
Researched Sources
119
Reviews Considered
28
Hours Researching
34
Products Evaluated
Release Date
Advanced Features
Value
By Default
Top 10 Picks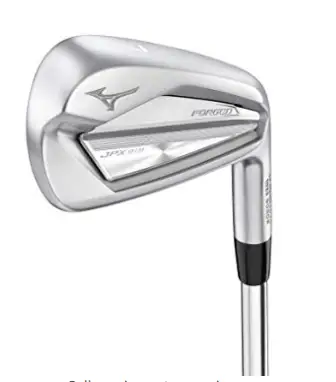 CNC milled from the sole up
Minimum face thickness for consistent ball speeds.
Enhanced grain flow forging process for solid, consistent, and soft feel
Stability Frame enhances launch position to produce a tour-level vibration/sound
Pearl Brush Finish for added durability and reduced glare
Not for high to mid handicappers
The last two upgrades of the JPX Forged line are currently some of the best midsize forged irons aimed to meet the needs of low to mid handicappers. This is Mizuno's best selling forged iron so far and the trend continues to move forward. What makes JPX919 Forged is the fact that it combines a forged head with some forgiveness and a much faster face compared to a normal forged iron thanks to back forging process and ultra-thin face.
Read more
Features
The same Boron Steel which is infused with the stronger metal is one of the key elements in the design of JPX919 Forged. It is 30% stronger than regular steel and that allows thinner face that can flex more and generate extra power and speed. Another peculiar feature is changing the cavity design by forging the head with a cut that goes through the sole in the bottom of the cavity. On top of it, there is welding on a cap that can hardly be seen because it is only 52mm long and only 5mm wide. The upgrade of the cavity design has led to a different sole grind that has more camber and almost no grind on the leading edge and just a bit on the trailing edge.
Performance
The design itself speaks compactness, which means smaller clubhead but more speed. Similar to the other models in the JPX919 range, 5g of weight have been relocated from the heel near the hosel to the toe of the head so that the MOI gets improved. This also positions the center of gravity closer to the center of the face which delivers more feel and improved sound. These irons might not be as forgiving as a mid handicapper would like them to be, however, they feel and sound great which is the key factor for improved performance for single-digit players. One thing that you are not likely to find in these irons is forgiveness, but if your handicap is low, these irons are a real challenge.
Cost and Value
These are high performing irons with cleaner styling, and what Mizuno's followers can notice is the absence of the name Mizuno for the first time in their irons to enhance the Runbird logo. The very characteristic forging process is dominant and they look stylish at the address. The price is on the high end, but no one would have expected less, as these are among the very best irons ever manufactured.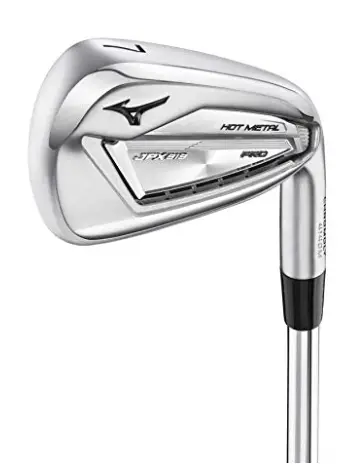 Stability Frame for enhanced launch and tour-level vibration/sound
Re-engineered sound ribs hit specific vibration patterns for a satisfying sound at impact
High strength Chromoly 4140M and seamless cup face construction
Pearl Brush Finish for extra durability and reduced glare
Beveled Trailing Edge for reduced turf drag
Suitable only for single-digit handicappers
The seemingly confusing, almost identical names of four fairly different performing set of irons that were released this year mark the supremacy of Mizuno in this field of iron clubs. JPX919 HotMetal Pro iron represents a more compact version of the Mizuno JPX919 Hot Metal iron which was launched within a time span of 6 months. The reason for launching JPX919 Hot Metal Pro iron comes as a reaction of better players who opted to shift to the Hot Metal irons. The JPX919 Hot Metal Pro features the identical compact head size which the Forged iron set has, with cast design. The Hot Metal Pro clubhead shares the same Chromoly 4140M steel alloy of chromium and molybdenum design which is also found in Hot Metal iron. This material is considerably stronger and means that the face is thinner which helps it generate additional ball speed.
Read more
Features
The clubheads of this model are cast rather than forged so that the engineers could create the Stability Frame structure, which represents a cut-through section in the heel that saves weight and improves the MOI. It also helps enhance the launch position with improved sound and feel. The Pro top line is a bit thinner at address with less offset compared to Hot Metal irons, and this makes the main difference between the two models. Designed like this, it resembles the style of the Forged head, with wider sole and topline, even though the trailing edge relief on the Pro performs a little narrower than the standard Hot Metal.
Performance
Many golf experts agree that the Hot Metal models generate more speed compared to the Forged ones. Their larger head created more forgiveness, but the Hot Metal Pro club heads are more compact with a smaller cavity which creates less spin so that the ball flies lower. Plus, the heads of the cast Hot Metals are firmer so that the ball is quickly released into the air with greater energy transfer which results in more speed and distance. This design is so well-made that offers incredible ball speed and maximum distance so that it can compete with most of the longest mid to low handicapper irons in the market. The sound and the feel they deliver is also of the most responsive you'll find thanks to the re-engineered sound ribs that hit specific vibration patterns.
Cost and Value
The JPX919 Hot Metal Pro is one of the rare iron sets that are particularly designed to meet the needs of single-figure golfers who look for maximized feedback from their irons and at the same time need distance-enhancement. They reflect Mizuno's perfected manufacturing process, and their competitive price has attracted the attention of many low handicap golfers.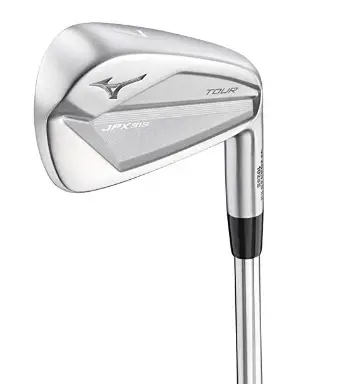 Stability Frame enhances the launch position and a tour-level vibration/sound
10% reduced top line compared to the previous model
Grain Flow Forged HD from 1025E Mild Carbon Steel
Chrome plating with a more durable pearl finish
When the JPX919 Tour iron was created, it was far from everything they have designed and specifically aimed at better players who had a more aggressive style than the perceived standard. Most of the specific JPX 919 proprietary technologies and design features can be seen here, such as Stability Frame, the Grain Flow Forged process and the Pearl Brush finish, however, there are differences that distinguish it as a tour iron. Designed with the feedback of some tour players such as Lucas Glover and Ross Fisher, and out-of-contract promoted by Brooks Koepka, it is the iron that has brought already some victories.
Read more
Features
As many tour players prefer, it features a 5 % wider sole and a thinner top line compared to its predecessor JPX900 Tour which helps golfers achieve more forgiveness, but that is not the key element that characterizes it. The forged head has been processed with the High Density or HD forging with the use of 1025 Elite Steel, which has been used in Mizuno MP-18 irons. With the grains positioned tightly in the steel, they certainly deliver more solid feel. The Stability Frame modifies the cavity back design and it also saves extra weight from the hosel and the heel area which is relocated to the toe so that the MOI is increased. This design positions the center of gravity closer to the center of the face which contributes to achieving a better feel.
Performance
JPX919 Tour is more feel and control iron rather than distance iron, so if you are looking for distance JPX919 Forged and Hot Metal have been designed to deliver speed and distance. The JPX919 Tour has been made for single-digit players who look for larger headed iron that offers a bit more forgiveness, but at the same time deliver lower spin and straighter flights. However, what they specifically stand out with is the extra spin they add to the short game and the control of each shot.
Cost and Value
If you are a player that seeks enhanced short game performance, larger clubhead and more speed, then the JPX919 Forged is a serious candidate for consideration. Since the feel is improved and it goes much further, it will certainly bring a variety in your performance. Since this is one of Mizuno irons that have been recently released, the price is on the higher end.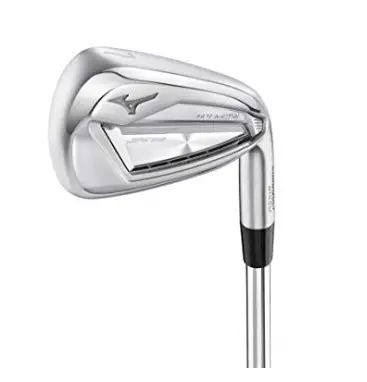 Made from the extra-strong Chromoly 4140M material with a bendable hosel
Stability frame with open heel section for superior launch stability
One Cup face geometry delivers seamless design
Multi-thickness face design for increased flex and bounce
Re-engineered sound ribs dampen vibrations and deliver better feel
Low handicappers should consider other Mizuno irons
If the design of the game improvement irons in the past were screaming 'game improvement', nowadays, many companies have decided to turn the page and design elegant, stylish and better-looking clubheads which will deliver more confidence to higher handicap players. But, the change hasn't been made only in their performance, but in the way, they perform too. Mizuno has been one of those companies that reorganized and reengineered the GI irons, bringing them to perfection, with the same elegance in their looks seen in their forged irons. JPX 919 is the model that combines the forgiveness of the cast cavity design and the feel and control found in forged irons.
Read more
Features
The JPX 919 Hot Metal features a cast metal head with plenty of technology which is not very common for cavity irons. These irons feature Variable Face Thickness technology which in combination with 360 Face Cup technology expands the sweet spot to produce longer and faster ball flights. The Piece Cupped Face Technology is responsible for the seamless face design which enhances its flexing effect at impact to release more energy transfer for greater speed. The redesigned sound ribs have been utilized to dampen vibrations and deliver better sound without affecting the COR or the speed.
Performance
The JPX 919 Hot Metal Mizuno irons continue where the JPX 900 Hot Metal irons stopped, having the design and the looks of the irons considerably modified. The open heel cavity section serves to relocate the weight to the toe from the bendable hosel. The effect is a higher launch angle and a steeper ball flight with more stopping power. The variable face thickness creates more bounce and maximizes ball speed. This weight distribution makes the MOI even more forgiving and helps golfers launch the ball higher.
Cost and Value
Many would agree that for mid to high handicappers there hasn't been a better compact iron set, and among Mizuno irons, these are the ones that deliver superior feel, speed, and accuracy within their range. In addition to being highly playable, they deliver a superior sound and the feel that matches even the forged clubs. Aesthetically perfected, the JPX919 Hot Metal is the most elegant GI irons with smart lines and perfected design. If you put together their playability, forgiveness and impressive design, you will come to the realization why the price point if on the higher end.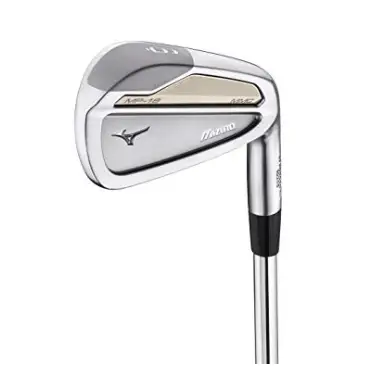 Multi-material construction comprised of carbon steel head, tungsten weight, and titanium
Designed for more control, consistency and piercing ball flight
Individually finished grinds by the best Mizuno's craftsman
Narrower topline, low heel profile and shorter blade length
CNC precision milling and densely concentrated grains
High to mid handicappers will find them challenging
Mizuno's been making irons for more than a century, developing and perfecting their forged and later on their blade-style irons. Even though you can hardly see a tour player sponsored by the company, you will definitely see most of them playing by at least one of their irons. OK, maybe Keith Mitchell would be one of them promoting the brand and that has been a nice strategy of drawing the attention to Mizuno's irons at least to non-tour players. The superior, muscle back design of the MP-18 model features a shorter length of the blade with head clubs passive design. The final grooving process is individually handcrafted by their best craftsman to add maximum attention to detail and assurance that every player will reach their potential.
Read more
Features
If you are looking for responsive irons that have been designed to appeal not only low handicappers but players who don't boast only single-digit handicap, the MP-18 multi-material design is said to deliver tour-like performance and playability. The use of three distinctive materials constitute the MP-18, i.e.1025E carbon steel for the head making it 6 times stronger than the standard stainless steel. The extra titanium grain adds enhanced feedback and precision, and together with the small amount of tungsten which is strategically positioned to add weight to predetermined locations of each iron number, make the launch highly optimized. The shorter blade with its lower heel profile, with the top line that is considerably narrower, optimize each iron to deliver for more control, accuracy, and distance.
Performance
Harmonic Impact Technology fine-tunes the clubhead of the irons to deliver more feel, better sound, and maximum feedback. The lofts and the offsets are adjustable which is a very smart way to enhance the performance of golfers who need particular customization. The progressive head design brings uniqueness seen in the speed of the long irons and the extreme feel and control of the short irons. And despite being designed for advanced players, the MP-18 offers more forgiveness than expected without sacrificing the speed which is certainly one plus more.
Cost and Value
Mizuno irons are considered superior in many aspects. From CNC precision milling and hand-perfected grooves to their superior, sophisticated technologies that enhance every aspect of the game and the carefully made finish, there's nothing you can't find. In addition to their stock offers, Mizuno is one of the rare companies that offer customization and multiple shaft replacements. Despite being a last year's model, they are still a very popular market offer for a high price tag.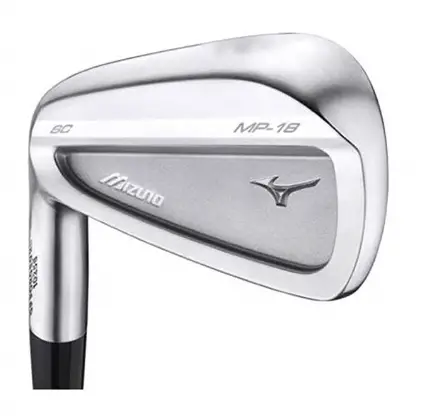 Forged iron with a split cavity design and peripheral weighting
Grain Flow Forged process for more spin and control
A wide, cambered sole and thin, tapered top line for better turf interaction
Extra feel and accuracy
Designed to meet the needs of better players
If you have noticed while reading this buying guide, Mizuno irons tend to meet the needs of better players and most of their designs comply within the demands of these players. The same goes for the MP-18 Split Cavity, which has been designed with the precious feedback of Mizuno's Tour staff. Basically, they asked for a modern and compact cavity set and this is what they got. With the wide, cambered sole and the thin, tapered top line and clubhead design that becomes progressively smaller in wedges, the whole set boasts playability at tour level. Of course, it wouldn't be a complete Mizuno iron if it wasn't for the Grain Flow Forged process that adds that extra feel that tour players are looking for.
Read more
Features
MP-18 SC is a forged iron with a split cavity iron that features peripheral weighting around the edge that delivers a bit more forgiveness at impact. The narrow sole design and the compact top line makes it look like a proper blade. The Grain Flow Forged process is what makes Mizuno dominant within this area, so you can expect a lot of spin and ball controllability.
Performance
When you play with the irons, at the address they look pretty compact, the shorter irons being more compact compared to the longer ones. This leads to more playability in the short game and more feedback with every shot. The long irons invite special dexterity to be able to play them well, but once you do, they open up a world of possibilities.
Cost and Value
Throughout all MP-18 family, the masterful design is more than obvious and it is what attracts tour players. The overall design makes them appealing and they invite better players. When it comes to their price, they come as a competitive pack that matches their quality.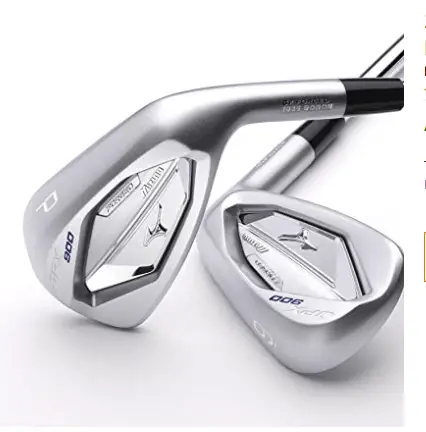 Boron infused steel makes the clubhead 30% stronger
Multi-thickness face delivers fastest ball speeds and larger sweet spot
CNC milled pocket cavity redistributes the weight for higher MOI
Shorter irons are reduced in size to deliver more precision and feel
Players with slower swing speeds might find them too difficult to handle.
Boron steel is Mizuno's signature which has started with the release of the JPX850 Forged model and, as you could see in their later models, it has been proven to be material that maximizes not only the strength of the face, but it allows to reduce its thickness and deliver faster speed. This material is one of the key factors that have made Mizuno's irons one of the fastest on the market. Mizuno JPX900 Forged continues what the JPX850 started and in its design, we see the stronger grain flowed 1025 Boron steel on a forged head.
Read more
Features
Compared with their predecessor, the greatest difference can be found in the variable face thickness, a design that now saves 21.5g of weight. This weight is relocated around the edges of the so-called PowerFrame chassis to elevate the MOI and make it more forgiving and resistant to twisting. With this model, users can already see the blend of forgiveness, feel, and style that appeals to low to mid handicappers. The cambered grind on the sole with a beveled trailing and leading edge glides easily through the turf. The CNC milled pocket cavity is extended in both ways so that the speed is maintained when golfers hit off-center.
Performance
These Mizuno irons have been designed to meet the needs of mid to low handicappers who mainly play with blades. Golfers can expect medium to high flight with a penetrating trajectory and decent landing spin which many better players find it more than satisfactory. With size reduction of the shorter irons, golfers can exhibit more control over the approaching shots. With this model, Mizuno offers a choice of shafts, while the standard offer comes with True Temper Project X LZ which comes in graphite and steel and which has exceptional performance.
Cost and Value
These Mizuno irons that were launched on the market about two years ago feature Mizuno's innovative way to deliver more speed through the thinner face and Baron steel, while at the same time to make them very responsive. They feature a combination of forgiveness, aesthetic appeal, and represent a perfect option for golfers who need a helping hand when it comes to irons made for better players.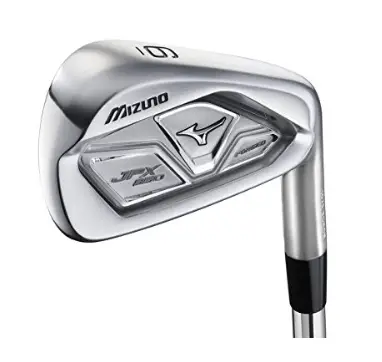 Sole grinds on the trailing and leading-edge
Boron infused steel which makes the clubhead 30% stronger
Thinner, more flexible and faster face
True Temper XP115 shaft
As many of you know, most of the releases are usually a continuation of a previous model, so Mizuno irons follow most of the pattern too and this model, JPX850 Forged irons, represent a continuation of the JPX825 Pro irons. These had been some of the highest-rated forged irons for mid to low handicappers, and the JPX850 was a decent upgrade too, which was also successful on the market. The shape is pretty similar to its predecessor, with weight redistributed round the edges for delivering more forgiveness, and with the chrome finish, it looks and plays very well.
Read more
Features
As we have mentioned before, the JPX850 Forged is the first Mizuno iron model that introduced the use of Boron within the steel, delivering 30% more strength, a formula that has proven highly functional in making the face thinner. Infusing boron in steel enabled the engineers to make the much thinner than what they had been until then, so having thinner face means more flex and consequently more speed. Having the face thinner means saving weight which is moved to the edges of the clubhead to increase the MOI so that the club is more forgiving. With the thinner top line and the bit of an offset which resembles the one found in blades, the design of JPX850 Forged looks sharper and more aesthetically appealing.
Performance
What golfers have found appealing in this model is the sound which is much more responsive and it doesn't sound hollow at delivers optimal feedback. The penetrating, long ball flight has a medium-height, but it does deliver more speed and distance. Another thing that can be seen even in the recent releases is the sole grinds on the trailing and leading edge that allow better turf interaction with a slightly narrower play. Mizuno has always been one of those companies that allow specific adjustability and customization, so, in addition to True Temper XP115 shaft, golfers can choose from other shaft models too. However, this shaft delivers excellent control and feel, being light enough to accelerate the clubhead speed.
Cost and Value
These Mizuno irons are still popular among golfers and it is not hard to figure out what is the reason for their popularity. The design, the materials and the technologies integrated are similar in a way of the latest releases, but these are sold for double less the price of the current premium models. So, if your budget prevents you from spending an arm and a leg on the top-class, latest irons, these are a decent substitute.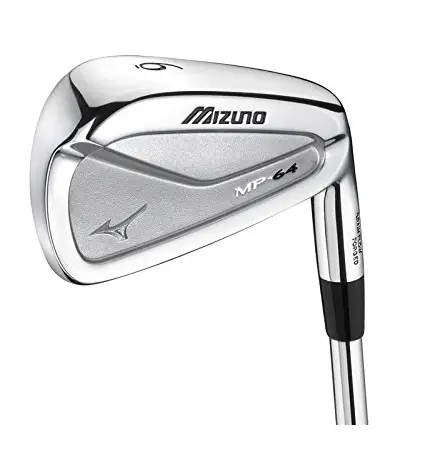 Flow forged irons designed for low handicap
Grain Flow Forged technology for obtaining the purest feel.
Thicker muscle pad behind the face for more feedback
Double nickel mirror chrome finish
Older model
Suitable for low handicappers only
Since this buying guide reviews some of the best Mizuno irons that have been released within the last ten years, and which can be still considered competitive with many of the current releases, we have taken the MP-64 as one of the best flow forged irons in the Mizuno's low handicap range. They were developed with the feedback of several Mizuno tour professionals among whom Luke Donald who was basically promoting them. Featuring a classic, muscle back design with a progressive cavity, they work like a blade with some forgiveness. The greatest performance features of MP-64 are feel, consistency, and superb playability.
Read more
Features
When you look at the double nickel mirror chrome finish of the MP-64, there's almost nothing that gives it away from its outdated release date. Even though the irons are made to appeal to low handicappers, they offer a bit more forgiveness compared to a traditional blade due to the extremely shallow cavity design. Featuring softer and edged sole shape, it guarantees smooth turf interaction and reduced drag. Each of the irons in the set is made from 1025E mild carbon steel, processed with the Grain Flow Forged technology for obtaining the purest feel. The cavity of the longer irons is deeper with slightly more forgiveness, while the depth of the cavity gets reduced as you go down to the wedges.
Performance
MP-64 iron has been designed to deliver the most solid and the softest feel possible with a considerable amount of control and playability. Wanting to provide golfers with more feedback, the Mizuno engineers designed a thicker, bulging muscle pad that stretches behind the wider area of the face. This is what delivers much smoother feel which can be related to some of the previous muscle-back irons.
Cost and Value
The MP-64 irons were released about seven years ago, however, it seems that they had been ahead of time with their design. Made to appeal to golfers with a single-digit handicap, they seem to be unbeatable in terms of control and feel. What is even better is the more affordable price tag that they feature now, and if these irons are your never fulfilled dream, now is the moment to make that dream come true.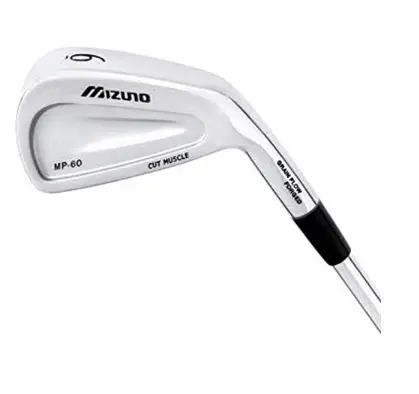 Cut-muscle design that offers forgiveness and playability
Half cavity design processed with the company's muscle back technology
Designed to deliver optimal performance and easier launch.
Engineered to appeal to mid to low handicap golfers
The Mizuno MP-60 iron has been engineered as the answer to golfers' demands to have Mizuno irons that will meet the needs of mid to low handicappers. Maybe you'll find this concept in the latest RTX919 Hot Metal, but when these irons were designed, such irons were an absolute rarity. They represent a combination of the usual clubhead size of the better players' and forgiveness that can be found in hybrids. This cut-muscle design has been one of the most played mid-range iron that is attractive even today.
Read more
Features
The design of these Mizuno irons looks like one of the hybrids, with more forgiveness and extra feel. Even though this is a cavity back iron, it has undergone the proprietary forging process and therefore it delivers much-enhanced feel. Actually, it is a unique clubhead design that represents a blend of half cavity processed with the company's muscle back technology for optimal performance, and easier launch.
Performance
Mizuno is a company that pays close attention to details and there has not been a single detail in the design of their irons which doesn't have a purpose. This is an exceptional set of irons which has been designed to deliver optimal playability without excessively "punishing" the off-center shots. They are neither the longest nor the most accurate Mizuno irons, however, they are certainly very playable and meet the needs of any average golfers. The narrow soles allow golfers to perform better on the greens by nipping the ball easily through the turf with much more feel and consistency.
Cost and Value
The reason why these Mizuno irons are still on the market is found in their playability and mid-range appeal since, statistically, most of the golfers belong within this criterion. It is one of those iron models that never go out of fashion, and which are reliable in their performance. The fact that they have been released on the market about a decade ago makes them very affordable and an excellent bargain.
Criteria Used for Evaluation


Release Date
The date when the model was launched plays an important role because it gives golfers input of when and how were the clubs made. Each release year is marked by a specific technology that is crucial for better performance and advanced playability.
We have mentioned before that Mizuno irons have a century-long tradition, so it wasn't easy for us to select the best ten, even though there are models that represent an upgrade of an existing previous generation. However, there are glowing new releases that integrate most of everything that Mizuno has brought on the market.
So, our selection includes the most prominent ten models that have the reputation of being the most playable and which enhance the game in every sense.


Value
When golfers decide to upgrade their clubs, it is the irons that usually cost the most, especially if you are looking to replace all the irons at once. Irons upgrade is usually a process that takes up plenty of time, especially if you have no intentions of replacing your irons after a couple of years. Therefore, golfers need to carefully consider their capabilities, the frequency they play golf, and their seriousness regarding the game.
Mizuno irons are intended to meet the needs of better players and those that intend to become such. They have been made with the most innovative technologies and the highest quality materials and they are not cheap. So, if you are investing in highly expensive Mizuno irons, you need to make sure that you'll be using those irons and that they match your style. Luckily, our list includes irons that have been released a few years ago and whose price has been significantly reduced, so these models are also excellent value for the money with a quality which is still on a high level.
Frequently Asked Questions
q:

What is the difference between Mizuno JPX919 and JPX900?

a:

JPX 900 is the predecessor of JPX919 and there are some differences that distinguish the previous model from the latest one. Among the differences, we'll mention the 10% thinner design of JPX919, Stability Frame with the open heel for more balance, new reversed milled face and CNC milling from the sole up.
q:

What is the difference between JPX919 Hot Metal and JPX919 Forged?

a:

Even though these irons belong to the same family, there are some differences that make them differ greatly. Hot Metal irons are distance irons and they are larger in size and this means they deliver more forgiveness which makes them suitable for golfers with a higher handicap. On the other hand, Forged irons have been made to enhance more feel and control, the clubhead is smaller and has been designed for better players.
q:

When was MP-60 released?

a:

MP-60 is a later model that was released ten years ago. However, its high quality and playability make it still very popular.
Subscribe to our Newsletter