10 Best Lob Wedges Reviewed and Rated for Quality
In a
Hurry? Editors choice: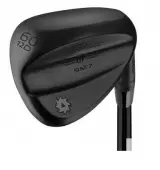 Test Winner: Titleist Vokey SM7

Many empirical studies have shown that as golfers approach the green and their short game, they become utterly baffled when it comes to choosing the right wedge. We are not talking about pro and tour players, but the majority of golfers-the average ones who are in the process of upgrading their golfing skills. If you are a golfer who belongs to this category, then you probably have been in the same
shoes.
For those with more advanced performance skills and better dexterity in handling the clubs, lob wedges become a necessity since they can help you produce a high arching shot, avoid a hazard, get away from a bunker or master a backspin. All in all, they are intended to help you master your performance, lower your handicap and get easier to the flagstick. Therefore, we have made a selection of the most recommended ones.
Standout Picks
Criteria Used for Evaluation
Effectiveness
If the club is able to deliver a high but short trajectory with immediate stopping power, we can say it has achieved the goal when it comes to lob-wedges.
As we are reviewing the 60-degrees lobs, it is important to know what to expect from them. These are specific clubs that are used for the purposes of the short game and have a specialized role in getting the ball high up into the air (hence the name 'lob') from where it will steeply fall down on the turf with almost no role, i.e., with immediate stopping power. Therefore, when we were analyzing the effect of these clubs, specifically scrutinized the golfers' comments in regard to 60- and 64-lofted clubs. Plus, we analyzed the bounce options that these clubs are sold with. So, we valued the highest those lobs that glide easily through the turf making shallower divots have a very steep trajectory and immediate stopping power. Of course, all that in accordance with reviewers and golfers comments.
Ease of Use
A good club can substantially increase the golfers' performance if it is made with alleviating features.
These types of clubs are not easy to use and you can hardly see a beginner using them, especially when it comes to lob-wedges. In order to be able to use them, golfers need certain dexterity and ability to produce the right squaring of the ball without digging too much into the turf. However, the club can substantially help the golfer if it features greater forgiveness, if it is toe-weighted more than centralized, and if it is shaped for greater versatility. Therefore, we carefully analyzed the specifics of the clubs and the golfers' comments in order to be able to draw a conclusion regarding this criterion.
Materials
Materials are directly responsible for the durability and performance of the clubs
The materials play a substantial role in regard to the performance of the clubs and they determine the quality and the duration of the clubs. What we look at the best ones are made of carbon steel, which exhibits higher durability and resilience to impacts. In addition to this, you could see that there some clubs that feature carbon steel finish, or satin chrome nickel finish, platinum chrome, and black metal finish. Many golfers prefer the black metal finish over the chrome because it doesn't reflect the glare during sunny days and it is often considered more elegant. The black metal finish has our first selection on the list, featuring Diamonized Black Metal finish.
Features
Features are the individual characteristics of each product which distinguish it from the others.
If you are a fan of our buying guides, you must have realized that features usually consist of those characteristics that each product has, in order to distinguish it from another. So they are highly valued and we tended to relate each characteristic with the specific cause of this review.
So, among the features that we took into account, we should mention the lofts and bounce which are crucial for these clubs and which are able to provide the desired effect without causing difficulties in using them or deep divots. Also, the variable roughness of the face and the CNC milled faces and grooves which deliver consistent spin and stable trajectory and the position of the center of gravity which provides greater forgiveness when it comes to full shots. The way of dealing with vibrations and the dampening effect contributes to better feel and improved sound, which can affect the golfers' performance, so it was considered too. And lastly, the use of any advanced technology which contributes towards better performance was also included. By scrutinizing these characteristics, we were able to come up with the final scoring that you can see next to this criterion of each product.
Value
When you get a high-quality product for a lower amount of money, it is called good value.
Golf is no longer a game reserved for the most financially and socially empowered class of people as it used to be. As a matter of fact, it has never been as popular as it is now, and many young children and adults take up golf not because it is a prestige but because it is fun, social and healthy game to play. It is true that most of the equipment you need for playing the game cost hundreds to thousands of dollars, however, there are also manufacturers which have launched equally good products for the fraction of the value, appealing to people who are on the lower side of the budget. In line with this, our list includes both, name-brands, clones and new companies that offer clubs with different qualities and different prices. The best value for the money a person gets when he/she gets a high-quality product for a lower amount of money.
Top 10 Picks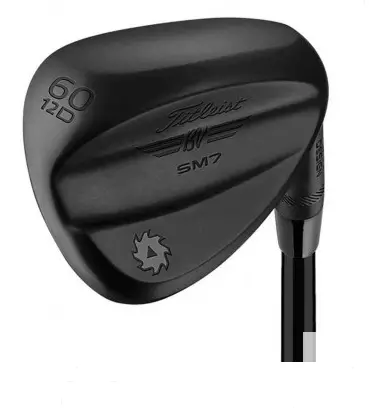 Among the best, we have the best lob wedge that in just two weeks gained the title #1 not in the ordinary field of golfing, but among the tour range. Made by the craftsman Bob Vokey, who was able to push the boundaries of tour clubs with his new Vokey SM7 Spin Milled wedges, claiming extraordinary 183 of them on a tour which is such an impressive number, this model deserves the status special. Featuring extreme versatility and unique spin milled process and grooves to each subcategory of lob wedges, they provide superior spin and control on all shots.
Read more
Features
The SM7 models are made to offer an increased level of versatility by improving the three areas of wedge performance, improved distance, expanded fitting options, trajectory control, and more spin achieved through the precisely tuned CG locations and tighter grooves. The center of gravity is lower in the lower lofts and gets progressively higher in the higher lofts so that more consistency is achieved. The Parallel Face Texture allows for unique groove design between the lofts, so the higher lofts (56-62) have wider and shallower grooves, while the lower lofts (56-62) have narrower and deeper grooves. This special edition features black metal finish with Dynamic Gold S200 Black Onyx shaft and the famous Bob Vokey grip.
Performance
There are three areas where players claim they found increased improvement: maximum spin, increased consistency, and control. The superior spin and the control on the shots allow for better performance and lower scoring. The starting idea of the designer was that every single golfer has unique needs and therefore the clubs should be able to match those needs by offering a greater variety for every type of shot and any type of player in any condition. Hence, golfers have the chance to select the club that suits their swing type, course condition and shot making style.
Cost and Value
Being among the most versatile and superior in every sense of the word, this tour players favorite club will deliver maximized indulgence into the game, even for the most difficult range of shots. The only thing that you might not like can be the fairly high price, but bearing in mind that this is a special edition, it comes as expected.

2

. Cobra King Black One Lenght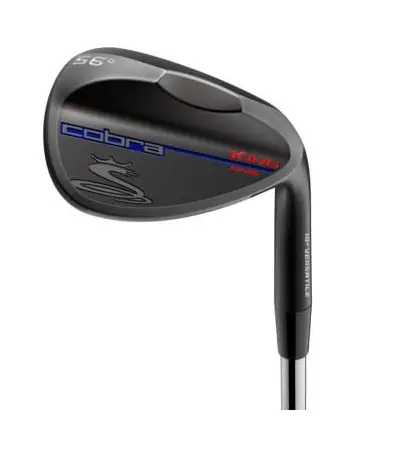 Cobra has revealed its most recent wedges, King Black and King Black One Length, including an exceedingly strong Dimonized Black Metal (DBM) finish. Built from 8620 Carbon Steel with DBM finish, this particular dark glossy satin look diffuses light and is less likely to show signs of wear and tear. Cobra states it lasts longer than some other dark finishes, however this finish they claim with bringing about durability, style, and confidence that you have one of the best lob wedges.
Read more
Design
To start with the grooves, they are made with the patented CNC milling process which makes sure that the spin performance is accurate and persistent. The heads feature Progressive Spin Technology that tunes the spin in accordance with the lofts, while the progressive groove constructions are shallower and wider on high-lofted wedges (56, 58, 60) and narrow with lighter space on the low-lofted ones (50, 52, 54). This results in optimized trajectories and spins in various conditions. The face features Variable Face Roughness for maximized roughness and depth up to USGA limits.
Performance
This model is available in three configurations of the sole grind so that it matches the course conditions and the golfers' performance skills. The versatile sole highlights a not-too-hard driving edge with heel and toe alleviation and a medium bounce (8-10*) to give increased flexibility and versatility of the shot on medium to firm turf conditions.
The head is a taller, muscle back structure which positions more mass behind the hitting area and damps vibrations for a delicate feel. The King Black Wedges additionally highlight Cobra Connect innovation, working with Arccos 360 portable application, to deliver golfers with details and information that allows them to track their performance and improve their scoring much faster.
Cost and Value
Many golfers are struggling when it comes to choosing the right wedge, so Cobra decided to simplify the things with this one size model that boasts versatility, simplicity, and consistency. When it comes to employing in one model all the bells and whistles, Cobra is the real winner, since they are the first that incorporates smart technology and smart performance tracking which contributes toward game improvement.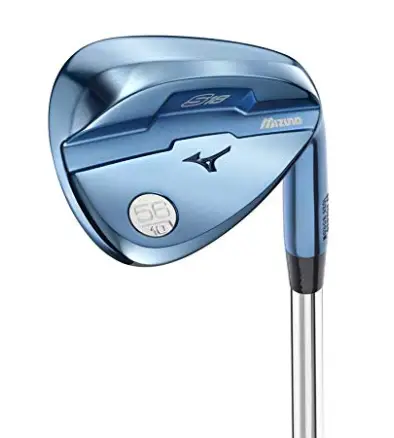 Mizuno's S18 has been made very thoroughly so that from the sole to the center of gravity you get optimization for every loft. It is the latest addition in Mizuno's family of performance wedges which features advanced positioning of the center of gravity. When it comes to higher lofts, the mass is displaced up the blade which delivers consistency in the spins when it comes to high strikes with more extreme lofts. It is a performance, specialist wedge which is capable of replacing from 46 -degree pitching wedge to 62-degree lob wedge.
Read more
Design
The clubhead is made from 1025 Boron which is carbon steel that has 30% more strength than the stainless steel. The lower lofts have a lower center of gravity because they are expected to be used for full swings, while in the higher lofts the CG moves up the club face, so lob wedges feature thicker blade. The face milling increases the roughness of the surface which increases the spin near the green and each loft has just one bounce option except for the 56- and 60-degree ones, each having two. When it comes to used technologies, the Harmonic Impact Technolgy allows for a very sophisticated head geometry which is capable of delivering great feel at impact.
Performance
According to experts, Muzino S18 is a well-performing club that delivers consistent shots with spin rates being in line with many other premium wedges. The sole offers increased forgiveness for a game enhancer club under various course conditions. The patented forging process delivered from Grain Flow technology, which allows the loft and the CG to flow throughout the set, guarantees continuously long grains which provide a solid, consistent and soft feel.
Cost and Value
The striking performance and the great feel are the features that mark this club. It is versatile and performs excellently under any condition. As we mentioned in the introduction, S18 is the latest addition to the Mizuno family and as we are aware, the latest means more expensive. Nevertheless, it is a lob wedge that is highly expected to meet your expectations.

4

. Callaway PM Grind 2019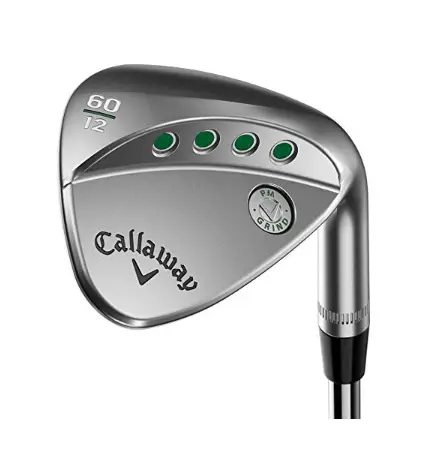 When two prominent figures like Phil Mickelson and Roger Cleveland get together to design a wedge, then the outcome is an exceptional club that performs three main essential shots. It can be perfect for knockdown shots which are low-flying and high-spinning shots that attack the pin. For short-pitched shots that bounce twice and then stop and the so-called 'phlop' shots that fly high, have a steep landing and then stop fast on the green.
Read more
Features
The technology Groove-in-Groove that Callaway introduced last year in Mack Daddy turned out to be highly successful in positioning four micro-positive ridges which are machined into the flat part of the face parallel to grooves creating contact with the ball in 84 points. This Groove-in-Groove testing increases the offset up to 12% more spin on lob shots. The hight toe is achieved by removing the weight from the sole and thus designed positions the CG in frontal position to deliver a lower trajectory. It comes in two finishes: Platinum Chrome and Tour Gray.
Performance
The increased offset and the higher toes result in crisp knockdown shots. The grip according to buyers is perfect, and, indeed, it features Lamkin UTX grip. The diversity in trajectories and the varieties in the shots it offers, make the swings effortless. So, whether it is low, spinning shots, medium, standard pitch shots that bounce twice and stop or high-lofted flop shafts that fly high and stop once the touch the green, you'll enjoy playing with it.
Cost and Value
As enjoyable as this lob wedge is, it is equally effective and playable too. It was launched about two months ago, but it soared in popularity once it was launched on the market. So, it shouldn't surprise the buyers that it comes in a fairly expensive price tag but with a good reason for that.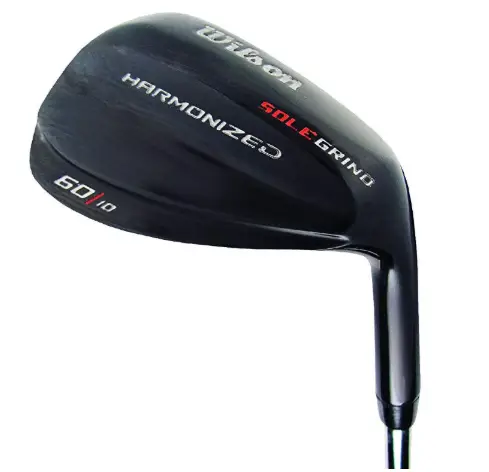 Even though this is an outdated model, it has been among the most praised ones that Wilson has offered. When it was first launched it featured an inventive sole construction which gave players more alternatives around the green. Great styling and unmatched value have made Harmonized wedges among the most sought on the market.
Read more
Features
The grooves are much more aggressive in this model and this component gives you a chance to get the most extreme spin that helps you boost your self-confidence. It features blade shape and it additionally offers an altered bounce angle to enhance the spin. It is very durable, made from stainless steel and the special sole grinds provide the players with different face angles to improve their performance. It comes in various lofts from 52A gap wedge to 56 sand wedge and 60A lob wedge, so it will make your game much more enjoyable and meaningful.
Performance
Buyers are the most relevant source of information and they provide detailed insight when it comes to the performance of the clubs. The glowing-five star rating and the impression of improved performance give a definite idea that they match the description that the designers from Wilson have provided. From the gap wedge that delivers long bunkers shots and chipping to sand wedge, they are more than praised. As the best lob wedge is our subject of discussion, it features high trajectory and very accurate shots with great stopping power.
Cost and Value
Among many features, the value it has makes it among the most selected options among golfers. Made to appeal to mid and low handicappers, it allows golfers to improve their spin and have more accurate shots with better acoustic performance, less vibration, and enhanced feel. Wilson Harmonized is an excellent value for the money.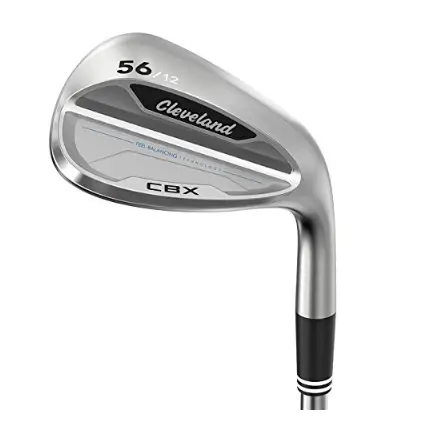 Many golfers are often perplexed when they get to the point of choosing the right club for their short game. However, many golf experts claim that it is mostly the wrong club that contributes to many fat shots than golfer's weak performance. As Cleveland has been crowned the best when it comes to wedges, the CBX comes as a confirmation that the company stands up to its reputation. According to many golf experts, it has been the most impressive wedge so far, and one of the smartest moves that the company could have made. It is made for most of the golfers and can replace all types of wedges. So, let's take a look at its features.
Read more
Features
The complete confusion and the lack of dexterity that most average golfers have comes from the fact that they often use cavity back irons that are more forgiving and then use a pro wedge for their short game. Hence, Cleveland made the CBX, the club that boasts extreme forgiveness and versatility because it can be lofted from 46 to 60 degrees and provide the effect of each short game club. Unlike many other blade ones, this is cavity back with wide dual V sole with two distinct zones that can glide through the turf easily with a wide range of short game shots.
Performance
This is the club that you'd most definitely love when approaching the short game. It is made to increase the performance without making you feel baffled what to do. Even though highly forgiving it provides tour level control and spin and it can help you hit closer shots and have lower scores. The greater forgiveness is achieved through redistribution of 76g mass from the center to the perimeter and into the sole which contributes towards better distance control on off-center hits and higher MOI. Three different technologies are used for maximum spin and face goes through a micro-milling process in two stages to increase the friction between the contact.
Cost and Value
This is one of those clubs that quickly become favorite among the golfers who can't boas low handicap which is more than 80% of the golfers out there. It is accurate, versatile with maximum forgiveness for better performance. According to many buyers, it truly matches the description and it is worth the money.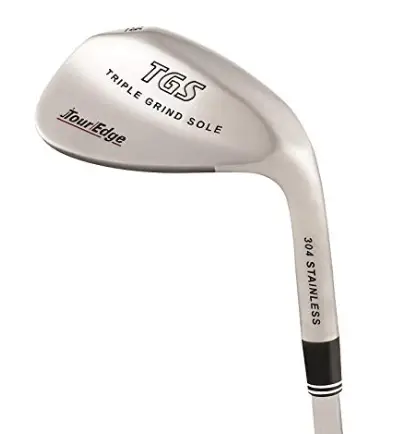 How do you know that you have achieved a considerable advancement in your golfing skill? That won't be difficult to deduce in are able to successfully square a bunker shot, right? However, sometimes it is the club that can either make things easier or more difficult. If you are an average golfer and need a bit of a booster when it comes to the right club, Tour Edge has launched a wedge that is perfect in producing high trajectory shots with extra stopping power.
Read more
Design
What this club boasts about is its versatility when it comes to workability in different playing conditions thanks to the Triple Grind Sole (TGS) which removes the bounce from the heel and the toe. The designers of the TGS have found a perfect way to dampen the vibrations and improve the feel by replacing the center of the steel flange with thermal plastic elastomer (TPE). This insert increases the weight on the heel and toe areas so that it delivers greater forgiveness and feel. Golfers can choose from two finishes, darker carbon steel or classic stainless steel.
Performance
This club features a versatile use and you can choose from low-lofted to high-lofted angles (from 50 to 60). The cast head in a classic pear shape and the maximum allowed CNC milled grooves allow easier squaring of the ball and extraordinary performance. According to the golfers who use this lob wedge, they have seen an improved trajectory and instant stopping power. It is as efficient for mid handicappers as it is for low handicappers, so you get a better consistency and control over your shots.
Cost and Value
According to many buyers, if you want improved and consistent performance in your short game, then these are the clubs you should stick to. Plus, they are a good value for the money and some even say that they are underpriced when you compare their overall quality with the price tag they have and the fact that they come with a lifetime warranty and 30-day play guarantee.

8

. Taylor Made Milled Grind 2018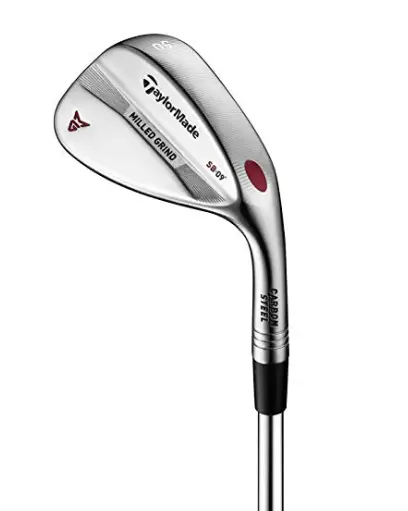 You might have got surprised that we have included Taylor Made in the list of the best wedges since the company doesn't have the reputation of providing good offers when it comes to this category of clubs, however, Milled Grind shows another, unknown aspects of company's latest technological innovations and according to experts, deserves to be on the list. How does Milled Grind make a difference? Read below to find out more.
Read more
Features
Leaving behind the classical hand grinding, Taylor Made turned to precise Machine-milling and grinding which leaves no chances to discrepancy from one to another head and better consistency when it comes the head shape and the way the sole interacts with the turf. What makes Milled Grind stand out from its previous predecessors is the milled grind found on the sole and the bounce. The leading edge can be easily seen from the address, promoting consistent turf interaction. Through the Precision Weight Port which is filled with soft red polymer, 10 g of weighing is moved from the hosel for obtaining optimal CG which is thus capable to provide increased spin rate and a lower launch angle.
Performance
Due to its centralized CG, the toe feels a bit heavy and that makes the off-center hits more forgiving allowing golfers to have greater control over the trajectory even if there's a twisting. It provides three different grinds and five bounce angles which are chosen depending on the turf that you'll be playing.
Cost and Value
These are perfect, sharp, and wonderful looking wedges, very meager, with decent and straight driving edges, which should engage most players (the individuals who have been playing for some time, at any rate). One thing you should focus on when purchasing the TaylorMade is the way that they will in general play a bit lower than their bounce number would propose. When it comes to the price, these are not cheap, as they match the quality they provide.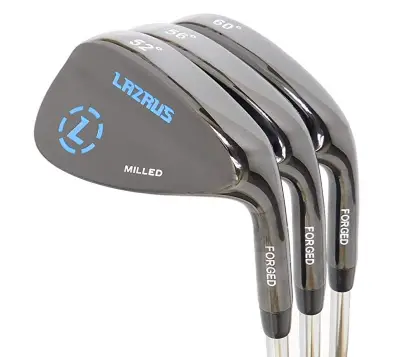 When you don't feel like spending hundreds of dollars on a club that you are not quite sure that you'll be using for a long time because you still haven't mastered your abilities when it comes to using these types of clubs, or when you are financially limited to turn to the afford yourself a name brand club, then Lazrus is one more affordable but of-a-decent-quality option to consider. These are decent clubs that will be able to provide significant improvement in your game and get yourself ready for some serious time on the course.
Read more
Performance
If you are a beginner or a recreational golfer and trying to get into the game, these clubs can help you get better perspectives of what it feels like to be using wedges on the course. The set of three includes approach, send and lob clubs adequately lofted 52, 56 and 60 degrees with bounce angle of 8,12 and 10. They are forged with Micro-Milled face and feature regular flex. The shaft is made of stepped steel.
Performance
Many buyers say that they actually helped them improve their short game. The Micro-Milled face enables golfers to achieve greater control over their shots, get greater spring and better trajectory. Besides being fairly well constructed they have a very good feel and clear sound which attributes for better performance.
Cost and Value
Not only are these clubs highly recommended by buyers who constantly use them, but they are very affordable too. For just a fraction of the cost of a single reputed name brand club, you get three ones, which makes it a super deal for an unbeatable price. In addition to this, you get a 1-year warranty on the set, 60 days money back guarantee in case you are not satisfied with their performance.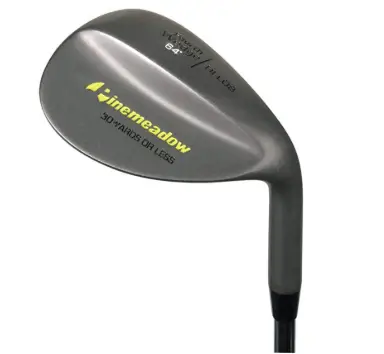 If you are a golfer who has recently started taking up golf and if you are tight on the budget, then Pinmeadow is the option that is definitely worth considering. It is a clone company (most probably Callaway Forged, even though it is nowhere stated) that makes a good-quality clubs which resemble the originals (that's where the association comes from) for a fraction of the price and some cuts on the materials. Plus, the company has been experienced in the production having behind more than 30 years of experience.
Read more
Features
There are five different loft options, from the low 54 to extra high 68 in four-degree gaps. These clubs are made to appeal to high-handicappers who are struggling with high trajectories and who need assistance from the clubs. There four bounce angles for the four types of wedges, from the approach, sand, lob and ultra lob. Its big clubhead and the classic design compare it to the most prominent names in this area.
Performance
If you need plenty of lofts and boosted performance when you are around the green, these are considered to be highly effective. They are game improvement ones, there's no doubt for that, so you can expect nice shots from the turf with high spin and instant-stop landing. They are clubs that slightly more favor chip shots but do an amazing job with a variety of shots and course conditions. Many golfers claim that Pinemeadow clubs have helped them to perform hits that they have never been able to perform before.
Cost and Value
Pinmeadow clubs are on the low-end when it comes to the price they have. Coming from a clone company which has been experienced in producing this type of golf products, they guarantee improved performance for more than affordable price.

Subscribe to our Newsletter