Best Koozies Reviewed & Rated for Quality
In a
Hurry? Editors choice: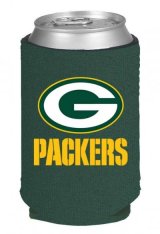 Test Winner: Kolder

We have talked about many different pieces of golf gear and golf products that individuals need. However, it is the simple items that sometimes make a big difference. For instance, how well would you play the sport without using those alignment sticks you bought for the holidays? How about your new moisture wicking shirts, they are comfortable right? Well, what if you want to keep your water bottle, energy drink, or can of beer cold while you are aiming for a hole in one. This is what a koozie is for!
Standout Picks
Criteria Used for Evaluation
Materials
As this first aspect, the material may be the most common and important factor to consider. As far as material, neoprene and polyurethane are the two most common materials in which the interior material of a can cooler is made out of. The reason being is that these two materials keep heat for a long period at a time or keep an item cool for a long period at a time. They do not allow for the transfer of temperature from the outside into the inside and vice versa. With that, they are also sweat-resistant and designed to be of high quality.
However, another factor of material is the outside material. The outside material of a can cooler can be designed from felt or similar material. This allows for the printed design to appear easily on the koozie and for it to also be slip resistant.
Features
This is a very simple criterion, but we wanted to die into the common features to consider when selecting a quality koozie. So, let's dive into what are common features of many of the brands and can coolers we shared above.
Collapsible
This is a very common feature. Unless it is a novelty and stainless steel koozie like the first one on the list, they all tend to be collapsible and easy to store. The reason being is that the material quality of many of these products is actually neoprene, which is highly flexible and easy to use the material. So, individuals can expect many of them to be collapsible.
Non-Slip
The exterior design of the can coolers tend to be non-slip, allowing the user to get a good grip on them. This is due to the exterior material design of many of them. With this, the user can expect that the koozies will be made to be very high quality and slip resistant, so they are easy to hold for long periods at a time.
Sweat Resistant
Another very common feature is for the product to be sweat resistant. Essentially, the interior material design of the koozie is designed for water to not penetrate the foam material. Therefore, an individual does not feel the excess of condensation on their skin. With that in mind, this is a very high-quality feature and design of many brands nowadays.
Style
Another important factor of the criteria was the design and the aesthetic appeal. With this, we shared a wide selection of different styles to choose from so individuals can select the one they feel most suited for. With that in mind, you can have your pick of solid color or comical, luxury marble or camo!
Value
The cost and how many are a part of a pack is the last factor to consider. With this, many brands have a value pack where an individual can purchase more for less. So, everyone on the golf course can have their drink nice and cold.
Subscribe to our Newsletter