Best Kentwool Golf Socks Reviewed & Rated for Quality
In a
Hurry? Editors choice: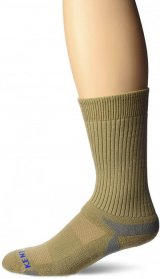 Test Winner: Tour Standard

Often times, there are some brands that show us, the consumer, how high-quality their products are simply by looking at them. You can tell the difference between a high-quality brand and a brand that is designed for simple use or their products are made poorly. With this, we want to introduce a brand we have never talked about before, a brand that has some of the highest quality material designs in the industry, and they have separated themselves for their quality, their design benefits, and their modern stylish creative pieces. This is Kentwool. If you do not know much about Kentwool, you are about to learn a lot more than you expected.

Check out the best Kentwood socks for golf below!
Standout Picks
Criteria Used for Evaluation
Materials
The material quality may be the first aspect that is crucially very important to consider when selecting a quality product from this brand. The material quality will determine the overall features, the design, the appeal, and much more. Therefore, we wanted to get into the details of the materials and get to know exactly what this brand's products are made out of. So, here is a full list of the most common materials that this brand uses and what features an individual can expect from that material. We are going to start with the least common and then the most common.
Spandex
Although spandex is among one of the most common materials in the industry. For this brand, it actually is not used very often through their products. In fact, they actually only use about 10% or less of spandex in their socks. Most commonly, about 2%. Spandex, however, goes a long way. Spandex in the ankle allows for better stretch and in the seams for more comfort.
Polyester / Cotton
These materials are also not often used by this brand in their products. Although you may encounter 40% or less of it with their socks. With that in mind, it is important for individuals to recognize that this is a common material in many other socks. However, not for this brand because of the main material they use. These two materials allow for the product to be more durable, comfortable, well designed, and of course, soft.
Nylon
This is the second most used material by this brand. Nylon is very unique when put into a sock because it is primarily created for products that are designed to be rip resistant such as tactical gear. However, they use nylon in the design of their products to enhance the overall quality of the product and to enhance the durability of the product. With that in mind, nylon is super reinforced and created a barrier of protection for the individual using it.
Merino Wool
As the main material that this brand uses, Merino wool is a high-quality and sophisticated material that comes from Spain. With that, this type of material is very soft and ensures a luxurious feel that individuals will enjoy and appreciate their sock. Now, as far as this type of material, there are many features to consider. For example, Merino wool is soft and luxurious, but it also gets very warm and the sock can be very thick. Therefore, it is important to consider that this material is not for the summer months. To add to this, this type of wool is most comfortable for individuals that want a cushioned product that is designed to not cause any blisters and is very soft on the skin. However, for running, it is not the best. What enhances this material is the blend of this material alongside the use of spandex and nylon or polyester.
Color
As far as the color of these products, there is a large selection to choose from. What is most unique is that there is never a plain color sock design. In fact, many of their products happen to be designed with colorful color choices in mind. Alongside this, their colors are designed to not fade in the wash or when being worn. Overall, there is a lot of variety to choose from.
Value
As the last criteria, we want to discuss the cost and value for this particular brand of products. The reason is that the value and price really go hand and hand and we wanted to share that when you are considering buying a product of this specific design, the value and the price will be enhanced due to the level of quality expertise and design benefits that they have. With that in mind, the cost of their products is a bit more than average products because they are made with enhanced materials, features, and craftsmanship. Overall, they are worth it if you want premium comfort and quality, especially during the cold winter months. Now, let's move on and answer some of the most asked questions about these products.
Kentwool Golf Socks Review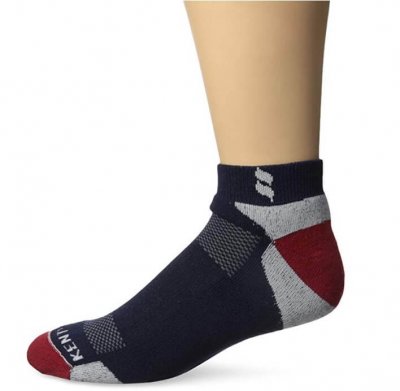 This first product from this brand is a high-quality set of Kentwool socks that are designed to be comfortable and easy to wear. From the Kentwool brand, it is time to chat a bit about the Tour Professional Gameday socks. They are unique, designed for comfort and have a flat-knit weave design that allows for more durable. Here is the main material.
Read more
Merino Wool
Merino wool happens to be a high-quality wool material that is designed for durability and phenomenal traction and support for the individual. With that, it is machine washable, but the wool may snag and even shrink a bit. Therefore, it is important to consider the washing instructions.
Ankle Support
This item comes with ankle support, so individuals receive a tight ankle supportive brace and elasticity that allows for all-day wear and tear during any sport. For golfers, it allows for better stance and balance on the golf course. Perfect your balance and trust the cushioning of this item.
Cost and Value
The price of this product is considering that it is made of a premium material. They do get a bit hot in the summer, but for winter months they are excellent. With 4.5 ratings, this product is very high-quality and designed to be resistant towards sporty wear and tear. They also come in a large selection of colors.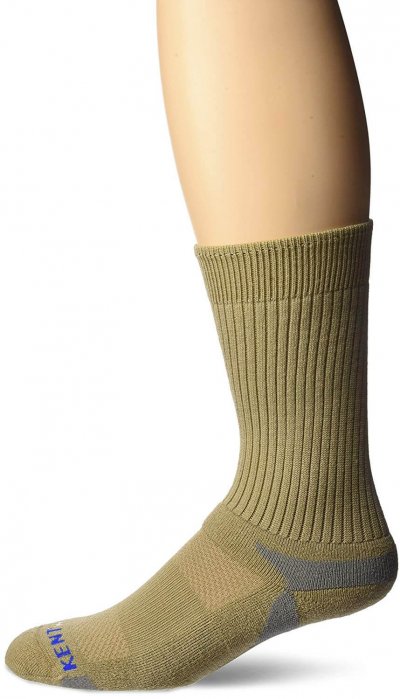 This product is very different than the first product we shared because it is made more of a standard item than the premier. However, the material quality guarantees maximum support and wear and tear. The material also makes the item a bit thicker, allowing for extra comfort and more cushion. This is the Tour Standard.
Read more
Nylon
This product is made of nylon. Yes, nylon! Nylon is known as a highly durable tactical material that is used among industry professionals for specific purposes. Well, this item is made of that. With that in mind, individuals will discover that the nylon also enhances the cushioning and the overall comfort of the Kentwool socks.
No Blisters
This product is designed with a "no blister guarantee." This guarantee is due to the fact that the seams are designed in a way where they do not cause any dissatisfaction or traction in the foot. To add to this, individuals will discover the material enhances this guarantee by being more smooth and cushioned compared to other materials.
Cost and Value
When discussing price, this item is a bit more costly than other brands. However, the price reflects that it is using both wool and nylon, which is a very unique blend. This blend creates a comfortable blend of security and high-quality comfort. The price is a bit much compared to other brands in the sports industry, but if you want cushion and support during the cold weather, this is it. It also comes in five color choices.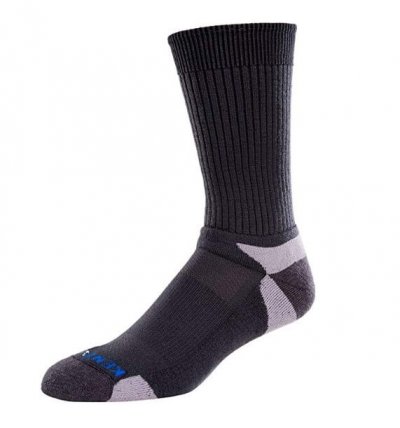 This next pair of Kentwool golf socks from this brand happens to be a three-bundle design of the updated Tour Standard. This product has a very high-quality material composition and overall, it is designed with many different comfort features such as a no blister guarantee. Made in the USA, we want to share two excellent features worth considering.
Read more
2% Spandex
This product comes with spandex in the areas of traction that also require plenty of movement. These areas are important to consider, and individuals can expect the spandex to enhance the way an individual walks and moves with the product because it allows for a full range of motion. With that, the other materials include wool and nylon, which is a blend of comfort and durability.
Five-Stars
This product has five stars for various reasons. Users find this product to be efficient and comfortable to wear. To add to this, the product material enhances the longevity in which the product will last. It also comes in five color choices and the design is stylish. It is considered a crew sock, so it may not be for everyone, but it is comfortable.
Cost and Value
Made of wool, machine washable, stretchy, and made in the USA. This is a great combination of a trusted brand and a valuable product. As we said, it has five stars, and individuals tout the overall design of this item. If you want comfort, we highly recommend this brand due to their quality Merino wool. With five color choices, this is great for the cold months on the golf course.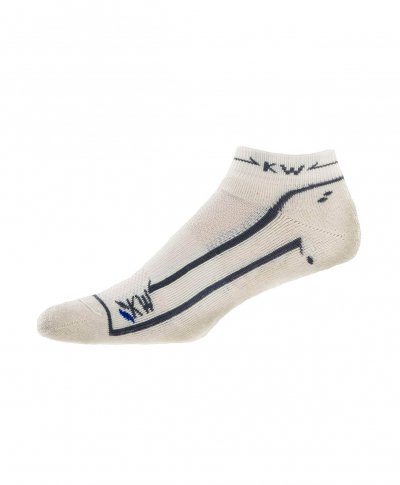 We have come to product number four and once again we are sharing a five-star item. Now, this next product is actually nothing like the crew socks. They happen to be ankle Kentwool socks that are designed for comfort and for many different features. This is the KW Sport Ankle series and here are two comfort benefits.
Read more
Odor Resistant
If you fear bad odor due to your socks, this is the product to get. The material causes the product to not soak in any bad foot odor, leading to more comfort and more confidence. With that, the product is machine washable so in the case an odor starts to arise, you can clean them easily. For the most part, they are designed to release bad odors.
Wick Moisture
The material composition and blend of nylon with wool allow for comfort and cushion. However, they also allow moisture-wicking benefits to taking place. With this in mind, if you want a great moisture wicking product built for the summer months, we recommend this one.
Cost and Value
As far as the price, once again, it is more costly than other sports brands because it does have merino wool. However, it is worth it if you want cushioning, comfort, durability, and the fact that it is an ankle design made for the modern golfer that wants to wear shorts. This one only comes in two color tones.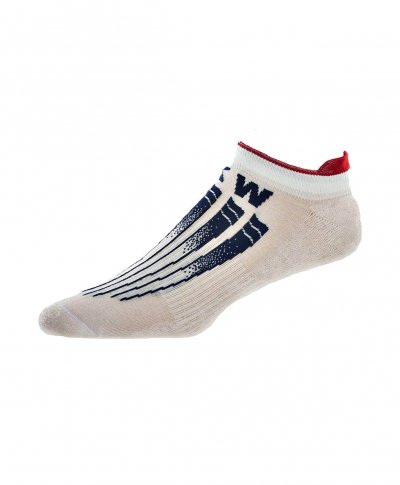 In the last product, we mentioned that they may be too thick for loafers. Well, this next product from this brand is known as the Pro Light series and they are designed to be a bit thinner. It is time to discuss an ankle design with a few no-show benefits.
Read more
No Blisters
This product is designed for no blisters. If you have ever worn Kentwool golf socks for the course, then you now that a poorly constructed design can lead to blisters. Well, this product is not poorly constructed and that is why they have a no blister backing that ensures comfort and safety. Alongside this, they have cushioning in different areas such as the heel and the toes to minimize any discomfort.
Super Fine Merino Wool
This material is a premium synthetic that allows for the design and construction of various features. For instance, the material design of the wool is very thin, and it allows for the item to be moisture wicking and odor resistant. To add to this, the design is versatile, comfortable, and known as a performance fabric that has breathable features.
Cost and Value
The price for this product is reflective as many other socks from this brand. However, individuals will enjoy the no-show design that allows for the product to be worn with shorts, alongside the no-blister backing feature. It is made in the USA, 100%, and it is machine washable as well. Expect it not to snag or shrink in the wash and the overall design to be easy to put on and take off.

6

. 19th Hole Collection Argyle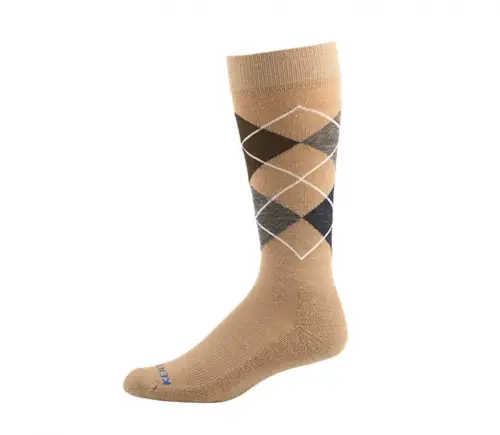 Alright, guys, we have come to the middle of our list and it is time to bring out the traditional golf sock design. Boasting a diamond design, the 19TH Hole Collection Argyle Socks from this brand are designed with a couple of features that make it a great gift for product for a golfer. Here is the first feature.
Read more
The Material
The material of this product is definitely a concern of ours because we want to ensure that the material is designed to last and it is comfortable. The material for this item is 39% nylon, and it has wool and spandex. With that, the nylon makes the product last longer because it is such a durable grade material. However, the wool allows for the product to be enhanced in the areas of comfort.
No-Blisters
If you are fearful of blisters in your toes, back of your heel, etc., then you have no need to worry. This product comes with a no-blister design where the seams have been removed and it has been designed as full sock design with no seams other than the toes and the top.
Cost and Value
In discussing price, this product happens to be well below the price for a normal pair of socks from this brand. They do not come with fast shipping and the current size is only a small, so that is important to factor. For extra comfort benefits and more, this is a great product to get. To add to this, the design is simple, and the diamond shape resembles many traditional golf socks.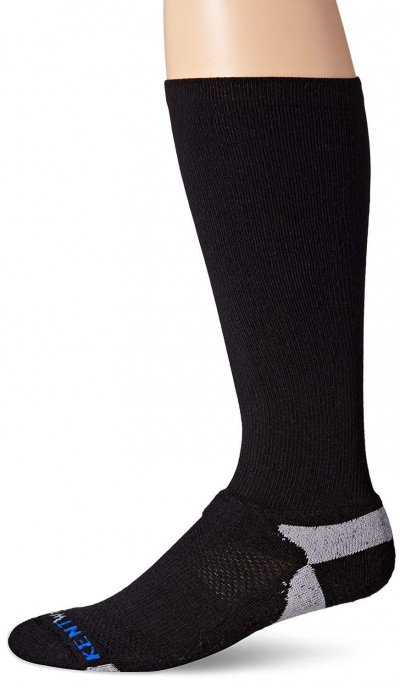 As another crew top design, we want to share a product from this brand that has a great product description in the case you want more detail about it. This is The Graduate series from this maker and there are various features and design specs that make it a valuable and unique design. Let's talk about the overall benefits, shall we?
Read more
Improved Circulation
This particular design is intended to improve circulation. In fact, if you are an individual that does not want socks that tighten the are and circulation, these are the ones to get. They are designed with a comfort stretch nylon fabric that allows for blood to travel through easily and well through the foot.
Odor Resistant
We have talked about this benefit from this manufacturer, and once again we share it here. This item is odor resistant, which means it will not suck any bad odors into the fibers. However, they are machine washable and designed with a lifetime blister guarantee. Overall, the fibers and construction are superb, adding to the slew of features.
Cost and Value
To talk about the price a bit, these Kentwool socks are a bit higher in price than one may expect. In fact, they are a bit costlier due to the overall design and the material blend. Merino wool is rare and therefore, their products are a bit costlier. With that, the moisture-wicking benefits, overall quality, and flexible design add to the appeal of the premium construction.



Time to talk about the Americana series from this brand. Designed with durability and style, this serious is for individuals that want to show the price in their country and want a comfortable design for all day walking and golfing. This is what we think is very beneficial about this design.
Read more
Made In The USA
This product and many of this brand's design styles and products happen to be fully made in the USA. To add to this, individuals can expect the design style to be high quality and match the USA tradition. The Americana series has stars and stripes and a very patriotic color blend. However, you can choose from navy and grey as well.
Soft on The Skin
The merino wool material leads to this product being very soft on the skin. With this, the softness leads to all-day comfort. It does have moisture-wicking benefits, comfort benefits, and more, allowing for the overall construction to be superb. With this, it also does not cause blisters on the skin.
Cost and Value
As far as the price, this product is high-quality and well-designed. It is designed to be machine washable, made in the USA and comes in various color choices and sizes. With this, as always expect the brand to be of the best value and the product to be of enhanced durability. Other than that, the price is actually very affordable.

9

. Tour Profile Americana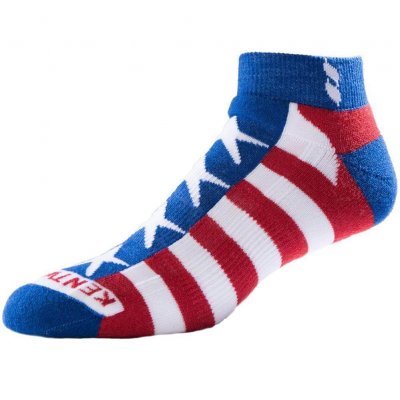 This particular product is designed much like the first one on the list. However, it is particularly designed with the ankle-sock design in place. It does have the Americana series design with the blue stars and stripes design. With that, this product is of the highest quality and the overall design is very modern and playful. It comes with six different variations of the stars and stripes design.
Read more
Other Fibers Material
This product is 100% "other fibers", meaning it is a blend of synthetic fibers such as wool and nylon or spandex. With this, users will enjoy that it is very soft to the touch and can keep you warm through the winter months. An aspect that is important to keep in mind about the material is that it is machine washable. However, it needs to be washed according to the specific instructions so it does not snag or shrink.
Ankle Design
This specific design is one of the highest qualities of the Americana series, and it's not the crew sock design. The overall design is simple and high quality and supports the ankle structure of an individual. With that, the design is very easy to put on and guarantees no blistering when being worn. To add to this, the toes have a smooth seam design so they happy to be more comfortable than other socks.
Cost and Value
As far as the cost and benefits, this particular design is for individuals that want to show a little spirit on the golf course. However, since it is an ankle design it will not show too much. With five stars, this product is comfortable, great to wear all day long and designed with different varieties to choose from. Also, it comes in multiple sizes, so individuals can pick the right fit.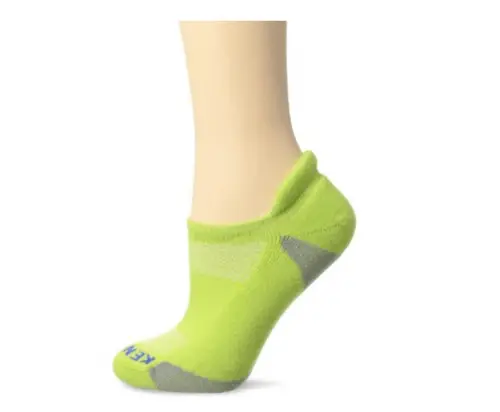 These are the last Kentwool socks on our list we are going to chat about and we want to share why individuals will particularly enjoy the design of this product. Is the Low-Profile Skinny sock, the women's version. It comes in various color choices and overall, it is designed with a high-quality guarantee and great material consistency.
Read more
The Material Design
Let's chat about the overall material design of this product. It is made with superfine Merino wool, which adds to the thin and skinny design. It also is made with nylon for durability and polyester and spandex for a few flex features. The product is also machine washable and designed to withstand a lot of wear and tear.
Thin For Comfort
As the name suggests, this is known as the "skinny sock" which means that it is made of a material that creates the product to be very thin and skinny. The thin and skinny design allows for more breathability and less bulk when worn with specific shoes. With that in mind, users will appreciate that it acts as a second layer of skin, but still has enough cushion for the golf course.
Cost and Value
As far as the benefits and price, this product is very comfortable for all-day wear and tear and cushioning. It is a great golfing sock for women that want a bit of cushioning alongside their golf shoe. It comes in different colors and the colors are appealing and feminine. The best part is that they are low profile so they can barely be noticed when being worn.

Subscribe to our Newsletter