10 Best Beginner Irons Reviewed
In a
Hurry? Editors choice: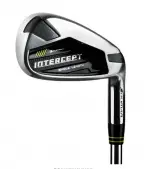 Test Winner: Orlimar Intercept

If you have just started playing golf, you must have come to the realization that owning a good set of irons for beginners will soon become a necessity to completely enjoy one of the most fulfilling games.
Early purchase of golf irons for beginners is highly recommended by many coaches and experts, and there are several reasons for that. Firstly, investing in personal irons means that you have become serious about the game, and having them will enhance your motivation
to continue practicing.
Secondly, they deliver optimal performance suitable for beginners' level, so you don't have to worry if they will suit your skills. Thirdly, most of the latest releases are so sophisticated, that you could be using them for quite some time.
This article contains information about what you need to consider when buying irons and which are the most recommend ten models.
Standout Picks
Criteria Used for Evaluation
Ease of Use
Game improvement (GI) irons which are particularly designed for beginners have one specific objective- to make the game of golf easier and more fun. They are made to make those dubious shots simpler, to support golfers' performance, to make them feel confident, and to expand the playability perspective by decreasing the score. There are various types of irons for beginners, some are made to meet the needs of the starters, seniors, and high handicappers, others are made to give adequate assistance to players who have mastered the basics of the game without sacrificing distance and speed. In this manner, we have selected those GI irons which can be of adequate assistance for novices who seek serious assistance and playability.
Features
All irons for beginners feature one thing in common, which you might have already guessed, is the high level of forgiveness. This forgiveness is obtained by making the sweet spot larger which leads to high flying shots even when they are off-center. Many average irons fail to produce enough forgiveness without lowering the speed, however, the best ones on this list feature advanced technologies that boost their performance. What also matters when it comes to irons is their ability to deliver adequate control, precision and speed.
When we discuss features, we tend to focus on all the characteristics that make the irons unique, and the characteristics which help us define their performance. So, the more such distinctive characteristics these irons have, the higher score they were given within this criterion.
Versatility
Versatility in game improvement irons,i.e, the irons for beginners means superior design that makes them not only beginner-friendly but which provide the opportunity to use them for a longer time, pass the beginner stage. Of course, you can't expect a tour-performance from these irons, but the higher their versatility and playability the higher their ranking on our list.
Materials
It is a common fact that the type of materials used in the irons and the manufacturing technologies will greatly affect their performance and durability. When it comes to irons they will also influence the accuracy, control and the distance in the game.
In the past, the irons for beginners featured a cavity back design made from cast stainless steel. And that was all about the material! However, this concept has undergone drastic changes nowadays, and most of the irons are made from multi-material constructions.
For added weighting, there's added tungsten which is double the weight of steel. Also, TPU, aluminum, and urethane are used to dampen vibrations and make the feel and the sound much better and pleasing.
Value
When beginners decide to make their first purchase of irons, it means investing a considerable amount of their finances in part of their golf equipment and usually the price is high. This particularly refers to name-brand irons that have established themselves to be the best in their quality and durability, always making sure to deliver the best in each club for greater performance.
However, our list includes budget-friendly models that are also known to deliver optimal performance and playability. Offering budget irons for beginners is important for this category of golfers because not many of them are determined that they will be as eagerly dedicated to playing golf as they are in their initial stage, so having the possibility to save some money and get a decent quality is always an attractive offer.
Subscribe to our Newsletter