10 Best Golf Clubs for Intermediate Players
In a
Hurry? Editors choice: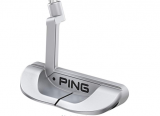 Test Winner: Ping Sigma G Platinum Putter

Investing in new, advanced intermediate golf clubs can be a pricey minefield if you haven't determined in advance what will meet your needs. Nowhere is this more valid than in the mid-handicap area, where golfers get easily tricked by the tech-packed features that premium manufacturers offer.
As the majority of golfers belong to this skill-level category, the array of intermediate golf clubs is significantly varied, some keeping
game improvement
concepts others designed to maintain control and feel.
Regardless of the concepts integrated within these clubs, you are bound to see the power of the modern technological advancements. Among the advancements, you will see cavity back designs for more forgiveness, tungsten weighting that reduces twisting on the heel and toe mishits, and variable thickness faces and sole slots which add power which is normally found in larger-profile clubs. Our list is very versatile and includes every possible golf club.
Standout Picks
Criteria Used for Evaluation
Effectiveness
The effectiveness of the intermediate golf clubs is directly related to technological advancement and the number of innovations that characterize each of them. Most of the manufacturers work hard in finding new technologies to boost performance, so when we went through the products, it was hard to make an immediate selection as many of them integrated a new feature that hadn't been seen before.
However, since the purpose of this guide is to help modern-day golfers find the best club that meets their needs, we decided to include all the possible types of golf clubs or golf sets and make the list as versatile as possible. The selection was based on the effectiveness factor that was obtained from golfers' reviews and the features of the products.
Versatility
If you carefully read this buying guide, you must have noticed the variety in the selected clubs in regards to their function and the type of the club i.e. the inclusion of all possible golf clubs for intermediate players that can be used on the course. So, from a full set that includes the most needed clubs to different individual clubs such as drivers, irons, woods, and hybrids. What is also noteworthy, is the fact that we took care to include clubs that offer more forgiveness to clubs that feature more tour-like characteristics.
Value
In the search for the best value for the money, we thought that every golfer would be highly interested in knowing the price of a certain club. However, this doesn't mean that the selection was based on finding the cheapest products, on the contrary, as you could notice, many of them are very expensive, but in addition to their very high price, they do deliver breakthrough technology, and are characterized with features that are rare in other similar clubs. So, what we took care about was to include those clubs that provide an excellent value for the money.
Ease of Use
Mid handicappers are golfers that have some specific skills but they lack consistency and assurance in their shots. Therefore many of them feel the need for playing with forgiving intermediate golf clubs. To declare that a product is easy to use and deserves to be among the best it must be made with game-improvement technologies and own features that claim boosted performance. This means that intermediate golf clubs will assist golfers in their attempt to lower their scores and the club will provide reliable performance.
Features
Features are the characteristics that distinguish a club with specific design and peculiarities. It is usually the materials and durability. Some of the common materials that are used for these clubs are titanium or stainless steel.
Forgiveness is also very important since intermediate players need more assurance and consistency with every shot. Plus, the hot face and the large sweet spot deliver faster ball speed for on and off-center shots, so they can achieve more distance. When it comes to the short game, intermediate golfers need clubs that will deliver more feel and control.
When it comes to complete sets, then golfers get a bag with about 8 to 13 clubs, the most common being the driver, hybrids, fairway woods, and one or two wedges (a pitching wedge and a sand wedge). These sets are compact and suitable for golfers who have already overcome the beginning levell.
Top 10 Picks
1

. Cobra King F9 Speedback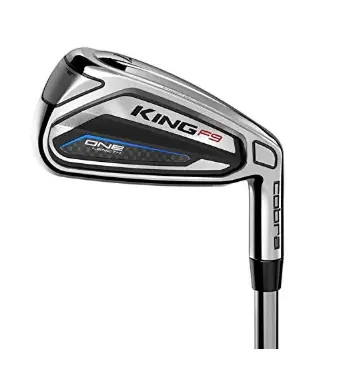 Cobra Golf is a synonym for innovations, breakthrough models and superior designs. The latest Cobra irons have shaken the golf industry by proving that everything is possible when it comes to Cobra. F9 irons are supposedly one of the most powerful and stable models that the company has ever made. The Speedback technology which we could see in their previous irons has been integrated within these F9 irons too. This technology puts together forgiveness and distance, a brand new feature that hasn't been seen in irons making them excellent intermediate golf clubs. Cobra golf is among the first companies which introduced the one-length concept and with this model golfers have the chance to choose between traditional length clubs and one-length ones. Cobra also pioneered in delivering the first performance tracking system so that golfers good analyze their progress and this system has also been utilized within these irons. In a nutshell, all the possible technologies that Cobra Golf has developed are used to design these extraordinary irons.
Read more
Performance
The choice between one-length in traditional length irons makes this model very versatile. If you choose one-length irons the length and the weight matches the one of the seven-iron since that is the iron which is the most favorite among golfers. One-length irons deliver greater consistency and more confidence thanks to the identical set up. The progressive hosel design relocates the centers of gravity depending on the number of iron golfers use. The 4 to 7 irons are engineered with a co-molded medallion which is made from acrylic foam, aluminum, and TPU for vibration damping and better feel. To make progress in your performance, you can track and analyze all your moves and swings during your game with the help of the Cobra Connect technology.
Features
What is interesting in the design of these irons is there reinforced sole head construction with a steel layer wrapped around the back of the iron to create a deeper and lower center of gravity. The irons from 4 to 7 feature tungsten weighting to the toe and heel area for maximum performance through the face of the intermediate golf clubs. Talking about the face, it is made with variable thickness and it is much lighter compared to previous models yielding a greater sweet spot. The CNC precision Milling makes the grooves more consistent a more accurate. The Grove shaping is different in the long and short irons so that they can deliver better performance.
Cost and value
It's been a few months since this model has been released, and it is absolutely successful among golfers who want to see maximum improvement in their performance. It offers a unique blend of distance, forgiveness, feel, and control so that you are fully confident that your irons will assist you in your goal the lower your score. The only deal-breaker would be the hefty price tag, however, these irons do deserve to invest in them.

2

. TaylorMade M6 Fairway Wood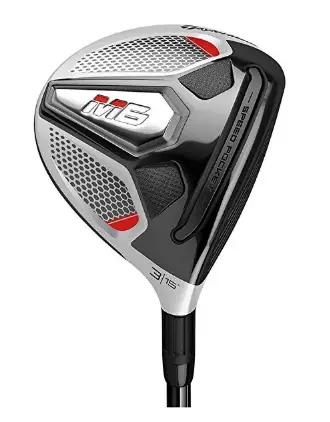 This year, the M6 and M5 lineups have been a huge success for TaylorMade. For greater versatility on the list, we have picked the M6 Fairway wood as one of the most praised intermediate golf clubs this year. No one could have foreseen that this golf wood could become one of the best within its range. It has been designed to deliver forgiveness, it is distance-enhancing, very lightweight and it is a guarantee that you'll be using these golf clubs for intermediate players very dearly for a long time. There are plenty of features that characterize this fairway wood as very specific.
Read more
Performance
This fairway wood has been designed to bring versatility thanks to the differently lofted options and golfers have the chance to choose from 3, 5, 7, and 9 wood with degrees ranging from 15 up to 24 accordingly. The highlight of this fairway wood is the inertia generator which is the new concept of keeping the weight low within the sole to create more speed. Overall playability of this club is enhanced with the Fujikura Atmos Orange 6 shaft which is very lightweight and functions as an engine of the club. We can rightfully say that it is one of the most tech-packed, and at the same time most forgiving fairway woods on the market.
Features
M5 and M6 TaylorMade models have had bombastic popularity this year. It has been just a few months since their release but the sales have considerably gone up. Something that marks this fairway wood is the Twist Face technology which is common for the drivers and which has been for the first time used in a golf wood. The curved and twisted face creates a larger sweet spot delivering forgiving shots and longer distance. The curved face shape is combined with the all-new TPU insert and together with the proprietary speed pocket make this Fairway fastest and longest golf wood ever made.
Cost and value
This Fairway wood boasts breakthrough technology and it is a unique, one-of-a-kind club which was created due to immense investment into research and technology. We're saying this because all the investment that the company has made in its craftsmanship was costly and this Fairway wood, as a result, is very expensive too.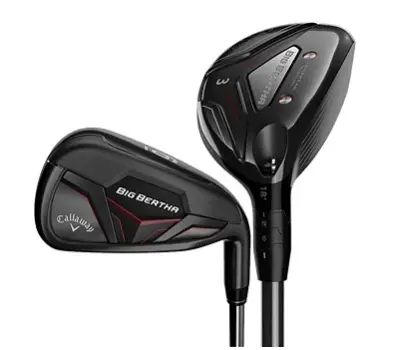 There isn't a golfer who hasn't heard about the epic Big Bertha. Even with the first model, Big Bertha had a huge success and this upgraded latest design comes as a game-changer. It has been particularly designed to meet the needs of mid handicappers which places this model in the group of the best intermediate golf clubs. It has been aesthetically improved, and with the black finish, it looks stunning. This combo set has been very highly rated and the irons are among the best-performing ones. Read below to find out more.
Read more
Performance
The Irons have been designed with EXO-Cage construction that strategically positions the weight in order to increase the MOI. The irons feature a progressive center of gravity which changes in accordance with the location of the weight in line with the iron number. This allows golfers to have longer ball flights, and more spin and control when it comes to short irons. The Tungsten Loaded Wave technology positions the tungsten in the sole and that lowers the center of gravity in each of these irons. This means that you can have higher launches and more stopping power.
Features
The advanced technology of the Big B bertha makes this model very playable promoting higher launches and long carry. The 360 Face Cup technology allows the face to flex more, creating a spring-like effect for faster ball speed and further distance. But it's not only the flex that makes these irons very successful in their performance. It is the lightweight construction and all the technologies integrated into the design. The combo set includes irons 5 to pitching wedge, and 3 and 4 hybrids.
Cost and Value
The Big Bertha is an impressive model. It delivers extreme forgiveness when it comes to off-center hits, they provide extra distance thanks to the sweet spot. They deliver more feel and control so it is a perfect model when it comes to intermediate golf clubs. The hybrids feature graphite shafts whereas the irons come with Temper Steel shafts. Since this model was launched a few years ago, now it is being sold for a lower price point then it used to be, making it an excellent value for the money.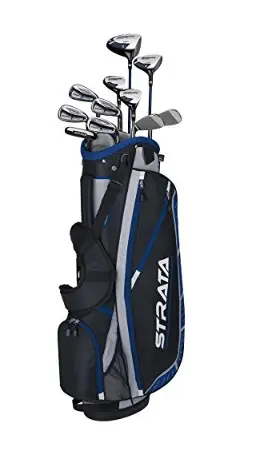 When it comes to complete full sets of golf clubs, Callaway Strata has been unsurpassed in its popularity. There are more than 20 different sets with designs that meet the needs of golfers with different skill levels. We have selected this model because it is one of the top-rated intermediate golf clubs, and includes almost all the golf clubs for intermediate players that mid handicappers would need. Plus, they come in a nice stand bag so you don't have to bother buying one. However, it is the performance they deliver which makes them one of the most favorite clubs among golfers. They are forgiving, playable, and include a pitching wedge and sand wedge, clubs that are usually used by intermediate players.
Read more
Performance
As every game of golf starts from the tee box and the driver is the first club that golfers use, we'll start with this driver which is oversized featuring 460cc titanium head with a forged face and a large sweet spot for maximum distance off the tee. The fairway woods feature a more aerodynamic head shape for more distance and high flying trajectory. Instead of the long and impractical irons, the set includes hybrids which enable golfers to have more success in the long game. Short irons deliver more control and forgiveness, while the mallet putter has a visual alignment for easier putts.
Features
Strata clubs are designed to maximize your performance delivering more forgiveness but at the same time, they provide more feel which is very important for intermediate players. The whole set includes 18 elements, including the bag which is of the highest quality with ergonomic straps and several zippered compartments to store your accessories. The set includes a driver, two irons, two wedges, a putter, and headcovers for the woods and hybrids.
Cost and value
Purchasing a complete set of golf clubs is a better and budget-friendly alternative to buying individual clubs. If you're an intermediate player who appreciates good value for the money, this is an excellent set of intermediate golf clubs.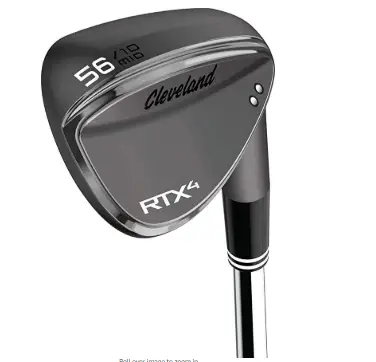 Meticulously designed golf wedges, it is what Cleveland Golf is famous for and they're wedge production history goes back to 1979 with the first blade wedge. The 4th generation RTX wedge is design excellence in one of the best intermediate golf clubs. It stands for a total transformation of tour wedge concept and Cleveland claims dead golfers will produce more versatility more spin end more feel.
Read more
Performance
The four sole grinds are extremely versatile, and they can perform in the most challenging and toughest conditions around the green. Cleveland offers Full, Mid, Low, and XLow sole depending on the style of the golfers and their needs. What you can find in the Full sole design is the traditional mid bounce which delivers extra support and stability on bunker shots and it is for golfers who tend to hit medium to large divots. The V-shape design is characteristic for the midsole, featuring the leading edge open on face shots. The low sole features a C-shape design for more heel and toe relief and maximum versatility. The XLow sole is excellent for shots with a very open face and for tight lies.
Features
In this fourth generation of Cleveland wedges, we can see the Rotax Face technology that delivers more distance control, more spin, and more precision. Gravity is located nearer to where golfers hit the ball and with the progressive back shaping, each loft has adjusted center of gravity for all types of short game shots. Lower lofted clubheads are designed with a straighter and more compact edge, whereas higher lofted clubheads resemble traditional wedge shape.
Cost and value
The design of this wedge has been inspired with the help of tour players who took care of the slightest details and left nothing to the chance making it one of the best in its range. The price is high but it is fully justifiable considering the supreme quality and the ultimate performance

6

. Wilson Staff Cortex Driver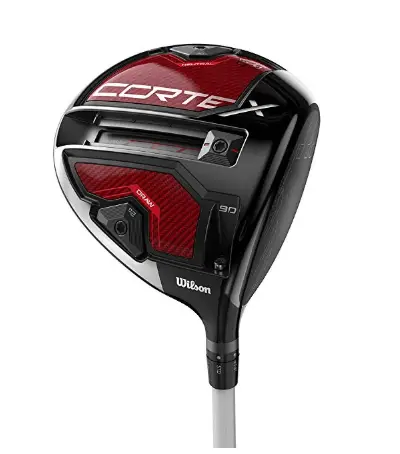 Wilson Staff is one of the best golf manufacturers, and their latest edition is the Cortex driver. It is a company that is the most versatile when it comes to golf equipment and golf accessories. The company which has started more than a hundred years ago is the ultimate player in the world of golf. Within the last few years, Wilson Staff has regained its status of being among the top-tires in the golf industry. We have selected this driver as one of the highest ranked intermediate clubs because Cortex driver boasts a full pack of technology and integrates one of the best game-enhancement systems.
Read more
Performance
There's nothing you can't find in the Wilson Staff array. From full golf sets two superior tour enhanced golf clubs for intermediate players, there's something for everyone. Current major champion Gary Woodland heavily influenced many golfers to turn to Wilson Staff as their featured club choices. What you can expect from this exceptional driver is ultimate playability and structural stability for more consistent longer and faster balls lights. It is one of the most adjustable drivers which can enhance your performance to the maximum level.
Features
Wilson Cortex driver has been engineered with the first so-called Fast Cage Technology that replaces more than 44% of the clubhead with lightweight carbon fiber. This design allows a weight redistribution to the places which the golfer chooses thanks to the movable weight system. The skeleton of the club head, which is made of rigid titanium, preserves the stability of the club when weight slides towards the face. As a matter of fact, there is a slide track which has been designed to deliver mini spin action since sliding towards the face positions the center of gravity lower and you get a low launching ball flight but when you move it back, the effect is high launch and optimal carry. This driver is highly customizable, allowing you to adjust the loft with six loft settings with the help of the Fast Fit Hosel system.
Cost and value
Wilson Staff has never designated outrageously high price tags to their products. However, the Cortex driver is the latest product that they have made, and also it is one of the most expensive ones in their range. Anyway, even with this price tag, it is still a good value for the money.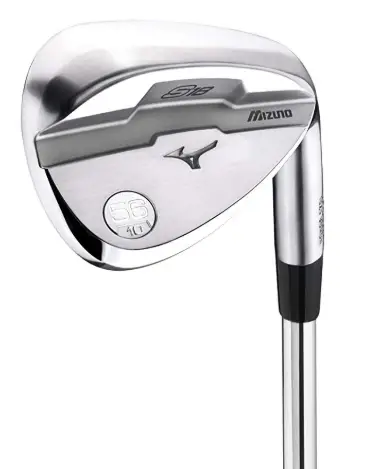 Mizuno craftsmanship is deemed to be of the finest grain crafted techniques in the golf industry with the Grain Forged Flow process that has been continuously perfected, the company can rightfully claim superiority in the iron manufacturing. The S-18 is considered to be its most loft specific wedge thanks to its versatility when it comes to the sole grind, profile, topline, and groove depth.
Read more
Performance
What marks this club special is its outstanding versatility since the number of wedges that feature variety in the selection of lofts and bounce as Mizuno's S-18 can, is very low. Golfers can choose from the 46 degrees pitching wedge to the 62 degrees lob wedge, with a great variety of bounce angles which means maximum convenience for golfers. The sole grinds differ from full to low, and each of the golf clubs for intermediate players comes with a built-in gyro that can adjust the lie angle.
Features
The S-18 gap wedge has a modified clubhead shape design, which makes it easier for the blade to open, while the top line on the higher lofts is kept thicker. This design contributes to achieving more spin consistency. This construction brings more forgiveness on miss-hits and assists golfers to maintain their spin. Since the grooves are the ones responsible for the effectiveness of the spin, their durability is bosted with Boron infused steel, and made perfect with the use of Grain Flow Forged technology that engages Quad Cut process which is a brand new type of milling.
Cost and Value
Many golf experts agree that S-18 is one of the most advanced gap wedges that you can find on the market, designed to help you master your short game performance. The utmost sophistication of these irons contributes to the high-end price.

8

. Tour Edge Bazooka Platinum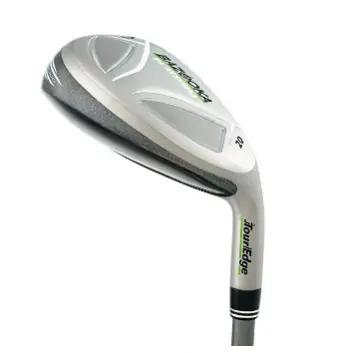 Tour Edge is a company that has been very steady in its progress and with every new release, it integrates more advanced designs and technologies. This golf club is an excellent alternative for all golfers who're still struggling with long irons. Even though it was launched a few years ago it enjoys high popularity among mid and high handicappers and this is the reason why we have integrated it in the list of the best intermediate clubs.
Read more
Performance
The reason why we have included this hybrid on the list is because of the many reviewers who claim that they have improved their performance thanks to this hybrid model. It has been designed to deliver forgiveness since it is one of the most playable intermediate golf clubs. As this model offers a replacement for irons from number 3 through the pitching wedge with loft degrees from 21 to 45, you can be confident that you will have more success on the greens. This hybrid is designed for high and mid handicappers who're not very skillful when it comes to Approaching shots.
Features
The soles of this hybrid model are considerably heavier which shifts the weight low, and that's what makes it very forgiving. There are too massive tungsten weights which are placed into the hollow head. Designed like this, golfers can successfully launch the ball higher into the air with longer and straighter ball flights. The oversized hyper-steel heads and the perimeter weighting can cure the fat and thin shots making them as successful and accurate, as the center shots. The extra thin forged crown and the cast body construction, allow 20 grams of weight to be relocated to the sole and this is how you get the low center of gravity. And finally, something that you don't get very often is the lifetime guarantee that you get with the purchase of these hybrids.
Cost and value
So if you are a mid handicapper who is still very insecure when it comes to irons, these hybrids are an excellent alternative for maximized performance onto the greens. You can replace all your irons, or you have the option to get yourself an individual club. Tour Edge is a budget-friendly company that offers excellent quality for affordable prices, and that is the case with these hybrids.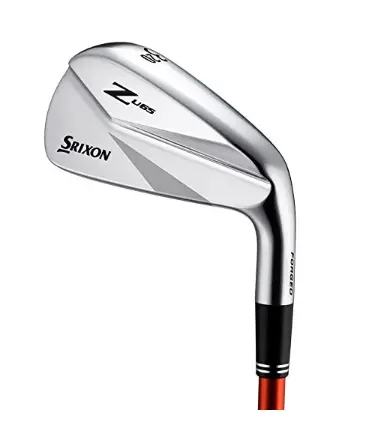 With technological advancement and with the development of more performance-oriented technologies, golf manufacturers have found many ways to make the game easier, more satisfactory, and more fulfilling. You probably remember that hybrids appeared not very long ago as an easier substitute of the long irons. In the same manner, utility irons function as an alternative of the long irons but they are intended for better players. Since mid handicappers are golfers who are constantly improving, they can consider the utility iron a viable option for the long game.
Read more
Performance
If you compare this utility iron with long irons, it is more forgiving but not as forgiving hybrids. This is what better players are looking for because it can give them control, feel, and more accuracy. Compared to the loft of the corresponding iron, this utility iron will deliver hire launches, longer trajectories, and much softer landing. You can expect instant feedback, irreplaceable control and feel.
Features
The reason why this club is among the best intermediate golf clubs can be seen in its forgiving design and tour performance qualities. It has a larger head with a hollow construction, and a low center of gravity making it very stable and very forgiving. These features in the lightweight stock graphite shaft mid handicappers the opportunity to use utility iron instead of their long irons. Another unique feature is the weight adjustability allowing golfers customization for better precision.
Cost and value
Srixon is getting better and better with every new release this utility iron is one of the most technologically advanced iris compared to everything that the company has made so far. It is distance-enhancing, enough spin and control to characterize it is a premium model. It is the utility iron with the highest number of five-star ratings which justifies the higher price point that these golf clubs for intermediate players have.

10

. Ping Sigma G Platinum Putter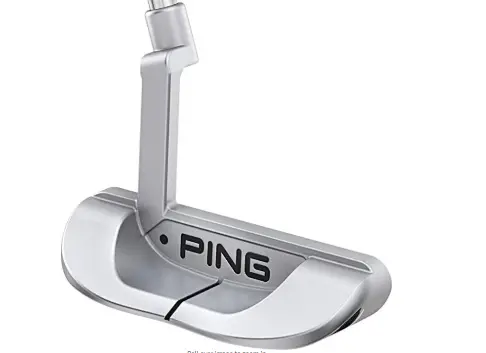 The older generation of golfers usually associate Ping with putters, however, this feels like distant past for many new generations of golfers. Ping Golf has moved so much forwards in developing so many technologies which place the company among the best in every field. It's not just the putters anymore, it is the irons, drivers, it's almost every other club that can be used on the course. However, as a tribute to the first Anser putter, we have selected this Sigma G Platinum putter as one of the best-performing.
Read more
Performance
Sigma G line of putters is comprised of 16 different models for golfers with different needs. This B60 Platinum model stands as a representative of all Sigma putters so that you get a better perspective of what this family of putters has for you. All of them feature a very unique face pattern which has been designed with the use of True Roll technology which has been very effective in providing distance control. These models are made with improved material design, enabling golfers to have better control, better feel, and more successful putts. The eye-tracking technology offers incredible distractions removal so they look stimulating and unobtrusive. There are two different finish designs with a designated type of strokes, distinguishing among strong arc, slight arc and straight.
Features
Sigma G putter, and are made with aerospace-grade aluminum curve marks instead of horizontal grooves which were Common in their previous golf clubs for intermediate players. The research has proven deep grooves are less effective compared to shallow grooves regarding the energy return and therefore made porters with shallower groves where is the heel and toe.
Cost and value
This family of putters is the most varied one, meeting the needs of many golfers' styles and skills. They're boasting improved design with the use of sophisticated materials, and they're able to increase the performance, dampen vibrations, and provide maximized success. Regarding their price, you can find three different price ranges depending on the style. So if you are looking for a counterbalance putter it comes with the highest price, mallet-style putters fit in the mid-range while blade style putters have the lowest price point

Subscribe to our Newsletter