Best Insulated Water Bottles Reviewed & Rated for Quality
In a
Hurry? Editors choice: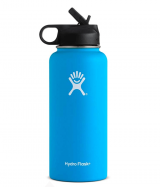 Test Winner: Hydro Flask 32 OZ

In the game of golf, there are certain specific items that are crucial for an individual to be comfortable. These items include comfortable shoes, clothing, and one key item that is detrimental to staying hydrated all day long, a water bottle. However, have you ever picked up your water bottle after it has been sitting on your golf cart for a while and found it to be warm? Well, that is because it most likely is not an insulated water bottle. Therefore, we want to share with our audience the top ten best-insulated water bottles.
Standout Picks
Criteria Used for Evaluation
Materials
We found that most water bottles that are insulated are made from two material qualities. The first material quality is stainless steel, a durable and heavy grade version of it. The second material, which is not as common in most insulated water bottles is plastic. Plastic water bottles offer less insulation. However, brands have designed them to reflect rays of the sun which block out heat and keep water cool longer.
Advanced Features
The Asthetics – As the second criteria, we found that most water bottles are made to be very stylish and with very different skins. Overall, this allows individuals to choose their ideal color scheme and design.
The Overal Design – As the third aspect of the design, we took into consideration the overall design. Meaning, the top and lid areas to the core of the bottle and whether or not it was easy to hold.
Insulation
we had to focus on insulation. Insulation is the main reason why an individual would buy such a water bottle! With that, we want to share the technology behind a properly insulated water bottle.
Copper Interior
When it comes to a water bottle the main material is stainless steel. With that, the most durable of stainless steel is 18/8 stainless steel. However, we also discovered a secondary material when it comes to proper insulation. Some brands go as far as actually creating the water bottle with a copper plated interior. What are the benefits of copper plating? Well, copper actually negates the ability for temperature transfer. Meaning, the outside heat cannot penetrate the interior wall of the water bottle, causing the contents to change temperatures. With this, your water or contents stay colder or warm for much longer.
Double Wall Lining
One of the best benefits of an insulated water bottle is that many brands will create it with a double wall lining. A double wall lining is designed to minimize any potential condensation from the contents of the water bottle. With that, the wall lining also stops and reduces the ability of energy transfer between the exterior and interior, which can cause the temperature to change.
Sun Blocking
Now, this next element of insulation is only on specific water bottles and it is a sun blocking material. Sun plastic water bottles are more prone to heat transfer, the ability to block out the sun's rays causes the contents to stay it's ideal temperature longer.
With all of this information shared, we believe that the top ten best water bottles are on this list due to their quality insulation. We believe that these water bottles are designed for excellent value and quality, making them perfect for the individual that wants to take them on the go running or of course, on the course golfing.
Value
When it came to selecting the top ten best products, the first aspect that we took into consideration is how many stars and reviews the product has. The reason being is that we wanted to ensure that we were sharing the top ten best quality and top of the line water bottles. With that, all of the bottles we have shared have thousands of reviews and four stars and up as far as their rating. With that, there were many different factors that added to the overall quality aspect. Factors for quality include:
An overall ergonomic and easy to hold design.
Quality features and functional design.
Comfortable and supportive mouthpiece.
Easy to clean and easy to fill up.
Stylish and aesthetically pleasing.
Functional and easy to pack.
Customer service and a trusted brand.
Subscribe to our Newsletter