Best Indoor Golf Putting Greens Reviewed & Rated for Quality
In a
Hurry? Editors choice: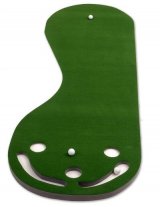 Test Winner: Putt-A-Bout Par Three

If you are a regular everyday golfer, then nothing is more disheartening than a
rainy day
that does not allow you to enjoy a sunny afternoon on the green. With that said, we want to share the top ten best indoor putting greens in the industry for individuals that want a phenomenal putting experience. Of course, these cannot begin to replace the real thing, but they can fulfill that itch to get on the green on a rainy day. In any case, indoor putting greens and
golf practice mats
are all extremely fun and serve a great purpose, practice.
Standout Picks
Criteria Used for Evaluation
Durability
The Durability and the Reviews
This particular criterion is one of the most important when it comes to picking the top ten best products in the industry. The primary reason is that we only want to share products that are designed with quality features in mind. Part of the method in which we distinguish the best products is by reading the reviews to confirm the durability or quality of the item. With that in mind, we can say that when searching for the best-putting greens, we found that many of them were designed with quality in mind. Of course, some of the most highly touted are actually designed by professional golfers and so, they tend to have a specialized designed and material quality. Which brings us to the next most important criteria, material!
Materials
The Materials
As the second most important criteria that we took into consideration, material quality was crucial when finding the top ten best products in the industry. The reason being is that we wanted to ensure that the item would withstand the test of time and be highly durable. We found that most adult putting greens are designed with artificial grass to simulate a textured golfing experience. With that in mind, the bottom aspect of the green is designed from either a rubber backing or foam to ensure it does not slip on any surface.
Style
The Design/Style
As the next most crucial criteria, the design happens to be one of the most important aspects and reasons an individual purchases an indoor putting green. We can say that the design of these particular putting greens are intended to simulate what a real-world golf course would be like. For example, the putting green, of course, has a starter section as well as a hole for the ball to end up. However, many putting greens also include what would be known as sand-traps or water spaces. This particular design ensures that an individual will enjoy the putting green for many days to come. Some putting greens even add the added benefit of being able to interchange the pieces of the green so individuals can create their own custom experience. Which brings us to the next criteria, the pieces included.
Accessories
The Pieces Included
As the next criteria that we took into deep consideration, we found that many putting greens that are designed for professional use do not include any major pieces other than the putting green itself. For example, certain putting greens do not include golf balls or a putter with the purchase, just the green. The reason for this because individuals have to use the same putter or clubs that they normally would on the field. With that in mind, we can say that all of the pieces included are designed for quality in mind.
Value
Cost and Value
Now that we have shared different criteria that we took into consideration, let's talk about one criterion that is one of the most common in many of our articles, the cost, and the value. The reason we made this criterion part of the evaluation is that we only wanted to share premium putting greens that were designed with quality materials in mind. Not only that but we wanted to ensure that individuals were getting exactly what they were wanting for the putting green, such as style, design features, and of course quality. It was our dedication to sharing a wide variety of putting greens that offer different styles, benefits, and features, which brings us to the last and one of the most defining criteria when it came to choosing the top ten best greens.
10 Best Indoor Putting Greens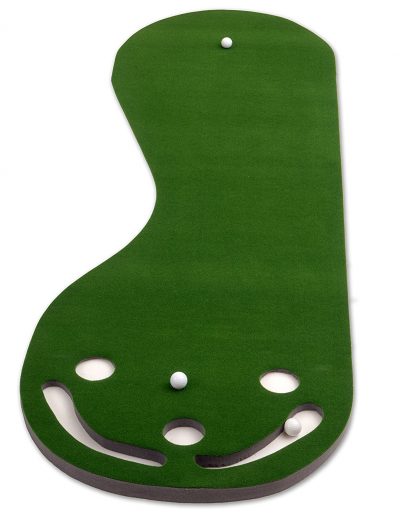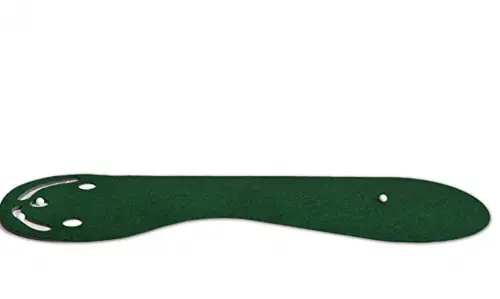 When it comes to the indoor putting green market, there are not many products that can compete with the Putt-About Grassroots Par-Three Putting Green. In fact, this specific indoor putting matt has been rated the best indoor putting green product on the market by thousands of consumers – which is one reason why it's on the top of our list today. Let's check out what makes this product so special.
Read more
3 Practice Hole Cut-Outs
Unlike other indoor putting greens that we will share with you today, this is one of the only products that come with three different practicing opportunities. In fact, there are three different holes, all ranging in difficulty for golfers.
High-Quality Build
If there is one aspect of this putting green that stands out – it's the way the manufacturer constructed this product. It is made from high-quality putting surface materials to keep putting as natural and organic as possible. Additionally, the company designed the actual putting green to look like a kidney to provide some challenge for both beginners and experts.
Cost and Value
When it comes to the cost of this specific product, we were quite impressed by how cost-friendly it really is. Typically, consumers anticipate paying a good chunk of money for indoor putting green; however, this product is different. Designed with some great materials and non-skid materials underneath, golfers will appreciate the value and practicing opportunities that this product provides.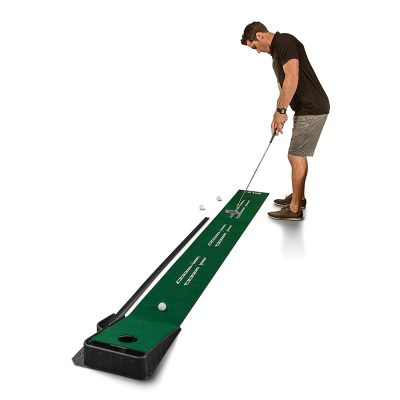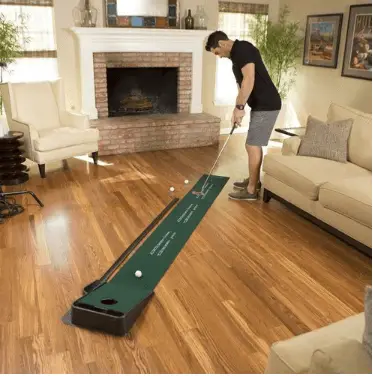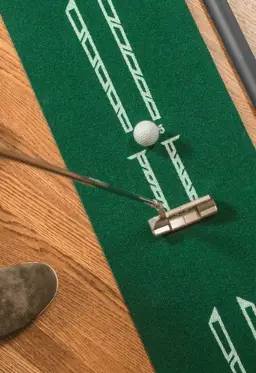 If there is one indoor putting matt that can compete with our number one spot – it's the SKLZ Accelerator Pro. This indoor putting green is not only challenging and fun – it's built with some great unique innovation and technology that only very few companies include in their practice putting products. Check out these product highlights!
Read more
Ball Return Feature
Have you ever practiced with a putting green before and found it frustrating to have to walk back and forth to get your golf ball? Well, say goodbye to your problems with this product. In efforts to alleviate this, the manufacturer created a ball-return system – for those times when you happen to sink the putt, or accidentally miss the hole completely.
Real Green Materials
One part about this product that previous consumers cannot get enough of is how real the green material actually feels. The mat was designed to mimic a real golfing experience, which is definitely helpful when it comes to golfing on the actual green.
Cost and Value
As far as cost and value are concerned, this specific product is priced slightly higher than the number one spot on today's list. Now, before you judge – consider the value that this product offers. This is one of the only brands that designed their indoor putting green with a ball-return feature and utilized nearly-real materials to mimic a true putting experience. Doesn't that sound worth it?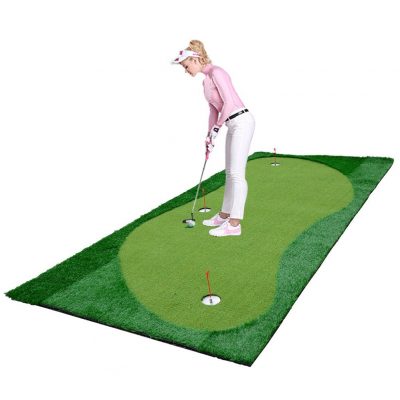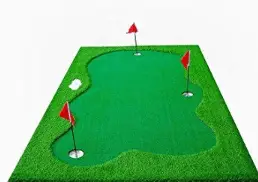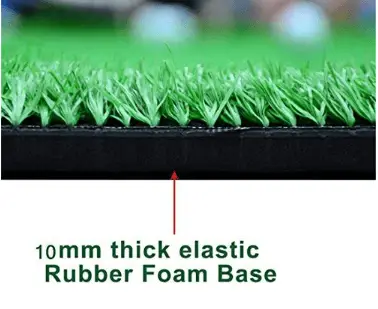 The 77Tech Golf Putting Green System could be seen as the dream indoor putting green for golfers all around the world. This product features everything that a golfer could want and more. With numerous different design options to pick from, this is great for the individual that is passionate about improving their putting game.
Read more
High-Quality Putting Green
If you are looking for the pinnacle of quality, this is it. This specific putting green is made from EVA plastic materials and professional green turf grass in order to mimic putting on the green at a golf course.
Multiple Different Course Options
When it comes different products in this market, it's important that manufacturers do something different in efforts to stand out. Well, this company understood this, and more. Not only can consumers purchase this high-quality and professional-grade indoor course, they can select from 12 different other indoor putting green courses, should one not be enough.
Cost and Value
Without question, this is the most expensive indoor putting green on today's list. In fact, when we first got to see what this product was all about, we were quite taken aback by its price tag. However, as we began to explore its numerous features, what we quickly discovered was that this putting green is not a simple, beginner practice mat. In fact, this is truly a high-grade professional putting green.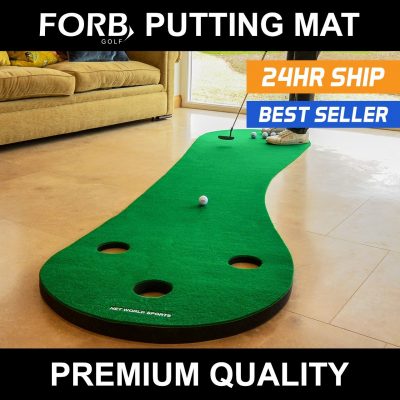 The FORB Home Golf Putting Mat is another great option for golfers that are seeking to bring the game of golf into their home. Designed to be 10 feet long, golfers can practice their putting skills in their own home, challenging themselves with three different holes and an inclined experience. So, if you are looking for some training, this product is a worthy competitor.
Read more
Great for Training
When it comes to training and becoming a better putter, it's important that find a putting green that's designed for training purposes. With three different holes, golfers can practice their aim and angled putts, while also standing on different parts of the green.
Inclined Design
What captured our attention with this putting green is how it was designed. The green itself is not 100% flat. In fact, using a higher-quality foam padding, the company designed this practice tool to mimic a small hill. So, if you need to work on your inclined putts, this is great for you.
Cost and Value
This specific item is considered competitively priced – and is often not viewed as very expensive to consumers. Now, it is more costly than a few other indoor practice mats on our list today; however, it's most certainly a valuable consideration, especially if you are looking to work on inclined putting.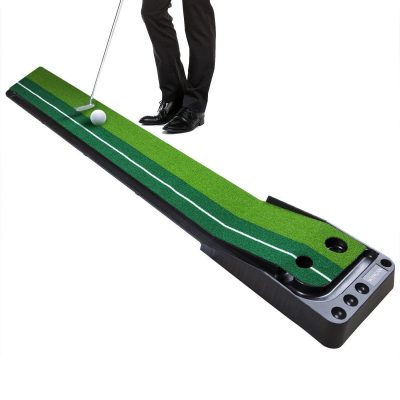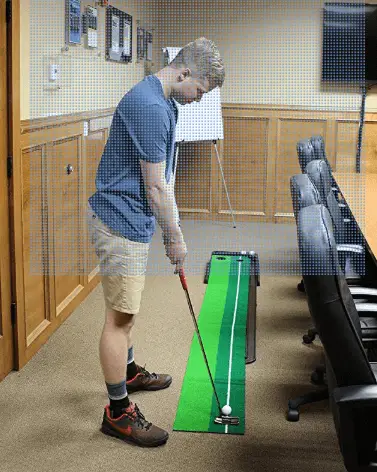 The Aqualation Golf Putting Mat Green is a great option for golfers that are looking for a casual indoor putting green for help practice before their next tee-time. With two different holes, three bonus golf balls, and a high-quality design, you can't go wrong with a purchase like this.
Read more
Automatic Ball Return
Sometimes, when putting, the ball happens to go farther than what you would like. With other putting greens, it forces the golfer to walk around and go pick up the ball. This product is designed with an automatic ball return feature so that, if you miss, the ball will gently return to you.
Two Holes, Two Sizes
Sometimes, using the same type of hole when putting can prove to be ineffective. I mean, you need to give yourself some sort of challenge, right? Well, this brand sought to add some difficulty to the golfing experience by not only adding an incline, but an additional hole, and a smaller one at that.
Cost and Value
When it comes to comparing the cost of this product with others on our list, we can say that this one is priced quite fairly, and evenly, especially once you consider the value of the course itself. While this does not come with a lengthy or wide practice mat, it's designed with an automatic ball return feature and two different sized holes to help improve one's putting game. So, if you are looking for an advanced yet simple putting green – this is it.

6

. Abco Tech Green Grassroots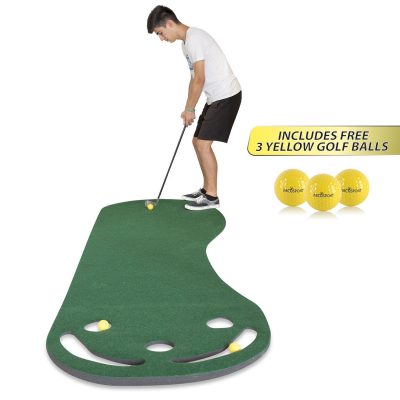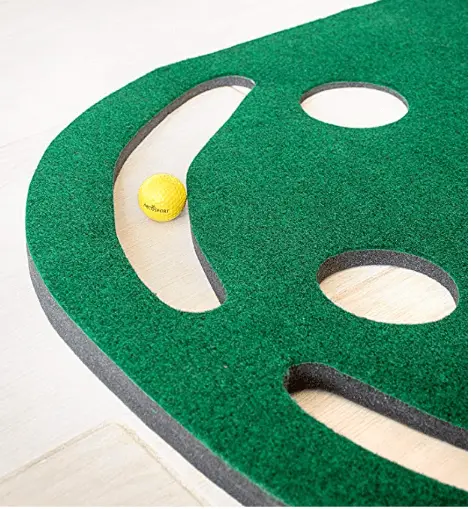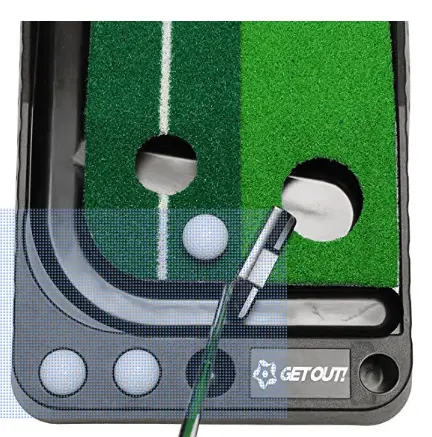 The Abco Tech Golf Putting Green Grassoots Mat is quickly become a popular option among beginner golfers because of its great price tag and practicing opportunities. If you are looking down the road to becoming a professional golfer, this practice mat may be a great purchase to fine-tune your putting skills.
Read more
100% Risk-Free Purchase
Purchasing an indoor putting green can be quite risky – especially if you are not 100% familiar with the brand. Well, in efforts to offer some assurance to new consumers, this brand comes with a 100% risk-free purchasing guarantee. So, should you find any fault or unhappy with the purchase, the manufacturer is there for you.
The Perfect Gift
Purchasing a gift for a golfer may seem like an easy thing, right? Well, if you have any friends that are a golfer, you know, typically, they have almost all the essentials. So, what do you get them? This putting green has been known as one of the best gifts for a golfer. Not only does the course offer some practicing opportunities, it comes with everything a golfer might need to practice, including 3 golf balls.
Cost and Value
Picking out the best indoor putting green means knowing whether or not you are getting your money's worth for a purchase. This specific product comes at, what we believe, a great price given its value and the competition. With the products featured on today's list, you are looking at a similar or higher price tag and, in some cases, less value. This is great for beginner golfers and most certainly worth consideration.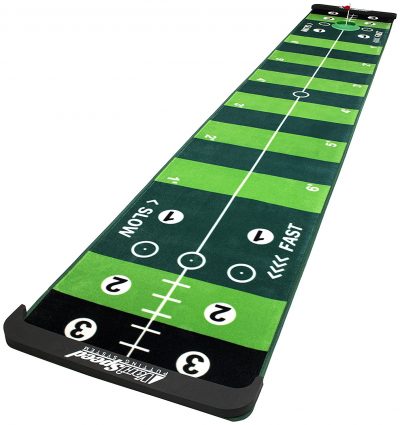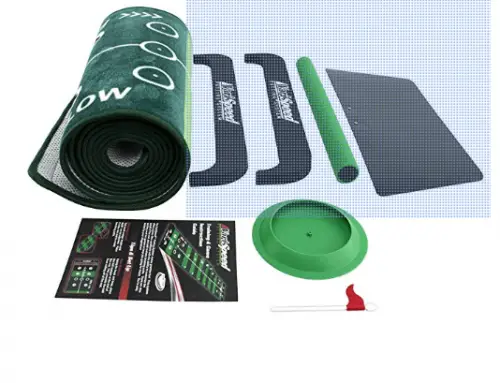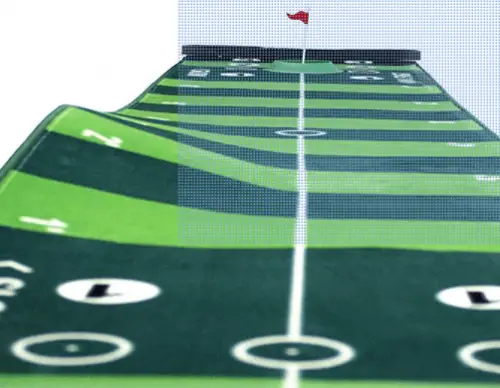 If there is one product that we were excited to share with you today, it was the ProActive Sports VariSpeed Putting System product. There is so much to do with this single putting green, ranging from practicing different putt lengths and speeds, but also games and more! Let's check out a few features.
Read more
Adjustable Speeds
Now, when it comes to the art of putting, professional golfers understand that there is a science and art behind the amount of power and speed you put into the ball. If you are not in a place or have mastered this – this specific product is great for this type of putting. With four different adjustable speeds, golfers will have the chance to really fine tune their skills.
Informational Booklet
One part about this product that we really liked was that the manufacturer provides all standard purchases with an informational booklet all about putting and a few different practicing games that the entire family could do.
Cost and Value
It's important to know that this item is priced slightly higher than some of the competition. However, this is not just a regular or standard indoor putting green. It is advanced and designed to help individuals that are already quite inclined in the putting department. So, with that being said, the value of this product most certainly weighs to measure the cost of the product itself.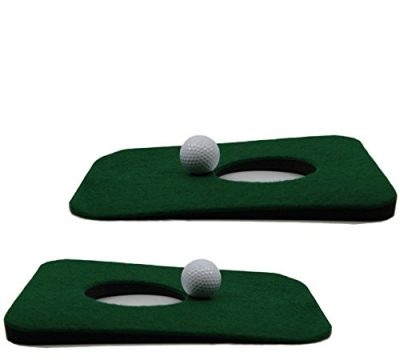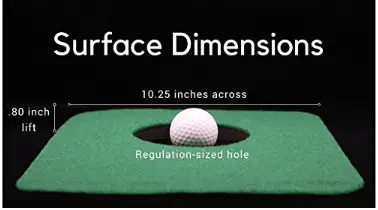 When it comes to golfing at homes, so many different practice mats limit the golfer as to how far away they can put. The Upstreet Putting Green Indoor Practice Mat empowers the golfer to place the mat anywhere in a room, or outside, and putt from whatever distance they see fit. With that being said, this product is quickly becoming a popular gift for golfers and a game at the office.
Read more
Great for Practice or Fun
As we were saying above, this indoor practice mat is not only optimal for practicing at home – it's also a great product to have some mini-golf fun at the office or with the family. Whatever the need may be, this product can essentially do it all.
Optimal Materials
When reviewing different products, what we learned was that creating a practice mat to mimic a putting green can be challenging for some manufacturers. However, as previous consumers have mentioned, this company had no problem at making theirs from golf-turf-like materials.
Cost and Value
As far as cost is concerned, this indoor practice mat is actually the cheapest on today's list. The reason behind this is that it does not come with any special innovations and features, aside from high-quality materials and a slim design. With that being said, if you are looking for a gift for a golf lover or just to improve your own skills, this purchase is not costly, making it worth anyone's consideration.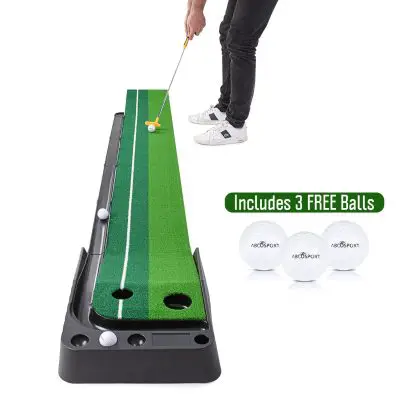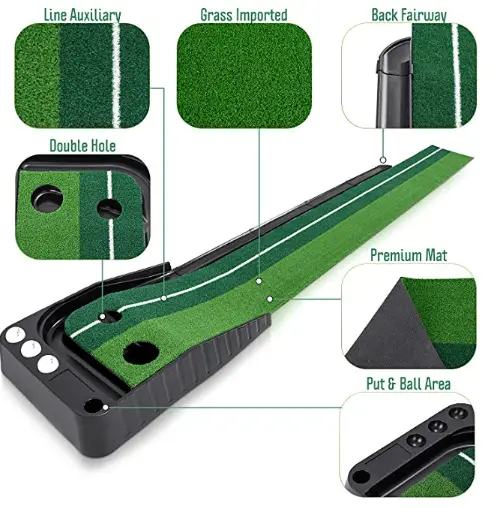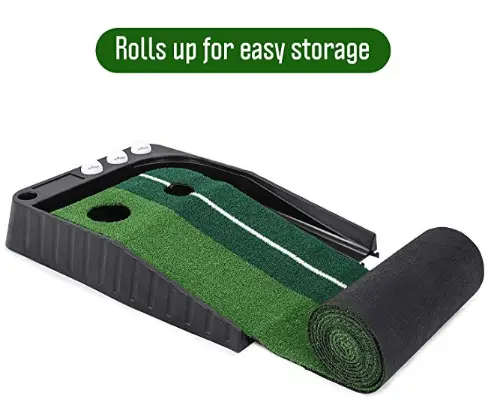 For the last product on today's list, we are going to talk about the Abco Tech Indoor Golf Putting Practice Mat. Now, again, this is another popular manufacturer of golf practice product, hence why they are on this list again. This specific practice product is designed with some great features and comes with a great gift. So, put aside your irons and wedges, let's see what this indoor putting green is all about!
Read more
Return the Ball Feature
One feature that we always look out for with putter practice mats is an automatic ball-return feature. Reason being, we know that golfers will find more appreciation with a product that will return the ball for them, rather than having to walk back and forth numerous times. With that being said, this company created their product with this feature, which is known to be very helpful.
Extra-Long Putting Experience
Sometimes, when purchasing a putting green for inside the house, golfers are limited to 10-12 feet of practice. This brand sought to stand out in this market by making their golf mat much longer. This way, golfers can truly practice, feeling as if they are really at a golf course, on the green.
Cost and Value
As the last product on today's list, we can say that this product is one of the most cost-friendly options on today's list. Now, we were quite surprised to see this, especially after seeing some of the features and benefits of this item. So, if you are looking for an advanced practice mat, 3 extra golf balls, and one of the longest putting greens on today's list, this may be for you.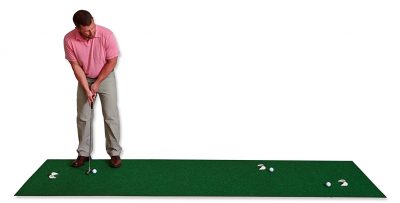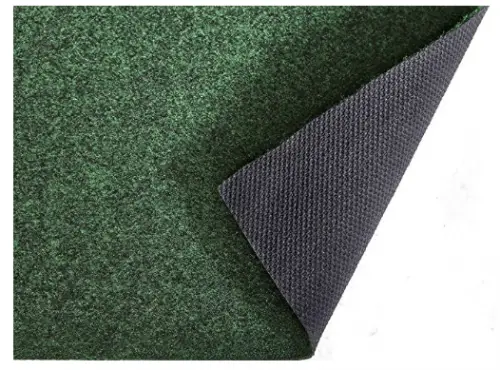 You might recognize the name of this brand from the first product on today's list. Now, that alone should be a testament to the quality that this brand puts into their products. The Putt-A-Bout Golf Putting Mat is one of the largest and widest products on our list today, making it a great option for a golfer who is seeking a true practice experience.
Read more
Large and Wide
The reason why this product is so high on our list is that of its pure size. Not only is the length a great practice size, it's wide enough so that the golfer can stand on the mat as well. So, if you are looking to practiced angled putts, this product is most certainly for you.
Premium Materials
When it comes to picking out a quality product like these, it's important to review the materials used in making it. This specific one is made from premium materials to ensure the best putting experience. Additionally, the company utilized special materials on the bottom of the putting mat to prevent any sliding or skidding.
Cost and Value
In terms of the price tag, this specific training mat and course is probably considered one of the most cost-friendly items on today's list. While this mat and course is simplistic in nature, it provides golfers with the opportunity to practice their skills at different distances and angles, which is not like other indoor putting greens.

Subscribe to our Newsletter