Best Ice Chests
In a
Hurry? Editors choice:
Test Winner: RTIC

As the summer season is ahead we are getting more eager to set free from the daily routine and hit the road to a sunny beach or mountain resort, away from the city chaos. Or, if you are a golfer who never skips his/her scheduled golf game, even when the days are scorching, then it is more than necessary to keep yourself refreshed and hydrated. Everyone who is an enthusiast in their heart and who strives to defy the sun in the most inspiring way knows that if you don't have the
right equipment
and protection the game against the sun has already been a lost game. Therefore, regardless of whether you are up to hit the 18th hole, enjoy the beach or go hiking, a good icebox is a life saver for quenching the thirst or satisfying your hunger. We have made the selection for you.
Standout Picks
Criteria Used for Evaluation
Insulation
This criterion is by far the most important one when it comes to a good and functional cooler that provides decent ice retention. The type of insulation is closely related to the type of materials for the production of the coolers. Among the most effective materials used for providing insulation is polyurethane foam in combination with rubberized, plastic or stainless steel base container. The technologies used in their production are also crucial in delivering the expected results, so roto-molded constructions and heavy-duty latches with freezer grade gasket it what you can expect from the good ones. Plus, some are designed with molded tie-down slots or are elevated from hot surfaces, making them less prone to external influence
Ease of Use
Even though you might think that there's nothing much to discuss regarding this criterion, there are mainly two factors to consider that make a point. The first thing would be the opening of the lid because the latches are the controlling mechanism that makes the opening and closing convenient. Some of them are made to keep open at 90 degrees, others have the capacity to have full 180 degrees opening which provides a better organizational preview. Also, some lids are difficult to open due to the smaller size of the latches, and therefore some of them feature oversized latches or push mechanism that makes opening and closing easier. Another factor to consider within this criterion is the draining plugs and their ability to easily release the melted ice. This is the place where most of the coolers have shown to fail in providing maximum effectiveness.
Durability
Even though the durability of the products is difficult to score, the materials they are made from and the users' experience provide enough source to consider it. Some of these coolers are made to go through the ordeal, especially if we are talking about people driven by exploring adventures. Since the manufacturers are aware that durability is the key factor to count, they integrated materials and manufacturing processes that make some of these iceboxes practically unbreakable. The hinges and the latches are the places that cause plenty of trouble though, however the best ones, such as YETI that integrates a new process of manufacture which makes the overall unity much more compact and extremely resistant to external impacts.
Features
Even though this is not a crucial criterion in determining the functionality of the coolers in terms of effectiveness and their ability to provide the desired effect, features are also considered to make difference upon the selection process. And, let's be honest. If you have two different products with the same insulation quality and more or less similar draining plugs, lids quality, and latches, but one of them has a ruler on the top, dry food container, cutting board divider, bottle openers, cup holders and drain plug leash, and both of them are sold for the same price, it is more than certain that the winner will be the one offering the handy accessories. Led by this notion, we ranged higher those iceboxes that feature these convenient extras.
Top 10 Picks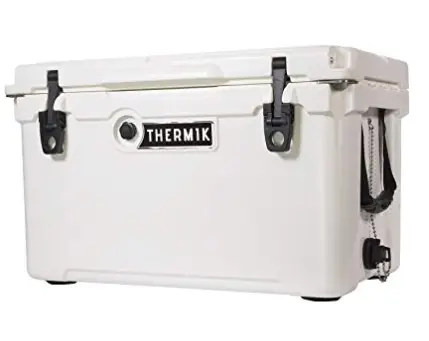 Nothing elevates the feeling of satisfaction than the fact that you've been heard and that your opinion matters. Why am I saying this? As you know many companies rarely come up with improvements that are based on customers' remarks and requests, but rather they implement their own visions on 'improved' and 'updated'. I'm not saying that it is a bad concept, just that sometimes users are the ones that will provide the greatest solutions on any problem. And that is what Thermik did. They analyzed the problems that other costumers had and implemented a viable solution into their new design.
Read more
Features
This is a rugged model made of molded construction which has a textured top lid with latches that are soft and damage proof. The insulation is made by thick urethane which provides prolonged ice retention and it can compete with its premium class brethren which are much more expensive. The seal is a freezer grade which features vacuum release button that prevents the lid from being stuck. The hinges are made with superior technology that is claimed to be indestructible. It has rubber feet and extra durable construction.
Capacity
This icebox has the capacity to retain ice for more than 5 days depending on the external temperatures, and some reviewers have stated, they were able to still see some ice after 8 days. That is an incomparable performance which provides this cooler a place within the premium group of coolers. Plus, as something that clearly distinguishes this cooler form the others is its organizational division and the factory accessories that come with it such as cutting board separator, a drink holder, dry keeper basket and the stainless bottle openers for greater convenience.
Cost and Value
What is meant by the term 'good value for the money' is the opportunity to receive more features and benefits for a lower amount of money. And that's exactly what this cooler offers. It delivers a top-notch performance of the triple-the-price coolers for a price of the economy class ones.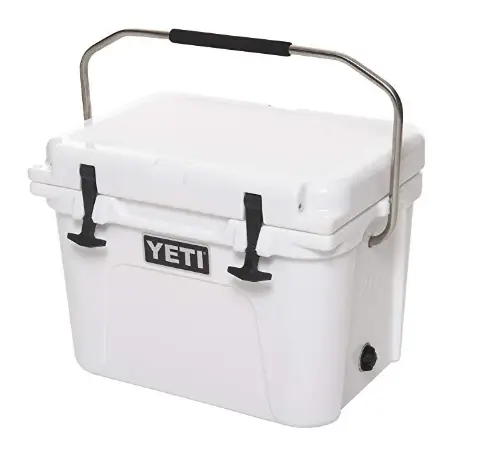 When you are talking about the most indestructible cooling piece of an icebox you are probably thinking of a YETI cooler that nothing can stand against it. Practical and convenient for any occasions, the coolers that are manufactured by YETI are made to please the pickiest ones. There are different sizes and shapes but this one can be very convenient for the golf course since it isn't very big so it can fit your golf bag if you have a spacious one. Made by YETI makes difference, so let's take a look at its features.
Read more
Features
The make of this cooler is more than impressive regarding its strength, insulation, and ability to resist weather elements and impacts (it is bear-resistant if that means anything!). It features Fatwall design, i.e. the walls are extra thick with the ability to hold up to two inches of permafrost insulation. This type of insulation is characterized by foam which is made from commercial grade polyurethane which is injected with pressure inside the walls and the lid. This type of manufacture ensures enhanced ability to retain ice for a very long period of time. Plus the Rotomodeled construction makes it armored and practically non-breakable. The lid latches and the hinge system are all made in a way never to break too.
Capacity
This is a premium quality cooler that will provide you with the freezer-quality experience and reliable functionality. It has the capacity for 14 cans and ice in 2:1 ratio. The overall structure is leak proof and waterproof and the gasket encompasses the lid in order to block out the heat from entering inside and to prevent the cold from coming inside.
Cost and Value
As this cooler comes from a manufacturer which is dominant in its field by launching products that stand out in their durability and quality, it will definitely meet your expectations and provide you with the pleasure of always having your food and drinks cold and fresh. The price is high, probably this is among the most expensive coolers, but it is expensive for a reason and those who have bought it can make the difference. So, if you are after the most prominent name-brand in this category and strive for luxury products, this is definitely the go-for product.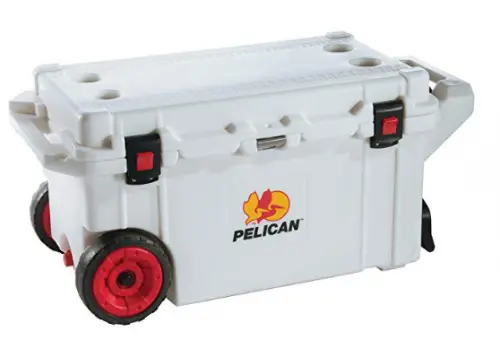 Now, imagine that you went somewhere in the mountains, decided to stay off the grid for anyone but your loved ones, you took your tent and your refrigerator and disappeared for ten days. Yes, you read it right, Pelican ProGear is your mini refrigerator in any sense of the word. It will accommodate your food and drinks (and your ice cream!) while you are blending into the natural surrounding around you, whether that be a mountain or an exotic beach. Plus, you can be certain that whatever you placed inside is protected even by the most piercing sun rays.
Read more
Features
This semi-freezer is your lifetime investment into the world of coldness when the temperatures are scorching hot. It is made of the toughest and most durable material that you could possibly find in a cooler. It has premium stainless steel hardware which has built-in UV protection for a lifetime and polyurethane insulation. The mobility of this cooler will make the transport much easier and the heavy-duty wheels can move through difficult terrain with the help of the molded-in trolley handle. However, in case you'd like to carry it or lift it up, there are to side handles for that purpose. The lid is secured by press-and-pull latches which are one of the most convenient latches that you can find on the market.
Capacity
The freezer grade gasket and the thick insulation make this icebox among the most ice retention ones that you could possibly find on the market. It has the capacity of approximately 30 cans which make it large and convenient for a longer stay outside, under the open sky. Plus, it can be used to keep the food hot, proving itself to be very effective for retaining heat too.

Cost and Value
We'll say it here, loud and clear, this is a very expensive cooler. But, is it worth it? Definitely, yes! With the lifetime guarantee and the superb functionality, your lifetime investment will certainly pay off. This cooler is one of those products you buy once and keep them for a very long time.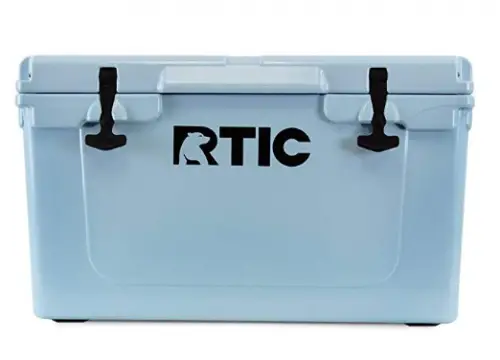 What would a golfer expect from a cooler? Basically, when you are out on the golf course during a scorching day, the most important thing is to keep yourself refreshed and hydrated. Plus, as it is not really easy to get to the 18 holes since it requires a lot of walking (for most golfers), it would be handy if you could sit somewhere and relax for a minute or two while drinking your booze and snacking some tasty protein bars. And that is exactly what this cooler can deliver. Cold food and drinks, and a place to sit in between the walking.
Read more
Features
Made in roto-molded construction which is the one that provides maximum durability through the special one-piece manufacturing process and featuring freezer grade gasket, this icepack is going to be your future best friend which will always be at your service. It has molded tie-down slots and 3 inches insulated walls which will keep the thing cool for a long time. The bottom is enhanced with non-slip feet and when it comes to securing your things it has an integrated locking system. I don't know if you'll ever going to encounter bears on the golf course, but in case you need reassurance, the icebox is bear resistant. Ok, what we want to say is that whatever you do to it is not going to get affected.
Capacity
It is a cooler that boasts with its ability to endure extremes. For extreme impact resistance to extreme ice retention, it is made to meet your needs to any extreme. This one is mod size cooler having the capacity for about 45 cans and it features several purposes besides the keeping things cool. It can be used as a bench, step stool, cutting board, and tabletop. It can be carried by one person since it has molded side handles with peculiar lift design.
Cost and Value
This midsize multifunctional cooler is all that you can ever wish for in terms of convenience and practicality. It performs much better than many other similar products of its class and when it comes to features and accessories this product offers it is a great deal. The price is on the high end, but as this is have-it-all cooler, it shouldn't come as a surprise.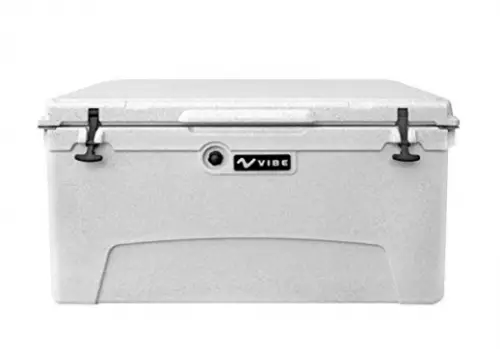 If you are eager to have all your food, drinks and even food ingredients set up and ready for the go, then Vibe Element is the icebox that will accommodate you with a roomy space, durable ice retention and many more added accessories that will transform the golfing, hiking, get-together beach gatherings into much more indulging experience. The reviewers claim that they are more than satisfied with its performance, so let's take a detailed look into its features.
Read more
Features
Made to impress with its roto-modeled construction, it is both, elements and impact proof, and basically, nothing can damage it. It features an integrated button that releases pressure and a drain spout with a rapid flow. It can be easily transported with the help of the heavy-duty handle which is padded for more convenience and it is secured to stand firm on the ground by the rubber feet. These feet make it away from hot surfaces which prevent it from heating it up. It also features some fancy accessories such as integrated bottle opener, a lid that has a measuring board and cup holders. Plus, it has an integrated locking system for enhanced safety.
Capacity
This is a medium size cooler that will provide you with enough storage to keep your food and drinks cool and fresh. In case you are off to a hiking adventure, it is of crucial importance to have your food safe and this cooler is said to deliver ice protection for about 5 days on high temperature. This fact is actually confirmed by the buyers who claim that this is one of the most high-performing coolers on the market.
Cost and Value
This model is one of the most praised ones boasting many five-star ratings that confirm its performance and functionality. The way it is made and the insulation it has are in line with those of the premium class and that is a guarantee that you will enjoy it. Plus for the price, you pay you to get a lifetime warranty and an excellent customer service.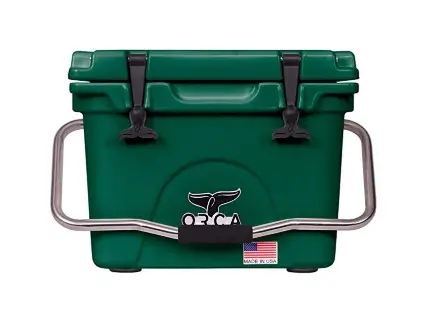 You must have seen one of these on the national holiday gatherings in the parks or picnic sites being proudly carried by nationality-inspired and conscious individuals. It is 100% American-made product that features superior performance and reliability. It is something that you can place on the cart, store some more brews and enjoy the day on the golf course with your golf buddies.
Read more
Features
This traditional model enjoys very structural integrity of the overall composition and is claimed to incredibly durable. It is not a model that has all the blows and whistles when it comes to modern cutting edge coolers, but the reliability it provides and the quality of the make deserve to be placed on the list. The integrated insulation provides cold/ ice retention for up to 10 days which effect is achieved with the help of the lid gasket too. When it comes to its portability, it comes with flex-grip handles that can be extended and it can be carried individually or by two people.
Capacity
This icebox features roto-modeled construction that is made of a single piece of plastic which increases the durability of the overall construction. That leads to greater insulation and provides a cooling effect of 10 days. The compartment has a capacity of about 24 cans plus ice. The large latches provide for easier opening and closing and unlike many other coolers, these are easy to handle.
Cost and Value
When a manufacturer offers a lifetime warranty, this usually means that the company has invested a lot of time and effort to produce a product that won't be shipped back every second day because they are aware and positive that that product will live up to the expectation. Such is the case with this product. It is high quality, durable and the warranty tells you that it is worth the money.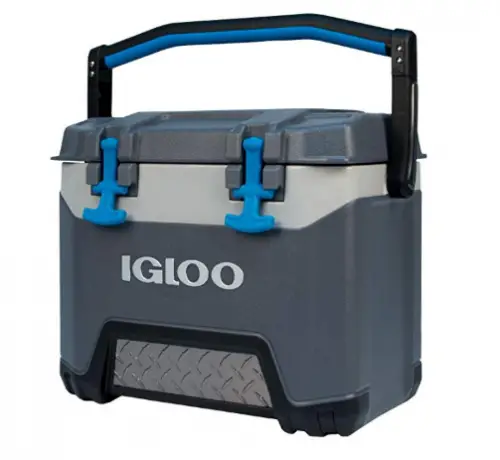 This sturdy box is made to make your summer days fresher when the sun is at its peak drying up the surface of the ground, defy the thirst and the heat with icy cold drink taken from your Igloo and keep up with your game. It is made from a company that has been more than 60 years in this business and which knows how to create products that will inspire and impress.
Read more
Features
This cooler is made with heavy-duty molded construction that extends its duration, while the extra thick foam-padded walls and lid provide insulation for 4 days ice retention. Everything on this box is designed to fit its purpose in the most sophisticated and safest way. The T-latches makes sure that the lid has been closed well by locking in the cold and preventing the heat from getting inside. There are oversized hinges fastened with stainless steel screws which ensure its durability to a maximum. The triple point handle is made from stainless steel reinforcement and rubber grip for easier transportation. And to make sure that your cooler will stay with you even if you are on slopes they added skid pads that add extra layering of corner protection.
Capacity
This cooler is made to provide reliable cooling of your food and drinks in a duration of four days which is an amazing period of time for a cooler. The Cool Riser Technology of the molded base makes the whole construction in an elevated position and thus makes it stay away from hot surfaces and that has been proven to make the cooling performance much better. The ice box is big enough to provide space for about 18 to 20 cans plus ice.
Cost and Value
Everyone who has had this cooler claims that is provides the effect of much more expensive competitors or even surpasses them. It is durable, sturdy and made in accordance with the latest innovative technologies and as many satisfied buyers claim, it is worth the money.

8

. Coleman 100-Quart Extreme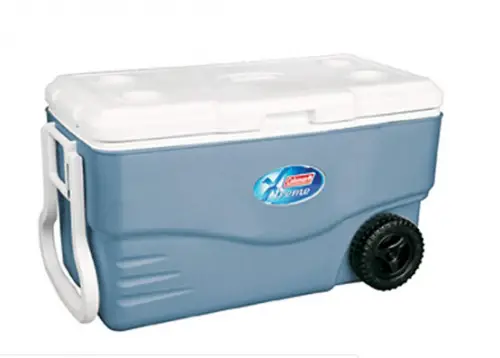 As the summer season is slowly approaching ahead of us, we start thinking (consciously or unconsciously) about getting away from the city and indulge into summer craze adventures that revive the spirit and bring refreshment and variety from the daily monotonous routines. Many of the people I have known for years have already booked their holidays, some are still thinking about it, but as the flowers start to bloom, we, humans, feel the need to fit in the awakening process. One of the best ways to do it so is to hit the road to a distant mountain resort, a camping site or the beach, where you can enjoy nature. Pack a few things with you, fill the Coleman icebox with plenty of food and drinks and let yourself being embraced by nature.
Read more
Features
It is not an accident that the name Extreme was given to this icebox. This one is going to provide extreme cooling performance for an incredible five days to the temperatures for up to 90F. It has an insulated lid and plus there's an added insulation in the walls. Since this is a large icebox, to be more convenient and easy to carry it features heavy-duty rugged wheels and extra-large tow handle that will let you overcome any difficult terrain with as little effort as possible. Plus, there are additional side handles which are used for easier lifting up.
Capacity
This icebox isn't an ordinary one. It has a capacity of 160 cans and can keep the ice for five days. The insulation lid can be used as a seat for extra convenience and plus there are molded cup holders into the lid which allow being used as a mini table too. When the ice gets melted, it has channel drain that is rustproof and leak resistant without tilting the cooler.
Cost and Value
Besides being made of high-quality materials which are safe to be used and non-toxic, its impressive capacity and ease of maneuvering, the reason why this is among the most popular coolers on the market is its reasonable price. It provides functionality which can be compared to its much more expensive peers which cost ten to twenty times the price it has.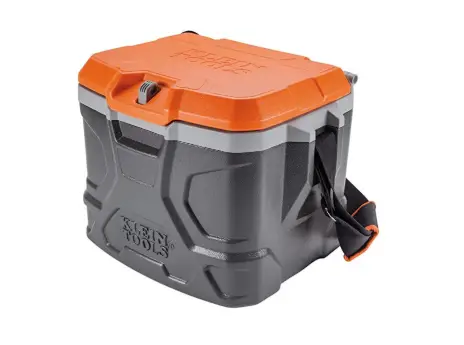 This cooler is not a joke and it is made to provide you with serious storage for a day needs, so if you are a double shifter or an avid golfer spending most of the days on the court, this cooler will have all your meals assembled into one place, fresh and cool. This is maybe the most versatile cooler that has several more functions besides keeping food and drinks unaffected by the sun. It can serve as a seat and it can store small dry items in a separate lid compartment. Read more to find out about its specifics.
Read more
Features
With this cooler, you can confidently leave the comfort of your home knowing that whatever you packed inside will stay fresh and cool and you will have your meal ready regardless of the temperatures of the day. It is made of one large compartment that is very roomy and safely locked by the lid that is attached to the hinges made of stainless steel and which is so tough that is can serve as a seat for any person weighing up to 300lbs. Plus, the lid has a small compartment which is convenient for storing small items such as utensils, medicine, keys, napkin and so on. It can be opened to full 180 degrees for better organizational purpose and it can stay open at 90 degrees.
Capacity
This is a spacious cooler with a capacity of 18 cans. It is deeper than many other coolers so it can take up bottles of 1-liter of water in an upright position. It can be your perfect lunch box that will provide you with all your daily meals. It can be conveniently carried around on a shoulder strap that converts into a handle. It is safe, sturdy and your food will be protected from all natural elements, dust, and insects.
Cost and Value
This is a very trendy cooler that was made to impress you with its functionality. It is an excellent option to fit in your daily working or golfing needs. This is a personalized cooler that can fit any golfing brews or road refreshments and which will provide a long term service for a price that isn't on the low end but it won't break your bank too.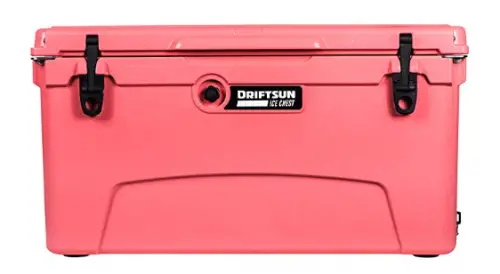 This is another aspiring rival to the raging Yeti which tries to impose itself on the market as one of the most trustworthy ones. It is larger in size and it will provide enough fresh booze for all your friends on the golf course if that's what you buy it for. But I'm sure it isn't the only use this icebox will have since this cooler has the capacity to keep the ice from seven to 10 days which is more than you actually need just for golfing. It will be the companion for your lifetime adventures providing you with fresh drinks wherever you go.
Read more
Features
Advertised to be seriously reliable cooler, it is made with the latest advanced features to offer maximum protection and endurance under the most challenging conditions. The insulation is three inches thick and the body is made of seamless rotomolded material which is UV resistant. As the latches are equally important for the cooler to stay adequately shut and since they are the first to break, these are a quick-clip model that sit flush, it locks tight and it is a model that is very easy to use without risking your fingers. It has dual cap drain plug and pressure release valve and can be used with dry ice.
Capacity
The capacity of this icebox is impressive since it is a large size. It has the capacity to retain the ice from 5 to seven day depending on the weather temperature and according to many satisfied users, this is the cooler that you will simply love. It can be filled with a bunch of cans for full meals for you and people with you.
Cost and Value
As this is a serious competitor to the most prominent name-brands in this field, it has a price that is competitive but not very low since the quality of the material and its serious performance require serious manufacturing approach. As many buyers agree, it is an excellent value for the money.

Subscribe to our Newsletter