Best Hybrid Golf Clubs Reviewed & Rated for Quality and Performance
In a
Hurry? Editors choice: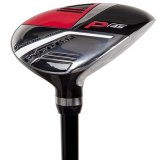 Test Winner: Pinemeadow Excel EGI

Golfing with the wrong set of golf clubs is like trying to play baseball with a twig or with a tree trunk. It's ineffective to the point of being useless–it isn't even fun anymore after a certain point! But let me set something straight before we dive in: by "the wrong set of golf clubs" I don't mean that there are such things as "wrong" golf clubs. Instead, what I mean is that some clubs can be wrong for you. Once you know what your strengths and weaknesses are, you're one step ahead of the game. To be frank: if you want to improve your game, you need at least one hybrid golf club in your arsenal. So which one do you choose?
Standout Picks
Criteria Used for Evaluation
Loft
Loft & Lift Angles
Knowledge of loft and lie angles is vital to your ability to hit a club. Lofts influence trajectory and make all the difference when it comes to distance. In general, the lower the loft, the more difficult to hit. Most irons are adjustable, in that you can change the loft and lie angles as you see fit, according to what kind of shot you're trying to hit. Most woods are not. Even most hybrids are not. Most of the products on this list, however, come in various configurations, so you can pick and choose based on your specific needs.
Weight
Weight
One of the reasons people–specifically novices–have trouble hitting iron clubs is because of their weight. It is a scientific fact that the lighter the club, the faster the swing, the greater the distance. And of course, common sense would tell you that the lighter your club, the more control you have over it. Hybrids, in general, are light-weight, and purposely so. They're made for novices, intermediates, senior citizens, women–who, generally, even on a professional level have a harder time with irons–and of course pros who just want to take it easy.
But hybrids do vary in weight. That is, some are heavier, some lighter. The heavier hybrids have a slower clubhead speed–for the reasons already given–and thus end up giving you more control. This is for intermediate level players. But if you're looking to improve your distance, then you need to look for the lighter models. Remember, the lighter the club, the higher the speed; the higher the speed, the farther the distance. The construction of the club, therefore, matters greatly. If you're specifically looking for a heavier hybrid, you're going to want to look for is one with a steel shaft, because they weigh the most. Graphite shafts, on the other hand, are up to 25 percent lighter than steel shafts, will allow you to swing faster. They're also easier on the hands and extremities–so if you have any sort of chronic condition that affects those areas, be sure to choose them.
Lastly, a club's center of gravity (or CG for short) can make or break a shot. The CG is, in short, where all the weight of the club is concentrated. For most hybrids on this list, the CG is concentrated very low as well as deep in the head itself, to generate the most power, promoting distance and accuracy for hitting. So pay attention to where the CG is placed in each hybrid to make a more informed buying decision.
Adjustability
Adjustability
Some of them are in fact adjustable–these are fantastic for beginners or intermediate players looking to improve their game. The ones that do not tend to come in higher degrees–remember, hybrids are meant to be easier to hit than both woods and iron. That's why they're typical–and purposefully–designed with a larger face area more commonly seen on woods, with the distance and spin comparable to that of irons. Moreover, one of the items on the list is actually a set. While not each individual club on the list is adjustable, it was meant to replace all of your irons. This is especially good for senior citizens or for the layman who's concerned more with a good time than being a skilled golfer.
Value
Cost
Then, of course, there's cost. Unless you've got an unlimited supply of money, you're worried about the cost. Golf clubs can be quite expensive. Especially the more popular name brands–the ones that are supposed to denote "quality". But is it necessary to buy those brands in order to get a quality club? This list was compiled under the assumption that this is not so. This list was also compiled under the assumption that you're a hobbyist, not a pro; that you're interested in enjoying your leisure time more than you are with improving your accuracy. For that reason, included in this list are both dirt cheap as well as expensive items, and brand names as well as hybrids from more generic companies, so you can choose what's best for you to meet your individual needs.
10 Best Hybrid Clubs
1

. TaylorMade Super Fast 2.0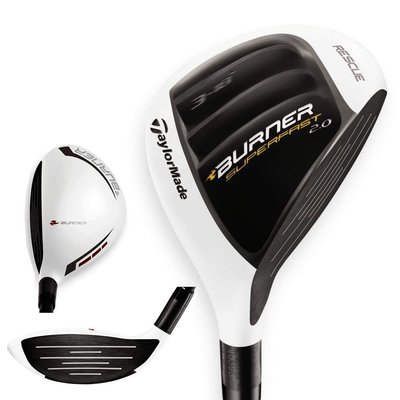 Number one on the list, this hybrid golf club is a fantastic replacement for your 3 wood club, and it's much easier to hit. If you're having trouble with your long game and looking to add more to your drive, then this hybrid from TaylorMade is an absolutely essential addition to your arsenal. For shots that difficult to hit, this hybrid is forgiving--and fast, too. With its longer shaft, and it's relatively lightweight, you can actually swing faster without at all sacrificing distance. With an 18 degree loft, you can hit for up to approximately 200 yards--what's not to like?
Read more
Fast swing speed
In general, the lower the loft of the golf club the harder it is to hit. This particular hybrid features an 18-degree loft--a fairly high configuration. That means it's easier to hit. And to add to this, it's also light--lighter than comparable woods--so you can swing it faster and go farther. Now that's a win-win if there ever was one.
White non-glare crown
There's nothing more annoying than a distraction while you're trying to tee off. You're concentrating on the ball. You're envisioning the swing. You direct the ball--telekinetically--where you want it to go. You see it in your mind, the perfect swing, the perfect hit, the golf ball is in the air, traveling, traveling--and then someone from behind just has to make a comment about the weather. You lose your concentration. That mental image of the perfect hit is gone, poof; just like that. Concentration is the name of the game and every little bit of it helps. With this hybrid from TaylorMade, at least you know you that the glare from the sun won't bounce off the crown and blind you in that very moment that you need to see.
Cost and Value
If you're looking for a quality hybrid golf club, then you've found one. And if you're looking to avoid breaking the bank, you can stop reading right here. It's not cheap--no quality golf clubs are cheap--but it's well worth the price if the quality of your game is at all important to you. And bet on it: your game will absolutely improve with this hybrid from TaylorMade, whether you're a beginner or a pro. The verdict? It's well worth the price.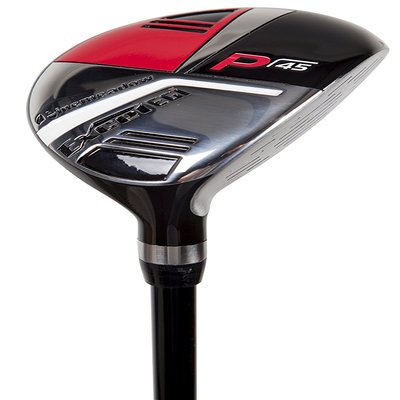 Maybe you're not a hardcore golfer. You're just a guy who likes to golf. It's a hobby of yours, not a passion--so you're not looking to spend an arm and a leg on a golf club. But you still want something of quality, something that works for you. You want, in other words, the best of both worlds. Pinemeadow Golf is a company that caters especially to you. They specialize in affordable golf gear that allows you not just to have fun, but to play a good game--all while being easy on your wallet. This hybrid golf club by Pinemeadow is true to that aim. It comes in varying configurations, from 19 degrees to 45 degrees, so you can choose what you need. You can replace a 7 iron with a 32 degrees configuration, an 8 iron with 36 degrees, a 9 iron with 40, and a pitching wedge with 45. It's a really effective way to make sure you're prepared for anything on the course, without spending a fortune.
Read more
Great replacement for long irons
Long Irons are notoriously hard to hit. Long irons have less loft than other clubs, so that means that they're not able to generate as much spin. That means, essentially, that it's harder to get the ball in the air. If you're a beginner or someone who golfs primarily as a hobby, as a way to let loose and have fun, then this hybrid from Pinemeadow will increase your enjoyment of the game by removing all the annoying technical prowess needed to wield a long iron effectively.
Good grip
Nothing is worse than not being able to grip your club properly. After all, a proper swing starts with a proper grip. If you slip, you might miss. And if you hit, the ball definitely won't go where you want it to go. With this hybrid from Pinemeadow, you won't have this problem.
Cost and Value
As already stated, Pinemeadow is a company that specifically markets to those people who find golf a fun and relaxing sport, who are not concerned with the best quality items and who would not even dream of spending a chunk of their hard-earned cash on trusted name brands. These hybrids from Pinemeadow are an excellent buy if you're looking to save money while improving your game and replacing some of the harder to hit clubs in your arsenal.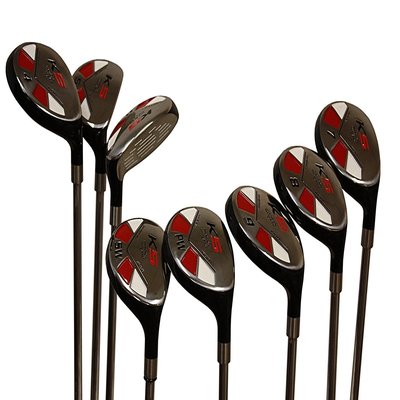 You might be retired and looking to just pass some of your free time at the golf course. You're not looking for anything serious, but you are looking for something you can use without hurting yourself. Number three on this list--as you can tell from its name--was made with older men in mind. It might be taxing on your body to hit iron clubs. That's understandable. So don't use them--simple as that. Replace them this hybrid golf club set from Majek. The set comes with 8 golf clubs designed specifically to do the job of iron clubs in a normal set, but with an ease, you couldn't get with anything other than hybrids.
Read more
Senior citizen friendly
You've worked hard your entire life and now it's time to enjoy yourself. Your leisure time shouldn't be spent struggling with clubs that are too heavy for you or too clumsy. It should be spent well. Efficiently, even. This hybrid set from Majek will help you to achieve this efficiency.
Comes as a set
This may seem obvious, but it's very much worth noting. If you're an older man, and you know you're not looking to hurt yourself trying to wield an iron club, then you might have been preparing for a long process of hunting down the proper hybrids to add to your arsenal, to make sure your game doesn't suffer, even if your body does while swinging an iron. Well, you've found everything you need in one spot. That's what's known as a convenience.
Cost and Value
In life and in golf clubs, you get what you pay for. In this case, you get more than that. Remember, this set comes with eight different hybrid clubs, each of them meant to place a comparable iron one. If you try to price each hybrid in the set individually, you may find that it's actually quite cheap. But on the whole, for the convenience and for the utility that this set offers, the price is quite fair and reasonable.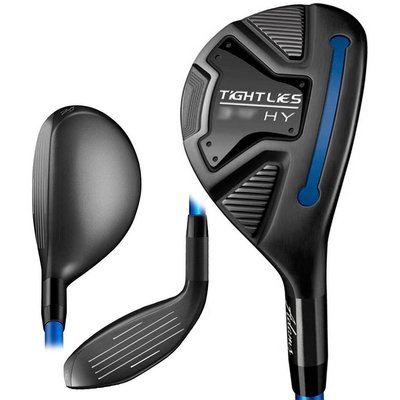 If you really have a problem hitting, you need to get yourself one of the Tight Lies Hybrid Clubs by Adams Golf. That's because it's been specifically made with low profile upside down design to ensure a larger surface area--that means your game can get just a little better. You want it to get better still? This hybrid by Adams Golf also comes with a tri-level sole, so your interactions with turf are limited.
Read more
Tri level sole
Sometimes you miss completely--you swing all you hit is air. Other times, you swing and your club bounces off the ground before it the ball. When this happens, it could really mess up your hit. The ball won't do what you want it to do. It might even do the opposite. With this hybrid from Adams Golf, that problem will be reduced, due to its tri-level sole design.
Larger impact area
Again, you might have a tendency to miss the ball completely. That's okay, it happens--as long as you're not a pro, that shouldn't stop you from enjoying the game. But you'll certainly enjoy the game more if you can actually win a few rounds! Well, with this hybrid option, you'll have a better shot--it's larger impact area guarantees more consistent hitting.
Cost and Value
This particular hybrid hits a sweet spot with its price. It's neither expensive nor cheap. If what you're looking for is an ability to enjoy the game and to improve your hitting abilities, this is an absolute must. It won't break the bank and it'll help you enjoy the game more than before. All in all, it's not a bad deal.

5

. Adams 2014 Idea Rescue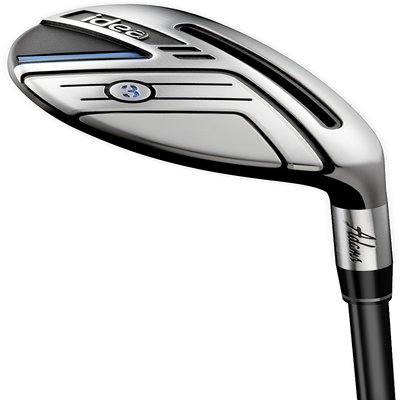 Another great hybrid club from Adams Golf. If you're looking to replace your long irons--particularly your 3, 4, 5, 6 irons--you're in the right place. Just like the previous one on this list, this one too features an upside-down shape, which gives it a larger impact area, which means you can more consistently hit. Moreover, it has a very refined slot design, which helps increase ball speeds and adds distance to the shot. In short, if you're looking for forgiveness, stop looking now.
Read more
Easy to hit
Just like the last hybrid by Adams Golf, this one is an excellent choice if you're having trouble with long irons. Take the frustration out of the game and get one of these right away--you'll have a better time and you'll feel like a better golfer in the process.
Refined slot design
When something is intended to replace long iron clubs, you need to make sure it'll do the jobs iron clubs would do, except make it easier for you. With the way this hybrid is designed, you'll be able to hit balls faster with a higher launch and add distance to the shots, especially with off-center shots. In a way, these don't only replace iron clubs--they outdo them.
Cost and Value
These cost more than the previous Adams Golf hybrid. Whether you think it's worth it or not is your choice. They're both excellent products. Sometimes it's said that you get what you pay for--that may apply here. Either way, you won't be disappointed.

6

. Callaway Big Bertha Individual


Here's an excellent hybrid club for the casual golf player. Maybe you don't want to carry around a bunch of heavy clubs, but still, want to be able to pick and choose the kinds of you to want to take. Callaway Big Bertha Individual gives you that option by featuring an adjustable head that allows you to change the loft and lie angles--there eight different combinations of these! That's not only easier on your back, but on your wallet too. There are three different configurations to choose from 19 degrees, 22 degrees, and 25 degrees.
Read more
OptiFit Adjustability
One of this club's special features is its adjustability. You can adjust the hosel which means that, depending on the type of shot you want to hit, you can adjust the loft and lie angles to meet your needs. Remember, the lower the loft, the more difficult it is to hit.
Speed Frame Face
It's light and robust and thin, so you can hit the ball quickly off the clubface. This hybrid is also extremely forgiving, which makes it extremely enjoyable to play with.
Cost and Value
This hybrid golf club, despite its quality, is one of the cheapest products on this list. Does anymore have to be said? I think not--it's more than an excellent value for the price, especially considering its adjustability features.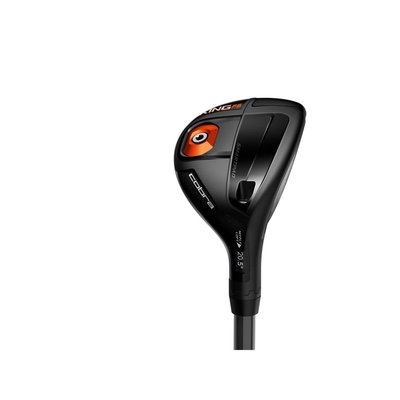 Here's another hybrid golf club that can be adjusted to control trajectory. This one runs a bit more expensive though. It weighs 13 grams and is specifically designed so that weight is positioned deep in the head itself, which allows for maximum forgiveness. At the same time, the CG position is lower centered, which allows for easier performance at the same time that increases accuracy.
Read more
Adjustable
Just like the hybrid golf club above it on this list, this one too offers an adjustable head. This could come in handy when you want to be able to control the trajectory of the shots as well as the launch conditions. This way you can maximize the distance.
Speed Channel
This is something unique to Cobra--it's the company's own innovation. This is essentially an engineered trench around the face which reduces the thickness and increases the speed of the ball around the face--which also maximizes distance.
Cost and Value
As was stated, this is more expensive than the previous one on the list--and that's why it's underneath it. But overall, it's an excellent hybrid, and if you don't mind spending the extra few books, very worth it.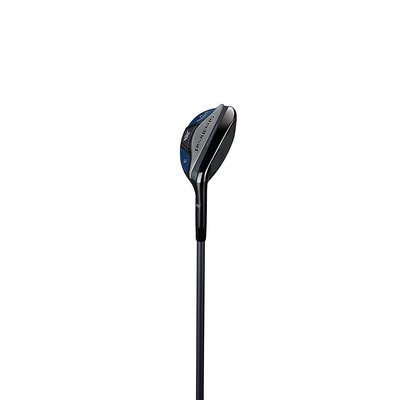 Designed with Callaway's signature hyper speed space cup technology and a larger face club, this hybrid is perfect for taking off-center shots. It ensures increased ball speed and an easier launch that promotes carry as well as distance. If you're having trouble with iron clubs, give this a try. Its larger face is also designed to help you keep the ball straighter and keep hitting consistently. Overall, a great hybrid.
Read more
Speed Step Technology
This is a Calloway innovation. It was designed alongside experts on aerodynamics, all with the intent of promoting higher club speeds in order to increase distance.
Deeper body and longer blade length
This hybrid was actually designed for those with high handicaps in mind. Of course, people of all skill levels can enjoy it, but it was designed specifically for those who could use a little help. In this case, its structure--a deeper body along with a longer blade length--is so to aid in hitting from various lies on or even off the fairway.
Cost and Value
This hybrid golf club is on the expensive end, but it's a Calloway brand--a trusted, high-quality brand in the golfing work. The choice is ultimately yours, but if you have a few bucks to spare, this a great addition to your golfing arsenal. But remember, this hybrid is for beginners to intermediate-level players with fairly high handicaps.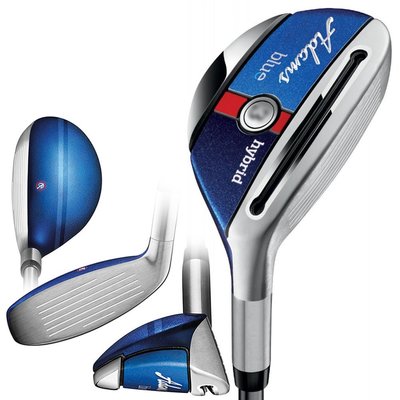 Here's another great hybrid if you're looking to have some fun out on the course. It's easy to hit, forgiving, easier launch, fast speed--what's not to love? With a 26 degree loft, this hybrid from Adams Golf is an excellent choice for beginners.
Read more
Velocity Slot Technology
This feature is unique to Adams Golf. A larger face area that allows for more speed and flex, this is sure to keep your time at the golf course enjoyable. If you're a novice or an intermediate player, and you're not looking to compete on a professional level, this is a great hybrid to bring along with you. Or even if you want to compete one day on some level, this will give you the confidence to tackle some of the difficult clubs to hit, once you get your form down pat.
Low/Back CG
A low center of gravity--the importance of this cannot be stressed. If you know anything about golf, you know how much it impacts not just the feel of the club, but your performance too. It even affects the sound of impact when you hit. With this hybrid from Adams Golf, you get more spin and more speed, resulting in a better time on the course.
Cost and Value
This particular hybrid club is neither cheap nor extremely expensive. It's been stressed a thousand times already, but you have to know what you want. This hybrid is built for enjoyment, and as a tool to help you master form before moving on to more difficult to hit clubs. If this is something you think can benefit you, then by all means, this is a good, solid buy.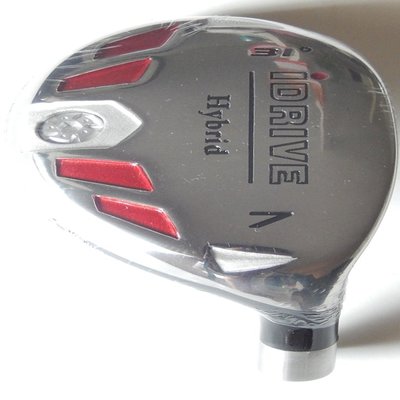 If you're really a beginner--really, really a beginner--then this is the club you need. It's a hybrid, of course, just like every other one on the list, but these ones specifically for women and older people. The best part about it is its price--you can learn the game and master your form and get comfortable playing before you plunk money down the toilet on clubs you don't know how to use. After playing with this hybrid from Integra, you'll get your form down in no time, without having spent a fortune to do it.
Read more
Graphite Shaft
This hybrid comes with a fully assembled graphite shaft, making it an excellent choice for those who prefer an easier club to wield. If you have problems with hands or arms, you don't want to exacerbate them with steel shafts. This is especially true with mishit shots--the vibrations alone from steel shafts will leave you stinging. Graphite shafts are lighter and thus beneficial for those with a slow swing tempo.
Standard Club Length
This is both a warning and a positive. Standard club lengths are for people who fall within average height ranges. This particular hybrid is perfect for those who are between 5'9 and 6'0. If you fall below or above that range, then you might want to skip over this one and look at the other items on this list.
Cost and Value
Cheap, cheap, and cheap. But not cheaply made. The club head is made from stainless steel, and the entire club is as light as can be. Remember though, you get what you pay for--with this hybrid, you get an excellent training club that you can use to improve your game, or, if you don't much care about that, have a good time.

Subscribe to our Newsletter