10 Best Hybrid Golf Clubs for High Handicappers
last updated:
Aug 13, 2021
When was the last time you were able to hit far enough with your long irons accurately and beat par 5 or even dared to relish the thought? The chances are that it has never happened since you are reading this article, as that's wishful thinking for most of the high handicappers. And that's exactly why hybrid golf clubs for high handicappers have become so popular lately and most of the dominant manufacturers have put so much effort to make them as versatile and playable as possible.
Hybrid Golf Clubs are made to be your rescue from any tough lie, more forgiving and larger than the irons so that recreational golfers have at least greater chances to enjoy the game. So, if you are looking for hybrid golf clubs for high handicappers that will open the door for more distance and precision, we have selected the best.
This is the best product on our list that is currently in stock: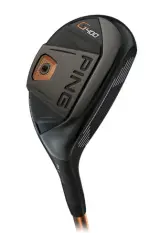 Ping G400
Why is it better?
High-density machined back tungsten weight for increased MOI
Ultra-thin cast crown
Maraging steel face which is thinner and more flexible
Textured face for spin reduction and cascading sole
Five loft options
In a
Hurry? Editors choice: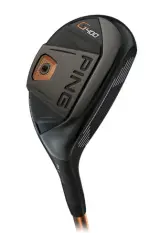 Test Winner: Ping G400

43
Researched Sources
219
Reviews Considered
43
Hours Researching
35
Products Evaluated
Features
Loft
Ease of Use
Versatility
Value
By Default
Top 10 Picks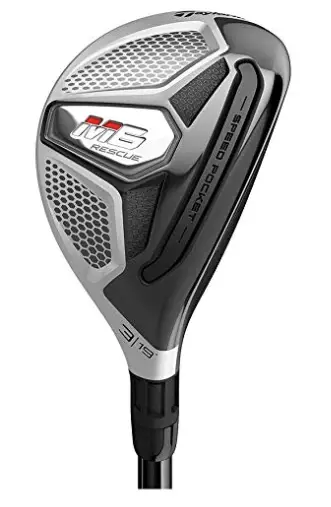 Twist Face technology makes the face 'corrective' on mis-hits to deliver straighter shots
Improved speed pocket design with a new TPU insert
Thin body construction and low CG for maximized distance
Five available loft degrees from 3-hybrid to 7-hybrid
It doesn't have an adjustable hosel
This hybrid golf club was launched on the market this year and made a boom, and this applies to both M5 and M6 series that were released just a few months ago. And not only can the drivers and woods claim uniqueness and versatility, but this hybrid golf club is also dominant in many aspects, from both constructional and playability point of view. It is the most versatile and the longest in TaylorMade's family, and it is the first one that integrates the proprietary Twist Face technology.
Read more
Key Technology
And yes, what you can find in M6 hybrid golf club is the twisted face which has been previously introduced in M3 and M4 drivers and M5 and M6 fairway woods. This technology means that the face has been modified to counteract the effect of common mis-hits all across the face and deliver exceptionally straight ball flights with much more consistency. The face curvature in this fairway wood is much more pronounced compared to the driver which allows more face flex and even more forgiveness. The steel body and the stepped crown lower the CG even further so that golfers can launch the ball even higher. One more feature that characterizes it is the redesigned Speed Pocket which has a TPU slot insert for better off-the-center performance and improved turf interaction.
Specifications
More speed, a lot of forgiveness, less dispersion and low-spin shots is what you can expect from this hybrid golf club. It is an excellent tech-packed hybrid designed to please high handicappers who look for the most advanced type of a hybrid. The loft degrees range from 19 degrees for the 3-hybrid to up to 31 degrees lof for the 7-hybrid. The stock shaft it comes with is Fujikura Atoms Orange, graphite, lightweight shaft.
Cost and Value
Before we get to the price, let's just we remind you that this is the latest hybrid release from TaylorMade featuring the most advanced technology that the company has designed to make this hybrid one of the most efficient, easy-to-hit and forgiving clubs within the range. It is suitable even for high handicappers because the Twist Face technology, the Speed-Pocket, and the ultra-light design together with the premium shaft make it very playable. And, a few words for its price. It is on the high-end, among the most expensive, however, it is worth the money if you are set to buy a club that you'll be using for many years to come.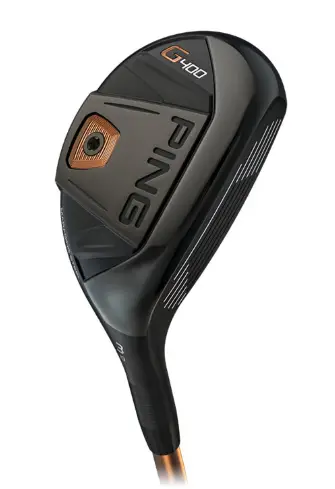 High-density machined back tungsten weight for increased MOI
Ultra-thin cast crown
Maraging steel face which is thinner and more flexible
Textured face for spin reduction and cascading sole
Five loft options
The whole G400 lineup has been characterized as game-improvement series which address to recreational, average golfers who look for extra help from their clubs to be able to enhance their performance. Therefore one of the best hybrid golf clubs that is particularly focused on the high handicappers with focus on improving their ability to see the ball flying higher and longer with uncompromised consistency is G400, the most forgiving hybrid within the range.
Read more
Key Technology
The crown of G400 is one of the thinnest in its range, made from 17-4 stainless steel, a design that we can frequently come across among the premium clubs, intended to save weight and optimize the center of gravity for absolute MOI and full-face forgiveness. Speaking about the face, it is made from maraging steel, thinner and extra flexible to generate additional speed which will result in longer flying trajectories. The highlight of the hybrid is the machined-backed weight which enables golfers to customize the swing weight for different flying shots.
Specifications
The low CG and the ultra-thin flex face are a perfect combination for seeing the ball fly further than you have ever hoped. Plus, the texture on the face considerably reduces the spin, making your shots straighter and consistent. The cascading sole design contributes towards generating higher launch, while the counter-balance design adds more mass to the head, enhanced turf interaction, and greater energy transfer. There are 5 hybrid types that range from 2-hybrid with 17 degrees loft to 6-hybrid with 30 degrees loft.
Cost and Value
This game-improvement hybrid golf club has been on the market for a few years and it is still very popular among golfers. The superior Ping quality and design with the exceptional face flex and the cascading sole design will provide you with an unsurpassed performance from any lie. Priced to match the quality it has, it will be one of the most efficient clubs in your bag.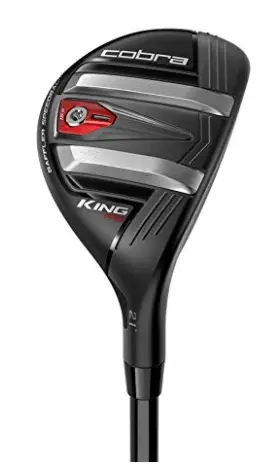 Extra forgiveness and accuracy delivered from Speedback and Baffler technologies
Forged stainless steel face insert and 17-4 stainless steel body
Low and deep center of gravity
High-launching trajectories and longer distance
Redesigned rails for better turf interaction
This year's Cobra's releases have been more than impressive and the whole F9 lineup stands out with the number of cutting-edge technologies and impressive designs. The hybrid golf clubs that belong to this lineup integrates the same Speedback and Baffler technologies that make it the fastest hybrid that the company has ever made. The innovative, more aerodynamic club shape, the forged face, the optimized rail design, make it unique in many aspects, so we invite you to read below to find out more.
Read more
Key Technology
It is one of the most technology-packed hybrids that integrate Speedback and Baffler technologies into one. The low weight of the clubhead which consists of tungsten and steel, function in unity with the well-known Baffler rails so that the hybrid slides effortlessly through the turf and generates more speed. The face is comprised of two pieces and integrates forged 455 stainless steel insert that increases the flex and it is more responsive all across the face, creating a larger sweet spot and much more forgiveness. The playability F9 Speedback hybrid boasts also originates from the steel and tungsten 30g mass which is concentrated deep and low which moves the CG much lower and back.
Specifications
The back tungsten weighting and the low CG results into towering trajectories and steeper flight angle which allow for better stopping power into the greens. Also, the redesigned Baffler rails enhance the turf interaction so that the golf club acquires greater speed which will result in more distance. F9 Speedback comes in four loft configurations that range from 2-hybrid to 5-hybrid, each coming with Fujikura Atmos stock shaft in three available flexes.
Cost and Value
Taken as a whole, this is the most tech-packed hybrid which is designed to maximize the complete performance on the course. As it offers four available lofts, the one that will complete the gap between the woods and the irons is usually what is recommended for golfers, but of course, you can get the one that matches your skills and preferences. When it comes to its price, it is one of the most expensive hybrids, but investing in it means that you'll have one of the most playable hybrids ever.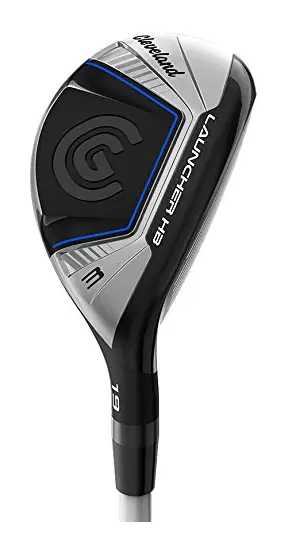 Bonded hosel design for a lower center of gravity
A HiBore, lightweight crown which can compress and decompress
Flex-Fin technology on the sole maximizes the forgiveness
Cup Face technology improves the speed from across the face
Three available lofts of 19, 22 and 25 degrees
We can't claim that Cleveland treats us with frequent releases when it comes to hybrid golf clubs for high handicappers, however, when they do, they always tend to make them more forgiving, oversized and more versatile. This model was launched last year and has been a very successful hybrid club, as the whole lineup Launcher HB has been made to appeal to high to mid handicappers. The HB stands for HiBore crown which has been Cleveland's hallmark since it appeared in HiBore XLS hybrid in 2008. This one follows up on the design with some advanced upgrades to make the club more playable.
Read more
Key Technologies
The head of Launcher HB is longer for a standard hybrid, a feature that speaks forgiveness and playability. To save weight and reposition it low and deep, the engineers opted for bonded hosel design and in that way, they enhanced stability at impact and increased launching capabilities. The HiBore crown, which is very lightweight, compresses and decompresses at impact which is important for increased ball speed. The Cup Face technology is responsible for enlarging the sweet spot across the face which results in boosted speed, while the Flex-Fin technology on the sole increases forgiveness on mishits.
Specifications
If you read carefully the description of the key features and the technologies used in Launcher HB, you must have realized that it is a hybrid golf club for high handicappers which brings to recreational golfers enhanced-performance and enjoyment on the course. What you can expect to achieve with Launcher HB is straighter shots with low spin and lots of forgiveness. It comes in three available lofts of 19, 22 and 25 degrees with Miyazaki C Kua 60 graphite shaft and Lampkin grip.
Cost and Value
If you are a high handicapper who is just not good at hitting irons or fairways, Cleveland Launcher HB is a reliable alternative to turn to. For most high handicappers the fact that it is very forgiving and easy-to-hit is more than sufficient, but don't underestimate the result of it, such as long carry, straighter ball flight, and more accuracy. When it comes to its price is on the higher-end but for many, it is the best investment that they have made.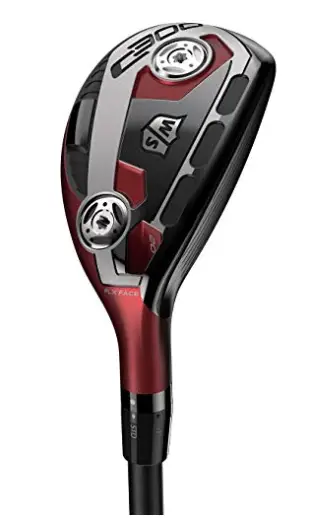 360 degrees Power Holes performance
More face flex and large sweet spot
Adjustable hosel design and changeable lie
Interchangeable head weights for draw or bias shots
Fujikura Speeder graphite shaft and Lampkin grip
It might be challenging for starters
Not only does this club look magnificent, but it is one of the most powerful hybrid golf clubs in the whole Wilson hybrid array. The glamorous design with the dark red finish will make every head turn, however, it will be you who is going to get the maximized pleasure of having consistent shots one after another with perfect feel and design. The red crown and the Power Holes add up to the design which is by all means unique.
Read more
Key Technology
It is not just the looks that make Wilson Staff C300 unique hybrid golf club, but it is the adjustable hosel that makes it stand out as it is one of the rare hybrids that offer this possibility. It features 360 degrees of Power Holes which minimize the contact between the body and the face so that the face flex and the sweet spot is further enlarged. This will enhance the speed of the ball which will consequently lead to longer distances and much more consistent ball flights even if your swing is not consistent.
Specifications
As we mentioned above, this is one of the most versatile hybrid golf clubs for mid and high handicappers which allow the possibility to adjust the lofts for one degree up or down and to change the lie angle. In addition to adjusting the lofts and the lie, you can also change the weight of the club with the help of the two interchangeable head weights that deliver Multi-Fit adjustability and enable custom shot-shaping to make the hybrid draw or fade based. It comes with 17, 20 and 23 degrees lofts, Fujikura Speeder Pro 78H graphite shaft and Lamkin Crossline grips.
Cost and Value
This is one of the best looking and best performing hybrid clubs for high handicappers that you can currently find on the market not only from Wilson's array but overall. The striking design and the performance it delivers will impress anyone who uses it, allowing more power, more playability and incredible forgiveness. As this is one of the latest Wilson Staff releases, the price tag it has reflects the innovative concept of the club so its price is higher than the average.
6

. Tour Edge Bazooka Platinum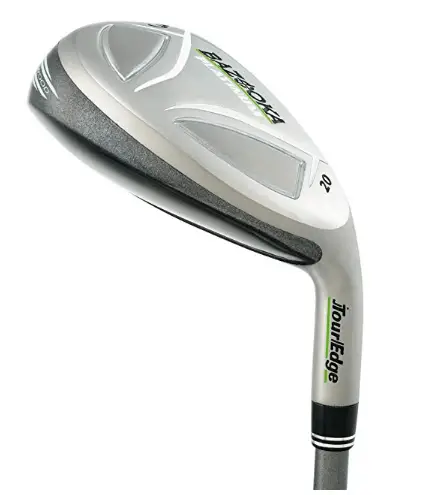 Perimeter-weighting and hollow design
Tungsten weighting makes the sole heavier and moves the CG deep and low
Max game-improvement hybrid clubs
Extremely forgiving and playable
This hybrid golf club for high handicappers might be the easiest to hit than all on the list as it is made for golfers who lack distance, consistency, and accuracy. This is a game-changer as it features max game-improvement technology that allows beginners and seniors to practice with some real results. Even though this model was launched a few years ago, it is still one of the most popular among high handicappers since this hybrid seems to be particularly designed to meet the needs of high handicappers.
Read more
Key Technologies
What makes this hybrid golf club extremely forgiving is the shifting of the weight low in the sole making it heavier. Two massive tungsten weights have been positioned in the hollow head, a design that helps golfers have successful launches and longer distance. This perimeter-weighting together with the oversize, hyper-steel head make all those fat and thin shots fly further and more accurately. The cast body and the forged, super-thin crown allow 20g of weight to be repositioned to the sole so that the center of gravity is drastically lowered. These hybrid golf clubs have a lifetime guarantee.
Specifications
According to many golfers, this hybrid was the reason why they didn't give up playing golf. It is designed to forgive the off-center hits and every shot that you play with it is successful and you can just amaze yourself with the extreme playability that it has. This model replaces a whole iron set and it is available from 3-iron through the PW with loft degrees ranging from 21 to 45.
Cost and Value
Hybrids were designed as an alternative to irons and these are exactly what they do, replace irons in the easiest possible way and deliver performance that you never thought you would be able to have. The sellers offer the possibility to chose an individual club or to get the whole set of hybrids. The price is affordable and even if you are just starting to play golf, these will never make you feel hopeless.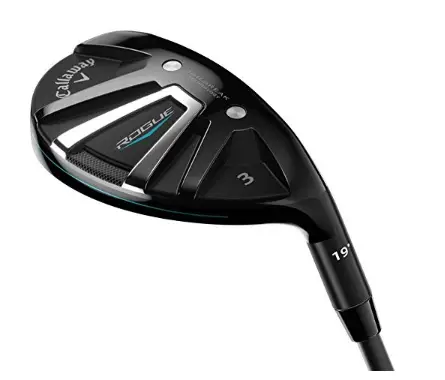 Jailbreak technology integrates two bars that stiffen the construction
Ultra-thin face made from Carpenter 455 steel
Hyper Speed Face Cup technology delivers large sweet spot and more forgiveness
You can choose from 2 to 6 hybrid with lofts ranging from 17 to 27 degrees
While better players seek enhanced performance and more control from their clubs, high handicappers look for clubs that will help them lower their score and boost the enjoyment on the course. This can be achieved with more forgiving clubs that exhibit more playability and which are designed for more speed, distance, and accuracy. Hybrid golf clubs by definition are clubs that are easier to hit compared with their iron-counterparts since that's why they were created after all. Callaway Rogue was launched last year and it is a hybrid golf club that was happily greeted by high handicappers who now claim that they got more distance and lower scores with it.
Read more
Key Technology
The Rogue lineup is marked by the Jailbreak technology that utilizes two internal bars that stiffen the clubhead, and this hybrid is the first one ever to be made with incorporation of these bars within its design. To achieve more speed and distance, the designers designed the face from Carpenter 455 steel which is ultra-thin and together with the bars it is one of the fastest found in a hybrid. The Hyper Speed Face Cup technology makes it extra forgiving as the sweet spot is extended across the face producing more speed on both, center and off-center hits.
Specifications
The technologies discussed above are the driving force of Callaway Rogue that creates more speed and distance. However, for low spin and easier launch, it is the proprietary Internal Standing Wave which locates the center of gravity very precisely lower and forward. Even though Rogue is not equipped with an adjustable hosel, there is a wider selection of hybrids that range from 2-hybrid up to 6-hybrid with the lowest loft of 17 degrees to the highest loft of twenty-seven degrees.
Cost and Value
If you are a golfer who is looking for a replacement of your long irons with an easier-to-hit hybrid for more distance and speed, Callaway Rogue won't disappoint you. The integrated technologies ensure that that you get much more distance and the choice from of 2 to 6 hybrid will surely bridge the gap between your woods and the irons. The absence of an adjustable hosel makes it more budget-friendly so you'll get an exceptionally playable hybrid club for a reasonable price.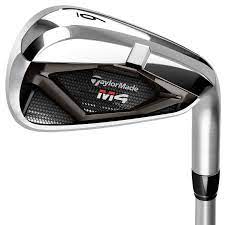 Internally divided mass increases inertia for more ball speed
Improved speed pocket enlarges the sweet spot
There are 4 hybrid configurations from 3 to 6 hybrid with lofts from19 to 28 degrees
Graphite shafts with four flexes
The lofts are not adjustable
Not many golf gear manufacturers can boast such a wide array of golf clubs that match any golfer's level from absolute beginner to Tour players. The whole lineup of M4 is characterized by playability and forgiveness and this hybrid golf club particularly meets the needs of high handicappers. The rounded head shape and the deep center of gravity make it easy to launch and easy to play with.
Read more
Key Technology
One unique way to increase the MOI and the ball speed, the engineers found in the internal weight pads that they divided between the toe and heel, while the Speed Pocket that was previously introduced on the driver and the fairway, in this hybrid club has been made longer so that it increases the flexibility and the longer carry with lower spin and more forgiveness. The center of gravity is positioned low so that you can have an easy launch for all types of shots. And finally, for better feel and sound, the M4 integrates the Geocustic technology which enables golfers to fine-tune their shots and have better feedback on each shot.
Specifications
This is one of the easiest to play hybrid golf clubs for high handicappers as it allows golfers to hit the ball lower without being "punished". It is the go-to rescue club which replaces the long irons and with its larger and more forgiving face, it helps golfers achieve longer distance and get away from every tough lie. Four available configurations are ranging from 3 to 6 hybrid from 19 degrees loft of the lowest 3-hybrid to 28 degrees loft of the 6-hybrid.
Cost and Value
According to many golfers, this is one of the most advanced, and at the same time, more forgiving hybrid golf clubs that you can find on the market. It is extremely playable and forgiving and it will be a great alternative for the long irons. Since this is last year's design and since there's already an upgrade, the price of this club is lower compared with the latest M6 model, so it is an excellent value for the money.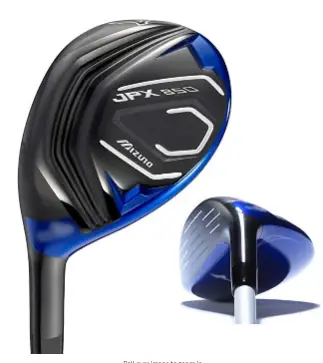 Shock Wave sole technology
The clubhead flexes at impact and generates more speed
Low center of gravity and excellent distance control
Fujikura Motore stock graphite shaft
The lofts range from 16 to 25 degrees
Beginners might find it difficult to play with
It was until last year that Mizuno was trying to make a difference by choosing the impressive glossy blue crown design as a way to distinguish itself from the others, not only with the performance the woods delivered but with the design itself. The blue design of this hybrid golf club tells us that it is Mizuno's previous year's design and it is made with perfection and due attention to every single detail. This hybrid belongs to the distance-generating type of hybrids with unique clubhead design and performance.
Read more
Key Technology
The design of this hybrid is striking and Mizuno's designers took a lot of feedback from Tour players to make it look square and solid at the address. The key segment of its design is the Shock Wave sole which enables the whole club to expand and contract at impact so that it delivers more energy which transfers to the ball and results in more distance. There is an added mass to the sole that lowers the center of gravity making each shot glides smoothly through the turf. This hybrid is all about more distance, more playability and more ball speed.
Specifications
You don't have to be a beginner golfer to be a high handicapper. You might have been playing from time to time for many years, just the inconsistency and not enough dedication keep your scores high. This hybrid is for golfers who need more distance control and easier ball flight. Multiple available lofts range from 16 degrees to 25 degrees, however, the hosel is not adjustable. Anyway, many golfers still think that it is the bonded hosel design that makes it so stable and consistent. And of course, Fujikura Orochi graphite shafts adds more playability and easy launch too.
Cost and Value
Even though this hybrid golf club is not a recent release it can still compete with the more recent clubs thanks to its playability and impeccable performance. Made to deliver more distance and playability, you will enjoy seeing more yardages and more accuracy. Regarding its price, it is one of the most affordable hybrids made by Mizuno and it is worth having it in your bag.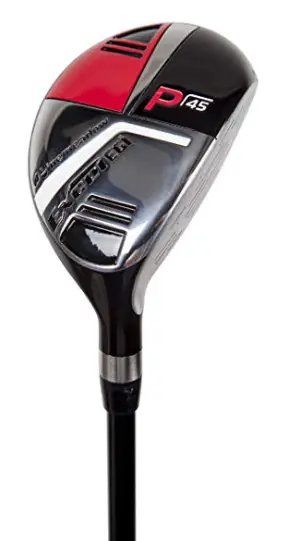 Perimeter weighting and larger sweet spot
A larger and sleeker, stainless steel clubhead
Playable from various lies and turf conditions
Eight loft degrees and graphite shafts
Pinemeadow Golf is not an obscure name among golfers, especially among high and mid handicappers who consider golf as just another leisure activity, playing it now and then. Recreational golfers rarely spend a treasure on golf clubs, and this is where Pinemeadow steps in. The golf clubs that Pinemeadow produces are known to be on the budget side but at the same to deliver amazing performance and substantial quality. Excel EGI is one of the highest-ranked hybrid clubs on the market boasting simple design and superior performance.
Read more
Key Technology
The design of this hybrid is impressive and for such an inexpensive club, it is surprising how it looks. Technology-wise, you might not find all the bells and whistles that modern hybrids boast, but you'll find enough for long-distance ball flights and a lot of forgiveness. The perimeter weighting and the balanced weight throughout the stainless steel head enlarge the sweet spot which makes it more forgiving. The slender club head and the sole design make the hybrid more aerodynamic for greater turf interaction and higher launches.
Performance
When it comes to its performance, this is one of the best golf hybrids for high handicappers thanks to their forgiving design. They will help you overcome the difficulties related to irons as their larger face and higher lofts create the base for game-improvement clubs. Excel EGI hybrids come in eight lofts, i.e. from 3-hybrid with 19 degrees loft through the pitching wedge with 45 degrees loft. The larger clubhead design together with Pinemeadow graphite shaft makes these hybrids the best combination of playability and forgiveness for shots from various lies.
Cost and Value
There is no doubt that in Pinemeadow hybrids you will find an unbeatable price and trustworthy quality. These hybrids are the proof for that and there is no wonder why these are the highest-rated hybrids on the market. High-handicappers, recreational golfers and seniors are the ones that will benefit the most from them with objective chances to see an increase in distance and decrease in the score.
Criteria Used for Evaluation

Features
As we have already discussed, all the characteristics that make up a product are the ones that qualify it as good, functional and effective. Regarding the best hybrid golf clubs for high handicappers, we highly valued those characteristics that make the whole game of golf much easier and enjoyable.
We have all been in a position to fight the battle of overcoming the hard-to-hit irons, and thanks to God that hybrids were invented to make a point in playing golf for average golfers. So, being easy to hit means that the whole clubhead is larger, the face features enlarged sweet spot and it is much more forgiving. This is especially important when instead of center-hits, golfers hit the ball in the upper toe or lower in the heel. The forgiveness is usually achieved by positioning the weight deep and low to the sole which moves the center of gravity lower so that golfers can launch the ball much further and longer.
Many of these hybrid golf clubs are made with super-advanced technologies that optimize their playability to the maximum level so that golfers look forward to playing with them.

Loft
Lofts determine the type of the hybrid and point out which irons they replace. The lowest-lofted hybrid is the 2-hybrid which comes with 17 degrees loft up to 45 degrees pitching wedge. As a matter of fact, some iron sets are completely replaced with hybrids in order to make the whole game much easier and fun. Usually, beginners are those who prefer this complete replacement of irons with hybrids. However, there's no golfer who doesn't have at least two hybrid golf clubs in their bag, the most frequently used are the 3, 5 and 7-hybrid.

Ease of Use
The whole purpose of hybrids is to make the whole game easier, and for some recreational golfers who are often those that are high handicappers, the goal of the game is to have a good time and enjoy the nature. But, unless you are super trained to hit the irons, the fun is gradually gone as many would struggle with the irons in the attempt to get the ball out of the rough. That's the reason why max game-improvement clubs started to gain more and more popularity. Actually, hybrid golf clubs for high handicappers are specially designed to maximize golfers' performance on the course, especially to function as an alternative for hard-to-hit irons. Nowadays, not only high handicappers but Tour golfers as well have some hybrids in their bags, but those hybrid golf clubs made for high handicappers are extremely easy to use.

Versatility
For each type of golf club, versatility is differently defined since all of them perform a different role on the course. When it comes to hybrid golf clubs for high handicappers, versatility is seen as availability of a certain company to offer a wide range of lofted hybrids so that they fit golfers' needs. Also, we can say that a hybrid is versatile when it can be used from different turf conditions and lies. So, the highest-ranked are those hybrids that range from 17 to at least 27 degrees of their loft, those who feature adjustable hosel to customize the lofts and those that can be used in different circumstances.

Value
As it is often the case with golf clubs, the huge discrepancy in the price tags can be also seen within this category of clubs. The prices that hybrid golf clubs have range from tens of dollars to hundreds of dollars. However, this wide gap is not only related to the name of the brand but the technology used in the production of these hybrids. Plus, another factor that determines the price of hybrids is the release date. If they have been recently released, then it is expected a higher price compared to those released a few years ago. Basically, it is the materials used in the production, the technologies and the company's status that determine the price tag. This doesn't mean that the cheaper ones aren't worth your money, it simply indicates that the company is still in a progress phase and it is still gaining trust from the golfers.
Frequently Asked Questions
q:

In which circumstances can I use hybrids?

a:

Hybrids are some of the most versatile clubs and they can be used from the rough, off the fairway or even off the tee. There have been some occurrences when Tour players used them for chipping around the green, but that is rare and requires certain skills.
q:

Which irons do they mostly replace?

a:

Long irons are very difficult to hit, so most high handicappers struggle with them, especially irons 2 to 4 are the most notorious. Hybrid golf clubs are much easier to hit because they are shorter, their clubhead is longer and wider and they are much more forgiving.
q:

Do hybrids come with headcovers?

a:

Most of the companies do include them and it is a very rare occasion that a hybrid would come without a headcover. However, before making a purchase, you should make sure that it is included since this information is provided on the web site.
q:

How do I know if I need a hybrid?

a:

Unless you are one of, roughly speaking, 5% of golfers who boast single-figure handicap, who have enough strength to use the 3-iron from about 200 yards to the green and who beat par 3 or par 5 consistently on a row, then you need at least one hybrid.
Subscribe to our Newsletter