Best Healthy Snacks
In a
Hurry? Editors choice: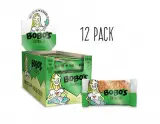 Test Winner: Bobo's Oat Bars

Do you know that the greatest culprit for not being able to keep to your dieting plan is the temptation to
snack between meals
? As a matter of fact, those who claim to be on a diet and give in the cravings are more likely to put on weight rather than lose it. Therefore, there are many companies that have launched varieties of healthy snacks that help carbo-crisis and cravings to be satisfied without being at risk to put on more weight. If you are a sports person, snacks are more than necessary, and nothing less can be said about golf. All that walking and swinging waste energy and therefore you need energy boost that won't affect your performance. But, not all crunches or munches on the market mean that you'll get what your body needs, so we made the selection of the best
Standout Picks
Criteria Used for Evaluation
Taste
We all agree that when we buy for food, it is the taste that determines whether we will like it and continue buying that food type. It is the essential quality that people are attracted to and the healthy nutrition companies are trying to find innovative ways to make this type of food more appealing to everyone and turn people towards a healthier way of living. So, the products that we have included on our list are said to be highly delicious and people love consuming them. The scoring that you can see next to each product is actually their taste rate according to the users who have tried them.
Flavors
When people turn to a healthy way of living and altogether alter their eating habits, they are often faced with limited ability to pick their favorite flavor. This, in turn, can lead to a boring routine which is often doomed to fail without providing the desired results. Modern industry has made heavily processed food the tastiest and the richest in flavors food, so it is often hard to beat the competition. Luckily, this modern technology has also provided opportunities for healthy food manufacturers to offer their buyers more flavors and greater satisfaction. We can see that within their offers of products this kind there are even more than 15 choices of flavor, something that has been highly ranked and appreciated.
Effectiveness
What effect is it expected when you switch to snacks that feature totally different ingredients compared to what you have been used to? These products have the capacity to function as real nutrient boosters which will not only satisfy your hunger and sweet tooth but they will also help you lose weight, retain lean muscle tone and boost the metabolism and the energy level. If you have been golfing and experienced a sudden drop of your energy level and then took an ordinary chocolate bar, you have surely experienced a sudden surge in the energy which was shortly followed by an immense drop that led to feeling lazy, unmotivated and slow. The reason for that is the extreme sugar levels that spike up but are quickly processed into fat storage failing to provide sustainable and constant fuel for your body. The products that we have on our list feature high level of protein and fibers and low level of sugar, a combination known to increase muscle recovery, boost the metabolic and digestive functions and the sugar that is contained within their composition is of a complex type which means it is slowly released in the body and provides a balanced energy source.
Features
When we describe a product, we usually take this criterion which is actually a description of the basic characteristics that the product has, the conditions under which it is manufactured, the quality of the ingredients, the certifications it has and if the product matches the description. If you read in details you could notice that most of the products are produced in facilities that guarantee flawless manufacturing process, and many of them have been a subject of intensive clinical studies that prove that the products are truly useful and provide the desired effect. Also, some of the products are certified organic products which means they are made under the most stringent conditions. All of the products contain high protein value, low sugar amount and many of them can be used by everyone, some being appropriate for diabetics or people who follow the keto regime. The absence of chemicals is evident in all products and all of them more or less provide the expected outcome.
Product Purity
This criterion is among the most important since it stands as a guarantee that the products are regulated, safe and pose no risk upon human health. And that is a must when it comes to food. So we searched for products that do not contain any ingredients that are considered harmful, toxic and dangerous. But we didn't stop there. We wanted to provide a list of products that can be found useful by anyone, so we picked products that are non-GMO, gluten-free, products that don't contain any added preservatives or additives and products that include the least amount of allergens as possible. On top of the list, we included certified organic products. These have controlled ingredients and very rigorous production process that must comply with every stated provision for organic production. That is a guarantee that every batch is controlled and what you put in your body is 100% safe.
Top 10 Picks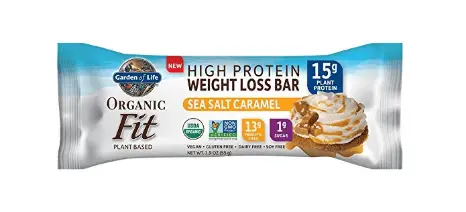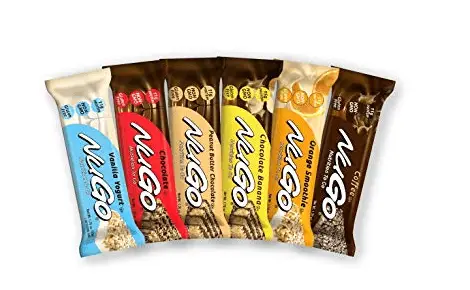 In the ocean of variety of munches and crunchies, how do you know which one would provide maximum nutritive ingredients and contain the least sugar and fat? That's easy, you just need to take a more detailed look at the ingredients list and learn some basic facts about the ingredients. For example, if the product's list states that it has a higher amount of protein and fibers and low amount of sugar than it is a product that will provide you with necessary ingredients for normal body function. The ingredient list of these bars is impressive, so read below to find out more.
Read more
Features
Garden of Life has been a well-known company for featuring certified organic ingredients in their products. They have a complete weight loss program and have made products that follow the principle of that program to help people replace harmful and toxic substances which are often used in snacks with healthy varieties. The bars are part of this program and when you scrutinize the ingredients list you will see that they contain 15 grams of protein which is the highest amount in a bar which is excellent for muscles, especially if you are in the middle of your favorite golf round. The amount of fibers is also impressive, there are 13 grams of fibers and only 1 gram of sugar, which make these bar a superior choice for those who know what makes a good munch.
Flavors and Taste
They are made to repair and recover your muscles and please your taste. They are made from organic peas, contain brown rice protein and protein crisps and depending on the flavor they have added almonds, coconut, salt caramel, cherry and so on. Many buyers say that they taste much better than any other regular bars, which means they will make you both satisfied and healthy.

Cost and Value
Rarely do we find a combination of pure organic ingredients and such a high amount of protein and probiotic fiber in a bar with an extremely low amount of sugar. If you are up to sustaining your lean muscles, increase the golfing endurance and consume nutritious and organic products, Garden of Life bars is the unbeatable choice. The price is on the higher end, but these are premium too.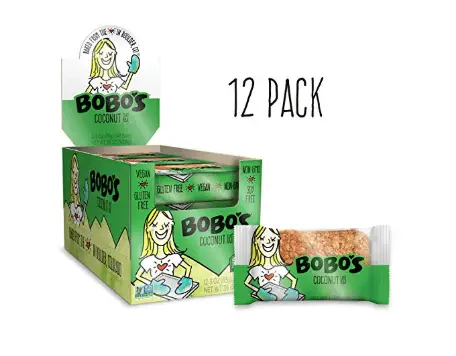 As the name suggests, these bars are made of oats, excluding any added whey, wheat, and other additives, making them a perfectly healthy option for everyone. Oatmeal and oats have long been known to be a source of essential minerals, vitamins, antioxidants, and fiber. They are especially beneficial for lowering blood sugar, they reduce the risk of heart disease and are good for reducing your weight. They are made from the original home-made recipe, initially produced for family purposes which later on became nationwide hit.
Read more
Features
The oat bars are handmade and freshly-baked with a wholegrain rolled oats and they are produced with carefully picked ingredients that are of highest quality. They exclude everything that is considered to be allergenic such as corn, wheat, soy, dairy, GMO, trans-fats, refined sugar, and gluten. They feature low glycemic value, low cholesterol, and complex sugar which is slowly burned, releasing energy for the whole day.
Flavors and Taste
When it comes to taste, these are absolute winners, featuring 17 varieties which taste very delicious. From tropical coconut indulgence to almond, peach, peanut and so on, you will never get bored eating healthy food. They will provide you with the feeling of being full, energized and most importantly, you will do your body favor by treating it nicely with nutrients and exquisite taste.
Cost and Value
As it usually happens with the health bars, these are also packed 12 in a package, each bar offering two servings for better convenience. As you could read from the review they are super healthy and delicious, excluding all those ingredients that might cause allergies, they are excellent for sustaining golfing performance and keeping you focused on the big game. The price, even though higher, it is in line with similar products of this kind.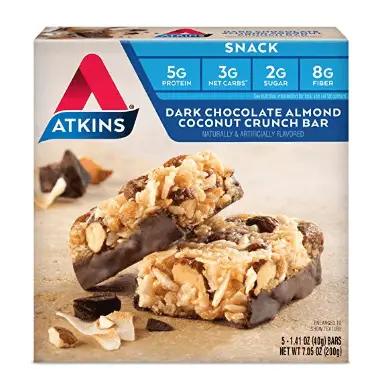 Being a carbo junkie and a chocolate addict who is trying to lose some pounds means hard work. Many people are struggling with the same issue, and therefore Atkins made an excellent product as an answer to all carbo-craving desires for guilt-free pleasure. Their approach is focused on limiting the amount of sugar in their bars so that the body processes stored fat to provide energy. Besides, when the blood sugar is normalized, you won't feel any drop in the energy and this will lead to the decreased need for carbohydrates. This means that eating some of these bars will keep you energized and maintain craving urge.
Read more
Features
These bars are an excellent alternative when the hunger strikes between meals without risking fat built-up as the other regular ones do. One package contains five bars with high nutritive values featuring low 2 grams of sugar amount. The 7 grams of proteins will keep you feeling full and 10 grams of fiber is good for the metabolic functions in the body. More than 80 clinical studies support the workability and the principles behind the Atkins diet, confirming its high quality when it comes to weight management and healthy nutrition.
Flavors and Taste
When it comes to flavor choices, Atkins bars are real winners since they offer 15 different flavors that can satisfy even the pickiest eaters. Plus, you can eat them anytime between meals increasing the feeling of satisfaction while decreasing the guilt impulse. They are a perfect option for an intensive golfing day when the energy level drops down or for any other occasion when you need energy surge. All those 15 flavors taste great and whatever you chose you can't go wrong.
Cost and Value
People are more and more concerned about the ingredients they consume and the nourishing effect upon their body. Atkins provides a safe alternative of nutritious and low carb bars that will make you feel full but are not going to make you fat. This means that you'll enjoy the sweet taste but you won't gain weight.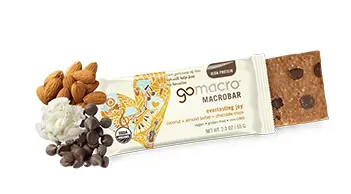 In the world of heavily industrialized and processed food, it isn't easy to find purely organic food that is free from all those ingredients that contribute towards putting on weight and not feeling well. These Macrobars make variety in the way crunches are made, offering a natural and eco-friendly approach towards the way you sustain hunger in the most nutritive way. So, whether on the golf course or in a busy office, you will feel satisfied and full, having enough energy to keep you going.
Read more
Features
These bars offer a piece of nature and ultimate enjoyment of every bite. They are certified USDA organic, verified non-GMO, soy-free, gluten-free and safe to be used by everyone. The bars are full protein-based and contain 290 calories for full energy release. They contain slow-burning carbs that make you feel full for a longer period of time and suppress the hunger or the need for additional munching. These carbs keep the sugar blood balanced without causing sudden drop which is often the cause for the sudden craving urge, they are immune system boosters and providers of essential nutrients.
Flavors and Taste
Not only are these bars nutritive and eco-friendly, made of certified 100% organic products, but they are exceptionally tasty regardless of the flavor you have chosen. Made from a combination of organic pea protein derived from organic brown rice, they give to 9 of the bars boosted flavors and energy. There are 13 flavors for you to choose, from Peanut Butter Chocolate Chip to Caramel, Cherries/Berries and many more, all of them containing pieces of dried fruit. If health is your goal, these will help you achieved it.
Cost and Value
These super delicious bars are sold 12 in a pack that includes a variety of flavors. For many buyers, they are absolutely irresistible and will provide you with control over your appetite. When it comes to the price they have, we have to say that it is a bit higher for products this type, but even with that price, when you just go through the ingredients list and certification, you will realize that they are definitely worth it.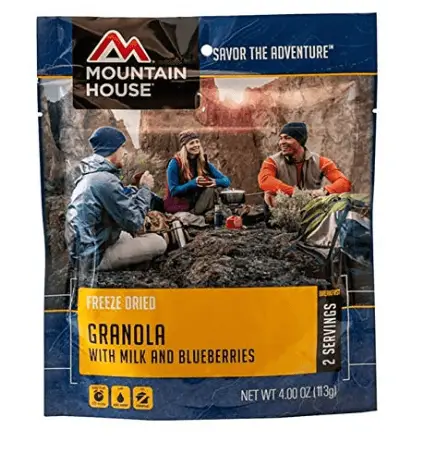 When you are on the golf course you never know when hunger or energy drop might strike, so it is always better to be safe than sorry. For optimal nutrition and convenience, this granola package is made to satisfy your hunger with nourishing ingredients that will keep your performance high. It can be useful for any sports activities when you need extra energy, camping and backpacking, hunting, fishing, traveling and much more.
Read more
Features
Granola and freeze-dried food are excellent energy boosters that can satisfy in the healthiest possible manner the greatest hunger that you might have. This pouch is considered to be a super nutritious food or dessert, depending on the type of eater you are and how much you need to get the feeling of fullness. What it takes to have it prepared is just water and that's it. You don't even need a bowl since the pouch is made to serve as a bowl.
Flavor and taste
The taste is absolutely amazing. The granola is made with rolled oats, brown sugar, sesame seed with added freeze-dried blueberries, dry milk, wheat, soy, coconut, and vanilla flavoring. These ingredients together taste sweet and refreshing and they are very nutritious and filling too. When it comes to taste, most of the reviewers claim that it is fantastic and truly fabulous.
Cost and Value
This is not just a tiny munch but it is both, all-inclusive breakfast and super nutritious snack. The pouch contains two servings, so you can share it with your golfing buddy or have it for several days. When it comes to the price we have to admit that it is maybe among the most expensive nutritious crunches, but there is a good reason for that.

6

. SlimFast Advance Nutrition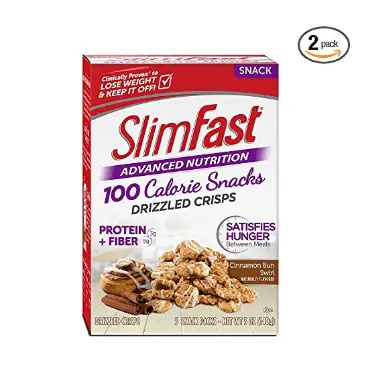 Even if you are kind of a person that very strictly follows dieting plans and keeps to the predetermined eating schedule, there are moments when the cravings just kick it off and you find yourself eating double chocolate ice-cream pint or finishing the Big Mac, and it is then when the guilt starts kicking. But, it doesn't have to be that hard because SlimFast crisps are here to help you satisfy your hunger without the feeling of guilt hovering over you.
Read more
Features
Made with just 100 calories, 5 grams of fiber and 3 grams of protein, these crisps are a promising substitute for highly-caloric regular snacks. Whether you are on the golf course, having a hectic working day or spending lazy Sunday at home, you will feel much more energized and calm after eating some of them. They will soon make you feel full and they won't affect your weight.
Flavors and Taste
Taste is the crucial factor whether you use a certain type of food or not. That's especially relevant to healthy and low-caloric desserts since if they put you off, you will be at risk of turning to the regular ones. Luckily, SlimFast Advanced Nutrition offers 7 different flavors that all taste great. You can choose from sweet and savory flavors and satisfy every type of craving.

Cost and Value
These crisps are made as part of the Slimfast plan that offers greater simplicity when it comes to losing and controlling weight and consuming healthy food. There have been over 50 published clinical studies that have been carried out by independent researchers which prove that this plan works in reducing weight and keeping a healthy lifestyle. There are six different packaging sizes which are priced differently, the largest one being the greatest value for the money.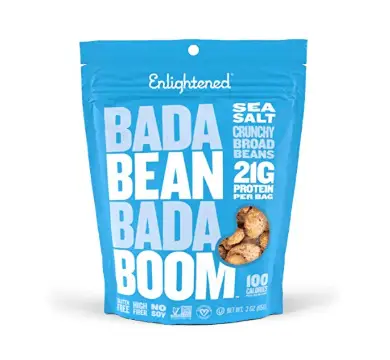 Snacks are simply irresistible. Everyone loves them and everyone hates them. They taste so good so that once you start eating them it is hard to stop. However, they are the guilty ones for having extra fat and a few more pounds than we should. But, it doesn't have to be like that. Bada Bean Bada Boom are snacks that are clearing up the notorious concept tightly associated with snacks and offer much more nutritious variety. Let's read more about this substitute for regular savory munchies.
Read more
Features
What makes these crunches an amazing variety from all those fatty and even cancerous crisps is the simple ingredients list and richness in nutritive ingredients. They are made of broad beans, rice flour, sunflower oil and spices and seasoning that provide for the flavors. They are rich in plant-based protein and each serving has 7 grams of protein, fiber, and only 100 calories. Made of non-GMO beans, they have low sugar amount, plus they are soy-free, nut-free and are gluten-free. The product contains 6 individual crunchy fava beans snacks.
Flavors and Taste
These super delicious and extra nutritious crunches have 4 times more protein, five times more fiber and one-third of the fat compared to potato chips and have the capacity to keep you satisfied until the big meal. There are seven flavors from Sweet Cinnamon to Spicy Wasabi, and they are great and convenient for any on-the-go occasions. Besides, you can add them in salads, soups, yogurt or oatmeal.
Cost and Value
A good golf player needs to be fit and that means, besides regular training and exercises, food which is rich in nutrients is a must. That refers to substituting unhealthy with healthy snacks too. Bada Bean Bada Boom will provide you with all you need to stay healthy and full of energy between meals. Ok, the price might be higher compared to potato crisps, but there is a tremendous difference in the quality of the ingredients and benefit these provide.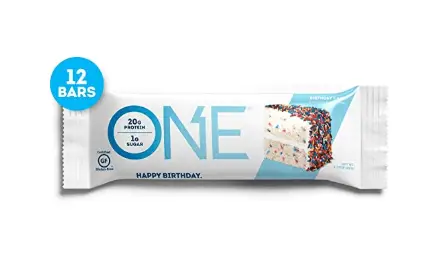 It doesn't have to be that difficult to keep fit and maintain your nutritional intake so that you keep your daily performance high. ONE Protein bars are excellent protein source that will aid your muscles with added amino acid and reduce fatigue while the amazing flavors, among which, the birthday cake flavor which is the most loved, will keep your sweet tooth satisfied. Spending hours on the golf course isn't easy and often you need an additional booster to help you stay alert and in a good shape, so ONE protein bars are excellent choice to maintain your energy on a high level.
Read more
Features
Regardless of the purpose, as they are energy boosters that are specially made to keep you healthy and maintain your lean mass at its fullest. The thing about regular munches is that they are notoriously unhealthy and greatly affect health if consumed frequently. So, these bars are beating that concept by offering 20 grams of protein and only 1 gram of sugar. If you want to keep low carb and high energy, then these bars can help you achieve it.
Flavors and Taste
Being healthy and tasting good doesn't need to be mutually exclusive and that's what these bars have confirmed to be. There are 14 irresistible flavors that can match any taste and even the pickiest eaters say that they could find in ONE protein bars what they were looking for. And these flavors aren't the regular ones you get from the store next door, but they are made to appeal the flavors you are daily surrounded so that you don't give in all that unhealthy food. From the birthday cake flavor to lemon cake and cookies and cream, they will satisfy your craving in a very nutritious manner.
Cost and Value
When it comes to keeping a dieting plan or your body fit and well-balanced, it really matters what you eat. These bars come in a package of 12, so they price refers to all of them as a whole. They seem to be rather expensive, but if you want to stick to healthy nutrition, these are a good choice.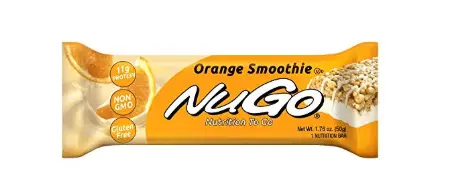 Many adults are becoming increasingly health-conscious, taking care of what they consume and the benefits of the food they eat. If you have been to a sports match or a golf course you must have seen that the quality of the food sports persons eat has drastically changed and more and more people opt for healthier varieties. NuGo bar is among the varieties that include healthy ingredients, high amount of proteins and vitamins and it is appropriate for the whole family.
Read more
Features
You should always know what you consume and regardless of the type of the meal, it needs to be nutritious, well-balanced, high in proteins, vitamins, and minerals and low in fats and carbs. Basically, this is the definition of healthy food. NuGo fits into this definition for a healthy bar since each bar contains 11 grams of proteins, a blend of antioxidants and vitamins so that you can indulge yourself into the sweet taste of low carbs without feeling struck with guilt. They are certified low-glycemic which means that they released slowly into your system, maintaining the blood sugar level, giving you sustained energy for several hours. They aren't made of GMO originated plants and are gluten-free.
Flavors and Taste
Six irresistible flavors, chocolate, banana, orange, coffee, vanilla yogurt, and peanut butter, are perfect for weekly variety. From a refreshing combination of creamy yogurt to the strong chocolate and peanut butter sweetness, they taste incomparably delicious. They are light and crispy and packed with a blend of vitamins to keep you boosted with energy.
Cost and Value
When it comes to healthy ingredients packed in a smoothie bar, ready to grab it on-the-go and fill up your energy reserves nothing can cost too much. The valuable intake of daily proteins, vitamins, and fibers are priceless, and your body will be thankful for treating it with nutrients instead of junk. Plus, these bars are among the most inexpensive healthy bars.

10

. Wickedly Prime Plantain Chips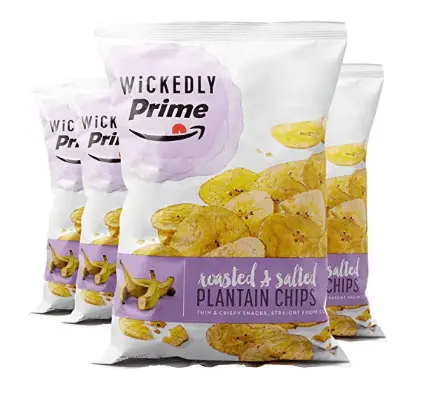 What you are looking at aren't banana pieces, even though they look like banana ones. Plantains look so much like bananas, but that's the only thing that they have in common. Their taste is not sweet either, as a matter of fact, their taste resembles more of a potato. The best ones come from Columbia, they have been a staple of their national cuisine for centuries. Cut in extra thin slices with a lighter and crispier taste, they have 30% less fat and 35% less sodium compared to regular potato chips.
Read more
Features
These banana looking starchy fruit-like plant with the taste that reminds you of potatoes requires cooking and it has been increasingly used in many cooking recipes. They have gained in popularity because they are healthy and represent sources of potassium, vitamin C, fiber, magnesium, and antioxidant compounds. The carbs they contain are complex and provide long term energy. They contain vegan-friendly ingredients and no trans fats.
Flavors and Taste
They are thin and very crispy round chips that look like they were made from banana, but when you taste them they remind you of potato crisps. First, they are roasted and then they are dusted with salt so that the subtle starchy flavor is emphasized. You can spice them up on your own when you sprinkle them with water and then add some spices that you love the most. They will instantly receive the flavor of the spices for your own indulgence.
Cost and Value
There are two flavors, roasted and salted, and three different sizes. When you are on the course and hunger strikes, have them ready in your bag and get a tasty snack that will bring nutritive enjoyment of much healthier variety than regular potato crisps. Healthy food, as you already know, is more expensive since the costs of keeping it is higher than the processed food, however, when it comes to health it is always more important than the price tag.

Subscribe to our Newsletter