10 Best Golf Grips for Irons
In a
Hurry? Editors choice: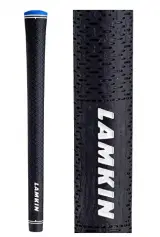 Test Winner: Lampkin UTx

Regardless of the frequency, you play golf, there has to be a point when you will need to replace the golf grips on your clubs. These are the first point of contact between you and the club and the ones that subtly dictate the way you are going to perform.
When choosing the best grips for irons, there are specific features you need to pay attention to such as the texture which guarantees
stability and anti-slip performance
, the comfort and the feel they deliver. Even though there are hundreds of offers on the market, there aren't many that integrate all the above-mentioned features so that you can have the utmost comfort when playing golf.
Therefore, we did a detailed market analysis to spare you the trouble of searching and present you with the best golf grips for irons which can enhance your performance.
Standout Picks
Criteria Used for Evaluation
Effectiveness
In order to be able to determine if these golf grips for irons are effective, we need to determine what it is expected from them and what it means to be effective. Effective golf grips for irons include several features. Since we are reviewing the ones that are specially made for irons, we consider the feel they provide to be very important because when hitting the irons you need to have a superb feel in order to be precise and get the ball out of tough lies. The feel is also connected to the control you have over the club, so the more control you have over them, the better your performance will be. And in turn, to be able to have good control of the clubs, you need a good gripping feature, i.e., good texture that isn't going to slip from your hands when you start sweating or when the weather is wet. So, to sum up, the feel, the control, moisture-wicking properties, and water resistance make them effective to use.
Texture
The texture is actually of crucial importance and it is one of the crucial characteristics that define the performance of each grip type. The texture is directly responsible for the playability of the grips and it allows you to have a good hold of the irons. Plus, the textures usually feature the graphic pattern that is recognizable for a specific company and therefore they tend to make them as attractive as possible. That is what distinguishes them on the court and makes them visually attractive.
From a performance point of view, some textures are smoother and softer, while some others are rough and spiky. It is hard to define them as bad or good, as it is more a matter of personal preference, however, we did provide them with a score regarding their playability. Too soft and meek texture is something that golfers tend to avoid as well as too rough and firm texture tends to cause blisters to sensitive skin. On the other hand, those grips that feature rough texture are usually more effective in moisture-wicking properties, so it is all matter of personal preference when it comes to the texture.
Comfort
When you look for good golf grips for irons, one needs to closely pay attention to the comfort they provide since you'll be spending roughly speaking about four hours holding them in your hands. If they do not deliver enough comfort and if they cause irritation on your palms they won't help you see some far-flying balls nor will they help you lower your score.
Since it is hard to know in advance whether a certain model is comfortable or not, we relied on golfers and experts reviews which give us first-hand information related to this criterion. The most comfortable ones for most golfers are those that feature medium softness, which are lightweight and which are capable to deliver tacky feel when the weather is wet or humid but to resist moisture during hot days when the palms tend to sweat. Based on all reviews, we were able to adequately rank these grips within this criterion and provide you with the information on what buyers think about them and how they perceive them.
Materials
There are several types of materials that golf grips are made of, all of them featuring properties that distinguish them and make them suitable for specific golfers' preferences.
Rubber- a few of the models on this list are made from rubber which has been processed with certain additives to deliver better feel and control. Some of them are made exclusively from rubber, others are made partially from rubber. Rubber is known to deliver more traction and stability and are recommended for beginners.
Corded- when you read in the product description that the golf grip is corded, this means that that they are made from rubber which has added cotton fiber that resembles a brush and that delivers kind of coarser feel compared to rubber-only grips. This material is resilient to moisture and delivers super dry feel.
Wrap- these are rubber-based grips which are designed with very thin leather that is wrapped around it. They are the most durable and allow you to have a stable feel without a change in the texture. They are smoother than the others and very easy to install.
Polymers and hybrids- these materials are a combination of materials or are developed by the company's engineers and feature unique anti-slip and anti-moisture ability to enhance the grip.
Shock Absorption
This is a very important feature, especially when it comes to golfers who are struggling with hand fatigue and tensions in the muscles with every swing. If the golf grip is made to absorb the vibrations that occur with every impact, this means that the golfers are less likely to experience pain or discomfort. In order to achieve this, manufacturers apply certain technologies that allow maximized absorption of the vibrations and optimal feel. The number next to this criterion is a clear indication that most of the grips that are on this list are able to deliver certain ability to absorb the vibrations.
Top 10 Grips for Golf Irons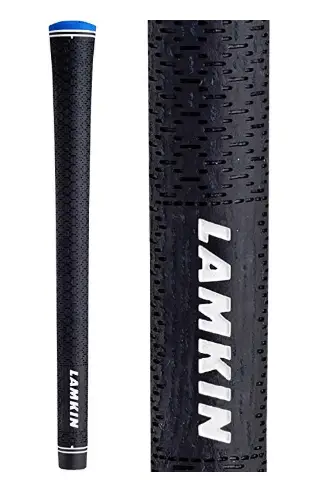 There is a pack of technology that makes Lampkin UTx a high-performance grip which besides being lightweight it is made to be playable regardless of the weather conditions, making it one of the best golf grips for irons. Plus the materials used in its production and the utilized technologies guarantee long-lasting performance and playability.
Read more
Features
The design of Lampkin Utx is simple but attractive at the same time. It is clear from its looks that it is a cord grip that has the ACE patterns on it. It comes in four colors, blue, black, grey and red with a different color butt cap. The cord is very visible, however soft and gentle enough so that it doesn't affect sensitive hands and at the same time to wick the moisture from the hands. It performs well in all-weather conditions delivering a tacky feel and good grip.
Material Types
Lamkin UTx was designed using the Tri-Layer technology which utilizes three different materials to create better feel and performance. The foundation layer is a soft, synthetic rubber compound that delivers good feel, while the mid-layer is a moisture-wicking fabric that delivers slip-free control in all weather conditions. The outer layer is firmer and features the came ACE 3 gen material which reduces torque and dampens the vibrations. The material is UV resistant which guarantees long durability. Thus made, it allows to have comfortable and stabile grip of your irons without causing hand tension and aggression.
Cost and Value
The feedback of Lamkin UTx is excellent and it provides maximum feel which is crucial for good performance with your irons. Especially with the short irons and wedges, you are going to make a big difference regarding the performance and ability to have a strong and powerful hold of your iron without feeling the tension on your hands. Despite featuring a relatively high price tag, it is one of the best grips for golf irons.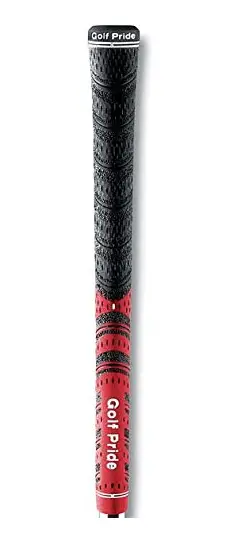 It must be a real pride for the company to see this model used by more and more by Tour golfers on their irons, as the material it is made of is an ultra-modern hybrid material which we will describe below, and which delivers maximized performance and playability. The fact that this model is preferred by Tour players means that they are not only capable to deliver maximum anti-slip properties, but that they yield superior feel and control for better accuracy.
Read more
Features
This model comes in a standard grip size only, and it features a round shape and it weighs 46.5 grams. There are five color varieties, designed to match various golfers' styles and preferences. This Golf Pride model is water-resistant that gets tacky when used in wet and humid conditions and which delivers maximum relief from the swing tension and prevents hand fatigue. It features a very interesting design which has a larger size in the bottom than at the top which some golfers find it odd.
Material Type
Better players have higher swing speed and stronger handgrip, but unless the grip of the club is adequate enough, many mishaps can prevent them from performing well. The material used in this model is multi-compound hybrid material that is comprised of 100% soft rubber and brush cotton. This hybrid material is advanced in terms of maximized control and feel and it is very durable and it is found in the lower part. Plus, in the upper area, it features the company's proprietary black Velvet cord for total weather control.
Cost and Value
Golf Pride MCC delivers two benefits, it is soft and tacky at the same time. It is lightweight and adds more control and feel which is a must when it comes to irons. The advanced, hybrid material is a guarantee that you'll have these grips for golf irons for a longer period of time. Money-wise it is more expensive compared to some other models, however, it is a good value for the money.




Winn is one of the most popular companies for golf grips of many different kinds and the company offers a wide range of products for different golfing styles. The quality is not the only reason for its popularity, but the budget prices play a big role too. This model is particularly popular among golfers and it features characteristics that are suitable for irons, making it one of the best golf grips for irons as it offers more control and better feel, two factors of key importance when it comes to irons.
Read more
Features
DriTac model, as we said is very popular thanks to its classic wrap-style design and the several color options to make your irons look unique. There are several weight options that range from 28g for juniors, 35g for ladies, the standard option weighs 48g while the midsize is 49g and the oversize is 50g. As you can see, they are very lightweight, which makes them one of the best grips for irons. This model has one of the highest shock absorbing ratings which is 65% better compared to its competitors.
Material Type
Made from a proprietary WinnDry polymer which is exceptionally comfortable, it features anti-slip performance and delivers an excellent cushioning. This material is also an excellent option for wet weather too, as it features all-weather performance that becomes tackier when the weather is wet and therefore it enhances the performance. As it is a very reliable model, it can be used even without a glove and it can still deliver great performance.
Cost and Value
Even in the introduction, we mentioned that this is one of the most budget-friendly models that feature anti-slip properties, reduce swing tension and deliver maximum control over your irons. It is easy to replace yourself without much of a hassle. It is a product that has been highly recommended by hundreds of golfers.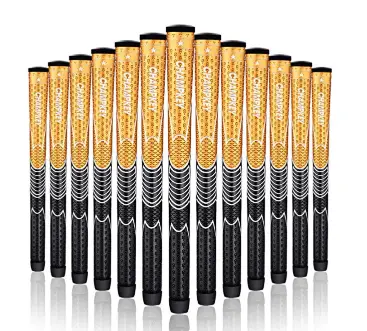 In case you wanted to have all your clubs gripped with the same grips, then Champkey offers a very convenient set of 13 grips, which represent an ideal option for your irons. The uniformity of your grips leaves a better impression on the course and provides a better sense of confidence knowing whatever clubs you'll be using, it is going to provide you with the same gripping sensation.
Read more
Features
If you are looking for a replacement of the grips of all your clubs, Champkey STP offers a professional set of all-weather performance grips that deliver astringent and very comfortable feel. The STP grips are designed particularly to reduce the overall pressure from the hands and the body and to relieve the tension that is created when hitting with the club. It is a dual construction that is comprised of two distinctive materials and advance surface control to improve the feedback.
Material Type
The STP (Soft Tacky Polyurethane) material is used to construct the outer layer of the dual construction which delivers comfortable and reliable grip and subtle control. The material is characterized by weather performance features as it can be used during wet and humid days. The inner part of the construction is made of rubber material that is highly responsive to each of your shots. When it comes to the texture, there are also two kinds that you could see on it, Dragon Scales texture placed on the thumb area for more grip and Cross-shaped texture on the back of the grip for more comfort.
Cost and Value
The dual-material construction of these golf grips and the dual texture pattern, make them one of the most sold grip types as their performance meets the expectations of golfers who know exactly what they are looking for. You will get accurate feedback and control and maximized feel and confidence that your irons will perform in the best possible manners regardless of the circumstances. The optimal value of this set is enhanced with the inclusion of tapes for easier re-gripping and 100% money-back guarantee in case you are dissatisfied with them.

5

. Wedge Guys MM Performance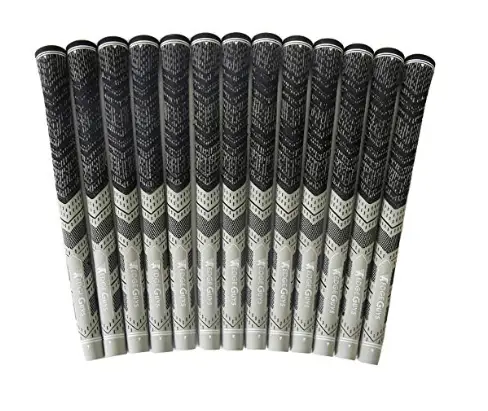 Have you ever noticed that your performance drastically decreases when your grips wear out or in case they are improperly fitted? This happens because in such cases the tension and the pressure on the hands and the body is greater which leads to feeling uncomfortable and disappointed by the ineffective shots you take. These MM Performance golf grips for irons (and any other clubs though) are designed to deliver optimal comfort and feel. There are thirteen of them in this set and we invite you to read below to find out more.
Read more
Features
The MM (multi-material) performance golf grips are designed for avid or Tour golfers who need exclusive feel and control when handling the irons. They are very responsive and feature high-performance materials with supreme texture on the surface. They are a standard size with the diameter of the core of 60 inches and they weight 50 grams. There are three colors available, red blue and grey to match your golf gear.
Materials Types
"The fusion of materials" as the company calls it, represents a blend of responsive firm rubber and moisture-wicking brushed cotton cord so that golfers get maximum performance. The cotton cord is moisture-wicking and it is positioned on the upper hand part for better grip and comfort, while the firm rubber is placed on the lower part to provide better shot dispersion and shot distance. The anti-slip and all-weather performance are delivered by the "double plus" sign pattern and the pebbled texture which is excellent for any weather condition.
Cost and Value
The fact that this is a set of 13 golf grips for irons and any other clubs except the putter, makes it already a budget category as each of the iron grips turns out to cost less than five dollars. And besides the affordable price, you can expect long-lasting playability and stable and reliable grip.

6

. Black Widow Torque Grip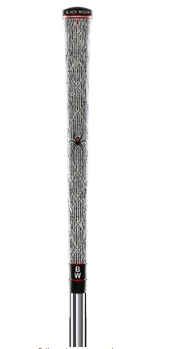 If the real black widow spider is the ruler of the spiders, then the company tries to send a message to golfers that their grips are the rulers in this category. And there's more than that as the company has engineered their own Web Traction technology that allows such a blend of materials that guarantee long-lasting performance and secure grip regardless of the conditions. So, read below to find out what it is all about and why this model is included in our list.
Read more
Features
The company offers a wide range of grips that are designed to meet the needs of high to low handicappers and deliver reliable and trustworthy performance. The bold spider web design and the logo are striking and unique with even more recognizable surface pattern design of a spider web which delivers not only a visual effect but it also maximizes the gripping function and the anti-slip effect. Designed as it is, it creates more friction with less pressure and thus it relieves the hand pressure and hand fatigue.
Material
The reason why this is one best golf grips for irons can be found in the full cord design which integrates rubber with cotton fibers that deliver slightly coarse feel for better stability and enhanced gripping function. Made with the advanced Web Traction technology they are excellent for all-weather performance and maximized swing speed. This is also an excellent texture in case you are struggling with sweaty palm as it resists the moisture and stabilizes the clubs in your hand.
Cost and Value
Since the Black Widow golf grips appeared on the market, they have caused a great interest among golfers who value unique design and enhanced performance. The unrivaled traction characteristics and the feel they deliver, have helped them find their way on many golfers' clubs. The price point they are currently being sold at is reasonable and within the mid-range, making them accessible for any golfers' budgets.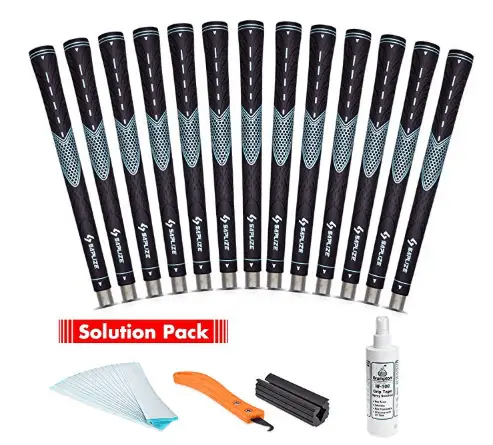 If you are a golfer who changes his/her golf grips at home, then you now that even though it has been advertised as a fast procedure, the reality is much different and it usually takes hours to replace all the grips from your clubs. Saplize thought about this and redesigned their grips in a way that they don't leave the sticky tape on the shaft but it stays on the inner side of the grip itself. This makes them much easier to replace, and it will considerably shorten the replacement time. If you want to find out more about them, read below.
Read more
Features
This is a full set of golf grips for irons and other clubs and it includes a complete replacement offer with the necessary tools. With the purchase, along with the 13 grips, you get 15 pieces of professional tapes, solvent, hook blade, and rubber vise clamp. This is basically all you need so that you make the replacement in the comfort of your home. There are four color alternatives and two sizes, standard and mid-size. Each grip weighs 65 grams, which is on the heavier side, it has a round shape and it is 10.6' long. In case any issues come up, the company offers a full refund within 30 days from the purchase.
Materials
Saplize golf grips for irons are made from advanced rubber formula which is resistant to abrasions and external impacts. It delivers superior anti-slip performance in all weather conditions, great feel, and high stability. The material is also shock-absorbing which makes them comfortable to use and protects your hands from hand fatigue.
Cost and Value
Rarely do we find such an offer where, besides the grips, you get a full regripping set for a price that is lower compared to most of the casual grips-only sets. And, it is not only the inclusiveness of the set that makes it attractive for buyers but it is the quality of the grips and the complete performance, feel and control that they deliver that adds more value to its worth.

8

. Grand Tour Arthritic Grip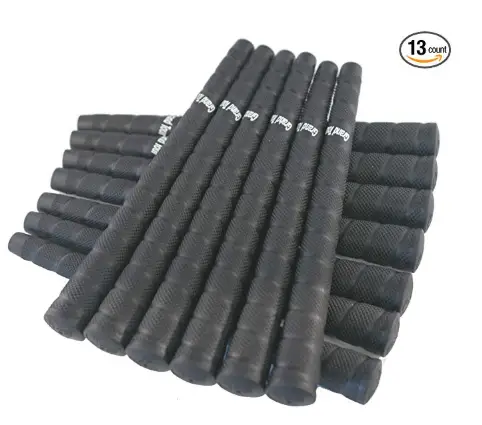 People suffering from arthritis are especially prone to pain related to swings and are prevented from performing fast swings, that leads to poor performance. These Grand Tour Arthritic golf grips for irons are a perfect solution for the lingering pain while golfing since they are designed to minimize the discomfort and deliver comfort and enjoyment on the course.
Read more
Features
This is a set of thirteen golf grips specially formulated with a compound material with a nub-textured surface made to deliver relief and to reduce the sting which is associated with the grip that occurs at impact. They look simple and slightly thicker than the usual ones and consequently they weight a bit more too, each is about 65 grams more or less.
Materials
They are made from a specially manufactured rubber with a rough surface that makes it easy to hold them tight and perform well. This material is moisture-wicking and delivers tacky feel when you play during wet weather. Even though thicker, they provide a decent feel and much better performance.
Cost and Value
According to the buyers who have been using them, these golf grips for irons are game-changers since they are going to provide you with much-enhanced feel and playability. Also, the pain which is usually associated with arthritis while playing golf gets considerably reduced thanks to the excellent craftsmanship of these grips.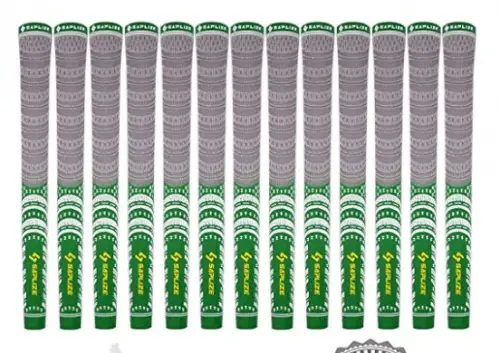 If a few decades ago the only way to change the worn-out grips of your clubs was with a visit to a local authorized retailer, offering a very limited range of choices, nowadays you can get tens to hundreds of selections to match your personal preferences and golfing style. Java golf grips are an excellent choice for your irons, especially if you are an avid golfer who spends a lot of time having your clubs in your hands. These are durable and long-lasting, delivering professional performance and feel.
Read more
Features
The golf grips for irons are made to deliver maximized comfort on the course. It is a whole set that includes 13 pieces and it also includes 15 pieces of golf tapes. Each of them weighs 50 grams and there are two available sizes, standard and midsize. You can select from six available colors and there's one special offer of six grips, all in different colors that come with 8 tapes.
Materials
It is the dual-structure that these grips boast which integrates full cord part on the upper hand made from a blend of rubber and cotton fibers for more grip, extra dry feel and anti-slip features. It is softer and shock absorbing so that your hands are relieved from extra tension. The lower part is made from rubber which delivers more friction and enhanced control.
Cost and Value
This is another budget-friendly set that has been singled out from the crowd thanks to its enhanced performance and superior anti-slip properties. The dual-material construction and the anti-slip texture will provide you with enough confidence regardless of the weather conditions. The price is affordable and depending on the selected option it varies but not drastically.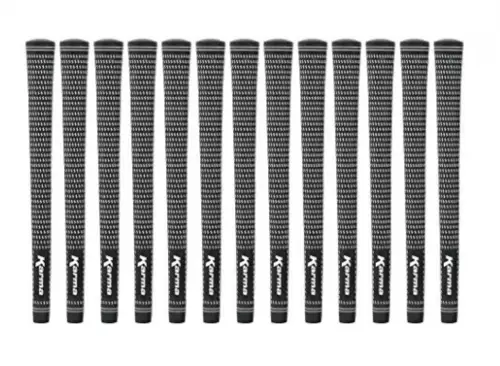 I don't know a person who doesn't want to get a good bargain on the market as it is low price and good quality that often attracts us. And this is exactly why Carma Velour grips have been so popular on the market and so highly rated. The set includes 13 golf grips for irons and all the other clubs except the putter as its shaft differs from the rest. Below we describe their features and the material they are made of, so make sure you get yourself informed decision when you make a purchase.
Read more
Features
Versatility is what describes them the best thanks to the availability to choose from six color varieties to match your clubs the best. In addition to the color choice, there are also six sizes available that include junior, standard, midsize, jumbo, standard ribbed and undersize. Each weighs 48 grams and has a round grip shape. When making the purchase, make sure you get yourself grip tapes and solvents as the set doesn't include them.
Material
Karma Velour golf grips for irons are made from a very soft rubber compound which is very tacky, but not sticky. It delivers reliable and comfortable feel during all circumstances and enhances golfers performance in all-weather conditions. The material is moisture resistant and it will provide good grip and anti-slip performance during wet days and equally good performance during hot days, even if your hands are wet. It is easy to clean by using warm water and soap.
Cost and Value
Many golfers claim that this model is one of the best on the market and deliver superior and trustworthy performance. Besides that, their price point is absolutely unbeatable and this is the most inexpensive set that we have on our list.

Subscribe to our Newsletter