10 Best Graphite Golf Shafts for Irons
In a
Hurry? Editors choice: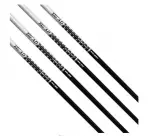 Test Winner: Graphite Design Tour AD-95

Finding the best graphite golf shafts for irons can be a grueling experience since it takes a lot of insight into your performance and you need to have a sixth sense so that you can get the perfect shafts for your
irons.
Graphite shafts for irons have become increasingly popular any more and more golfers have decided to replace their steel shafts with graphite shafts. The shafts are considered to be the engine of the clubhead and the attention they have been receiving recently seem to be reasonable.
Even though some better players think that steel shafts deliver more feel and control, the latest advancements in the technology regarding the graphite shafts have made them even more reliable than the steel ones. Some experts think that the latest releases have even outperformed steel shafts in all their aspects. Here are the best golf graphite shafts for irons.
Standout Picks
Criteria Used for Evaluation
Shock Absorption
If you are of those golfers who have been playing with steel shafts for quite some time, switching from steel to graphite golf shafts for irons might bring a considerable change in feel. We see a lot of golfers on tournaments moving the lighter, more shock-absorbing graphite shaft.
The shock-absorbing characteristics of graphite shafts have been warmly greeted by golfers of all ages and skills. They have been particularly useful if you have issues with golfer's elbow or arthritis. Some of the golfers switch to graphite thinking that their swing speed is slowing down and they need shafts with lighter weight to help them get more speed. The lightweight and the more appropriate flex allow them to get more balance and stability which directly influences the performance.
When an iron shaft features shock-absorbing properties, then it is able to deliver a better feel and control of the club. Usually, these graphite iron shafts are the ones that have been designed to outperform the steel ones and they are of premium quality. So, every golfer needs to determine what works the best for him/her and get the shaft that will deliver optimal performance and playability because if it doesn't feel good, the chances are that you will lose trust in the shaft and your confidence.
This is why we have selected this criterion as an indicator of the quality of the graphite shafts for irons, so you've got a clear indication of the shock-absorbing features that each shaft has.
Model
As technological advancements are progressing insanely fast, thus it has influenced many products to develop or to reach the level of perfection. This is valid for every technological field and it also applies to the way graphite shafts have been manufactured over the years.
In the past, these were just metal sticks without being given much attention as their role wasn't considered to be of importance. Fast forward today, they have the status of the engine of the clubhead and their sophistication is on a very high level.
Every new model that is launched on the market delivers a new feature and a new technology, making it more advanced than the previous generation.
The advancement is not only seen in the switch from stainless steel to graphite and composite but in the technologies used to process these materials and provide them with more game-enhancing properties.
Therefore, the model and the date it was released play a significant role since golfers become aware that the latest release is, the greater the chances are for maximized performance. The maximum scores regarding this criterion feature those graphite iron shafts that have been recently launched.
Features
The uniqueness of every product comes from the features that are integrated into its design during the manufacturing process. These features give buyers an idea of what the product is intended for and what expectations they can have from it. Regarding graphite iron shafts we took into account several features.
One of the most important features is the performance they deliver, and what is particularly important is the steel-like feel and control that most of them deliver. Namely, many advanced golfers are reluctant in their decision to switch to graphite shafts for irons because graphite is lighter and can't provide as a high level of control and feel as the steel shafts have. But, as we have previously mentioned, modern technology has perfected graphite shaft so some of them even outperform the steel ones.
Next thing worth mentioning is the flex they offer, i.e., if a model offers a greater flex range so that golfers can customize their performance with the shaft. Here we also considered the degree of the torque, which directly is linked with the shaft stiffness because it is a valuable indicator of the overall performance and feel that the golfers will deliver.
What also matters for golfers the kick point variety, the ability to choose a specific weight, the tip section, and tip diameter. And lastly, the possibility for additional adjustability and customization gave a higher score rating to the products within this criterion.
Value
This is one of those criteria that is decision-making when it comes to the actual purchase, so regarding graphite iron shafts, the price of the model can have a stimulating or discouraging effect upon buyers. It is more than obvious that there's a wide price gap among the offers and these price differences make golfers even more confused when deciding which model to buy. Our list contains products that are considered to be a good value for the money.
In order to help golfers make smarter decisions, experts often advise them that they should first determine the speed of their swing, their needs, and their perspective use before spending an arm and a leg on a golf shaft. This can help them get what they need and boost their performance without breaking the bank.
Best Graphite Iron Shafts
1

. Graphite Design Tour AD-95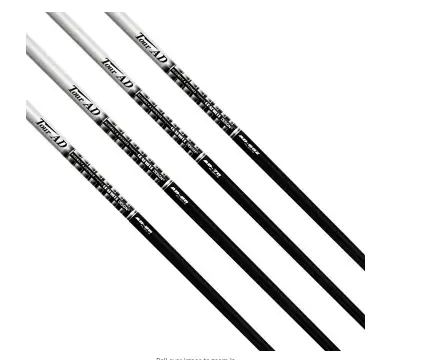 When it comes to advanced golfers, many of them still prefer steel shafts because with them they can exercise complete control over the clubhead and maximum precision. There are still many of them who still distrust graphite iron shafts thinking that their lightweight and flexibility won't be enough to sustain their powerful swing. However, the advancement of modern technology brought many novelties when it comes to graphite shafts for irons so nowadays we can see tour players switching to them. Graphite Design Tour AD-95 is one of the most advanced models which is appeals differently skilled golfers.
Read more
Features
The cutting-edge technology and superior performance make this model high end. It is very versatile when it comes to the length of the shafts as they come pre-cut. There are two available flexes, Stiff which weights 98 grams and X-stiff which is 99 grams. This weight is directly comparable to the steel irons, so golfers can expect optimized control and playability. This model comes only in a .355 taper tip which matches most of the iron brands.
Performance
When a better player decides to replace his/her steel shafts with graphite iron shafts, he/she needs to make sure that they feel the same as the steel ones, and the control won't be affected delivering the same or even better performance. Tour AD-95 is the model that guarantees such performance, and as many of the buyers claim, they have even outperformed the steel ones. They deliver mid-spin launches which lead to more distance.
Cost and value
Premium models can be easily distinguished from the others because they are made with the highest quality materials and the most innovative technologies. This often results in having them sold at very high price points. However, better players know that such products are often the most trustworthy and they match the manufacturer's description. So, if you seek ultimate quality and unmatched performance, these graphite golf shafts for irons are the right one for you, provided you can afford them.

2

. MCA Golf Mitsubishi C6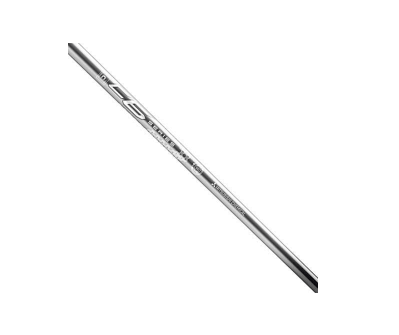 C6 Black are hybrid/iron series that borrows the design that has been utilized for the C6 Wood Series so that golfers get more consistent performance. These graphite shafts for irons have been upgraded with more durable materials and processed with proprietary technology and techniques. Designed like this, it is a guarantee that golfers will have enhanced feel and optimal stability which even outperforms steel shafts.
Read more
Features
Designed with the exclusive Recoil Technology which is very effective in delivering maximum feel, this model will mostly meet the needs of high to mid handicappers whose swing speeds range from 60 mph to 100mph. The improved material, as well as the denser carbon fiber, which represents Next Generation flex technology, are a guarantee for higher launching angles. This model features high bend point and stiff 0.370 parallel tips which means more uniformity, and superior control.
Performance
The weight of C6 Black graphite iron shafts is 75 grams which place this model in the mid-weighted category, which for many golfers it is a synonym of balance and stability. It offers Regular flex so that it helps golfers to gain more feel, speed, and control, the three most necessary features when it comes to irons. When you have a good feel, you know how to control the club, and since the shaft is the engine of the club it should provide golfers with speed and control. And this is exactly what you can expect from this model. The innovative technology and the lightweight design will deliver more speed with the long irons and stability and spin control with the short irons.
Cost and Value
MCS Mitsubishi is a company that has been one of the most prominent in golf manufacturing, and this model is among those that are the most favorite among golfers. It has been designed with a blend of multiple technologies to deliver high launch and low spin. When it comes to the price they feature, it is expectedly high since we are talking about the high-quality brand with exceptional, high-quality graphite golf shafts for irons.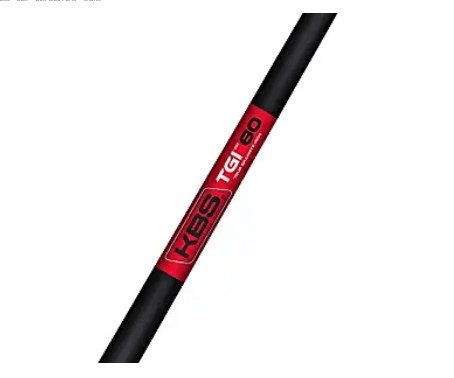 KBS is one of the most prominent golf shafts manufacturers that offer high-quality steel and graphite shafts for irons of clubs and different types of players. From highly advanced players to absolute beginners, you can find the perfect shaft for you that will match the way you perform in the game. KBS TGI Tour 80 is the perfect shaft for advanced players who are looking for an advanced model which is able to deliver steel-like performance.
Read more
Features
This is a graphite iron shaft model which is one of the most consistent and playable. It comes in a raw length of 41 inches but golfers need to cut it down to match the right size for each individual iron before it is installed on the clubhead. It features the standard .370 parallel tip which matches most of the irons. It weighs 80 grams and it comes in stiff flex.
Performance
What companies have been trying to do with the graphite shafts over the years is to make them to resemble the performance of the steel shafts but to enhance the playability even with a lower weight. Many of the most prominent companies have already achieved high success in completing their mission. KBS is one of those companies that offers graphite golf shafts for irons and this model is made for ultimate steel-like playability and much more control. Therefore, this model is one of the company's latest and experts' recommended graphite shafts.
Cost and value
KBS is a prominent company which boasts performance that comes from the highest quality material in the manufacturing process. This also means that for the premium quality you will have to pay a high in price too.

4

. MCA Mitsubishi Kuro Kage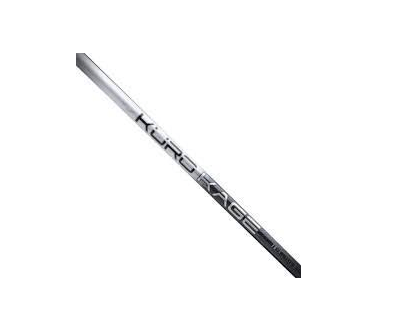 Kuro Kage is Mitsubishi's top of the line iron shaft model which is designed to deliver consistent shaft flex and much more speed so that every golfer can achieve optimum playability and peak performance. It has been known as a company it was mostly focused on graphite shafts for fairway woods and drivers, they have successfully entered the business of iron shafts. They offer a wide variety of different weights and flexes to meet the needs of differently skilled players.
Read more
Features
MCA Mitsubishi Kuro Kage is a graphite iron shaft which has been released about two years ago. If features well-advanced technology which has been developed to deliver maximum performance. These shafts blend low resin content prepreg with a smooth band profile for maximum versatility. These are premium high-quality iron shafts which are cut to length for better convenience. It weighs just 63 grams which is one of the lightweight graphite iron models on the market. The low resin content has been utilized in the manufacturing process so that it delivers smooth energy transfer and the standard .370 tip fits many of iron models.
Performance
This model features regular flex and relatively low weight so that players with lower swing speeds have better and faster swings. It will function as the engine of the clubhead and it provides feel and control that can be compared with the steel iron shafts. If you want a perfect combination of speed and distance with control and feel, this is the model that matches all the boxes.
Cost and Value
This graphite shaft model has been one of the most successful graphite shafts that Mitsubishi has made. Golfers highly appreciate the playability it delivers as it has been designed to deliver a refined feel and steady control. The mid-range price is also attractive because you really get good quality for the money.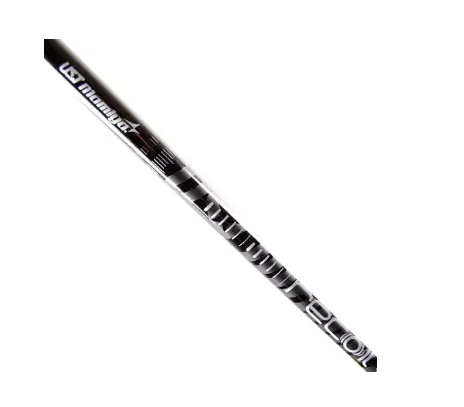 What many golfers really need from the club through the swing, is reliable stability which is often achieved via the shaft. In order to achieve this stability, USD designed the Recoil line of graphite iron shafts, which boasts superb stability for all swing types. The manufacturer's proprietary materials, technologies, and processes are thus combined, that they believe they've reached the level of perfection. The manufacturing process with high-end quality control is what characterizes this company to be among the best.
Read more
Features
Recoil 780 ES graphite iron shaft is a mid-weighted one, and with 55 grams it delivers a very similar feel as steel shafts do. This model comes as a complete set that includes 7 shafts in Stiff flex. They are 41 inches long and feature .370 parallel tips that fit any iron model. They're not pre-cut so golfers will need to do customize them to match their irons.
Performance
Stability is what characterizes them since these shafts are made with the proprietary Recoil Technology that guarantees that each shaft will deliver optimal spring effect within the walls of the shaft, and this effect will increase the transfer of energy which will result in much faster speed and more distance. The shaft is made to deliver optimal velocity which will have the capacity to add further distance if played with the right balls. With the low to mid launch, golfers can rest assure that their performance will be enhanced.
Cost and Value
USD graphite iron shafts are very distinctive, and if you have ever played with them you must have felt the subtle feel, and the change in construction which is a refreshment in the graphite shafts technology. They have been designed for the average golfer in mind, with a modest but high performing selection of materials that excel golfers' performance. Even though there is a bit more to wish for in the construction of these shafts to get the attention of tour players, the average golfers can enjoy in their performance for a lower price tag, making these graphite shafts for irons an excellent value for the money.

6

. Matrix Ozik Program F15 80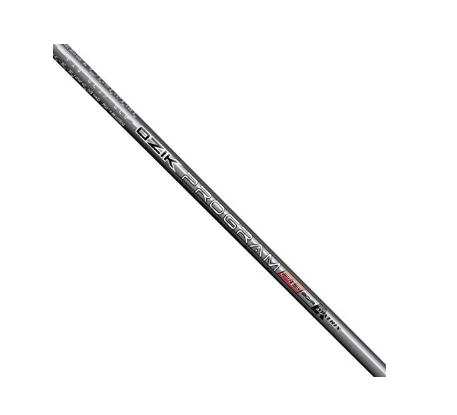 Matrix is one of the most renowned golf shafts manufacturers aimed to push the boundaries even further to where they are set. When a company is dedicated to investing considerable time, effort, and money into research and development, it is bound to reap the fruit of its hard work. Matrix has been doing this for the year to establish itself as a reliable company which offers graphite iron shafts with superb performance. The Ozik Program F15 stands as proof of what hard work and real dedication can do.
Read more
Features
Program F15 80 represents Matrix's flagship graphite shafts for irons, made to maximize the control, and provide golfers with excellent feel. This is delivered via the HD internal design which represents a better profile than the comparable steel shaft. It is made with two flex selections, Senior Flex, and Stiff Flex, which makes the Program F15 suitable for several golfers profiles. Both flex options weight 80 grams which make this model for about 20 grams lighter compared to a steel shaft. These shafts don't come pre-cut, therefore they all need to be cut down to fit the appropriate size and they all feature a .370 parallel tip which mostly matches all iron brands.
Performance
This graphite golf shaft features a superb feel and delivers exceptional control to provide players of all swing speeds the ability to produce better shots from all turf conditions of the course. Since the company offers customization per request, golfers can adjust the shafts specifications to match their specific needs.
Cost and Value
When golfers decide to replace their stock shafts with a better option, there are two things that they are mostly concerned with, the price and the performance. As we have talked a lot about the performance of this model, we need to say a few things about the price. It is fairly reasonable, being in the mid-range, it offers premium quality that can compete with the best in the range, so golfers get a good value for the money.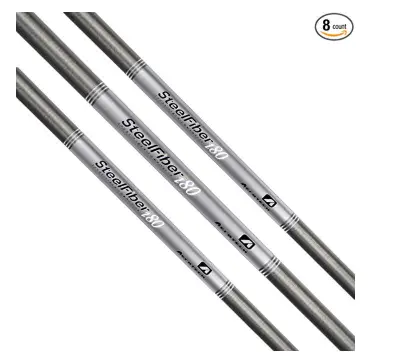 There're more and more golf clubs that can be seen equipped with AeroTech shafts. This company is an established name in the graphite golf shaft manufacturing, and the quality that the company delivers has been recognized by many premium brands in the golf industry. As a matter of fact, the company has a partnership with many of those well-known brands. It is a large company that offers a wide range of products. So, if the company's trusted by the biggest golf brands, that' a clear indication that you can trust it too.
Read more
Features
The steel fiber i80 graphite shafts for irons are one of the most versatile ones that the company has on the market with variety flexes that include ladies, regular, senior, stiff, and X stiff. The material they are made of includes steel fiber surface layer in high modulus graphite core. What is amazing about these graphite shafts is the fact that there are over 59 miles of steel fiber which covers the entire surface of a single shaft. The length of the shaft is 41 in and it features .370 parallel tip. It comes as a complete set that includes 3-iron through the pitching wedge.
Performance
The highly advanced way that these iron graphite shafts have been made, boasts unprecedented control and maximum consistency. Their main feature is the multiple flexes, so literally, every golfer could play with them. Regardless of your swing speed, the midpoint weight, these shafts have been designed guarantees that they will deliver distance and control.
Cost and volume
Many golfers claim these shafts are one of the most reliable and consistent models that you could find on the market and which completely match the description provided by the manufacturer. This is a competitive model and the price point they are sold at, is a real bank for the buck, as it is lower than other high-end brands with similar performance.

8

. Pro Taylor Fit Nano Made PGA Tour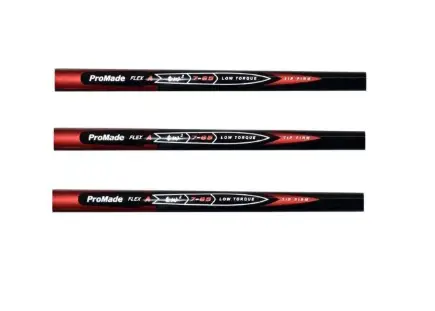 As hybrids gain popularity, especially among beginners and amateurs, the need for a special shaft that boosts their overall performance is more than evident. Some of the hybrids require shafts that are made for woods, rather than standard, traditional graphite iron shafts. And, this is exactly the purpose of ProMade Taylor Fit Nano, which is why we have included them in this buying guide.
Read more
Features
Despite the fact that there are just a few hybrid models that are particularly designed with larger hosels which do not fit the standard .355 or .370 hosel style, there are just a few that need to be properly addressed in order to meet the needs of those golfers who play with such hybrids. This model offers three available flexes, Senior, Stiff, and Regular with the same weight of 65 grams. This makes them one of the most lightweight graphite golf shafts for irons that yield enhanced speed and distance, particularly important for high handicappers.
Performance
The Wood Shaft Technology utilized in the manufacturing of these shafts relocates the pattern and the materials to maximize the performance of this model. Featuring a very firm butt section, it is designed to deliver incredibly stable feel, and the central part of the section is softer so that it delivers incredible kick through impact so that the speed of the ball is much faster. The low torque stiff tip section and the mid-low bend point provide incredible spin control and optimal launch angle.
Cost and Value
This model won't be used by anyone on their irons as this is more wood model, however, the players who use hybrids instead of irons, and have .335 hosel design will find it suitable. These graphite iron shafts represent a perfect, cost-effective alternative for maximized performance.

9

. AccuFLEX Vizion Ultralite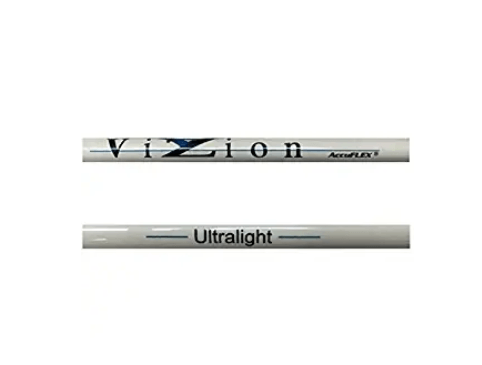 If you are the type of a golfer who is never pleased with the standard offer, and who is looking for something unique and distinguishing in the world off shafts, then the latest AccuFLEX vision ultralight iron shafts model is could be the one. They have been claimed to be the hottest lightweight tour graphite shafts for irons in the golf industry. Playing with it means generating more clubhead speed that adds extra power and distance. Perfect for distance seekers, these extra lightweight shafts will help you gain more yardages and simply will help you lower your score.
Read more
Features
Weighing only 60 g, these graphite iron shafts have almost reached the limit in terms of weight. Golfers who are struggling to gain more speed and distance will find this model exceptionally functional and well-performing. Due to the fact that these shafts are ultralight, the Senior and Ladies flexes are overlapping, as well as the Regular and Stiff ones, so there is no strict distinction among the two flexes in a pair.
Performance
Many golfers get deterred from the ultra-light shafts thinking they're going to lose stability which will eventually affect their performance. However, this is not the case with these shafts because they feature technology that prevents twisting on impact, and that means more power to the ball, and less shot dispersion. According to the majority of golfers who have been using the shafts, they have gained about 10 to 20 yards after switching to this model. If you're really struggling with speed and distance, this is the model for you.
Cost and Value
The price of these graphite shafts for irons is so affordable and reasonable, that will make you replace your heavy steel shafts without breaking the bank. They're budget-friendly without sacrificing the performance, so you can be assured that you will get excellent value for the money.

10

. I Drive Black Lightning Prototype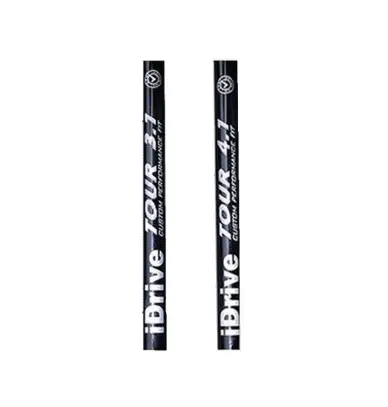 Despite the fact that this brand hasn't been on the market for a very long time, it seems that it has already gained trust from many golfers who have been able to recognize its superior quality. This particular model entered the market as a prototype a few years ago, and it turned out to be very successful thanks to its advanced 'no spine' design on all four quadrants. The extensive research and the Filament Wound Technology made this graphite iron shaft one of a kind.
Read more
Features
As we mentioned, this model is a prototype Tour Pro Nano graphite iron shaft that weighs about 70 grams which keeps its standard weight for graphite shafts allowing golfers who switch from steel to graphite to undergo the transition much easier. This shaft model has been made with the help of Filament Wound Technology to deliver high lunches and lower spin when golfers use their long irons but more spin when they use their short irons. The most benefit will have golfers with swing speed that ranges from 60 mph to 100 mph.
Performance
The standard weight for graphite shafts of this model is performance-enhancing, particularly if you are not sure if you can easily get used to making drastic changes in your clubs. The Black Lightning is the model that features higher launch and more controllable spin so that golfers can have more spin and distance. The manufacturer claims that it is the model that will help you maintain the stability and control of the club and the torque resistance.
Cost and Value
What golfers need when playing with their irons, is the ability to keep the balance and their consistency, and to be able to produce longer ball flights with low spin with their long irons and high launches, more stopping power, and spin with the short irons. The design of this particular model boosts exactly this performance, and that's why this is one of the most successful models. For the performance that these shafts deliver, they are very reasonably priced.

Subscribe to our Newsletter