Best Golf Wind Jackets for Men
In a
Hurry? Editors choice: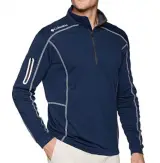 Test Winner: Columbia Shotgun

Unless you live in those always sunny and hot areas of the world, then you know that weather conditions on the golf course are rarely perfect and depending on the location of the course, more or less, you are likely to face inclement weather conditions which require proper protection for unhampered performance.

Experienced golfers will get my point right to its core, the novices need some tips on this matter. The thing is, playing golf with a golf windbreaker that restricts your movements leads to an inability to effectively have a full-blown swing, lower speed, and shorter ball trajectory. In addition, it can make you feel hot, sweaty and frustrated!

A novice or a pro, take a look at our article since we have selected the best windbreakers for various conditions. Plus, you'll learn more about what to pay attention to, when buying similar products.
Standout Picks
Criteria Used for Evaluation
Protection
A golf windbreaker that features full wind, water, and sun protection has the highest rating.
When buying a windbreaker for golf, it is understandable that you'd be looking for a piece of clothing that will provide you with sufficient shielding from any type of winds, from a light breeze to gusts. In the ocean of many different varieties, we had to subcategorize these products so that we could pile up the list. As you could notice, there are basically selections which cover all weather seasons, from the coldest days on the course to the chill summer mornings. Plus, not only did we include jackets, but we also picked pullovers since they are very convenient for quickly putting them on and taking them off and they can provide an unhindered wide range of movements.
In addition to wind shielding, we highly valued the items that provide water resistance, and sun protection. Any golf windbreaker that features these three factors, was given a 100 score rating on our scale.
Comfort
Any uncomfortable windbreaker for golf is most likely to prevent you from full-blown swings.
If you have ever played golf with an uncomfortable windbreaker you'll know how important this criterion is for optimal performance. Playing golf requires unhindered movement because swings by themselves are very demanding types of motions which require total shoulders, arms, and upper torso involvement. So, what happens if your windbreaker prevents you from delivering a full-blown shot? The uncomfortable, restrictive jackets will block you in the attempt to have the swing at about 180 degrees, which means the moment of greatest power will be interrupted which will result into a very low distance and speed. In addition to power interruption, the uncomfortable jacket can be the cause of anxiety and frustration which can also lead to even worse performance.
Another way of discomfort can be provoked by windbreakers that are poorly designed and incapable of thermal regulation. These jackets or pullovers retain moisture and make you feel wet and sweaty. Others fail to provide sufficient warmth so you feel cold, which can also lead to bad performance.
Due to these reasons, we scrutinized the users' comments and their experience related to comfort so that we could make the best possible selection.
Materials
Polyester is the most frequently used material in windbreakers.
The most important thing when it comes to the materials used in best golf windbreakers is their ability to provide ultimate protection from the wind and prevent the cool air from piercing into the skin. As you could see from the review of each product, the most frequently used material is the polyester, and most of them are made exclusively from this material, especially those that are designed for warmer weather. The main reason is the fact that it is very lightweight, it can be dried very quickly and it doesn't retain moisture. It can be modified by certain technologies and it can gain additional properties like water resistance. In addition to the polyester, the other two materials used in combination with it are nylon and elastane which add elasticity and the capacity of keeping coolness when the weather gets hotter.
Style
"Don't be into trends. Don't make fashion own you, but you decide what you are, what you want to express by the way you dress and the way to live." —Gianni Versace
It is generally accepted fact that style should never be argued since it is closely related to individual preferences and likeness, and as Prada once said, style is a mute way to represent yourself. However, there are certain fashion trends and general acceptance of what is good or bad, so we tended to select those pieces of clothing that are more or less considered to be stylish and attractive. The selection was certainly made based on the golfers' comments and experts opinions and the scoring next to each product regarding this criterion provides the general opinion of that product.
Features
The more specific features a product has, the more it stands out.
If you are our fan, then you must know that when we talk about the features of a certain product we are referring to some specific properties that make that product differ from the others. Mainly, the more the product stands out, the higher scoring it has within this criterion. Among the features that are worth mentioning is the UPF protection from the sun rays, waterproof v.s. water repellent, adjustable cuffs and waist and availability of many colors and designs.
Top Rated Men's Golf Windbreakers
1

. FootJoy Windshirt 2018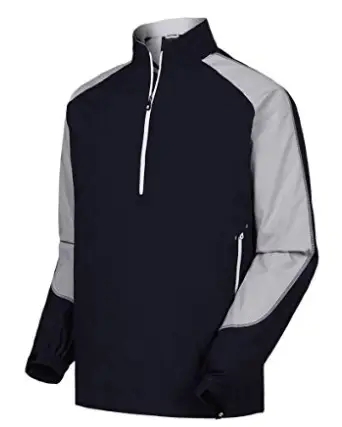 If you are the type of a golfer who loves going to the court early in the morning when the weather is quite cool, especially during spring and fall days, but warm enough not to need a golf jacket, then this wind shirt that comes from FootJoy is what you might find as the most appropriate piece of clothing to wear. It is made to protect you from the windy weather, so you can wear it as a top layer for almost any occasion. I don't think that FootJoy needs any special introduction because it is one of the golf companies that boast golf-wise design, so we'll go straight to the features it has.
Read more
Fabric Features
No exception will you find in this shell when it comes to the quality and the way this golf windbreaker is made. It is roomy enough to be worn over other pieces of clothing, but it isn't bulky to inhibit your performance. The honeycomb-woven shell material has excellent stretch abilities so that you can move freely. Plus, it has a water repellent finish which can protect you from light rain or mist.
Design
This is a golf wind jacket that a golfer would wear when the weather gets suddenly deteriorated with a gust or a light drizzle. It is well-designed, it doesn't look too bulky, just enough space to be worn as an outerwear. It is a half-zip pullover which is easy to take on and off as many times as necessary, in accordance with the weather conditions on the course. It is also practical for keeping small things inside, thanks to the two side zippered pockets and the sleeves feature Velcro tabs so that you customize the length of the sleeves.
Cost and Value
When it comes to FootJoy products, we can say with certainty that we are talking about top-notch craftsmanship and design made with superior and innovative technologies. As expected, this wind shirt is made to meet your highest expectations and provide sufficient wind shielding on the course so that your performance doesn't get affected.

2

. Nike HyperShield HyperAdapt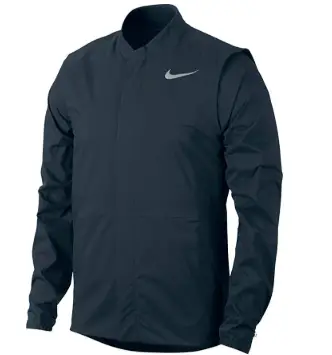 The never-ending marriage between Tiger Woods and Nike has resulted in increased popularity of the brand in the world of golf which in turn made Nike get as sophisticated in the golf apparel as elsewhere else. Commenting on the quality of the products would be pointless since it is one of the most influential brands in the sports worldwide, so we will directly take a look at the latest from Nike regarding their golf wind jackets.
Read more
Fabric Features
If you are looking for a total block od wind and rain, then this jacket fits the description. The body of this golf windbreaker is made from 100% polyester, while the upper lining is mesh which is made from 89% polyester and 11% elastane. HyperShield Technology provides a full block of elements such as wind and water, while HyperAdapt sleeve construction delivers optimized mobility for full-blown swings.
Design
This windbreaker features a unique and recognizable performance fit design with a very specific blade collar that lies flat against the neck. It has a full zip covered design for maximum convenience and zip side pockets. The reflective swoosh logo is placed on the upper left chest.
Cost and Value
This wind jacket for golf is on the higher end if we talk about quality and design. It looks very neat and sophisticated and it can be worn on and off the course. It features the latest Nike technologies that are perfectly utilized so that we have this awesome jacket. When it comes to its price, it is reasonable for a high-performance golf windbreaker.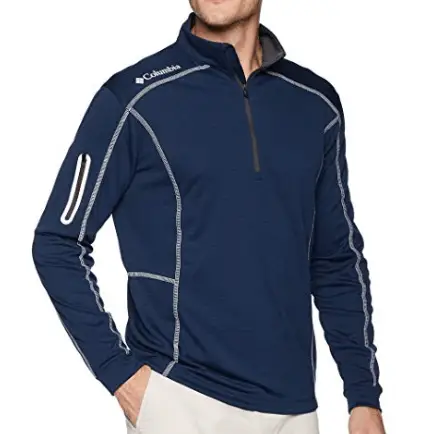 When we talk about weather resistance outerwear, the list wouldn't be complete if the brand of Columbia isn't included since it is a brand that is among the most dominant in this field. The sophistication of their technologies combined with super quality materials makes them stand out. This pullover wind jacket is not only functional but it is modern, well-made and it comes in more than 20 color choices.
Read more
Fabric Features
It shouldn't come as a surprise that, as most of the products on this list, this windbreaker is also made from 100% polyester. But, the technologies that are used in its production make it look and feel different. The Omni-WICK technology is responsible for pulling the moisture on the surface of the material and speeding up the evaporation which makes the material easy to dry. The Omni-SHADE technology provides full UV protection from the harmful sun rays by blocking them from penetrating inside and reach your skin. It is very lightweight and can be used as a top layer.
Design
This half-zip pullover looks modern and attractive and if you are wearing it on the course you are sure to leave a great impression on the course. The half-zippered opening and the zippered sleeve pocket are not only practical, but they add convenience too. The mock neck adds additional protection from the wind and the sun so that you can confidently dedicate yourself to the game.
Cost and Value
This is one of those pullover wind jackets that are never out of fashion, so you know that no matter when you wear it, you'll look trendy and attractive. It is the perfect piece of garment that you'd like to wear during windy days or it can be used for layering. The price is a bit higher, but it is a good value for the money.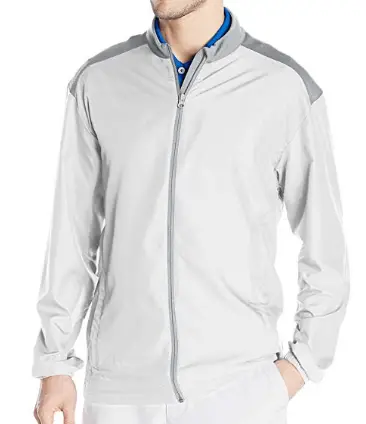 Adidas has had a very serious approach to golf apparel, accessories, and footwear which has resulted in many award-winning designs and innovative technologies. This innovation is seen mostly in the focus of details and the deep desire to please every golfer on the court with the best possible gear. This passion to include every segment of the golfers' needs can be seen in this jacket too, a design that is hard not to notice. So, let's take a look at its features.
Read more
Fabric Features
I don't know if you know much about polyester, but it is a material which is frequently used for performance apparel because of its properties. Being made of 100% polyester, it is lightweight, breathable and easy to dry. The stretch mesh-panels and vented back design enhances the breathability and the air-flow and make sure that you get the proper range of movement while hitting the ball. This ventilation is especially important to prevent overheating and excessive sweating.
Design
The full-zip design of this golf windbreaker makes is classy and convenient to use with ease. It is made to be worn during warm and cold weather with the utmost attention to wind protection. It does have a coating that makes it water resistant, but not waterproof. The four-way stretch material allows unhindered performance on the course and a very comfortable feel. The wind jacket is recognizable by the different toned shoulders which are the same color as the zipper and the zippered side seam pockets.
Cost and Value
The price range this wind jacket has is within the average of high performing ones that offer similar protection. This means that the Adidas logo brings you a high-quality product for an average price which is definitely a good value for the money.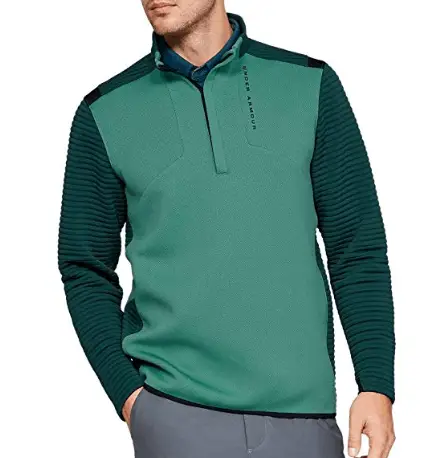 A few decades ago, playing golf on cooler conditions used to be a real ordeal having to wear all those thick layers to provide sufficient heat and that, of course, greatly affected golfers' performance. However, fast forward present time, we are witnesses of some of the best golfing moments that have happened during cold weather. It doesn't come as a surprise, though, since the apparel of today is much more advanced compared to that of the past. We surely can notice that sophistication in the apparel made by Under Armour and the company's dedication to bringing the best out for smooth performance, and this pullover wind jacket stands as evidence. Let's take a look at its features.
Read more
Fabric Features
This spacer fleece is made from 100% polyester, as most of the products on our list, but differs greatly from them because of the unique 3-layer construction which is designed to trap the heat in without causing restrictions in golfers' swing or weighting them down. The material is very soft and smooth and it is designed with double-knit insulation panels to trap warmth but not on account on breathability. Plus, this material is known as very lightweight, it dries very fast and wicks the moisture away.
Design
This is a very stylishly futuristic-looking pullover wind jacket which blends together modernity and practicality in the most superior manner. It is a piece of clothing that many golfers will compliment your looks and you'll never go unnoticed. The hidden half-zip construction and the low-profile collar add convenience to the function, while the compression cuffs make the sleeves remain in one place for no distractions. There are stretch panels at shoulders that boost mobility so that you can freely move.
Cost and Value
If you are looking for a wind pullover that keeps you warm when you are not very active but keeps you cool when you are moving, with superior design and super-modern style, then this UA model is highly recommended. For just a bit over the average pricing, you get a high-quality product which will bring confidence on the course.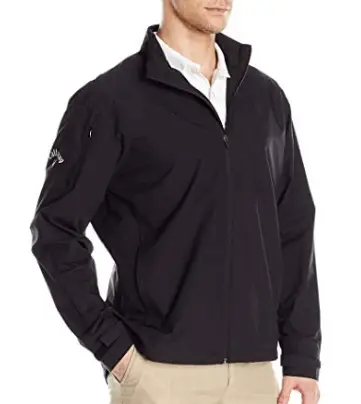 This wind jacket comes from the performance-driven and golf-oriented company that pays special care to meet golfers' needs in every aspect of their production line. Their high-end performance apparel features extreme durability, luxurious elegance, and stylish design. Callaway has never underlooked all the details when it comes to quality design, so this jacket meets every standard set by Callaway in terms of quality and performance.
Read more
Fabric Features
Many designers opt for 100% polyester when making windproof jackets due to its effectiveness in preventing the air from getting in, breathability and easy-dry feature. Therefore, Callaway designers decided to utilize it for this windbreaker with the use fo the advanced Callaway technologies in order to make it differ from just any polyester based jackets. The Opti-Repel technology makes it resistant to water and wind by making a protective barrier against weather elements. Besides wind and water protection, this wind jacket features UPF 50 protection from the harmful sun rays which is an excellent characteristic for those golfers that are sensitive to the sun rays.
Design
This is a full-zip jacket with mock collar. It is plain and if it wasn't for Callaway Tour Logo placed on the right sleeve it is hard to know which company has made this golf windbreaker. It is a classic model with a bit larger ample design, giving it a loose, but well-structured fit. The cuffs of the long sleeves have Velcro straps so that you can customize them in accordance with your size. The ham is open with a drawcord and toggles, and for better convenience, there's one zippered pocket on each side and one hidden zippered pocket on the right sleeve.
Cost and Value
If you are looking for a well-made quality men's golf windbreaker which has the capacity to protect you from all weather elements such as wind, rain and the sun, then Callaway fits the description. It is made with special attention to every single detail and that is more than obvious. This superior craftsmanship and the name-brand go hand in hand with high prices, and this windbreaker is not an exception.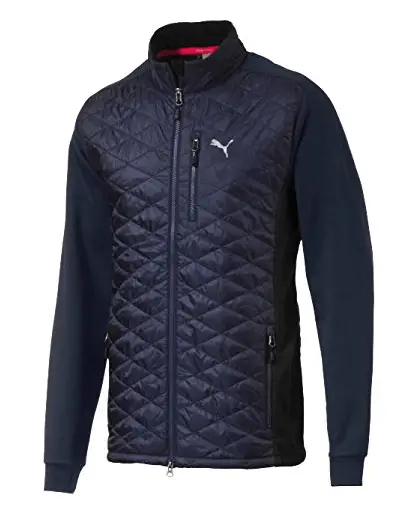 Puma has always been about style and performance and superiority in the way golfers represent themselves on the course. As it was rebranded into Cobra Puma Golf in 2010 it has been particularly focused on golf apparel, footwear, and golf gear, and its popularity rose as Rickie Fowler, Lexi Thompson, and many other outstanding golfers got under the company's umbrella. This men's golf windbreaker was designed with the pro performance in mind, not understating even the slightest details that can influence the performance.
Read more
Fabric Features
Puma claims that this wind jacket is the warmest and lightest wind jacket that they have ever made in order to provide maximum performance on the course when the weather gets chilly. The material used for this windbreaker is again 100% polyester, however, made with warmCELL technology which helps the golf windbreaker retain the heat close to the body so that it keeps the optimum temperature. You already know that polyester is one of the lightest and the most breathable materials, so engineered with Pwrwarm Extreme technology, and combined with PrimaLoft gold insulation with stretch knit panels that are water resistant, it provides protection from the coldest weather. '
Design
This performance fit jacket is what you need for the golf course during cold days in late fall, winter or early spring days, when the weather temperature can be very low because it meets golfers' needs in terms of flexibility and lightweight design. The fit in the shoulders, chest, and sleeves is slightly wider in order to provide unhindered performance and freedom of movement for every swing. You will feel comfortable, warm and protected from the weather elements as your strokes are as efficient as during summer days.
Cost and Value
Nothing less could be expected from Puma when it comes to integrating the latest proprietary technologies into the apparel they make. According to golfers, this is one of the most lightweight wind jackets on the course which is a guarantee for flawless performance. As Puma is a serious name brand, the price it has is higher than the expected average.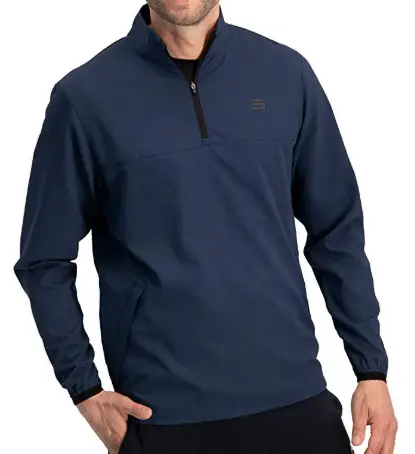 If you are a frequent visitor to the golf course, you most probably know that when the wind is getting up, you get chills that often linger until the end of the game, making it hard to stay focused on the swings. However, those who come prepared know that this feeling can be prevented if you have a proper windbreaker that prevents the wind from reaching you. Hence, this Jolt Gear pullover wind jacket is designed to help you stay focused on the game instead of your sensations.
Read more
Fabric Features
As we have mentioned before, 100% polyester is one of those materials that exhibit high performance and durability and which is an excellent choice for prevention against weather elements. It is a four-way stretch fabric that moves and extends as your body does so that you can have those perfect swings without ever feeling a restriction in your movement. It is a very lightweight pullover which has the capability of keeping you warm and protected from any cold wind, but at the same time, it keeps you cool if the temperature starts heating.
Design
This is a very elegant and stylish pullover wind jacket that features loose and full cut with a half-zip, pull opening that makes it easy to put it on and take it off in line with the weather conditions on the court. It is made with elastic cuffs and adjustable drawcord on the waist to prevent cold wind from getting in. There are two zippered pockets that are large enough to store your wallet, phone, golf balls or can just serve to warm your hands. The ventilated back looks sporty and makes this pullover unique.
Cost and Value
This pullover is a great choice for those golfers who need reliable wind protection under different circumstances. It can be worn as a top layer over anything and according to the buyers it lives up the description. The price is a bit higher than the average, but it is worth it.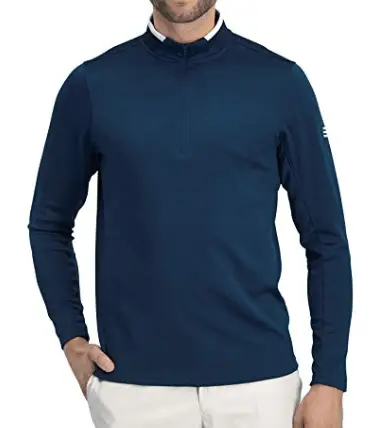 It isn't much of a fuss to be playing golf during the summer, especially in areas where the climate is constant and there aren't many changes in the temperature or the stability of the weather itself. However, not too many places can actually boast such weather, so almost everywhere having an appropriate wind jacket is something that is part of the golf bag. And even in spring and fall, you never know when that breeze is going to pierce into your skin giving you chills and, as expected, inability to properly focus on the game. Three Sixty Six is a brand that offers golfers all-weather apparel, among which, this amazing pullover. Why amazing? Read below to find out!
Read more
Fabric Features
If you are a golfer or know a golfer, then you'd most definitely agree that this piece of garment is what you need for the course. It is kind of a pullover wind jacket which fits all seasons except winter and it is made to provide decent protection from the cool weather and the wind. It is made from ultra-soft and elastic polyester which has the capacity to stretch in all directions, which is what every golfer needs for unobstructed movement on the course. It is highly breathable and features moisture-wicking technology that draws the moisture away from your skin and keeps you dry. Plus this material provides UV protection when you are exposed to the sun.
Design
This long sleeve pullover with quarter zip and a mock neck is an excellent recommendation for every golfer's bag. It is very stylish and it can keep you warm during gusts. However, the material isn't thick but it is protective enough not to let the wind make you feel cold. At the same time, as this is performance material, it isn't going to make you warm even if the weather starts to get hotter. It has an athletic fit thanks to the form-fitting fabric which follows the contours of your body without looking tight or constrictive. There are several color options to choose from.
Cost and Value
If you want to get the 'wow-effect' then this is is the jacket you need to go for! It looks very elegant, neat and stylish, giving an impression of sophisticated performance and modernity. It is made for golfers who need a stylish outwear which will never get out of fashion. Regarding its price, we can say it isn't over the roof, however, it isn't a cheap pullover either.

10

. Weatherproof Garment Co.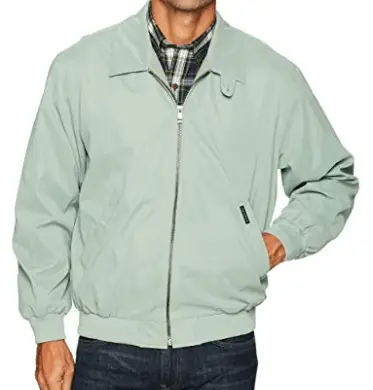 As the name of the company itself implies, this is a men's golf windbreaker that will provide protection from weather elements when you are playing golf during changeable fall and spring days when even in a single day you can experience several weather seasons. For days like those, you need a jacket that will be able to be not only efficient in protecting you from the wind but it is important to protect you from any light rain or cold. This jacket has been very popular because it has been proven as a reliable course accessory.
Read more
Fabric Features
This microfiber jacket varies from the others selected in the choice of the materials it was made, i.e., it was made from 52% biconstituent fibers (71% polyester and 29% nylon) and 48% polyester. This combination of materials provides enhanced performance properties that make it easy to dry, moisture-wicking and stretch so that you can have a full range of movement. There is a thin lining that can make you feel a bit warmer and the shell is wind and water resistant.
Design
This short and lightweight golf wind jacket features standard fit and it is made to deliver maximum performance on the course. The cuffs and the waist are elastic and help it stay firm regardless of the movements you make. There are two side pockets that have buttoned closure, one internal zippered pocket, and a separate pen holder. The collar is a bit wider due to the buttoned closure which can be utilized when you need neck protection.
Cost and Value
This golf windbreaker is one of the most highly rated wind jackets within this category and there's a very simple reason for that: it is functional, it is efficient in providing sufficient protection and it is very comfortable. Plus, for the quality, it offers it comes with a very reasonable price which is a great value for the money.

Subscribe to our Newsletter