Best Golf Trolleys Reviewed & Rated for Quality
In a
Hurry? Editors choice:
Test Winner: Bag Boy Quad XL Cart

Modern players differ in many aspects from the game that was played around 15 to 20 years ago in many different aspects and even regulations, among which we can mention the way players carry their things. Bags, as hard to carry as we know them, were rarely carried on a car and when they were, that was a privilege for senior players. Nowadays, modern technology has changed things and people are not deprived of the chance to have, if not a car, at least a cart that would make things easier for them.
Standout Picks
Criteria Used for Evaluation
Durability
If a cart is made of high-quality materials that are not prone to breaking, folding or scratching then we expect that it will last longer. We took into account all buyers comments that referred to the durability of each cart and that's how we narrowed the list down. We didn't only consider the frame of the cart, but wheels durability, pivoting and swiveling of wheels, and the effectiveness of the braking mechanism.
Stability
A very important criterion when it comes to golf trolleys. Well, they are designed to carry your bags first place so it makes no sense to purchase a trolley that fails to secure your bags and leans or falls down while you push it. That would be added frustration instead of comfort and satisfaction. Sadly, some of the trolleys do just that, so we had to be very careful not to include some of those.
Value
Price is a factor that plays a big role in whatever product we intend to buy. As it often happens, we want high-quality products with prices that are not over the roof, or what we really want is an investment that will prove to be worth the money. Low price and high quality is the most preferred choice, so we tended to follow this preference.
Features
Straps or Mechanisms for Increased Security
Some carts feature none, but some even three straps to provide stability and security of your bags. There are carts that feature lock mechanisms on the bottom of the trolley to lock the bag securely. Some have upper brackets that fasten bags in the upper part so that they don't fold. The better the security of the bags, the higher the rating of the cart.
Folding Mechanism
Depending on the type of the cart, some can be folded so that they can be easily stored or transported in trunks. There are some electric carts that do not provide this option because they feature big batteries that take up much space so folding is not a possibility. On the other hand, carts that are equipped with huge batteries and motors often have very durable batteries, so that's an advantage if you see things from another perspective. From what we could see, many players prefer the possibility to have a foldable cart that can be easily transported and stored, so our list includes only foldable carts.
Top 10 Picks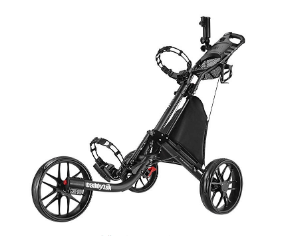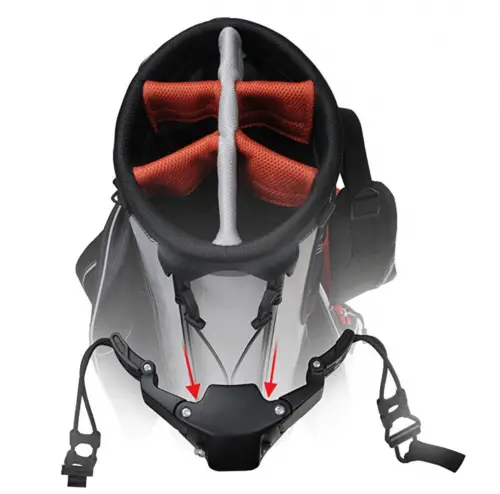 The first on the list is this lightweight cart which is equipped with all you need to assist you while walking around the course. This cart is made to be your long-lasting companion that will hold everything for you, including your coffee, your umbrella, and even your scorecard. The design and mechanism are patented and uniquely designed, which means that along with it you get one year warranty for an impeccable cart that won't fail you.
Read more
Features
This cart is designed for active players who love strolling around the course and have everything on hand's distance without putting much effort to push it. There are super strong rubber straps that loop over the bag and make it fixated on its position and their position prevent the bag from folding. The frame of the cart is made of strong aluminum which is one of the lightest materials used for carts production and it is appropriate to fit every stand bag. It is very easy to be handled since the handle is ergonomic and can be set in three pushing positions, and there are three EVA wheels that smoothly glide on any possible terrain requiring no maintenance at all. The front wheel swivels independently and that makes the cart easy to maneuver. On the wheel, there is a patented brake mechanism that prevents the cart from moving on any type of surface when pressed which is a great advantage if you happen to be on sloppy terrain.
Accessories
It is not enough to just fasten your game bag on the cart because as it often happens, it is not just the bag that you carry on the course. There are many additional accessories that usually players need to have and the bag they have might not have space for them. This cart includes a patented basket that has a cooler which is built-in, then there is a mesh net on the handle for storing the most necessary items easy to reach and additional storage rack. And you know that having a good umbrella is one of the most crucial accessories, right? Well, this cart has an umbrella holder for your convenience.
Folding Mechanism
This cart has a patented folding mechanism too! There are two simple steps to follow and you'll have it folded in a very compacted unit. When folded it is very easy to carry, it can be stored in a car trunk or any appropriate place since it doesn't take up much space.
Cost and Value
This cart provides everything an active player needs to freely walk around without wasting much energy. It is safe, stable and reliable. The price is affordable and if you need a cart that's on a budget side, then this cart is the right one. There are hundreds of five-star ratings that confirm its quality and reliability.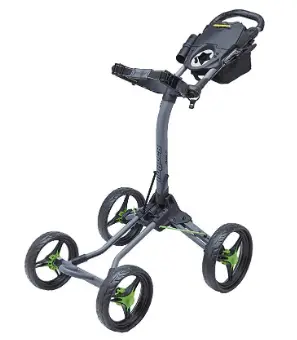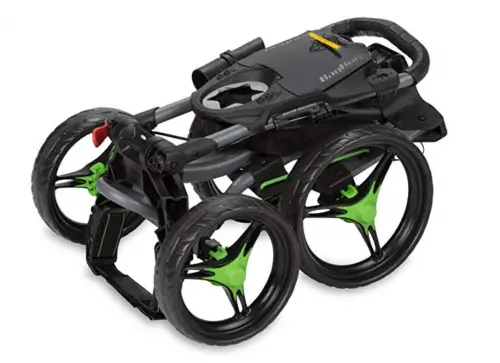 We present you one of the lightest carts with a futuristic design and with a lot of space to store accessories. It is very well spatially organized, being suitable for different types of big or small bags. Its robust construction gives the confidence to stuff it with as many things as possible without worrying too much if it will be able to sustain everything on it. It will and it will be easy for you to move around no matter the terrain.
Read more
Features
This robust lightweight aluminum cart is the favorite one of many players. The reason behind this lies in its multiple features for improved functionality. As we said, it can be used for the various stand and cart bags that differ in size due to its extendable front wheelbase and in addition to this there is an upper bag bracket that prevents bags from folding. The brake is mounted on the handle, so it is extra easy to stop the cart from sliding or unnecessary movement. It features TOP-LOK technology which enables BAG BOY or DATREK bags to securely lock on the cart providing added safety for your golf clubs. The handle is a real delight for all golfers since it can be adjusted for golfers of any size. The wheels are oversized, maintenance free and glide through any terrain without any difficulties.
Accessories
As this is an upgraded version of an older one, it abounds in accessories which shape its overall compactness. There is a scorecard holder (console) which is much bigger than the usual ones accompanied by a pen, smartphone holder and game ball storage. There is a new and improved integrated cup holder, tee and ball marker storage, umbrella holder and very big storage bag situated under the scorecard holder. It is amazing how many things you can safely place in on this cart.
Folding Mechanism
It features one of the simplest folding mechanisms to fold the cart and make it compact. It takes two steps and a few seconds to transform it. It is feather light and easy to carry when not used. It can be placed in any form of a trunk and stored in small storage units.
Cost and Value
Designers of this cart really listened to players' needs when they constructed the cart. They paid attention to provide a special place for the mobile phone which is handy for GPS apps users, put the storage bag underneath and secured it from getting wet, made more space for golf balls, more space for various beverages …just reshaped it in a way a player would like to have it. Compared to many other carts that offer similar features and accessories, this one is way cheaper than the others.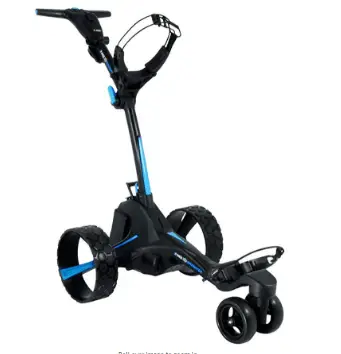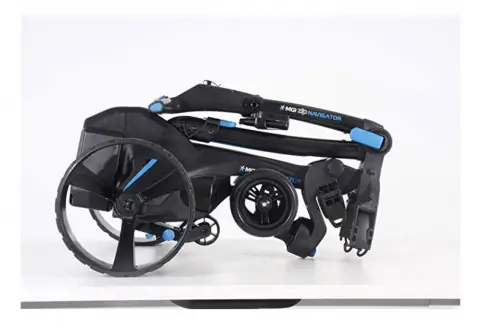 So far we have discussed only pushcarts; however, this one is an electric one. One of the main differences between pushcarts and electric ones lies in the effort that golfers put in. With these electric carts, there is no effort at all because all the effort is transferred to the cart. So, what we have here is a cart that runs with a great battery, packed with a variety of accessories, proved to be reliable and in addition to this, it comes with a remote control that allows for full direction control. Below we will provide additional details about its features.
Read more
Features
So, instead of you using some of your energy on pushing (which is also a good thing for staying fit), this electric cart does the hard job for you. In order to do this, it is equipped with the largest capacity Lithium battery which lasts for maximum golf indulgence of 36 holes on one-at-a-time charging. It also has the option to auto cut off to prevent overcharging. The battery itself wouldn't be enough if it didn't have the twin motors of a 380Wh motor that empower the cart to easily tackle even the steepest hill. The greatest feature is the Zip Navigator that has integrated Gyroscope which can track automatically on a straight course. The front wheel is a swivel type of wheel and the other wheels are puncture and maintenance.
Accessories
The cart is equipped with amazing digital technology, such as speed control, an odometer that tracks data on distance and performance, downhill speed control and electronic brake that can prevent the trolley from moving on any terrain. The remote control allows you to focus on the game as the cart is moving on its own.
Folding Mechanism
Many of the electric carts have one disadvantage and that is their disability to fold them for better storage due to their battery position. However, that's not the case with this cart. It has a mechanism that makes it easy to be folded and unfolded. When folded, you can store it in its storage bag and protect it from external influence.
Cost and Value
When we compare [ush carts and electric ones, besides the obvious difference that they have in the way you control them, there is another striking difference, the price! The price of the electric cart is sometimes ten times higher than any ordinary push trolley, but there are good reasons for that. When you just consider what performances they feature, you are likely to agree that the price matches their value. The same can be said about this cart. It is awesome cart for a big price.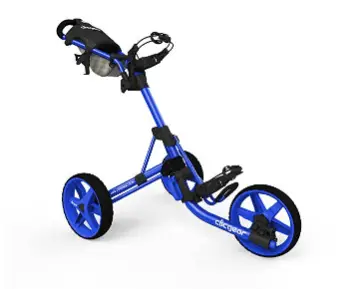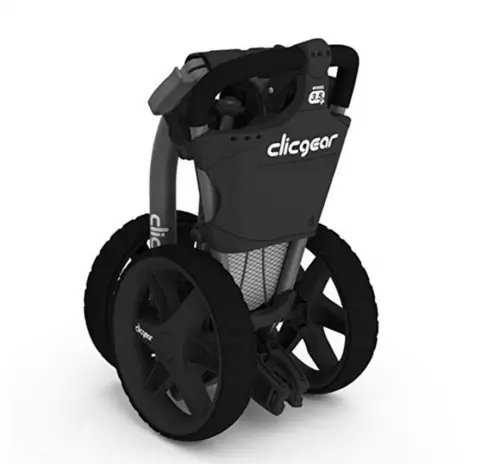 When you think of an inexpensive pushcart having all bells and whistles, you might think about this one. It literally comes with many initially installed accessories, even though there are some more available to be purchased and make this cart upgraded to an advanced level. It takes very little effort to operate it and it is suitable to be pushed on different terrain types. We'll proceed to further detailed description of this cart.
Read more
Features
It is made of aluminum which makes it extra light featuring aircraft grade properties, scratch resistant and easy to operate, this cart is bound to stay with you season after season. What differs this cart from the other ones is its brake mechanism. The brake is controlled with your hand, i.e. the machine is adjusted on the handle which many satisfied buyers see this as an advantage. There are three airless tires that require no maintenance, appropriate for different types of surfaces. Considering the security of your bag, no need to worry since the cart has bag straps that can be adjusted for all bag sizes.
Accessories
Regarding the availability of accessories, this car is a real winner. This model comes with four accessories included and there are four more that can be additionally purchased. The accessories that are included within the regular price of this model are a cup, which in our coffee-addicted society makes it a great bonus, umbrella mount and a console that offers a place to store everything you need on the course; there is a ball which is built-in, pencil and tee holders. The cart comes in different color varieties. In case you'd like to upgrade your cart to its fullest capacity than there is a seat, XL cup holder, steering knob, cooler bag, and sand bottle. However, these accessories can be pricey.
Folding Mechanism
The opening and closing mechanism are one of the easiest when it comes to bag carts. There are several steps that you need to follow, but that's carried out in a very short time, less than 10 seconds and when you close it gets truly small and compact. That makes it easy to be transported when not used or stored appropriately.
Cost and Value
Before we discuss the price, just to summarize what this cart offers. It is lightweight, durable and easy to fold/unfold. It can carry all types of game bags securely and comes with accessories that can be additionally upgraded. Considering all these advantages, it is truly worth the price it has.

5

. Jef World of Golf Deluxe Steel Cart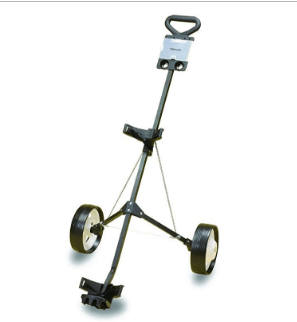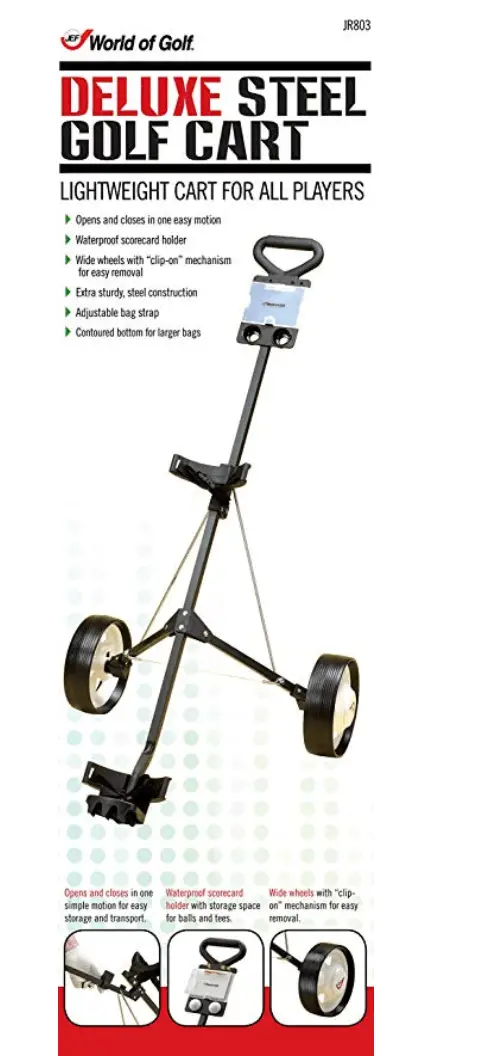 You are a moderate player using standard, mainly even terrain and plus you are on the budget side. If this sentence describes your preferences for the time being, then you have got your perfect cart which might indulge you even more into play. It is also one of the simplest to use carts with an, even more, simpler design. However, regardless of its overt simplicity, it is one of the most preferred carts among many players. Many use carts with a simpler design. However, regardless of its overt simplicity, it is one of the most preferred carts among many players.
Read more
Features
As simply designed as it looks, yet it is one of the most lightweight carts. However, don't be tricked by its simplicity, it is very sturdy and strong and it can be easily pushed around. The bottom is contoured and there is an adjustable bag strap so that you can customize it for big or small bags. There are two wide wheels that provide stability and unhindered movement around.
Accessories
Since this cart represents basic perfection, it doesn't feature many accessories. However, there is one thing that is a great advantage of this cart, that's the waterproof scorecard holder which is the most essential thing a player needs. There's also a place for two game balls, too.
Folding Mechanism
Opening and closing are as simple as everything else on this cart. It folds into half in just one move and makes it easy to be stored or carried around when not used.
Cost and Value
Being the most inexpensive cart available makes it very attractive. However, this doesn't mean that it is of low quality. This cart is made of steel, it is sturdy and strong and all those hundreds of five-star reviews prove that it fits the description.

6

. CaddyTek One-Click Folding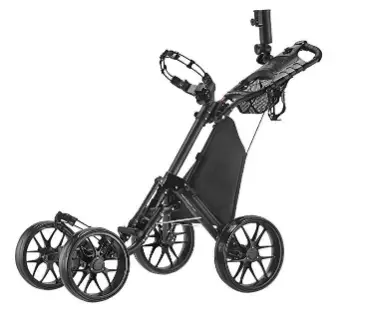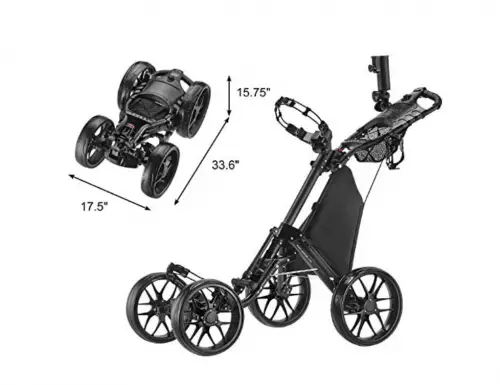 This is another outstanding cart made by CaddyTek. It is a push cart that can be easily pushed on all types of terrains thanks to easily pivoting of the front wheel. It differs from the other one that we have here in several aspects among which is the number of wheels and the easier folding/unfolding which is carried out only by pressing one click. Due to its additional wheel, it takes bigger space, but unless that is ok with you, all other features are beneficial for players and make this cart among the most preferred choices.
Read more
Features
Being a cart on four wheels, it guarantees perfect balance and stability when moved around on bumpy and uneven surfaces without posing risk for the bag to fall down. EVA wheels require no maintenance whatsoever; they are puncture proof and lightweight. There are additional straps that provide stability and security too. The frame of the cart is made of strong aluminum which is very lightweight and the total weight is not bigger than 17 lbs. This one also features the patented braking system which is placed on the wheel to prevent the cart from sliding when it is placed on sloppy areas.
Accessories
Even the accessories that accompany this trolley are patented and they include a variety of items. There is a basket that includes a cooler which is built in, another mesh on the net handle for additional storage of small items, a rack for storing bigger items, umbrella and cup holder. These are excellent to have and a great help for overburdened players.
Folding Mechanism
It features one-click button mechanism that makes it easy to fold it into a small and compact unit. It takes just a few seconds to be completely packed. Thus folding is very easy to be stored in your trunk or anywhere you find it suitable.
Cost and Value
This well-balanced and high-quality cart won't leave you disappointed in case you have 'few more things' to add. It has reached the expectations of many satisfied buyers who gladly recommend it. The price is not expensive at all and it is a good value for your money bearing in mind that a year warranty is included.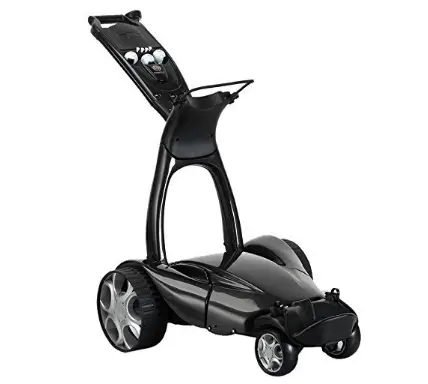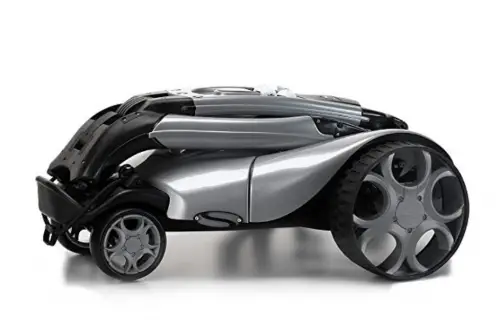 One more excellent electric cart that we thought is perfect for our list due to the fact that it features amazing advanced technological and electronic properties, provides reliable service and it literally has all the bells and whistles when it comes to ultra-modern carts.
Read more
Features
This cart is one of the most sophisticated modern carts that does everything you want it to do with just one press of the button. It is connected with a Bluetooth to the remote control and it practically follows you at a preset distance in the speed of your walk through the 'follow me' system that has the ability to detect your position. It stops when you stop and will start moving as you start walking. It has an automatic braking system that can prevent it from moving even at the steepest hill. There is also a remote control that you can use to set remote controls and reverse distance control. The trolley is light, but strong and easily manageable and looks much more different than other carts. The stability of the cart is achieved by the four-wheel chassis which have rear stabilizer making it extra stable even on steep courses and ultra grip rubber tires with an adjustable front wheel tracking system. It is powered by a lightweight lithium battery that has the capacity for 18 holes.
Accessories
This full-pack, high-end cart features everything possible that you can imagine (even beyond that, too!), so you might expect that it has extra great storage to set your hands absolutely free. There is a headset on the handle, a panel for your scorecard, storage for the balls and tees, umbrella holder, etc.
Folding Mechanism
As we have already mentioned, many electric carts don't have the possibility to fold. As with the previous electric trolley on this list, this one can be folded into a compact unit to be easily carried or stored. It features Quick Release Compact Folding System which folds the cart in seconds. It also has a protective cover to wrap it over against any damages or scratches.
Cost and Value
The most futuristic and advanced cart comes with the highest price, and that can be expected in a way. For the price you pay, you'll get one of the most advanced technological and electronic carts ever made, and that comes with a hefty price tag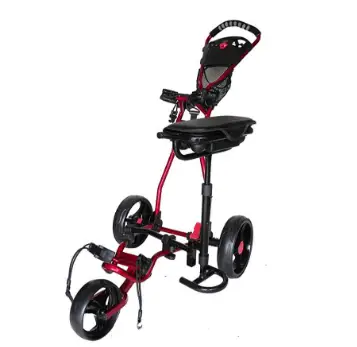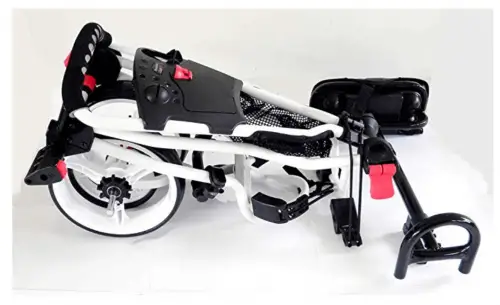 This is another simplified but practical three-wheeled cart that is one of the favorites among golfers who'd like to keep on the budget side. It is sturdy and reliable and provides you with the most needed items on the course. What differs this cart from the others is the added seat that will help you have some rest when needed. Its wide wheels make it stable and functional for various terrains and that's what a golfer needs, isn't it?
Read more
Features
It is simple but sturdy and appropriate for various types of carts regarding their shapes and sizes because it has adjustable bag support. The frame is very durable and can be loaded with heavy bags which can be safely secured. Its height can be adjusted giving it a big advantage over many similar bags. The front wheel is retractable and swivels effortlessly. The brake is attached on the front wheel too and it is operated by foot.
Accessories
Simplicity and high-practicality are the main features of this cart, since it comes with many additional accessories such as a scorecard holder, umbrella holder, a drink holder and a mesh bag with a ball and a tee, all of them being securely placed under the console and thus being protected from direct sunlight and rain.
Folding Mechanism
Another feature which adds to the functionality of this cart is its Quick-Lok folding system which makes it easy to fold by pressing one button only. What you get is a folded cart that is easy to store in any trunk or storage place.
Cost and Value
Many agree that this cart matches the description provided by the manufacturer and that it does an excellent job on the course. It is easy to maneuver and rely on, which means it is a good value for the money. Its only drawback would be the limited number of color choices since it comes only in three variants.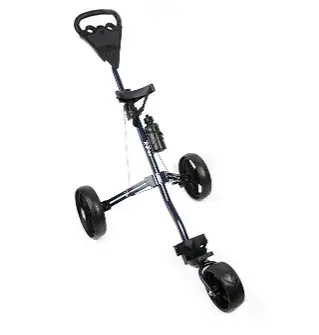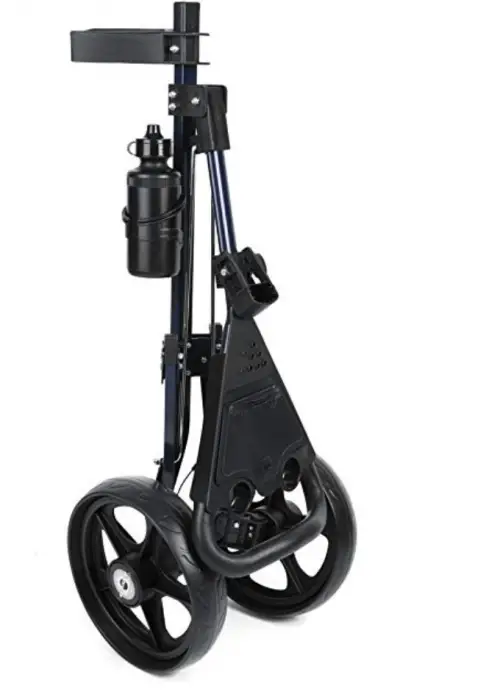 There are many cheap carts on the market nowadays that at first glance give the impression of durability and good value for your money, however in case they lack high-quality they often have limited presence and many negative ratings. When it comes to Intech Tri Trac, the first thing we get to realize is its long presence on the market with many five-star ratings. Another thing is the affordable price and practical design. These were the reasons why we decide to represent this cart as another choice for players who prefer budget cart that provides long-term satisfaction.
Read more
Features
It might look lean, but in fact, it is a very strong cart that features nylon straps with snap-lock buckles that provide stability and security to your bag and clubs. The frame is sturdy and suitable for any kind of bags. It boasts with dual-strut reinforcement that provides easier amortization and better maneuver which is enhanced by the three designer wheels that are enforced with anti-slide treads useful for wet grass or uneven surfaces. You can practically run this cart everywhere without fearing that it might not be functional.
Accessories
Besides being practical in terms of features, it is also equipped with some basic accessories that will provide additional storage for things that you need at the reach of your hands, such as waterproof scorecard holder, game balls or pen. The round ergonomic padded handle can be adjusted and you can add an extra bag on it. Along the frame, there is a detachable bottle on a holder.
Folding Mechanism
Storage can often be a problem for many carts especially if they take up much space. This cart can easily be folded into two basic steps and decrease the volume it takes up. It fits in every possible trunk, it is lightweight and can be placed anywhere when not used.
Cost and Value
It is a cart which according to many buyers is reasonably priced, functional and practical. It features all basic cart characteristics and provides a reliable option when you are on the budget side. It is recommended by many who are pleased by their purchase.

10

. Spin It Products GC Pro II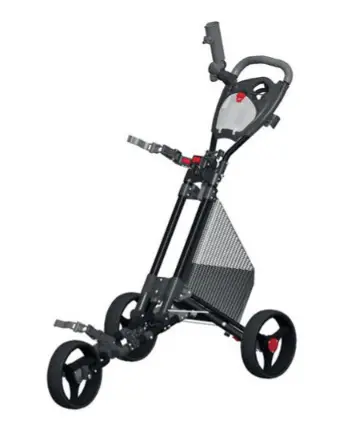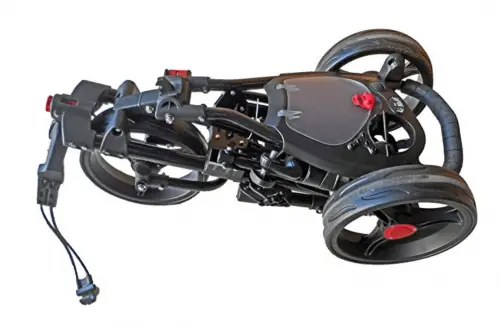 This is another model of a cart which is loved by many customers who happily recommend it. Simplicity seems to be trendy, so this one features a simple design and even simpler use. It is easy to assemble, easy to maneuver to whatever type of terrain you decide to push it and comes with some accessories too. And one more thing, this model can be found in pink color.
Read more
Features
This is a compact and lightweight cart with a sturdy design and high-quality material that guarantees durability and security of your bags. It has three airless maintenance-free wheels which are a relief when you are on the course without being worried about the conditions of your tires. There's one minor flaw when it comes to wheels, and that's the front wheel being fixed so you need to lift it a bit if you need to make a sharp turn. There is a foot brake which is easy to use when you want to fix it in a certain position. The handle is adjustable and protected with rubber coating for better comfort when you push the cart.
Accessories
You will be very satisfied when it comes to the accessories that this cart provides and in this aspect, it resembles high-end carts. There is a waterproof scorecard console protected by a lid with additional storage, umbrella holder, opening for beverages and mesh bag for storing various extras that you might need.
Folding Mechanism
This is definitely one of the least complicated carts for folding. It folds/ unfolds by just pushing a button and that's it. It turns into a small, compact and easy to transport cart and can be placed literally everywhere.
Cost and Value
If you need a cart that is easy to push on many unfavorable terrains without any problems and equipped with the most necessary accessories, then you can consider this one. It is made of high-quality steel, it durable and affordable. Another good-valued cart for you!

Subscribe to our Newsletter