Best Golf Training Aids Reviewed & Rated for Quality
In a
Hurry? Editors choice: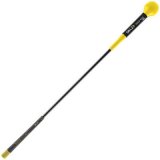 Test Winner: SKLZ Flex

If you do not know anything about golf, or you happen to be an avid golfer,
practice mats and other tools
can still help you identify your strongest and weakest points in the sport. Whether you have used training aids before or have not ever bought one, we can say that there are numerous quality training aids in the industry that helps identify the areas where an individual will need improvement. There is everything from tools designed to help you master your putt to help a novice golfer create muscle memory when it comes to the grip. Whether you are looking for alignment sticks or a quality arm placement tool, we have the list for you.
Scroll down to find the best golf training aids.
Standout Picks
Criteria Used for Evaluation
Durability
As one of the most important criteria that we share often, durability happens to be one of the most important factors when it comes to ensuring the strength and longevity of the golf training aids. Therefore, one aspect that we took into consideration alongside how the product is used is the durability and the product. Not only did we want to ensure that the product was designed to withstand wear and tear, but that it was made for long-term use quality. For example, when it comes to alignment sticks, we chose quality fiberglass ticks over plastic because plastic tends to break easier and fade compared to fiberglass.
Value
We made it our priority to only share items that were valuable and useful for the golfer. We also wanted to include items that both novice and professional golfers could find useful and beneficial. Not only are these valuable items but they are designed to train, enhance, and motivate the individual to perform better. As you begin to notice how well your performance is increasing, it is a common train to want to be better in the sport.
Portability
One important factor we wanted to include is the portability of the golf training aids. People practice at home, at the golf range, or on a golf course and you should be able to bring your training aids with you without it being a huge hassle. We wanted to make sure to include training aids that you're able to pack up and be pulled out to use quickly and easily.
Effectiveness
One of the most important factors we looked at for this list is the effectiveness of using these training aids. Some training aids work better than others for different things so we looked at the effectiveness of using them for different tasks. We don't want to put something on our list that would just be a waste of money so, we made sure that everything on our list will help better your golf game and skills.
Ease of Use
The last criteria on our list but certainly not the least important criteria is the ease of using these products. We wanted to include things that would help challenge you on your golf skills but not something that was difficult to use or set up. When you're going to practice golf the majority of your time practicing should be spent doing just that, practicing not setting up your training aids. Life can get pretty busy sometimes so you don't always get a lot of time to practice, so we made sure to include products on our list that are easy to use and or set up.
Golf Training Aid Reviews
Subscribe to our Newsletter