Best Wood and Plastic Golf Tees Reviewed for Quality and Performance
In a
Hurry? Editors choice: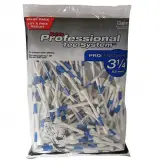 Test Winner: Pride Professional

Are you a novice golfer or a professional golfer? Are you a weekend golfer or live on the course. In any case, individuals agree that you cannot play golf without the best golf tees. Otherwise, it is known as putt putt! Therefore, we are eager to share with our audience our top of the line and best tees that they can buy today.
Standout Picks
Criteria Used for Evaluation
Value
Now that we have introduced cost into the equation, let's cover all three materials and what individuals can expect to pay for quality tees. The reason this criterion was crucial to our selection process because we wanted to ensure that the cost of the tee matched what an individual was receiving in return. More so we wanted to include a wide variety of different brands and options to choose from. With that said, we highly recommend individuals measure the number of tees they are getting for the price and if they are reusable. For instance, you may be receiving reusable tees of up to fifty drives each and only get three for the same price as twenty one-time tees. Which one is the better option? With that said, we want to move onto the last criteria that were crucial when picking out the best quality tees.
Color
The overall colors of the tees were one of the criteria that we took into consideration because we wanted to ensure a wide variety. More so, we wanted to include different brands that offer different options to showcase a better guideline of the top ten best golf tees. Individuals can expect that most wood gold tees will come in a natural wood tone or colored in white. However, most plastic tee brands offer plenty of color variations. Whether the tees are designed with pastel colors or neon colors, individuals can find their ideal tees on this list.
Materials
As one of the most important elements when it comes to a golf tee, we want to talk about the rules of the material design of tees. With that said, we wanted to ensure that we shared different materials to give a chance to all brands to shine. Most importantly, the material design of the tee determines how an individual hits the tee as well as their level of professionalism when it comes to their golf game. Now, we want to share the three most common golf tee materials that individuals should expect.
Wood
The wood material of a tee is known as the most common as well as the less durable. When an individual buys wood tees they buy them for the count, not the durability, making wood tees the ideal tee for amateur golfers. Wood tees come in different sizes, forms, woods, and styles. However, wood tees sometimes get a bad rep because they break so easily. With one swing, your tee is gone. If the brand excels in their craftsmanship process than the tee may last more than one drive. However, wood tees are commonly known to break easily. With that in mind, we highly recommend them for golfers that want practice tees or tees for everyday use.
Bamboo
Bamboo tees have been known to be stronger than wood. Many brands will design bamboo tees so they can withstand multiple blows. With that said, certain bamboo tees are easily biodegradable in the case that they are left on the green. However, this does not mean they are any less sturdy. In fact, bamboo tees happen to be some of the best tees in the industry and are an excellent choice for individuals that want quality and an excellent design.
Plastic
Known as one of the most common tee materials, plastic is often the fan-favorite for individuals that do not want to buy new tees every couple of days. Plastic tees are designed to withstand multiple blows and depending on the brand, an individual can expect up to 200 swings per tee. With that said, plastic tees come in different color designs so they can easily be distinguished and individuals can better match them to their gear. However, quality brands with lacquer the color with a special resin that allows the color to not rub off on the club head after a drive. We highly recommend plastic tees for individuals that are more seasoned golfers. Especially, when you are spending twenty dollars on three reusable tees.
Durability
No individual wants to buy a tee that will break before you even swing your club. With that said, no individual wants to buy a tee if the tee will shatter into a million pieces. Therefore, we had to focus on the overall quality of the tee first. This means looking at the construction, different unique design elements, and most importantly, the reviews. The reason reviews are important want hand selecting our products is that what better way to get to know an item than by people that are actually using them. With that said, we can guarantee that all of these tees are designed to easily withstand the test of time and offer plenty of value. However, it is important to take your own judgment into consideration when picking a quality tee, as it will affect your game, swing, and drive. Now, let's move onto what affects a drive the most, the material of the tee.
Subscribe to our Newsletter