10 Top-Rated Golf Swing Trainers
In a
Hurry? Editors choice: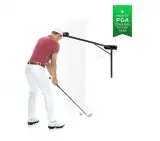 Test Winner: Pro-Head

How many times have you wished that your swing was much faster, effective and professional? We can't be all Tiger Woods, but we can always play better, provided we practice more and spend enough time on the course. Well, this is where golf swing trainers step in to provide you with enough exercise in the comfort of your home or backyard.
There are many different types of golf swing trainers, but all of them have one particular role- to enhance your performance,
to strengthen your muscles
, to increase your swing speed and to eliminate the faulty swing habits that you have acquired. Don't forget to combine them with
swing analyzers
to get the most of them.
Golf swing trainers are designed to make you a better golfer and therefore, we have made the selection of the best ten which are claimed to be the most helpful.
Standout Picks
Criteria Used for Evaluation
Effectiveness
It is more than obvious that the functionality and the effectiveness of the golf swing trainers is the main reason for buying them as they will provide the results that we would like to see in our performance. So, what results are we expecting to achieve and what does effectiveness include?
Speed- average golfers, who are the majority of us, have an average or below the average swing speed which often results in not enough distance to shoot the ball to the intended target point. Therefore, you need a golf swing trainer that will help you increase your swing power, muscle strength and develop techniques that will effectuate into the ability to accelerate the ball.
Swing flaws correction- swing flaws often occur when we have acquired a bad habit while learning how to play golf or if when we have stopped playing for quite some time and return to the game without taking proper entry classes to get all the feel and control back. When unable to do the things right, we invent specific individual moves that can develop into incorrect habits that inhibit the progress. Hence the need for golf swing trainer that will instruct, correct and provide appropriate feedback after each shot.
Since effectiveness is hard to measure and you can't know in advance if that particular product will work for you, we took into account buyers reviews and the experts' opinions to be able to properly score each of the golf swing trainers.
Versatility
Even at first glance, it is evident that our list includes a wide range of golf swing trainers that have been designed to enhance the golfers' ability to have better performance and lower their scores. The selection has been made based on the training features they deliver and their ability to provide golfers with proper results for a short period of time. The golf swing trainers that we have selected will help you see an improvement in your swing speed, the way you do the swinging, they will help you practice both, your long and your short game, and they will provide feedback on your performance. There's something for any kind of swing issues, which makes our list one of the most versatile.
But it is not only the list itself, but some of the golf swing trainers also exhibit such versatility that they can help you practice all the possible aspects of the game. Such products were the most highly rated within this criterion.
Durability
If we buy a practice tool, this means that we have the intention to use it for quite some time so that it serves its purpose. Therefore, it is more than natural to look for a durable, long-lasting golf swing trainers that will provide durable performance. The durability is often defined by the materials that are used and the way that they are manufactured.
We were very careful to select those golf swing trainers that are designed with ultra-durable materials and that have no or minimum durability issues based on users' comments and the manufacturer's description of the product. The score next to the product within this criterion defines their supposed durability.
Ease of Use
Do you know that there are hundreds of golf swing trainers on the market today, each of them characterized by unique features? So, in addition to the above-mentioned features that helped us to narrow down the selection of the best ten, we focused on those that are easy to use so that you can get the most of them. All the selected golf swing trainers are very easy to use and most of them come with instructional videos or written manual. Besides being easy to use, they are portable, foldable, do not take up much space and they are very convenient.
Ease of Use
The price point has always been one of the most influential factors when deciding whether or not to make the purchase, so it is expected to be of importance when a golfer decides to invest some money on golf swing trainers.
As you could see, the price range is fairly wide, but that is expected since the list contains different types of products that are made for different purposes. Therefore, within the selection process, we chose those golf swing trainers that help golfers practice only one skill to those that are designed to practice various skills.
So, depending on the variety of skills you can practice, we selected the ones that bring the most value for the price.
Golf Swing Trainer Reviews
1

. Orange Peel Balance Trainer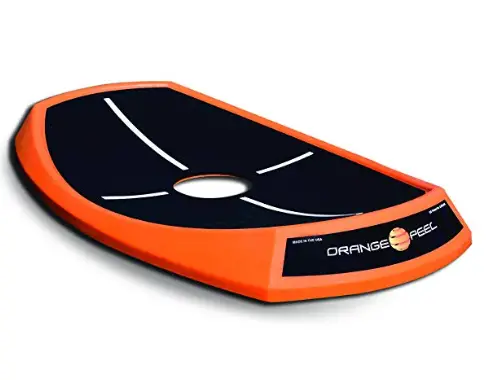 If you are looking for a serious golf swing trainer, then Orange Peel Balance Trainer is a serious option to consider. The fact that it has only five-star rating talks a lot, as it is a type of gear that will help you refine your swing through a regular practice repetition from different lie conditions while reducing your swing flows. It is an innovative tool that golfers seem to love it, so read below to find out more.
Read more
Features
It is a curved board platform which is made from a very sturdy, heavy-duty material and whose concave surface resembles standing in a bowl or a sphere. It has been designed to center and balance your body, in the most balanced setup position. The purpose of this platform is to replicate the golf course conditions and let you practice each of them from your home while boosting your muscle memory function, proper setup position, and swinging techniques.
Performance
Depending on your position on the platform, you can simulate playing from different lie angles. When you stand on it in a central position, you can practice a full athletic, rotary motion which can help you with the sway, which is the reason for mis-hits. You can create with it different golf course slope conditions by repositioning your feet left, right, upwards, and backward you can replicate an uphill, downhill, sidehill lie position. It can also help you eliminate your slice, correct the hooks, improve your short game, perfect the chip and flop shots, all that by correcting your overall swing plane.
Cost and Value
According to golfers who have been using this platform, it is one of the most helpful golf swing trainers, which can substantially correct your swing position, develop your leg muscles and flexibility and enhance your muscle memory when hitting the ball on the real course. The only flaw might be the relatively high price, but if you bear in mind that it is a product that you'll be using it for a long time, it is a good value for the money.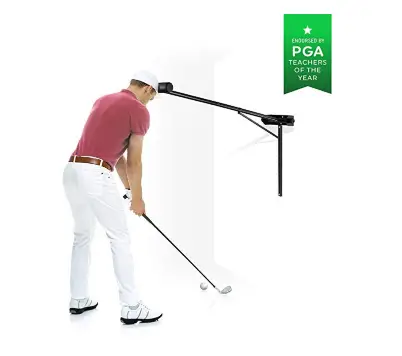 Pro-Head is one of the most reputed golf swing trainers, and this upgraded model has been designed to address and solve the 8 most common swing faults, ranging from head lunging to swaying when chipping. It has been created based on 20 years of research, and the manufacturer claims that it is the most advanced and complete available swing trainer. It has been PGA supported, and its patented design has proven to be highly functional.
Read more
Features
Pro-Head is a training aid that is easy to use and easy to mount, and it can easily be attached on the wall or a tree using just 4 screws. It hangs vertically so it doesn't take up much space when it is not used. It is very sturdy and durable, and it is made from weather-resistant components so that it can be used for many years. It is suitable for many different skill levels and ages, and it can be used individually or with a trainer. Plus, a foldable option is available which can be easily transported. There is no limitation to whether you are using your left or right hand and it can easily be adjusted to your height or body weight.
Performance
Many golfers claim that you get an instant improvement once you start using Pro-Head. Depending on the eight setup positions that address the most common mistakes that players make while playing golf, it offers instant feedback which enhances the brain to develop the muscle and motor memory to break the most persistent faulty swing habits. It comes with an included instruction manual which provides detailed information on how to properly position yourself in relation to the golf trainer when trying to practice various swing practices. You can correct a bobbing head, early extension, poor weight shift, to name just a few.
Cost and Value
It is one of the most effective golf swing trainers because it provides you with instant feedback which is basic for breaking any habit that leads to faulty swings. It will help you have your head down while swinging, it will keep you maintain your spine angle and golf posture and it can be used by anyone. The only issue this product has is the price point which for some golfers is above the average.

3

. SuperSpeed Golf Training System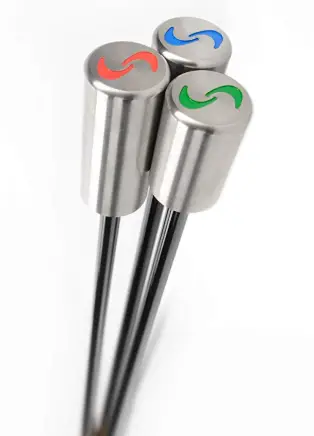 If you are too busy to spend some time on the course, practicing, you are probably still having issues with the speed since to gain more speed, it is essential to have regular training sessions. But, the hectic lifestyle prevents us from enjoying spending quality time on the course and that is the reason why you need an alternative practice. SuperSpeed is an easy and convenient way to boost your speed, so read below to find out why it has been selected as one of the best golf swing trainers.
Read more
Features
This is a speed training system which has been used by over 600 Tour golfers worldwide. It is simple but a very convenient method for speed practice, and most of the golfers who have tried it claim that it does work. The whole system includes 3 weighted clubs, which according to the manufacturer, will save you 2 years on video instructions. These clubs are available for men, women, and juniors as their length and the weight vary accordingly. With the purchase of the clubs, you get access to video instructions on how to practice most efficiently.
Performance
The manufacturer claims that if you practice for 10 minutes three times a week you are most likely to see increase an increase in the speed of the clubhead by 5% in 6 weeks. This leads us to the conclusion that if you are persistent enough and follow the instructions, you'll be able to have your speed increased by almost 50% in a year. They need to be used in the designated order and depending on the type of the set (men's, women's or juniors), you need to follow the color scheme.
Cost and Value
This golf swing trainer is very highly rated by golfers who have been using it, which points to its efficiency to deliver what it is made for. The system allows you to practice different aspects of the game and provides you with feel and control while boosting your muscles to achieve more swing power. It is expensive, but those using it claim it is worth the money.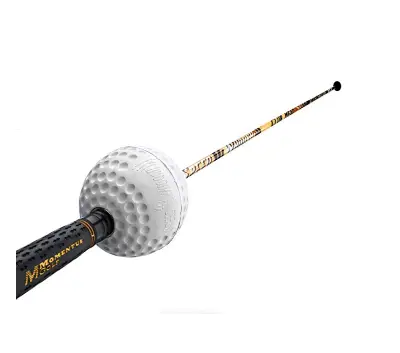 If you are reading this article it means that you have already asked yourself how you can increase your swing speed, a question that brought you right here so that you can find the most suitable for you golf swing trainer. This unique club has been designed to instantly increase your swing speed potential and maximize the performance on the course. It has been recognized by PGA Tour players as one of the best golf swing trainers that bring fastest speed increase. If you started wondering what makes it unique, read below to find out more.
Read more
Features
Speed Whoosh is designed to help golfers achieve an increase in the speed of the clubhead for incredible 20mph, and at the same time to assist them to improve the way they hold the grip. So, this a single unit shaft that is highly flexible with a magnetic ball attached to it, which indicates your performance. The grip features a molded shape that indicates the place where your hands and fingers should be positioned to learn how to properly hold your club.
Performance
Many golfers have found this golf swing trainer to be a perfect swing enhancing tool as it has an excellent way of indicating what you did right and wrong. The magnetic ball that is attached to the shaft will slide down as you do the swing, and once the club reaches the ground point where you would normally hit the ball, the magnetic ball should slide down as if you were hitting a real ball. It is then when you hear whoosh sound as a signal that you did it right. If the ball releases before or after the ground contact point it is a signal that you are accelerating either too fast or too slow.
Cost and Value
This is one of those golf swing trainers that are designed to provide instant feedback on your performance so that you get an idea of what you are doing wrong. It activates the fast-twitch muscle fibers as you progress with the practice providing 20 mph more speed and 21 to 30 yards more carry distance. When it comes to its price, it is neither one of the most expensive trainers nor is it cheap.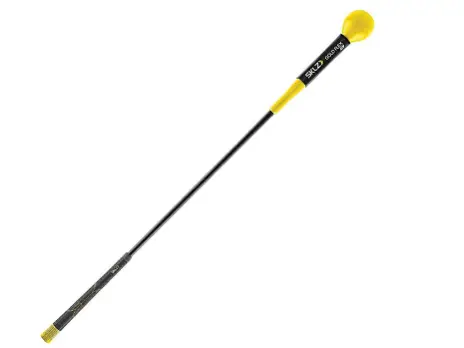 To practice your golf swing means to spend some time on the driving range, hitting some balls day after day. Or that's what most people think. There are many other ways to build your muscles and swing memory than just going to the course, among which is this SKLZ model, Golf Flex. It is one of the best golf swing trainers because it is easy to use in the comfort of your home, in your backyard or on the course as a warm-up tool. Golf Flex is one of the most favorite golf swing trainers of many professionals, so read below to find out why.
Read more
Features
This golf swing trainer resembles a golf club, but it is far from being one. The shaft is made from fiberglass, while the weighted, 2.5 lb.head is made from durable polyurethane. It comes in two length sizes of 40" and 48", the latter being recommended for golfers who are taller than 5'6" inches or those that have advanced into the game or golfers who are naturally stronger. Beginners, golfers shorter than 5'6" or mid-handicappers are advised to use the 4" shaft.
Performance
The sole fact that this golf swing trainer has thousands of five-star ratings is enough indication that this is a product that will meet your expectations. You can use it everywhere you feel comfortable to practice your swing or as a warm-up exercise before the game. It can help you to correct the way you hit your ball by reducing slices and hooks and at the same time to help you develop a flatter swing plane which comes when you lower your body which is a way to reduce slices. The extra flex allows for a lag to occur during your backswing which will help you find your tempo, and at the same time to improve the swing flexibility and the strength.
Cost and Value
Some of the most important things in golf include learning how to stand properly, how to position your body, your swing tempo, how to create lag...the list is long, but the main point is to learn to do it right. And this golf swing trainer will help you get yourself better with every swing. Regarding its price, it might seem a bit pricey, however, there are almost no regrets of golfers who have bought it. Its playability and efficiency make it an excellent value for the money.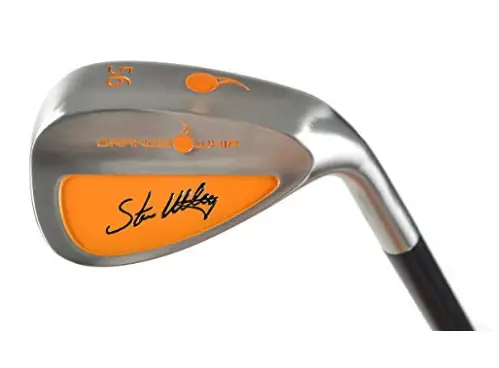 Some golfers can master any other aspect of the game, but it takes them years to get a proper chip and flop shots with their wedges. As wedges are one of the hardest irons to hit, it is no wonder why the fuss about them. So far, there hasn't been any special training tool that focused on the short game exclusively, so this Orange Whip Wedge comes as a real refreshment among golf swing trainers.
Read more
Features
What many golfers lack when playing with their wedges is the feeling that is the leading force for a successful shot. The absence of feeling often leads to fat shots or complete misses which can lead to a complete inefficiency. Hence, the company's designers created a practice wedge that is designed to enhance the feel in the game. The main thing lies in the counterbalance shaft which is designed to provide a proper response for loading and unloading.
Performance
What you can do with this wedge is to let it swing freely to a point you get the feeling that will get you going. As it swings freely from your wrists, you can pick up your rhythm by aligning your shoulders, elbows and your back. After you have found your feel, you can easily chip and pitch the ball, and get the control on your swing so that the ball precisely lands on its intended spot.
Cost and Value
This is an exceptional golf swing trainer that has helped many golfers achieve the desired feel, control, and accuracy. Made from premium grade materials which deliver exceptional flexibility and durability, you can use it for many years. It is fairly pricey, the price it has is similar to the price of a good-quality wedge, but it boasts excellent playability and it comes with a two-year guarantee.

7

. IZZO Golf Smooth Swing Trainer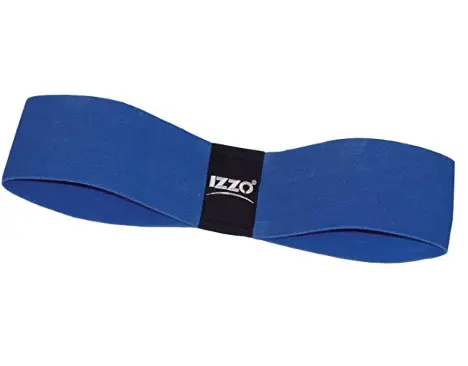 Playing golf is not even close to what it looks like on the TV, and everyone who has tried to swing the ball knows the difference. The consumer society and fast-living world of today push us to seek for more, and this demand can be seen in the sport too. To be able to have a good swing requires a lot of practice time, dedication and persistence. But, who has so much time to practice? Therefore, the company which was the innovator of the dual strap system of golf bags came up with a practice tool- the IZZO Golf Smooth Swing Trainer.
Read more
Features
There are hundreds of golf swing trainers, but one of the most favorite among golfers seems to be this IZZO model. Not only is it effective in performing its function, but it is a highly convenient tool as well. It is a single, small unit which is made from elastic, durable material which is very comfortable and flexible, so it is one size fits all. Plus, there's no limitation on who can use it, so it is equally effective among beginners and advanced-level golfers.
Performance
This is one of the simplest golf swing trainers that you can find on the market. It is positioned on the upper part of your arms so that it can keep them in synchronization with your body as you swing. The other purpose it has is to prevent one of the most common swing errors that golfers make, the so-called "flying" back elbow which occurs during the downswing and which results in a poor ball strike and incorrect swing plane.
Cost and Value
This simple but yet helpful piece of elastic neoprene has proven to be very efficient in improving the swing habits both, at beginners and advanced golfers. It will help you learn how to control your body movements and achieve more speed and distance with every swing. Plus, it is one of the least expensive golf swing trainers which makes it an excellent value for the money.

8

. Tac Tic Elbow Swing Trainer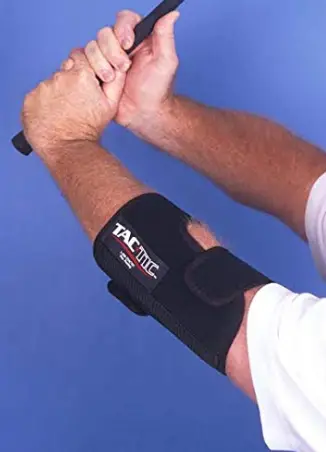 Did you know that one of the most common problems in golf, and the cause of bad swings is the bending that occurs in the lead arm when you try to hit the ball? If you compare the way the Tour players swing the ball, it is evident that their lead arm is fully extended throughout the impact position, and during the backswing which results in a steadier and stronger swing that launches the ball higher and further. However, high and mid handicappers often have an elbow break in which releases less power before you hit the ball creating the opposite effect. Therefore, Tac-Tic Elbow was designed to address this issue, so read below to find out more about it.
Read more
Features
This golf swing trainer looks like an elbow brace, however, it has a completely different function. It functions as a reminder for the improper position of the elbow by providing a click sound whenever the golfer bend the elbow. When golfers hear the click sound they become aware that they have made an arc with their elbow and extend the arm.
Performance
Many golfers claim that this product has had a tremendous effect on their swing and the way they use their lead arm. Knowing how to do a swing and being able to correctly perform it are two different things, so many golfers think that they do the things right when they don't. So, by wearing TacTic Elbow, you develop unconscious awareness when your elbow bends and will train your arm movement to develop consistency.
Cost and Value
Tac Tic will help you have a full-blown swing by increasing the arc width so that it generates more distance, power, and accuracy. It will constantly remind you of incorrect arm position which will lead to correction of the arm bending, keeping it extended and fully functional. If this is the problem you are experiencing in golf, then this is one of the best golf swing trainers that will help you solve the issue for a price that is within the average range.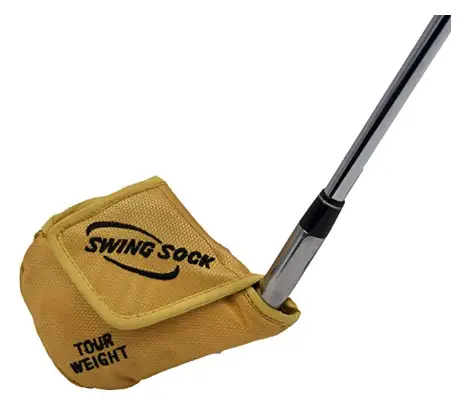 Training for the game requires regular practice and spending time on warm-up activities. However, most of the recreational golfers rarely spend time on warm-up activities as they go straight to the driving range. This increases the risk of muscle straining or injury because the muscles are not properly trained for more strenuous activities. This golf swing trainer is a practice tool which is based on muscle memory training principles and it uses weight resistance to help golfers get the optimum practice.
Read more
Features
This golf swing trainer is a weighted clubhead sock that is attached to any iron clubheads, and it can be used indoors and outdoors. You can use it anytime you'd like to give yourself a good training boost. It comes in a wide range of colors and sizes, and you can select a variety of weights to fit different types of clubs.
Performance
When you attach the Swing Sock to the clubhead, the weight it has works when you swing so that you develop more strength and power, you build up your tempo and consistency with every shot. For more consistent performance, for warming-up, for more focus and concentration, this is the golf swing trainer that will help you achieve it.
Cost and Value
This is a practical tool, made to boost your performance and at the same time to keep you active, even during winter months when your course activities are limited. It can be carried anywhere as it fits comfortably any bag and it protects the clubheads from scratches. It is reasonably priced and it won't break the bank.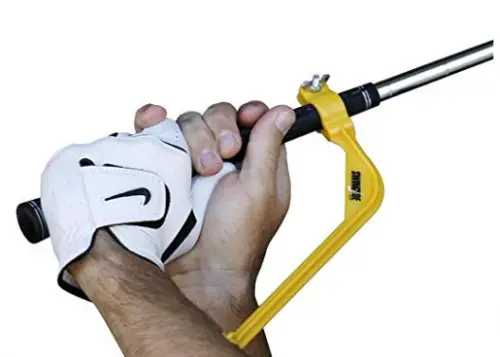 The Swingyde Golf Swing Training Aid is made to help any golfer add more accuracy and distance to their performance, and it also helps to improve the tempo, the alignment, and develop consistency in your performance. Many golfers have found it to be profoundly helpful in correcting bad swing issues.
Read more
Features
This is a seemingly very simple tool that is made to be attached to the grip of your clubs. It is easy to use, you just need to attach the clip to the grip on one end and the rest of it should fit against the upper part of your arm if you are a left-handed golfer or against your right arm if you are lefthanded. This will place your wrist in a proper position during the entire swing and provide you with more consistency.
Performance
This is an excellent golfing aid which, in case you seek a way how to improve the consistency, will help you increase it substantially. The built-in part that goes against your arm, needs to be placed on your arm, so whenever it strays left or right, this means that your swing is faulty. Many golf experts, coaches and beginners claim that it is a game-changer since it provides you with instant feedback about your performance. It doesn't only improve your swing though, it improves the swing plane, the clubface alignment and follows through.
Cost and Value
Sometimes, you can spend thousands of dollars on golf lessons without much progress. The most important part is to set it up correctly and to learn your best fitting grip and release position that works for you. When you properly use it, you are bound to see impressive results. If the higher price is not a dealbreaker for you, this is a highly recommended golf swing trainer.

Subscribe to our Newsletter