Top Golf Simulators Reviewed and Rated for Quality
In a
Hurry? Editors choice: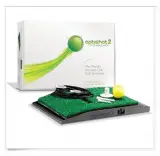 Test Winner: Optishot Bundle

Even though avid golfers can't be prevented from playing golf even during
cold winter days
when the weather conditions are harsh and unfavorable, their number is drastically lower compared to those who decide to wait for the winter to set off. But those few months of waiting can have an adverse effect on the level of performance and the swing speed. As muscles need constant training, thus your golfing skills need training. This is when golf simulators come into the stage.
They are fun, entertaining, and convenient. Some of them offer true-to-life enjoyment from the comfort and the convenience of your home. Packed with the latest graphics 3D Visualisation, some are capable of measuring your performance with feedback and instructions on how to improve your games. Others, allow you to
practice your swings
, putting skills and short and long game without much electronics involved.
Standout Picks
Criteria Used for Evaluation
Features
This criteria usually helps us narrow down the selection and make the right choice, based on the characteristics that these products have. When it comes to simulators, as you could conclude from the reviews provided here, there are several types, so we selected them in accordance to the category they belong to.
There are smart, technologically advanced simulators that bring the golfing experience much closer to you. These feature powerful electronics which is able to provide 3D visualization of the shots and most of them are able to calculate and measure the speed, distance and the angle of the shot. These deliver the ultimate experience for the golfers since they get feedback on their game and instructions on how to improve their game.
There is another category of simulators, the practice nets, and mats, that allow golfers to practice their game in the comfort and the convenience of their home when they are prevented from hitting the driving range. The best ones within this category are made from super strong, and durable material which is capable of enduring high-impact shots, have ball-return mechanism and are mostly portable.
Versatility
Versatility is closely related to the features and it refers to the ability of the simulators to provide more true-to-life golf experience with the variety of options they feature. Thus, the greatest variety can be seen in electronically based simulators which not only provide the simulation itself, but they offer nets and mats, a computer and a projector so that you don't bother about anything. It is true that these are the most expensive, but quality and convenience are usually inseparable with the high price.
Ease of Use
There's nothing much to discuss here since the ease of use is the precondition for frequent use. In case the simulator needs adjustments and frequent and long-term setup, if they require additional purchases, if they can't be connected to the app or the computer then their efficiency is significantly lowered. In other words, we selected simulators that can be portable, easy to mount, and when it comes to the electronic ones, they need to be fast, able to connect to the compatible devices and quick to respond.
Portability
Golf is a social game and it often requires multiple people to play together. Of course, when you practice, it is OK to be on your own, but for fun, challenge and competition you need more players. Imagine you had a portable simulator but a small flat, whereas your friend didn't have a simulator but has a huge flat. So what do you in such a case? You bring the simulator at his place and start hitting the balls, right? But portability wasn't only considered for that reason. It is always a good idea to have a get-together with your friend and play golf in their backyards. Therefore, we considered portability as an important criterion.
Versatility
The effectiveness of these simulators can be summarized in the next sentence. If the product fails to deliver the result that is described by the manufacturer and loses its ability to inspire, respond and react to the impact it is exposed to, then, the product is deemed to be ineffective. Effective practice nets are those that are able to endure high impact shots without being damaged, while the electronic simulators are expected to function with having software and connection problems. If you are inspired to continue playing your game when having one of these products, then they are effective and functional.
Best Golf Simulators on the Market Reviewed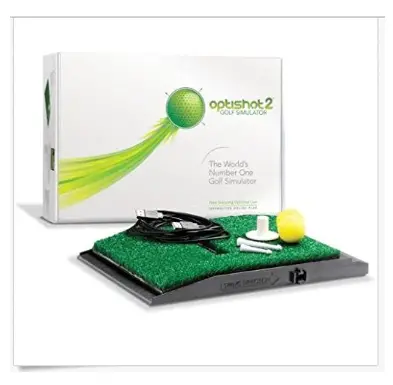 There's a big difference from one golf simulator to another, and sometimes the setting it provides, and the ability to offer the ultimate experience of being on a real golf course is what inspires golfers to hit the course-but, inside. If you are a kind of a person that doesn't like to leave anything to the chance, Optishot offers a full set that includes everything you need for an undisturbed game. And you don't have to overload your personal laptop with sizable software, the set includes a laptop too!
Read more
What It Contains
Rarely do we see such an all-inclusive offer on the market, as this set does. It is an ultimate package that leaves nothing to the chance and you don't have to bother about anything. There's a screen panel which is large, measuring 9-foot high and 9.8-foot wide, with heavy duty tie wraps and two dampening bungee cords to fasten it. There's a golf mat, net bottom border and knotted HDPE baffle construction and roped edge baffle and all the tools and equipment necessary to set it up. Plus, there's an Epson projector, EMT electrical conduit which is 10 feet long and HDMI 20 feet cable. On top of all, there's an HP touchscreen laptop and of course, the OptiShot 2 golf simulator.
How It Works
This is a complete set that requires full set up, coming with full equipment and tools needed to completely position it on its place. It needs to be positioned on a larger area since the netting and the mat are rather spacious. Once you set it up, it is hard to move it to another place, so make sure you have the necessary space to position it. The projector is a long throw, so you need to position it further from the screen in order to have the full picture. The simulator displays 15 world-famous courses. You can analyze your swing speed, ball trajectory, ball speed, i.e. basically you get full feedback for your shot.
Cost and Value
The Optishot platform is an award-winning platform designed for golfers of all skills. It brings not only your golf experience closer to your home, but it also brings golfers together through the online tournament OptiShot Season Pass. You can choose weather conditions, 6 game types and multiple camera views. Even though it is possible to get just the simulator in case you already have everything else you need for full golfing experience, this complete set is the most convenient and effortless way to get the ultimate golfing adventure in your living room or your garage. It is expensive, but if you buy all those items separately it will cost you more, so it is a good value for the money considering what you get.

2

. Zepp Golf 2 3D Swing Analyzer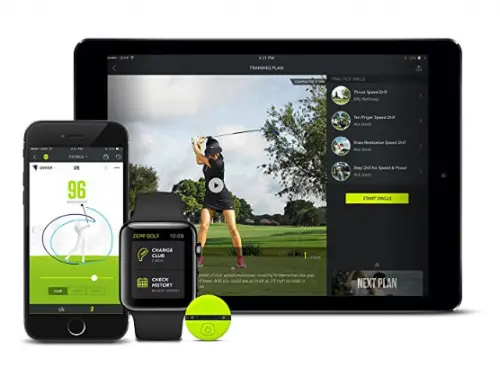 If you want to play like a pro, you need to train like a pro, and...well, be equipped like a pro. Featured by Michelle Wie the LPGA Tour Pro, 3D Swing Analyzer does all she and pros like her need,i.e., improvement of their overall performance with specific insight in detailed metrics and feedback on their performance. This golf swing analyzer acts like a real smart coach which offers a personalized training program with the option to record your swings and compare them directly to the pros.
Read more
What It Contains
Well, when we talk about Zapp, we should better switch to what it is rather than what it contains since it is a single device. Zapp is sports wearable, a motion sensor to be more precise, that attaches to the back of your golf glove. As a matter of fact, there is a clip that attaches to the glove and which holds the device. If you started wondering how it works, there's a small charging device included with it which features USB connection.

How It Works
As we said, it attaches to the glove you're wearing and it instantly starts working. It can be synchronized with your smart devices and once you start playing you get instant swing metrics. What you get with it is a swing, ball, hand and club speed; tempo, backswing length and ability to review your swing in 3D projection from any angle and comparison of your swings. With just a few swings, it processes thousands of info points so that it delivers the right program for you. You can test yourself and see how much you have improved. Besides being used by golfers, it offers useful tips and programs for coaches as well, such as tracking the players' progress, management of the players and so forth. Zepp connects via Bluetooth and it has a battery capacity of 8 hours.
Cost and Value
This device is a serious tool for dedicated and committed golfers who put a lot of effort into their progress. It is a tool that will help you organize the way you carry out your training sessions, it will provide you with a detailed insight of your game and select the best programs so that you improve your performance. In addition to its qualities, Zapp represents an inexpensive alternative to many ultra-expensive similar devices.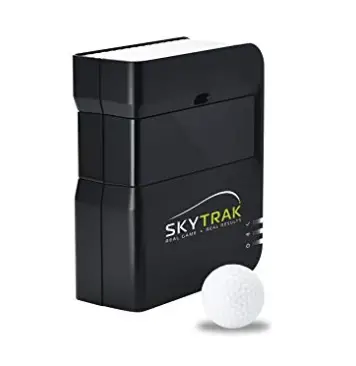 It is easy when you have the right equipment which can be transported from one place to another and provide the same effect wherever you are. SkyTrak is such a device which besides being a portable launch monitor and a golf simulator, it is a data analysis device that connects wirelessly with the compatible device. This is what you need to improve your game and get to know which aspects of your playing should be improved and where you need to practice more.
Read more
What It Contains
It is just a box that reminds you of a large book or a shoe box. Since it is launch monitor as well, it can be used literally everywhere, inside or outside. It needs to be paired with a suitable device such as Mac that supports 3D graphics, iOS or PC Windows 7,8,10 Intel Core 2 Duo, and it requires 2GB RAM or higher. It comes with a built-in rechargeable lithium-ion battery which has the capacity of 5 hours of continuous use.
How It Works
Once you have it connected with the device it can instantly start working. It analyzes your shots and the ball flight. It has the ability to measure the club and the ball speed, side, and backspin, launch angle, carry distance and total distance. It acts as a game improvement tool and it allows you to have deep insight into the way you play the game. It features high-speed photography with 3D visualization. Plus, it allows you to experience playing on more than 150,00 courses with friends or compete in tournaments and to choose from match play, stroke play or fourball. It is super fast with instant stats analysis and instructions on what needs improvement.
Cost and Value
There's no doubt that this is one of the most expensive golf simulators right now, but at the same time, it is the most versatile, efficient, advanced with premium graphics features and portable. It is hard to weight down the qualities it has versus the price it features. However, from the original price it had, now it is much more affordable, so it makes a better value for the money.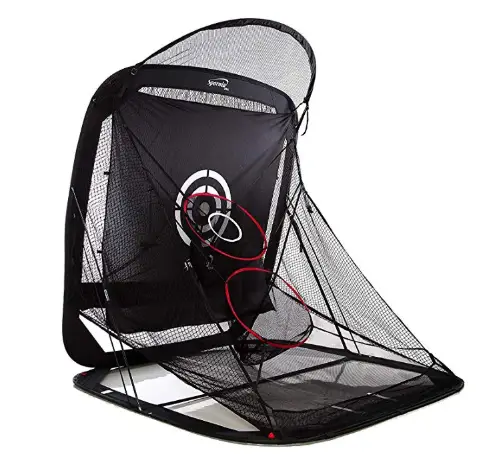 When you are more into practice and less into analysis and hi-tech displays, Spornia will provide the maximum pleasure and ability to perfect all your shots, from short to long, with all your clubs. It is a high-quality piece of merchandise that features a self-setting up mechanism once it is taken out of the bag. It is fitted with an understandable set of instructions, golfer mirror gift and stakes to hold the net when used outdoors. Many reviewers describe it as one of the best golf simulators on the market, so let's take a look to see what makes it so special.
Read more
What It Includes
Spornia is a golf practice net that has a fast-setup system that can be installed in less than 30 seconds. The construction is attached on metal frames which hold a large net. However, this net is not where your ball lands but it is the patented target panel in front of it which has the capacity to absorb the noise and the strong impact. There are white lines on the bottom which show the feedback of the ball and they also function as visual guides when swinging. Plus, to be able to adjust your shots, there are patented two-hole adjustable angles. There is an adjustable chipping basket that is made for practice for your short game and which can be adjusted to any angle.
How It Works
This practice net is all you need to make improvements in your game and practice your shots. It is designed to provide you with the same experience as if you were on the golf course allowing you to shoot with the same intensity as if you were on the course. The sheet is strong and durable and the automatic ball return system gets your ball back, so you can literally play with one ball only. Since it comes with side and roof barriers that are effective in damping errant shots and protecting the items around, it can be safely used in your living room.
Cost and Value
The purpose of practice nets and the simulators is to allow you to improve your game, especially during the idle, cold months when golfers are hesitant to hit the course. If you need to practice only without game analysis and estimation of your swing speed and visualization, then, Stornia net has been proven to be among the best, allowing you to have your shots as you would perform them on the course. With excellent customer service and very responsive staff, the almost non-existent negative reviews prove it is an excellent value for the money.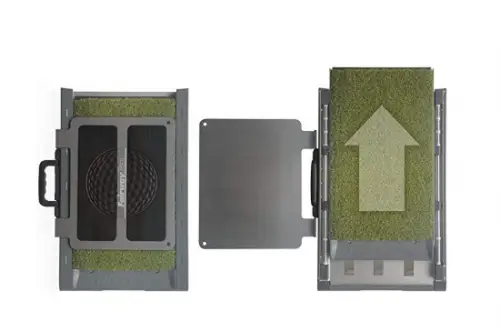 If you are an experienced golfer who doesn't get prevented from playing golf regardless of the weather conditions and the circumstances, you know what it means to have the right equipment so that you can indulge into the real-feel game outside the course. That's especially important when you play in improvised conditions, with a practice mat, a simulator or to a place that it might remind of the turf, but isn't the real one. Fairway Pro is where it steps out to provide the real turf-like feel when you hit the ball and mimic the right effect that you usually get when playing on the course.
Read more
What It Contains
Fairway Pro is a golf mat system which comes into a foldable and ready-to-carry briefcase. It can be placed and used anywhere, inside and outside, and it doesn't take up much space. It features a patented design of the turf surface which reacts when you hit the ball and can be used by left- and right-handed golfers. It is made by the most durable and finest materials such as stainless steel rails and springs, and aircraft-grade aluminum for the construction which is rated to 1 million cycles. The turf accepts regular tees, lasts longer due to the sliding motion and can be replaced once it wears off.
How It Works
Once you position FairwayPro, you can instantly use it. The turf reacts with each shot by slightly sliding the turf surface, making it possible for golfers to compress the ball by hitting it down-and-through. The way the surface behaves offers great forgiving and therefore it allows for the fat shots to be less emphasized. It is an excellent aid for simulating short shots because it delivers feedback with every hit. Plus, the shock on the body felt when practicing on regular mats, especially when it comes to fat shots won't be felt, because the sliding of the turf transfers it to the ball and as a result, can be seen in the ball distance rather than felt by the golfer.
Cost and Value
According to many golfers, this is a top-notch product that definitely matches the description. For the effect this mat delivers and the real turf-like feel that golfers get when practicing on it, they say that it is the most that you can get for the price it features.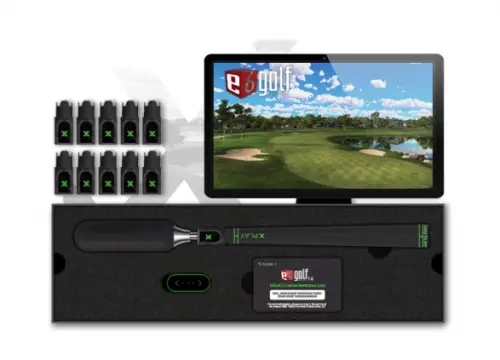 Are you a high handicap golfer who is eager to improve the way you play the game within the comfort of your home? Or, you are just a beginner who has been immensely attracted by the game but due to the cold weather and frequent rains you are prevented from frequent visits to the course. Either way, Tittle X is a device that has the capacity to bring some improvements in the way you play the game. It isn't a real, big-time simulator with the swing and shot analysis, but it is a tool which allows you to practice with some feedback from the simulator in the most advanced hi-tech graphics visualization.
Read more
What It Contains
This is the smallest, the simplest and the most convenient golf simulator that you can find on the market. It is intended for indoor use only and comes with the Tittle X device which is only 7.9 grams and which does the job of those multi-thousand dollars devices. This device needs to be mounted on either the golf club or the shortened Swing Stick or the putter cradle and then connect it to the vivid 3D simulator such as TruGolf E6 Cloud.
How It Work
When you mount the device onto your clubs or the sticks that come with it, you get access to 80 virtual courses around the world, including kid-friendly ones. Since the sticks are safe and feature a foam ball-like head, they can be used by young children too. When you first start using it, you need to download the app available for Android and Apple devices and install the software on your computer app so that they get synchronized. Once you've done it, you can indulge yourself in the game. Bear in mind that besides the enjoyment of being into the virtual courses, you won't get any game analysis, instructions or feedback on how to improve the game.
Cost and Value
This is an excellent simulator for those who value practice over stats and data. You can enjoy the game with the 3D visualization and see your progress, without bothering about any numbers. You can play with real balls, foam and plastic ones or simply use the sticks and all that for a super affordable price which is just fraction compared to those expensive ones.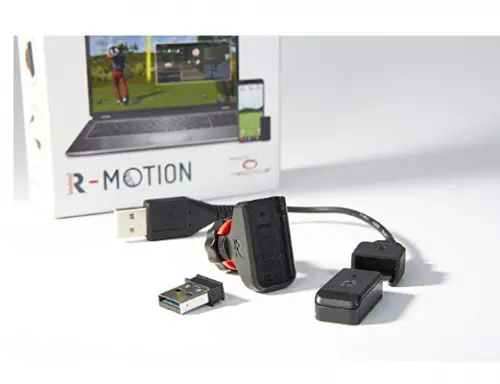 As the winter is approaching, your chances to actually hit the fairway is getting lower, especially if you live in places that are characterized with cold and harsh winter days. And usually, there are mainly two options, to either switch to other sport, such as the gym so that you keep your shape and muscle strength or basically do nothing and wait for those warmer spring days. But wait, there's one more! Have you considered golf simulators?
Read more
What It Contains
You might argue that they are expensive and that you can't afford it, you may also argue that your flat isn't big enough to have the luxury of having one at the convenience of your home, but with R-motion none of your excuses are valid. As a matter of fact, it was made to please those who hold a grudge against the overly expensive simulators. It is a basic one that consists of a clip, a tracker, 15 top courses to choose from and a driving range mode. It is a basic pack that runs on your computer. The minimum PC requirements are Windows 7 with processor Intel Core i5 or equivalent and memory of 4GB RAM.
How It Works
You don't need a spacious area too, you can set up the stage and then the tracker which is mounted on the club does the reading which is instantly sent to your computer and smartphone. It has a multiplayer mode, so you can challenge your friends too. But it isn't just gameplay, the interface gives you instant feedback of the club speed, swing path, distance, launch angle, ball speed, etc. Plus it instructs you how to improve your game. You can visually follow the trajectory of the ball and all those pulls, slices, hooks and pushes are taken into account. Plus, you can take it with you everywhere you go and it can be used outside too.
Cost and Value
If you've been put off by the extremely high prices these gadgets usually feature, Rapsodo R-Motion opens a new door for more convenient and affordable indoors golf experience. It isn't cheap but compared to some other similar products it offers a much more economical alternative.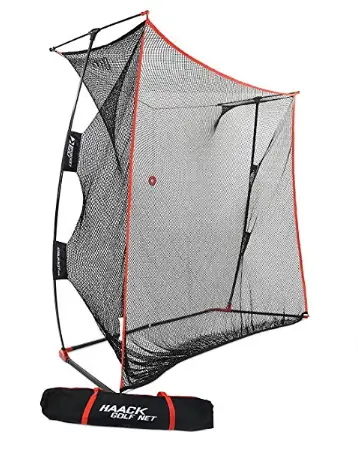 What we've got here is a product that allows you to practice and improve your short and long game. From the driving range to the putting green, you can enjoy the game anywhere and anytime you decide that you are up to a few shots. It is durable, impact resistant and it can endure even the most aggressive shots without being worried that they might cause breakage or tearing of the net. Made in a highly sophisticated facility that is able to cut and robotically weld metal before it is painted, tested and inspected by engineers before the products are packed and shipped, this product claims steadiness and endurance that you can hardly find among other similar products. Read more to find out why it is a model that is so highly rated.
Read more
What It Includes
This is the basic model that we are introducing here, and it contains the frame, the net, and the floating target only. What you get with your purchase is this basic model which comes packed in a carrying case. It comes unmounted, however, the setting up procedure is extremely easy and you can set it up or unmount within minutes. Of course, an instruction manual is included with the package, but the buyers say that once you figure it out, you won't be needing it anymore. Besides this basic model, you can also make a bundle purchase which includes a hitting mat of different sizes for an all-inclusive golfing experience.
How It Works
This practice net is encouraging enough even for the most aggressive golfers and it can resist any shot. It features an automatic ball-return property so you don't have to run after your ball with every shot you make. It can be used indoor and outdoor. It has a sturdy metal frame and 3 feet deep cage-shaped enclosure. The net is among the most durable ones and it is made of 5-ply knotless 600D nylon webbing and the feet have protective silicone feet. Every shot and swing can be played on it with all your clubs with using real balls.
Cost and Value
This net was developed by the legendary coach Chris Haack at the University of Georgia, with pro players in mind. Many buyers agree that isn't expensive at all if you bear in mind that it comes with lifetime warranty and lifetime replacement part. That's called lifetime investment without any risks.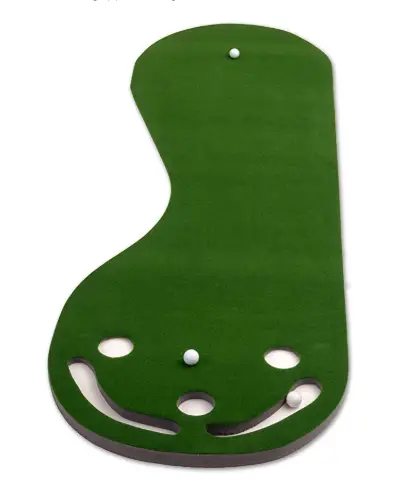 What can you do to improve your putting skills without going to the course? During those rainy days or cold winter foggy days when playing the game is utterly impossible, you can still improve your skills if you get yourself Par Three putting mat. Designed to provide the identical feel as if you've been at the real course, with its kidney shape and hazards, you can elevate your skills to a higher level.
Read more
What It Contains
It is a roll-mat that can be used anywhere, anytime. It simulates a real green surface and provides the same feedback as the one you get on the course. The mat is made from PET resin and non-skid underlying backing for greater security. The kidney-shaped indoor putting green has three deep pockets that you can send the ball to, smooth incline and hazards on the back to catch the missed putts.

How It Works
This is the simplest and the most convenient way to make yourself a putting master without even going to the greens. It is a mat that easily rolls on every flat surface and it is ready to be used. It looks and feels like a real putting green. It is wide enough for diagonal putts so you aren't hitting the same putt over and over again.
Cost and Value
When it comes to putting mats this one is the absolute winner. It is convenient, big enough to allow versatile putting shots with three holes and hazards for the missed putts. The slight inclination and the real grass feeling simulates a real putting game and provides an absolute enjoyment. Many buyers say that it is one of the most affordable mats, so it makes it a great value for the money.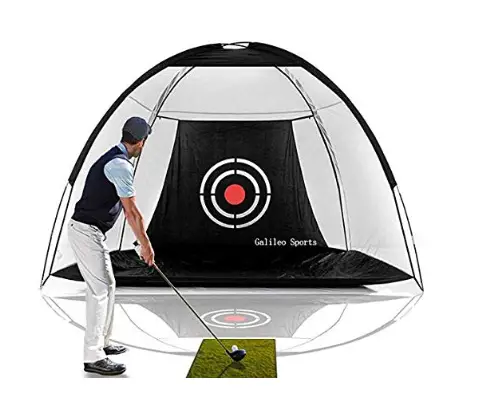 Galileo Golf Net is aimed for everyone who has a spacious backyard or garage since it looks like a half-tent with a target in the middle. It is a large practice net that will help you practice your swings when you are prevented from going to the course. Sold in a carrying bag, it offers portability, even though it might take some time while you set it up.
Read more
What It Contains
What you get when you buy this net is a carry bag that contains all the elements needed for setting up the whole structure. There are rods that are made of fiberglass and which are considered to be highly durable, and the nylon panel net that stretches across the construction. The target is positioned centrally and it helps you estimate your shots. The ball return system keeps the ball in frontal position so that they don't roll away.
How It Used
From drivers to wedges, you can practice your swings and make a constant improvement to your game. It is durable and can withstand even more aggressive shots. You can use real golf balls and hit the net as if you were hitting the course.

Cost and Value
If you are on the budget side and looking for the most economical way to continue playing golf during those rainy, windy and snowy days, Galileo is the net that will increase your golfing level and keep your budget. It is the most inexpensive product on our list and the golfers say that it is a good value for the money.

Subscribe to our Newsletter