Best Golf Shot Tracers Reviewed
In a
Hurry? Editors choice: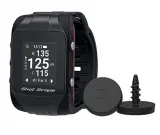 Test Winner: Shot Scope V2

Individual tracking of the golf shots was practically unimaginable at the beginning of the century, and it wasn't a thing just until several years ago, so these devices are still stirring emotions and bringing excitement on the course. As modern technology is becoming more and more advanced, we can see some big names that have invested and overtaken the tracking market.
And they are pretty much successful, we have to admit. The huge investment has opened the path for optimal shot and swing tracking, from the distance to the next pin, ball and club speed,
3D ball trajectory simulation
in video mode and slow-motion video overlays with metrics on all relevant swing features.
There's so much in and between, so we encourage you to read this article to find out what kind of devices there are and what to expect from each of them
Standout Picks
Criteria Used for Evaluation
Accuracy
This is the key feature and it would be impossible to even talk about golf shot trackers without discussing the accuracy they provide (or fail to achieve). Surprisingly enough, many of those products have indeed lower rating because of exactly this reason, inability to achieve reliable and consistent accuracy. So, this was our key narrowing down criteria and we had to do a lot of research based on the performance of these devices to make sure that they will at least provide decent accuracy when used on the course. So, we took into account golfers' reviews, experts' opinions and the technology they offer to be able to get the scoring which is attributed next to each product.
Features
When it comes to features, there are lots of them to be discussed here. The variety of the included products is as wide as the variety of their features, so we basically followed the principle: "The more, the merrier". If you have read carefully the detailed description of each product, you must have noticed this versatility in their performance and the possibilities they provide. So, we've got the most basic shot trackers that are based on radar sensors which read the yardage, to shot trackers and swing analyzers that employ GPS technology and smart technology to give detailed performance input. Usually, these devices are inserted to the butts of the club grips and use Bluetooth connection to get synchronized with any smart device which is compatible with them and send the performance to the complying app which stores, compares and shares the data.
Effectiveness
The effectiveness can be seen in the ability of these devices to get the golfers' game to a higher level by providing sufficient data which tracks their swing and shot metrics and thus to motivate them to seek for improvement. Sometimes golfers are simply not aware of the drawbacks they have in their swings, so having data on each segment of their performance, accompanied by 3D representation or slow-motion video will be more than a booster for starting making improvements. So, naturally, those devices that are manufactured with more visual stimulators, which leads to having higher scoring compared with the basic ones.
Ease of Use
As we have above discussed, all of these products have different features which, naturally lead to different ways of handling them. Sometimes, certain devices cause much trouble to those, not-so-much tech-savvy golfers and, indeed, some require certain dexterity when it comes to being able to effortlessly use them. Fortunately, there are some devices that the only thing they require is synchronization with the app and the golfers to play the game. Here, we took into account the possibility to have the data stored, analyzed and shared online, on social sites or within any golf community. Hence, a higher rating is attributed to those products that are the easiest to use and which don't need any pre-installments or special licenses to work well.
Value
Trackers are not cheap products, some cost more than a few bucks, so golfers should be careful what they spend their money on. Having said this, we were careful in the type of the selection we made and tried to stick to those trackers that won't break the bank, but at the same time won't bring disappointment and frustration on the course.
10 Top Rated Golf Shot Trackers
Subscribe to our Newsletter