Best Golf Shot Tracers Reviewed
In a
Hurry? Editors choice: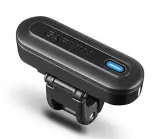 Test Winner: Garmin Trueswing

Individual tracking of the golf shots was practically unimaginable at the beginning of the century, and it wasn't a thing just until several years ago, so these devices are still stirring emotions and bringing excitement on the course. As modern technology is becoming more and more advanced, we can see some big names that have invested and overtaken the tracking market.
And they are pretty much successful, we have to admit. The huge investment has opened the path for optimal shot and swing tracking, from the distance to the next pin, ball and club speed,
3D ball trajectory simulation
in video mode and slow-motion video overlays with metrics on all relevant swing features.
There's so much in and between, so we encourage you to read this article to find out what kind of devices there are and what to expect from each of them
Standout Picks
Criteria Used for Evaluation
Accuracy
This is the key feature and it would be impossible to even talk about golf shot trackers without discussing the accuracy they provide (or fail to achieve). Surprisingly enough, many of those products have indeed lower rating because of exactly this reason, inability to achieve reliable and consistent accuracy. So, this was our key narrowing down criteria and we had to do a lot of research based on the performance of these devices to make sure that they will at least provide decent accuracy when used on the course. So, we took into account golfers' reviews, experts' opinions and the technology they offer to be able to get the scoring which is attributed next to each product.
Features
When it comes to features, there are lots of them to be discussed here. The variety of the included products is as wide as the variety of their features, so we basically followed the principle: "The more, the merrier". If you have read carefully the detailed description of each product, you must have noticed this versatility in their performance and the possibilities they provide. So, we've got the most basic shot trackers that are based on radar sensors which read the yardage, to shot trackers and swing analyzers that employ GPS technology and smart technology to give detailed performance input. Usually, these devices are inserted to the butts of the club grips and use Bluetooth connection to get synchronized with any smart device which is compatible with them and send the performance to the complying app which stores, compares and shares the data.
Effectiveness
The effectiveness can be seen in the ability of these devices to get the golfers' game to a higher level by providing sufficient data which tracks their swing and shot metrics and thus to motivate them to seek for improvement. Sometimes golfers are simply not aware of the drawbacks they have in their swings, so having data on each segment of their performance, accompanied by 3D representation or slow-motion video will be more than a booster for starting making improvements. So, naturally, those devices that are manufactured with more visual stimulators, which leads to having higher scoring compared with the basic ones.
Ease of Use
As we have above discussed, all of these products have different features which, naturally lead to different ways of handling them. Sometimes, certain devices cause much trouble to those, not-so-much tech-savvy golfers and, indeed, some require certain dexterity when it comes to being able to effortlessly use them. Fortunately, there are some devices that the only thing they require is synchronization with the app and the golfers to play the game. Here, we took into account the possibility to have the data stored, analyzed and shared online, on social sites or within any golf community. Hence, a higher rating is attributed to those products that are the easiest to use and which don't need any pre-installments or special licenses to work well.
Value
Trackers are not cheap products, some cost more than a few bucks, so golfers should be careful what they spend their money on. Having said this, we were careful in the type of the selection we made and tried to stick to those trackers that won't break the bank, but at the same time won't bring disappointment and frustration on the course.
10 Top Rated Golf Shot Trackers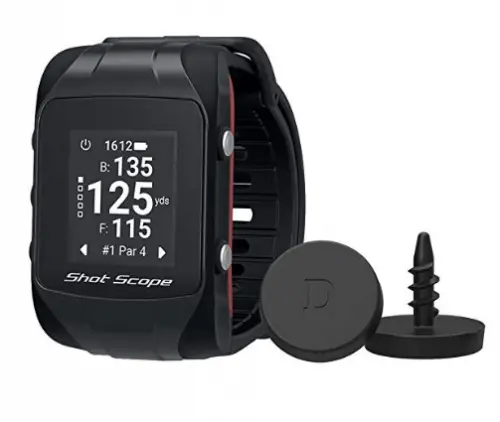 Not many of the golf shot tracking devices can boast excellent reviews and accuracy as Shot Scope V2 can. It is a GPS golf shot tracker that monitors your shots through plastic tags that get inserted into the butt of the grips. It comes with a watch which has a very readable display that shows distances to the front, back and the middle of the green. The upgraded version of the watch and the 20 tags that go with it bring the golfers a very personalized experience on the course.
Read more
Features
The watch is larger compared to most smartwatches, but that doesn't come as a surprise because this is a golf GPS watch that provides you with maps and metrics, so it is much more convenient to have them on a larger display which definitely ensures visibility even for those with weak eyesight. The rubber band is customizable for any wrist size and there are buttons on the left and the right side of the watch. The 20 tags that come with it can be used on every club and they should be registered online. The watch and the maps work in synchronizations with the app that should be downloaded on the smartphone because it has the maps of the courses which the golfers then download to the watch. The watch pairs with the phone via Bluetooth and the database of the 40,000 courses are instantly transferred to the watch. The battery life of the watch is sufficient for a round of golf.
Performance
This is a pro performance golf shot tracker that delivers a significant amount of data on almost everything that is worth knowing and even some more. It provides the distance from all angles, distance to hazards, walked steps, distance to the pins, performance of the club and GPS positioning of each swing. It records everything on its own and practically the golfer is not expected to anything except play. The only time a golfer needs to touch the watch is when there's successful putt so that you get the number of the putt. All your performance is scored on the online account which can be further analyzed in a very detailed and inclusive manner.
Cost and Value
We are not going to exaggerate if we say that this is one of the most inclusive and functional shot trackers on the market today with accuracy similar to the premium ones. The convenience it provides with the data and the tracing options are impressive as the price it has too. It is extremely easy to use since the only thing you need to do is simply play the game. It is an excellent value for the money.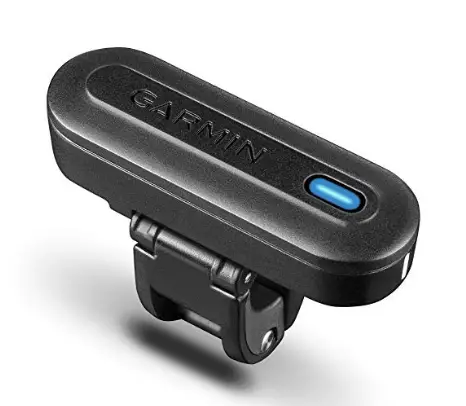 All Garmin lovers will be thrilled about this device since it complements the role of some of the Garmin watches and handheld devices. It is a golf club mountable device that has tracking and analyzing function. It detects the manner and the style golfers play the game providing accurate metrics on all crucial parameters. It does its function by recording every swing for which golfers get instant data on their Garmin watches or in case you don't have one, the data is uploaded to the Garmin Connect Mobile app which stores all the practice history for further analysis, discussion, and comparison.
Read more
Features
Garmin TrueSwing is of small size and lightweight device that is mounted on the golf club, right under the grip. It works by recording the mechanics of your swing scrutinized in tiniest of details. The metrics that you get are an immense contribution to any golfer's performance because once you swing the ball, the complete analysis of it accompanied with additional suggestions can be found on the app. This sensor can be synchronized with Approach S4, S5, S6, S20, and x40 watches and most of the Bluetooth smart watches, and Approach G7 and G8 handheld devices, which is very convenient to have all the data on the wrist, or in case you forget your mobile phone. It works on rechargeable lithium battery with a capacity of 12 hours on the course.
Performance
According to many golfers, the best way to make them aware of the way they swing the ball is not only by coming up with pure statistics but through a visual representation of the swing, which is exactly what Garmin TrueSwing offers. With every swing, you get a 3D animation and real-time analysis with comparison on your mobile device. When it comes to swing metrics, it provides you with data on the swing speed, dynamic loft, shaft angle and shaft lean, club path, swing tempo, club path coordinates, face to forget and exclusively with Approach S6 watch you will be able to get extra wrist-path data in 3-D animation. All the data it delivers can be shared, compared and discussed with anyone you'd like to, from your coach to the members of Garmin community.
Cost and Value
From advanced to beginner level golfers, everyone is most likely to find Garmin TrueSwing golf shot tracker and incredible help for swing improvement. It seems that Garmin didn't have any particular golfer's category in mind, and therefore designed a device that is both functional and affordable so that every golfer on the course has the opportunity to practice, develop and correct his/her swing.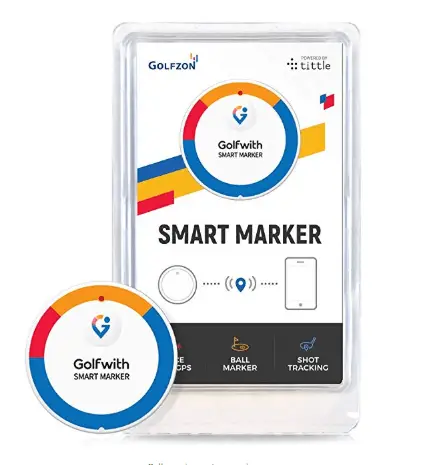 When this golf shot tracker popped up for the first time in the golfing world it stirred a lot of emotions, from distrust to absolute awe since we have never seen anything like that so far. The designers wisely used all possible technological advancements to create the smallest possible GPS unit which will provide location and distance to the green and the next hole. It tracks the shots and informs the golfers on their progress in an audio manner. We have a lot to talk about, so read below to find out more.
Read more
Features
It is the tiniest product of its kind, featuring the shape and the size of a ball marker, and as a matter of fact, it can be used as a ball marker, so it practically can have two functions. It comes with a coin-type lithium battery which, according to the manufacturers can last for 200 rounds which means more than a year. On the back side of the marker, there is a barcode that takes you to the Golfwith app download market store and once you get registered there, you can synchronize it with your smart device. The Smart Marker is compatible with iOS and Android supported devices, an option that will be needed to show you the location and the distance. Plus, it comes with preloaded 60,000+ maps. One more thing which makes the marker an awesome offer is IP64 water resistant rating enabling the device to be used during inclement weather conditions.
Performance
Once you have your phone synchronized with the marker, you can start using it and enjoy your game of golf. You can even use it independently from your phone since it speaks the distance to the nearest hole, which is especially great when you're in a mood to hit randomly a few balls on your way home. The app itself is pretty much inclusive and it displays the course you have selected, you have the option to download any of the over 60,000 courses, you can select a club which it will provide with the yardage regarding the club and it will also provide you with suggestions. You will definitely need your phone if you want to track your shot, however, it won't drain your battery as the manufacturer claims that it utilizes only 30% of the phone's battery for 18 holes.
Cost and Value
This is one of the latest golf shot tracking devices when it comes to GPS golf shot tracking which is very promising in its performance and the capacity it has to provide exact measurements, mainly thanks to the GPS tracking system. One thing that has been definitely greeted with much joy is its extremely affordable price. Smart Marker has almost no competition when it comes to its price, so it is an excellent value for the money.

4

. Blast Golf Swing Trainer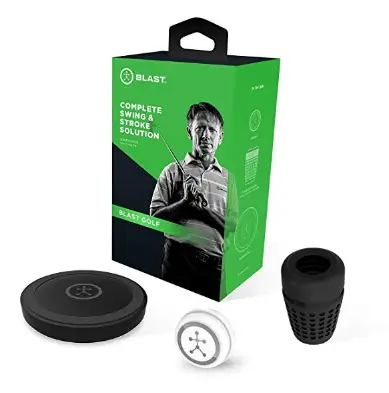 The market today abounds with literally everything so might want, including swing analyzers and trackers. Even though there are plenty to choose from, it is hard to find an accurate device that will provide the correct metric and that will be a base for improved performance. However, Blast Golf Swing Trainer is a trustworthy device and many PGA, LPGA, European Champions have put their trust in it to have visible progress in their performance. It is swing analyzer and a shot tracker that measures everything that is measurable, giving you a chance to improve in those areas that you didn't know that you were weak. I'm sure that this is enough reason to find out more about this device.
Read more
Features
Blast Analyzer golf shot tracker works based on the sensors that are attached on the butt of the grip of each club, including the driver and the putter. These Precision Motion Sensors use Bluetooth technology to connect to the tablet or the smartphone. Once the connection is established you can start playing without making any modification to the way you perform your swing. The packet includes availability to use the patented Smart Video Capture technology in the Blast Golf App which records your shots in a slow-motion video and identifies each action you have taken. The device is compatible with iOS and Android supported smartphones and tablets.
Performance
Blast Golf shot tracker, as the manufacturer says, is the perfect solution for anyone who needs to see improvements in his/her game starting from beginners to pro players. But, it isn't a device that can be used only by players since coaches too can have a direct insight into the way their golfers perform. The slow-motion video is exceptionally beneficial since it creates highlights that come with an overlay of the swing and the putting metrics such as rotation charge, swing speed, tempo, lie, loft and etc. And, as it is the case with most of the similar App ran devices, all your progress can be shared online.
Cost and Value
We have talked a lot about similar devices of this kind, however, not many can boast the effectiveness and affordability that Blast Golf has. According to the buyers, it is accurate and reliable, even though there are some that have found it unable to be work properly.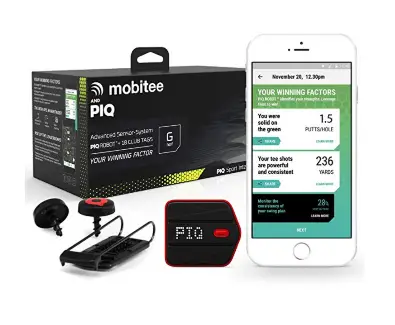 In order to improve their performance, golfers need exact measurements in order to be able to compare and to contrast their swing speed, to know the distance of the ball, to be able to see the ball trajectory, to be able to correctly determine the range to the pin and if possible to have a visual representation of the way they have carried out the shot. The insight into the game is considered to make the players more aware of their flaws and helps them correct them consciously. This 3 in 1 tool contains the three crucial units that are engineered for those purposes.
Read more
Features
This pack includes three individual items that represent all you need to boost your performance. What you get with the purchase is a Golf Swing Analyzer, GPS Range Finder and a Shot Tracker. Designed as it is, this is probably the most comprehensive unit for full insight into your performance. What you get with the purchase is a mountable device on your glove which delivers the readings right after you have your shot. Plus, there are tap sensors that are set on the golf clubs and which work once you tap them against the device which is on your glove. They work in synchronization with your smartphone to send and store the data, compare your progress and even compete with other players.
Performance
The PIQ robot, i.e., the device that gets mounted on your glove features LCD screen that shows you the distance to the green, recommends the right club for every shot, and by using the GPS, it instructs you how to better improve your game. It is an incredibly detailed pack which even teaches golfers on how to hit with each club and in accordance with their position on the course, it provides suggestions on which club to use, it delivers metrics on their tempo, club head speed, and swing path. Mobitee, which is a leading European app, is at your disposal for data storage and comparison, allowing you to analyze your game and make smarter decisions on your next step. The GPS rangefinder functions with only a press of the button to locate you on the green and plus, it comes equipped with more than 40,000 courses worldwide.
Cost and Value
Many golfers agree that this is a rare opportunity to be able to have three different devices for a price that is rarely seen even for a single product. What you get is a unique chance to have a complete analysis of your performance and exact data which will allow you to fully engage yourself into the game.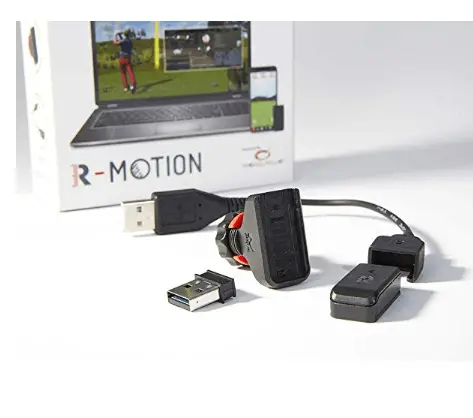 When you first start playing golf the most important thing is to learn how to swing, but once you are past that stage you will start looking for more speed, distance, you'll get curious to know the metrics about your performance and you'll start to look for ways to improve. Among many ways to improve your performance and to get a real insight into the way you smash the balls is to get your self a good swing analyzer that has the basic data about your performance.
Read more
Features
The best thing about Rapsodo-R-Motion is the fact that it is not the only device that shows you the performance, but it is also a golf simulator that can be used anywhere you'd like to have a few shots to practice your swing. It is one of the most convenient, easy to use devices and it actually comes with instructions on how to improve your game. Simplicity and convenience are what it boasts with, so, it basically contains a tracker, a clip, a driving range mode and 15 top courses to choose from.
Performance
If you intend to use it only as a golf shot tracker, then you can use the tracker which can be mounted on the club which should be previously connected with your smartphone or the computer. Once you start playing, the data is instantly sent to the connected devices and the analysis it provides includes distance, launch angle, the smash factor, the ball and the club speed, the swing path, and the distance. When you use it as a simulator you will have a visual image on your computer regarding the ball trajectory with all the fades, the draws, the hooks and pushes, and the slices are considered to get the most of it.
Cost and Value
This versatile and multifunctional pack is what most of the golfers are dreaming about, not just because of its convenience and practicality, but because of is a much lower price. Not that it is cheap, but it is priced much lower compared to similar trackers and simulators.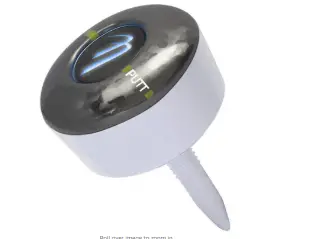 One of the clubs that you can't possibly play golf if it isn't in your bag is the putter, and even though it is the shortest one, it is crucial for the outcome since it is used for every hole. Therefore, many golfers welcome the opportunity to have a full insight in the way they perform their putts, which is exactly what this device does.
Read more
Features
The golf shot tracer that we are actually talking about is a sensor that gets easily mounted on the top of the putter and which afterward needs to be synchronized with the mobile phone through the app it comes with. Unfortunately, so far it offers compatibility only with iOS devices so it can be a drawback for Android operated devices. In case you are worried that the sensors might deteriorate the balance of the putter, leave the worries aside since it is extremely lightweight so you won't know it is there.
Performance
Once you download the app and synchronize it with your smartphone, you can start tracking your performance. The app offers a variety of possibilities and besides the basic metrics, the ball path and the way it was carried out, it lets you record your performance and visualize it in slow motion so that you know exactly what went wrong and what was right. Like many other similar apps, it has the possibility to store the data and compare it over time. All these features are intended to help golfers to develop consistency and reliable stroking putts.
Cost and Value
Not only is it efficient in providing golfers with the most crucial details about their putting strokes, but it is one of those devices that are in the affordable range. Plus, you can use it even indoors when practicing on a putting mat during cold, winter days and achieve improvements regardless of the occasions.

8

. Sports Sensors Swing Speed Radar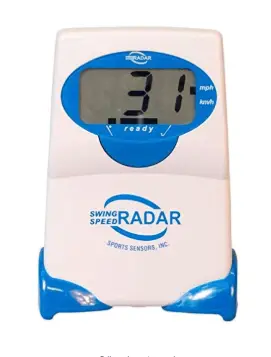 If you have ever felt perplexed by the too demanding modernity of certain devices which often require a certain dexterity in the ability to use them, then, Sports Sensors have something to offer. This Doppler radar-based device uses microwaves sensors that measure ball and swing speed. It can be used for practice purposes and the best thing about it is the fact that it delivers data when the player uses any kind of balls, not just real ones. Take a look at its features and performance to find out what you could expect from it.
Read more
Features
This device boasts portability and lightweight since it can fit any larger pocket and can be taken anywhere. It works when it is positioned on a flat surface, about 8 to 10 inches distance from the tee so that it can monitor the ball flight. The transmission level which it emits meets the FCC requirements and it works in accordance with the prescribed safety levels. The device works on its own, so there's no need to connect it to your smartphone. It is powered by 3 AA batteries which have fairly long durability of up to 2 years, which of course depends on the frequency of use.
Performance
This radar velocity sensor and swing analyzerwill provide golfers with accurate metrics regarding their swing speed and it determines the most optimum speed for maximized performance, it measures the consistency of the swing speed, ball spin, and the launch angle. The real-time velocity feedback informs the players and the coaches of the measurements and provides decent help to help them improve their swing. The speed range it measures goes from 40 to 200 mph or, 62-320 kmh with a nominal accuracy within 1%.
Cost and Value
Even though basic and limited in the way it is used, this radar is one of the best golf shot trackers and the one that has much higher rating compared with many more expensive devices. It provides fairly correct metrics and it basically fits the description provided by the manufacturer, if of course, complying with the instructions on how to use it. In addition to its convenience, the unit is absolutely affordable and much cheaper than some other more advanced devices.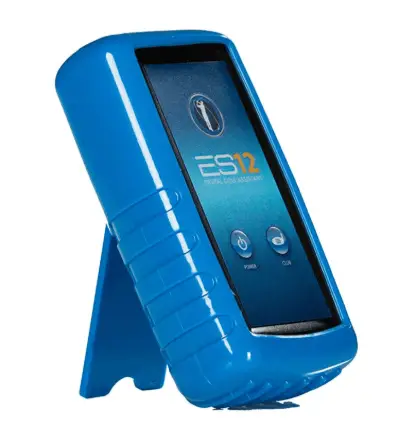 Many ball launch analyzers are notorious for being inexplicably expensive to the point that golfers don't even consider them as an option to have them in their golf bag. However, throughout the years, modern technology and its ability to find its use in every technological field, has brought these devices much closer to the average golfers. Such is Ernest Sports ES12 which affordable, portable, easy to use and fairly accurate.
Read more
Features
This model that comes from Ernest Sports has been widely accepted by many golfers mainly because of two reasons. It has attractive features that seem to be appealing to golfers and it is fairly inexpensive which is a perfect formula for broad popularity, not only among beginners but pro golfers too. It has a trifold way of communicating the measurements, it is an audio device that displays the data as it pronounces it and sends all your readings to the previously connected smart device. If we have already attracted your attention, read below to find out more.
Features
This golf shot tracker uses Doppler radar technology to calculate distance and speed by calculating ball speed and trajectory based on predetermined club type inputs. Being a very lightweight and the size of a smartphone, it is easy to carry everywhere with you. It provides instant information about your shot as soon as you hit the ball and the best thing is that you can store and compare the data. Ernest Sports ES12 connects with iOS and Android devices and offers the free Ernest Sports App for various features.
Performance
When we get to the performance it has, we can't say that it is perfect but compared to many other similar but five times more expensive devices, it provides fairly accurate results. The audio feature is an excellent opportunity, plus you can pair your Bluetooth headphones so that you can hear it better. All the data that you get from it such as distance, speed rate, smash factor, launch angle, club speed, etc, can be stored on the app or shared on the social networking sites. Plus, you can compare your scores with another golfer and set up challenges.
Cost and Value
Many golfers hold the viewpoint that if a device is expensive then it must be almost perfect. However, as we are all aware, perfection is a non-existing feature and even the most expensive ones do have some flaws here and there. So, this is a decent device that allows you to keep a track on your progress for a much more affordable price compared to all those high-end launch monitors.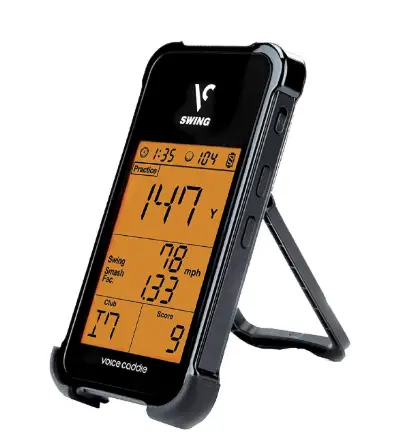 This might be the simplest device on our list, but perfectly functional when it has to do its job. If your style in golf is not into too much smart-tech but just the basics, then this simplest Caddy launch monitor is not going to fail your expectations. Plus, it will keep your budget save from huge costs since it is the most affordable one too.
Read more
Features
This is one of the basic Voice Caddie launch monitors that deliver simple readings with every shot that you take. It works in three modes, Practice, Game and Random mode and it is fairly easy to be used. It comes with a remote control for better convenience. The remote control can be used to set the metrics and the desired modes. Plus, in case you forget the remote control, the device itself has buttons that allow you to operate it manually. Being the most affordable device means that you should expect a lack of some features, so, from all the Voice Caddie devices this one comes without a voice.
Performance
Since you won't need any connection with a smartphone or any smart device, the only device that will provide the readings will be CS100 which has sufficient storage to keep your last data and compare your performance within a certain period of time. It has three modes, as we have previously said. The Practice mode allows you to practice certain shot distance, swing and ball speed and the ratio between, including the frequency of the impact. The Target mode lets you set up the desired distance to reach, and it measures the consistency of the shots and the Random mode sets a random value to test your accuracy.
Cost and Value
You don't have to spend a fortune on golf shot trackers to have your swings analyzed and your performance improved. This is the most basic version of all Caddie devices but at the same time, it is the most affordable too. It is a decent option when your budget is cut short and you need a self-standing device which will provide you with the crucial readings for improved performance.

Subscribe to our Newsletter