Best Men's Golf Shoes Reviewed & Rated for Quality
In a
Hurry? Editors choice: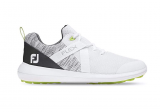 Test Winner: FootJoy Men's Flex Golf Shoes

When you think of having the right equipment for a round of golf, there are a few components which you obviously need. You need to have a
set of clubs
, and preferably, having the right set of clubs. You need to have some golf balls. You need to have a golf bag. And even
a golf shoe bag
. In addition to this, there are some accessory items you could have like a glove and a towel, and possibly a ball retriever.
One piece of equipment that is crucial, though, is a pair of golf shoes for men. If you have the wrong golf shoe, it can affect your game, and cause you to have a few bad rounds in a row.
Within this buying guide, we are going to review what makes great men's golf shoes. Let's go!
Standout Picks
Criteria Used for Evaluation
Style
Quality of The Shoe / First Look
As one, if not the most important criteria on the list, before we started to narrow down the different aspects of the golf shoe, we wanted to take into consideration the first appearances of the golf shoe. Individuals will attest to the fact that sometimes first look says it all. Is it comfortable? Can It withstand the test of time? Is the price reflective of the quality? Is it nice looking? All of these factors are what we took into consideration when looking at the quality of the shoe, which we will get into more later on.
Now, when it comes to first look we wanted to ensure that there was a wide range of variety while also looking stylistically comfortable and of course, golf-appropriate. Therefore, we included everything from more sporty styles such as New Balance to other classier styles that users can wear with slacks and a button-up shirt. With that in mind, the quality of the shoe is also summarized by other different factors, which are below. We take into thought that the quality of the shoe is only the overall aspect of the shoe. For us to really delve deep into getting to know the shoe and the brand, we have to look into the pillars that make up a quality golf shoe. Starting off, let's talk about the material of the shoe and why it is important to the overall design of the shoe.
Shoe Design
When talking about shoe design, we wanted to ensure we covered a wide variety of designs when picking out the top ten. Therefore, we looked at different shoe styles from sporty to casual to more dress-sporty shoes. With that in mind, we came to the realization that individuals care about the design from a place of comfort and also style. The style says a lot about the individual, the day ahead, and whether they are a sporty golfer or a professional golfer. Therefore, we wanted to appeal to all of our readers and share different design elements. For example, some had a heavier rubber lining at the bottom to show the width of the outsole, while other shoes had a more relaxed and toned-down look.
Sporty shoes, of course, have many of the sporty features that come with running shoes and other sports shoes. However, even golf sporty shoes look appealing enough for an all-day adventure out on the course. Whether an individual is opting in for a more traditional golf shoe, or a golf shoe designed for style and flair, the insole may be the most important aspect of the golf shoe. Which is why we wanted to include that in our criteria!
Materials
Shoe Material
Let's take into consideration the first aspect of quality that ensures that the shoe will work and function properly; the overall materials of the shoe. With that said, we wanted to ensure that the material of the shoe was designed specifically for durability and comfort, otherwise no individual would want to wear the shoe daily or for hours on end. Other than that, since golf is a sport where the individual is often standing and walking, we wanted to the quality of the material to be able to withstand the test of time. We will be covering more about the material importance in the upper, insole, and midsole section of our criterion.
Now, the material quality of the shoe was very important because it also says a lot about the longevity of the shoe alongside the brand's dedication and trust. No individual wants to invest their money into a brand that does not properly build their shoes and so, material quality was of the most important to us. With that in mind, another aspect of materials that we took into consideration was the stitching, inseams, shoelace design, and how all the materials function together to create the overall quality of the shoe. All of these factors helped us discover the top ten and we can guarantee that all of the shoes are expertly designed by great brands within each financial bracket from everyday casual to premium wear. Now, let's move onto one of the most important aspects of a shoe that says a lot about the brand, the individual, and the shoe itself.
Comfort
Shoe Insole Comfort
As we discuss shoe insole, we want to mention that our top priority for the shoe insole was that it was comfortable and properly built. With that said, many different brands offer different insole designs. Some have more of a supportive heel design while some use fancy features such as a cool and breathable insert with padding. All of these factors were important to take into consideration to showcase a wide variety. As far as padding gel, foam, or special insert, many brands include this due to one specific reason.
When it comes to the insole of a shoe, individuals want premium comfort for an all-day experience. Reason being, as we said above, is that golfers tend to walk a lot and stand a lot. Therefore, the proper insole design is crucial for maximum comfort and breathability. Whether it is padding, foam, or gel, users can expect a quality insole design for maximum all-day comfort from the top ten shoes above. Now, let's talk about the casing that holds the insole in place, the outsole and upper!
Outsole
Shoe Outsole and Upper
This may be one of the most important criteria to take into consideration when it comes to a quality shoe design. The reason is that the outsole and the upper material of the shoe, not only have to work hand in hand with the design, but they have to be perfectly designed for breathability, comfort, and durability. When it comes to the outsole, this is what we learned.
Most outsoles are designed from a high endurance rubber material that ensures maximum durability. However, for golfers, the outsole and lower part of the show at times have a cleat-style bottom to ensure traction on the field. Since golfers spend much of their time on the grass, sand, or other uneven and potentially slipper settings, having traction at the bottom of the shoe is detrimental.
Upper
Upper
As far as the upper, we discovered that the material of the upper really depends on the brand's aesthetic appeal and intention with the shoe. Brands such as Nike or New Balance focus a lot on breathability and comfort by supplying a moisture-wicking and airy mesh or material that ensures maximum comfort and protection in all day weather. While other brands such as Ecco focus a lot on leather styles and materials more for an aesthetic appeal. With that, the outsole and upper part of the shoe was an important criterion to take into consideration. Now that we have discussed the different factors of a golf shoe, let's talk about the cost and the value.
Value
Cost And Value
Another important factor that we took into consideration, that we often think about when it comes to our readers is the cost and the value of the item. Not only do we focus on quality and value, we also want to share products that are worth it and are cost-effective and friendly for our readers. With that in mind, when it comes to the value of many of the brands we have shared, users can expect that they will be getting exactly what they desire as far as durability, longevity, and comfort.
Now, some brands that offer leather or more aesthetically pleasing professional shoes, we do not recommend users to wear them all day long because they may begin showcasing sign of wear and tear as many premium shoes do due to long days. However, the more sporty shoes that are designed for golf, users can expect premium quality alongside a cost that makes them ideally perfect for an everyday experience. Now, another factor that really causes the cost to vary is the brand itself.
Brand
The Brand
As another important criterion that we considered, we wanted to share different brands with our viewers. Whether it was a more sporty brand like New Balance or a more premium brand such as Ecco, we took into deep consideration the importance of having a variety of brands and looking into their history. By looking into their history we got a glimpse of how well the product is and what users have to say about the brand. Therefore, this was important. Alongside this, taking a closer look at the history of a brand allows us to observe the trust they have with their audience and what they are primarily known for. Lastly, we wanted to also showcase and share brands that users may not necessarily think of when it comes to golf, or brands that are completely unknown that deserve a shout out, support, and consideration.
Here are some of the top brands available.
Adidas – If you are looking for a brand which has a large selection to choose from, then Adidas will be your first stop. They have available choices for men and women, as well as youth. They have golf shoes which have spikes on the bottom of them which can be replaced, as long as spikeless golf shoes if those are more your speed. They have golf shoes which are made out of a mesh material, as well as leather. If you need a shoe which is breathable or a shoe which provides you with the protection of the environment – they have both options. And when it comes to designs, they have the classic design you are used to seeing, as well as progressive designs which can fit your personality type. In addition to all of this, you can pick whatever color base you want with your golf shoes. No matter your price point or needs, you can find a golf shoe which should be able to meet your needs.
FootJoy – The FootJoy golf shoe is the #1 golf shoe among those on the professional tour, and this is obviously for a good reason. FootJoy has options for you, whether you need a golf shoe for a youth, Woman or Man. You can customize your shoe, based on size and color. They also have options for you concerning what kind of material you want from a shoe, including leather and mesh. They have designs which are classic, as well as ones which help you show off your personality. They also offer different types of soles and material, to help you find the right cushioning for your feet. With all of these options, you are sure to find a golf shoe which is the right fit for you.
Skechers – Although they are better known for their athletic shoes, Skechers has started to enter this marketplace in order to take advantage of those players who are younger and want a more stylish golf shoe. Skechers don't have the classic design you used to, but rather have ones which are more modern designs. They have both spiked versions, as well as spikeless designs, along with shoes which have replicable spikes on them so you can switch them out at any time when they break. They have a very large selection of colors available, including ones which are more vibrant in color. Although they do not have as many overall selections as other brands, they do have some great options to help you stand out on the golf course.
Puma – Puma shoes are available in sizes 2 thru 14 in seven different base colors. They have men's golf shoes which have both replaceable spikes and are spikeless possibilities, allowing you to have the option which you prefer. They are mostly available for men, with some options for women and four options which are available for youth boys. They have both classic design options, as well as more modern designs, in a variety of different colors. These colors are both subdued and more vibrant, to give you the best option to help match you up with your personality. When looking for a good shoe to start off, Puma offers you a great option.
With that in mind, let's cover the last criteria we took into consideration, which makes the process of picking out the best golf shoes the most fun.
Color
Color Choices Available
When it comes to the criteria to evaluate this kind of shoes, we not only were looking for a variety of brands and styles but also color choices available. This is one of the most important aspects because we wanted to ensure that every individual found the color choice ideal for them. Whether it is a comfortable all-white golf shoe, or a relaxed fit sporty black and grey golf shoe, we hope we have shared enough variety where you have found your own.
Subscribe to our Newsletter