Best Golf Shirts Reviewed & Rated for Quality and Comfort
In a
Hurry? Editors choice: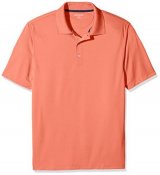 Test Winner: Amazon Essential Quick Dry

When springtime has arrived, there is no better feeling than the day when you get to go back out to the golf course and play your first round of golf. You get your golf clubs out the day before and make sure they are all cleaned up and look nice. You check the pockets on the bag and ensure you have enough
golf tees
and
golf balls
. You check your golf cleats and make sure that all the cleats are there and that they are clean. You walk inside and into your closet, and look at your golf shirts – and realize you need to get a new golf shirt because all the ones you own have either shrunk or very outdated.
Within this buying guide,
we are going to cover the different aspects of a golf shirt and help you choose the right one for you
!
Standout Picks
Criteria Used for Evaluation
Materials
Quality of The Shirt
When it comes to picking out clothing, especially clothing online, we can see why individuals can be somewhat hesitant to buy online. The reason being is that individuals cannot try on the product or feel the material. Therefore, it moments like this, the primary way to tell if a shirt is of quality other than reading the brands description is to read the reviews of individuals, the good and the bag. With that said, one aspect to figure out the quality of the shirt that we took into consideration is what people were saying about the product. With this, we were able to easily decipher the good from the bad and then come up with the best.
Once we read the reviews we then started following the guidelines below to figure out the overall quality of the shirt. We think of the overall quality of the shirt as the top of a structure that is being held by different pillars. The pillars being the material, design, and other features and criteria we will talk about below. In this process, what we found is that quality shirts range in all sizes, colors, brands, and even prices. There is a common belief that the more something cost, the better quality it is. However, we can guarantee our viewers that we have chosen the crème de la crème of golf polo shirts ranging in all different prices.
With that said, users can expect a variety of brands, prices, fabrics, and everything in between. Speaking of fabrics, let's move onto the next criteria that we took into consideration, the polo shirt fabric, and material.
Shirt Material and Fabric
As one of the most important criteria to take into consideration, the material and fabric are vital when it comes to picking a golf shirt and we took into consideration many different fabrics. The reason being is that when out on the golf course, individuals want the same out of their fabrics, durability, and comfort. With that said, we had to ensure that the fabric the shirt was made out of was intended for every day use and comfortable outwear golfing use. What we noticed, was that most polo shirts were made from a polyester material and some had a four-way stretch comfort fabric such as spandex or other materials.
In this process, we discovered much about the different fabrics and materials. For example, most fabrics and materials were designed with a moisture-wicking technology that allows an individual to sweat and not feel the heavy feeling of a sweaty shirt, allowing the shirt to dry quickly. This feature was mostly designed by well-known active sportswear brands such as Nike or Adidas. With that in mind, users can expect that most of the polo shirts on this list feature moisture-wicking technology.
Another aspect of golf shirts that we noticed was that most, the top tier brands, had a four-way stretch flex material design that allows individuals to easily stretch the material without it ripping, fading, or looking drag. With that said, this allows an extra level of comfort so individuals can easily move around, swing their golf clubs, and wear the shirt all day long.
Now, the second to last aspect we took into consideration when it comes to the best polo shirts was that they would be machine washable. With this, users can easily wash the shirt in the case that it gets dirty while out on the golf course all day. Lastly, some brands even offer an odor-fighting material that allows users to wear the shirt all day without worry that the shirt may smell bad at the end of a hard day golfing.
Style
Shirt Design
When it comes to the next criteria on the list, we found that the design element was one of the most important 'must-haves' when picking out the best golf shirts. The reason being is that we wanted to find the best golf shirts that also had the traditional polo and shirt design that has made polo golf shirts synonymous with the sport. This includes a collar, the proper fabric, and a well-designed traditional length and width shirt. With that said, the design was detrimental and what we discovered is that all brands have taken the traditional polo shirt design and manufactured it with a bit of innovative flair.
Some brands, however, have gone with the traditional polo design that people still love today, especially the more cost friendly brand. Now, when it comes to specialty brands and brands that are known for premium design qualities, they have designed them with unique elements. Some brands have gone with a triple-striped design while some other brands have gone with a mesh side design that allows for better breathability, which we will talk about in a bit. With that said, users can expect that all of the designs are of quality and designed for comfort in mind. Now, when it comes to comfort, there is one aspect that is crucially important for the sport of golf and that is breathability.
Breathability
Shirt Breathability
Why is breathability so important to the game of golf? Without a proper breathable design, no golfer will be able to golf all day, especially in the scorching sun. Therefore, it is important to ensure that the material and the design worked for hand in hand to create a breathable design. Now, as far as breathability, what can some users expect? Some brands have designed their shirts with breathable mesh underarms or side arms, while some brands have used stretchy breathable materials that allow for an all-day breathable experience. With that said, this is done so users can feel comfortable all day. Now, with a four-way stretch and moisture-wicking fabric, users can expect long-term comfort and functionality.
Now, working in tangent with breathability mesh, some brands even include a fabric design that offers UPF protection. The common number is between 20-40% as far as UPF protection and users can expect that this is not only breathable, it is also protected against the sun. With that in mind, we can guarantee users will feel comfortable in all of the shirts that we have included. Now, here comes the fun part! We have talked about breathability, material, design, and quality. How about we talk a bit about another criterion that makes the process of buying the ideal shirt even more fun? Let's talk about the color choices and available options!
Color
Shirt Colors and Available Options
This is what we call the best and most fun criteria to look out for. For the individuals that want to collect a slew of polo shirts, there is a wide variety of color options for every single brand on this list. Whether you are looking for the more common everyday black or white polo, or the beautiful pastel spring polos that offer plenty of variety, users are going to want to collect every single one.
Other than that, users can expect that each color is designed not to fade, wrinkle, and be easy to clean in the case of dust, dirt, or stain. With that in mind, users will appreciate the many different colors available and color variations to choose from. Whether it is the two-tone pastel colored polos or the traditional navy-blue polo, we are pleased to bring some many different color choices to our readers. Now, how much can it cost to collect them all?
Value
Cost And Value
So, this is the million dollar question, "how much does it cost?" With all of that said, we can say that the price will vary at a low price or a high price. It seems that there is no middle ground for polo shirts. Many polo shirts are designed from premium brands that are well known and highly touted in the sports gear industry and in turn, their price reflects the quality alongside the fame of the brand. With that said, other brands that are more common as 'day-shirts' or regular polo shirts are listed at an average price. With all of this said, users can expect the value of each brand to reflect the company highly.
Whether an individual is opting in for a daily polo shirt that is comfortable for everyday wear, or a polo shirt that is for those special moments with the gang, users will find value in every single brand that we have shared. As one of the most important criteria, we like to share the cost and the value to our readers can receive 100% full transparency about our process and the products we share.
Brand
The Brand
As the last criteria to take into consideration, we included the brand as a criterion because when it comes to polo shirts, there are only a few brands that can truly excel at producing some of the best. With that said, we took into consideration the brand as a factor to ensure we only shared the top ten best brands of polo shirts for golfing. With that, we noticed that there are only a select few of brands that are known as premier brands, while there are other brands that offer everyday wearable and comfortable polo shirts. Mostly, the major distinctions between both are the quality of the material, the name of the brand, and the craftsmanship. It does not mean, however, that the lower quality brands are not worth it, they completely are and we tried our best to stay neutral by sharing a wide spectrum of products and brands.
Subscribe to our Newsletter