Best Golf Scorecard Holders | 2021 Buying Guide
In a
Hurry? Editors choice: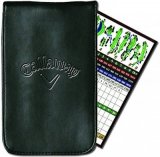 Test Winner: Callaway

Let's not kid ourselves. We're all keeping score on the course.

Whether we're tracking for personal performance, measuring ourselves against top players, or simply keeping track of our buddies as they try to cheat, a good score card holder will keep everything neat and tidy.

With varying materials, sizes, features, and price points though, finding the right scorecard holder might be difficult. Our picks of the top models below will simplify things.

Review our list below and purchase a scorecard holder for your next round.
Standout Picks
Criteria Used for Evaluation
Value
In looking for the best product, we highly suggest moving forward by finding products that have above four stars in ratings. With that, the reviews also help individuals find the best quality design. For us, we strive to ensure that each product has a four-star rating or above and plenty of positive reviews. If we do not encounter that, then our next concern is to ensure that all of the products we shared are from a brand that is reputable and trusted. With that, the reviews help us identify what individuals have to say about each particular product. For instance, if you are concerned about durability, reading the reviews helps you get to know how high quality and long lasting a product is by getting to know the experience of other individuals. So, this criteria helps set things into motion, but the next one is the main one when considering a performance track sheet holder.
Materials
The material design is most commonly the most important criteria, the reason being that you want to ensure that the material of each product is of the best value and design. With that, the two most common materials that we encountered range from faux leather to real leather. These two materials range as far as quality and texture. Most commonly, faux leather is designed to resemble alligator skin or some kind of pattern, while real leather is very soft and comfortable.
With that said, we also wanted to ensure that the interior material was of great quality too. Many interior materials are made of a fabric-like material that is either soft or very smooth. Now, if you are considered about cleaning the material, don't be. Most holders are very easy to clean, just wipe them down or use a leather cleaner wipe. Now, speaking of the inside of a holder, let's talk about the next criteria. Just to recap, this is what we have to say about the material.
The two most common materials are leather and faux leather.
The interior material is either smooth or soft.
The material is easy to clean.
The material is well stitched for longevity.
Style
another quality aspect to consider is the interior design. The interior design of a holder tends to be universal. They most commonly have an elastic band design that allows for the individual to place the sheet of paper firmly and safely without concern that the band will fall out. With that, the band material tends to be very well stitched and very tight as far as elasticity to ensure that the papers will not fall out or go loose. However, we want to move forward and discuss the interior design as far as convenience.
Most holders have space on the inside for individuals to be able and have a pen attached to the inside of the holder, or at least be able to attach it somehow to the side. With this, some other holders have higher quality materials such as the ability to have an individual attach a tee of a marking tool. Here are some bullet points to consider.
The interior bands are made to be elastic for easy placement of the sheets.
The elasticity tends to be really tight.
The interior may have space for other small items such as an ID or a marking tool.
Features
This last criterion is more of a summary of a bunch of factors we wanted to take into place. These factors are more of details that you can keep in mind when picking out the best item for you.
Variety
There is a wide variety of different types of this products online. There are leather, non-leather, green colored, brown, beige, black, even bright orange colored holders. Whatever style or color you are looking for, it's out there, so keep your options open.
What Is Included
Now, this is actually determined by the brand. Many brands will include different products with the purchase of their items. For instance, some brands will include a free pencil, while some brands will include a downloadable PDF of a specific track sheet. Some brands even design the holder as a gift set with a divot tool or other items.
Overall, there are many different types of holders available. The most important aspect is to make sure that the holder you like is designed to be durable and have strong backing. With strong backing, individuals can easily take it out and write on it without needed a hard surface.
Subscribe to our Newsletter