10 Best Golf Rain Gloves
last updated:
Aug 13, 2021
One of the most unpleasant situations that can happen while playing golf is the inability to have full control over the club because of the slippery, wet grip. It can be messy, frustrating and extremely annoying. One of the worst-case scenarios is seeing the club flying in the air instead of the ball. To prevent that, you need good golf rain gloves that will yield confidence and reassurance that the ball will have the same trajectory as it has when the weather is dry.
There are many golf rain gloves out there as there are any other golf-related accessories and gear, so you need to know that the ones you'll buy feature anti-slip design and deliver a tight and comfortable grip when the weather is rainy or humid. We explored the market and selected the best golf rain gloves that are designed to deliver reliable grip and comfort.
In a Hurry? The test winner after 32 hrs of research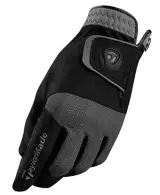 TaylorMade Rain Control
Why is it better?
Made from durable nylon fabric and ultra-thin microfiber suede
40% stronger hold when wet
Strategically placed grip zones for ultimate grip
Neoprene cuff and ergonomic pull tab
In a
Hurry? Editors choice: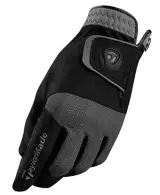 Test Winner: TaylorMade Rain Control

32
Researched Sources
178
Reviews Considered
32
Hours Researching
45
Products Evaluated
Grip
Materials
Fit
Durability
Water Resistance
By Default
Top 10 Waterproof Golf Gloves for Rainy Days
1

. TaylorMade Rain Control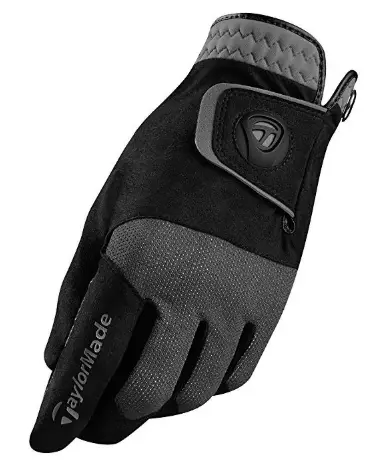 Made from durable nylon fabric and ultra-thin microfiber suede
40% stronger hold when wet
Strategically placed grip zones for ultimate grip
Neoprene cuff and ergonomic pull tab
As TaylorMade is winning tournaments with its latest M5 lineup, their accessories and gear are equally successful and feature the same quality that their clubs boast. The company produces a wide range of different glove types, made to meet the needs of varied conditions and circumstances. This pair of golf rain gloves are made to defy wet conditions, prevent club slippage and enhance golfers' confidence even when it is raining heavily.
Read more
Features
Their striking modern and unique design won't go unnoticed, as they feature interesting color combination with 3D pattern imprint and a pull tab with the TaylorMade logo on it. The tailored cuff and the flexible material deliver a perfect snug fit and a second-skin feel. There are two color choices, black and grey, and black and red, to better match your style. They feature strategically placed grip zones so that golfers have the ultimate grip while golfing during wet weather.
Materials
This model will help you to tackle the grip during wet weather conditions. They are made from a long-lasting nylon fabric with very thin microfiber suede with integrated stretch panels to deliver a perfect fit. The company claims that golfers can expect up to 40% stronger hold when they are wet.
Cost and Value
This TaylorMade pair of rain golf gloves combine performance, breathability and exclusive grip and anti-slip features. Designed in accordance with the latest fashion, these gloves will provide you with reliable performance and comfortable feel. The quality though has a price, so this pair is the most expensive on the list, but many golfers say they are worth the price.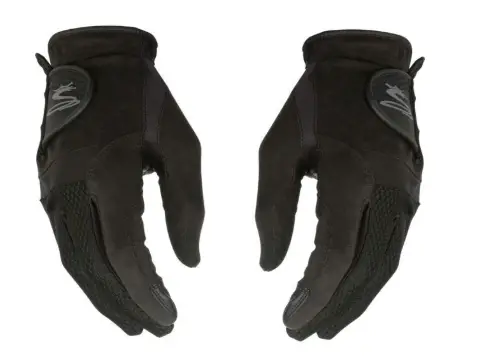 StormGrip suede in the palm area delivers optimal grip in wet conditions
Made from polyester and elastane
Breathable, moisture-wicking and flexible
Tailored cuff for maximum feel and fit
The index finger is compatible with electronic touch screen
They feature DWR coating to keep your hands dry
As everything else coming from Cobra, these golf rain gloves have been recently launched to deliver advanced and sophisticated solutions for modern-day golfers who frequently play golf during wet days and who use modern equipment to track their performance on their smart devices. If you are at least a bit interested in the new releases, you must be familiar with Cobra Smart technology that utilizes electronic sensors in the clubs they've launched in the last two years, so, in order to follow up the trend, they enabled the index finger of the glove to be compatible with electronic touch screen so that golfers can utilize the technology while wearing rain golf gloves.
Read more
Features
These gloves come in a pair and they look powerful, even though they are plain black. They feature Cobra's logo on the pull tab that makes the impression of superiority and high performance. The tailored cuff yields optimal feel and a snug fit. One of the greatest features that this model has is the Durable Water Repellent (DWR) coating that prevents moisture from penetrating inside your hands and thus keeps them dry.
Materials
These impressive golf rain gloves are made with the utilization of two materials, 89% polyester and 11% elastane in the top and StormGrip suede in the palm for maximum grip during wet days. Polyester is a performance material which has found its greatest use in sports gear and apparel thanks to its incredible capacity to dry quickly and not to absorb any moisture. The elastane is used in the movement zones, such as knuckles and the web zones, to enable effortless movement and enough stretch. The dry feel will bring back the confidence on the course and prevent your clubs from slipping.
Cost and Value
These unique rain golf gloves are excellent for wet weather and the way they are made speaks quality and durability. The fact that they are made from one of the greatest manufacturers in the golf industry means a guarantee for performance and playability. Plus, knowing that they are enabled to be compatible with using smart devices adds more value, in addition to the fact that they are sold as a pair. They keep the average price point, so they are definitely a good value for the money.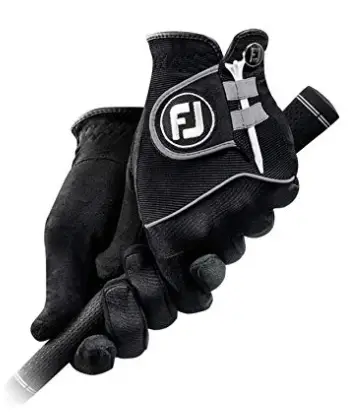 Excellent grip and anti-slip control over the ball
Made from autosuede knit material on the palm that enhances the grip when it is wet
QuikDry II knit material along the fingers provides air-flow, breathability and it dries quickly
Removable ball marker
Strategically positioned angled Comfort Tab closure for a precise fit
Every company has its own special niche that makes it recognizable and whenever that niche is mentioned, people associate the company with it. For FootJoy, that niche is golf footwear and golf gloves. They have been making and perfecting them for more than half a century and if you are looking for pure quality and sophisticated design, FootJoy products are go-to. These golf rain gloves are one of the rare products that have almost no negative reviews and hundreds of positive ones, confirming the supreme dominance in this area of the market.
Read more
Features
This model is sold as a pair of golf gloves that function best when the weather is rainy and humid. Actually, the wetter it is, the better their performance, allowing golfers to exhibit a full control over the club without experiencing slipping or twisting of the club. The stylish design is enriched with the FootJoy logo on the top of the angled ComforTab closure which delivers comfort and a precise fit and there is a removable ball marker too.
Materials
The material on the palm is knit autosuede which functions the best when used in wet or humid conditions. It yields unmatched and secure grip so that your club stays in your hands no matter what. The QuickDryII knit proprietary material used along the back of the fingers yields maximum flexibility, breathability, and quick-drying comfort.
Cost and Value
Sometimes, when you read the users reviews you get all the information you need for a certain product, and that's exactly what we realized while reading them. Almost all of them agreed that when wearing these rain golf gloves, you have full control over the club in any circumstances allowing you ultimate precision and performance. They are durable, comfortable and perfect to play with during wet days. The price is also very reasonable since you get two gloves for a price that is usually attributed to a single glove.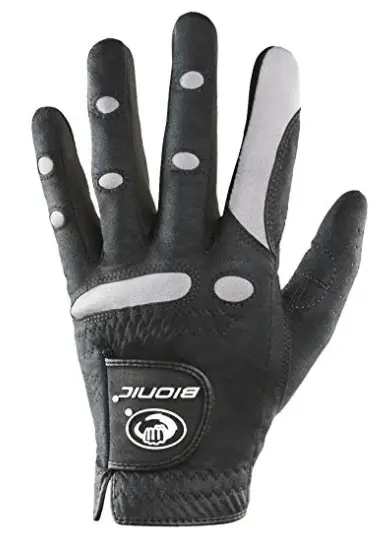 Made from suede microfiber that enhances the grip when it becomes wet
Patented pad system evens out the hand surface
The motion zones such as knuckles and between the fingers are made from Lycra
The padded zones are exceptionally resilient to wear and tear
According to some golfers, it is too thick
Bionic gloves have been very popular since the moment they appeared on the market as their patented pad technology and natural-feel grip, have made it possible for many men and women golfers who had been having issues with the grip due to medical causes, to start playing golf once again. Made with similar technology, these golf rain gloves offer unmatched comfortable grip during wet conditions to boost golfers' confidence that they still have control over the club.
Read more
Features
Similar to the Stable Grip model, the patented pad technology which is utilized in this glove, delivers the most comfortable, enhanced feel while playing golf. These relief pads are strategically positioned in order to even out the hand's surface which leads to balanced pressure all over the hand which prevents fatigue and increases the strength. The pre-rotated finger design adopts the natural movement of the fingers to deliver a comfortable, effortless grip.
Materials
The days of compromised dexterity are long gone with Bionic gloves. The Bionic's designers used breathable Lycra to all motion zones positioned in the web areas between the fingers and over the knuckles, to allow flexibility and at the same time to keep your hands dry and cool. The main feature that makes them excellent golf rain gloves is the suede microfiber material which becomes tacky when it gets wet, reducing the slippage of the club and enhancing the grip and the feel. The material they are made from, together with the padded system, provide more durability, especially to the places that are prone to wear and tear.
Cost and Value
As many other Bionic models, this golf rain glove offers the same reliability and enhanced performance during wet conditions. It will provide you with uncompromised grip and feel when you decide to play the game during rainy days. When it comes to its price, it is variable, depending on the deals, daily offers, whether it is left or right, and the selected sizes. Unfortunately, it comes as a single unit, so in case you need a pair you will have to order two of them.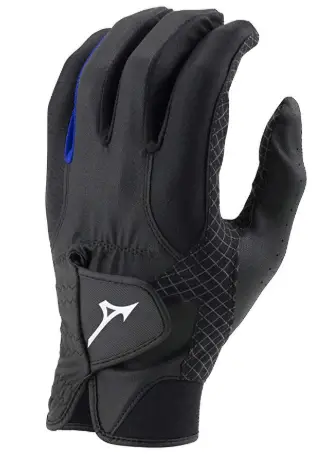 Made from Mizuno Clarino, superior Japanese synthetic suede
They deliver superior grip and enhanced feel during rainy days
Enhanced feel and grip with the 3D palm printing
Neoprene wristband adds comfort for better fit and feel
Stylish design
Mizuno is a manufacturer that is associated with paying special attention to details, precision, and exceptional craftsmanship. This Japanese manufacturer, which boasts perfection in the production of irons, has expanded its manufacturing array into golf equipment, apparel, footwear, and accessories too. So when it comes to good grip during humid and rainy days, Mizuno's RainFit golf rain gloves are said to deliver the most, without sacrificing the feel.
Read more
Features
The first thing that gets your attention in these golf rain gloves is the unique design and the color combination. It is mainly black with smooth checkers design on the part of the palm that extends to the upper part of the glove, while between the little finger and the ring finger there's blue material which delivers attractive and subtle contrast. The angled pull tab which has the Mizuno's logo on delivers tight fit and comfortable snug. The 3D pre-curved palm patterning guarantees that golfers will have comfortable snug grip.
Materials
The featured material in this golf rain glove model is Mizuno Clarino, which is a premium Japanese synthetic suede which delivers enhanced grip when the weather gets wet or humid. The wristband is made from proprietary neoprene that delivers additional comfort around the wrist to deliver a snug fit and better feel.
Cost and Value
Mizuno sells these golf rain gloves as a pair as their purpose is to enhance the grip during wet weather so it comes naturally that golfers would like to have a glove on both of their hands for a balanced feel. Therefore, the price you'll pay for them seems to fit the average range, as most of the selected models feature similar price tags.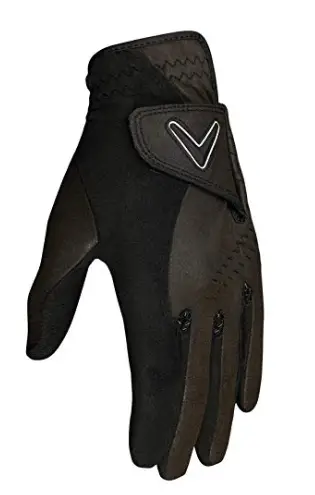 Opti Flex material for increased flexibility, feel and fit
X-Spann material between fingers yields moisture-wicking properties, breathability, and flexibility
Adjustable closure "Opti Fit" for light, secure fit
Full palm area made from microfiber suede for enhanced feel when the weather is wet
There is only one color option
One of the companies that invest millions in research and development to provide maximum playability and innovative designs for golfers have made these golf rain gloves to boost golfers' performance during wet and humid weather. Their patented technologies are extended from clubs and balls to complete accessories, apparel, and equipment offer. This golf rain golf is one of the latest Callaway designs, enhanced with a more refined feel and better performance during rainy days.
Read more
Features
This Callaway model is also sold as a pair, which when it comes to golf rain gloves, it is more convenient to have for both hands than only one, especially if the weather is not that warm. This one comes in black color, and there aren't many details on it, except for the Callaway logo positioned on the Opti Fit adjustable closure which delivers a secure and precise fit, without feeling tight or heavy on the hand. The stretch binding cuff delivers a secure feel and it features moisture absorbing properties for better comfort while playing.
Materials
The palm part is made from microfiber suede and it extends along the whole palm area. This material has the ability to deliver more grip during wet conditions, so the more rain there is, the more enhanced grip golfers will have. The proprietary Opti Flex material is very flexible, it creates the feeling of a second skin which in turn delivers the feel you need on the course. The material used between fingers is the so-called X-Spann, which is another proprietary technology which makes the material very flexible, breathable and moisture-wicking. In other words, your skin will feel dry and comfortable with perfect control on the club and with enhanced feel.
Cost and Value
Since this a new rain golf gloves model, many of the proprietary Callaway technologies are used to make it as playable as possible, and to deliver total control over the club in the most difficult situations. These technologies also make the materials resilient to wear and tear so that golfers can use them as long as possible. Since you get a pair, the price point they are sold at is within the average range.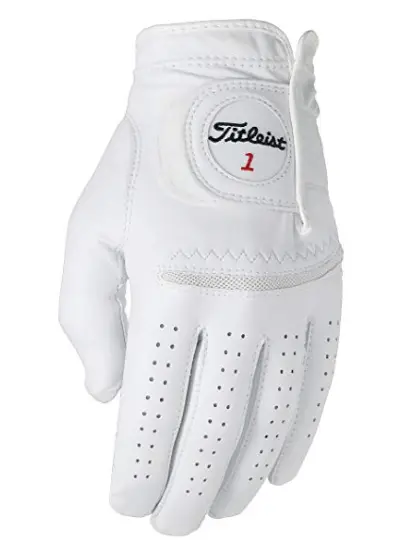 CoolMax Mesh Panels across the knuckles for extra breathability and comfort
Made from Cabretta leather for softest feel and grip
Satin reinforcements at the thumb and cuff
Precise stitching and perfect fit
Maybe the company doesn't produce the whole bunch of different ranges of waterproof golf gloves as they do with their headwear, but the ones they offer are of premium quality and exquisite style. There are three different categories of golf gloves that the company produces. The selected ones belong to Perma Soft category which features performance materials and unique comfort. The CoolMax Mesh Panel which is used across the knuckles delivers exceptional breathability and support. As these are golf rain gloves, they provide golfers with an anti-slip grip and enhanced playability.
Read more
Features
The elegant, seamless design is the first thing you notice at this model, as every single detail has its purpose and nothing stands out as an extra. The premium snug fit delivers the second-skin effect which connects to your club in the most natural manner. The seams are placed only where another material is added in the most precise and subtle way. The perforations on the fingers enhance the air-flow and breathability for a perfectly comfortable feel.
Materials
Perma Soft rain golf gloves are made from Cabretta leather which is the softest and the finest of all leather types. This material resists moisture such as rain and perspiration and keeps the hand dry. From the outside, it can retain its gripping properties while maintaining the feel and comfort. The satin panels enhance flexibility, while the seams do not interfere with the grip or comfort. You can also find satin reinforcement at the thumb and cuff for added durability and strength.
Cost and Value
This is a mid-priced golf glove is a perfect solution not only for rainy days but also for everyday use, as Cabretta leather will provide you with the ultimate comfort and grip. The moisture resistance and the perforations on the fingers will make you feel cool and dry. Since Cabretta is genuine leather, it is more expensive than the other materials, but not as expensive as some other competitive models.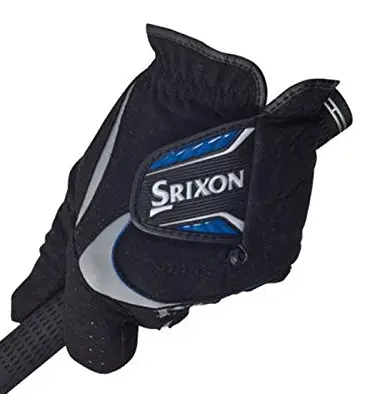 It is a complete pair of golf rain gloves
The palm is made from anti-slip microfiber suede
Quick-dry knit material on the back of the hand
Breathable and comfortable
What Srixon is famous for, is their sophisticated irons and their varieties of golf balls which boast advanced design and extreme playability. However, Srixon has also been investing in golf accessories and these golf rain gloves seem to be one of the most preferred models among many golfers. If you are interested in the reason why we have selected this model, read below to find out more about them.
Read more
Features
And the reason is quite simple though. They are waterproof gloves that perform in the best possible manner when the weather is rainy. They feature anti-slip property that delivers the most secure grip that allows you to have full control over the club when it is hardest to have it. It is stylishly designed with angled pull tab and elastic cuffs that fit any hand size.
Materials
And, it is always the choice of the materials and the stitching that make a glove wearable and stylish. The part of the palm is made from microfiber suede which delivers secure grip and anti-slip feature. On the back of the hand, Srixon's designers have used knit material that is easy to dry. The perforations on the part of the fingers allow increased airflow and breathability which make them comfortable to wear for many hours.
Cost and Value
The snug fit, the modern design and the breathable and the quick-dry material, make this Srixon pair of waterproof gloves very attractive for golfers. The materials they are made from allow you to wear them any season as they don't make you feel too hot either. Another attractive thing about them is the price point they are sold at, as the price they have is usually the one found for a single glove, but not for a pair, which makes them excellent value for the money.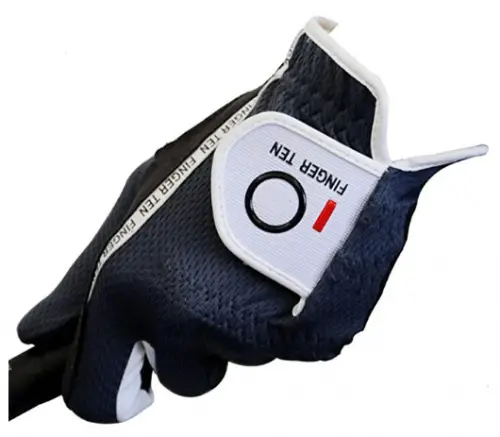 All seasons gloves that can be used during rainy, hot and humid weather
Unbeatable wet weather grip
Made from 3D performance mesh which is quick-drying, moisture-wicking and breathable
Excellent feel, comfort, and satisfaction
30-days return policy
Due to its versatile performance and wide range of use, it is no wonder that these golf rain gloves have so many positive reviews and such a high rating. It is the type of glove that you would love to wear during the rainy fall days, and it will be the same choice for the scorching summer days. It is its all-weather performance that attracts golfers thanks to the perfect blend of materials that are easy to dry and moisture-wicking.
Read more
Features
These golf rain gloves are multi-functional, ensuring quality performance regardless of the weather conditions. They come in several color options, featuring elastic cuff and a pull tab for a customized fit. They can be worn during a rainy day to enhance the grip as they feature anti-slip material that ensures a secure grip during wet and humid weather. However, they are a great choice for hot and sunny days, especially for golfers whose palms tend to sweat a lot.
Materials
To be able to deliver this versatile effect, the designers from Finger Ten used high-quality 3D performance mesh which is extremely breathable and moisture-wicking. This material is very lightweight and flexible. The material won't retain moisture in it and won't get soaking wet even when it is raining, as it has the ability to repel water. The extra grip and the feeling of being dry will provide you with enhanced confidence and utmost control on the course.
Cost and Value
Maybe Finger Ten is not as extravagant as some older and more experienced companies since it is a fairly new one in the business, but the rain golf gloves they make are of outstanding quality and durability. Plus, the company offers 30 days return policy in case you are not satisfied with the product as they tend to bring forth exclusive quality. The best part is the affordable price this golf rain glove has, which is even lower if you purchase a pair, bringing complete satisfaction to all customers.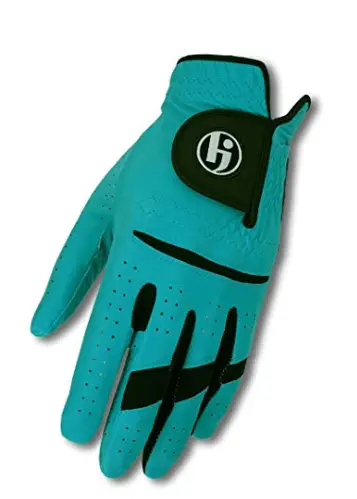 Constructed from high-performance microfiber leather
The material delivers soft and tacky grip when it is wet
Added durability with the reinforced palm patch
15 color selections
If this rain golf glove model differs from the others in something, then it would be the number of color options available for golfers to choose. There are amazing 15 different color options which can perfectly match the rest of your golf equipment and apparel. However, it is their ability to provide optimal grip and control over the clubs during wet conditions that placed them on this list. Below we discuss their features and materials they are made from.
Read more
Features
The overall design of these golf rain gloves reminds of the design of the most prominent name-brand ones. The stitching, the placement of the seams and the pull tab with the logo on it, they are all very carefully made. There are elastic bands on the most movable parts of the hands, such as the knuckles and to keep the hand comfortable and dry, there are perforations along with the fingers.
Materials
The material that these golf rain gloves is made from and which keeps them tacky and soft when they are wet is high-performance microfiber leather. This material, even though it isn't genuine leather, delivers excellent anti-slip grip and maximized performance. The palm features a reinforced palm patch that makes it extra durable. The elastic inserts added on the most durable parts guarantee playability and comfort.
Cost and Value
This is also one of the best rain golf gloves that offer comfortable feel on the course and which will make your golfing experience during rainy days something to be proud of. When it comes to the price, it drastically varies and depends on the color selection, the size and the left or the right option. Many reviewers say that it runs very small, so make sure you order a larger size than you normally wear.
Criteria Used for Evaluation

Grip
Getting yourself good golf rain gloves will only make sense if they are able to provide an enhanced, anti-slip grip. When the weather is wet or humid, the club can easily slip or twist from your hand in the most crucial moment, just when you are about the hit the ball with the club. This can cause a complete mishit and in the worst possible scenario, you will drop the club. To prevent this, you need gloves that are particularly made to enhance the grip during wet conditions. Many of the models reviewed here function on the principle "the wetter it is, the more enhanced the grip", and deliver exceptional grip. As you could notice, all of them feature a very high score within this criterion which is the reason why they have been selected as the best ten.

Materials
Companies have been very creative when it comes to the selection of the materials used to enhance the grip and deliver a better performance during wet weather. The most common material that we come across in golf rain gloves is microfiber suede or synthetic leather as it is the material that becomes responsive as it gets wet delivering the most wanted outcome. Plus this material is thin and it isn't going to compromise the feel, allowing golfers to enjoy every part of the game. Other materials used in golf rain gloves are polyester and elastane, the most performance materials used for sports products. Polyester is the type of material that doesn't maintain moisture and it is very easy to dry, the elastane enhances flexibility and free movement. Cabretta leather is another type of material which companies prefer, it is genuine goat leather, very soft, moisture-repellent and doesn't lose the grip when wet. It is also the most expensive material than all.
Besides the selection of the materials, the craftsmanship and the technology used are the key factors of providing long-lasting and reliable performance. Many of the companies feature their own proprietary technologies that deliver optimal performance in the most unique way. These materials are also expected to deliver maximum breathability, a comfortable second-skin feel and moisture-wicking properties in addition to the anti-slip feature.

Fit
Finding yourself good rain gloves doesn't only refer to the well-made properties and the quality of the materials, but in order to be able to enjoy them, you need to pay attention to the snug fit. The scores that we attributed to the selected models refer to their size and the way they are made to correspond to the designated sizes. This is where many buyers claim there is often discrepancy regarding the sizes and the fit. These models are those that more or less provide a snug fit and match the size and the score related to this criterion informs you how reliable the designated size is.

Durability
This criterion is also important since nobody wants to buy a product which will be used only for a short period of time and that refers to the gloves too. When we were selecting the best models, we looked for those that are recognized as durable and reliable, so we particularly referred to users comments as they are the most trustworthy and objective source when it comes to durability. Taken all the aspects together, the score attributed next to each model informs you about this criterion in relation to each of them.

Water Resistance
Good golf rain gloves do not necessarily have to be waterproof, but a decent amount of water resistance is surely more convenient for golfers. As we have discussed, the main feature that each of them must have is the anti-slip property to provide good grip and prevent the clubs from slipping and twisting. But, the water-resistant ones allow you to have enhanced and uncompromised feel so that your performance is not affected by any means. Here we also considered the moisture-wicking property as it also helps to retain the feeling of being dry when your hands start sweating. This is also the criterion that distinguishes the selected models to a great extent as they range from being completely waterproof to mildly water-resistant.
Frequently Asked Questions
q:

Can golf rain gloves be worn when the weather is dry?

a:

That mostly depends on the material they are made from. For example, some materials such as microfiber suede/leather get a better grip when it is wet and it is during rainy days that it delivers the optimal grip. On the other hand, there are other materials such as polyester or Cabretta leather that feature all-weather performance and can be worn anytime you want.
q:

Is Cabretta leather genuine leather?

a:

Yes, it is. It is young goat hairless skin which is fine-grained and chrome-tanned and it is one of the softest leather types. The name derives from the Portuguese and Spanish word for goat- Cabra.
q:

Do I have to wear gloves on both hands while I play golf during wet weather conditions?

a:

You don't have to if you don't want to. The leading hand should be enabled with a strong grip, while the other one doesn't need it. However, for many golfers, it is much more convenient when they have them both on.
q:

Which material is the most durable when it comes to waterproof golf gloves?

a:

It is never the material only, but the whole manufacturing process that makes the gloves durable or not. The leather used to be considered the ultimate winner when it comes to durability, however, synthetic leather and some mix of materials feature improved durability as the new technologies emerge.
Subscribe to our Newsletter