Best Golf Rain Gear Reviewed & Rated for Quality
In a
Hurry? Editors choice: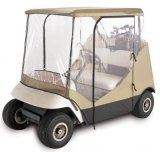 Test Winner: Classic Accessories Cart Enclosure

So you're out on the 8th hole and you hear that sound you were hoping you wouldn't. Yep, you read the weather report and said to yourself "I think the rain might miss me if I can just squeeze a game in before it comes". Then, of course, it happens. The clouds roll in, the sky gets dark, and before you know it, you're soaked. Now, we wouldn't recommend standing out in the middle of an open course during a
thunderstorm
, but if you are set on finishing, you might as well take along the
best golf rain gear
that you can just in case.
Standout Picks
Criteria Used for Evaluation
Weather Resistance
The first criteria that we took into consideration is one of the most important. The reason being is that we wanted to ensure that the product would be beneficial and not just a gimmick. Have you ever bought a product and then realized that it was not worth the price, it was all a smoke and mirrors show? Yeah, we wanted to avoid that. Therefore, we focused on products that individuals can benefit from. These products included ways to keep your golf gear dry, ways to keep your self-dry, and products that would enhance the sport on a rainy day. This is why we shared primarily golf rain gear that was beneficial for the game such as gloves. Alongside this, we included gear that would protect your equipment and would keep it safe.
Flexibility
Flexibility made our list of criteria simply because you don't want to wear a jacket or gloves that won't allow you to move. Remember the little boy in the movie A Christmas Story? Well you don't want to feel like that when you're playing golf now so, you are going to want something that let's you move. We included products that will keep you from getting wet. but still allows you to play golf like you're not even wearing a jacket. If it has no flexibility you won't be able to bend your arms or wrap your fingers around the golf club to swing to hit the ball. This was an important thing to consider when it came to what made our list or not.
Durability
As the next primary criteria that we took into consideration, we found durability to be a crucial factor when it comes to rain gear. In fact, this may be the most important factor to consider because it eventually determines if the product can withstand the test of time. To better understand if the product was durable we read the reviews as well as focused on the material craftsmanship. The material craftsmanship includes everything from the stitching to the quality of the material. We found a common thread, however, the most common and most durable material that brands use is nylon. Whether it is nylon on a towel, it is known as the most durable and breathable material in the industry that offers enhanced durability and specialized support.
Breathability
Another very important factor we looked at was breathability. The last thing you want is to feel like you're in a sauna while your playing golf, so breathability is just as important as the last thing you look at. You want something that is going to keep the rain off you to keep dry, but if it's a really hot day and it begins raining wearing a jacket that has no air flow going through it is going to make you unbearably hot. So a lot of rain jackets and products are made with multiple layers. The first layer is usually made out of nylon or polyester and the second layer is a coating usually made from Teflon.
Overall Fit
Looking at all the different products we wanted to make sure the overall fit of the products was good. Did people complain about the sizing of the products? Did the gloves begin to slide off at all, or did the grip of the gloves become slippery when they got wet? We wanted to make sure things fit well and weren't too big or too small. We wouldn't want the product to get in your way from playing a round of golf.
Subscribe to our Newsletter