Best Golf Rain Gear Reviewed & Rated for Quality
In a
Hurry? Editors choice: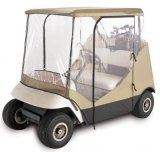 Test Winner: Classic Accessories Cart Enclosure

So you're out on the 8th hole and you hear that sound you were hoping you wouldn't. Yep, you read the weather report and said to yourself "I think the rain might miss me if I can just squeeze a game in before it comes". Then, of course, it happens. The clouds roll in, the sky gets dark, and before you know it, you're soaked. Now, we wouldn't recommend standing out in the middle of an open course during a
thunderstorm
, but if you are set on finishing, you might as well take along the
best golf rain gear
that you can just in case.
Standout Picks
Criteria Used for Evaluation
Weather Resistance
The first criteria that we took into consideration is one of the most important. The reason being is that we wanted to ensure that the product would be beneficial and not just a gimmick. Have you ever bought a product and then realized that it was not worth the price, it was all a smoke and mirrors show? Yeah, we wanted to avoid that. Therefore, we focused on products that individuals can benefit from. These products included ways to keep your golf gear dry, ways to keep your self-dry, and products that would enhance the sport on a rainy day. This is why we shared primarily golf rain gear that was beneficial for the game such as gloves. Alongside this, we included gear that would protect your equipment and would keep it safe.
Flexibility
Flexibility made our list of criteria simply because you don't want to wear a jacket or gloves that won't allow you to move. Remember the little boy in the movie A Christmas Story? Well you don't want to feel like that when you're playing golf now so, you are going to want something that let's you move. We included products that will keep you from getting wet. but still allows you to play golf like you're not even wearing a jacket. If it has no flexibility you won't be able to bend your arms or wrap your fingers around the golf club to swing to hit the ball. This was an important thing to consider when it came to what made our list or not.
Durability
As the next primary criteria that we took into consideration, we found durability to be a crucial factor when it comes to rain gear. In fact, this may be the most important factor to consider because it eventually determines if the product can withstand the test of time. To better understand if the product was durable we read the reviews as well as focused on the material craftsmanship. The material craftsmanship includes everything from the stitching to the quality of the material. We found a common thread, however, the most common and most durable material that brands use is nylon. Whether it is nylon on a towel, it is known as the most durable and breathable material in the industry that offers enhanced durability and specialized support.
Breathability
Another very important factor we looked at was breathability. The last thing you want is to feel like you're in a sauna while your playing golf, so breathability is just as important as the last thing you look at. You want something that is going to keep the rain off you to keep dry, but if it's a really hot day and it begins raining wearing a jacket that has no air flow going through it is going to make you unbearably hot. So a lot of rain jackets and products are made with multiple layers. The first layer is usually made out of nylon or polyester and the second layer is a coating usually made from Teflon.
Overall Fit
Looking at all the different products we wanted to make sure the overall fit of the products was good. Did people complain about the sizing of the products? Did the gloves begin to slide off at all, or did the grip of the gloves become slippery when they got wet? We wanted to make sure things fit well and weren't too big or too small. We wouldn't want the product to get in your way from playing a round of golf.
Golf Rain Gear Reviews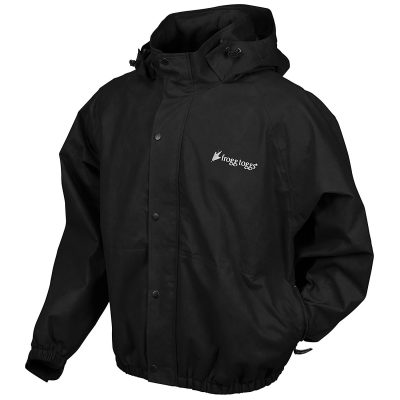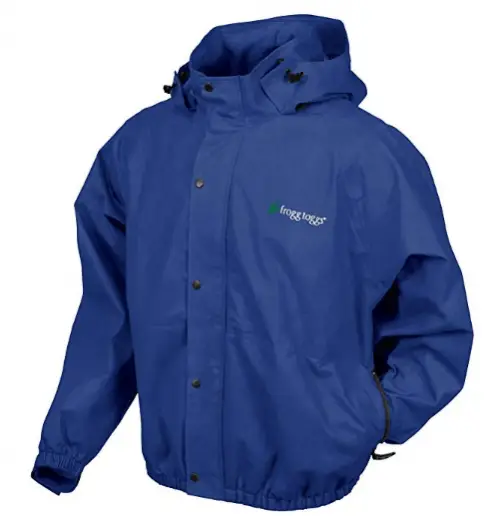 Staying dry is important whether you are running, golfing, or outdoor hiking. The reason being is that you cannot only be extremely uncomfortable, you can actually get really sick. Therefore, the first item on the list is one of the most important items that a golfer can buy when it comes to golf rain gear. This is the Frogg Toggs Classic Pro Action with Pockets and here are two unique features of this item.
Read more
The material design of this item is known as 100% polypropylene, which is highly water resistant and extremely durable. With that said, this item includes snap-shut storm flaps to prevent heavy wind from getting inside. Alongside this, it has a fully adjustable hood that is comfortable, durable, and matches the material quality and consistency to offer maximum sun protection.
Ultra-Lightweight Design
Alongside these cool features, this item has a very lightweight design that ensures individuals will be comfortable all day long. Although it is very durable, it does not sacrifice the lightweight and breathable material quality. This item is intended for rain, not for the cold. Therefore, it can get very cold with it. But, if you want a golf product that you can golf during the rainy season, we recommend this product.
Cost and Value
To talk about a bit of cost and value for this product, we believe it is very durable and worth a person's consideration if they are wanting to stay dry while golfing. Not only is it made by a trusted company, but it offers maximum protection against wind and rain. For the price, it is highly worth it and priced very well. There are also five different color choices to choose from.

2

. Classic Accessories Cart Enclosure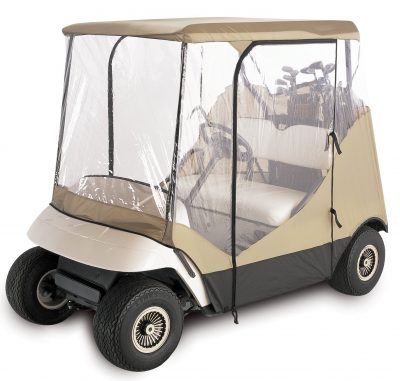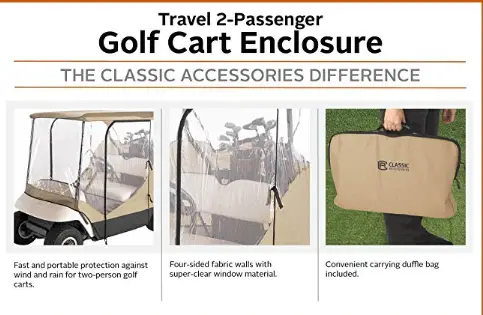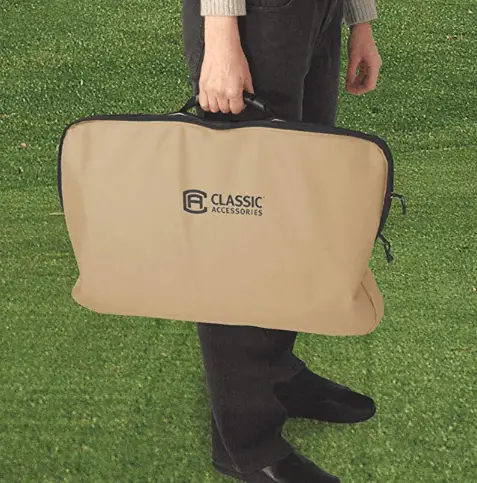 This next item is one of the best golf rain gear items we can share on this list. Let's say you have a golf cart and you happen to want to use it during the rainy season, how do you protect yourself from the rain? Well, the Classic Accessories 72052 Fairway Travel Cart Enclosure comes in handy for a reason. Here are two unique features of this quality product that we want to discuss and share.
Read more
Materials
This particular item is made from some of the best and most durable fabrics in the industry. The fabric happens to be a weather protected fabric that is treated to repel water and ensure maximum dryness and durability. With that said, the fabric wicks away moisture and is stretchy, won't shrink, or fade. Alongside this, if the fabric gets dirty, it is very easy to clean.
The Design
One of the coolest features of this product is the design. The design, in fact, has a zippered side-opening door design with clear PVC window structure. With that, an individual can ride safely and comfortable and protected from rain or ride with the windows and flaps rolled to the side to ensure more airflow and breathability. The zippered opening doors are on both sides of the cart enclosure so it is easy to get in and out.
Cost and Value
To determine whether the cost is worth the value, one important aspect that we took into consideration is the durability and the safety of the item. With that said, it has 4+ stars and plenty of reviews touting that this product is very durable and has a long life expectancy. Lastly, the price is knocked down by over 40%, so right now would be the time to get this product.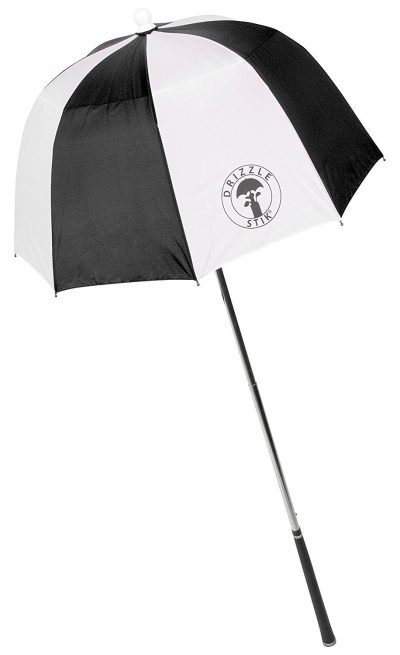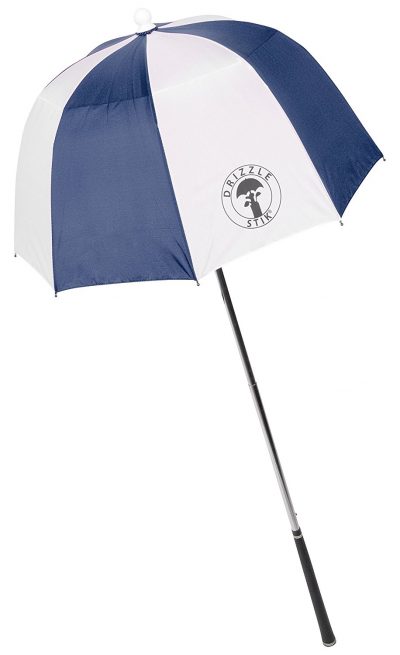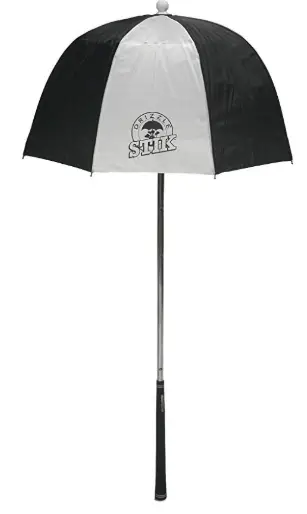 This next golf rain gear is one of the best because, to be honest, it is rather one of the simplest designs but highly efficient. If you want to protect your golf clubs from rain, but do not want to buy a rain hood, then we highly recommend the DrizzleStik Flex-Golf Club Umbrella, one of the best umbrellas in the industry for the price. Here are two features of this item.
Read more
What It Is For
This particular umbrella is different than most umbrellas. It is actually intended for golf club protection from the rain. The canopy design is large enough that it can go over the opening area of the club stand bag and offer protection against the rain. The 100% nylon material is highly durable and allows for all of the rain to wick away and be repelled. With this, an individual saves thousands of dollars of damage that may occur to the golf clubs and the stand bag.
The Design
This item is not only made of nylon, it actually has a canopy design that is patented and an inner layer of durability that ensures rip-resistance and protects golf clubs efficiently. Alongside this, the design has a spring top that allows for the item to pivot in any direction, so an individual can access the golf clubs easily and effortlessly.
Cost and Value
When we discuss cost and value for this product, we can see why it is highly beneficial. If you want to save hundreds or thousands of dollars from golf club damage, you will get one of these. For the price of two coffees, an individual can save hundreds. Lastly, this umbrella comes in five different color choices, so you can match it well with your stand bag.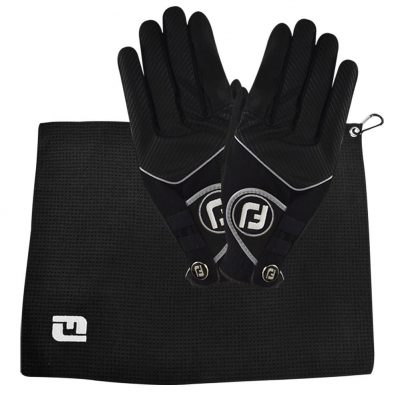 This next golf rain gear item is for men and women that want hand protection when on the course. Have you ever missed a shot because your hands were slippery? Did the rain hinder you from getting the perfect score? If it did, then you need the FootJoy Raingrip Gloves. These gloves offer maximum grip for individuals that want the perfect swing, even if it is raining. Let's talk about two cool features of this item.
Read more
QwikDry Knit
What is QwikDry Knit? This is the material that the brand has designed on the back of the gloves. The material quality of this item ensures that an individual gets maximum breathability and flexibility when wearing the item. Alongside this, this knit material is flexible and allows for quick drying effects if it is raining.
Great Grip
Golf gloves that are designed for the rain require a maximum grip. These particular gloves have one of the best grip designs available today. Therefore, an individual can ensure that they will be able to get the ball to the green in no time with this product. Alongside this, the gloves are designed from quality materials to ensure years of use.
Cost and Value
If you want to ensure that you never miss the green again because of slippery hands, these are the gloves to get. If you want a quality grip on your gloves during the rainy season, then we highly recommend these gloves. For the price, which is about the same as the umbrella, we believe they are worth it and well designed.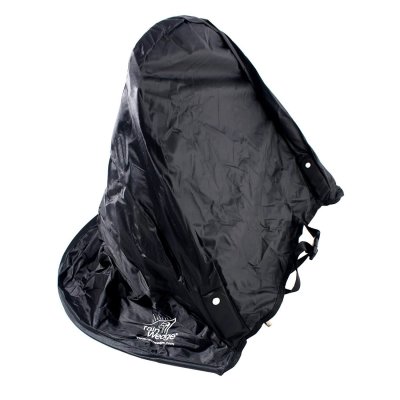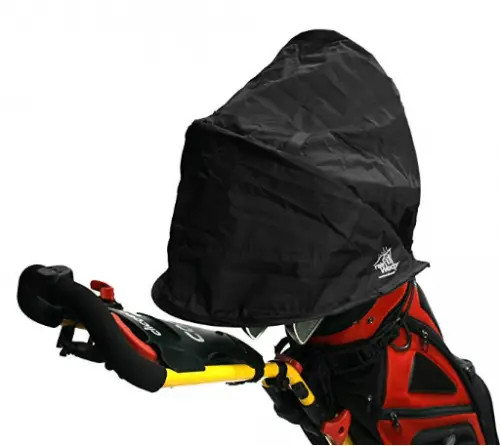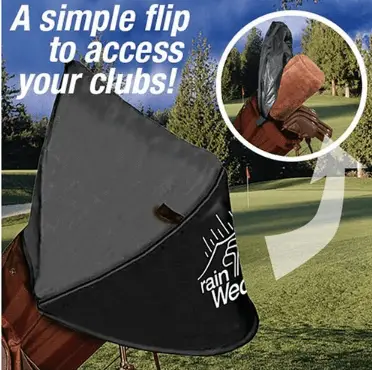 This next item on this list happens to be a quality item that is intended to save you hundreds of dollars' worth of damage. Much like the rain umbrella on this list, this rain hood protects your golf clubs from rain and damage. Let's talk about the Rain Wedge Easy Access Golf Bag Rain Hood and why the design is highly efficient and valuable.
Read more
Durable Nylon Design
The design of this products boasts a quality nylon construction that is highly durable. Nylon is known as one of the best material qualities in any industry, but this one is actually waterproof and also rip-resistant, making it ideal for wear and tear.
Retractable Design
So, how does this product work specifically? This particular item has a retractable design that ensures maximum quality protection and easy access to all golf clubs and gear. The design allows to easily detract when wanting to grab a club or other item. Alongside this, the 14" clearance allows for plenty of room for even the largest, heaviest, and bulkiest driver.
Cost and Value
So, what can one expect to pay for this item? Actually, this quality product has the same exact price tag as the umbrella and the golf gloves before this. With that in mind, it acts much like the umbrella, but individuals can really choose and decide which item they want the best and prefer. What we believe is that it is one of the best products when it comes to construction quality and benefits.

6

. Rain Tek Bag and Cover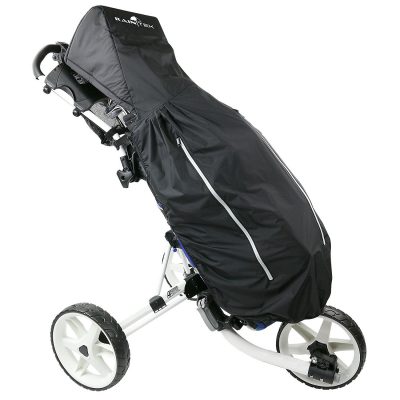 This next item happens to act much like the last, protecting your golf clubs, but it is large enough to actually protect a golf bag as well. This is the Rain Tek Golf bag and Club Rain Protection Cover and it is well designed, boasts many cool features, and it saves you hundreds of dollars' worth of damage. Here are two important features to consider.
Read more
Bag and Cart Cover
Unlike the umbrella or the hood, this item completely protects the golf club bag. In fact, this rain gear item easily protects two, three, and four-wheel and electric carts from the rain. It can easily attach to the cart to offer maximum durability and craftsmanship. Alongside this, an individual can benefit from the quality of this item and save a lot of dollars and headaches.
Pocket Access
One of the best benefits of this item is that they have designed it with quality zippered pockets for better access. Meaning, with this product, an individual can easily access anything because of one lower pocket and two side panels. This not only protects the golf clubs but it also allows for easy access to any item.
Cost and Value
The cost and value for this product are evident in the quality of the item. The value is found by protecting the stand bag and removing the potential for any water damage. Alongside this, the product does not cost a lot, only slightly more than an umbrella or hood, but it protects the whole golf cart from rain and damage while being very durable.

7

. CoverAllSports AllWeatherWare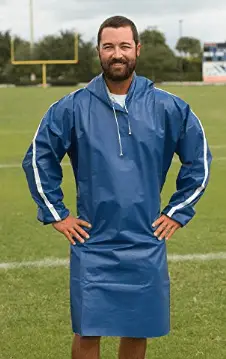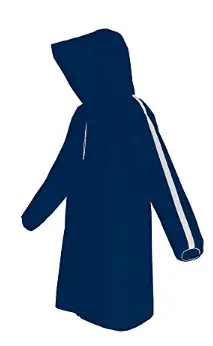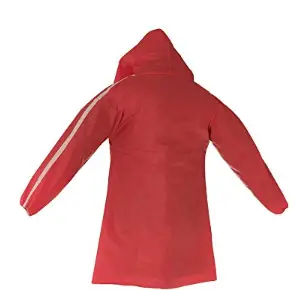 The next item on this list happens to be one of the best products from individuals that want full protection from rain. Designed for both men and women and reusable, this is the CoverAllSports Waterproof rain Poncho and we want to share two unique features of this particular product. Let's begin!
Read more
100% Waterproof Design
This particular product is made from a quality fabric that is completely waterproof and allows for all-day comfort. The design is an overhead poncho with arms that allows for an individual to be outside all day long even during heavy rain and weather. With that said, the material allows for moisture to wick off.
Highly Breathable
When it comes to the breathability of this product, we think it is one of the best when it comes to comfort. The interior lining is comfortable while also allowing a lightweight and breathable approach to the item. Lastly, the whole poncho is reusable and it can be easily cleaned.
Cost and Value
As we discuss cost and value for this item, we believe that it is highly durable and well worth the price for golfers that plan to be in rainy weather while golfing. For the quality and the fact that it is reusable, it is worth the price and can easily be stored inside your golf cart bag.

8

. Callaway Thermal Gloves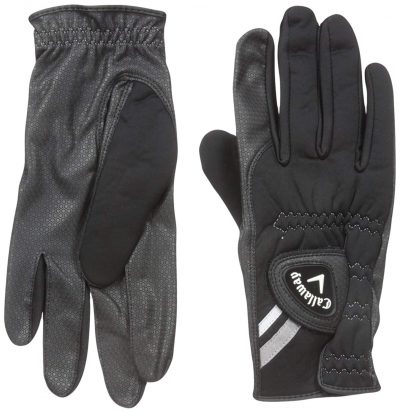 Now that we have talked about many different items, we want to touch upon a quality brand known for excellence and value. Let's talk about the Callaway Men's Thermal Grip Gloves and what individuals can expect from these quality gloves today. If you want maximum protection in the rain and quality grip while golfing, we recommend these guys. Here are two points to consider.
Read more
Digitized Synthetic Leather Palm
Other than the fact that this brand is known for excellence, we can say that these gloves are one of the best when it comes to design and the grip. The digitized synthetic leather palm is improved for wet conditions and allows for individuals to easily be able to hold onto their golf clubs and grip when wet.
Adjustable Closure
Part of the quality design of this item is that it has an adjustable closure design that allows for a perfect fit every time. The design is light, secure, and comfortable while also being very thin. Alongside this, the closure allows for a snug fit so water cannot enter the inside of the glove.
Cost and Value
Let's talk a bit about the cost and value for this item. It is not only made from one of the best and most trusted brands in the industry, It is designed for comfort and water repelling benefits. The grip is well designed, and the gloves are highly durable. They come with an ambidextrous hand orientation or for left-hand use. For the price, they are highly underpriced considering this brand is very expensive

9

. Under Armour Storm Suit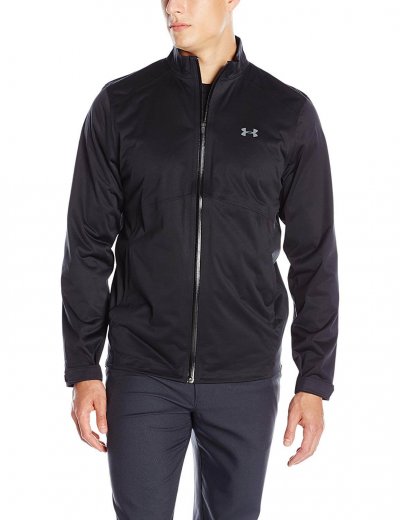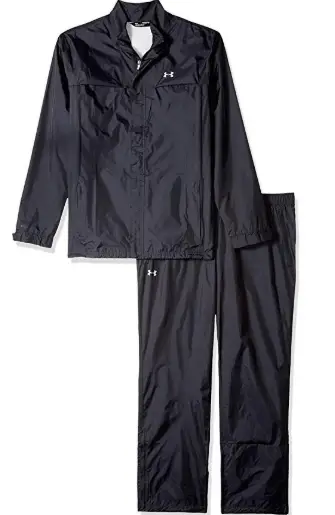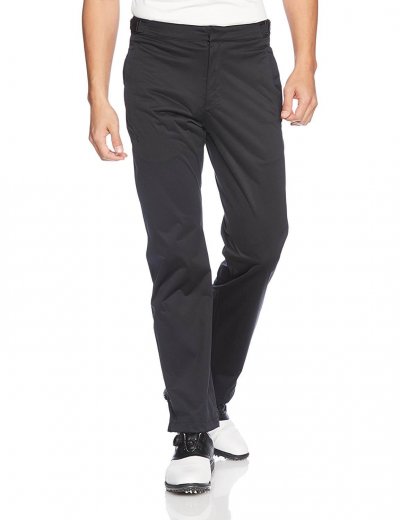 Now that we have introduced a quality brand that is world renowned, we want to share another quality brand that is known for their expert products and style. Not only are they one of the leading experts in the sportswear industry of men's products and gear, they are also touted for their masterful quality. Let's talk about the Under Armour Men's Storm Golf Rain Suit and what individuals can expect when it comes to the features of this item.
Read more
The Mesh Lining
Part of the quality of this item is the lining. This product has a mesh lining interior that is high quality, designed for comfort and is highly breathable. This allows for golfers to gain the many benefits of a water-resistant suit without being overpowered by heat. The mesh lining allows for better airflow to keep the individuals comfortable.
UA Storm Technology
This brand is not only known for their quality products and activewear gear, they have developed some of the coolest and innovative technologies. For instance, they have the UA Storm Technology, which happens to be a quality technology design that ensures the suit is water repellent and also lightweight. Not only that but it is also durable enough to be rip-resistant.
Cost and Value
So, how much does this quality suit go for? Considering that it is one of the best brands in the industry for activewear, it is well priced. Yes, it is one of the most expensive items on this list, but unlike other items, this product offers total body water protection. For individuals that want maximum protection when golfing, we recommend this quality item.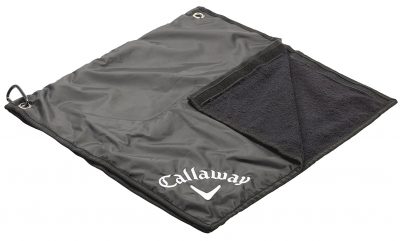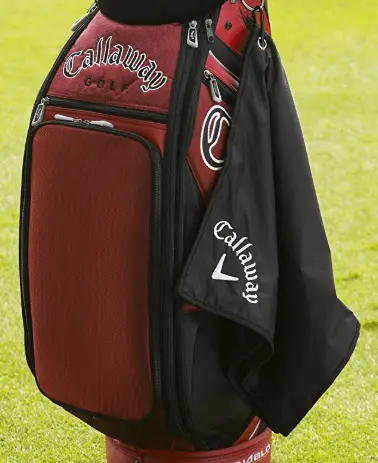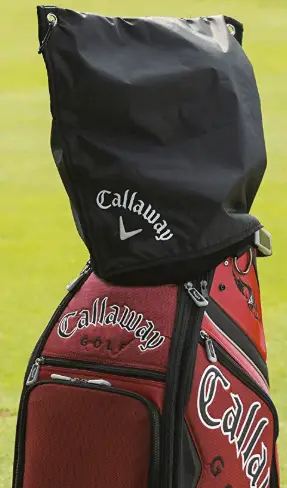 As the last item on this list, we want to include a quality rain hood towel made by one of the best brands in the industry. Callaway is known for producing some of the best quality gear to date and we believe that they are worth all of the recognition. This product is somewhat simple, but highly beneficial if an individual wants a blend of a rain hood and a golf towel. Here are two unique features to consider of the Golf Rain Hoof Towel.
Read more
The Exterior
How does a towel act as a rain hood? Well, the exterior aspect of this item is made from a waterproof and highly durable nylon material. With that, it can easily be slipped over the top of many golf bags to act as a rain hood. The nylon wicks away moisture and protects the golf clubs and bag from water damage and rain.
The Interior
How does a rain hood act as a towel? Unlike the exterior, the interior is actually made from cotton and it easily keeps all golf clubs dry. With that, an individual can easily and effortlessly use the interior to dry golf clubs. Alongside this, it has a carabineer clip that easily and effortlessly attaches to a golf bag.
Cost and Value
As we discuss cost and value, this product is highly efficient and beneficial for the daily golfer that wants to protect his or her golf clubs and stand bag against heavy rain. With the benefit of a towel interior, individuals can also wipe off excess sweat or water from their clubs or themselves. For the price and the fact that it is a trusted brand, we believe this is a great deal.

Subscribe to our Newsletter