Best Golf Putters Reviewed and Rated for Quality and Performance
In a
Hurry? Editors choice: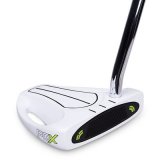 Test Winner: Pinemeadow PGX

Golfing
is, for the most part, a highly improvisational sport. There's nothing about the game that makes anyone club absolutely vital to your success in it. There are limitations and regulations, such as only carrying up to 14 clubs. But which 14 clubs you carry is up to you. Don't like woods? No worries–stick with the
hybrids
and irons. But the one club that you'll find you can't do without, no matter which way you look at it, no matter how creative you try to get, is the putter. As with anything else in life, you have to know what you want and what suits you before sifting through your options. This list of
best golf putters
was compiled to give you the knowledge you need to make the right decision.
Standout Picks
Criteria Used for Evaluation
Loft
Loft
One thing that may surprise you–if you're a beginner–is that the clubhead doesn't rest squarely on the ground. You would think it would, considering its purpose is simply, in crude terms, to tap the ball into the hole over a distance of a few feet. But you'd be wrong. It actually has a small amount of loft. The loft is regulated. It cannot be more than 10 degrees. But usually, it falls around three degrees to five or six degrees–that said, do make sure to verify the loft angles of each of the golf putters on this list, as they're not all the same. Some even go as low as 2.5 degrees! In any case, the point is that lofts are purposely more than 0 because the idea is to be able to lift balls out of situations in which they are depressed without having it be obstructed.
Face
Face Balanced
Depending on your handicap, you may want to limit your options to certain kinds of these clubs. A face balanced club is one whose face is parallel with the ground. That means that the face balanced style is great for those with mid to high handicaps. For these handicappers, the suggested solution is to use the straight back-straight through approach; and for this approach, the face balanced style can't be beaten. This is because, on face balanced golf putters, the center of gravity is below the axis of the shaft, which means that on the backswing, the club will open less. Concomitantly, on the follow through, it'll close less. The theory is that this will help reduce mishits and help keep putts in line.
Face types
There are three types of face types when it comes to this style of club. The metal, the insert, and the grooved. Each of them has their own benefits–again, it depends on your needs and what you want out of the game. All three types are included on this list. All you have to do is look for them and do your homework. The metal faced type was traditionally constructed with steel. But other metals have been used–and continue to be used–as well; metals like copper, zinc, aluminum, brass, bronze, and titanium. You'll find some of these on the list. The metal face is for the more intuitive player. The player will be able to find the center of his/her club by the noise the metal face makes alone upon impact. Some metal faced type clubs even come with milled patterns–indeed, there are a couple on this list as well–which supposed to improve consistency as well as topspin.
Then there's the insert faced ones. The insert faced products are like the metal faced one, except the metal face has been replaced with a lightweight non-metal material. Some prefer this option because it allows for the calculated redistribution of the weight–weight can even be added to the heel and the toe of the club. This has the potential to increase forgiveness.
Then, of course, there are the groove faced products. These are basically the metal faced type with milled patterns. The only reason they deserve a separate mention is that these days even some insert faced putters are being designed with grooved faces. Whether they help or not is, of course, up for debate. Some argue, with some validity, that the strokes that require putters–the short-range shots–aren't fast enough to utilize any of the intended benefits of the grooves. In other words, the ball does not have a chance to sink into the grooves. But others, of course, swear by them. You may have to do a little experimentation to see what you like and what fits your style best.
Golf Putter Reviews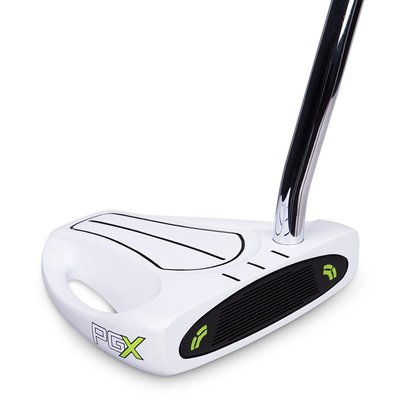 This is the number one golf putter on our list. Great for both beginners and pros alike. It features a white finish that'll contrast sharply against the green, so to promote better alignment. It also promotes a silky smooth forward-spinning ball right at impact, with less skid to boot. This will offer you much-needed stability for those short-range shots.
Read more
Precise white finish
This may not seem like much to you. It may even seem like a matter of preference. But the white finish of the PGX is an absolute boon, especially if you usually have problems aligning and you need help ensuring that the golf putter is on target right from the start.
Tour-weighted
The total weight of the PGX putter is about 380 grams; 40 grams are added to the mallet, which serves to promote better performance on so-called faster greens. If you're experienced, you know that putting on faster greens is akin to putting on a polished wood floor--it's hard. With the PGX putter, however, your odds just increased and you might find yourself actually enjoying it.
Cost and Value
This is number one on our list for a reason. It's neither expensive nor cheap, but it is in fact very durable and functional. It doesn't cost nearly as much as the most popular professional brands, but it does the job they do equally as well. In short, it's a great buy and highly recommended.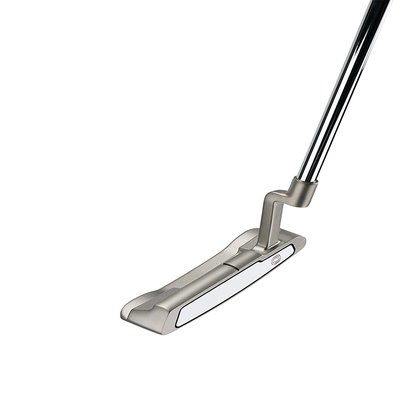 This is an excellent choice for the advanced player. It's designed to improve not just the feel of the golf putter, but the sound upon impact as well. There's nothing more distracting than an annoying sound every time you hit the ball. And its designed also to promote better performance across the face. In addition, its tour-proven head shape guarantees you'll feel more confident at address. The lengths of the shaft range from 33" to 35" and it has a loft of about 3 degrees.
Read more
Improved Sound and Feel
If you're an experienced golf player, you know how much this matters. To the layman, it may seem like a small issue. But it's much like trying to play basketball with a ball without a grip; or a ball that's deflated. Even a slightly deflated ball will set your rhythm off course--you'll feel something wrong every time it hits the ground. The same is true for golf clubs.
Improved Performance
Putting may seem easy to those who don't know. It's just tapping the ball into the hole, right? It's only a few feet--how hard can it be? The answer is very. With the wrong putter, the ball can curve or bounce or fall short or go way too far. With this putter--with its improved feel and sound--you'll feel confident in your shots every time.
Cost and Value
This may be recommended for pros, but it isn't so expensive. It's not cheap by any means, either--but it's not expensive. In fact, it's reasonable enough for an intermediate player, or even a beginner, to take a serious look. All in all, a good, solid buy.

3

. TaylorMade Golf Spider Putter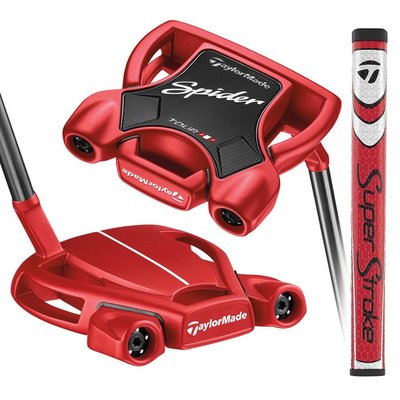 This is another excellent option for the professional--more so than the first two golf putters on this list. It's great for the professional and for anyone serious about improving their game. The Spider Putter by TaylorMade was specifically designed to improve performance and increase forgiveness upon impact. Its perimeter weighting feature actually serves to increase accuracy in the event of mishits. It even features an alignment line on the top to help you get started.
Read more
Pure Roll insert
This putter is unique to the TaylorMade brand. This combines soft polymer with 45 degree grooves to promote better feel and even topspin. Topspin means that the ball starts rolling much quicker so that you gain better distance and better control in regards to speed.
Alignment line
Does this need any explaining? How helpful is that? It removes guessing from the equation. Because of this alignment line, you're the only job is to take care of your vision--as long as you can accurately line up the ball to the line, you're ahead of the competition.
Cost and Value
Oof. This is an expensive one. There's no other way to say it. But if you're looking for professional quality material, you can stop right here. TaylorMade is a huge and very respected brand in the world of golf, and it's known for making quality products that endure. In the end, you have to know what you want; if its professionalism and looks and a trustworthy product, this is your putter.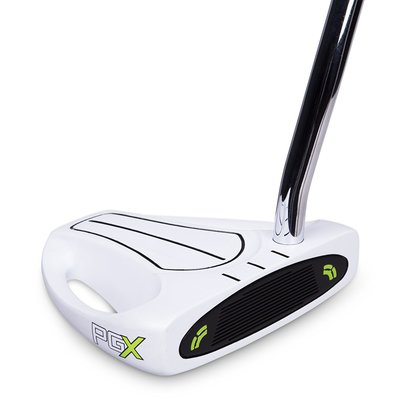 This is actually about the same as the first on the list. The only difference is that it's for women instead of men. That means, basically, that its length is shorter. It's only on this list to dispel any confusion and to make it easier for women who are interested to find what suits them quickly--most products on here are designed specifically for men. Either way, whether you're a man or a woman, it still features a white finish that'll contrast sharply against the green, so to promote better alignment. It also promotes a silky smooth forward-spinning ball right at impact, with less skid to boot. This will offer you much-needed stability for those short-range shots.
Read more
Precise white finish
This golf putter may not seem like much to you. It may even seem like a matter of preference. But the white finish of the PGX is an absolute boon, especially if you usually have problems aligning and you need help ensuring that the club is on target right from the start.
Tour-weighted
The total weight of the PGX is about 380 grams; 40 grams are added to the mallet, which serves to promote better performance on so-called faster greens. If you're experienced, you know that putting on faster greens is akin to putting on a polished wood floor--it's hard. With the PGX, however, your odds just increased and you might find yourself actually enjoying it.
Cost and Value
The women's version of the PGX is actually cheaper than the men's version. As far as these clubs go, this is a steal--ideal for the beginner, or for the layman who's just looking for a good time out on the golf course and doesn't want to spend an arm and a leg to have one. A good buy, to be sure.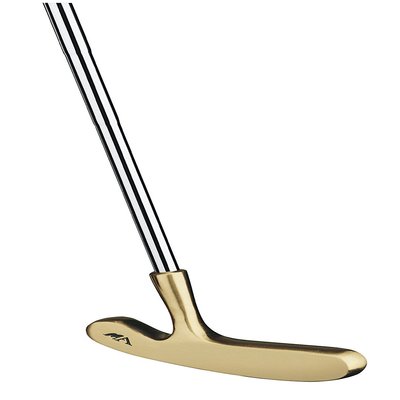 But maybe you're really a layman--really just a guy out on the golf course who realizes that without a club, you're not going to be doing much but swinging your arms around in the air. So you decided to buy one of these clubs. But you don't want anything that'll make you notice it in your pockets. If that sounds like you, then these golf putters are the models for you. What's more is that the Augusta Golf by Wilson is totally interchangeable between hands--meaning whether you're a left-handed player or a right-handed one, this is just what you need.
Read more
All-weather grip
You probably prefer going to the golf course when it's sunny out and the sky is blue. Maybe you'd like a gentle breeze to keep you cool as you play and converse with your buddies. But life isn't always perfect and it doesn't always go according to plan. If it ends up being a wet day or a humid one, you're going to appreciate the all-weather grip that the Augusta Golf offers. Because of it, you'll experience less slippage and more control, and thus more accurate.
Brass-blade head style
A lot of the products on the market today come with a plethora of extra features--many of these features are incredibly helpful and aid you to promote accuracy, precision, and increased performance. But you might be a more simple man. Or a man who prefers the traditional way of doing things. If so, look no further--you've found your product!
Cost and Value
If you're looking for a club that's just a golf putter and no more, there's no better buy than the Augusta Golf by Wilson. It is absolutely among the cheapest quality out there on the market. It's marketed to all players, regardless of skill level--but most of all, it's great for the recreational player, the layman, or someone who really doesn't feel like plunking down a fortune just to hit a ball around.

6

. Ray Cook Silver Ray SR500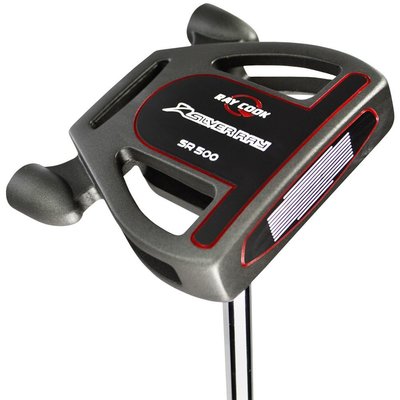 And now we get back to things for the pros. This Silver Ray SR500 by Ray Cook Golf has been tour weighted and balanced; that means it promotes a soft feel and offers excellent consistency to your putting game. Do you need more convincing? The Silver Ray SR500 has actually won more than 200 PGA events as well as each of the four majors. Is that enough said? Definitely.
Read more
Mid-size grip
Maybe you've never given grip much thought. It's time to break out of that habit--now. Larger grips offer more control for some players. This is especially relevant for players with arthritis or some other chronic hand or arm condition that actually gets exacerbated with regular clubs, due to the shocks or vibrations upon impact or mishits. It even helps otherwise healthy players who have problems controlling the trajectory of their shots. The mid-size grip, while not the end all be all of all hand and trajectory problems, will do its part to improve both situations.
Tour weighted
When a company markets its products, it's going to do so in the best possible light. You should always be on your guard. They'll never tell you what's wrong with their product, or what features are missing or what areas could be improved. For that, you'll have to rely on customer testimony. In the case of the Silver Ray SR500, you have a track record of success--winning more than 200 PGA events is no joke, and this fact should be weighed into your decision-making process.
Cost and Value
You might be thinking that because of its track record and the fact that it's recommended for pros, it's going to be extremely expensive. But ease your worries. It's not expensive at all, especially for a professionally proven club. In the end, if you're a beginner or a pro, you'll like what you get here, as well as how much you get it for.

7

. Pinemeadow Golf Site 4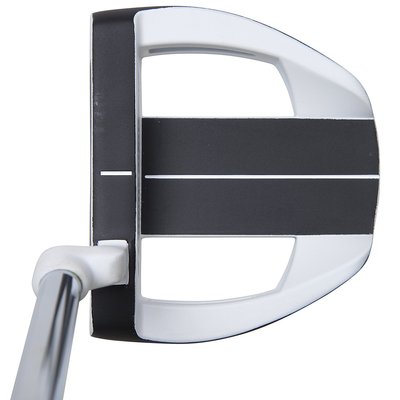 As you can probably tell from this list alone, Pinemeadow is a company that specializes in creating quality golf equipment for an unbelievably affordable price. Its Site 4 is no exception. With its signature Pinemeadow Spider Grip technology, the golf putter feels firm and comfortable in your hand. It also works overtime to absorb shocks upon impact and in the event of mishits. Its oversize site plate also works to increase your accuracy and thus boost your performance significantly.
Read more
Lower Center of Gravity
If you're new to the game, you probably have no idea what this means. Or maybe you know, somewhere in the back of your mind, that it has to do with weight distribution. But its significance alludes you. No problem--we've all been there. Just remember that the center of gravity position matters greatly in the game of golf because it affects every facet of performance. The lower center of gravity on the Site 4 helps you to maintain control and keeps your strokes smooth and balanced.
Offset Hosel
The hosel is the area in which the shaft of any golf club meets the club head. This particular product is an offset one, which means that the hosel is bent so that the clubhead is set behind the shaft. This is an absolute must if you're having trouble at the start with your alignment.
Cost and Value
It's a Pinemeadow golf putter. There's not much else to say about it. It's cheap, yet durable. Inexpensive, yet quality. It's great for the beginner and the intermediate player, but pros can use it as well. For what you get, really, there's not too many better options out there in the market.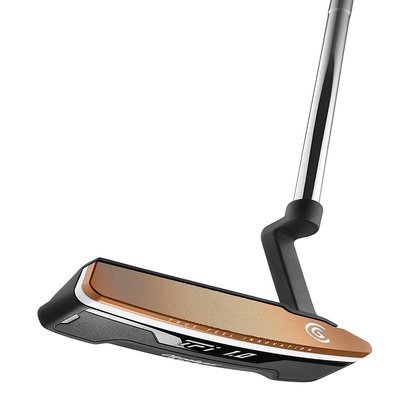 And now we're back to the stuff for the pros or for people really serious about improving their game. Maybe you still have alignment issues despite your experience. Or maybe you're a perfectionist and want your alignment to be absolutely perfect at the start. A lot of modern golf putters come with alignment lines, but the TFI 2135--a Cleveland putter, so you know it's worth looking at--takes it to a whole other level. It's actually designed to be effective from any address position, so if you're really looking to improve your game, and mitigate any off-center hits or straight out mishits, you should really pay attention to the features the TFI 2135 offers.
Read more
2135
2135 is the name Cleveland designated for its unique alignment technology. Where most alignment lines are the bottom of the putter to improve accuracy, the TFI 2135 raises that line to 21.35 mm off the ground. This is to match the radius of the golf ball. The idea is that the normal alignment placement is only good so long as you're gaze is directly over the golf ball, but this isn't always achieved or achievable. Sometimes eyes play tricks on you. This minimizes those risks and ensures unprecedented accuracy.
Cleveland grip
If you've been in the world of golf for any time at all, then you've no doubt heard of Cleveland's superiority in terms of quality. The TFI 2135 comes with Cleveland's trademark grip, which prevents slippage and improves--drastically--your control. This, in turn, promotes much better performance. Quality all the way through.
Cost and Value
This is on the more expensive side. It's not the most expensive product on the list, but it comes close. Remember though, there's no better security than brand recognition--and Cleveland has it. That means that if you're willing to spend the money, you can rest assured knowing you'll be receiving a great product, a superior product even.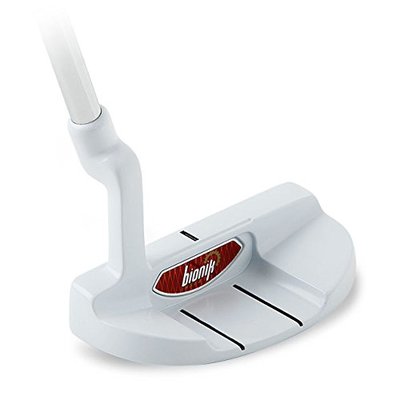 Last on the list is decent, but the basic style club. It's on the list mostly because of its affordable price and it's a striking look. It's designed with high optic Nano white paint scheme that serves to make it look like an item from the future. If you're in the market for something cheap yet sleek-looking, this should be a no-brainer.
Read more
Milled Face
This is also one of the only milled face items on this list. The pattern is that of a honeycomb. This is for those people who want more spin on impact. This ensures enhanced performance on your short range shots and can really help a beginner master his or her game.
Rubber Grip
For a more fluid and consistent putting stroke, a grip is an essential feature. It could make or break you. In this case, the rubber grip is light and easy on the wrists, allowing for more control and thus better accuracy on your shots.
Cost and Value
This is last on this list for a reason. It isn't expensive by any means, but for a club that doesn't offer much besides its unique look--which is, admittedly, something in itself--it's not priced as low as it probably should be. Still, it's a good one that does its job, and it's aesthetically pleasing--if that's all your looking for, this isn't a bad choice.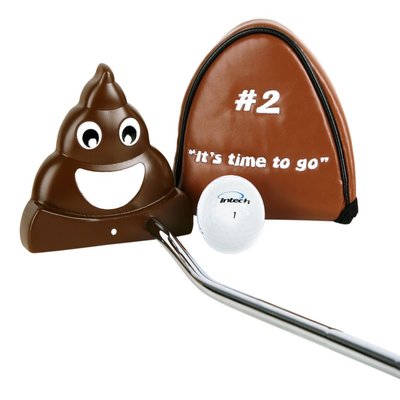 Now here's something for the serious layman--the person serious, almost too serious, about having a good time. The club head is one big emoji-style pile of poop. That's right, a pile of poop. And not only is it hilarious, but it's also functional. The club head--despite its poop shape--is actually designed to be forgiving and promoting of smooth shots that leave no skid marks.
Read more
Gag factor
This so-called Poop Putter is on this list almost entirely due to its funniness. Just imagine you're out on the course and things are looking bad. All your shots suck, and for whatever reason, you can't seem to hit for...crap. So you pull this bad boy out. All your friends keel over laughing. They gape at you incredulous that you're stepping up to the ball with a club-shaped like poop. Then it hits them: you're actually going to use it. You're crap anyway, they yell at you. It's fitting! And then you sink the ball. And everyone shuts up.
Face-Balanced Mallet Design
Don't be fooled, like your friends in that scenario. It may not look it but it's a decent club. It's nothing special and certainly not recommended for pros or anyone really trying to improve their game. But it's one and it works. So if you want some hilarity with a whole lot of functionality thrown in for good measure, this is for you.
Cost and Value
Let's be honest: an item that can't be seriously used shouldn't cost serious money. This one doesn't, so that's a good thing. It's not the cheapest item on the list, however, and that might be baffling to some. It's a forgiving club, and a funny one at that--so if that's what you're looking for, it's a solid buy. But if you're actually looking for the cheapest putter you can find, this poop one is one for the dumper.

Subscribe to our Newsletter