Best Golf Push Carts Reviewed & Rated for Quality
In a
Hurry? Editors choice: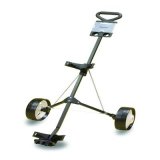 Test Winner: Jef Deluxe Steel

You have your golf balls. You have your clubs. You've got a bag to carry those balls and clubs. That means you're all set right? Stuff them all in a stand bag–those are great–and get to play. But what happens when you get tired?
Well, the solution is simple: stop carrying and start pushing with a push cart! It's much safer and much easier to use one than to carry your
equipment
around. And not only that, it offers physical benefits too. It'll prevent muscle fatigue and take all the pressure off of your spine. To help you find a place to start, we've compiled a list of the best on the market today. See our top 10 choices below.
Standout Picks
Criteria Used for Evaluation
Ease of Use
Ease of Use and Maneuverability
This is what it's all about, isn't it? If the golf push cart is hard to maneuver, then it's worthless. If you've already gone through the list, you'd have noticed that the number of wheels a product is designed with differs from cart to cart. Most of them designed with three wheels. One of them with four. And one of them actually only has two. The number of wheels matters less than the overall design of the pushcart. For example, if it has two wheels, the two wheels must be placed far apart from each other, to give it stability. If it has three wheels, you may want one in which the front wheel swivels. That can potentially help you navigate much more effectively. But then again, if you're traversing rough terrain, its swiveling effect might hinder you if every time you hit a bump, the wheel is forced this way or that. In that case, you may choose to opt for a front wheel that's locked straight.
One more thing to look out for is the brake system that each product features. There are two kinds: a foot brake system and a hand brake system. They're both effective, but some may be more comfortable with a hand system, while others prefer the sense of security of reaching out to the actual wheels to lock them. Again, what you choose depends on your preference.
Features
Storage Features
This is another big factor. You have to pay attention to the bag-holding mechanism of each individual cart. You should closely examine the quality of the straps each product is designed with as well if any. These straps are supposed to hold your bag–and equipment–in place. The problem is that some are adjustable, while others are not so much. If they are adjustable, that means you can feel secure in knowing your bag will stay in firmly in place. If they're not, you may have issues, depending on the kind of bag you own or are planning on using.
As for other kinds of storage features–you may think that it doesn't matter whether or not it offers storage features at all. You only need it to hold your bag, right? Hell, you could just put all your necessities and accessories in that bag! True, you can do that. You can also carry them around in your pockets or a plastic bag. But that's not the point. It's all about convenience. Reaching for a ball doesn't have to be a three-step process; it could just be one. The same goes for your water bottle. Or your gloves. Or your cell phone. Or the scorecard. And on and on it goes. The bottom line is, you can live without storage features, sure–and there are some on the list that might suit you. But if you're already spending money, why not get the most bang for your buck?
Value
Cost
And of course, there's money. The bane of humanity. But it's an essential part of our daily living, and of course, we should be concerned with it. The products on this list were chosen in part for affordability. There are some fantastic, budget-meeting items on this list. And there are some that are more expensive. Either way, the aim was to help you choose a product that is actually worth it–regardless of the price. Even the lowest priced items here are durable. They may offer fewer features, sure, but they'll do what they're supposed to do. That is, you'll be able to push around your bag and equipment without putting pressure on your back. The highest priced items on the list so much more than that; they offer you convenience and brand name assurance. The choice is yours.
Golf Push Cart Reviews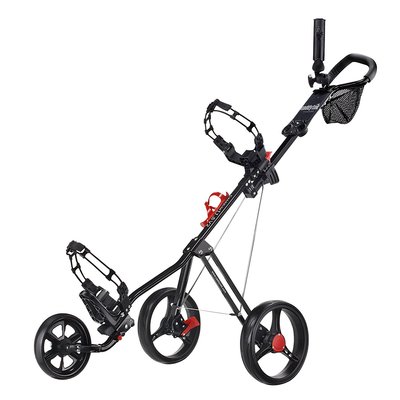 Number one on our list is a great golf push cart that's great for the recreational golfer; someone who doesn't want to go spend too much but does want something that actually works for a long time. CaddyTek's SuperLite Deluxe Push Cart is very lightweight, weighing less than 12.2 pounds. It includes an umbrella holder, a beverage holder, and even a mesh net for your convenience. Don't overlook these little things--some golf push carts are so basic that they don't have them! If you want proof that this push cart is built to last, simply peruse their warranty policy. If the company is willing to back up their claims for an entire year, then you know they're serious.
Read more
Patented Bag Holder Design
If you're an experienced golfer, with experience using different kinds of push carts, you know that not all carts are created equal. You only buy these things to carry around your equipment--if they can't do that properly, then what good are they? Believe it or not, some can't even hold your bag securely. With this push cart by CaddyTek, you won't have that problem.
One Year Manufacturer Warranty
Again, if you're trying to figure out whether a product is worth it, or if it's just over-hyped garbage, then look no further than the manufacturer of that product. If the manufacturer is willing to place their reputation on the line, it's one thing--some people just don't care what you think. But if they put their money on the line...well, that's something else entirely. At the very least, it's something to chew on.
Cost and Value
Best golf push carts, in general, are quite expensive. They're built to carry a lot of things, after all--making them certainly can't be cheap. But as far as prices go, this push cart by CaddyTek is on the cheap side. In other words, it's affordable. It's also durable and highly functional, and very much worth the money.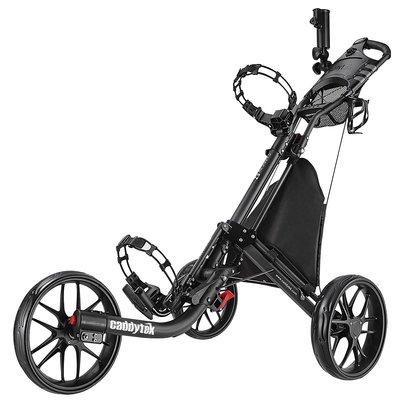 Another great push cart from CaddyTek. This one comes in four different color schemes; you can choose based on your aesthetic tastes. This is much more expensive than number one on the list, but it also offers more features. One of those is a one-click mechanism that allows you to fold the push cart in two simple steps. In other words, the process becomes streamlined, instead of a nuisance. It's also weightier and thus stronger--it was designed with an aluminum frame, weighing just under 18.5 pounds.
Read more
Storage Rack
Nothing worse than a useless push golf cart. If you can't hold your bag or any of your other equipment in your push cart, then all it means is that you've just wasted a ton of money--because push carts sure aren't cheap. With this push cart by CaddyTek, you get space not just for your clubs, but for your accessories and your drink and extra golf gloves and anything else you might want to keep within reach while out on the course.
Ergonomic Adjustable Handle
This is another feature that number one on this list lacked. Some push carts may be great in every aspect--they can hold things, nothing falls out of them so you won't lose anything, and they seem indestructible. But they're a pain in the rear end to actually maneuver. That defeats the whole purpose doesn't it? With this push cart by CaddyTek, you won't have that problem.
Cost and Value
This is a great push cart. That's why it's number 2 on this list. But it's not the cheapest one on the list. However, there are many push carts that cost much more than don't offer much more than this one does. All in all, for a quality push cart that costs a moderate price, you can't beat this deal.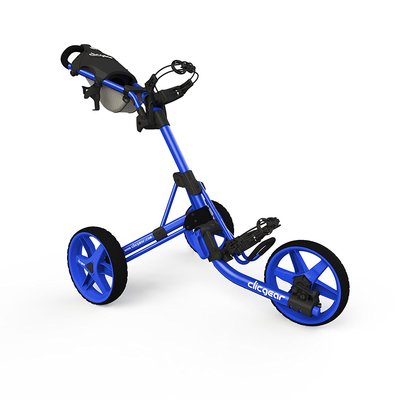 Here's a great push golf cart for those who are willing to spend a little money. It comes in eight different color schemes, so you can choose based on your preferences. It weighs about 18 pounds, so it's sturdy and can handle your golfing equipment with ease. And when you're done using it, simply slide it closed and stuff in your trunk. It folds to 13" x 15" x 24", so you won't have a problem on that front. So if you need a solid push cart, look no further--this one is durable and is sure to last you a long time.
Read more
Full Console and Accessories
There's room for anything you might need on the course. It has a pretty strong storage net in case you have an accessory you might want to bring along with you. On top of this, it includes a cup holder, ball holder, tee holder, and even a pencil holder--what's not to like?
Easy Clip Bag Straps
This push cart Model 3.5 by Clicgear can accommodate any bag. And whereas in many push carts, the bags you place in them can slide around or shift unfavorably, this one comes designed with adjustable straps that serve to keep your bag secure and firmly in place.
Cost and Value
Again, this costs a pretty penny. It's not the most expensive push cart in the world, but it's definitely not cheap. Whether it's worth it or not all really depends on what you're looking for. In terms of durability and functionality, you can't get much better than this--so if you're really looking for the best the push cart market has to offer, this is a great place to start.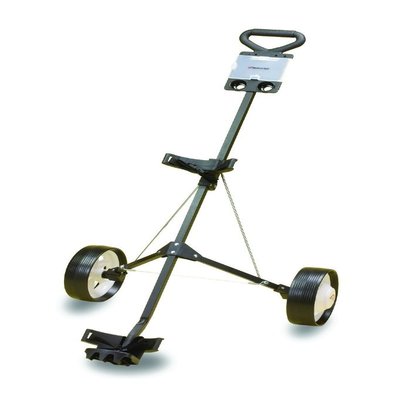 Maybe you don't care about anything but functionality. Golf is a like a mini vacation for you--not something you're willing to plunk down a fortune on. Well, look no further. You've just found a simple, useful, and highly affordable golf push cart right here. This golf push cart by Jef World is lightweight and sturdy and is incredibly easy to maneuver. Its two wheels are spaced widely apart, which gives it the stability you need to get around the course without a hassle.
Read more
Waterproof scorecard holder
Ideally, you go to the golf course when it's sunny out. When the skies are blue and the air crisp and clean. But sometimes things devolve. The air gets humid, it gets heavy. The skies darken. Rain starts pouring. It's just a little water, though, right? So you keep playing; you keep having a good time. And as you do so, you won't have to worry about your scorecard getting wet.
Contoured bottom
Even for such a basic push golf cart, this one offers a wide range of uses. It may not have the special features the more expensive push carts do--features like extra storage compartments, for example--but it makes up for it by allowing you to carry larger bags, larger bags that are stuffed with more things.
Cost and Value
As was said already, this is an affordable golf push cart. Not just affordable, in fact--dirt cheap. You'd be hard-pressed to find a push cart this cheap while still retaining quality. If you take care of it, it'll take care of you--and for a long, long time at that. In short, it's a great buy.

5

. CaddyTek One-Click Folding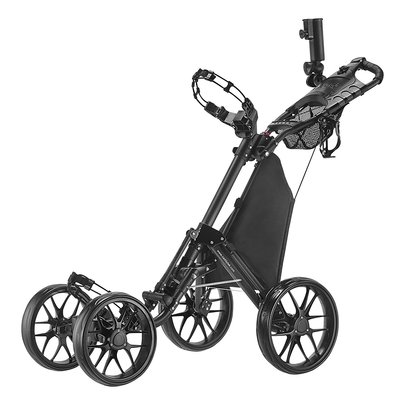 Here's another great push cart by CaddyTek. Unlike the rest of the push carts that we've seen on this list so far, this one features four wheels. This makes it easy to push and maneuver through any terrain. And despite its strong aluminum frame, it only weighs around 17 pounds--that means its heavy enough to be sturdy, but light enough to be easily carried around when you're through with it.
Read more
Mesh net
This push cart features a mesh net on the handle. This means that you can keep anything you need at a moment's notice within reach at all times. Instead of rummaging through your bag for things, you can simply grab them right from the top of the push cart itself. Now that's convenience.
Patented basket with a cooler
How amazing is this feature? On a hot, muggy, sunny day you might get thirsty playing your rounds. And drinking warm water might quench that thirst but it'll surely leave a lot to be desired. With CaddyTek's patented cooler technology, you won't have that problem.
Cost and Value
It's not cheap. But it's not the most expensive push cart on the market either. And for all of its perks, it may end up even being worth it. Because remember, you're afforded much more convenience with this push cart than with some of the more basic models.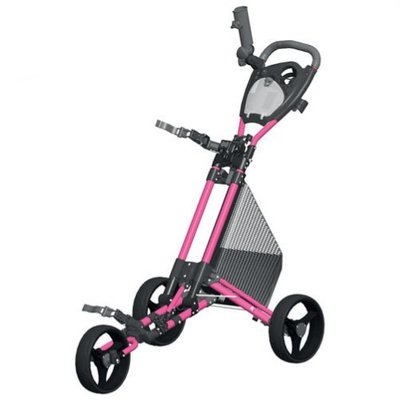 This push cart by Spin It is pretty basic but strong, durable, and very convenient. Its three wheels are airless--that means less time spent on maintaining them. Just snap it open and go. It actually features a one-click folding mechanism, so you won't be struggling with push carts that may offer way more resistance than they should to packing. It comes in two colors: black and pink.
Read more
Scorecard holder and drink holder
These are worth mentioning. The best golf push carts aren't cheap--and this one is no exception--so it's always good to know what features they offer that others might not. If you look through this list carefully, you'll see that not all push carts offer scorecard holders or drink holders or even umbrella holders for that matter. This cart does, giving you one reason to pick it over the others.
Airless tires
When you buy a golf push cart, you may not even be thinking of maintenance. But it's true. Most push golf carts require maintaining the wheels in order to prevent a precipitation of wear and tear. And they require keeping an eye on the air pressure levels of each tire because low air pressure will result in less maneuverability and functionality of the push cart. With this one by Spin It, you won't have that problem.
Cost and Value
As was said, this push cart isn't cheap. And it doesn't come with all sorts of special features. What it comes with is pure convenience and simplicity and demonstrated durability. In the end, it's a good purchase if you're a simple golfer, looking to golf frequently for a long time.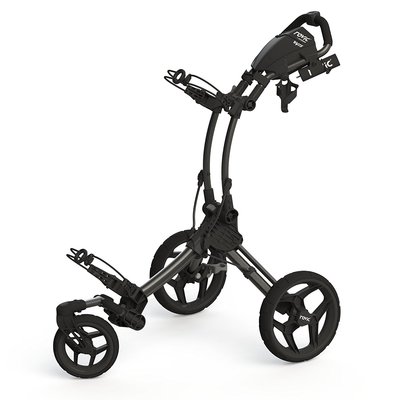 This is another excellent three-wheel choice. The difference between this one and the ones we've seen on this list so far is the fact that its front wheels swivel. This offers you better maneuverability. It's so useful in fact, that you can even lock the front wheel to go straight if you prefer it that way. Your options don't end there though: it also comes in five different color schemes. Overall, it's a great, light, durable golf push cart.
Read more
Foot-brake system
This just makes your life easier. Some may prefer a handbrake, but it may give you peace of mind to be able to directly lock the wheels by hitting a lever by the wheels themselves. You'll never have to worry about your possessions rolling off into the distance, into a pond, or into another person. Just push down on the pedal and the wheels will lock and the product will stay in place.
Front wheel
The front wheel swivels to allow you to move much more easily around the course. With other push carts, moving left or moving right may be a bit of a pain, considering the rigid way the wheels are constructed. With this golf push cart, you won't experience such a hassle--and remember, you can lock the wheel straight if it's really something you prefer. It's all about choices.
Cost and Value
There's nothing really special about the price of this push cart. It's not insanely expensive, but it isn't cheap either. In the end, it's all about what you prefer. If you like the look and want the durability and the special swivel feature this push cart offers, then it's certainly a worthwhile buy.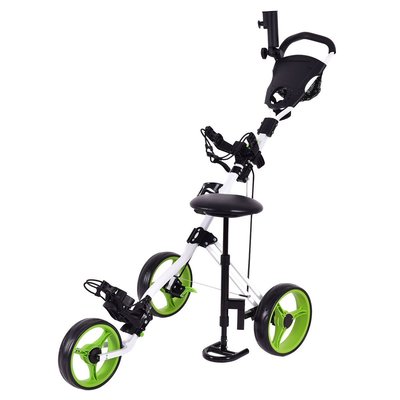 This golf push cart by Tangkula was constructed using a powerful steel frame. That doesn't mean it sacrificed a weight advantage, though--it still weighs less than 19 pounds. This also has a foot brake, but it has two levers instead of just one unlike some of the others on this list. That means it gives you extra peace of mind. It only comes in one color scheme though, which may or may not be appealing to you--that's something to chew on.
Read more
Removable wheels
One common complaint about this style of cart is that when you're through using them, and you fold them up and put them away, the wheels still roll. So that means if you toss one those in the trunk of your car, any bump you hit might cause it to shift this way and that. With this by Tangkula, all you have to do is remove the wheels--which is an effortless process--and voila! It stays put.
Steel construction
Superman was called the man of steel--you couldn't really hurt him. He was that strong. Well, this is the golf push cart of steel, built for longevity and to withstand the effects of time. It's sturdy, but still light--what else can you ask for?
Cost and Value
For all of its benefits--even some benefits that are unique to it--it's actually pretty cheap. It's not dirt cheap like some of the others on this list, but it's certainly not on the expensive end either. In the end, a great, quality buy.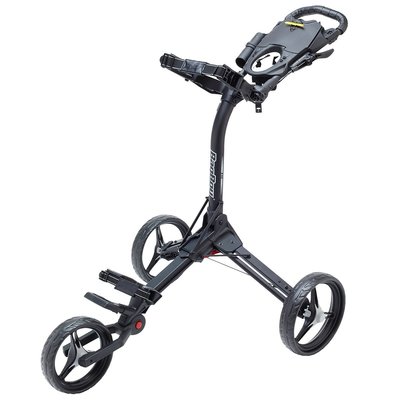 Here's a very sleek and modern golf push cart by Bag Boy. It's modern in the sense that it's been updated to incorporate new technology. It even has a smartphone holder built right in. It also features a handle mounted parking brake, which was invented to replace the more old-fashioned foot brakes. Of course, this is a matter of preference. What's also a matter of preference is the color schemes Bag Boy offers: you can choose from five of these. Additionally, it features 9.5-inch front wheels and 11.5-inch over-sized wheels. This helps tremendously in easier rolling through tough terrain.
Read more
Smart phone holder
When you go to the golf course, where do you usually put your smart phone for safe keeping? In your pocket? On your hip perhaps? These can obstruct your swing and even damage your phone. Maybe you've considered this, and you brilliantly decided to put it in your bag. But now you've got to rummage through your bag to fish it out when you need it. Well, those days are over: this is equipped with a smartphone holder, so you're phone will always be within reach, even as you play your rounds.
Golf Ball Storage
Here's another great feature that's as great as the smartphone holder. What do you usually do with golf balls? Store them in your bag right? Well that's fine, and that'll do, but why not make things just a little easier? Even if it really just a tiny bit easier. With the golf ball storage, this offers, your golf balls will always be within reach.
Cost and Value
Not cheap, not too expensive. That's about the be, in general, can be described. As was said multiple times already, in general, these aren't cheap products. And this one is no exception. But for the plethora of features, it offers that other golf push carts don't, it's a worthwhile purchase for sure.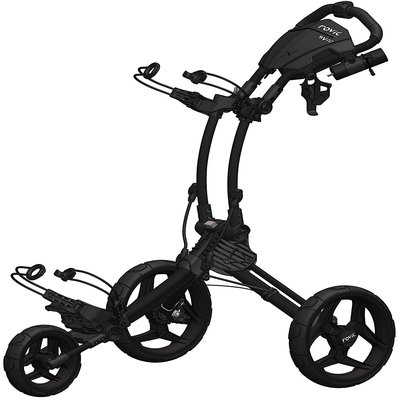 Here's another product from Clicgear. This is, basically, like a paired down, bare-bones version of number seven. It's a quality golf push cart, for sure, manufactured by a trusted and popular brand known for the quality products in the world of golf, but its features are quite basic. That's why it's last on this list. The front wheel doesn't swivel like the other Cligear product on this list, but it does the job. It comes in five different color schemes, so you can choose the one that you like best. Again, there's nothing special about it, but if you want one that's guaranteed to be functional and durable, look no further.
Read more
Hand brake
This is a matter of preference. Number seven on this list--the other Clicgear product--features a foot brake system. Both systems do that job. The handbrake system may be easier for some, while the foot brake one can offer peace of mind to those who are a bit more paranoid about the prospect of their bag rolling away and causing damage to things and people.
Convenient features
Despite its bare-bones design, this golf push cart still offers a few extras that can come in handy. It offers the same two accessory tabs that number seven offers, for example. And an umbrella holder too. And a cup holder too. As far as convenience goes, this ranks high.
Cost and Value
Despite the fact that it's a basic version of number seven, it still costs about the same. And that's a glaring problem. But there are people who prefer a straight wheel and even the more paired down look of this one--if that's you, then as far as durability and quality goes, this isn't a bad choice.

Subscribe to our Newsletter