Best Golf Mitts Reviewed & Rated for Quality
In a
Hurry? Editors choice: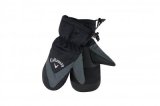 Test Winner: Callaway Winter

When it comes to the sport of golf, having the right equipment ensures a winning game. With that, we highly believe that no game should be hindered because of the weather. For instance, if it is raining outside, you need to have your golf clubs covered and you need to be wearing a proper rain jacket or moisture wicking and water-repellent shirt. If it is super humid and sunny, then a shirt designed for sun protection and breathability and crucial. And if it is extremely cold outside, well you need the proper golf mitts to ensure that you can get through the game without shivering for hours.
Standout Picks
Criteria Used for Evaluation
Insulation
Aside from the quality of the construction and design of the product, the single most important thing that we looked for was insulation and comfortability. I mean, the whole purpose of these is to protect your hands from the cold weather. In order to do this, the product must be properly insulated, soft, and comfortable. So, for each product, we looked at the materials that companies used and the technology to help keep your hands warm.
During our research, we discovered that many of the major, iconic brands in the industry typically used different patented technology to help infuse both the interior and outer part of the product. One common way that companies can provide quality insulation is through thermal liners and waterproof materials to help keep the golfer warm and in control. For example, if you look at the number one product on our list from Callaway – the company used a unique technology called Opti-Thermo and Opti-Shield.
When picking out one of these products, it's very important to pay close attention to the different innovations that brands include.
Durability
Do you remember wearing winter gloves in the past and, after wearing them for a few hours, you find a small tiny hole, explaining why you are suddenly cold? When the weather is cold, snowy, or rainy, the last thing any golfer wants is to get wet or cold. This would only happen if you purchase a pair of these that are low in quality or durability. This is precisely why durability was another crucial criteria that we looked for when picking out products for your consideration today. Now, durability is a bit challenging to measure, especially when you don't have the product physically in front of you. In this, we really looked to see what the manufacturer said about the longevity of their product.
Would it last?
How long would it last?
How many rounds of golf could you play with them?
Are they waterproof or water-resistant?
This is just a few sample questions that we asked ourselves when looking at different products. We also wanted to see if companies would offer any warranties or guarantees for consumers. During our research, we found that many companies, especially in the golf niche, offer some special return policies; however, you really need to do your research on each brand. The last thing that we did is always check those previous consumer reviews.
Features
When doing research for today's buying guide, and as we evaluated different products, we learned that there were different types of products offering differing functionality and uses. With that being said, we decided to look at this criterion in efforts to offer you a bit more variety as far as choices. Additionally, we also wanted to verify that the product was user-friendly and did not require too much of the golfer. Now, there really are two different ways or uses that these are designed for:
Golf Cart Driving/Traveling on the Course
The most common type is those that are used when golfers are traveling on the course and/or driving the golf cart. When it's a bit chillier outside, driving a golf cart or walking around could cause your hands to tense up. This, as a result, could impact the way you swing the club. Mitts that are designed for this often mimic winter gloves, with a bit more added benefits for golfers. For example, in some, you can feat heating pads or even tees/ball markers.
Installable
In our opinion, these are some of the coolest products in the game. Essentially, unlike the other type, these are installed either on the golf cart wheel or a golf bag. So, when a golfer is moving around the course, all they need to do is insert their hands into mitts. They don't need to worry about carrying them around – or losing them for that matter.
Value
If there is one thing that we all really care about – it's how much money we spend on a product. We understood this before we picked our very first product, which is why we included cost as one of the key criteria that we looked for. We really wanted to find products that were great deals for our audience. In this, we assessed each product to gauge whether or not it was fairly priced, offered good value, and overall, worth it.
Subscribe to our Newsletter