Best Launch Monitors for Golf
In a
Hurry? Editors choice:
Test Winner: Garmin Approach G80

Golfers know that practice is crucial for major golf improvement (it doesn't come as a surprise though, does it?), but if you want to take your golf experience to a higher level, you need precise figures that will point to the specific indicative measurements that provide insight into what you do right and what should be improved.
From measuring clubhead and ball speed, distance, angle of attack, launch angle, spin axis as just a handful of possibilities, to setting up challenges and data comparison, the modern golf launch monitors are as necessary for faster skill improvement as knowing which
club
to use in a specific situation.
And, if you thought that they cost a fortune, by reading this article you will learn that there are various types which are designed to fit every golfer's budget. These are the ones we recommend!
Standout Picks
Criteria Used for Evaluation
Accuracy
Accurate measurements of the golfer's performance lead towards greater insight into his/her strengths and weaknesses which help him/her to improve the skills.
As we have previously mentioned, golfers need a launch monitor so that they can track their performance and get detailed data on their swing speed and everything that goes with it. So, most of them deliver data regarding metrics on yardages, swing speed, ball, and clubhead speed, smash factor and tempo because when you know these measurements, you know exactly where you need improvement, and what your strengths and weaknesses are. Therefore, accuracy is of crucial importance since otherwise, having the device will be in vain.
What golfers need to be aware of is the fact that when it comes to commercial, affordable launch monitors whose price does not exceed 10K, will probably have some issues with their accuracy, however, these issues can be quickly corrected if followed the instructions. It is also evident that most of the companies are launching updated versions of their monitors which exhibit much more improved accuracy and overall performance.
Features
The most sophisticated launch monitors perform much wider functions than just delivering data on speed and distance.
If you have read the article carefully, you must have noticed that most of these devices aren't just launch trackers, but much more than that. The features that make the products stand out and help the golfers have better insight in their performance were evaluated within this category and that has helped us to be able to narrow the list down and rate them appropriately. Among the most prominent features that we could observe was the GPS supported function that allows PlaysLike Distance calculation, pin location, video representation of the swing, some even provide 360 degrees 3D ball trajectory and swing analysis from every possible angle, ability to play in different modes and challenge players, and sharing the data on the social sites through smart devices and apps.
Compatibility
The compatibility of these devices to share the data on a smartphone no matter whether it is iOS or Android, makes them more convenient and functional.
Most of the devices that we have selected as the best ones feature the possibility to have the statistics shared on a smart device or a computer. That is usually carried out via Bluetooth connection which connects the device with the smartphone through the apps that are particularly designed to store the data, compare it and use it for a variety of purposes. The products that can synchronize with iOs and Android smartphones are ranked the highest, compared to those that utilize just one of the systems and the least rating has those launch monitors that are only capable of connecting only through a cable connection.
Value
Those familiar with the value of the professional launch monitors, know that their prices are over the roof ranging from 10K to over 20K dollars, making them very unsuitable for commercial use. Luckily, some of the leading companies in this field have started producing much more affordable devices which allow golfers to precisely calculate their performance without considerably decreasing the quality of the data and its accuracy. However, besides companies' claims that these devices are top-notch and flawless in their accuracy, the fieldwork has shown a different perspective and there are claims from the users that from time to time they come across failure and inconsistency. Yet, in the last few years, many improvements have been made in this term, so we have seen improved performance and much greater accuracy. Money-wise, despite being called 'affordable' and 'reasonably priced' their price ranges are far from the real sense of the words and there's much to be discussed regarding this criterion. Still, compared to those outrageous amounts of 10k+, these do give at least some affordability for some golfers, and a few of them can be truly called affordable.
10 Top Rated Launch Monitors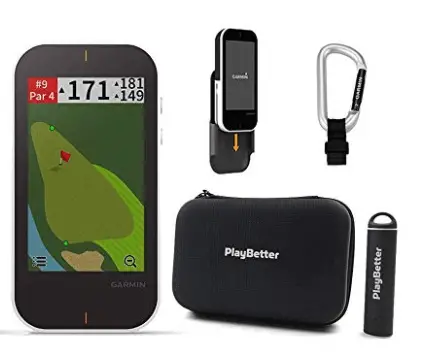 Every golfer is aware of what Garmin offers in the world of golf and I'm quite sure that most of you have seen or had the chance to work with a Garmin device on the course. We're talking about the company that is the leader in GPS devices for the military and vehicles, and if we are familiar with the work concept of Garmin watches, then something similar should be expected from this advanced golf launch monitor which is also a GPS radar tracker and which has just been released. To get a piece of detailed information on what to expect from Approach G80, read below.
Read more
Features
Firstly, this is a complete bundle offer that comes with the GPS device with a golf launch monitor radar, a cart or trolley mount, protective case, portable USB charger, and Lanyard carabiner, everything protected by a one-year warranty. The device features a color, touch screen display which is readable and clear even on the brightest sunlight. Besides having the crucial metrics regarding your swing, it provides the golfer with the possibility to play virtual rounds on any of the 41 000+ courses that come integrated with the device.
Performance
When buying a Garmin device, there's one thing that you are sure about-its accuracy! By utilizing the latest Garmin technology, this handheld GPS and launch monitor will deliver exact readings about the club head and the ball speed, the smash factor, the swing tempo, and the estimated shot distance. It has several useful features such as the option Plays Like Distance allows you to have an insight into the front/middle/back of the green and hazards adjusted for downhill or uphill shots. The PinPointer feature provides you with info about the location of the pin even when you can't see it and the Practice and Game Mode gives you the possibility to practice your skills or to challenge and compete with other golfers.
Cost and Value
When it comes to the price of Approach G80 we can say that it fits the so-called 'affordable' target for devices of this kind, even though the term is quite questionable. The price it has means investment since it isn't low, however, compared with some other devices on this list is surely reasonable. Plus, knowing that you are investing in one of the most accurate devices on the market makes it a good value for the money.

2

. Zepp 3D Swing Analyzer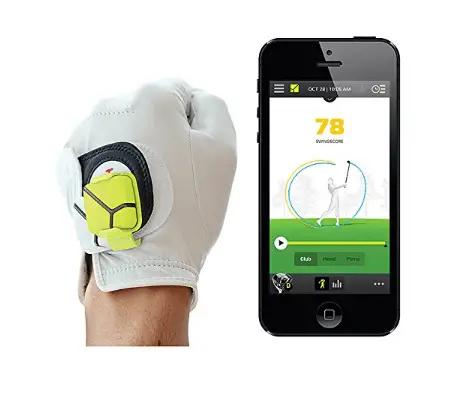 In the world of advancement, microchips and smart technologies, we are witnesses that things change with a lightning speed making the things we use more convenient, practical and easy to use. This extra small device that can be worn on your golf glove is able to record and review your swing in 360 degrees from any point of view. In addition to this, it allows you to record your swing in HD video so that you have a full overview of your game.
Read more
Features
This impressive golf swing analyzer is very small and it has a clip that attaches to the golfers' glove. It is a motion sensor which when it is connected to your smart device has the ability to record golfer's performance. It comes with free apps for Android, iPhone, and iPad and after every swing, it wirelessly sends data to the device. It connects with the smart device through Bluetooth connection and the battery life it has is approximately 8 hours.
Performance
When you are a golfer who is trying to improve his/her performance, every advancement, every piece of advice and every insight in the way you play the game matters a lot. Therefore, the engineers from Zepp made this unit to provide you maximum data on every single detail of what you do when you swing the ball. Being able to monitor your performance in 3D is an immense achievement, but that's not the only thing you get with it. It provides you with metrics on the ball, the club head and the club speed, the tempo and the length of the backswing. The apps offer many tips and programs for coaches, you can compare your swings with the ones of the PGA golfers, it provides the possibility to set up challenges and to share your progress on the social media sites.
Cost and Value
If you are a golfer who has a committed and dedicated approach to the game and who is eager to take the game and the performance to a higher level, Zepp will help you to achieve your goal. Its micro size is proof of its convenience which will help you to track, analyze, compare and improve your speed. Plus, this is a product that is an affordable alternative to the much more pricier devices.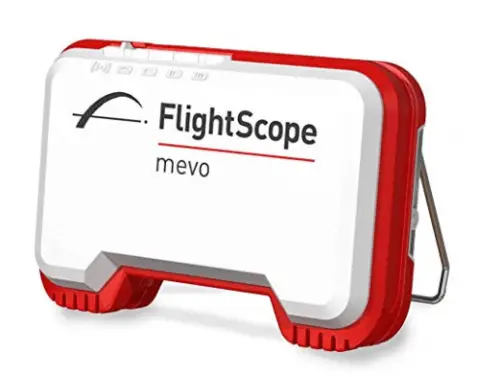 If you want to make sure you are buying the best launch monitor in this range, then we represent you the gold new product of 2018 which has been awarded for its innovativeness and flawless work. It is a small, portable and modern device that is capable to track your performance, save your data, compare them over time and have them stored on the app to approach, read and share your stats. That way, you give meaning and purpose to the practice sessions you have.
Read more
Features
FlightScope Mevo put an emphasis to the purpose of your practice session by enhancing the importance of having the data of your sessions stored and compared so that you can analyze your game further and make significant changes so that you improve your game. The distinctive data parameters can be provided in video mode too, by using your smartphone and it works with both, iOS and Android apps.
Performance
FlightScope Mevo provides the readings based on 3D Doppler radar technology and it is able to deliver 8 real-time, accurate data parameters. It measures carry distance, ball, and club speed, apex height, flight time, vertical launch angle and smash factor. The Mevo app is designed to automatically capture and create a video of your practice sessions, while the customizable interface lets you see the data as you want by choosing a variety of interface options such as 2D trajectory with data blocks, data table, data blocks for 6 parameters and video with data overlay.
Cost and Value
This small and portable device will allow you to enhance your progress by visually representing the way you play the game and providing you with the crucial data on the way you play the game. Plus, it is a device that can be used indoors or at night, so you practically don't have any limitations in getting the real stats. We can't say that the price is affordable, however, it is not as expensive as some high-end similar products.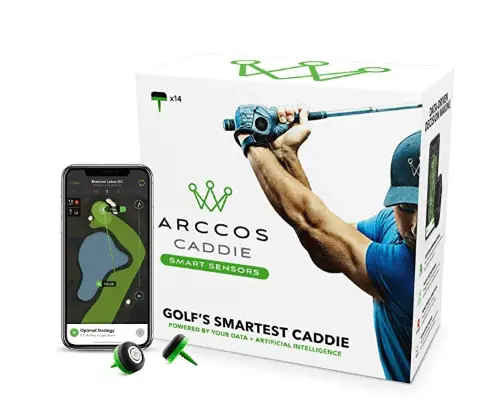 Golfers all types turn to Arccos Caddie for sophisticated analysis of their shots so that they could better realize their strengths and weaknesses and make improvements in their game. These are designed for every golfer's skill- to help them get full insight into the specifics of their performance. Made in cooperation with Microsoft, these sensors make use artificial intelligence in order to deliver personalized recommendations to each golfer and provide them with all possible strategies based on the way they perform.
Read more
Features
The sensors are hands-free and they are completely automatic and unlike some other products, they require no tapping, tagging or any type of interruption in order to activate them. What is impressive about these sensors is their permanent battery which has been constructed to last for an amazing period of time of five years and plus it comes with a guarantee of two years. The sensors are 50% smaller than the previous Arccos system, making them one of the smallest that you can find. They can be installed on any club without needing any tools and can be used once you have connected them with the smartphone app which is available on Play Store and Apple Store.
Performance
It is a fully-automatic tracking system that includes a GPS rangefinder which features 'plays like' distances that refer to any point on the course and it provides golfers with substantial help so that the can make wiser decisions when it comes to course elevations and wind speed and direction. Not only is it detailed when it comes to swing analysis and data regarding each shot but it guides you on how to choose the right equipment and what should be your strategic goals.
Cost and Value
These are the first hands-free, fully automated GPS rangefinders and swing monitors that provide data based on artificial intelligence that is able to deliver data, instruct you on the choice clubs and the way you play the game and pinpoint to your strengths and weaknesses. Each set comes with 14 super lightweight and easy to install sensors with a battery life of five years. That's pretty much impressive offer for even more impressive, reasonable price.

5

. SkyTrak Launch Monitor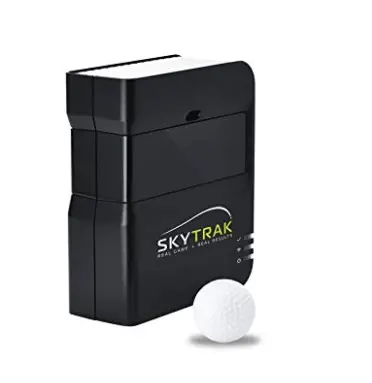 If you are a golfer who've been into more advanced levels of the game, you must have seen those launch monitors that provide perfect accuracy on the course used by the pro players which cost more than 10K dollars. Well, SkyTrack is a device that is engineered to deliver the same accuracy but for a much more affordable price. It is not only a golf launch monitor, but it is also a simulator which allows you to practice your swings everywhere you want, from the comfort of your home to the course. Let's take a look at the way it works and what you can expect from it.
Read more
Features
SkyTrak Golf Launch Monitor utilizes photometric technology and its advanced algorithms so that the device is capable to provide the most accurate ball flight simulation. It is a very small and portable device that works in synchronization with your phone or iPad. Once you register with your device it laser-positions the place of teeing and the fun can start. With every swing, you get a detailed analysis of your shot and the ball trajectory. This device has been voted the best in its category by Golf Digest.
Performance
What Sky Trak can boast about is its accuracy and ability to provide measurements on all the aspects when it comes to your swing. It doesn't really matter whether you use it outdoor or indoor, the effect will be always the same. I know that you are eager to know what it measures, so here it is. It will get you info about the total distance, club head and the ball speed, the side, and the backspin carry distance, launch angle, flight path, angle of descent, roll distance and offline yardage. The device utilizes high-speed photography which delivers 3D visualization.
Cost and Value
We'll immediately start talking about its price since it is as controversial as the company's statement that this is one of the most affordable devices of this type. Why do I say controversial? Well, it is definitely very expensive, one of the most expensive devices on our list, however, there's some truth in the manufacturer's statement in the point that when we compare this device with the most premium and the most expensive ones, this is the least pricey equalling their quality.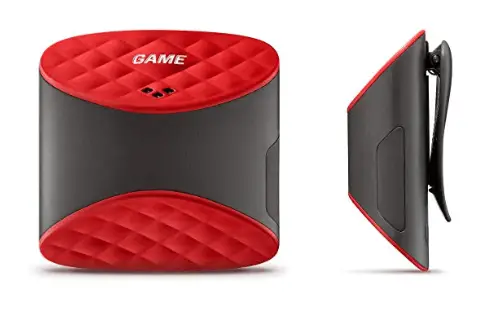 Blending convenience and functionality was not a problem for Game Golf, which has successfully created this small device that allows you to fully concentrate on your game while it works in the background allowing you to have undisturbed shots while you focus on the game undisturbed by the position of the launch monitor or whether or not it will work. It is a device that is positioned on the belt and which provides the most visual representation of your game.
Read more
Features
Game Golf is a small red device that is as small as a badge which comes with a clip that allows being attached on a belt so that it can track your data. The GPS and NFC technologies provide location tracking and near field communication with every club that the golfer uses on the course. Once the golfers activate the device, he/she assigns tags on the specific clubs that he intends to use. Before each shot, the golfer should gently tag the device with the tag on the swing to activate the recording process. When the game finishes, the golfer synchronizes the device to a computer or a tablet and reviews his/her rounds on a map.
Performance
This extraordinary device brings the 21st-century smart technology into the game of golf so that golfers can get most of it. The post-round analysis allows golfers to have a total insight into the accuracy of their approach and fairway shots, total score, sand saves, a scramble percentage, putts and average club distances. In addition to providing accurate readings on your performance, it allows you to share your records with the total golf community, even with PGA professionals and your coach. Plus, you can compare your progress and set up new targets and even compete with fellow golfers by creating a game challenge on your own.
Cost and Value
When looking for the best launch monitor and swing analyzer, besides accuracy, the extra features and the value of the device is what most of the golfers take into account. This device, equipped with the latest technology and the 18 tags for your clubs, brings sophisticated advancement and functionality together and the effect it provides is more than excellent. Plus, rarely can you find such a device for the price it has, so it is a great value for the money.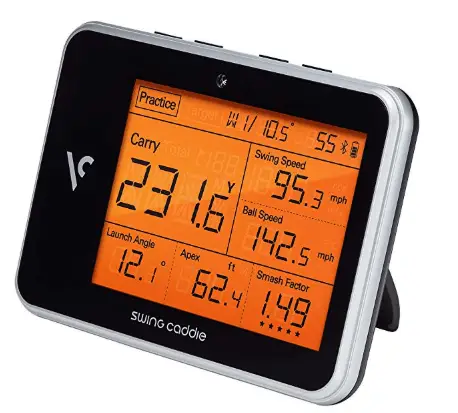 When we talk about the leaders in affordable launch monitors, Voice Caddie is surely on the prime position offering reliable service and performance. The SC300 has been an update to their SC200 model which is also part of this buying guide. The upgrade can be seen in the ability to store your data on a mobile app, launch angle metrics, and apex height. So, let's take a look at its performance and determine if it's worth almost double the price it has compared with its predecessor.
Read more
Features
When it comes to its design, it looks much sleeker to their previous models, but at the same time, it preserved the Caddie style. The first feature that makes CS300 an upgraded with is the possibility to synchronize the data via Bluetooth to a smartphone or a tablet and it allows you to have an instant reading of your shot. Similarly to SC200, it speaks the yardages and you can read the data as soon as you have your shot. The golf launch monitor is using radar technology which requires a bit larger place in case you'd like to practice your skills indoor. There's also a remote control that can be used to select the modes, which are just two: the practice mode and the target mode.
Performance
Generally speaking, measurements and their accuracy are what matters the most when it comes to these devices and that's the reason why people buy them. It is intriguing why they cut the third, randomized mode that can be seen in SC200, but that shouldn't be a deal breaker anyway. According to the experts, CS300 provides fairly correct measurements, especially of carry distance and the launch angle. Besides these, it measures swing and ball speed, smash factor, total and carry yardages and the maximum height of the ball.
Cost and Value
To answer the question if it is worth to spend more money on this updated version, one needs to set their priorities. If the golfer is looking for fairly accurate golf launch monitor that has the option to synchronize the data on a smart device then this updated version is better for you. The price is reasonable when we consider the devices of this type, but it is more expensive than its predecessor.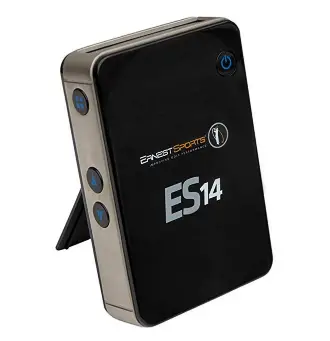 This device is engineered to take your golf practice to a higher level by delivering crucial data on your performance so that you could have direct insight into the way you play and make improvements. It is the device that can be used from scratch golfers to pros, and it is an audible device that communicates with you in the most comprehensive manner while tracking all the crucial metrics for improved speed and distance. Let's take a look at what features it has.
Read more
Features
Encouraged by the success of the older brother-ES12, ES14 upped the game to more accuracy, precision, and data. The device uses Doppler radar technology which is known to provide a sophisticated accuracy regarding your performance. This data is shown on your smart device after you have paired it via a Bluetooth connection and then have all it recorded in the free Ernest Sports App. The device is portable, lightweight and compatible with all iOS and Android devices.
Performance
What you get with Ernest Sports ES12 is video and audio representation of your performance with every swing. It delivers immediate audio reading as you swing the ball so that you don't have to interrupt the game to see your reading. I know that you are eager to know the readings it provides, so here they are. It measures ball and club speed, launch angle, the smash factor, spin rate, and distance. Plus, you can track your key data points with every session, it recommends the appropriate club based on your previous performance and analyzes your shot by using a different club and video analysis.
Cost and Value
Many golfers have provided glowing reviews about the functionality and the accuracy of this device claiming that it has helped them to lower their handicap and be much more conscious about the way they provide their swings. Even though is it is a bit more expensive compared with the ES12, it is still ranging within the affordable range when it comes to devices of this type.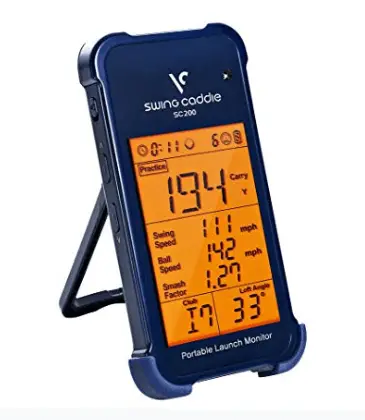 If you are looking for an entry level golf launch monitor, CS 200 Launch Monitor by Caddie is what you should seriously consider, especially if your budget is limited. It is understandable, easy to use and functional. It functions in three different modes, it provides distance mode outputs with distance voice output and barometric pressure calibration. So, let's take a look at how it works.
Read more
Features
This device comes with a remote control which allows better convenience in controlling the device. It allows you to set the modes and the types of the clubs and the distance. Practically, you can use it for every setting. Besides the remote control, you can also use the device itself to set the modes and the targets too, by using the buttons on the left and the right side. The device is the size of a cell phone, it is portable and you can transport it even in your pocket. It provides you with data on your ball and club speed, swing speed, the carry distance, smash factor and it is capable to store the average stats for each club you have used. The memory it has is sufficient for the last 100 shots.
Performance
There are three modes to achieve different types of exercise and training. The practice mode displays distance, swing speed, ball speed, and the ratio between the club speed and the ball speed, as well as the time and frequency of impact. Swing Caddie automatically registers the swings and displays the data until you have another shot. In Target mode, you can set the target range for the preferred distance and it displays the consistency of your shots. The device provides you with the scoring points on how close you were to achieving your target. And, there's random/approach mode which sets different distances in order to challenge accuracy. This mode also scores your accuracy on the scale from 1 to 10.
Cost and Value
If you want a device that will provide you with the basic readings on your performance without breaking the bank, here it is. It is functional and if you follow the instructions on how to use it, you will have accurate readings. Even though some reviewers have provided some negative comments, those positive ones outnumber the negative and mainly, the discrepancy lies in not following the instructions rather than the ineffective device.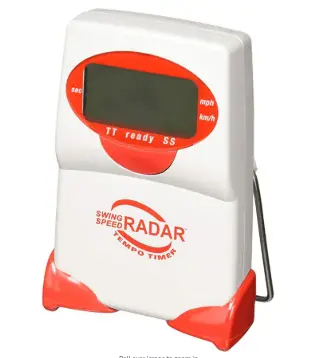 Even though there are a bunch of advanced devices that provide detailed analysis on golfers' shots, this one comes as the simples, but reliable option for those golfers who don't really bother to get into the whirlpools of the modern but rather complicated devices. Swing Speed radar measures clubhead swing speed and the tempo that the golfers feature and it provides the opportunity to use any type of a golf ball, not just the real ones. If you are looking for simple and basic, this is the device to closely look at.
Read more
Features
It is a very small compact unit that can be carried in a pocket or golfer's bag. It can be safely be positioned on any flat surface to provide an accurate reading. The greatest thing about this device is that it can be used everywhere you want, from the hitting range, in your backyard or your home. Plus, you don't have to use actual balls in case the circumstances don't allow, it measures everything that is possibly used as a simulator golf balls, from whiffle ball, sponge ball and a birdie ball to provide a replica of a real swing.
Performance
The ranges of the speed measurements go from 40 MPH to more than 200 MPH providing an actual swing tempo time which ranges from the moment the club takes off to the moment it impacts the ball which is measured to one-hundredth of a second. This device is an excellent tool to help you optimize your swing, get longer distance and improve the consistency of your swings efficiently.
Cost and Value
Despite being as simple and basic as it is, this device is among the most highly rated swing monitors thanks to its reliability and correct readings. It is one of the rare models that fit the description provided by the manufacturer and works as advertised. Besides being simple, it is also one of the most affordable units, so in case you need lgolf aunch monitor but want to keep your budget, this is the unit we recommend.

Subscribe to our Newsletter